I love creating free content full of tips for my readers, you. I don't accept paid sponsorships, my opinion is my own, but if you find my recommendations helpful and you end up buying something you like through one of my links, I could earn a commission at no extra cost to you.
Learn more
For those of us who have had a few years behind the flames, we know that wood is 'everything' when it comes to smoking the perfect product with your pellet smoker or grill.
Wood pellets dictate burn quality, duration of heat, flavor, and the ultimate outcome of the smoking process.
The bottom line is: choose your wood carefully!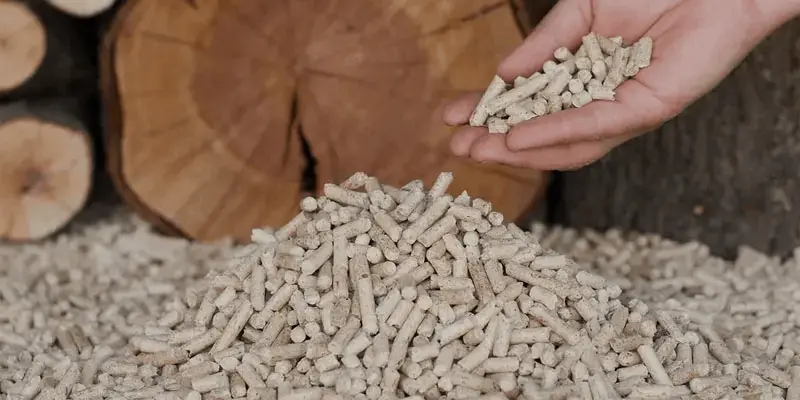 So how do you choose between the huge variety of wood pellets for sale? Which ones would really suit your needs?
If you are looking for a go-to natural wood pellet blend, I recommend the CookinPellets Perfect Mix. This is a great all-around ready-made mix that is suited for most food, from pork ribs to vegetables.
If you are looking for something more specific though, I've got you covered as well.
Here are my top four wood pellet recommendations for various reasons. I'll take you through each one and I'll elaborate on why they are my go-to wood pellet options for smoking.
Should you use the same brand of pellet as your grill?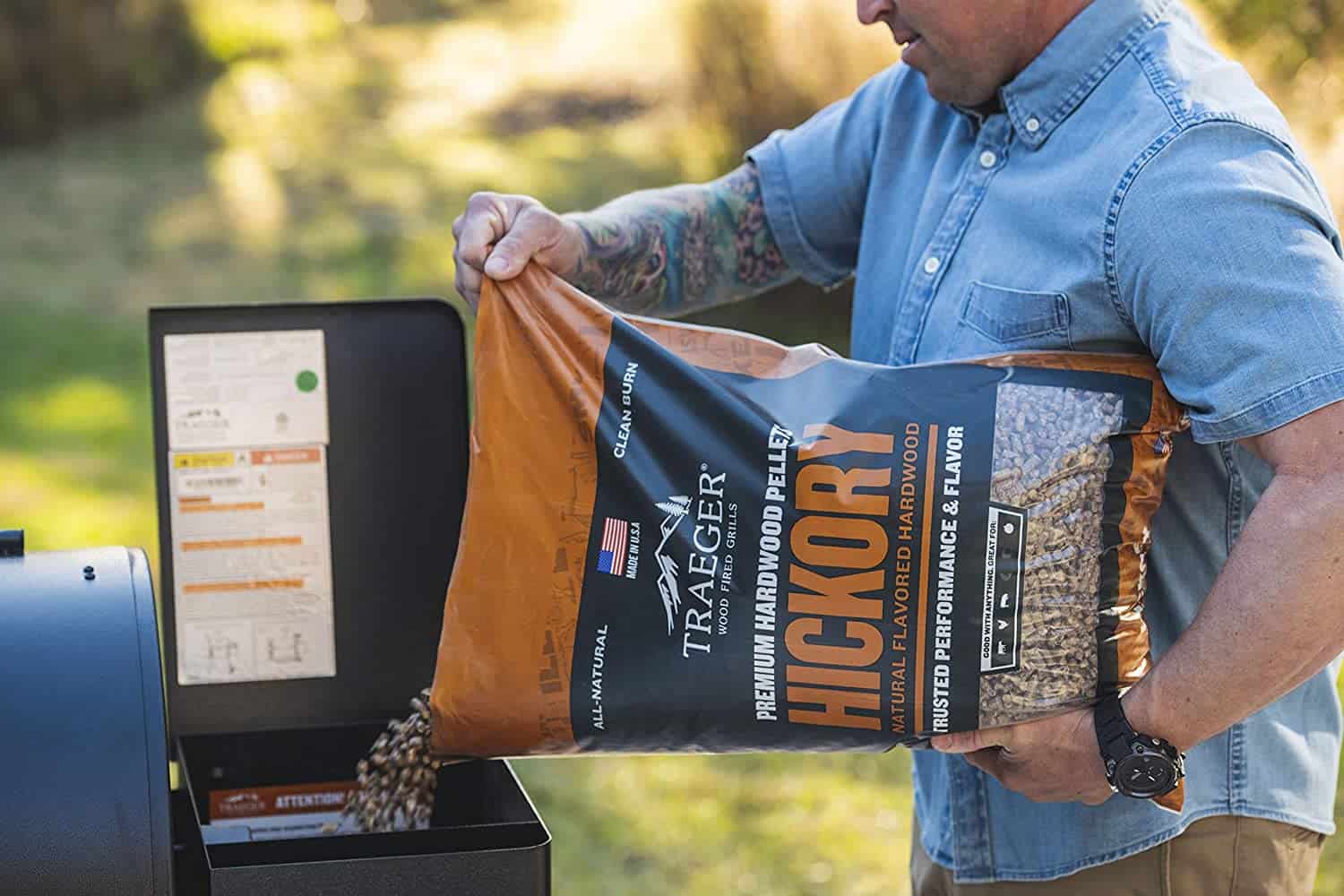 Before we get into my top four pellets for smoking, let's tackle the most common question I get asked: "Do you have to match your pellets to the brand of your grill?"
My answer is short and clear: "Of course not".
Most manufacturers warn against using other wood pellets mostly for two reasons:
To keep the customer involved with their products
To prevent the customer from using poor quality pellets
You can easily use wood pellets from other manufacturers, but you have to keep one very important rule in mind – only use high-quality pellets.
This impacts not only the food's flavor but also the proper functioning of all components of the wood pellet smoker.
Don't buy pellets with added chemicals! They must be 100% wood, otherwise, you risk adding chemical flavors to your meant, as well as the potentially harmful health effects of the chemicals.
Also check out my guide on the Best Woods for Smoking & the ultimate smoking wood chart
The 4 best wood pellets for smoking
These four pellets options are all great quality and will get you off to a flying start. They give good heat and cooking time, and each has its own flavor profile to make your food taste great.
I've highlighted some of the reasons I keep a stock of these four options readily available for when I want to fire up my own smoker.
Best all-around wood pellets mix: CookinPellets Perfect Mix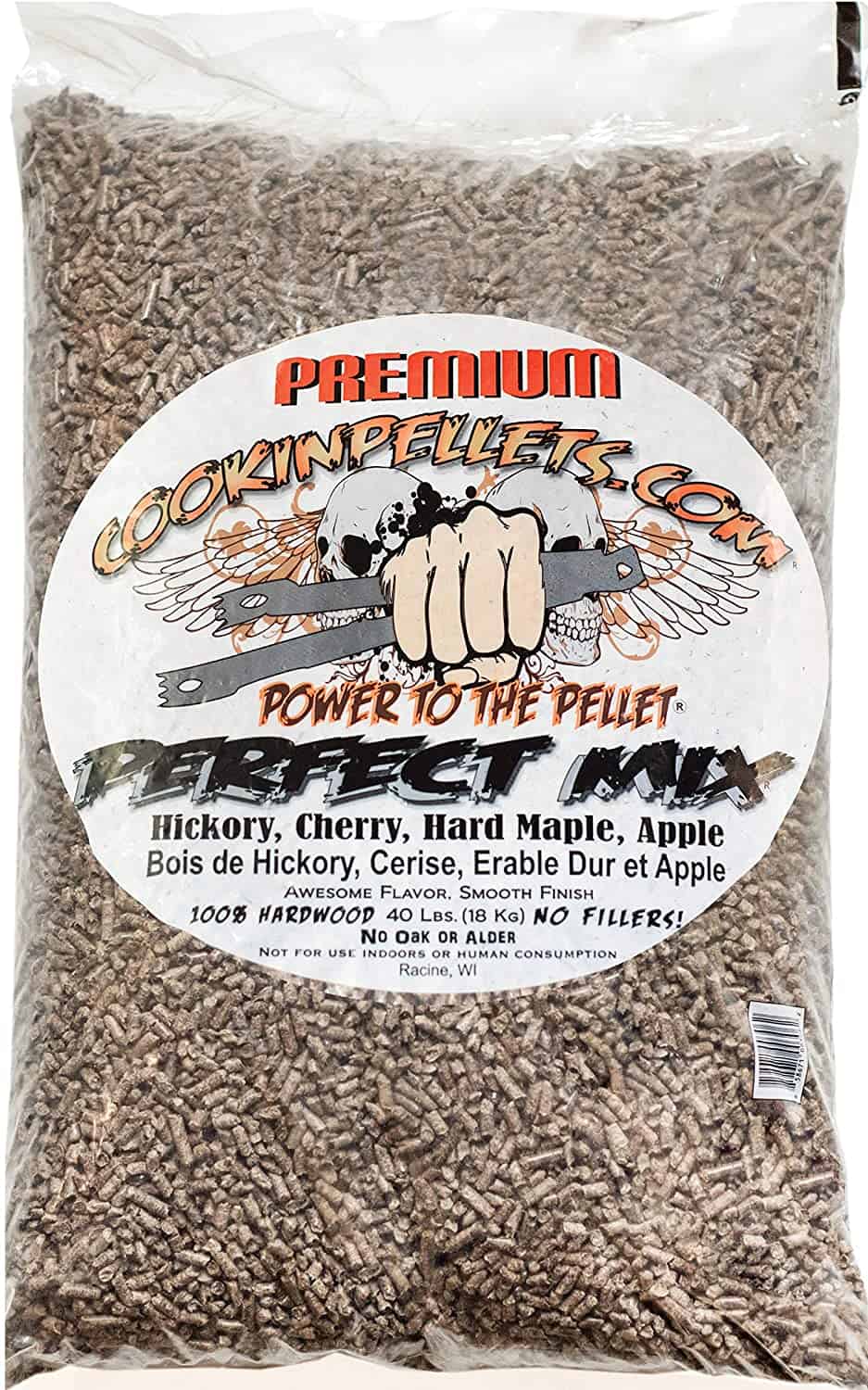 Best value wood pellets for every occasion, one of the best-selling brands. It is a mix of the four most popular and in my view best hardwoods without any kind of filler.
The best option for those who want a trusted pre-mix all in one bag!
If you're not into experimenting with different flavor profiles and you just want a tried and tested tasty blend, then this one's for you.
The CookinPellets Perfect Mix is a great option for every occasion no matter if you want to grill or smoke. It is sold in a very large bag (40 pounds) at a relatively low price considering the high-quality composition.
It gets a lot of positive reviews when it comes to smoking (especially brisket and pulled pork).
It is definitely the kind of pellets you can easily use with every grill without worrying about malfunctions and losing the warranty because of that.
The solid packaging is convenient and safe to store, it is not necessary to move the pellets to a different container.
The greatest advantage of the mix from CookinPellets is the composition, the best types of woods, and lack of fillers. This manufacturer's offer also includes 100% hickory pellet available at the same bag size.
When it comes to the amount of ash produced, it is satisfying, perhaps a bit on the excess side.
No matter which manufacturer's pellet you're going to use though, you should always remove excess ash in a grill after smoking for a long time.
You get 40lb of the finest North American maple, hickory, hard apple, and cherry, making the flavor profile a balance of sweet, tart, and savory.
They also give off a good amount of smoke – so if you're using them in a smoker, you won't be disappointed – but the flavor they give the meat is strong, too.
The pellets are for use in all pellet smokers and grills, have no chemicals added, and are used by some of the top pit bosses – so you know you can't go wrong.
All-in-all a solid option, particularly for beginners who want a really tasty outcome without having to experiment with different wood blends.
Pros
Appropriate for all meat types
Good amount of smoke
Strong smoke flavor
No added chemicals
Cons
They leave a fair amount of ash
Wondering how wood pellets compare to smoking with charcoal vs. wood chips vs. wood chunks? 
Best multiple flavor wood pellets set: Camerons 4 Pack of Pints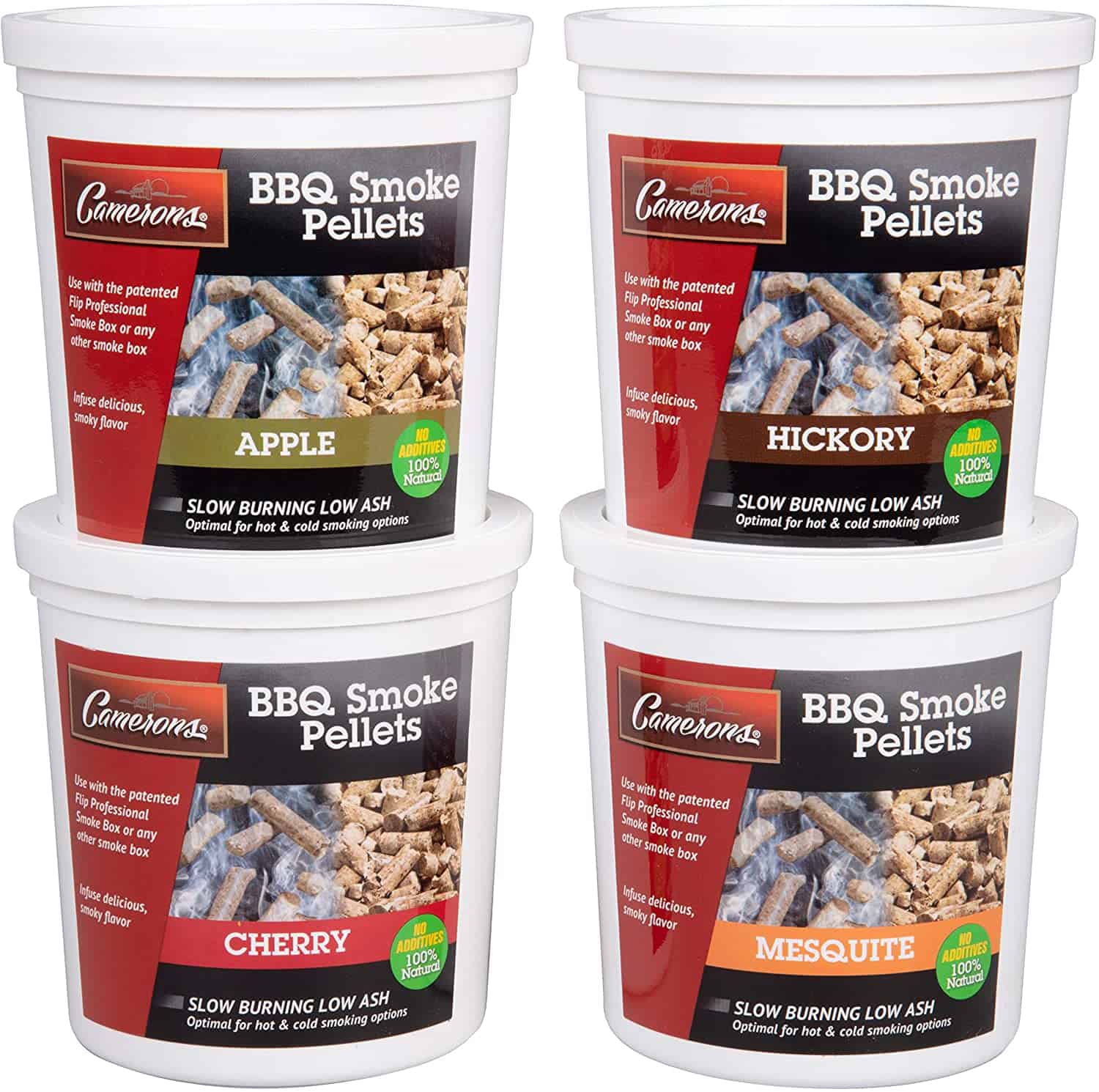 With Camerons Smoking Wood BBQ Pellets, you get four one-pint containers each containing one type of wood and you can start smoking and experimenting right away with flavor profiles.
Woods include apple, cherry, hickory, and mesquite. This means that you can blend your own, and figure out what flavors you like most without buying 20lb bags of each type of wood!
These pellets are 100% raw timber and are kiln dried so they smoke amazingly well. They are also made in the USA so you know the quality will be great.
Definitely a winner if you want to try out some different woods without committing too much money to it.
Pros
Perfect for smoking and grilling
Good quality, kiln-dried
No added chemicals
Affordable price
Cons
Small containers (although they make a great gift or starter pack because of that)
Best wood pellets for making your own mix: Traeger 100% All -Natural Hardwood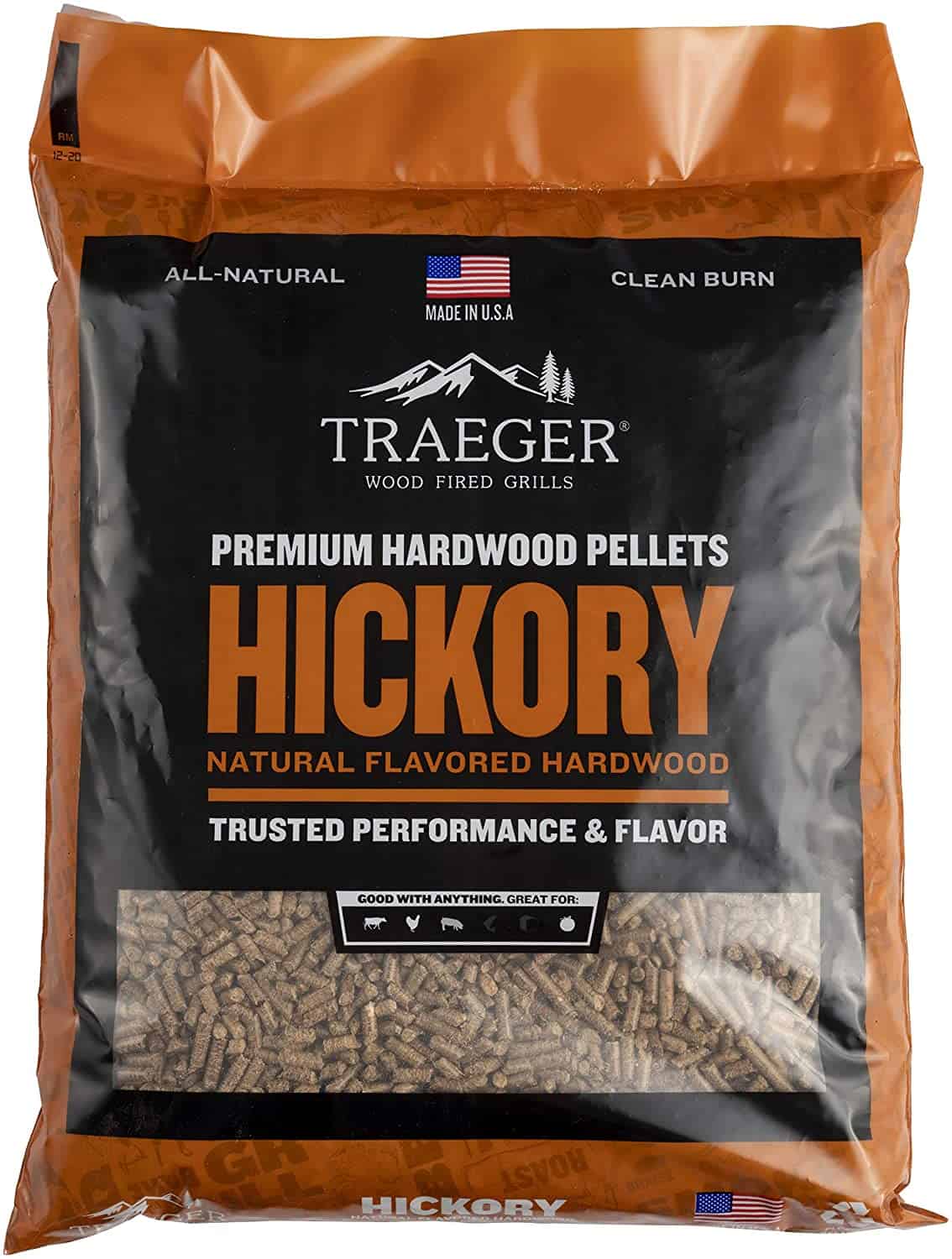 Of course, we can't forget the manufacturer responsible for creating the pellet grill – Traeger.
This brand doesn't need an introduction, but just to remind those who don't know, it's a trusted and valued manufacturer in the world of BBQ.
Check out my extensive review of Traeger pellets grills here, where I compare several models, also against the competition.
From the Traeger wood pellets range, I love Traeger Hickory 100% hardwood pellets because they are perfect for grilling and smoking, and sold in 20-pound bags at a very decent price.
A big advantage of Traeger is that it offers a very wide selection of wood pellet types, from hickory and apple to mesquite and pecan.
Each of these woods is sold separately, meaning you can combine them to make your own flavor profile, or you can buy their signature blend to try out.
I often encourage people to try the Traeger pellets if they're looking to step out of 'beginner' level, and up your smoking game a bit.
You can also get a good sense of what each wood does to the flavor of the meat by using them individually.
If you're looking at getting serious about your BBQ then it's a good product to start experimenting with.
Pros
Perfect for smoking and grilling
Affordable price
High quality
No added chemicals
Wood types are sold separately.
This last one is a pro and a con. For the professionals who want to create their own flavor blends, it's great.
But for amateurs, it can be a bit tough to know how to mix them up to get the flavor you're looking for. However, you can also buy the Traeger signature blend if you're unsure.
Check all available flavors here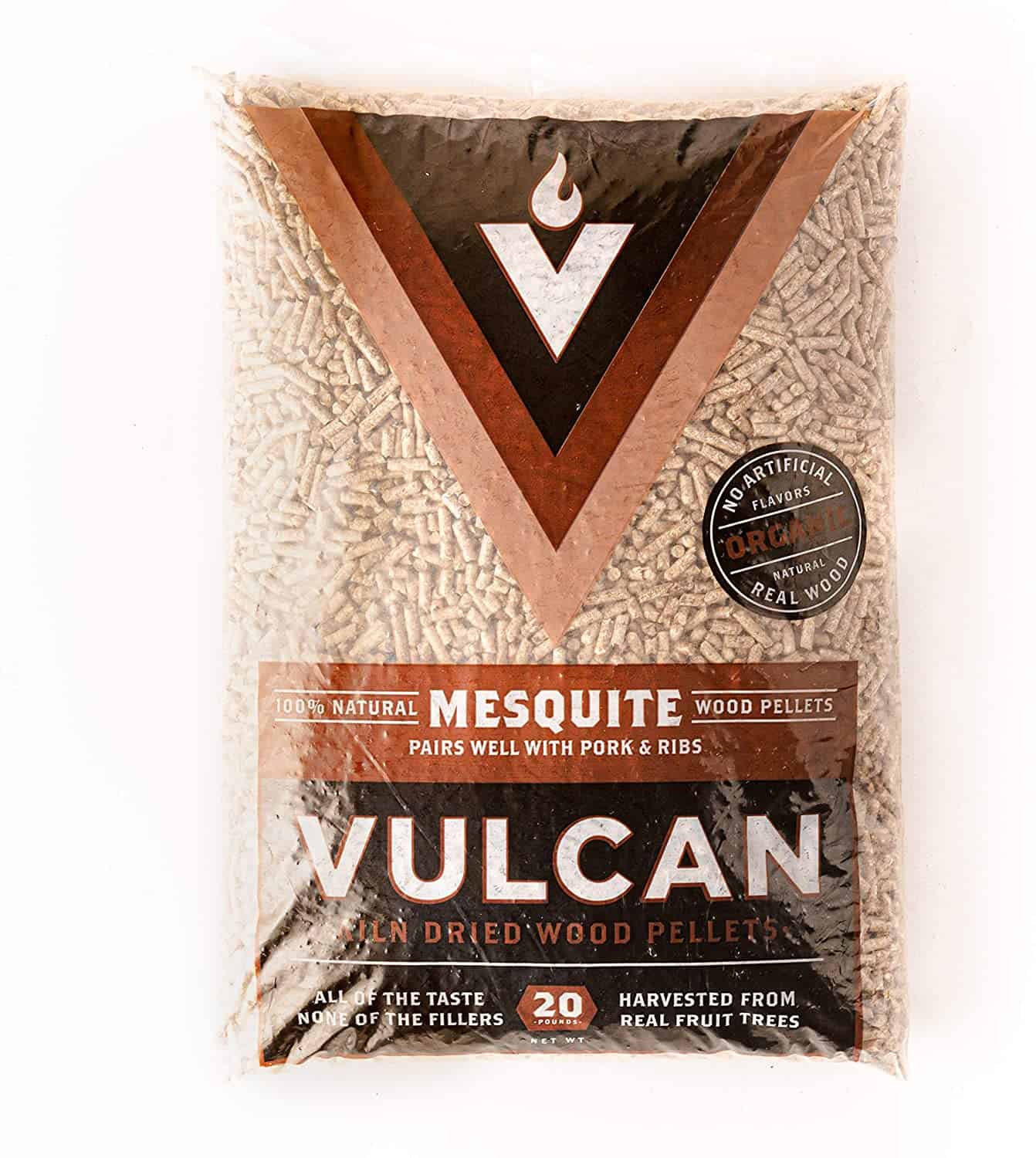 Similar to the Traeger pellets above the Vulcan Grilling Wood Pellets come in a variety of wood types to be used individually or blended by the user.
While the Traeger pellets are all-natural, the Vulcan pellets are organic and kiln-dried. They are also sourced from high-quality trees, not scraps or off-cuts.
This makes it an exceptionally high-quality product, but it does come at a hefty price increase too.
For professional smokers, and those who support the organic movement, these are the go-to pellet. You cannot fault them for absolute quality.
I like to use them for special occasions, like Thanksgiving or family reunions where I want to ensure the final outcome is the best it can possibly be.
Pros
Perfect for smoking and grilling
Extremely high quality – organic wood, not made from scraps or off-cuts
Kiln-dried
No added chemicals
Cons
Quality comes at a hefty price
Wood pellets FAQ's
What's the difference between blended wood and flavored wood?
The difference boils down to what wood pellets consist of, and how that impacts the cooking process.
Both options are good, but they do have their upsides and downsides that help one to make an informed choice.
Flavored wood pellets are expensive because they are only made of wood without any fillers, binding agents, or flavored oils. These pellets give food an intense flavor and maintain great burning properties.
Blended pellets are a mix of flavored wood with filler. It is much cheaper but still maintains decent properties.
The standard filler is oak, which has great burning properties, but sadly its impact on flavor is poor. However, when oak is combined with flavored wood ,one gets great burning parameters and decent food flavor.
What is the hype around wood types? Surely it's all the same?
Experienced pit bosses are perfectly aware that the type of wood will impact the flavor of the food. You should always match your wood to the kind of meat you're planning to smoke.
The advantage of wood pellets is that there is a wide selection of types, which allows you to experiment with different ones and discover interesting new flavors on your own.
For example, find out which 8 woods are best for smoking cheese here, and learn here why you should not use walnut wood for smoking.
What are the best wood pellet flavors?
There is no clear answer to that question, it all depends on what you're planning to smoke and your own flavor preferences!
The topic is very broad, which is why I will only list my four favorite combos/types of wood pellets here.
My favorite types of pellets:
Hickory
Mesquite
Pecan
Cherry / Apple
Takeaway
So there you have it, with the choice of wood pellets above you will be assured of good smoking results. Now it's time to simply get started and figure out which woods work best for you.
In case you were wondering if pellet smokers give good smoke flavor, I've got the answer for you here
Joost Nusselder, the founder of Lakeside Smokers is a content marketer, dad and loves trying out new food with BBQ Smoking (& Japanese food!) at the heart of his passion, and together with his team he's been creating in-depth blog articles since 2016 to help loyal readers with recipes and cooking tips.