I love creating free content full of tips for my readers, you. I don't accept paid sponsorships, my opinion is my own, but if you find my recommendations helpful and you end up buying something you like through one of my links, I could earn a commission at no extra cost to you.
Learn more
You are probably wondering what Traeger grills are and why people rave about them all the time. Let's shed some light on pellet grills and what makes them outstanding in the world of smokers.
For instance, many people question why Traeger is consistently a bestselling brand.
The idea behind Traeger grills started over 30 years ago, in Mt. Angel, Oregon, and the concept focused more on food, rather than the grill itself.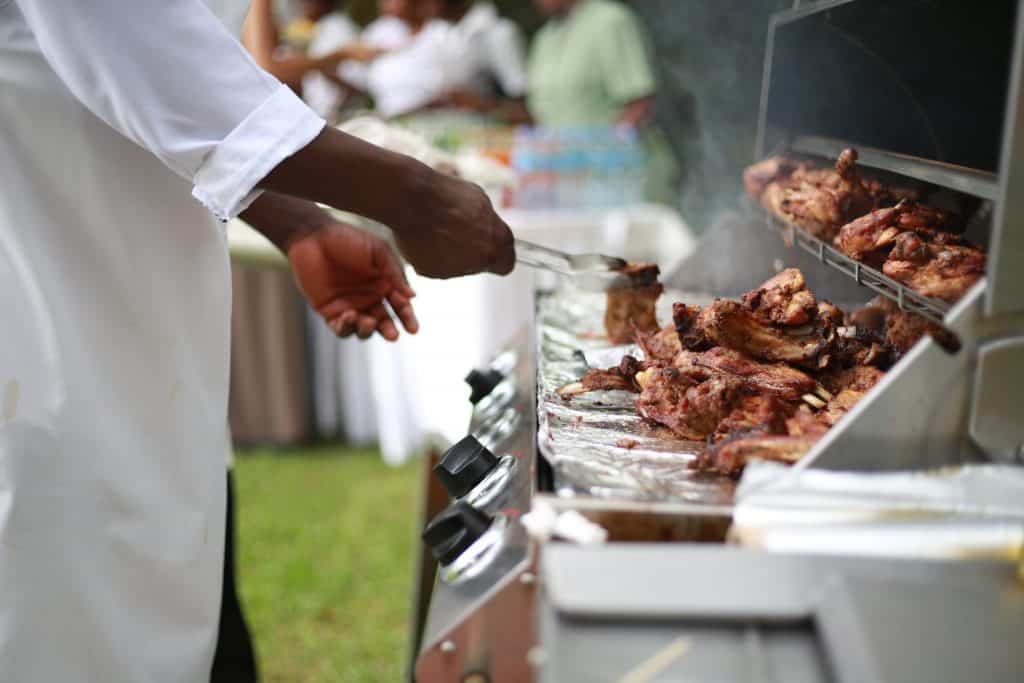 From that idea, it's when a wood-fired revolution was started, and it led to the development of Traeger grills.
Did you know that the Traeger series is the bestselling pellet grill model in the world? And they even have a super smoke feature that overcomes some of the drawbacks of using pellet grills.
Not all models have this, but one of the most innovative models in the industry, this Traeger Ironwood 885 does and it is amazing. It's not the most affordable one, but it is the best of the models we've reviewed, which I'll get into further in this article.
Let's see the most popular models in a table and compare them:
| | |
| --- | --- |
| Traeger model | Images |
| Most Innovative Grill: Traeger Ironwood 885 | (view more images) |
| Best for smoking: Traeger Pro Series 22 | (view more images) |
| Most affordable: Traeger Tailgater 20 Series Model |   |
| Best Portable Traeger Grill: Ranger Grill Portable Grill and Smoker | (view more images) |
| Newest Traeger Grill: Traeger Pro 575 | (view more images) |
What should I look for when choosing a grill and smoker?
Look for high-quality materials. Stainless steel is the best type of material for smokers. Some grills are made of cast aluminum which is also good, but not the most common.
Professional smokers recommend stainless steel cooking devices. In addition, be careful about grills that have a stainless steel grill but the frame is made of other cheap imitation materials.
Also, make sure you check the raw heat output of the grill you want to buy. A higher heat output does not make the grill better.
In fact, very high heat output will burn the food and leave it charred. You need even dispersal of heat, which ensures the food cooks evenly.
Additionally, you need to note that there are several added features that you should look for when buying a grill, but you should also understand that added features mean an added cost—and you need to stay away from such grills if you are not going to use them.
Here are some of the most common added features:
Smoker attachment – this is something you will see in most of the grills out there in the market.
Side burners or several level cooking surfaces – these are ideal for cooking different types of foods that require different temperatures.
A rotisserie attachment – although this feature appears to be interesting, you will rarely use it.
Built-in lights – these assist you to monitor your food as you cook.
If you like the rotisserie attachment, read our post completely dedicated to BBQ smokers with a rotisserie.
Price
As highlighted earlier, added features mean added price—and this is the last thing that you need to consider before buying a Traeger grill.
Grills with larger surfaces, higher heat, durability, and better construction, as well as additional features, are more costly.
Further down there is a comparison between Traeger grills and other wood pellet grill brands. But first I'll get into each of the models in more detail.
Best Traeger grill models reviewed
Let's look at a more in-depth review of each of the top Traeger models:
Most Innovative Grill: Traeger Ironwood 885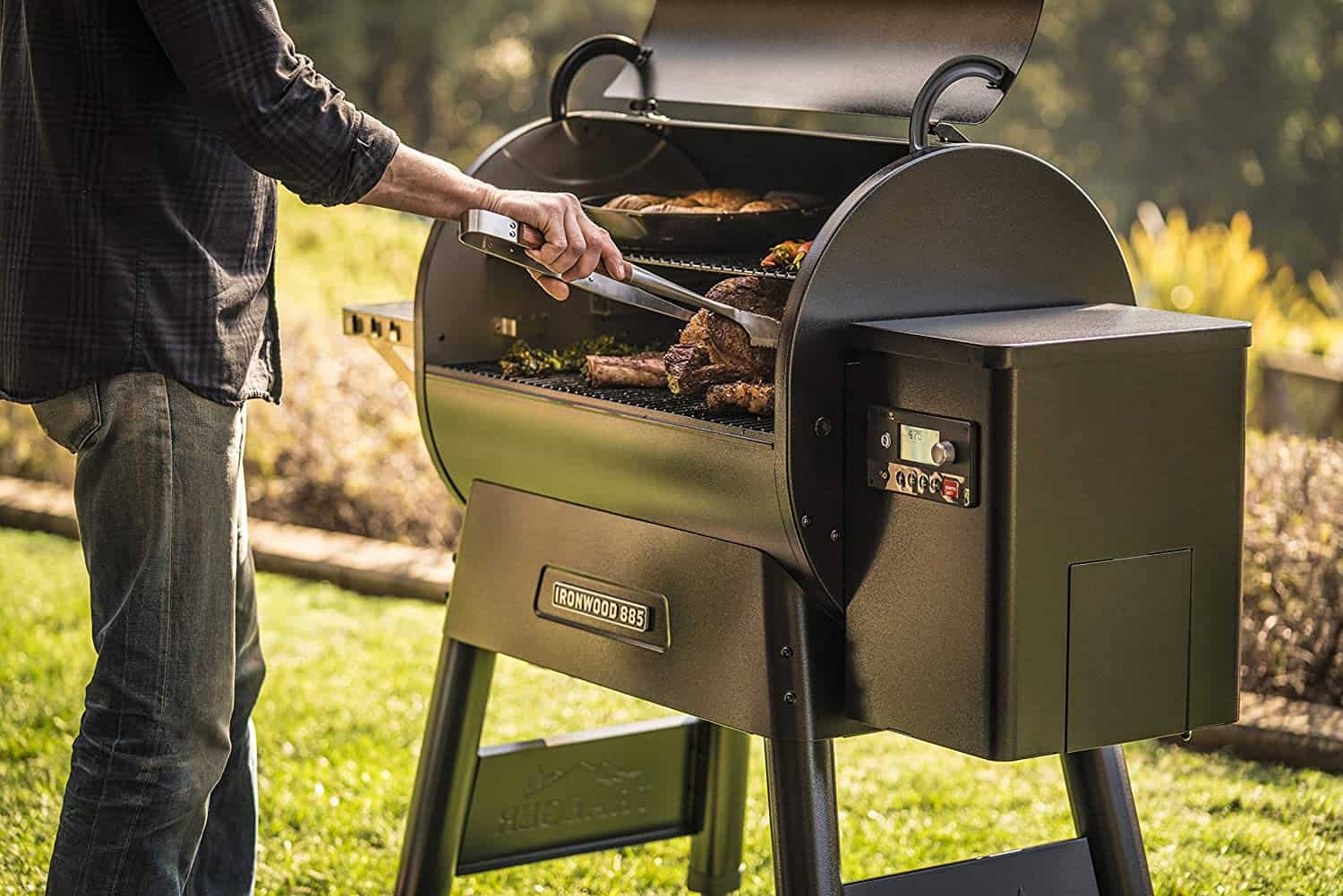 This model of Traeger is expensive – it costs over $1400, but the pros love the Ironwood model. It is considered the most innovative and state of the art grill.
WiFire technology allows the user to control this grill remotely from anywhere from a smartphone, and it even works with Alexa, should you want to try it out as a voice-controlled grill!
Fans of classic pellet grills love that this grill is great at cooking and smoking but contains added features that make grilling fun and enjoyable.
With a large cooking surface of 650 sq inches of grilling capacity, this grill lets you cook eight whole chickens or five rib-racks at once.
Therefore, it's a great grill for entertaining a large family or big groups.
However, this grill is not great for searing steaks because it doesn't reach a temperature of 700 F.
Notable Features
Plug-in temperature probe: this temperature probe allows the user to check the temperature of the food from your smartphone. Additionally, you can adjust the temperature remotely through WIFI.
6-in-1 versatility: this device can grill, bake, smoke, roast, braise, and BBQ, which means you can cook a large variety of foods.
High max temperature: the grill heats up to approximately 500 F, which is perfect for cooking steaks.
This grill can is excellent for even cooking – the temperature stays constant on the cooking surface.
Is the Traeger Ironwood worth it?
If a high-tech device is what you want, this type of grill is worth it. This is the most innovative model with WIFI and lots of notable features.
The grill is easy to use and control because you can control the temperature remotely from your smartphone.
Best for smoking: Traeger Pro Series 22
If you like the extra features that came with the Renegade model, then the Pro series 22 Wood Pellet Grill is the perfect option for you.
The Pro series 22 Wood Pellet Grill is a large grill and comes with 418 sq. in. of grilling space. This grill will give you enough space for four chickens, 16 hamburgers, as well as five racks of ribs.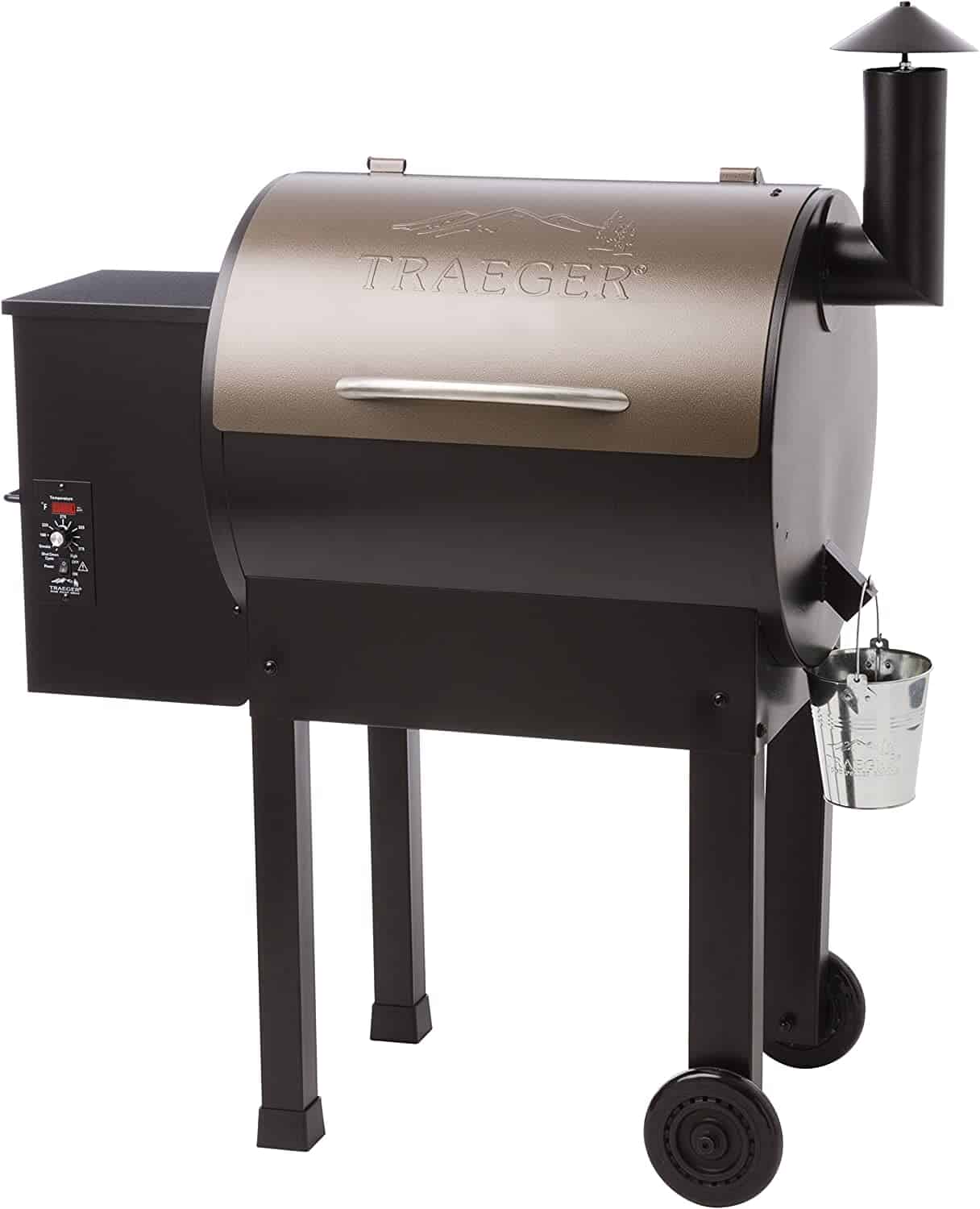 In addition to this, the Pro Series 22 Wood Pellet Grill has a hopper capacity of 18 lbs. –Which provides with hours and hours of grilling before you even consider refilling it.
This makes it the perfect grill for anyone who needs to grill food for a lot of people.
It doesn't matter which even you are hosting, the Pro Series 22 Wood Pellet Grill will get the work done efficiently.
Also, it comes with this amazing feature—a side drain, even though it doesn't have the front rack and tool storage.
What you need to note about these extra features is that they are quality upgrades, which will make your grilling more comfortable and more fun.
This grill comes with front grates, which make it much easier to load the rack, thus doing away with the need for a separate side table.
In addition to this, you will also get an added tool basket, which will give you an easier time to keep all your grilling tools organized in one place.
Unlike the other grills we have highlighted above, the Pro Series comes with a hopper that is easy to clean and change, thus it's a great option.
You only need to open the back latch, and the wood pellets will come out easily—and you will have the opportunity to replace them with new ones.
This saves you a lot of valuable time and effort when you want to clean or to change the variety of woods for smoking.
Moreover, the Pro Series comes with another amazing feature—a side grease drain, which allows you to keep everything clean as you grill. You will need to spend around $550 for the Pro Series.
Notable features
With this grill, you will no longer use charcoal or gas again to grill—and your grilling will become better. This is an original wood pellet grill, and the best tool to give you that wood-fired taste.
Versatile BBQ cooking—low & slow or hot & fast. The Traeger Select Elite Wood pellet grill provides 6-in-1 versatility to smoke, grill, bake, roast, BBQ, and braise food to perfection.
Grilled to perfection every time: integrated digital Elite controller keeps temps within +/- 20 degrees F and makes setting the grill temperature as easy as turning a dial.
Easy and predictable: The Pro Series 22 offers consistency you can trust, allowing you to craft amazing wood-fired creations time and time again with the ease of set it and forget it.
Perfect size for the at-home cook: enjoy 418 sq. in. Of grilling space that can accommodate up to 16 burgers, four whole chickens, or five racks of ribs; pellet
The hopper capacity is 18 lbs.
Most affordable: Traeger Tailgater 20 Series Model
In terms of the specs, this grill is almost similar to the Junior Elite. It comes with the same cooking surface area—300 sq. in., same temperature control, hopper capacity of 8 lbs. as well as a smoker box.
The only major challenge with this grill is that it is a bit costly, and it folds up.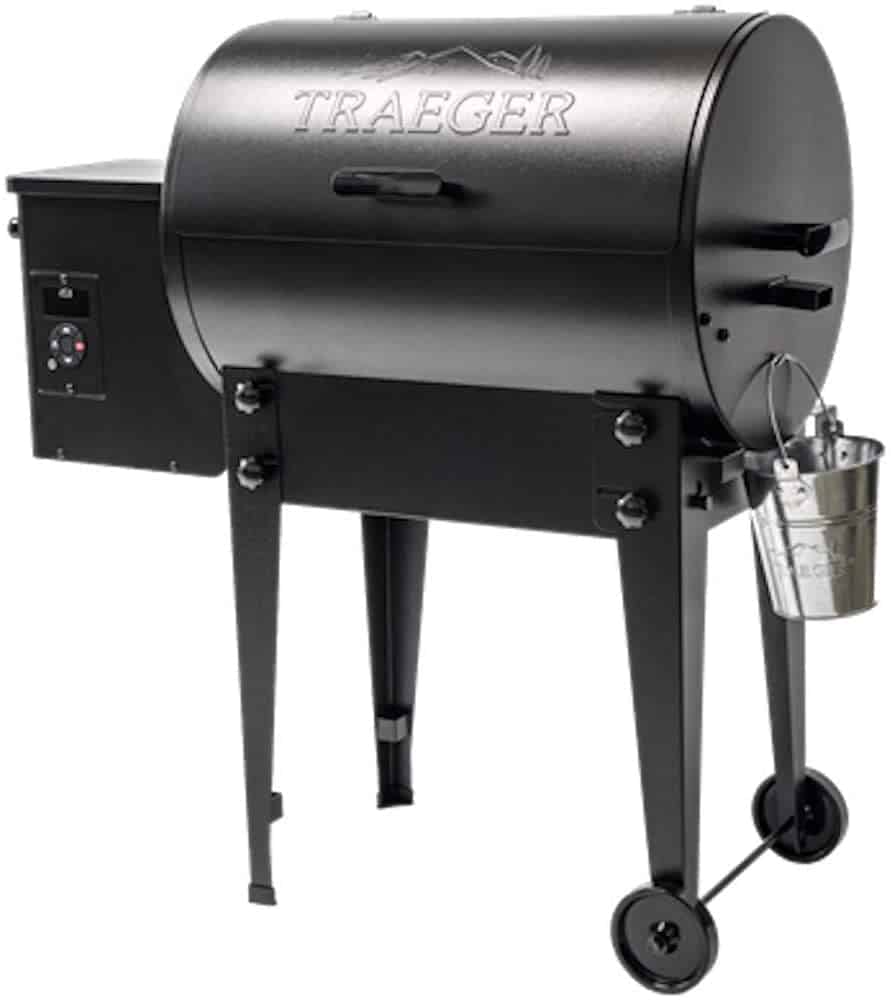 If you love tailgating, you will find a lot to like about this grill, as it folds up into a small and light grill, which weighs around 62 lbs., small enough for one person to load it into an RV.
If you love camping, RVing, grilling family BBQs, or you are a person who likes moving around a lot, you will have pretty much to love about this grill.
Notable features:
Folding Front Shelf Features Easy On/Off Mounting System & Is Compatible With Traeger Tailgater 20 Series Grill Cover; Mounts On The Outside Of The Grill For Additional Preparation Or Storage Space; Designed To Cover The Entire Width Of The Cooking Chamber; Constructed Of Cold Rolled Powder Coated Steel
Folding Front Shelf Features Easy On/Off Mounting System And Is Compatible With Trager 20 Series Grill Cover
No Assembly Required
Country Of Origin: China
Best Portable Traeger Grill: Ranger Grill Portable Grill and Smoker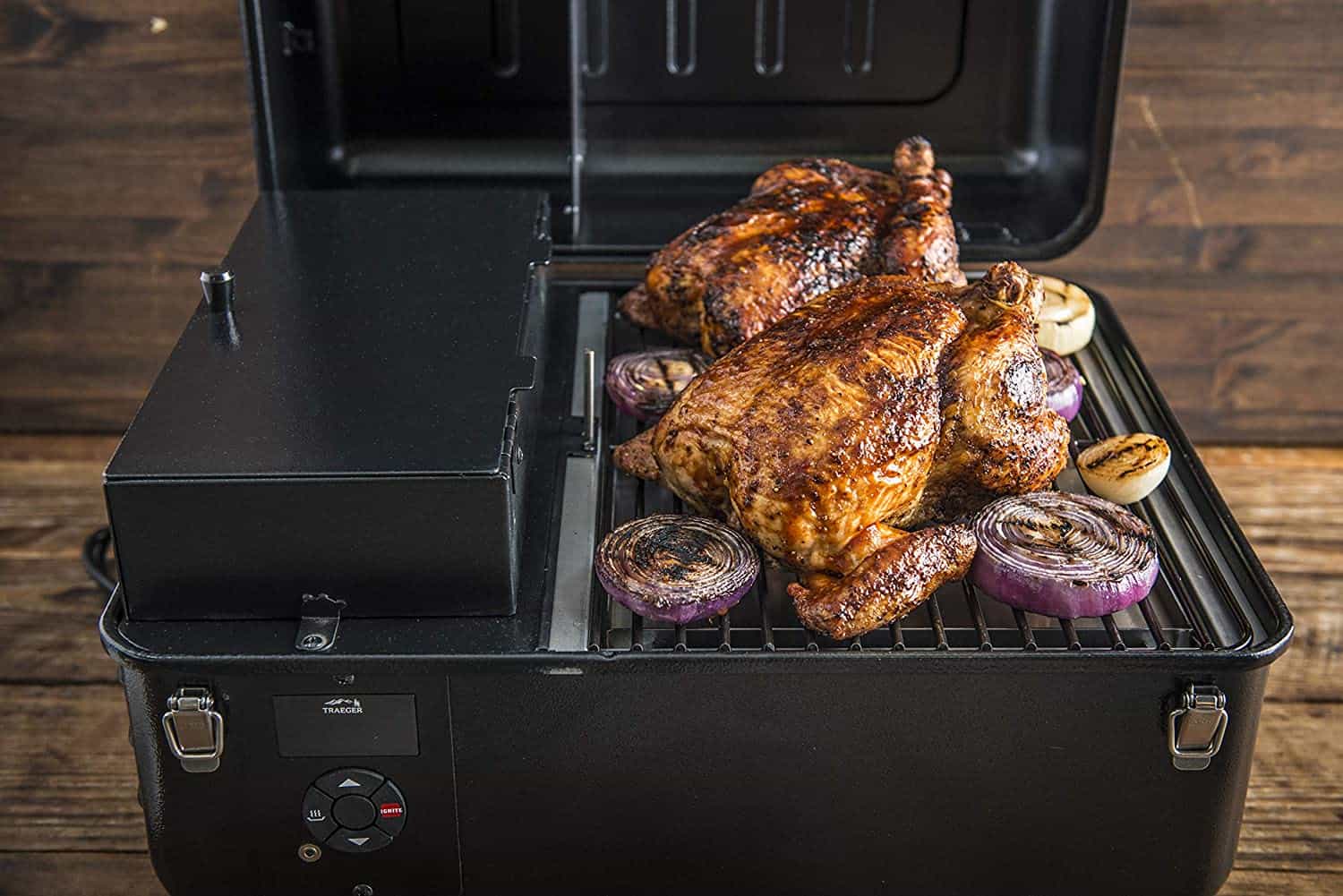 If you want the perfect portable grill with all the functions of a top-notch smoker, this one is for you. The Ranger Portable Grill.
This is built for the campers and RVers who want to take their favorite portable grill on the road. It has a cooking area of 184 sq. inches, which means you can cook for the entire family.
This grill is made of sturdy stainless steel and has a baffled lid design with lid latches to ensure safety as it's transported.
It has the features that make other more expensive Traeger models popular, including a Digital Arc Controller.
This allows you to control the temperature and maintain the heat at a constant temperature.
The grill weighs 70 pounds, so while it is quite heavy, it is still portable and moveable.
Notable Features
Keep Warm Mode keeps the food hot at a constant temperature so that you can eat the food later.
Internat meat probe function: this function makes it possible to check and control the temperature of the food. There is no risk of undercooking or burning meat.
Smoker: this grill is a 2 in 1 product that acts as a grill and smoker. High-quality smoking is now possible on the go.
Hopper: The grill contains an 8lb. hopper so you can add plenty of pellets.
Newest Traeger Grill: Traeger Pro 575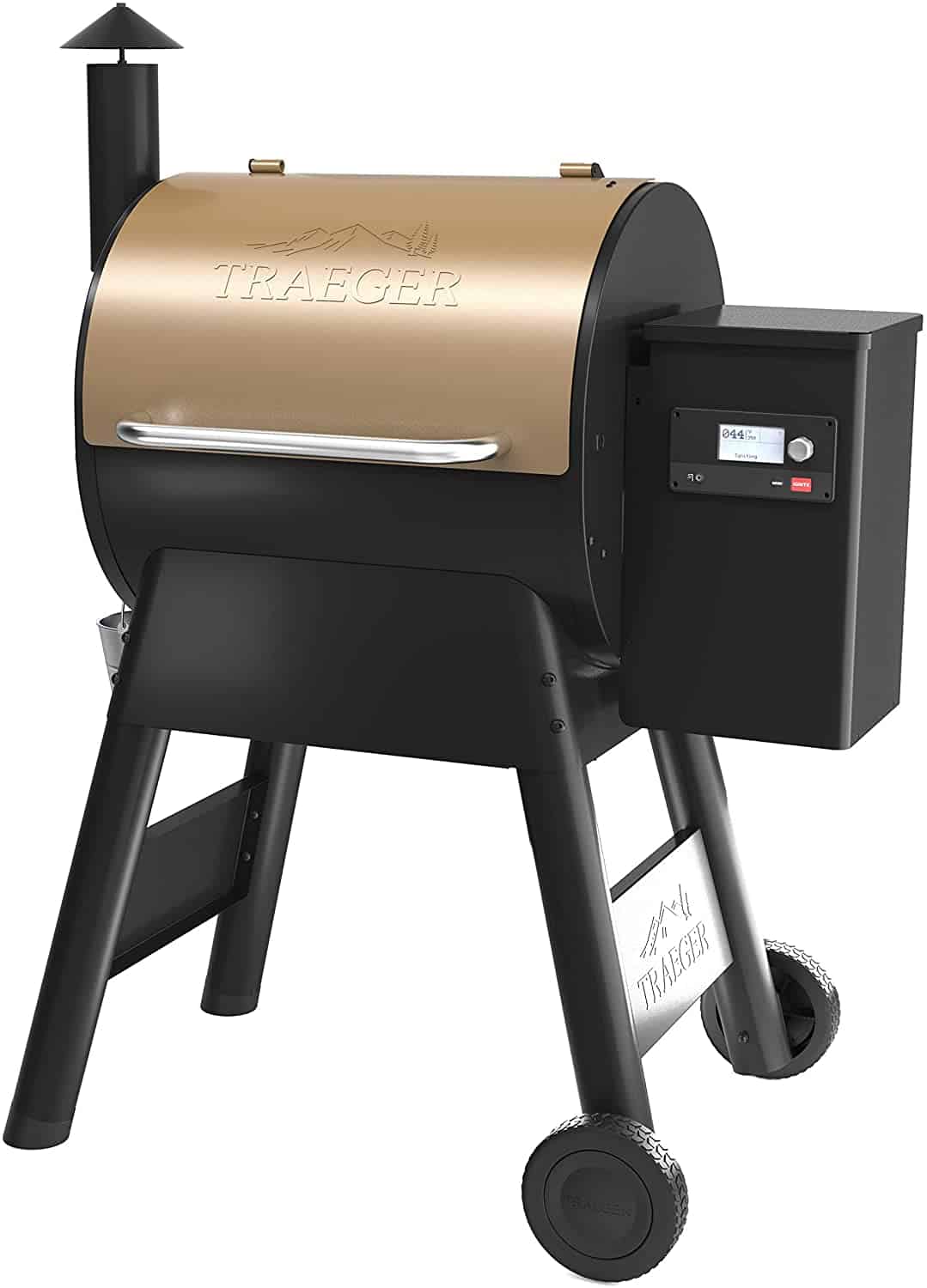 There's no doubt the latest model is always the most upgraded and high-tech grill. The new Traeger Pro  575 is no exception; it's called the "WIFI pellet grill".
This grill does it all, and you can basically cook remotely at the touch of a button. That's why all you techie smokers are going to love this new Traeger model.
It comes with an all-new and enhanced controller. This model uses WiFIRE technology, which is a feature that allows you to monitor your grill from anywhere.
This means you don't have to stand at the grill's side, observing the cooking process. Instead, you can spend quality time with friends and family while the grill does all the hard work.
All you need to do is install the Traeger APP, and you can control the temperature and settings from your smartphone.
Notable Features:
This grill is built to last. It is made of coated steel and a porcelain-coated cooking grate, which means food won't stick.
It gives you excellent grilling results. The food will get that smoky flavor without all the smelly smoke. The App's GrillGuide gives you step-by-step instructions for over 1500 recipes, so your food is excellent every time.
It's so easy to use, it's an absolute joy for beginners and pros alike. It's as easy to use as an oven. Simply select your preferred temperature, and the grill does the work.
Great cooking space and capacity. It has 575 square inches of cooking space, which means you can grill about 24 burgers or four whole chickens at once. This means you can feed an entire crowd with this grill.
Traeger TFB29LZA Grills Junior Elite Wood Pellet Grill and Smoker
The Junior Elite grills are the first one on our list, and it is the best entry-level option for people who love grilling frequently.
This grill has a respectable size—of 300 sq. in. thus making it the ideal size for a family together or outdoor BBQ.
It comes with a digital temperature controller, which makes monitoring the grilling temperatures quite easy.
The temperature is very accurate—and you won't have to worry about under- or over-cooking your food.
In addition to this, the grill also comes with a smoker box and porcelain grill grates—which makes it easier to clean the grill.
It has a hopper capacity of 8 lbs. but that shouldn't turn you down if you are considering to buy this grill. You will need to spend around $400 to get the grill.
Notable features:
Never Use Gas or Charcoal Again: Cooking with wood just tastes better. Traeger created the original wood-pellet grill as the ultimate way to achieve wood-fired taste.
Versatile Barbecue Cooking: Hot and fast, or low and slow, the Traeger Junior Elite pellet grill offers 6-in-1 versatility to grill, smoke, bake, roast, braise, and BBQ food to juicy perfection.
Grilled to Perfection Every Time: Integrated Digital Elite Controller keeps temps within +/- 20 degrees F and makes setting the grill temperature as easy as turning a dial.
Easy and Predictable: The Traeger Junior Elite offers consistency you can trust, allowing you to craft amazing wood-fired creations time and time again with the ease of set it and forget it
Great for Home, Camping, and Tailgating: Enjoy 300 sq. in. of portable grilling space that can accommodate up to 12 burgers, two whole chickens, or three racks of ribs
The Traeger Junior Elite is currently unavailable.
About Traeger Grills
You're probably wondering about the company and its history. Let me give you some necessary information about Traeger Grills.
Trager Grills is probably the most popular manufacturer of pellet grills in North America. It all started in 1985, when the company's founder Joe Traeger, developed and patented the pellet grill.
At the time, Trager grills was a small family-owned business. They only sold their grills at select stores, and their range of pellet grills was limited.
Traeger continued to manufacture the pellet grills, and the trend caught on. They opened their own stores across America.
Now, Jeremy Andrus is the CEO of the company. Its headquarters is located in Salt Lake City, Utah.
Is Traeger a smoker or a grill?
The Traeger pellet grill is a multifunctional piece of equipment. It is both a smoker and a grill. And it can be used to cook and smoke all kinds of foods.
The pellet grill is known for its versatility: it can smoke, roast, barbecue, grill, and even bake. It depends on how you want to use it.
Traeger Grills is a well-established brand, but it has some serious main competitors. Let's examine how the brands and grills compare to each other.
How do Traeger grills work?
Traeger wood pellet grills work similarly to all types of pellet grills. The pellets get moved from the hopper of the grill to a part called a 'firepot.'
There, a HotRod ignites the pellets, which feed the flames and impart that smoky flavor to the meat. The grill has a fan that circulates all the heat and smoke for even cooking.
Traeger vs. camp chef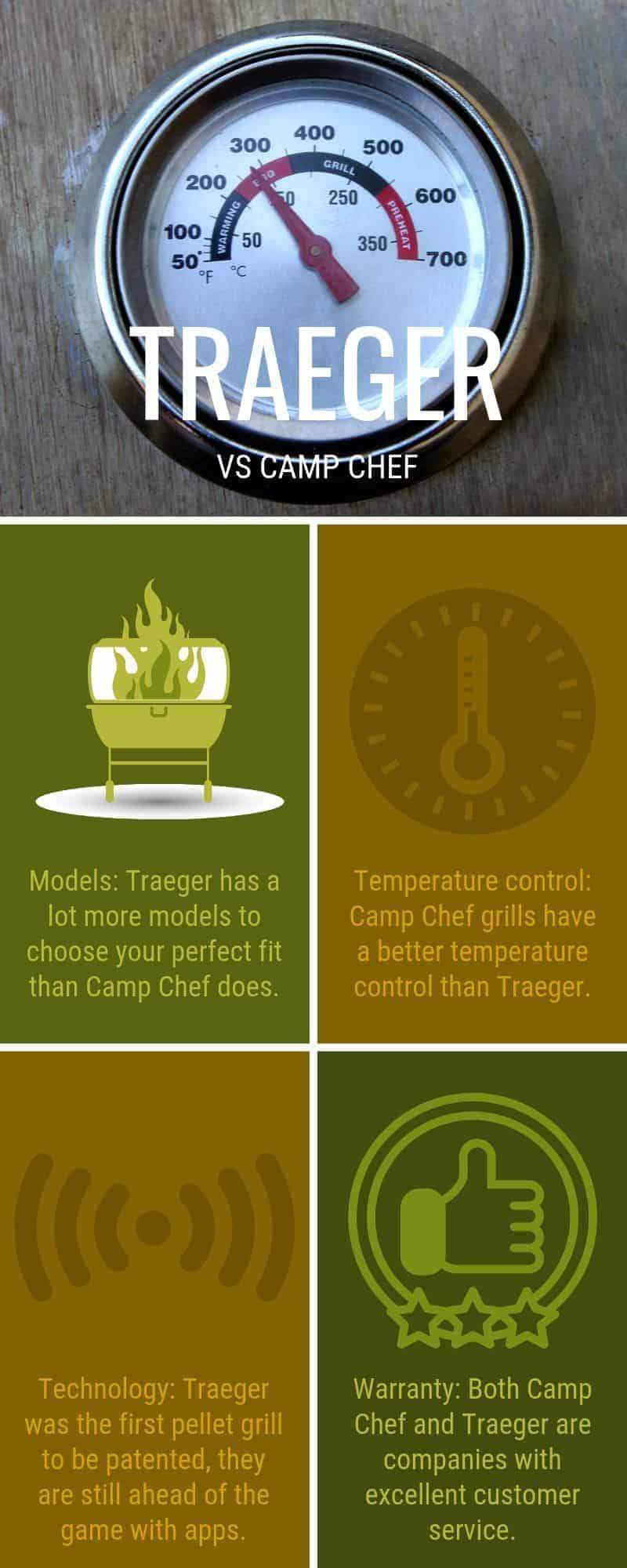 Models
Currently, Traeger offers 21 models of hardwood burning smokers and grills. Camp chef, on the other hand, offers ten different pellet-burning grills.
Here, Traeger wins the day, as the brand presents grillers with different options when it comes to grilling and smoking.
Temperature control
Since these pellet-burning machines have the functionalities of convection ovens, smokers BBQs, and grills, each of them needs to have a wide operating temperature range.
The temperature range on Traeger grills ranges between 160 degrees F and 500 degrees F, and all the models can maintain a temperature of +/- 20 degrees F.
On the other hand, Camp Chef grills have a temperature range of 160 degrees F to 500 degrees F and can maintain their temperature between +/- 10 degrees F.
Technology
Since Traeger was the first wood pellet grill to be patented, they are still ahead of the game in terms of technology.
Modern Traeger grills feature the WiFIRE controller, which helps in keeping the temperature within 5 degrees.
Besides, you can connect this feature to your smartphone via Wi-Fi, which gives you the freedom to control the temperatures from any location.
Camp Chef already has a similar feature in their modern grills, but Traeger now also offers Alexa voice control. They're usually the first.
Warranty
Both Camp Chef and Traeger are companies with excellent customer service, and always stand behind their products.
These two brands offer a 3-year warranty for their products. However, they don't cover normal wear of any damage caused by abuse, misuse, alteration, overheating.
Traeger vs. Pit Boss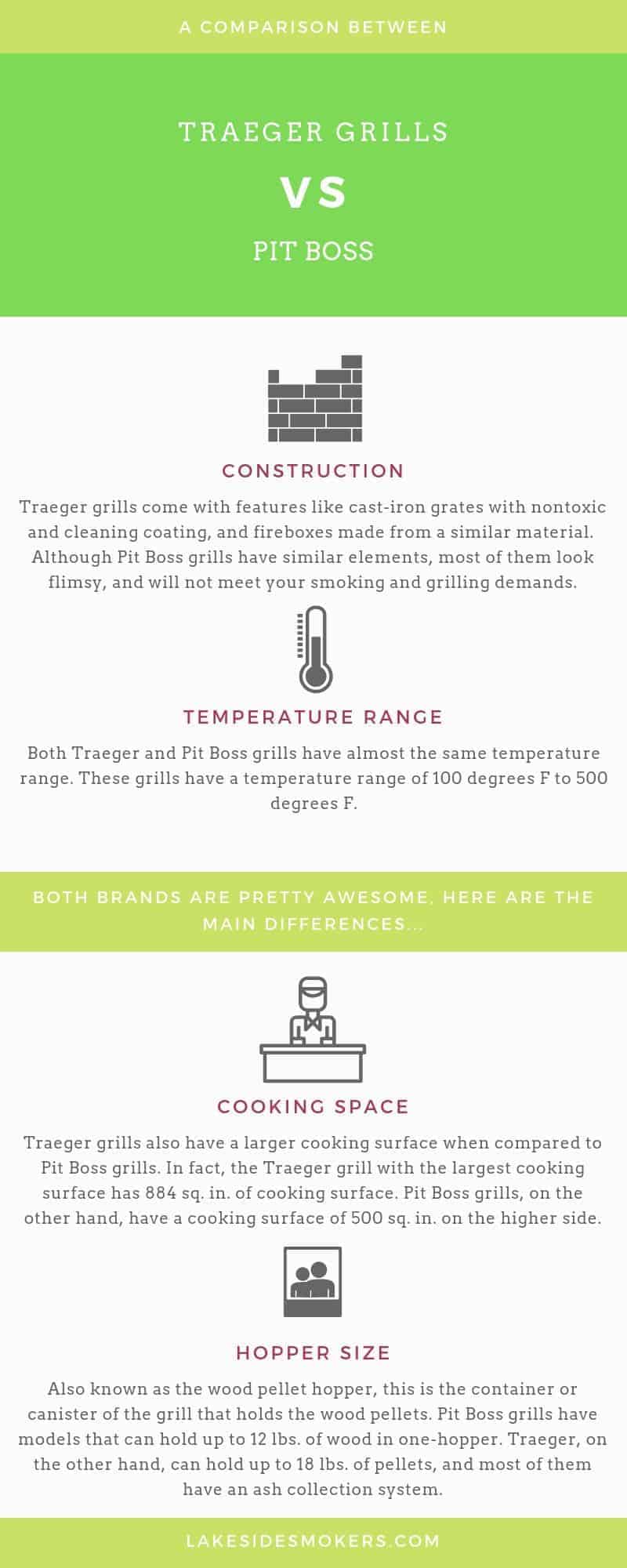 Construction
Traeger grills come with features like cast-iron grates with nontoxic and cleaning coating, and fireboxes made from a similar material.
Although Pit Boss grills have similar elements, most of them look flimsy, and will not meet your smoking and grilling demands.
Temperature range
Both Traeger and Pit Boss grills have almost the same temperature range. These grills have a temperature range of 100 degrees F to 500 degrees F.
Cooking space
Traeger grills also have a larger cooking surface when compared to Pit Boss grills. In fact, the Traeger grill with the largest cooking surface has 884 sq. in. of cooking surface, without the firebox space.
Pit Boss grills, on the other hand, have a cooking surface of 500 sq. in. on the higher side.
Hopper size
Also known as the wood pellet hopper, this is the container or canister of the grill that holds the wood pellets. Pit Boss grills have models that can hold up to 12 lbs. of wood in one-hopper.
Traeger, on the other hand, can hold up to 18 lbs. of pellets, and most of them have an ash collection system.
Traeger vs. Green Mountain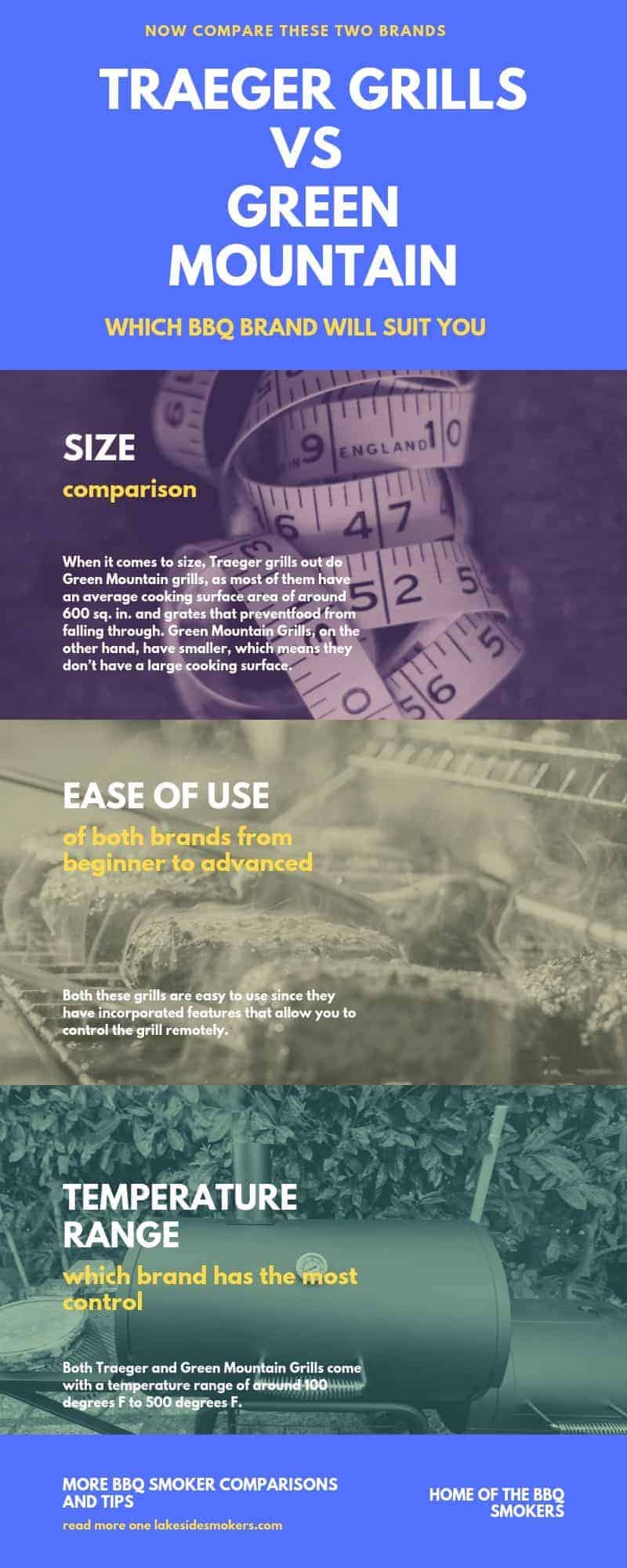 Size
When it comes to size, Traeger grills out do Green Mountain grills, as most of them have an average cooking surface area of around 600 sq. in. and grates that prevent food from falling through.
Green Mountain Grills, on the other hand, are smaller, which means they don't have a large cooking surface.
Ease of use
Both these grills are easy to use since they have incorporated features that allow you to control the grill remotely.
Temperature range
Both Traeger and Green Mountain Grills come with a temperature range of around 100 degrees F to 500 degrees F.
Are Traeger grills worth it?
If you want a wood pellet grill that is high-quality and durable, then yes, the Traeger grills are worth it. It all depends on your budget and how much you are willing to spend on a grill or smoker.
Many professional smokers agree that a pellet grill is worth its money. This is because pellet grills are so easy to use, and the food tastes great every time.
Traeger Grills are known for:
their simplicity and convenience – the pellet grills control the heat so you won't end up with burned meats, therefore you can always have a successful BBQ.
The pellets are cheap and efficient – you can burn as little as 1lb of pellets in 1 hour.
The grills cook at indirect heat as opposed to a flame on other grill types – this makes it easy to control the temperature.
Their flavor – wood pellets infuse your food with flavor, depending on the taste of wood you choose.
Less smoke – since the grill cooks on indirect heat, you won't walk away smelling like a smokestack.
Best wood pellets for smoking
If you have not owned a pellet grill, you need to understand that these grills provide a uniquely satisfying alternative to traditional smokers and BBQs.
Because of this, you need to understand that there is a wide variety of pellets that you can choose from. It's essential that you consider what flavors you want to taste in your food.
However, it also essential to understand that not all pellets are equal—and this presents a significant challenge to many people.
For instance, blended pellets do not impart food with a strong flavor compared to natural 100% wood pellets.
So, what are the best pellets for smoking?
Wood pellets come in different flavors—yes, flavors of wood, and this is what makes smoking distinct from gas or charcoal grilling.
Smoking pellets don't have the same taste—and this is something you need to note right from the beginning.
There are lots of different wood pellet flavors that you can choose from—and it's a bit challenging to say which best wood flavor is.
However, certain flavors are a bit better to pair with some foods compared to others. Here are some examples of the best smoking wood pellets you will find out there on the market.
Just so you know, these flavors are available on Amazon, thus you can order online and avoid a trip to the store.
Alder – salmon, poultry, and game birds
Apple – poultry, pork, lamb, and seafood
Cherry – all meats
Hickory – pork, and ribs
Maple – poultry, vegetables (for you vegetarians out there), and cheese
Mesquite – red meat
Oak – all meats, mostly blended with other wood.
Pecan – poultry
Walnut – red meat, and game
Also, it's always fun to mix flavors. Even though there are a number of flavors you can find out there, there are basically there different types of smoker pellets for you to choose from. These include:
Also read: the best wood pellet smokers for your money
Blended wood pellets
Blended pellets mix flavored wood and filler to reduce the costs. Mostly, the ratio is around 30% flavored and 70% filler.
In consequence, the blended pellets are not generally as flavorful as 100% flavored wood.
Standard pellets
They are made of wood, with little or no flavor, and they are mostly reserved for heating.
Flavored wood pellets
They are made of 100% flavored wood, and they don't have any filler. Mostly, oak is used as filler, which produces a little flavor. Flavored wood pellets are the most costly.
Should you use pellets if you own a Traeger grill?
Traeger grills are some of the leaders when it comes to pellet grills, and the most exciting thing about the brand is that it not only sells pellet smokers and grills, it also has its own brand of wood pellets.
As a result, many people believe that you must use Traeger pellets on your Traeger grill or smoker—but that's not entirely true.
Given the large variety of pellets available, there are many good pellet options for your Traeger.
Although these brands make excellent wood pellets, it's not a must to use them if you have a Traeger grill.
The most important thing you need to note is that you only need to use quality wood pellets and avoid cheaply made pellets, which have the potential of messing up your food and grill too.
Here are the top 5 best wood pellets you can find on the market.
Cooking pellets 40PM Perfect Mix Smoking Pellets for Traeger grills
Introduced to the market over five years ago, Cookinpellets 40PM will always give you that perfect grilling experience you desire.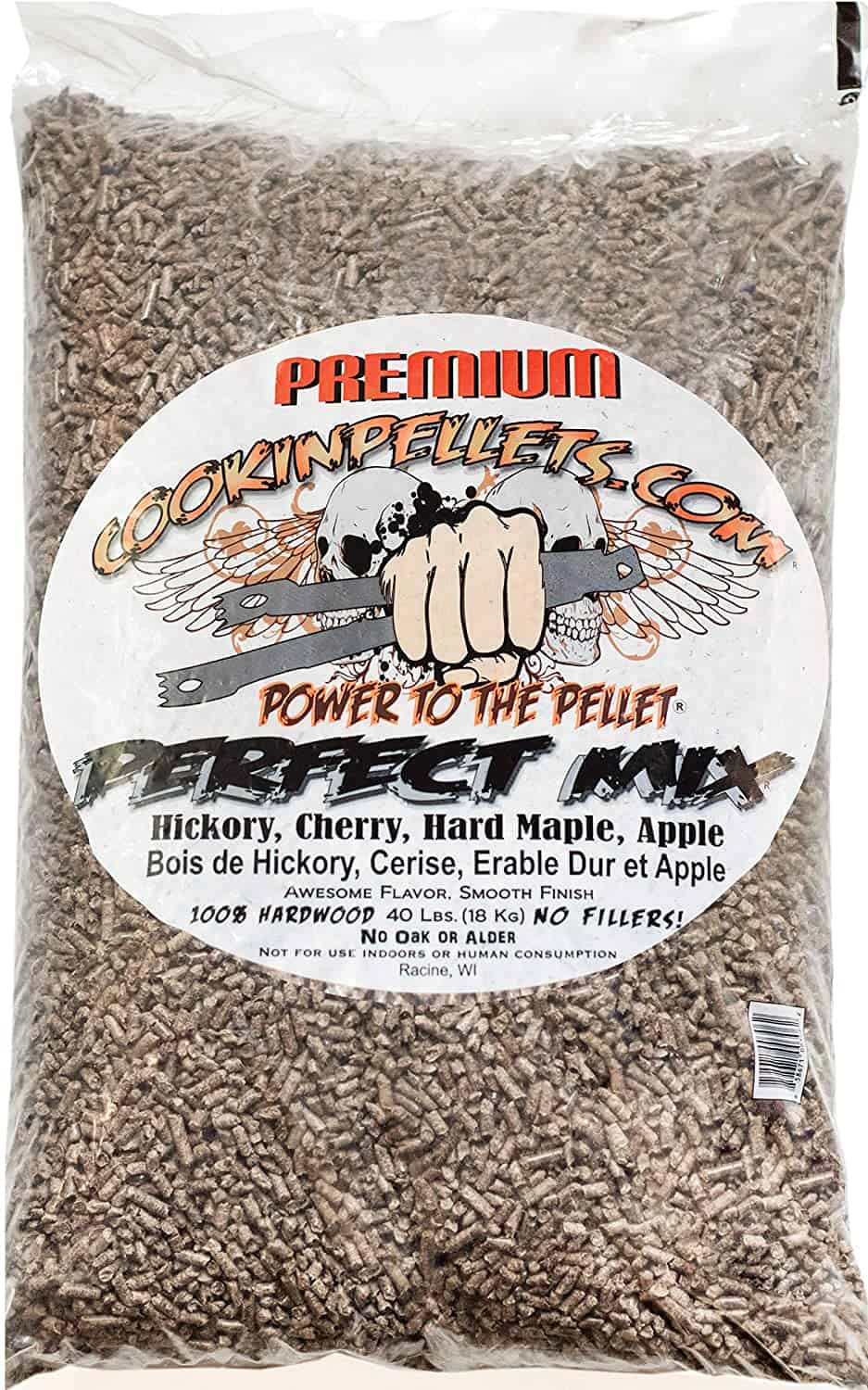 They have a perfect mix blend, which combines for the popular hardwoods for smoking into a single and exclusive smoking pellet package.
Size – 40 lbs.
They constitute of: cherry, apple, and hickory base with hard maple
Pros:
100% flavored hardwood
No bark
All heartwood
Cons
Pre-mixed flavors don't allow you to experiment
40 pounds is a LOT of pellets
Since the Cookinpellets 40PM Perfect Mix Smoking Pellets uses 4 of the most popular hardwoods, they will deliver nothing but the most flavored smoke.
These are the best smoking pellets for anyone who is just starting to use pellet grills—thanks to the perfect blend of quality pellets with a pleasant smoky taste.
You can buy them here from Amazon
BBQr's Delight Cherry Smoke Flavor BBQ Pellets
The BBQr's Delight Cherry Smoke Flavor BBQ Pellets are top-quality smoking pellets.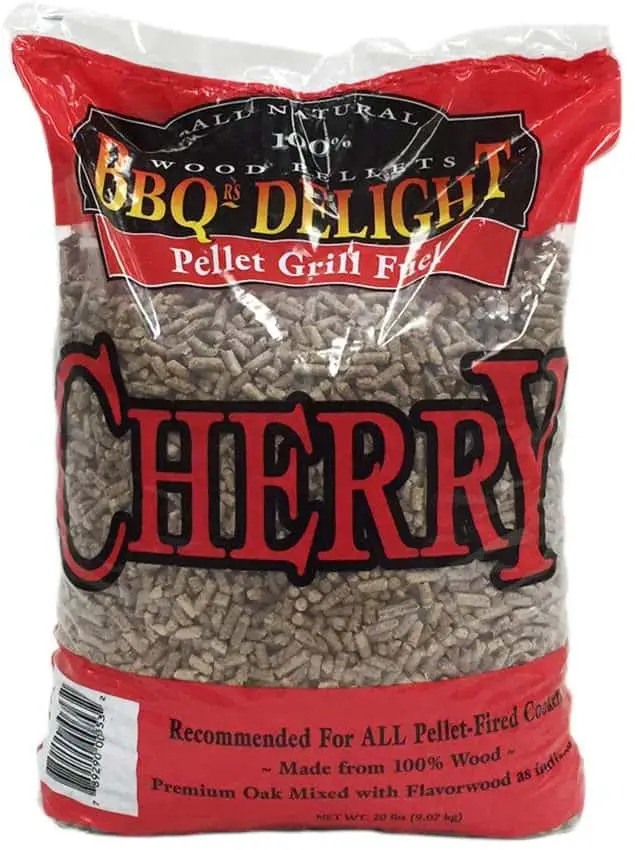 They are 100% natural wood pellets and come in a variety of flavors, and they are the perfect choice for anyone who's got meat smoking in their grill.
In addition to being natural wood, these pellets are made from high-quality wood, not rotten or diseased wood.
Size – 20 lbs.
They constitute of one-third cherry and two-thirds oak
Pros
Burns hot
100% wood
Low ash
Cons
Milder flavor than you'd get with 100% flavor wood (this might be a "Pro" for some people)
A bit pricey for a blend
Blending wood pellets with oak only ensures that you get a good and steady burn at a consistent temperature.
The BBQr's Delight Cherry Smoke Flavor BBQ Pellets are nicely formed wood pellets, made without oil and filler, and they usually burn clean.
They come in 20 lbs. Bag, which is pretty manageable. It allows you to use different wood without ever feeling limited.
You can see the latest prices here
BBQr's Delight Apple Flavor Smoking BBQ Pellets
The BBQr's Delight Apple Flavor Smoking BBQ Pellets is a favorite of elite grillers. These pellets are well made, with low moisture content, and they burn clean and hot. Therefore, they are always bestsellers in the smoker community.
The BBQr's Delight Apple Flavor Smoking BBQ Pellets will always make you feel like a pro whenever you are grilling.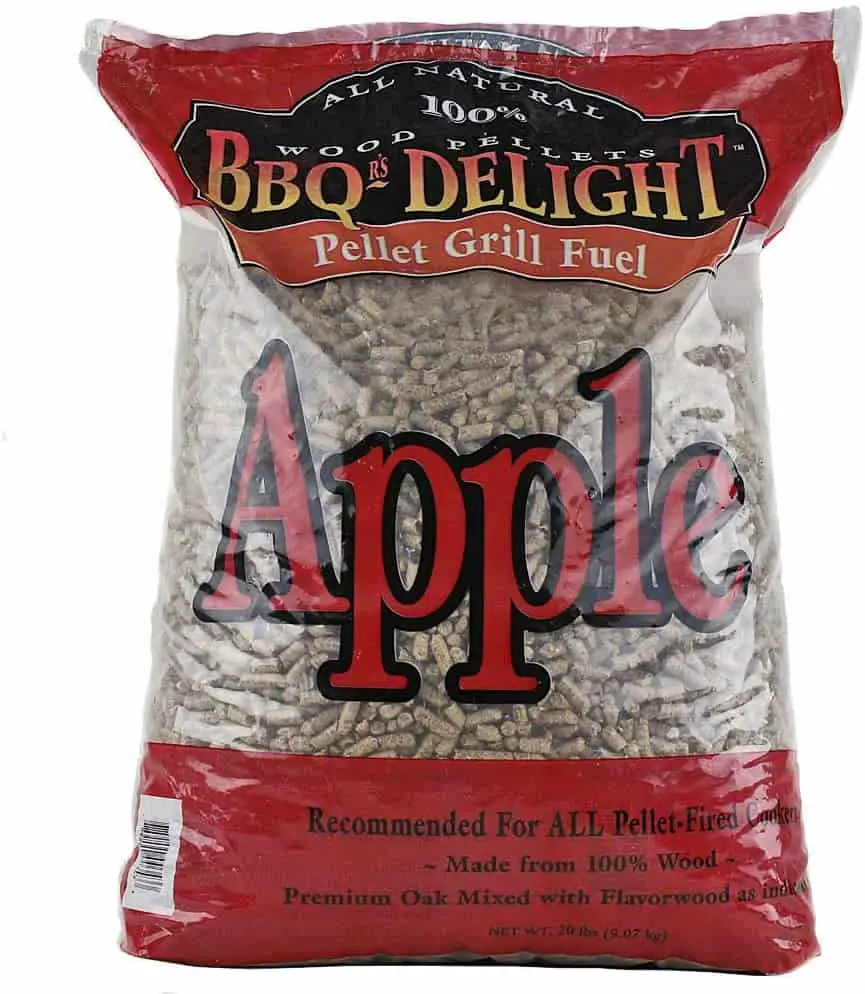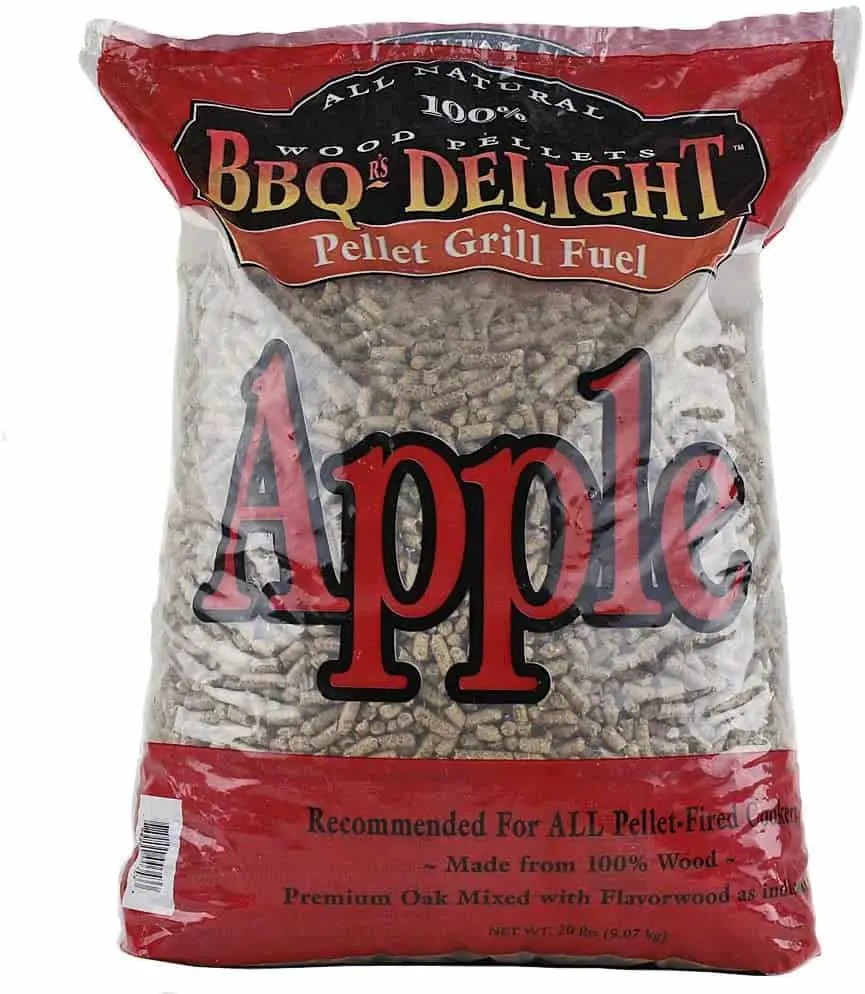 Size – 20 lbs.
They constitute of: one-third apple and two-thirds oak
Pros
100% hardwood
Burns clean and hot
Manageable size
Cons
As with all blends, there's less flavor than with 100% flavor wood (but you might want that). For example, if you want a subtle or light flavor, blends are a good option.
If you're into steaks (awesome pellet recipe here by the way!), ribs, and brisket, apple may not be the best flavor choice.
They are most affordable here on Amazon
Traeger Pel319 Hickory Pellets
You will never get it wrong whenever you buy wood pellets from one of the most trusted brands in the market. Therefore, always choose a trusted brand with good ratings on Amazon. This way, you avoid disappointment when you start cooking.
The Traeger Pel319 Hickory Pellets are some of the best you will find on the market, and they will always make your grilling experience memorable.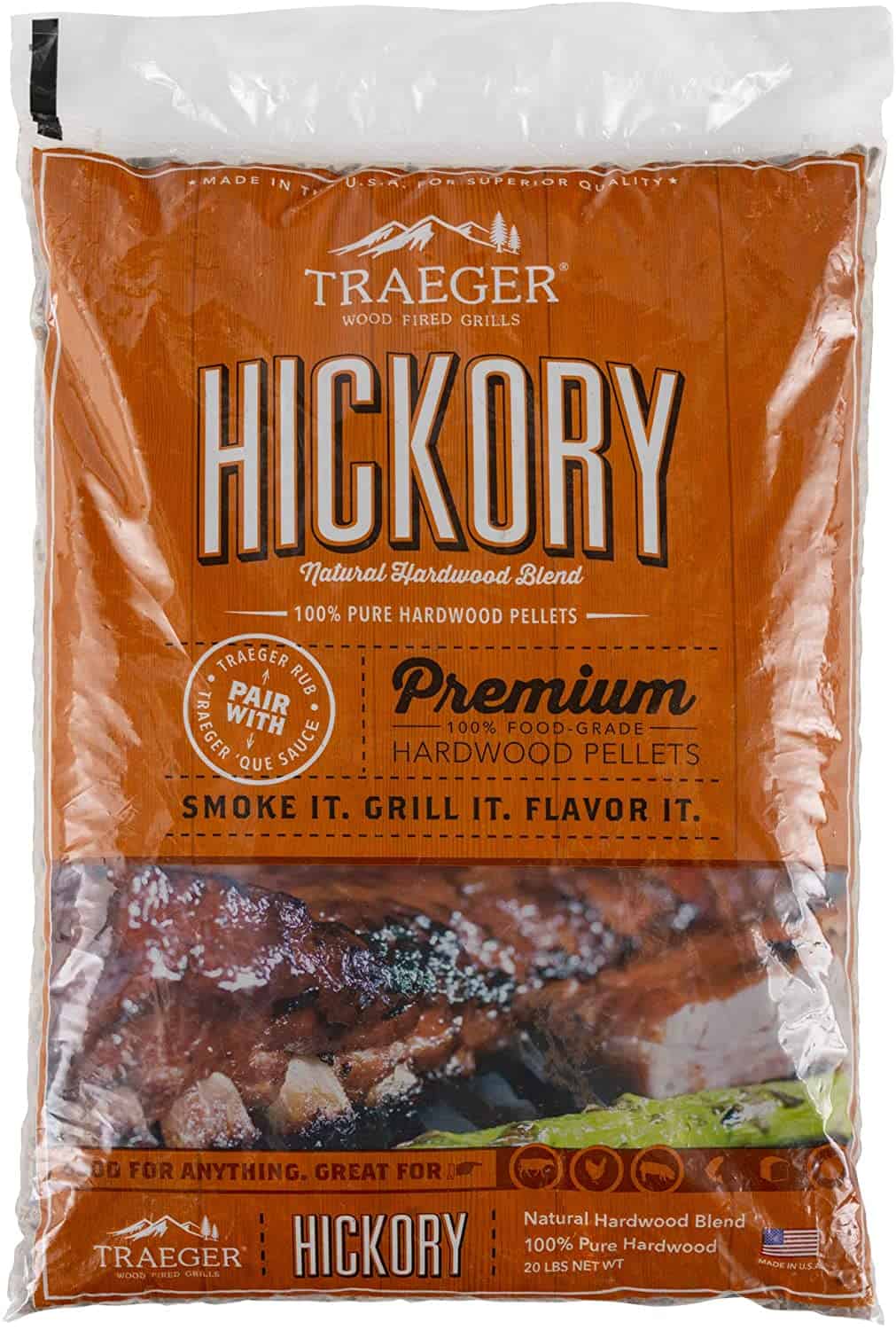 Size – 20 lbs.
They constitute of 100% hardwood
Pros
Consistent quality
All real wood
Excellent burn properties – clean, low ash, thin blue smoke
Cons
Not made of hickory wood (pellets are alder and/or oak with natural flavoring oils)
As we highlighted earlier, Traeger Pel319 Hickory Pellets are some of the best wood smoking pellets you can ever find there in the market.
This brand, particularly, is a great maker of pellet flavor for smoking and grilling, so it is an excellent choice for grillers.
When you opt to go for hardwood, rather than flavored wood, you will end up with all the natural flavors you'd like to have—and an enhanced burn quality of alder or oak.
Lumber Jack Apple Blend BBQ Grilling Pellets
Lumber Jack is well known for making premium-quality wood pellets, which are ideal for entry-level grillers to pro-pit masters.
This brand has an entirely different approach to their product—they first de-bark the oak in the blend and then leave it on the flavor wood for a flavored smoke that is more intense. Moreover, these pellets will infuse your foods with a rich, earthy taste you can only get from a smoker.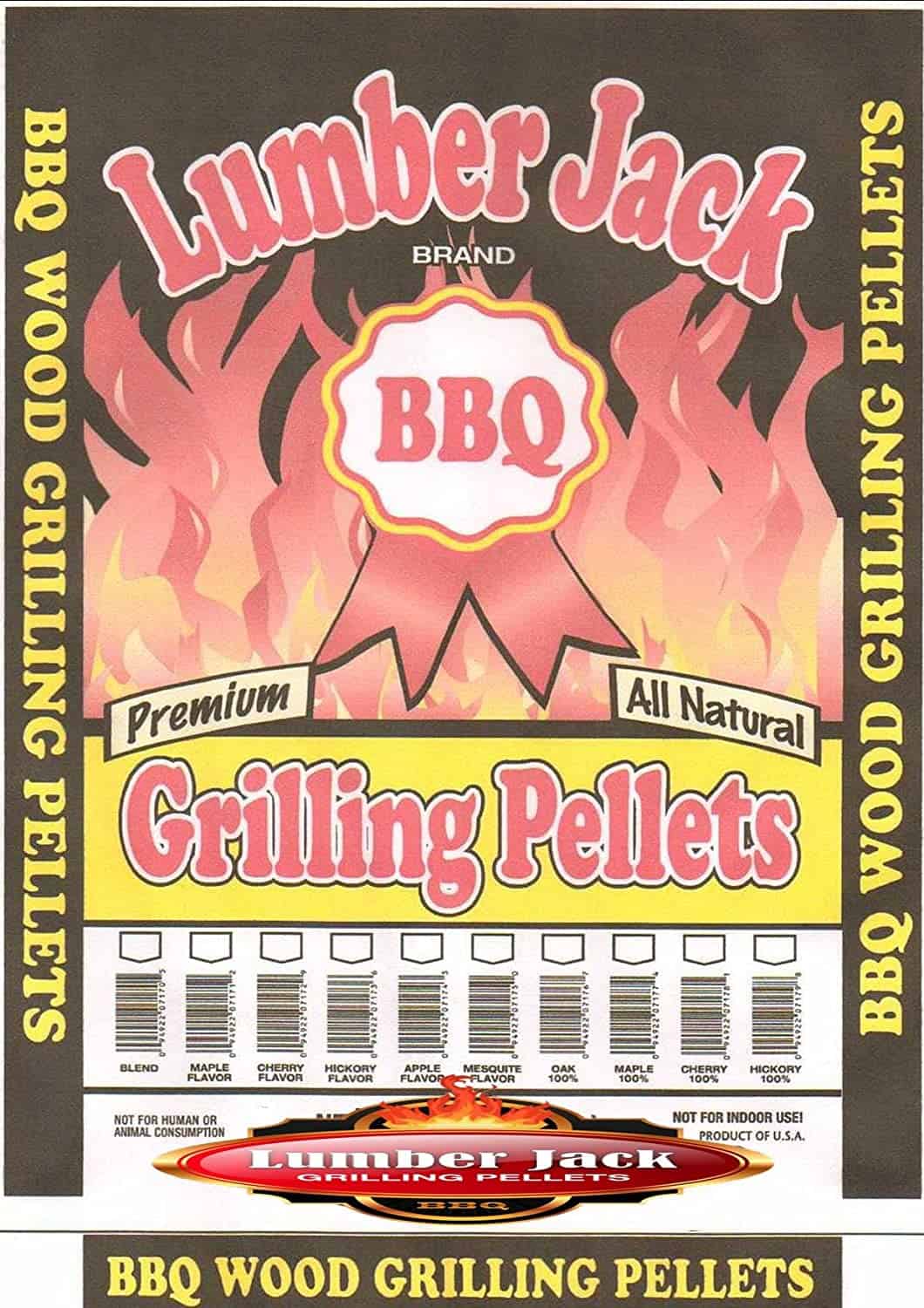 Another exciting thing about this company is that they don't use sawmill cast-offs. They use their own trees when making the pellets for both heating and pellets, and shaving for pet bedding. Consequently, you know you're buying quality at a great price.
Size – 20 lbs.
They constitute 40% apple and 60% red oak.
It's very interesting to note that the company doesn't use any cast-offs.
Pros
A higher percentage of flavored wood than in most blends. In consequence, the taste is stronger.
Quality tested by an independent lab
More intense flavor than some other brands
Cons
With some quantity of bark present, you may see a bit more ash than with other brands, but regardless, this is still excellent to use.
It can be a challenge to argue about an additional flavor—that's what pellet smoking and grilling are all about. Spending some extra cash is worthy if you need some real wood flavor.
Also, since these wood pellets are 100% wood, they usually burn and offer excellent smoke. As a result, this is a great type of pellet for curing and smoking large cuts of meat such as beef.
One thing you need to note about Lumber Jack is that they have a wide range of products. So this means you can select and choose, mix and match. Also, know that you are getting quality products. These wood pellets are highly recommended.
How long does a bag of wood pellets last?
Traeger calculates that one 20 pound bag of wood pellets can burn for up to 20 hours, depending on how long you grill or smoke.
Pellets last from anywhere between 6 hours to 20 hours, which is a long cooking time. As a matter of fact, a smoker generally burns 1 to 3 lb of pellets per hour, thus these pellets last you for a long period.
Consequently, it's up to you how many pellets you born as it all depends on what food you are cooking. Chicken and fish take less to cook than beef or pork, for example.
Therefore, you can rest assured pellets are an economical way to smoke and grill because you can use one bag of pellets for several cooking sessions.
Are Traeger grills sold at Costco?
Yes, there are special edition Traeger grills that are sold exclusively at Costco.
Let's look at the Traeger Century 22 & 34 Model that is extremely popular at Costco. It rarely goes on sale, and people are always hunting for it.
The Century sells for about $1200 and features an LED Display and a Digital Elite Controller. This model is only available for purchase at Costco.
Do Traeger Grills ever go on sale?
The grills rarely go on sale. Many people find the products expensive and look for discounts or sales. According to Traeger's website, on some rare occasions, they offer sales, discounts, and run special promotions. To make sure you get notified, download the Traeger App.
Are Traeger Grills made in China?
Traeger used to pride itself that the pellet grills were made in the United States. Due to high manufacturing costs, Traeger opened a manufacturing plant in China in order to lower production costs.
Traeger wood pellet grills are now made in China. But all things considered, they are still high-quality products that undergo a strict quality control procedure to ensure customer satisfaction. Since people are always looking for a cheaper price, the company must reduce costs.
With that said, some customers are upset that Traeger grills are no longer made in the USA.
How long do Traeger Grills last?
People are now concerned about the quality of Traeger Grills. After all, you're likely wondering how long is the pellet grill going to last you?
It's hard to give an exact number of years, but expect your Traeger grill to last you for at least a decade (10+) years. Therefore, it's still a good investment because these are durable products so you don't need to keep purchasing other grills. In short, a Traeger grill is durable, rust-proof, and a good value product.
What makes Traeger Grills better?
Traeger was the inventor of the wood pellet grill. For this reason, you can be sure they know what they're doing when it comes to manufacturing grills. Since they are the first, they have consistently improved their grills and are always adding new features.
Unlike many other pellet grill brands, Traeger always makes it easy to clean grills. For this purpose, the grills come with a grease collector and easy clean parts compared to other grill models from other brands.
As well, wood pellet grills are much easier to use than gas and charcoal grills. Since the temperature can be controlled, the food cooks at a constant rate and temperature.
This ensures you don't end up with undercooked or overcooked foods. For this reason, many pros and amateurs alike prefer using pellet grills as opposed to gas or charcoal models.
Basically, comfort and ease of use is a key factor that distinguishes Trager from other brands.
The Traeger grills are versatile so that you can grill and smoke all your favorite foods.
In summary, the Traeger brand sells high-quality grills that last you for years, so if you love the smoke and BBQ, it is a worthwhile investment.
Given these points, don't worry about investing in a Traeger grill. Regardless if you choose a cheaper model or a more expensive grill, you are still getting a high-value product.
Also read: this is the Renegade vs the Pro models from Traeger
Joost Nusselder, the founder of Lakeside Smokers is a content marketer, dad and loves trying out new food with BBQ Smoking (& Japanese food!) at the heart of his passion, and together with his team he's been creating in-depth blog articles since 2016 to help loyal readers with recipes and cooking tips.