by Joost Nusselder
|
Last Updated: 
December 6, 2020
I love creating free content full of tips for my readers, you. I don't accept paid sponsorships, my opinion is my own, but if you find my recommendations helpful and you end up buying something you like through one of my links, I could earn a commission at no extra cost to you.
Learn more
A Dutch oven is a thick-walled pot with a tight-fitting lid that is used for cooking.
Regular Dutch ovens are designed to be used indoors, therefore a camp Dutch oven is one that has been designed for outdoor use.
They are perfect for camping and practical enough for a range of delicious meals.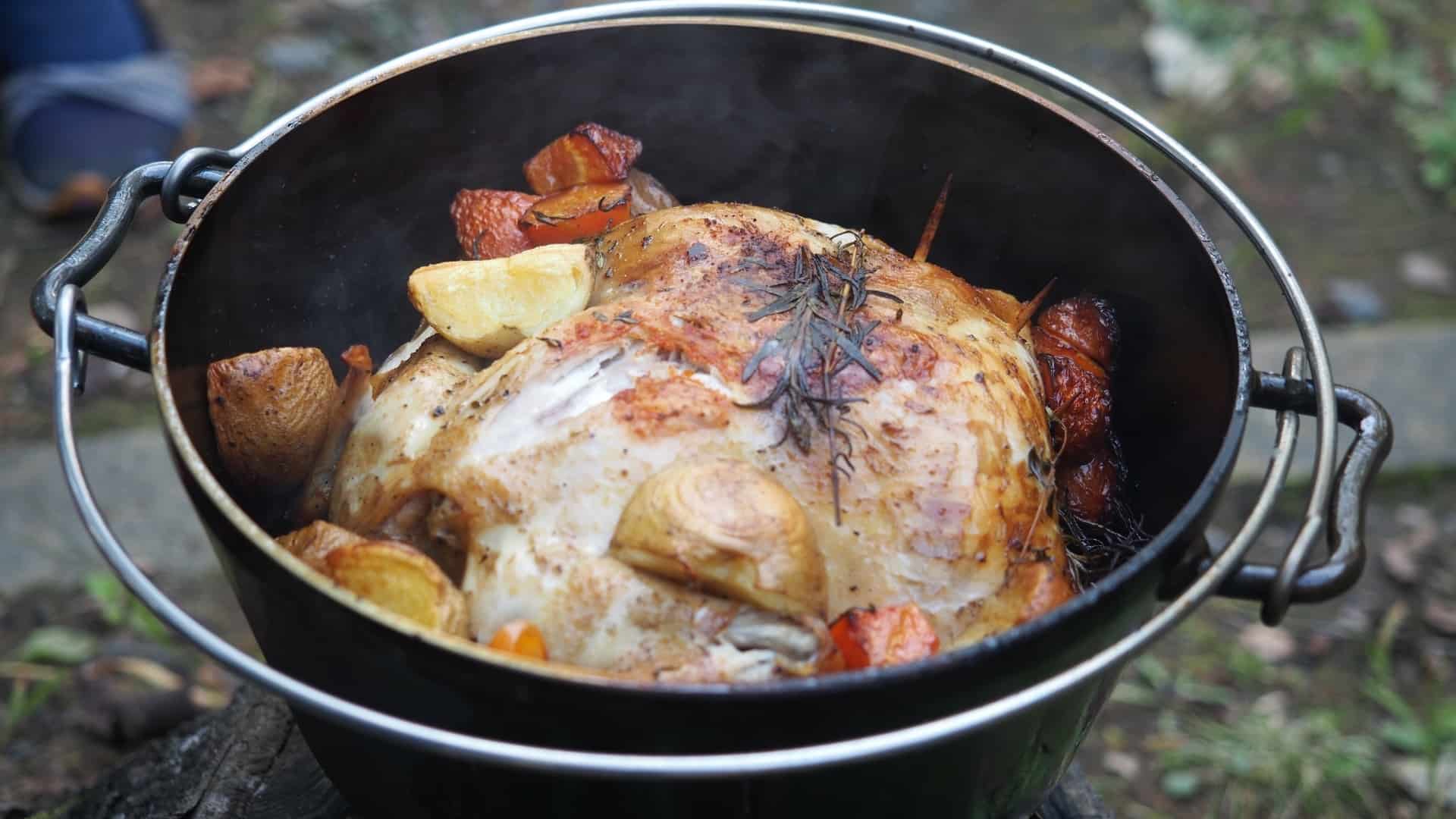 Read on for a simple yet succulent recipe for creating the perfect chicken on a camp Dutch oven, and discover why this is the superior choice when it comes to camp cooking tools.
Camp Dutch Oven Benefits
One of the biggest advantages of a camp Dutch oven is that it is highly functional and efficient. It practically works like a mini oven.
From frying eggs or bacon on the lid to simmering soups, steaming rice, searing or braising meat, and sauteing vegetables – the versatility of this cooking tool is incredible.
You could even bake biscuits or scones. By placing hot coals on both the top of the lid and under the pot, this dual-direction heat ensures the interior of the pot is warmed evenly.
The thick walls of the oven are heavy enough to retain and distribute this heat perfectly, and its size is great for preparing large meals in one go.
Your meals will stay warm until you're ready to eat and can be served straight out of the pot.
This awesome piece of cookware now comes in a range of materials, and each offers its own benefits.
You could easily get your hands on one at an affordable price. Plain cast iron, ceramic, stainless steel, and aluminum are the most cost-effective options.
So next time you start planning a camping trip and make that all-important packing list, this is one essential you won't want to go without.
Wondering what's the difference between a camp Dutch oven and a regular Dutch oven?
Camp Dutch Oven Chicken Recipe
Now, what better way to enjoy the great outdoors and a nostalgic campfire than kicking back with some tasty food.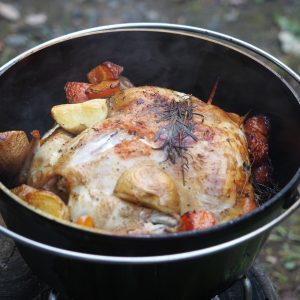 Camp Dutch Oven Chicken
Here's a chicken recipe that's both flavorful and easy-to-follow.
Ingredients  
1

Whole chicken

½

cup

butter

½

cup

dry rub of your choice

optional

Vegetable selection of your choice

optional
Homemade dry rub
2

tbsp.

brown sugar

1

tbsp.

onion powder

1

tbsp.

garlic powder

1

tbsp.

smoked paprika

1

tbsp.

ground cumin

1

tbsp.

ground black pepper

½

tbsp.

cayenne pepper
Instructions 
Dry rub
The ingredients for the dry rub are interchangeable, but using some kind of sugar, pepper, and paprika will ensure good taste and color.

Mix ingredients together and store in an airtight container.

Spread rub evenly over chicken.
Chicken
In the same way that you preheat an oven, you'll want to make sure your pot is hot before you start cooking the chicken.

Heat the camp Dutch oven over your coals and melt the butter inside.

Cover your chicken with the (optional) dry rub and place it into the pot (breast side down). Alternatively, you could do this step at home and wrap your chicken so it's ready to go straight in.

Sear both sides of the chicken. While this is happening, cut your vegetables into fairly thick pieces. (If you don't want any vegetables then skip this and steps 5-6.)

Once chicken is well browned, remove from the pot and add vegetables into the pot, lining the base with them.

Return the chicken to the pot, setting it on top of the vegetables.

Cover with the lid, and place hot coals on top of the lid so the chicken cooks evenly.

Check the chicken is cooked all the way through and remove from heat.
Camp Dutch Oven Cooking Tips
Before you set up your campfire, make sure the area is dry. If the ground is damp, this could affect the efficiency of your coals.
If you decide to cook without vegetables, you'll want to put a trivet or some tin foil at the bottom of the camp Dutch oven. Your chicken goes on top, and this prevents it from burning.
It's hard to stick to an exact cooking time as this will depend on several facts, such as the size of your chicken, starting temperature, and fluctuations in temperature while cooking.
Therefore, a good rule of thumb is to add 20 minutes for every pound of chicken.
If you use a digital meat thermometer, the chicken should be okay to eat once it reaches 165 °F.
When it comes to the hot coals, try to maintain a 2:1 lid to base ratio. This is because heat rises, so you should have more coals on top to ensure an even cooking temperature.
It can be worth investing in some extra accessories to go with your camp Dutch oven, such as a lid lifter, tongs, and a small hand shovel to move your coals around.
Certain materials may need extra preparation. For example, a cast-iron camp Dutch oven could do with being seasoned with oil.
This not only stops the oven from rusting but helps stop food from sticking to the pot.
Looking for more delicious chicken recipes? Why not try Pellet Smoker Beer Can Chicken next?