by Joost Nusselder
|
Last Updated: 
October 8, 2020
I love creating free content full of tips for my readers, you. I don't accept paid sponsorships, my opinion is my own, but if you find my recommendations helpful and you end up buying something you like through one of my links, I could earn a commission at no extra cost to you.
Learn more
You may have heard both the term Dutch oven and camp Dutch oven, and wondered what's the difference?
Today we will explain what sets a regular Dutch oven apart from a camp-style Dutch oven.
If you enjoy camping, a Dutch oven is a tool you won't want to be without.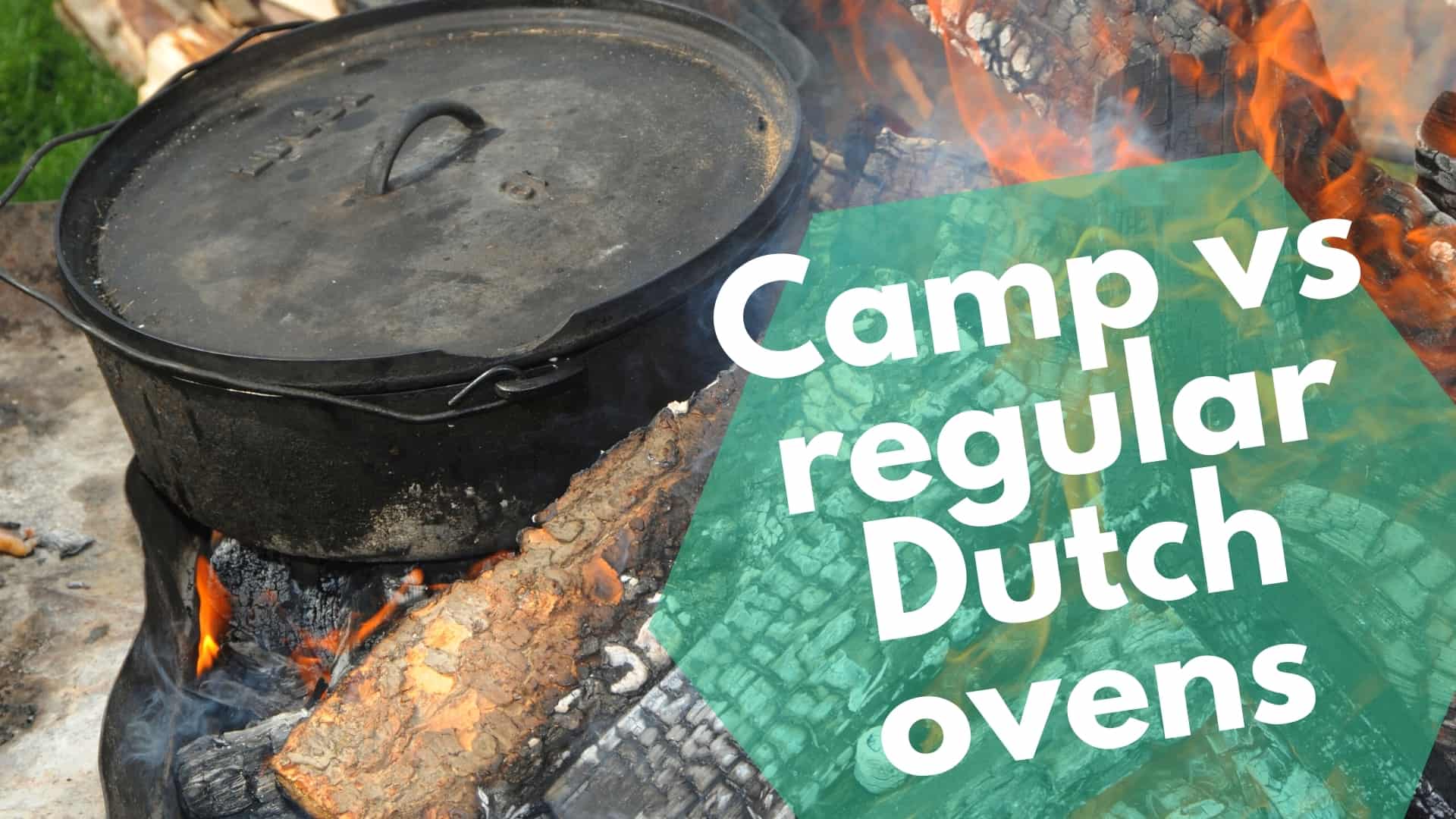 What is a dutch oven?
For the uninitiated, a Dutch oven is a heavy cooking pot with a tight-fitting lid.
Dutch ovens are thick-walled cooking pots with tight-fitting lids.
Some are made for home use and some are made for camping.
Dutch ovens used for camping are typically made from cast iron and have legs that allow them to be placed on the ground over a fire.
They also have a flat flanged lid to keep charcoal from rolling around while cooking and a handle that allows the oven to be moved easily.
You can use it to cook your favorite meal not just on your stovetop, but in your oven too.
Let's check out the top choices of both real quick, then I'll get more into the differences and review each of these some more:
What is the difference between a camp Dutch oven vs. regular Dutch oven?
Now, let us go the next question: what is the difference between a camp Dutch oven vs. regular Dutch oven?
If you are not familiar with Dutch ovens, you might think that these two are just the same.
Well, they are not.
In this post, I will share with you the major differences and similarities of these two ovens and help you decide which one to get for yourself.
Camp Dutch Oven vs. Regular Dutch Oven
Several features set a camp Dutch oven apart from a regular one.
Design and Build
Let us start with the design and build of these two Dutch ovens.
As the name implies, the camp Dutch oven is basically designed to be used outdoors or in camping occasions.
On the other hand, the regular Dutch oven is originally designed for use indoors.
A typical camp Dutch oven has a wire bail that you can use to hang it over a campfire or hearth. The wire bail also comes in handy when you need to transfer the pot somewhere else after cooking.
This pot also features three short legs, making it ideal for cooking over wood or charcoal.
In contrast, the regular Dutch oven looks like your typical pot. It does not have a wire bail or set of legs.
Its bottom is flat, making it suitable for stovetop cooking and baking in the oven.
Material
Before, Dutch ovens are only made from cast iron. That goes for both camp and regular Dutch ovens.
Cast iron is an excellent material for retaining heat and releasing it evenly into any food.
Thus, making Dutch ovens perfect for braising and stewing meat.
However, in the past years, manufacturers have turned to other materials to make Dutch ovens more affordable and efficient.
Aside from the plain cast iron, we now have enameled cast iron, ceramic, stainless steel, glass, aluminum, and cast aluminum Dutch ovens.
Here are some of the things that you should know about these Dutch oven materials:
Plain Cast Iron
Affordable
Has to be seasoned
If unseasoned, you cannot use acidic ingredients
Heavy
Long-lasting
Enameled Cast Iron
Expensive
Do not have to be seasoned
Can handle acidic ingredients
Enamel can crack over time
Ceramic
Affordable
Lightweight
Easy to heat
Easy to clean
Stainless steel
Affordable
Thin
Lightweight
Easy to clean
Poor heat retention
Glass
Non-porous, repels stains and odor
Lighter than cast iron
Safe for conventional oven and microwave
Dishwasher safe
Refrigerator safe
Aluminum
Affordable
Lightweight
Easy to heat
Do not have the same heat retention as cast iron
Surface can be easily scratched
Cast Aluminum
Expensive
Lighter than cast iron
Dishwasher safe
Good heat retention
To date, camp Dutch ovens are mostly made from cast iron.
Meanwhile, regular Dutch ovens are manufactured using different materials.
Functionality
The difference between the camp Dutch oven vs. regular Dutch oven really comes down to one thing – functionality.
While both ovens are excellent for cooking a wide variety of dish, they still have different functions.
For instance, the camp Dutch oven, commonly referred to by many as the "real Dutch oven," has a flat lid with lip around it.
This allows for hot coals to be put on top of the lid so heat will come not only from the bottom but from the top of the pot as well.
If used this way, you will be able to bake bread even when you are outdoors.
On the other hand, the more familiar Dutch oven comes with a curved lid. Meaning, you cannot put hot coals on top of it.
However, if you want to bake using your regular Dutch oven, you can just put it in your oven or furnace.
What to Know About Buying a Camping Dutch Oven
When you are looking for a Dutch oven, there are certain features you will want to look out for.
Dutch Oven Handle
A handle is a feature that really comes in handy in a Dutch camping oven.
It allows the oven to be moved around easily. It also allows it to be hung over a fire.
Lid or No Lid
Dutch camping ovens typically come with a lid.
The lid is flat and has a raised rim around it to keep charcoal from rolling around.
Lids can have several features that make the oven unique. For instance, the lids may have their own legs that allow it to stand when inverted.
Others may have their own lid stand. These are features that allow the lid to be kept over the fire to cook food working as a skillet or griddle.
Body Material
Most Dutch ovens are made of cast iron. This is ideal for camping as it is durable and retains heat well.
Legs
The legs should allow the oven to sit a couple of inches above the ground so it can be placed on top of charcoals or fire.
Size
Dutch ovens come in various sizes and the one you choose will be according to your needs and personal preference.
Options are as follows:
Shallow: Shallow ovens are ideal for baking because the lid is closer to the food. However, many find them versatile enough to work on any recipes. The smaller size makes them ideal for smaller camping groups.
Deep: Deep pans may not cook the top of baked goods as well as shallow pans because the lid is farther from the food. However, they are great for stews and soups. The increased volume also makes them good for larger camping groups.
Diameter: Diameters typically run from 8 to 14 inches. Of course, a larger diameter will also make for a bigger oven that feeds more people.
Camp and regular Dutch Ovens reviewed
To help you better decide which one to purchase, here are some of the best Dutch ovens available in the market today.
Beste Deep Camp Dutch Oven: Lodge 8 quart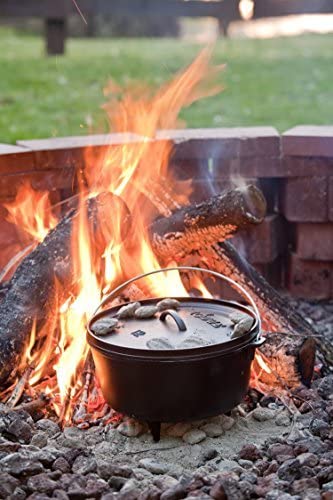 The Lodge Deep Camp Dutch Oven is a great addition to your outdoor cookware collection.
Its lid can hold hot coals and can be inverted for use as a griddle.
Furthermore, its three legs will allow you to place it perfectly over the campfire.
Here's coach Helder raving about it:
While a large camping oven is great for cooking a lot of food, if you're camping with a small group, why bring along such a large device?
This oven is perfect because it comes in a variety of sizes including 5 oz, 8 oz, and 10 oz.
It is great for everything including braising, roasting, searing, sauteing, frying, broiling, baking, and searing.
It can be used on a grill or a campfire. It is pre-seasoned without any synthetic chemicals so you don't have to worry about any nasties.
The oven is extremely versatile. The flanged lid holds hot coals and inverts to work as a griddle.
The cast-iron makes for a durable design that will last a lifetime.
It even comes with a Dutch Oven Cooking 101 cookbook!
It provides the ultimate in heat distribution and heat retention. Its tight-fitting lid locks in heat and flavor.
It has sturdy legs that allow it to stand over hot coals. It is easy to care for and hand washable.
Must know:
Pre-seasoned cast iron
Can be used on grill or over a campfire
Good heat retention and heat distribution
Lid can hold coal and doubles as a griddle
Best Double Camp Dutch Oven: Overmont 8QT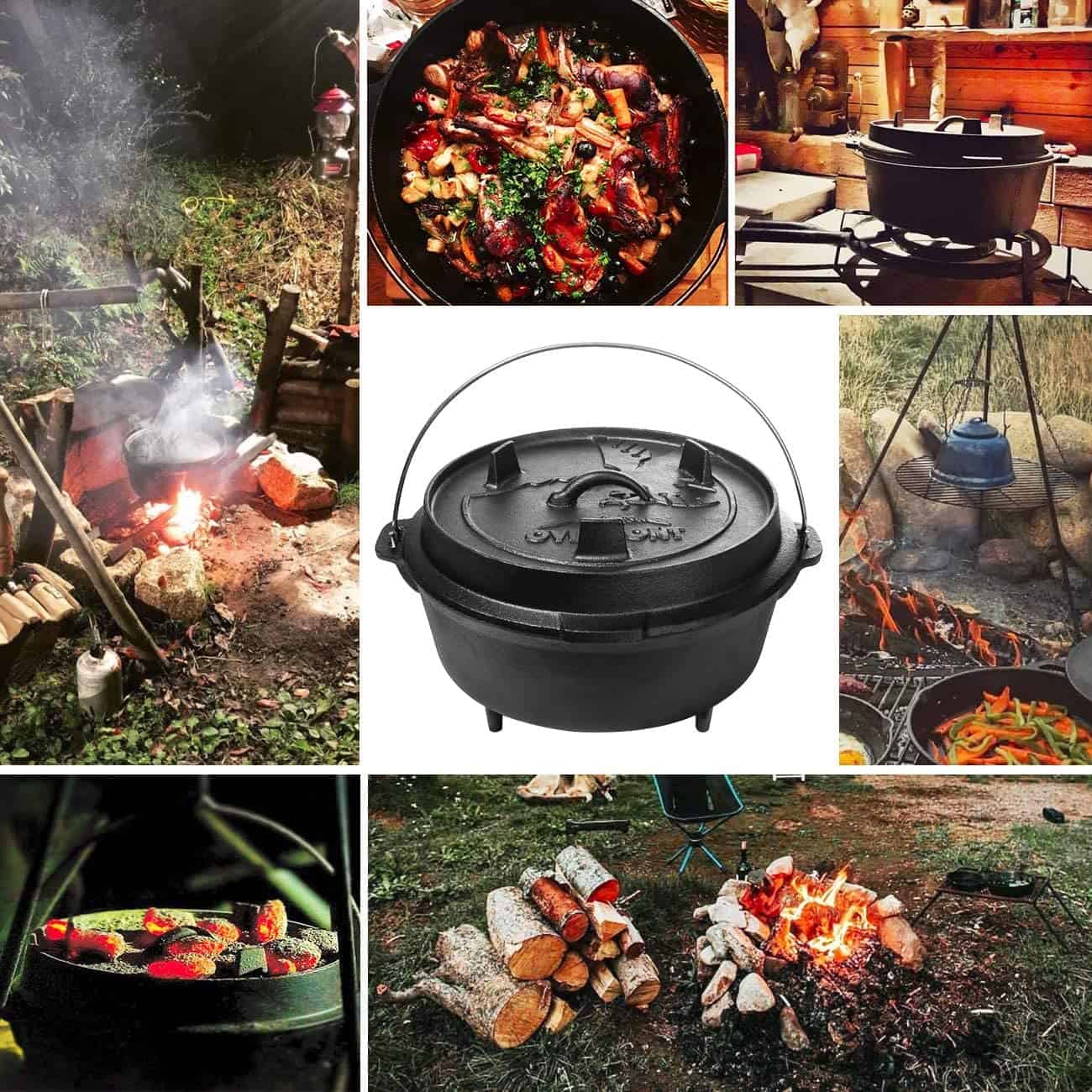 The Overmont Camp Dutch Double Oven is what I refer to as the all-round Dutch oven.
It has legs not just at the bottom of the pot, but on the lid as well.
This allows both pot and lid to sit perfectly over the campfire.
Must know:
Pre-seasoned cast iron
Flanged lid for holding coal
Lid doubles as a griddle and frying pan
Wire handle for hanging over hearth or campfire
Check prices and availability here
Best Large Outdoor Dutch Oven Camp Dutch Oven: Camp Chef 12QT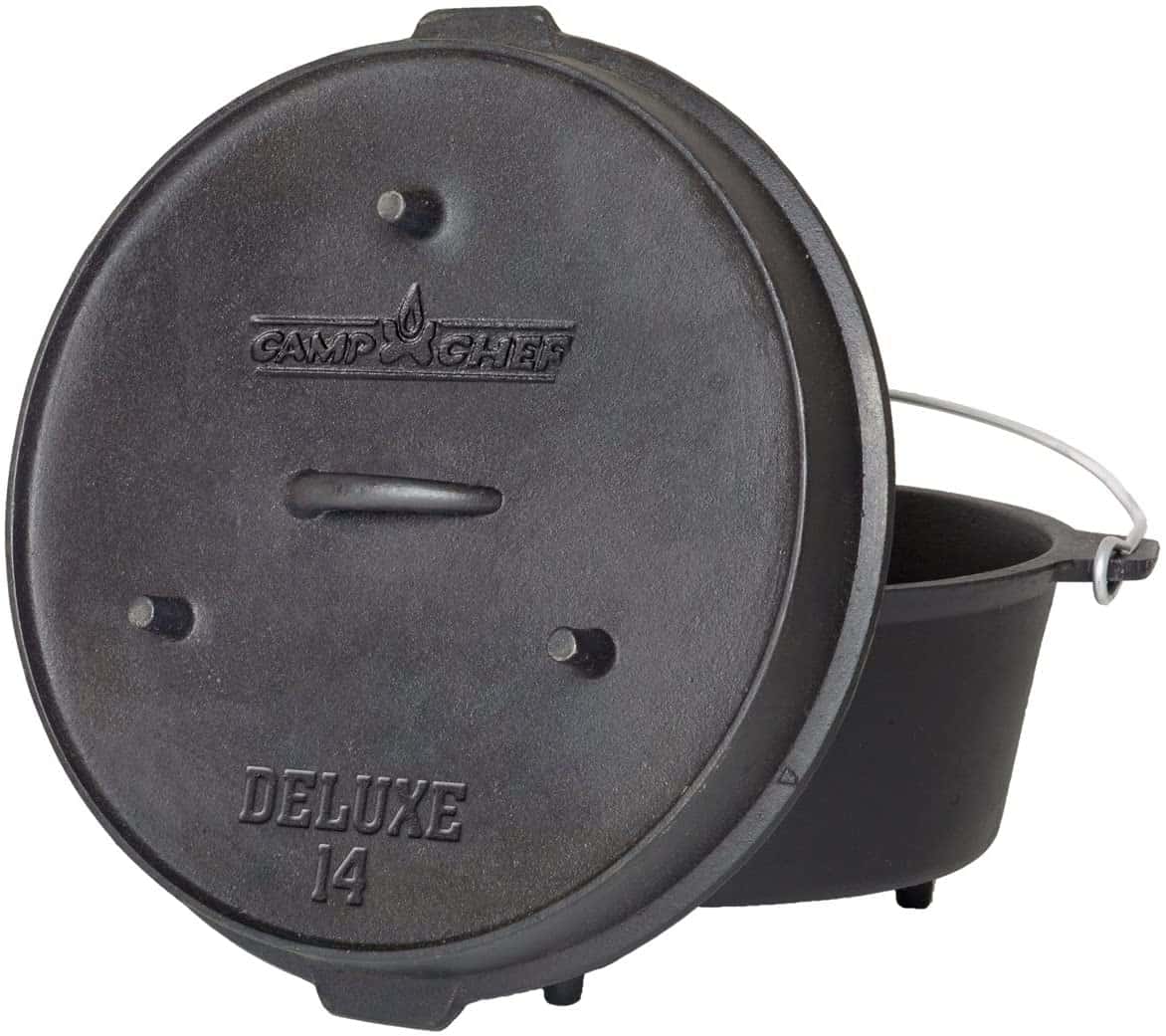 The Camp Chef Deluxe is a great oven for all your camping needs.
Its large size makes it terrific for small or large groups and its ability to be used as a cooking pot, griddle or skillet makes it a versatile choice.
It is great for making eggs, bacon, and pancakes and you can also use it to roast meats or even make a mean peach cobbler. Say goodbye to limited food choices when you're out camping, this oven can make anything!
The oven has a cast iron finish that is super durable and gives food a great flavor. With a diameter of almost 12 inches, it has plenty of room for all the food you need to cook.
The built-in thermometer makes it easy to get the food you are cooking to the ideal temperature.
The lid has legs that allow it to be used as a griddle or skillet. It also has a handle that makes it easy to carry.
The oven even comes with a booklet with seasoning tips.
Check prices and availability here
Best Hard Anodized Dutch Oven: GSI Outdoors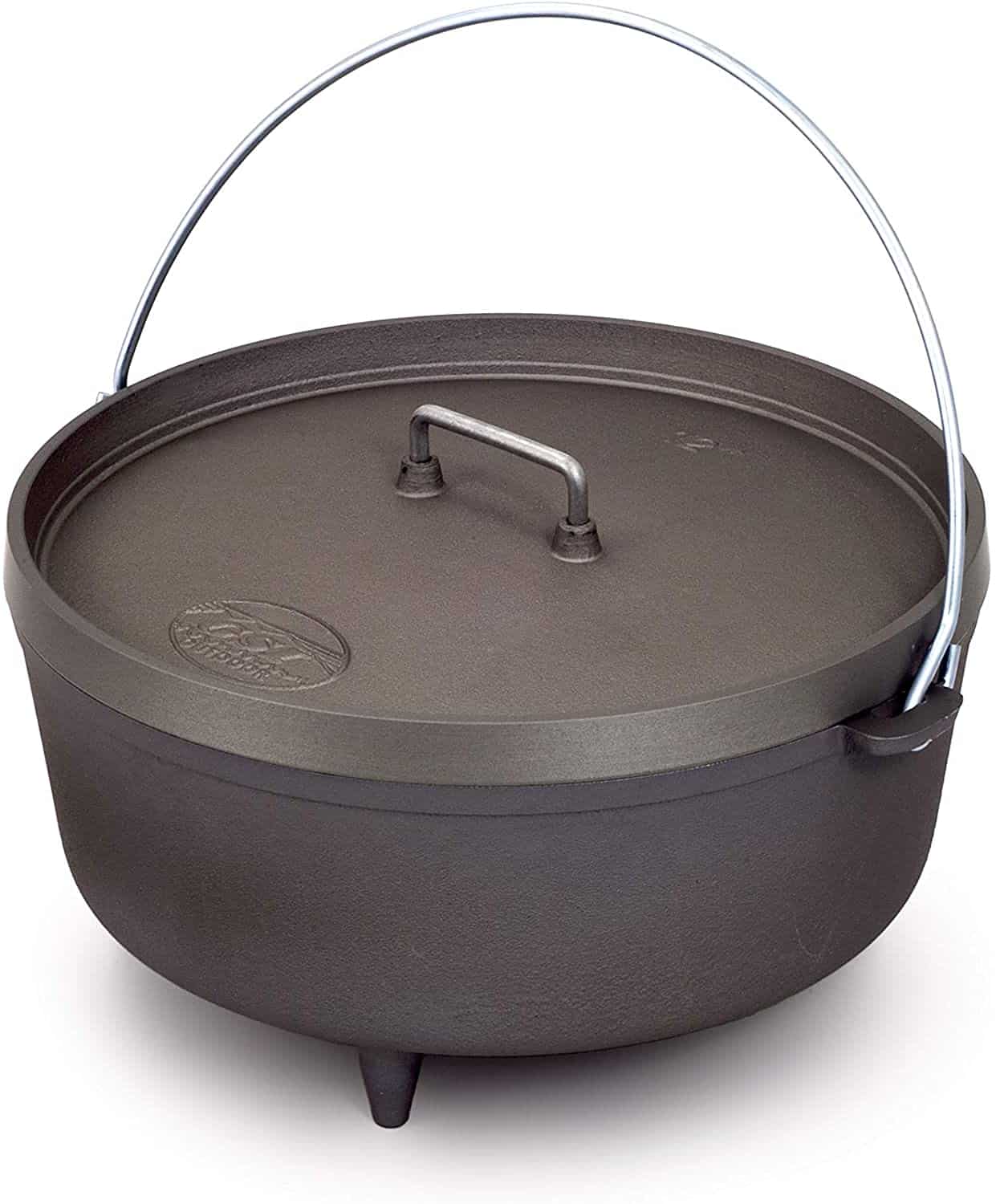 While most Dutch cooking ovens are made of cast iron, this one is made of anodized steel.
It is a lighter weight solution that makes the oven more portable. It is therefore ideal for both home and outdoor use.
It can produce a wide variety of dishes, from beef to stew to biscuits. Like cast iron, this anodized version has been pre-seasoned.
While the anodized steel is lighter weight, it still provides many of the benefits the cast iron cooker does.
It is great for heat retention and heat distribution. The nonporous surface provides nonstick properties.
The lid has a lipped edge that holds the coal in a ring. It is also rust-resistant and easy to clean.
It comes in a variety of sizes including 10", 12" and 14 inches.
Best Cast Iron Dutch Oven: Lodge 5 Quart Dual Loop Handle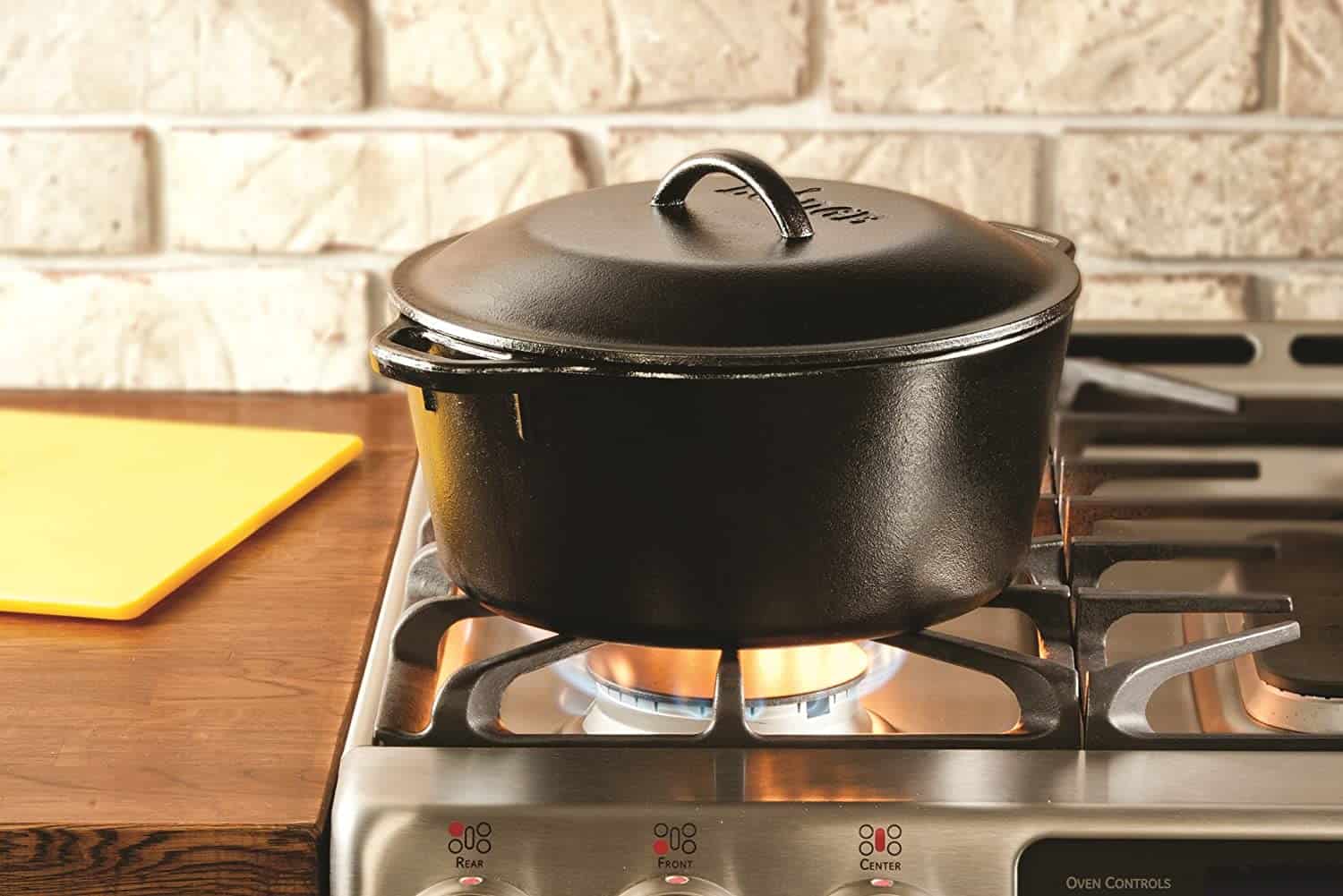 (view more images)
The Lodge 5 Quart Cast Iron Dutch Oven is already pre-seasoned. Meaning, you can use it right away after purchasing it.
Lodge is known for its many cast iron cookware, including Dutch ovens.
Their ovens are made from high quality cast iron and are guaranteed to be durable and versatile.
So, if you want a regular Dutch oven that will last longer than you, this one is highly recommended.
Must know:
Pre-seasoned cast-iron
5.7 Liters
No need to wash with soap
Good heat retention and distribution
Durable and versatile
Best Double Dutch Oven: Lodge Pre-Seasoned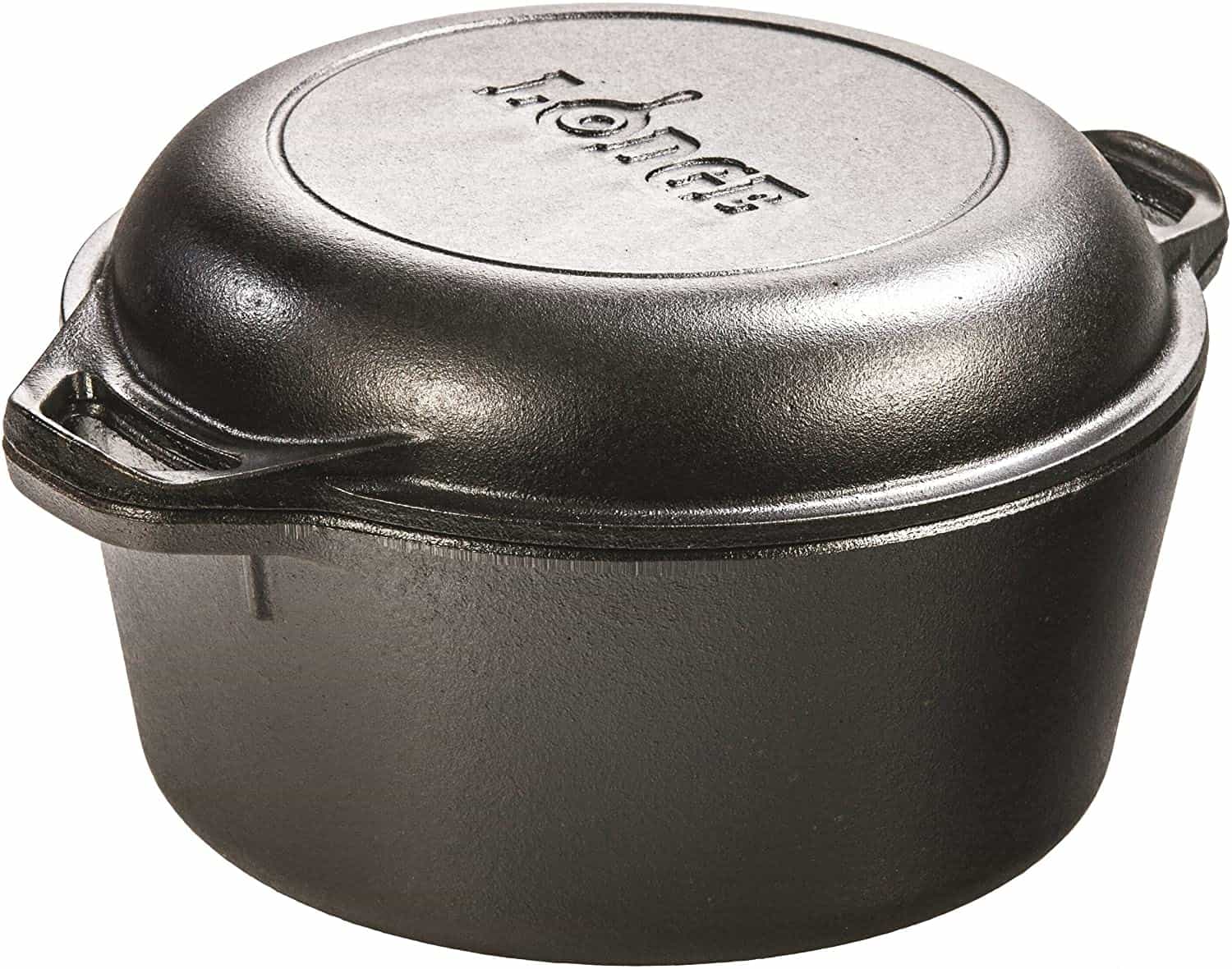 If you are looking for a Dutch oven with a lid that doubles as a skillet, the Lodge Pre-Seasoned Cast Iron Dutch Oven is the perfect choice for you.
It is pre-seasoned with 100% natural vegetable oil and is good for simmering, baking, broiling, roasting, grilling, and frying, to name a few.
Must know:
Pre-seasoned cast iron
Good heat retention and distribution
Lid can be used as a skillet
Durable and versatile
Dutch Oven FAQ
How do you cook with a Dutch oven?
There are many ways you can use a Dutch oven to prepare food.
All it needs is food inside it and a heat source below it and it's good to go.
If you are looking to bake food, add coals to the top as well. This will keep the food at the bottom from burning.
Dutch ovens can be used in the oven, on a stovetop, over a fire, or on top of a grill.
When camping you will be going with the grill or fire top options. Often, the lid can also be flipped over to be used as a skillet.
What are the benefits of using a Dutch oven?
A Dutch oven is ideal because it cooks a variety of dishes.
It is great for making pasta, simmering and braising meat, making stews and soups, and even for preparing baked goods.
Its ability to distribute and retain heat means every dish will come out terrific.
Can you use a crockpot instead of a Dutch oven?
Yes. Because the processes are so similar, they are pretty much interchangeable.
Most recipes for a slow cooker and a Dutch oven start out the same way: you brown the protein, saute the vegetables, add liquid and cook.
You will just have to make some small adjustments when it comes to the timing and temperature settings.
With a slow cooker, you will have to select a low or high setting and let the machine do the work.
With a Dutch oven, a stovetop, oven, fire or grill will do the work of heating the pot and the contents.
Tip: Beer is great when cooking in a Dutch Oven, and not just on the side. Here is why Beer and Barbeque mix so well.