I love creating free content full of tips for my readers, you. I don't accept paid sponsorships, my opinion is my own, but if you find my recommendations helpful and you end up buying something you like through one of my links, I could earn a commission at no extra cost to you.
Learn more
Grilling has never been easier thanks to the newly released iGrill 3 from Weber.
This nifty device connects to the company's LX and Genesis II grills to enable remote control of the temperature based on the type of meat that you're cooking.
All you have to do is stick the provided probes into the meat, select the name of the meat on the app, and wait for the results.
If you want more information on this gadget, read on for a full Weber iGrill 3 review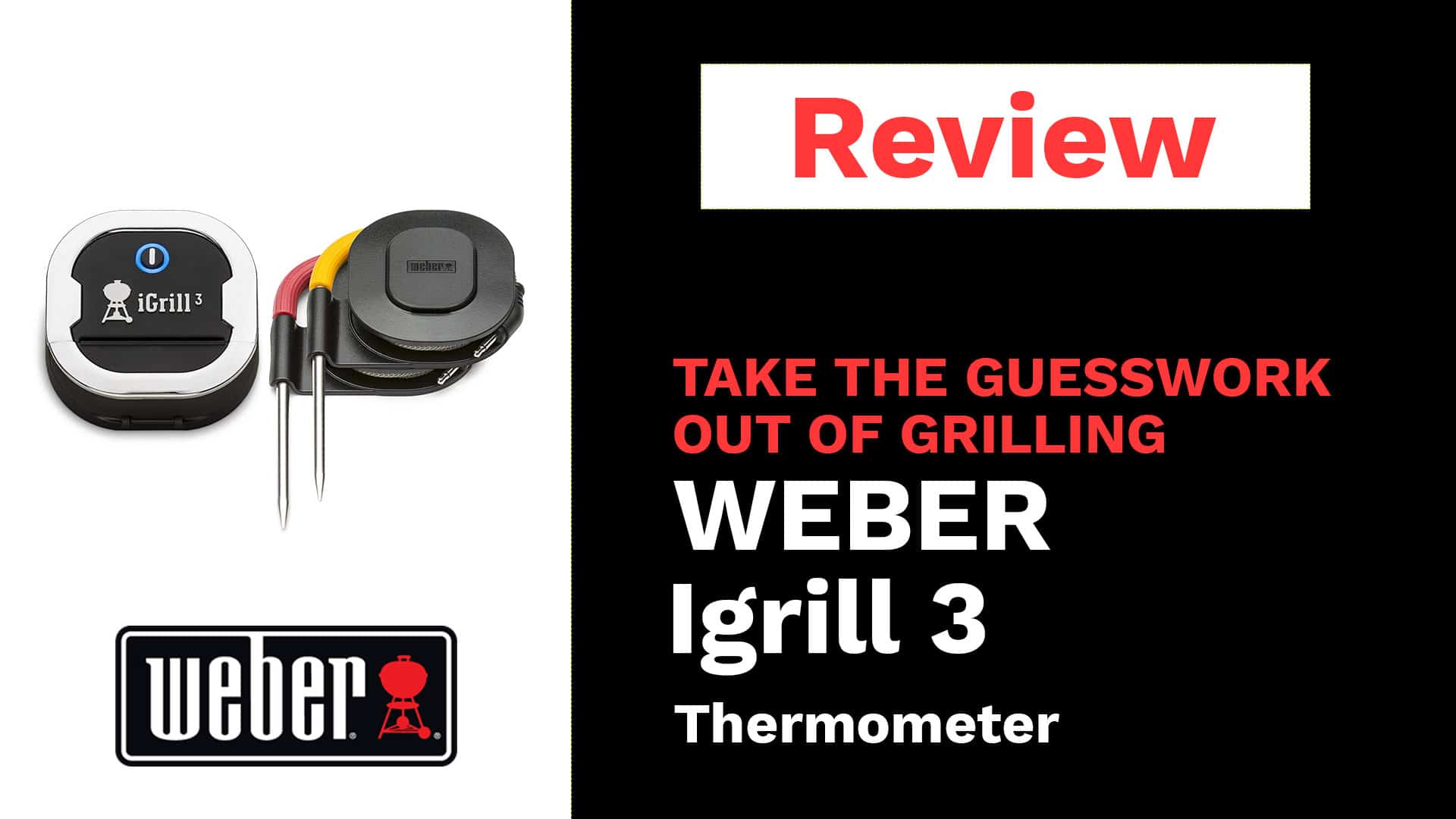 iGrill3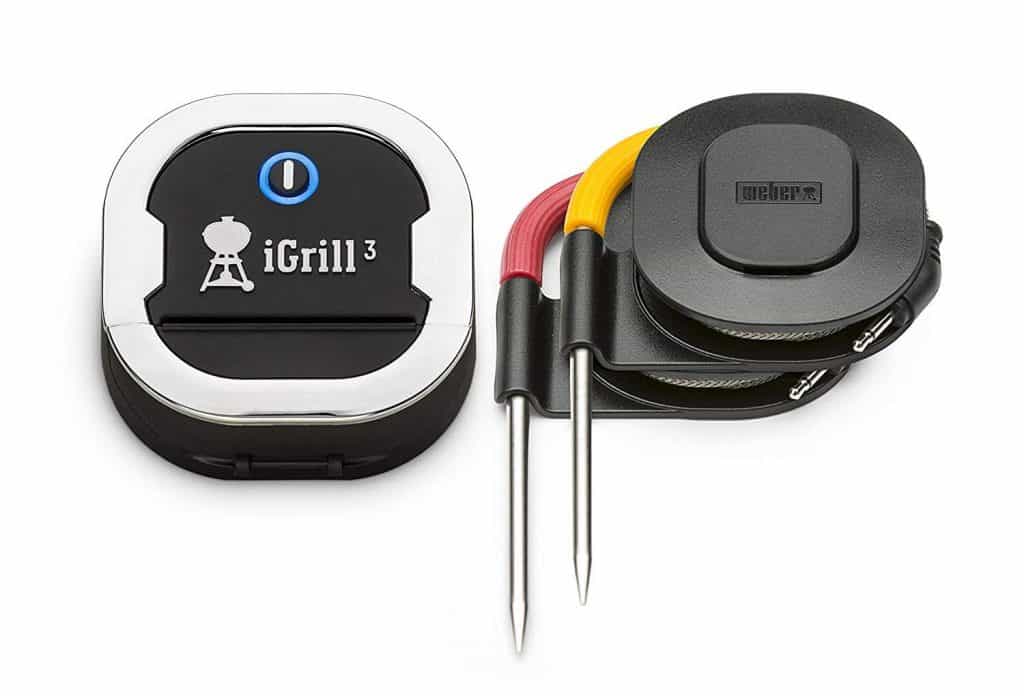 What is iGrill 3?
The weber igrill 3 thermometer is compatible with Android and iOS devices, but a Windows version hasn't been announced yet.
Nevertheless, this gadget features Bluetooth connectivity with a scope of around 150 feet. It also comes with two meat probes that are wafer safe and color-coded for your convenience.
You can add two more probes for added precision but the ones that come with the device are pretty accurate and have a heat tolerance of up to 716 degrees Fahrenheit.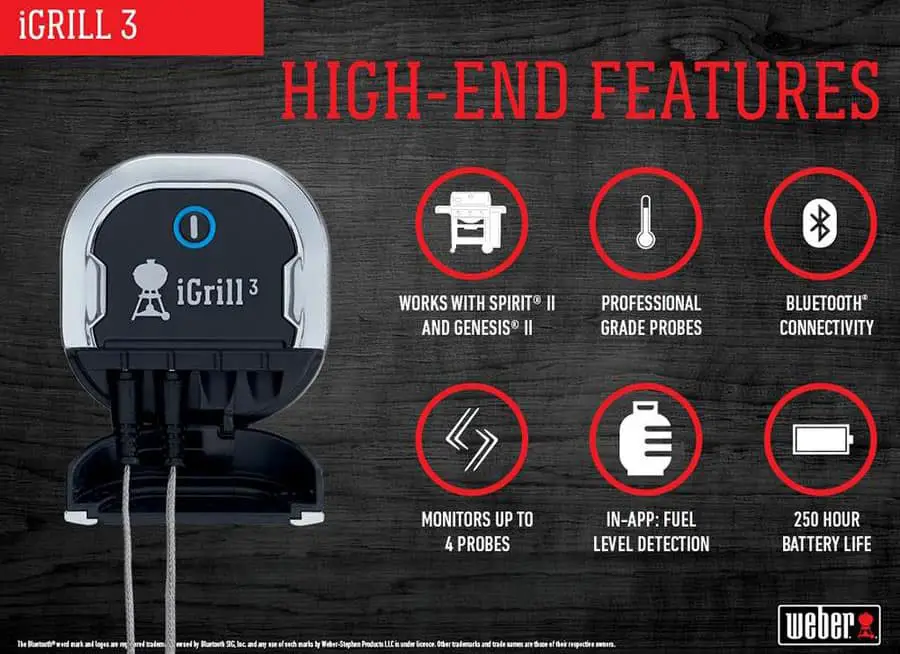 As soon as the probes determine the correct temperature of the meat, the device will alert you through video and audio signals. It doesn't end there, however, as the Weber iGrill app comes with pre-installed grilling recipes, tips, custom alerts, temperature charting, and social sharing buttons to show off your creations.
The Weber iGrill 3 App
With the Weber iGrill 3 Android functionality, you'll find that it's easier than ever to keep an eye on your meat and it will significantly reduce any chances of overcooking or burning it.
You can still mingle and socialize without constantly worrying about the progress of the meat that you're grilling. Meanwhile, thermometer grilling is a breeze thanks to the device's bluetooth thermometer functionality.
How Does the Weber Meat Thermometer Work?
Here's an overview of what you can expect from the Weber iGrill 3 :
Custom alerts
Timer
Knob light that will let you know if the grill is on or off
Notifications for minimum and maximum temperature status
Recipes from members of the app's social community
Graphs that show temperature measurements
Fuel level detection designed specifically for models that are powered by liquid propane
Smart LED
It seems like Weber thought of everything with the design of this gadget. The iGrill 3 has SMART LED lights that change color according to the type of info that the device wants to give you. That way, it's easier for you to tell when you've loaded enough meat into the grill or how much you should increase or decrease the temperature.
Here are the LED colors on the iGrill 3 and their specific functions:
Blue (BLIPPING): Shows that the device is still trying to establish a connection to your phone.
Green (BLIPPING): This is to let you know that the Weber iGrill 3 has been officially connected to your smartphone.
Green (CONTINUOUS): Shows that the device is still trying to determine the temperature and send it back to you.
Red (BLIPPING): This is to let you know that the grill has reached your preferred temperature.
Red (CONTINUOUS): Alerts you about the current temperature.
White (CONTINUOUS): This is to show that the device is approaching shut down mode.
The box comes with the following items:
The Weber iGrill 3 base unit
A battery pack with 3 AA batteries
An installation manual
2 meat probes complete with their color indicators
Some people prefer to buy an extra 2 probes for good measure but this is not necessary.
How to Install the Weber iGrill 3
It's super easy to install the Weber iGrill 3 grill thermometer and anyone can do it. Not only does the pack come with an easy-to-understand instruction manual, but the company has helpful installation videos available on its website.
The iGrill 3 can be installed on either a Genesis II and Spirit II from Weber. After the installation is done you can connect it to your smartphone or tablet device to start receiving alerts on temperature, tank scale and more.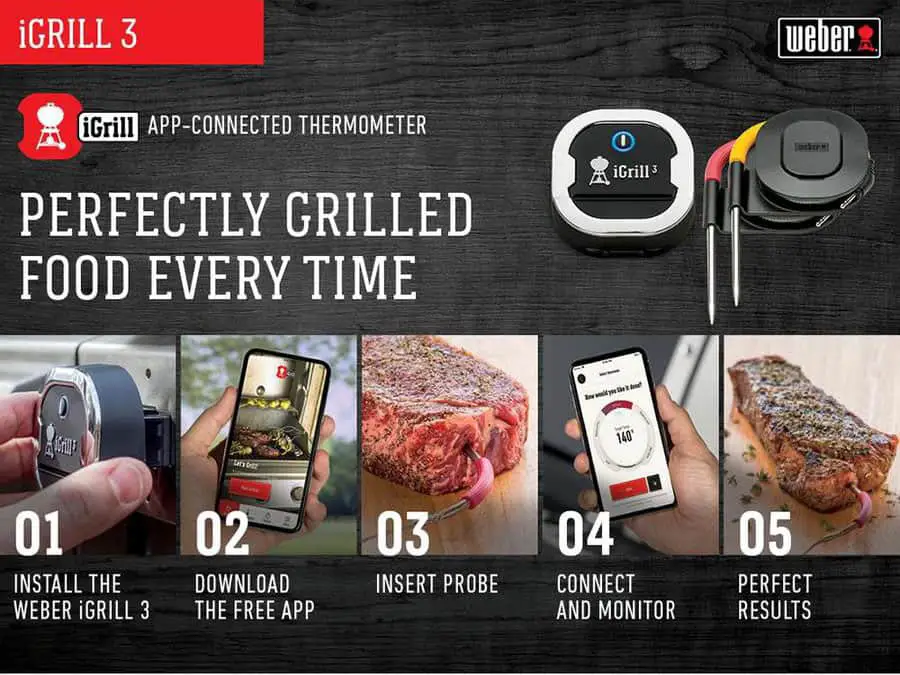 Pros
Allows you to remotely monitor your meat's progress on the grill through the 4 probes
You can use it to keep an eye on the amount of fuel you have left in your propane tank
Comes with good quality probes
It has a powerful battery that can last for over 250 hours!
It's compatible with both the Weber Genesis II and LX models
Cons
Some users have experienced connectivity problems when trying to link the iGrill 3 to their smartphones
The Bluetooth functionality is not as efficient as it should be
iGrill 2 vs 3 – Which One is the Best?
Thanks to the advances in technology, everything can now be done at a snap of a finger! When it comes to grilling, it's definitely much more convenient now than it was many years ago. So even if you are someone who is new to the grilling world, it's definitely possible to cook the most succulent meat with the help of an innovative grill that comes equipped with high-tech features. One of these features is the iGrill thermometer. You can't believe what this device can do for you – it allows you to monitor the temperature of your meat through your mobile phone!
The iGrill thermometer is connected to the Weber iGrill app, which allows the griller to monitor the meat temperature using a mobile device. Also called the Bluetooth BBQ thermometer, this device will send you alerts when the meat or steak that you're cooking has already reached the ideal temperature.
You'll have three options for the iGrill thermometer – the iGrill 3, iGrill 2, and iGrill Mini. If this is the first time you have heard of this feature, then you're probably wondering what the differences are between the three.
So to help you with this, we've made a comparison of the iGrill 2 vs iGrill 3, along with advice on which of them can do a better job.
Both the weber iGrill 2 and iGrill 3 can do a great job at checking the temperature of the meat and the grill. They also have somewhat similar functionalities and with only a few differences on the features. Deciding which of these two models you should go for will pretty much depend on your personal preferences.
But let's take a closer look at what each of these devices can do.
Here's what you can expect from the iGrill 2:
It can be used for any brand and model of grills.
It can display the temperature both on the app and the thermometer itself through Bluetooth connection.
It's a Bluetooth BBQ thermometer that will no longer require you to spend money on purchasing a compatible grill.
It's possible to use with more than two probes.
Here's what you can expect from the iGrill 3:
It comes with an LED temperature display.
It can only be used on two probes.
It's compatible with Weber Genesis II LX, Genesis II, and Spirit II grills.
It doesn't require the purchase of a compatible grill just in case you don't have one.
It comes with extra features like longer battery life and fuel level monitoring capability.
It's clear to see that both the iGrill 3 and iGrill 2 are great in terms of accuracy, battery life, range, and other features. But if you have to choose between the two, take the time to compare their differences and think about your personal preferences. Refer to each of their features and see if you can benefit from them. Hopefully, you should be able to come up with the right decision and choose something that you can make good use of.
What to Know About the Weber Company
The Weber Company is behind the iGrill 3 and some of the best grills in the world. It was founded in 1952 by a welder from Chicago named George Stephen. Stephen invented the world's first charcoal kettle grill by combining two float parts.
As a welder, it wasn't hard for Stephen to find the rest of the components he needed to design the grill and pretty soon the Weber Company was in business. From the beginning, the Weber Company was known for making premium grade gas grills as well as grilling equipment.
The company remains one of the world's most renowned grill manufacturers and their products are usually backed by a 2-year warranty.
Is iGrill 3 Worth It?
The iGrill 3 is easy to use and suitable for anyone that likes to grill. Of course, professionals will love it because it will make their job much easier.
Our favorite feature on the iGrill 3 is the fact that it's compact and fully portable. This means you can take it with you when going on a camping or boating trip, and it's also compatible with ovens.
As long as you're cooking meat, the iGrill 3 will help you keep track of the cooking process while you're sipping beer in front of the TV or just chillin' out on a hammock.
Weber Meat iGrill 3 LED Cooking Thermometer Buying Guide
If there's one thing that you want to avoid more than undercooked meat, it's overcooked meat. Eating undercooked meat can harm your health, while overcooked meat can literally take the flavor out of your meal. That's why you need a meat thermometer, which is easy to use and will help you avoid food poisoning within seconds.
A majority of the good quality meat thermometers on the market have an accuracy of 2 to 4 degrees Fahrenheit. Ideally, a thermometer should never be off by more than 5 degrees Fahrenheit. Most people prefer digital thermometers because they're a convenient solution when compared to their analog counterparts. Not only do they have fewer features and take longer to get a reading, but analog thermometers are difficult to read as well.
Check prices and availability here
Types of Thermometers
Instant-Read Digital Meat Thermometers
This type of grill thermometer is by far the easiest to read and it's usually Weber iGrill 3 ready out the box. They're also easier to use on different parts of the meat, they respond faster and come highly recommended for thin cuts of meat.
It's best to use this type of thermometer to check the final temperature of your meat toward the end of the cooking process. Features vary but the most common include temperature hold which displays the temperature for longer and auto shut-off which is always convenient. The thermometer's probe usually comes in the form of a fork while the meat temperature will be shown on a digital readout. Other models have an indicator light to let you know what the temperature is. Whatever you do, never leave the fork inside the meat while it's cooking.
Leave-In Digital Meat Thermometers
With this model, you're allowed to leave the probe stuck onto the meat throughout the cooking process to keep track of the temperature. You can place the thermometer on the counter or connect it to the oven door using a magnet for added convenience. Either way, the probe is usually connected to a base unit using a long cord.
This model allows you to program temperature and it comes with audible alerts and timers to name but a few features. For the best result, we recommend that you pick a wireless model that connects to your phone so that you can remotely access temperature information.
Instant-Read Analog Meat Thermometers
As the name implies, this thermometer gives you an instant reading of the temperature and all you have to do is insert its probe into the meat and voila! It's important that you remove the probe as soon as you get a temperature reading and it works best when used towards the end of the cooking process. As previously mentioned, analog thermometers can be difficult to work with so keep this in mind when considering to buy one.
Leave-In Analog Meat Thermometers
This is an oven-safe thermometer which means you can leave the probe in the meat throughout the cooking process, and it'll give you an instant reading.
Thermometer Features to Have
Audible Alarm/Alert
Designed to let you know when the meat reaches the desired temperature.
Auto Shutoff
Automatically switches off the thermometer when you're not using it.
Preset Meat Temperature
Typically designed according to USDA temperature recommendations and enables you to preset the temperature.
Programmable Temperature
Allows you to program specific temperatures into the grill so that it's easier to keep an eye on your meat.
Temperature Hold
Holds the temperature reading display for over five minutes.
Timer
Enables you to determine the amount of time needed to cook the meat.
Joost Nusselder, the founder of Lakeside Smokers is a content marketer, dad and loves trying out new food with BBQ Smoking (& Japanese food!) at the heart of his passion, and together with his team he's been creating in-depth blog articles since 2016 to help loyal readers with recipes and cooking tips.