I love creating free content full of tips for my readers, you. I don't accept paid sponsorships, my opinion is my own, but if you find my recommendations helpful and you end up buying something you like through one of my links, I could earn a commission at no extra cost to you.
Learn more
As far as savory sides go, beef jerky is by far the superior snack.
Both tasty and convenient, each bite feels like a little party in your mouth.
Combined with a warm day and your slick new pellet smoker, this popular snack food gets even better.
Look no further for a delicious recipe and tips on choosing the right pellets for your smoker.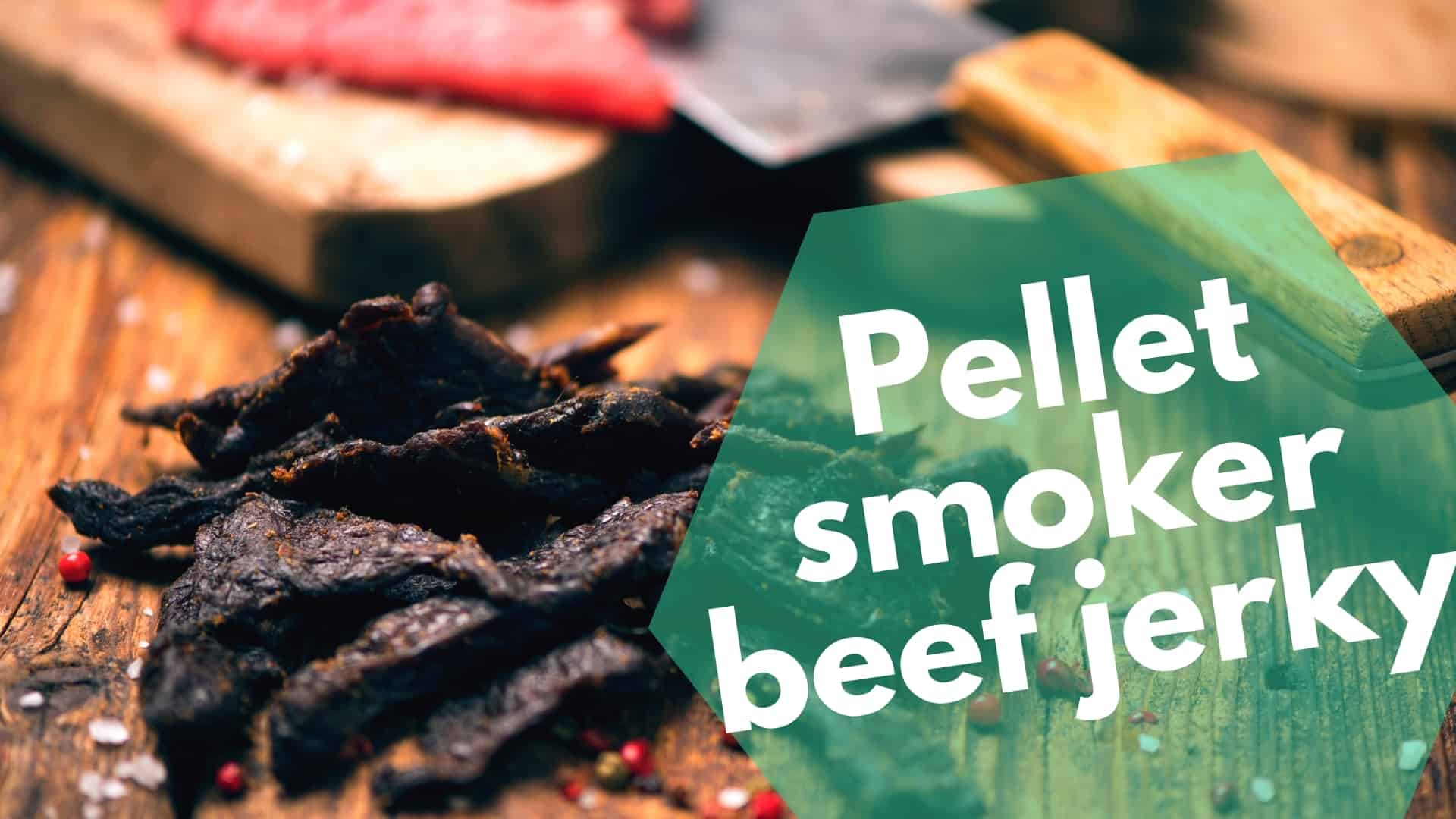 In this post we'll cover:
Best Cuts for Beef Jerky
Beef jerky is typically made from lean cuts of beef that get marinated in various sauces, spices, and other seasonings, but the secret lies in using the right beef cut.
The tenderness of your beef jerky can therefore depend on the type of cut you buy.
Here are some of the cuts that are recommended:
Round: Most commonly used for beef jerky, round cuts are tender and taken from the rump of the cow where there is little fat.
Flank steak: Flank beef is taken from the stomach and is known for being flavorful and lean. Jerky from this cut can be made more tender if sliced against the grain.
Sirloin tip: Arguably the most popular cut of beef, sirloin comes from a cow's lower back and has great taste and texture, making it great for steaks, roasts, and (most importantly) jerky.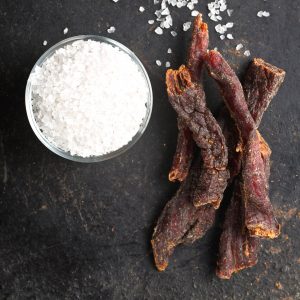 Pellet Smoked Beef Jerky Recipe
The fresh flavor and tenderness of homemade beef jerky are definitely worth the effort. Fortunately, your pellet smoker can do most of the work for you. Here's an easy to nail recipe, if you fancy giving it a whirl.
Ingredients  
Beef Jerky
2

pounds

lean beef in your chosen cut

(round, flank steak, sirloin tip)
Marinade
1

tsp.

salt

1

tsp.

onion powder

1-2

tsp.

garlic powder

2

tsp.

black pepper

½

cup

soy sauce

2

tbsp.

Worcestershire sauce

hot sauce

optional

BBQ sauce

optional

dark beer

optional
Instructions 
Marinade
The flavoring of your marinade comes down to personal preference. The amounts above are interchangeable, so have a think of how sweet, salty or spicy you'd like it to be, before you start mixing your ingredients.

Add your marinade ingredients into a mixing bowl and whisk thoroughly until combined.

Pour marinade into a ziplock bag or keep in the bowl and temporarily set aside.
Beef Jerky
Slice your beef into ¼ inch thick slices using a sharp knife, either with the grain (for chewier beef jerky) or against (to make it more tender).

Try to make your strips even and trim away any fat or connective tissue.

Place the beef slices in the ziplock bag or mixing bowl with your marinade and refrigerate for a minimum of 6 hours. Move every few hours to ensure an even coat.

Once your beef jerky is ready, fire up your pellet smoker and set to 200 degrees.

Remove meat slices from the marinade and lay on the smoker grate.

Close the lid and smoke for 4-5 hours or until dry. The meat should be chewy and bendy, not crispy.

Transfer your jerky to a fresh ziplock bag while warm, and leave to rest at room temperature for up to an hour.

Make sure there is no air in the bag and place it in the refrigerator, where it should freshly store for several weeks.
Is Beef Jerky a Healthy Snack?
Beef jerky is a great source of protein. It's also low in fat and calories.
This high protein-low carb composition makes it the perfect post-workout snack.
It gets its name from the Quechua word ch'arki, which translates to dried, salted meat.
As a snack, beef jerky is also high in several vitamins and minerals, such as zinc and iron. These are important for energy and immunity support.
Like all things, beef jerky should be consumed in moderation. However, compared to other snacks it can definitely be considered a more nutritious alternative.
Finally, a snack that's both tasty and healthy, helping you feel full throughout the day and recover faster from workouts or activity.
Best Pellets to Use for Smoked Beef Jerky
The type of pellets you use on your pellet grill can have a big impact on the flavor of your smoked goods.
While there are several options, the pellets listed below are most commonly recommended for smoking beef.
Hickory: Hickory wood has a rich smokey taste that complements most meats, but goes especially well with strong-flavored meats like beef.
Mesquite: Similarly, mesquite wood offers strong aromas but with a more tangy flavor, adding a bold and seductively spicy touch to your smoked beef jerky.
Oak: For a lighter flavor, check out oak wood. It goes particularly well with protein, something your beef jerky is already rich in.
Pecan: Deliciously nutty and rich, pecan wood provides the perfect twist in flavor for your beef jerky.
Whiskey: For a more sweet and malty flavor, give whiskey barrel wood a try.
Mix: If you're looking for an alternative to these classics, a mix of pellet flavors can also liven the taste of your beef jerky in new and unexpected ways.
Tips on smoking your beef jerky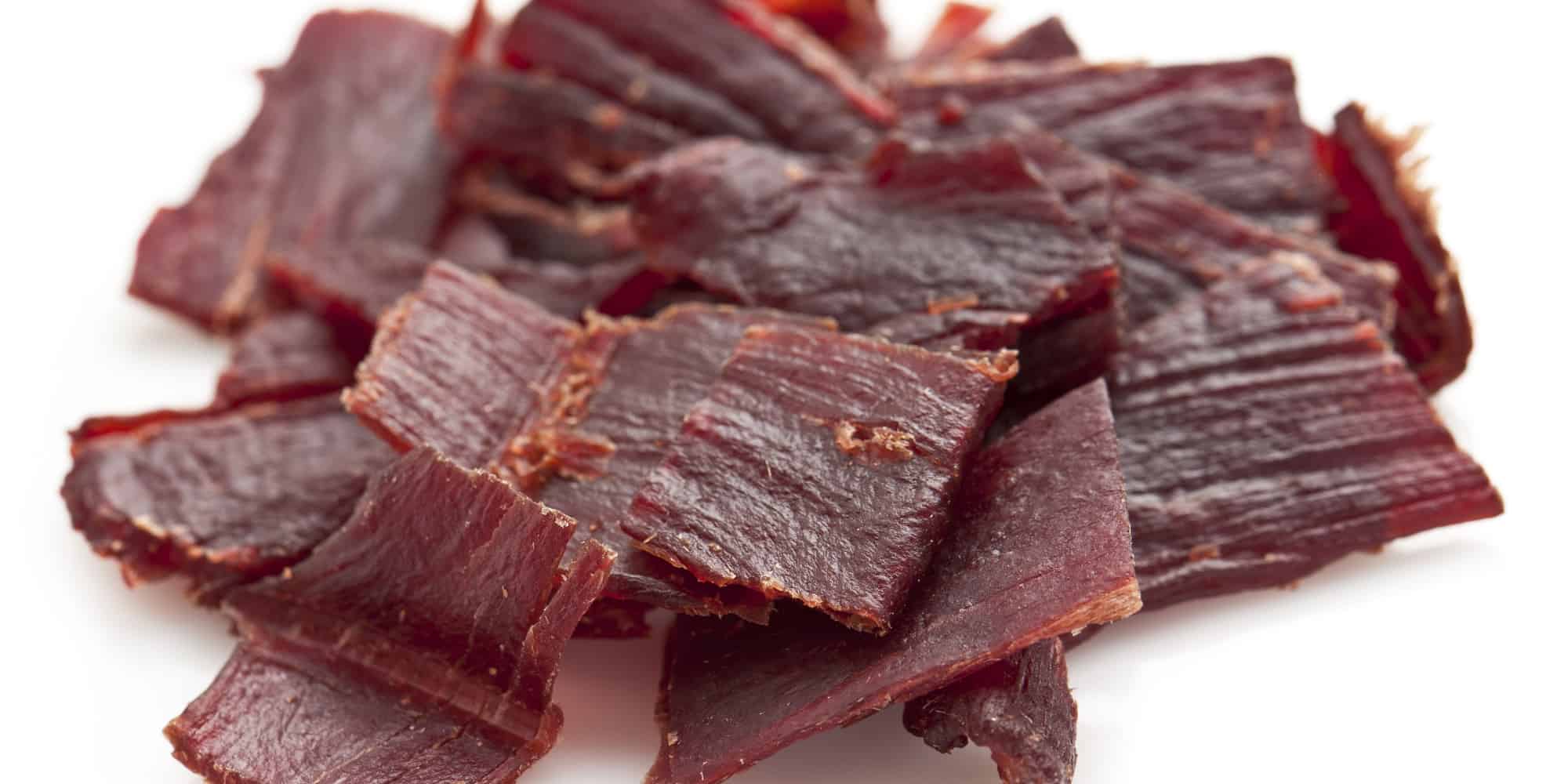 You'd need to marinate the meat for at least 8 hours to get the best flavor desired, but just to be sure do it through the whole night.
The meat will be suspended on metal skewers over the oil drum bbq grill so that it will only be smoked by the heat that the fuel chamber creates and not be placed directly on the fire itself.
After an hour and a half, the meat is transferred onto the grates to let the fats and water evaporate completely from them.
After removing from the fridge
Slide the meat into the skewers and secure them tightly as you will be hanging these from the oil drum bbq grill first before you'll place them horizontally on the grates later. Give enough room to separate each meat slice by at least half an inch between them and about 4 inches at the edges of the skewers.
Now for the charcoal fuel on the oil drum bbq smoker don't fill up the fuel chamber, instead only fill charcoal up to ½ or ¾ of the way.
Rake the charcoal to one side of the fuel chamber leaving the other side almost empty and then hang your skewers on the rods suspending your jerky above the unlit/indirect side of the charcoal.
You can add wood chips or pellets to the ember to enhance the fire and smoke.
Also read: these are the best commercial meat smokers reviewed
The best thing about the beef jerky smoked in an oil drum bbq grill is that a few pounds of beef will last for a long time if you keep it refrigerated.
Allow the beef jerky to be smoked for 1 and ½ – 2 hours with the lid closed while you observe it regularly to avoid any mishaps. Rotate the skewers from the grates every 10 minutes so they don't overcook.
Once the flames diminishes roughly 20-30% of their normal size, then add charcoal briquettes to keep the flames burning to the intended amount without letting burn too hot or too big.
After 2 hours or so, you may notice some jerky have cooked pretty well while others may still have wet spots or have not yet fully dehydrated from the heat. What you'll need to do this time is to remove the meat from the skewers and the rods where they hang from and replace it with the grill grates.
Lay the undehydrated jerky on the grates to smoke it further until it dries up. This should take about 30 minutes and once they're dry and well cooked, then you may serve them.
Store in the refrigerator for maximum freshness- the jerky will last a few weeks. Enjoy!
Got your pellet smoker all fired up? Here's another great pellet smoker recipe: Pellet Smoker Brisket.
Joost Nusselder, the founder of Lakeside Smokers is a content marketer, dad and loves trying out new food with BBQ Smoking (& Japanese food!) at the heart of his passion, and together with his team he's been creating in-depth blog articles since 2016 to help loyal readers with recipes and cooking tips.