I love creating free content full of tips for my readers, you. I don't accept paid sponsorships, my opinion is my own, but if you find my recommendations helpful and you end up buying something you like through one of my links, I could earn a commission at no extra cost to you.
Learn more
The Pit Boss is a famous brand for grills and one of its most popular products is the Pit Boss 72700S wood pellet grill, which comes from the 700 Series.
This product boasts an 8-in 1 grilling feature, which means that you can use it in up to 8 different ways!
Aside from grilling, you can also use it for baking, smoking, searing, braising, roasting, barbecue, and char-grill.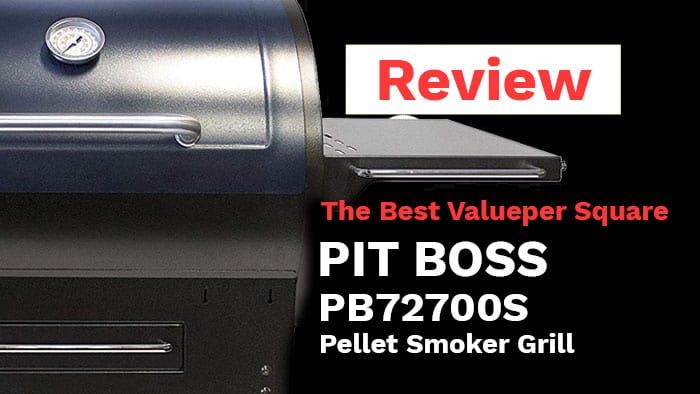 On this Pit Boss 700s review, we will show you more about this particular model and understand why it's the best grill available out there.
In this post we'll cover:
Pit Boss 700s Main Features :
3-Step Cooking
– If you happen to read some of the Pit Boss 700 reviews, you'll notice that users refer to this grill as a "lazy way" of cooking. That's because you only need to accomplish three steps to cook with this device! Place the pellets, set the grill to your desired temperature, and place your meat!
700 Square Inches of Cooking Space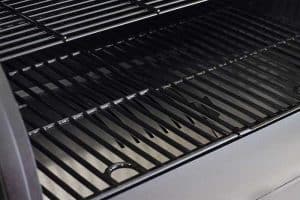 – If you're fond of cooking for a big crowd or you have a big family, then this is the best grill for you! It has a cooking space of 700 square inches, which means that you can cook a huge batch of meat in it! In fact, you can grill an entire turkey in this grill, making it ideal for hosting parties and other events.
Cooking Temperature of 180-500 Degree Fahrenheit
– Another great feature of this grill is that you can set the temperature between 180°F and 500°F. What's more, its dial is easy to turn and will not give you a hard time, unlike with other grills.
Digital Control Board
– The Pit Boss 700 features a digital control board where you can adjust the temperature, burning length, and other settings, allowing you to come up with a well-done dish, whether it's poultry, seafood, or red meat!
Extremely Versatile
– The best thing about this grill is that you can use it in many ways! It's highly versatile, so you can use it to cook numerous recipes.
Flame Broiler
– This feature allows users to choose from either an indirect or direct way of cooking. This is because the Pit Boss pellet grill comes with an extra metal plate, which you can slide directly to the flame giving your food a more flavorful and smokier taste, which is what everyone wants when cooking a steak!
Also read: Pit Boss grills, are they still on top?
Portable
– Another interesting feature of this grill is that it's highly portable. With this grill, there's no need to plug it to an outlet so you can use it anywhere you want to. Unlike other grillers that will only fire up through a converter backed by a power source, this model of the Pit Boss grill can operate without an outlet. Weighing only 120 pounds, transporting this grill from one place to another is easy.
Porcelain Grids
– The grid is that part of the grill that gets into contact with food during cooking. Thus, this area is usually prone to rust. Thankfully, the grid of the Pit Boss 700S pellet grill is coated with porcelain, which prevents food drippings from getting into the grid. This allows for easy cleaning and can greatly help prevent rusting.
Grills are a healthier way of cooking meat. That's because they use less oil, and if you notice, the fats coming from the meat will trickle down the grill during cooking. Thus, this method of cooking helps to prevent diseases like cardiovascular diseases and heart diseases.
So if you want to live a healthy lifestyle, you should invest in a Pit Boss 700S wood pellet grill. Since this grill makes use of wood pellets, you can experiment with different wood to achieve different flavors for your meat. You can go for apple, cherry or hickory, depending on your preferred taste.
Like anything else, the Pit Boss 700 classic grill also comes with its own disadvantages. To help you make a good buying decision, we've included the pros and cons as well in this Pit Boss 700 review.
Pros
Allows you to adjust the temperature from 180º to 500º.
Capable of effectively maintaining adequate temperature during the entire cooking time.
Comes with a Flame Broiler option, which allows you to cook your meat without the need to transfer to a stove.
Comes with an amply sized cooking surface.
Durable steel exterior and the iron grills are coated with porcelain.
Extremely versatile
Highly-portable
User-friendly design.
Cons
The process of assembly could take up a lot of time.
The back vents have the tendency to release heat.
Check prices and availability here
Things to Keep in Mind When Shopping for a Grill
It's not easy to decide which grill to buy given the many options available for you today. This can be even more difficult for first-time buyers. The numerous models, features, and designs can be daunting and this is why it's important that you do your research well before you decide to invest in a grill.
Here are some questions you should ask in order to make the best buying decision:
What is the product made of?
The durability of the grill will pretty much depend on the material that it's made of. This is why it's important that you determine what materials are used to manufacture the grill. It's best to invest in a grill that's made from high-quality materials to ensure that it will last for several years. For instance, the Pit Boss 700S grill cover is made of steel while the iron grills are coated with porcelain. This means that the product can last for a long time, which is really worth investing for!
Does it come with a warranty?
Along with durability, it's also important to ensure that the grill comes with a warranty. No matter how durable a product is, there will come a time that it could get damaged, especially if you're going to use it on a regular basis. So before you decide to buy any grill, find out if it comes with a warranty, and if it does, find out what does it cover. Most grills, especially the reputable ones such as the Pit Boss 700, come with a warranty.
Is the product assembled?
For some people, going through the process of assembling a grill might seem like a daunting task. If you don't want to spend a lot of time setting up the grill, look for one that comes assembled. Remember that if the product is not set up correctly, you could encounter problems and there's even the risk of catching fire!
Although some of the Pit Boss grills reviews have talked about the product as being too time-consuming to assemble, it's not really that complicated. There are also detailed instructions that come with the grill, which should be easy for you to follow.
What about cooking power?
Ask yourself how often you're going to use the grill. Will it be several times a week, once a month, or every day? Also, are you going to cook for a huge crowd or for only a couple of people? Your answer to these questions will be your basis in choosing a grill based on output and efficiency.
If you're going to use the grill several times and for a huge number of people, then look for a grill that's capable of reaching a full cooking temperature! Remember that the more BTU (British Thermal Unit) the burners of the grill have, the more heat it can produce. As such, you'll be able to cook more meat in it and in a more efficient way.
Conclusion
The Pit Boss Pellet Grill 700S is highly recommended for those who need to occasionally cook for their small family at home. However, for those who need to cook regularly for a huge crowd of people, this model may not be the best choice. That's because this grill has a grilling cooking space of only 700 square inches, which may not be enough to accommodate the amount of food that you need to prepare.
For cooking pros that need to grill on a regular basis, it's highly recommended to go for larger and more efficient grills that are equipped with advanced features. The Pit Boss Pellet grill with built-in broiler, however, is recommended for home use.
It's a great grill to invest in for busy mothers who love to cook for their family and for bachelors who live alone and love to occasionally enjoy delicious home cooked steaks! The grill is very versatile, allowing you to experiment with different recipes. You can barbecue in it, smoke or grill meat etc. In fact, if you come across a Pit Boss 700 review, you'll notice that most customers appreciate it for its versatility.
Overall, the Pit Boss Grill 700S is highly recommended for home cooks and is a great griller for entry-level cooks! Since it's made from heavy-duty stainless steel and has a porcelain-coated grill, you can be assured that the product will last you for many years!
Joost Nusselder, the founder of Lakeside Smokers is a content marketer, dad and loves trying out new food with BBQ Smoking (& Japanese food!) at the heart of his passion, and together with his team he's been creating in-depth blog articles since 2016 to help loyal readers with recipes and cooking tips.