I love creating free content full of tips for my readers, you. I don't accept paid sponsorships, my opinion is my own, but if you find my recommendations helpful and you end up buying something you like through one of my links, I could earn a commission at no extra cost to you.
Learn more
Have you ever thought of smoking a lamb shoulder in your smoker? In this post we shall give you two recipes that you can follow to smoked lamb shoulder in your backyard.
These recipes are very easy to prepare, and you will enjoy every bit of your smoked lamb shoulder.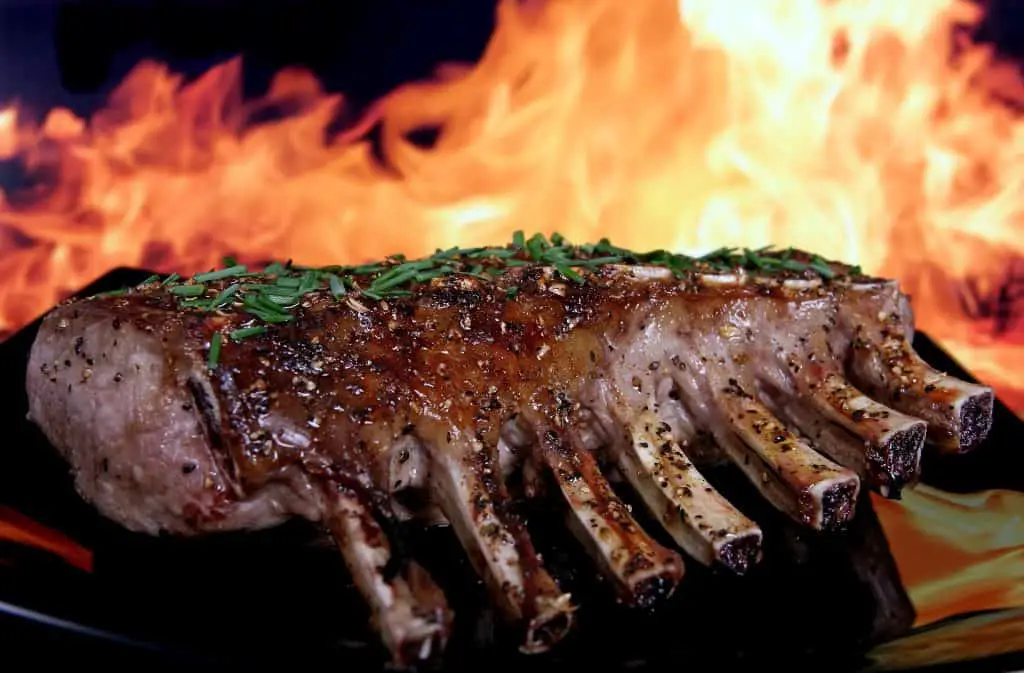 In this post we'll cover:
How to prepare the lamb shoulder and the rub
When you buy a good quality lamb shoulder—this can either be Australian or New Zealand Rub—there is not much you will be needed to do in terms of preparation. One thing that you can opt to do is to put your lamb into the smoker while it is still cool—and you also need to prepare your rub.
This is how you should do it:
Mix all your rub ingredients together in a small bowl and then give them a good mix. You shouldn't worry about the ingredients that you use since there are no specified ingredients for the rub—as long as you have several dried herbs, your rub will taste great.
Before applying the rub, you must apply a binding agent. For this recipe, you can choose to use olive oil, but any other type of oil and a few splashes of water of even Worcestershire sauce can just work fine. This step will assist the rub to bind to the lamb shoulder and also add some flavor.
When the lamb is wet from the oil or water or the sauce, you can now apply the rub, and make sure that it's even. You can either use a rub shaker or your hands to sprinkle the rub.
Avoid over coating the lamb—therefore, you should just make sure that you can see the meat when you have still applied the rub.
When done, you can still choose to add some injection—but this is not a must. You will need to taste the beautiful lamb flavor—and there is no need of overpowering it.
Also read: these are the best bbq's for smoking meat
How to set up the smoker
If you want to achieve the best lamb shoulder result, you should make your smoker as hot as possible. This means you might want to set up your smoker temperatures between 250 to 235 degrees F.
Although you can opt to use lower temperatures, higher temperatures will do a better job when it comes to rendering the fat as well as crisping up the skin.
First, you will need to set up the smoker. Fill the charcoal bin with unlit briquettes and then you can use a chimney starter like one of these top rated ones to ignite your briquettes. The chimney starter should be flipped upside down and you can light around 15 to 25 briquettes—but use more in case of cold weather.
Once your briquettes are lit and ashed over, pour them over the unlit charcoals, and then add the smoke wood.
You can add any smoke wood you want, but make sure that the flavor is neutral.
The water pan should be half full, but you can remove it towards the last hour of smoking to ensure that you get nice and high temperatures. In the last period of smoking, the fluids from the meat will drip on to the coals, thus creating a beautiful and smokey taste and aroma.
Once your smoker is set up, it's time now you put your lamb shoulder. Make sure that you place it with the fat side facing up.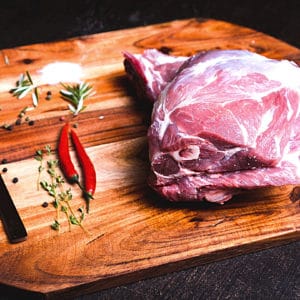 Perfect pulled smoked lamb shoulder & dry rub recipe
Get the internal temperature and the rub right and it'll be the best meat you've ever had!
Ingredients  
5

lbs

lamb shoulder

1 chunk (bone in)

8

pcs

apple wood chunks
For the dry smoked lamb rub
1½

cups

dark brown sugar

4

sprigs

rosemary

minced

⅓

cup

kosher salt

2

tsp

cayenne pepper

ground

1

tsp

white pepper

ground

1

tbsp

cumin

ground
Finishing
⅔

cup

apple juice

2

tbsp

BBQ spice

(your choice)
Instructions 
How to make the smoked lamb rub
Mix all your ingredients for the rub in a small mixing bowl, and then set them aside.

Remove any excess fat in the lamb shoulder. However, you shouldn't be too aggressive as you trim off the fat. Around ¼" will be ideal for basting as your lamb smokes.

Once you trim off the excess fat, it's time now for you to rub all the seasonings onto the lamb shoulder—make sure that you press the rub onto the meat. Once you are done, allow the meat to sit for around 30 minutes for the seasonings to dissolve and to stick well to the meat. This step is very important as it helps the meat to develop a skin known as the pellicle—which begins to set the exterior crust.
Start smoking your lamb shoulder
When done, set up your smoker for around 250 – 275 degrees F, this should be a bit higher than the usual temperature as it helps more of the fat to melt off. Next, fill the water half-full, and then add 5 to 6 chunks to the coals and close the lid.

Once your smoker starts to smoke, you can place the shoulder on the top rack—make sure that the fat side faces up, while the bones face towards the bottom.
Check the smoked lamb shoulder internal temperature
Smoke for around 5 hours and then start to check the internal temperature of the meat after every 30 minutes. You will know that the lamb is done if the meat pulls back and exposes more of the bones, and its internal temperature reaches around 195 degrees F in around 3 places.
Rest, marinade & serve
Once the lamb shoulder is done, remove it from the smoker, and the cover it loosely with foil paper, and let it sit for around 20 – 30% of the entire cooking time in a warm area—this should be around 45 – 60 minutes.

After the lamb shoulder has rested, you can then pull the meat apart, as if you are pulling the meat from a pork shoulder. You can use bear claws if the meat is still hot, as this will assist with the shredding of the meat. If the meat is done well, it should shred very easily, and if it's still hard, it has not cooked well. When you notice that the meat hasn't cooked well, cover it with an aluminum foil and cook for an additional 30 minutes, at around 250 degrees F, and then check again.

When you manage to pull all the meat from the bones—removing any large portions of the fat, mix it with the apple juice and BBQ spice in a bowl. If you notice that the meat has already cooled off and it has started to clump up, put it in a pan, and then warm it up in the grill or oven for around 15 minutes.
Preparing the coleslaw
For the final step, you need to prepare coleslaw to serve alongside your smoked lamb shoulder.
Ingredients
Cabbage – ¼ (white or red)
Carrots – 2 (small)
Finely chopped onion – ½ (red or white)
Coconut desiccated – 1 tablespoon
Balsamic vinegar – 1 tablespoon
Cider vinegar – 1 tablespoon
Salad cream – 1 tablespoon
Mayonnaise – 1 tablespoon
Cane sugar or agave syrup or honey – ½ teaspoon
Butter milk – 2 tablespoon
Himalayan salt – ¼ (pink)
Pepper – 1 pinch (freshly ground)
Directions
Place your roughly chopped cabbage alongside the peeled and roughly chopped carrots in a food processor, and then whizz them until you get a size of rice grains.
Next, finely chop your carrots, and if you are not good at that, chop it roughly and then place it in the food processor together with the cabbage and carrots.
Move the carrot and cabbage mix into a bowl and then mix with your finely chopped onions—unless you put the onion in the food processor.
Mix all the other ingredients in a separate small bowl—and then pour them on the cabbage, onion, and carrot mix. Give them a good mix until they are well mixed.
Recipe 2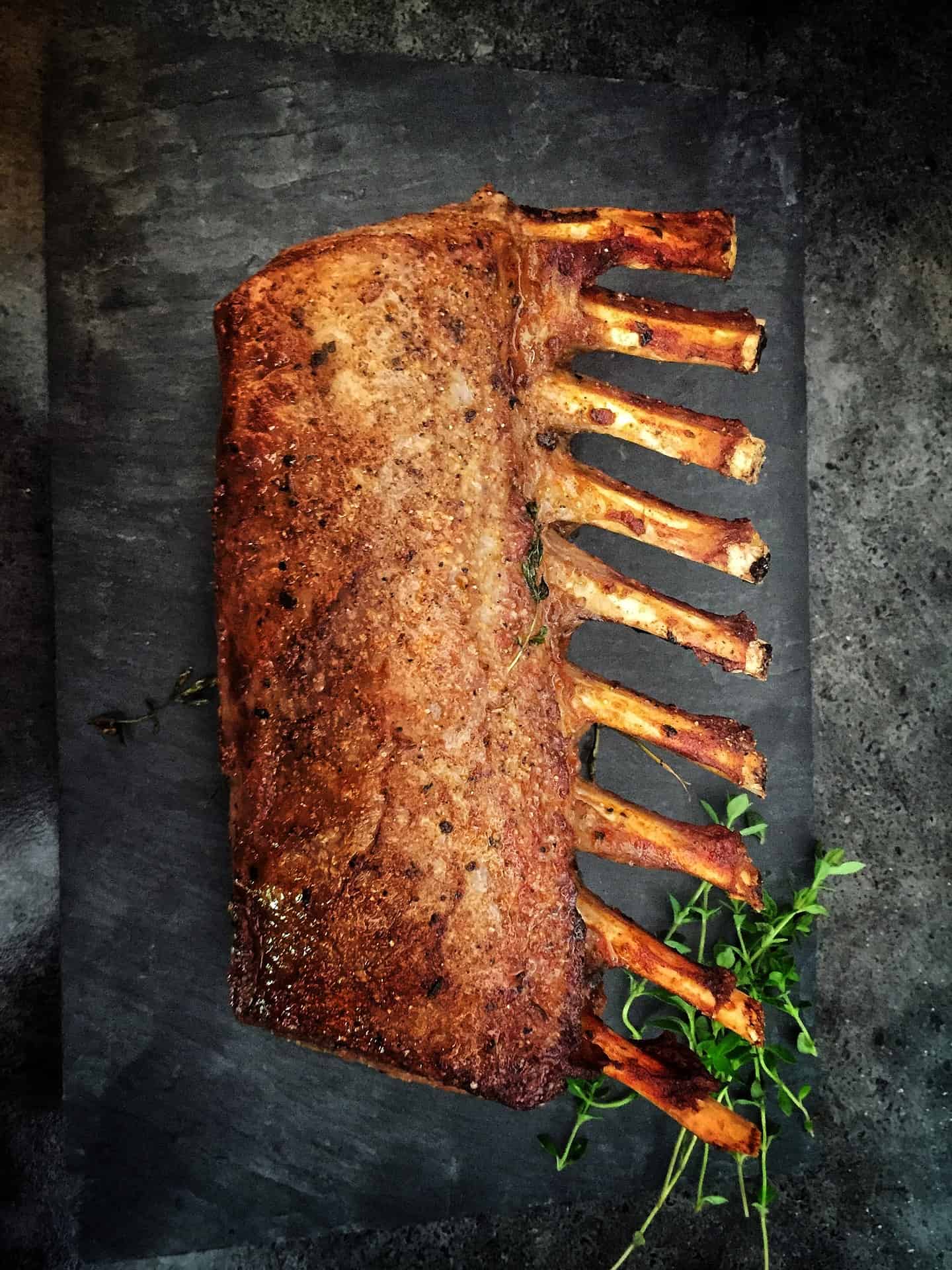 Ingredients
Lamb shoulder – 1 (4 to 8 lb.)
Olive oil – 2 tablespoon
For the herb rub
Salt – 2 tablespoon
Dried parsley – 1 tablespoon
Dried crushed sage – 1 tablespoon
Dried rosemary – 1 tablespoon
Dried thyme – 1 tablespoon
Dried oregano – 1 tablespoon
Dried basil – 1 tablespoon
Dried bay leaf – 1 (crushed)
Black pepper – 1 tablespoon (ground)
Sugar – 1 tablespoon
Directions
Prepare your smoker for indirect cooking—it should be set at around 250 degrees F. You can use neutral wood like cherry, pecan, or apple.
Mix your rub ingredients together in a mixing bowl and then set them aside.
Coat your lamb shoulder using olive oil, and then sprinkle some slat over the lamb—make sure that you do that evenly.
When done, apply the herb rub to the lamb, and make sure that you have covered it evenly.
When done, place the lamb shoulder on your preheated smoker—the fat side should be facing upward.
Smoke for around 4 hours in temperatures of around 250 to 300 degrees F.
In the last hour, increase the temperature to around 300 – 325 degrees F to ensure that the fat melts away.
Remove the lamb shoulder from your smoker when the internal temperature reaches 195 – 203 degrees F, and then wrap it in a foil. Allow the lamb to sit for around 10 to 20 minutes before serving.
Slice or pull the lamb and then serve with bread and your optional dips or sauces.
Bottom Line
The only thing that can prevent you from enjoying smoked lamb shoulder from your backyard is a BBQ smoker. So, why do you prepare one of these recipes if you have a smoker in your home?
Also read: you have to taste this amazing pulled pork recipe you can make on your grill
Joost Nusselder, the founder of Lakeside Smokers is a content marketer, dad and loves trying out new food with BBQ Smoking (& Japanese food!) at the heart of his passion, and together with his team he's been creating in-depth blog articles since 2016 to help loyal readers with recipes and cooking tips.