I love creating free content full of tips for my readers, you. I don't accept paid sponsorships, my opinion is my own, but if you find my recommendations helpful and you end up buying something you like through one of my links, I could earn a commission at no extra cost to you.
Learn more
Are you planning to buy a Masterbuilt 40 inch electric smoker? Well, it's an excellent choice but there are actually a number of options for the 40 inch Masterbuilt model.
This can sometimes make it harder for people to know which one is right for them. But you don't need to stress over this.
We have prepared a simple Masterbuilt 40 smoker reviews here including some important information about these different models that will help you decide.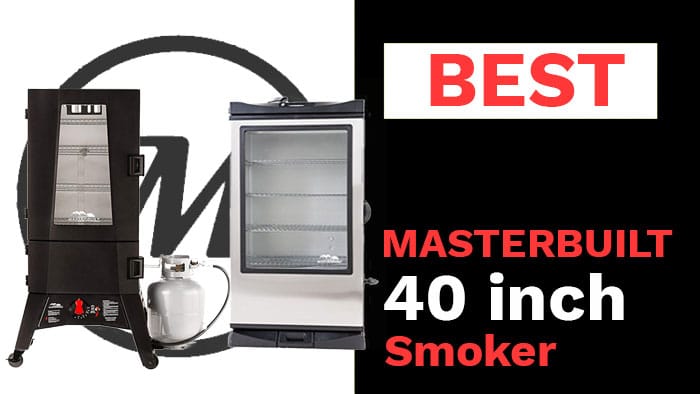 You may also wonder why a company would create different models for the same sized smoker. The answer is actually simple. It's about diversity. Size is not the only factor that matters when picking a smoker. Even though these Masterbuilt 40 electric smokers share this feature, they actually have other unique attributes that make them different. This 40 inch masterbuilt electric smoker review is designed to bring out these features so that you can easily tell the difference between each of them.
In this post we'll cover:
Top 5 Masterbuilt Smoker 40 inch Reviews
The Masterbuilt Bluetooth Smoker comes with a number of great features and it's no surprise it's relatively expensive compared to the other models. It's also one of the most sought after smokers out there. The model comes with integrated Bluetooth technology. This feature is the most pre-eminent selling point for the smoker. The Bluetooth is also the reason why the cost of the Masterbuilt 20070215 is higher. But is it worth the extra money? The question is open to different interpretations. There are people who love Bluetooth and wouldn't mind paying extra for it.
However, Bluetooth is not the only thing that makes or breaks a smoker. But in case you're into super tech and highly sophisticated devices, you can go for it. The Masterbuilt 40 electric smoker with Bluetooth plays a number of roles too. First of all, it allows the smoker to integrate with handheld devices such as your smartphone. This allows you to control the device remotely from a close distance.
For some people, this can be a very important feature. The remote control gives you the power to turn the smoker off and on as you please. You can also use your smartphone to regulate the temperature levels and to easily monitor the meat's internal temperature without moving a muscle. The Bluetooth feature is quite popular and no doubt a lot of people would love to see it in the other models as well.
Pros
Great build quality.
Well insulated to ensure no heat loss
The Bluetooth connectivity cannot go unnoticed
Very simple design that's easy to use and assemble
The smoker also comes with a side access wood chip loading system
The cooking surface measures 721 square inches making it relatively large to meet diverse needs.
Cons
The Bluetooth app has a problem sometimes
The range for remote Bluetooth control is quite short at just 15 feet
The cost is relatively high and this might be off-putting for some people.
Slow cooked foods can deliver outstanding rich flavors. This is the reason why people love them so much. Although there are many smokers that can create this experience, very few do it like the Masterbuilt GS40 20050211 Propane Smoker. This vertical extra-large gas smoker is designed to deliver the right amount of smokehouse flavor without too much stress in grilling. The smoker also features two doors. This means that you can easily be able to add water or wood chips fast without the risk of heat loss.
The smoker is also huge. It measures 1,300 square inches. If you have one of those community barbecues with many guests, it will be perfect. In addition to this, you will also get a stainless steel burner. The smoker comes with a built-in temperature gauge located inside the door. The gauge can easily be accessed from the outside.
This makes it easier for you to monitor the temperature of your food as it smokes. But what we loved the most about the Masterbuilt GS40 20050211 was the locking door design. The design traps in all the smoky flavors leading to a very tasty meal. It doesn't matter whether you're cooking beef, pork, chicken, or even seafood, this smoker will deliver the perfect cooking experience.
Pros
One of the largest smokers out there at 1,300 square inches
Features two doors so you can easily add wood chips
Easily accessible temperature gauge at the door
Lock design that traps in the flavors and all the heat
Offers an adjustable burner and consistent temperature
Cons
The water and chip pan don't match the overall quality of the smoker
The burner doesn't last as long as advertised. It's also not insulated meaning that it can affect the smoker's internal temperature from the outside, especially during a cold day.
One of the most distinguishing features of the Masterbuilt 20070311 is its size. The smoker delivers a cooking area of 975 square inches. It also comes with 4 chrome-coated racks that make it possible to cook large amounts of meat with ease. The heating element is also quite strong at 1,200 watts. The smoker's temperatures can be controlled remotely too. We found the control system to be very user-friendly compared to some of the other models.
The easy-to-use digital thermometer was impressive in particular. In addition to this, the Masterbuilt 20070311 also features a compact design with wheels. This makes it easier for people to move the unit around wherever they need to. There's also a removable drip pan, four extra-large racks for placing the cooked food, and a side wood chip loader.
Pros
Perhaps the most user-friendly model in this line
Well insulated to prevent heat loss
Features an industrial quality digital thermometer
Compact design and highly mobile
Cons
Although the heating element is very strong, in some cases it may burn up after a few rounds of usage. We also noted that it's not easy to replace it due to the lack of readily available spares in the market.
Check prices and availability here
The Masterbuilt 20051316 Propane Smoker stands out due to its ability to maintain a consistent cooking temperature at all times. This is made possible by a patented thermostat controlled system. The thermostat has built-in temperature sensors that will control the intensity of the burner automatically. In addition to this, we loved the safety valve system. If the burner gets too hot, the system will turn itself off.
This reduces any potential risks of injury or accidents. This feature is actually very important for people who are often forgetful when cooking. The Masterbuilt 20051316 also delivers a fuel level gauge. The gauge has a simple display that shows you how much propane you have left. The days you have to shake the tank to determine whether you have enough propane for a barbecue are long gone. Finally, the smoker has an innovative dual door design that allows you to add wood chips without losing heat in the process.
Pros
Innovative thermostat-controlled temperature system for 100% accuracy
Additional propane fuel gauge
Has an effective safety valve system
Strong build and sturdy design with wheels for easy mobility
Cons
The smoker is quite large and it can actually take longer to set up compared to other models
Check prices and availability here
Conclusion
Finally, we came across Masterbuilt 40 smoker reviews until the final part so if who can't make the right choice for yourself. Here, therefore, have the last section for you. I know it hard for buying the proper smoker can sometimes be a complicated process. Not many people know what to look for but even then, it's obvious that the Masterbuilt 40 inch is one of the ideal options to go for. There are different models though to choose from. Although each of them offers unique features, the Masterbuilt 20070215 Electric Smoker that has Bluetooth stands out from the rest.
This one is quite large and delivers a great high tech cooking experience. As for people who want something simple that doesn't cost much, the Masterbuilt 20075315 Front Controller Smoker would be perfect. You will love the compact design and the ease of use. The rule of thumb though is to always pick a smoker that can deliver well-cooked food, is easy to use, and affordable.
Also read: these are the best woodchips to use in your Masterbuilt
Joost Nusselder, the founder of Lakeside Smokers is a content marketer, dad and loves trying out new food with BBQ Smoking (& Japanese food!) at the heart of his passion, and together with his team he's been creating in-depth blog articles since 2016 to help loyal readers with recipes and cooking tips.