I love creating free content full of tips for my readers, you. I don't accept paid sponsorships, my opinion is my own, but if you find my recommendations helpful and you end up buying something you like through one of my links, I could earn a commission at no extra cost to you.
Learn more
Get together parties are not complete without a delicious grill on the menu, whether it's a burger, hot dogs, steaks, or barbecues! This is why if you love hosting parties at home, you should have a reliable griller.
When it comes to this, you can rely on the Z-Grills Master 700D wood pellet grill. With this grill, the aroma, taste, and crispiness of your food will be just right.
Your guests might even keep on coming back for more! Read this Z Grills Master 700D review to find out more about this wood pellet barbecue grill and why it's really worth investing in!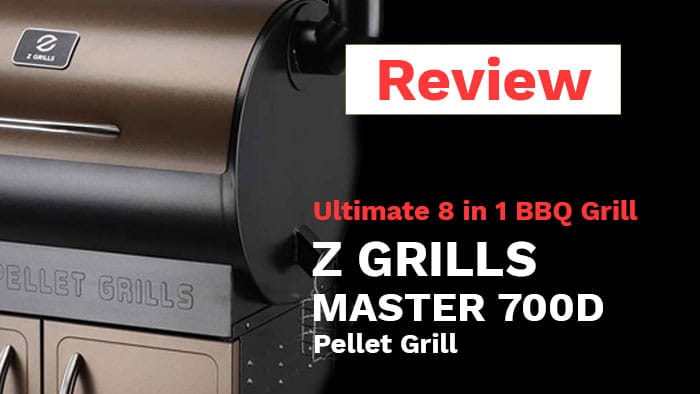 It's truly unfortunate that there are some people who don't find it necessary to invest in a reliable griller. Even the most expert cook needs a griller to come up with that perfect barbecue! The last thing you want is to get embarrassed in front of your guests because your meat is overcooked, dry, or undercooked!
So if you want to impress your guests, you should consider investing in a multipurpose griller. With this type of griller, you can rest assured that the food you will be serving is cooked just right and tastes perfect! Thankfully, there's a multipurpose griller that can help you effortlessly prepare delicious barbecue for your guests. It's the Z Grills ZPG-700d 2019 upgrade wood pellet grill & smoker. This device is every chef's dream because it has the key features needed to come up with tasty and flavorful barbecues and steaks! But is this grill really worth it? Let's find out in this Z grills pellet grill review.
In this post we'll cover:
Z Grills ZPG-700D Features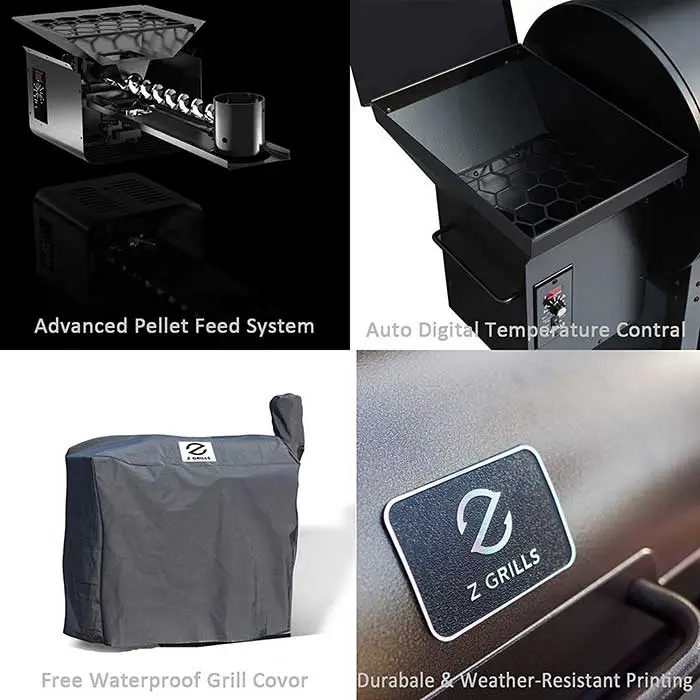 Automated Temperature System
With the Z grills wood pellet grill & smoker, there's no longer a need for you to remove the blowers or fans just to stabilize the heat that comes from the griller. That's because this device comes with an adjustable temperature regulator, which you can set from 180°F to 450°F. It also comes equipped with an internal sensor that allows you to easily manage the heat that's being released from the griller.
This multipurpose griller is equipped with an automated electric feeder system that monitors the wood pellets. It limits the pellets to 20 pounds, which should be enough to cook your meat. With this feature, you'll be able to cook meat with less supervision allowing you to spend more quality time with your guests!
Wide Grilling Area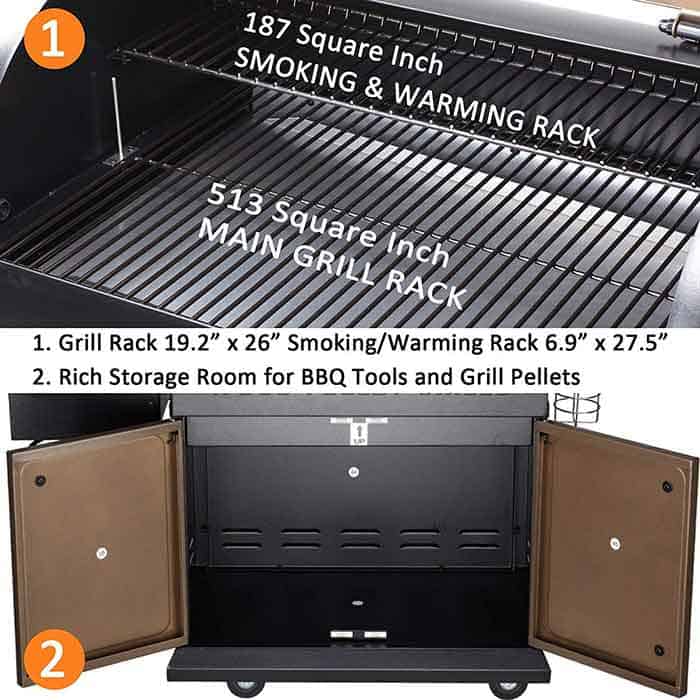 The grill features a wide grilling area, which is perfect for multiple grilling. Its main grilling surface has dimensions of 19.5 x 26 inches. Now if you're someone who loves to entertain a huge crowd of people, then this is the grill that you're looking for. Aside from the main grilling surface, it comes with a 7.5 x 26-inch removable rack. This size is more than enough for hosting barbecue parties with at least 10 guests.
Flexible Convection Cooking
If you've come across a Z Grills ZPG-700d review, you'll know that customers love this product because of its flexibility. With this griller, there's no longer a need to purchase another device for roasting or baking your favorite meat! This griller is multipurpose, which means you can do a lot of things in it, from grilling, roasting, baking, smoking, braising, and searing meat! You will definitely not waste your money when you invest in this multipurpose cooking device!
Strong Build
The outer structure of the Z Grill is coated with stainless steel, making it look sleek and stylish. With its robust design, you can be assured of durability. So even if you use this grill on a regular basis, you can be sure that it will last long as it's capable of withstanding the daily corrosion and heat. If you read some of the Z Grills Master 700D Amazon reviews, you'll find that customers love that the product is well engineered and it greatly meets their expectations. The overall layout and design allow for an easy and convenient use of the product.
Easy Grilling
If you don't want to go through the complications of cooking meat, then this grill is what you need! It's extremely easy to use. Unlike the other grills that come with complicated instructions, this one is easy for everyone to use. Even if you have not tried using a grill before, you can easily find your way around it. You won't get confused with the setup and installation either since the manual is easy to read and follow.
Operating the grill requires very few guidelines. All that needs to be done is to place the wood pellets, turn the device on, adjust the temperature according to your preferences, and you can start cooking!
Wood-Fuel Firing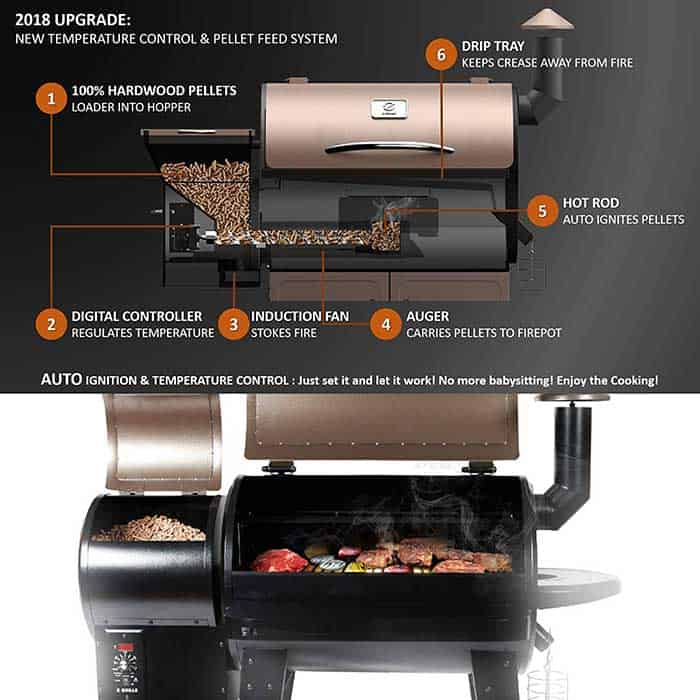 If you're concerned about the use of wooden pallets, then there's no reason to be. In fact, wood is so much better than gas or charcoal in terms of safety and quality. Furthermore, the pellets are capable of producing a tasty and flavorful grill compared to charcoal.
The wood pellets used for the grill are made from 100% hardwood sourced from American Oak. If you run out of pellets, you can easily order from Z grill online or check out some of your local stores. You might be surprised to know that it's actually very cheap, costing only $60 for a 40-pound worth of pellets. For a start, the Z grills wood pellet grill & smoker comes with free two packs of wood pellets that are 20 pounds each.
To help you decide if this product is really worth buying, we have included the pros and cons in this Z Grills Master 700D review.
Pros
Comes with an adjustable temperature regulator.
Highly resistant to corrosion.
Easy to use
Good customer service.
Features a highly digitalized operation.
Long duration grilling.
Easily portable, with heavy-duty wheels
Expansive grilling surface
Versatile
Wood-fired
Cons
Doesn't come with the ash cleaning feature.
Doesn't have a grill cover or front shelf.
Check prices and availability here
Durability and Affordability
Just because the Z-Grills Master 700D wood pellet BBQ grills are made in China doesn't necessarily mean that it lacks the quality that one would expect from a griller. This is such a shame because this product is actually more durable than the other American made products. The overall design and body of the product are absolutely sturdy. It was made for the purpose of giving the user the utmost convenience.
The Z-Grills ZPG-700D is long lasting. It can withstand several months of regular use without failing. The grill's overall structure is heat and corrosion resistant, so regardless of its constant exposure to food, liquid, heat, and oil, you won't have to worry about it getting damaged. Given all these great features, it's easy to see why this product is really worth every penny you spend on it.
Why Buy a Z-Grills Wood Pellet Smoker?
There are many reasons why you should consider investing in the Z-Grills wood pellet smoker. Aside from its well-constructed design and durability, the product is very convenient to use.
Thanks to its automated features, there's no longer a need for you to keep on checking the grill while it cooks your meat. It has an automated temperature regulator as well as a dial and a sensor that can do the job for you.
This griller is multi-purpose, which means that you can use it in many ways, whether it's roasting, grilling, and even baking meat. Not only that but it also has a wide cooking space so even if you have to prepare food for a big crowd, you can greatly rely on the product. So if you're in need of a griller that can give you the best value for your money, this is the perfect product to invest in!
The Z-Grills wood pellet smoker is without a doubt a great product. In fact, if in the event that the product gets damaged, the manufacturer will replace it since it's covered under a 3-year limited warranty! Plus, it has a 30-day money back guarantee so if you're not quite satisfied with the product, you can always return it and get your money back.
User Reviews
You'll find lots of good feedback and positive on Amazon, which is not a surprise given how great this grill is. For one, customers are satisfied with the cooking results. It gave them the consistency that they needed in their barbecue and steak. They also love the variety of flavors that the grill can give to their meat and the versatility that it provides. Others also appreciate the fact that the product doesn't come with complicated instructions for the set-up and operation.  Some customers are also happy with the product's overall construction and design. Overall, the majority of those who have tried the product are very happy with the way it works!
Of course, nothing is perfect, but there are only a few complaints written about the product, such as the lack of accessories like the ash remover and grill cover.
Conclusion
Indeed, get-together parties would be perfect if there's delicious barbecue and grill on the menu. So if you're planning to host a family gathering or perhaps, a bonding moment with your friends and colleagues, you should make sure to invest in a highly reliable griller. Aside from reliability, you should also consider the product's quality. And when it comes to reliability and durability, the Z-grills ZPG-700D wood-fired griller is the best! By simply reading this Z Grills Master 700D review, you'll understand why many customers love this product.
Joost Nusselder, the founder of Lakeside Smokers is a content marketer, dad and loves trying out new food with BBQ Smoking (& Japanese food!) at the heart of his passion, and together with his team he's been creating in-depth blog articles since 2016 to help loyal readers with recipes and cooking tips.