I love creating free content full of tips for my readers, you. I don't accept paid sponsorships, my opinion is my own, but if you find my recommendations helpful and you end up buying something you like through one of my links, I could earn a commission at no extra cost to you.
Learn more
MOST people think of slabs of meat when they hear the words "smoked food."
But we're not most and we want some DIVERSITY in our smoking, so if you're as READY AS I AM let's include some of the best smoked vegetable recipes in our smoking arsenal shall we?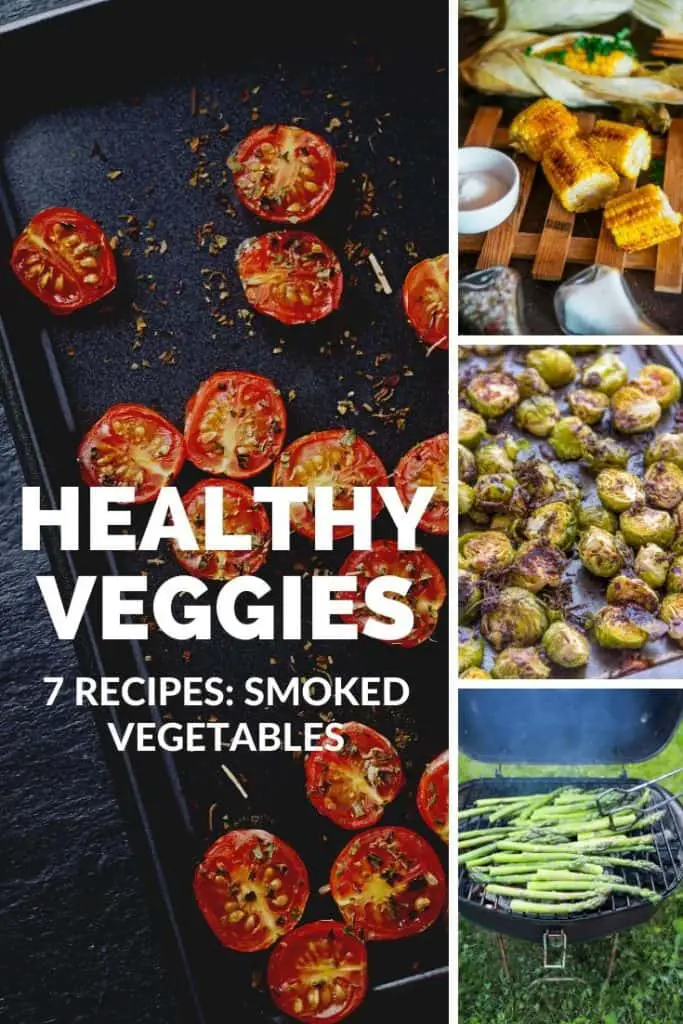 This way you can smoke your food either on your patio smoker or an indoor electric smoker like the one from Masterbuilt.
Tone and Tighten have made a video on how to make healthy smoked vegetables for your diet you can watch here, and be sure to read my recipes on smoking different vegetables below:
In this post we'll cover:
Best vegetables to smoke
What veggies are THE BEST to smoke?
You can smoke anything from:
Artichokes
Asparagus
Brussels Sprouts
Cabbage
Cauliflower
Cherry Tomatoes
Corn on the Cob
Bell peppers
Onion
Zucchini
Squash
Eggplant
Carrots
Best wood for smoking vegetables
Certain woods work better depending on the type of vegetable you want to smoke. While Alder is great for fish and Cherry is amazing for meats, the best wood to use for smoking vegetables is Maple because of its slightly sweet flavor. But Hickory is perfect for veggies that won't be in the smoker for more than an hour like turnips, beets, sweet potatoes, or squash.
Pecan is great for longer-roasted vegetables like asparagus or broccoli. Applewood is ideal for hearty vegetables like winter squash or pumpkin. 
| Vegetable smoking wood | Wood Chunks | Wood Chips |
| --- | --- | --- |
| Best wood with light sweet flavor: Maple | | |
| Best wood for shorter smoking: Hickory | | |
| Best wood for longer-roasted vegetables: Pecan | | |
| Best wood for hearty vegetables: Applewood | | |
Best BBQ vegetable rub
Now, one of the things I like to add to a lot of my smoked vegetable dishes, is a quality vegetable rub (my favorite is this Traeger one made especially for veggies and works great with hickory wood):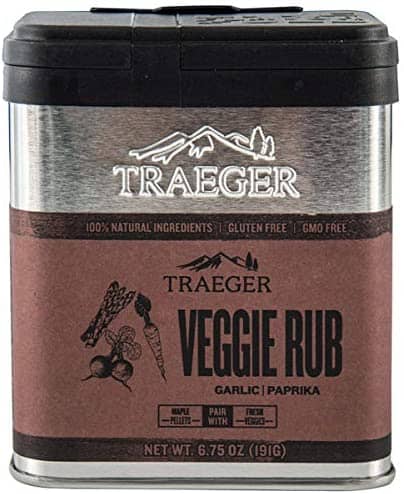 A dry rub (like the best flavors here) is to ensure your veggies won't burn (AND to make them super tasty of course!).
You can make your own with aromatic spices like paprika, cumin, garlic powder, and coriander seeds so that it adds flavor as well as helping to keep the vegetables from sticking or burning on contact with direct heat, but getting a pre-made rub is just so easy.
Best vegetarian Smoked Vegetable Recipes
Here's how to make smoked vegetables like a PRO: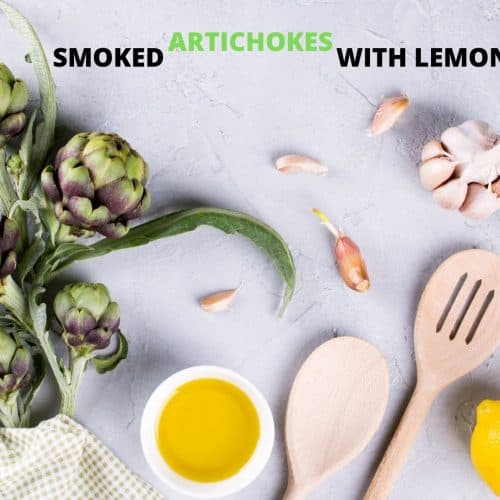 Smoked Artichokes with lemon recipe
Artichokes are actually the flowering buds of a plant in the thistle family. The silymarin, which is a milk thistle in this flower bud, detoxifies the liver and helps cure liver diseases such as chronic hepatitis and cirrhosis.
Ingredients 

 
4

whole

artichokes

½

cup

extra virgin olive oil

(EVOO)

1

lemon

juiced

4

cloves

garlic

minced

sea salt and black pepper

to taste

water

Mesquite wood chips
Instructions 
Step 1: first steam the artichokes
Prepare an electric food steamer and pour 17 ounces (500ml) of water in, then start heating it and bring it to boil.

While waiting for the steamer to boil clean and trim your artichokes by removing some of the tough outer leaves near the base of the bud at the stem. Slice 1/4 of the top of the artichoke with a large serrated knife and discard it. Remove the stem too in order to allow the chokes to sit flat on the steamer. Clip off the pointy edges of the leaves that are on the outermost layer with cooking shears.

Now cut the artichokes in half at the center lengthwise to expose the hairy choke on the stem, then remove the hairy choke with a spoon by scraping it off.

Then place the artichokes in the steamer with the stem facing downward, cover with a lid and let them sit for 20 – 25 minutes until they become soft and tender.

Take the artichokes out of the food steamer and transfer them to a clean plate and let cool.
Step 2: smoke the artichokes
Fire up the smoker and set the temperature to 200° Fahrenheit (93° Celsius).

Put the artichokes in aluminum foil packets and place them on the grill in the smoker to be smoked.

Pour the rest of the ingredients (EVOO, lemon juice, garlic, salt, and pepper) into the foil packets together with the artichokes and mix them well.

Now smoke the artichokes for about an hour and serve with melted butter as a dipping sauce or just eat it as is.
Notes
Artichokes are also high in dietary fiber that helps your digestion process as well as regulate low-density lipoproteins (LDL or good cholesterol) that are beneficial to your body.
It is unwise to smoke artichokes right away without steaming them first as the leaves tend to dry out and they would taste like chewing on leather in your mouth.
The cooking instructions above will show you how to steam it first and then smoke it to make it edible and delicious.
Nutrition
Calories:
251
kcal
Carbohydrates:
4
g
Protein:
1
g
Fat:
27
g
Saturated Fat:
4
g
Polyunsaturated Fat:
3
g
Monounsaturated Fat:
20
g
Sodium:
3
mg
Potassium:
53
mg
Fiber:
1
g
Sugar:
1
g
Vitamin A:
6
IU
Vitamin C:
15
mg
Calcium:
13
mg
Iron:
1
mg
Smoked Asparagus
Asparagus, although not often used for smoking, is sturdy enough not to melt in the heat inside a smoker, and has lots of health benefits too!
The early spring fresh and thick stalks would work nicely.
One recipe that would be good for smoking asparagus is cutting off the lower stem and mix the vegetable with salt, pepper and olive oil.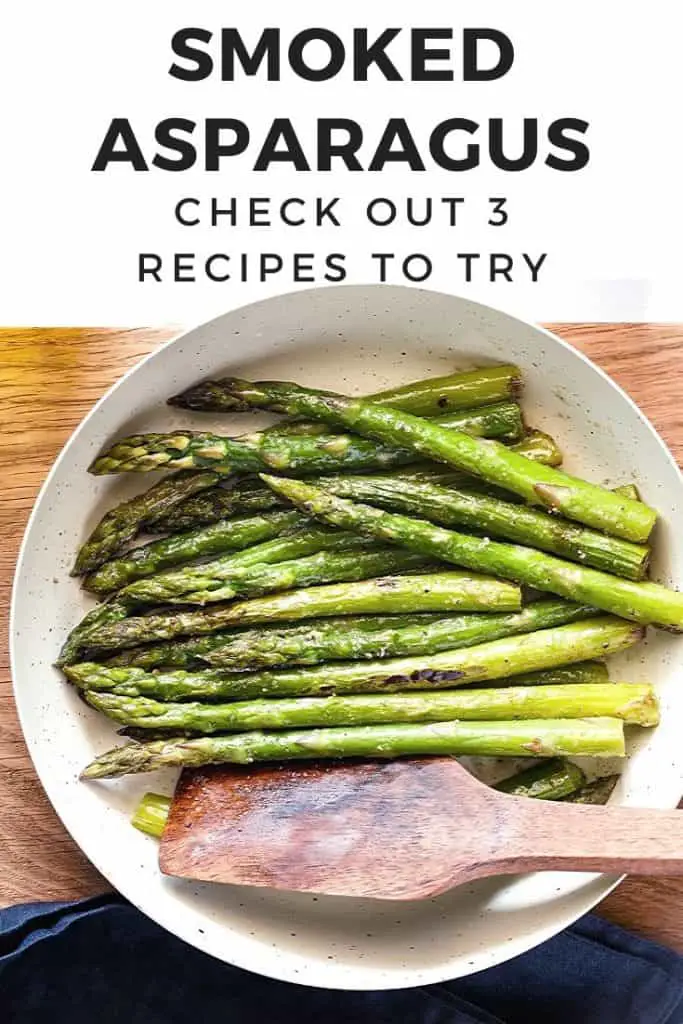 Put the asparagus in an aluminum foil packet and smoke them at 225° Fahrenheit (107° Celsius) for about 90 minutes or until they become tender, but still crisp to the bite.
Another recipe to try is to wrap individual asparagus spears in bacon strips and then smoke them.
You can wipe the asparagus and bacon wrap with butter or some other marinade before smoking them. Smoke until the bacon turns brown before serving.
You could also try a recipe where you place the asparagus on top of a bed of sliced onions sprinkled with butter in a baking dish.
Smoke it for 2 hours and it should be a great meal.
Smoked Brussels Sprouts
In order to smoke Brussels sprouts successfully, you need to place them in a container to keep the moisture in, or else they'll dry out and won't be edible.
Create aluminum foil packets for the sprouts as this will serve as their container to steam the vegetable, or you can also use a roasting foil or a lasagna pan.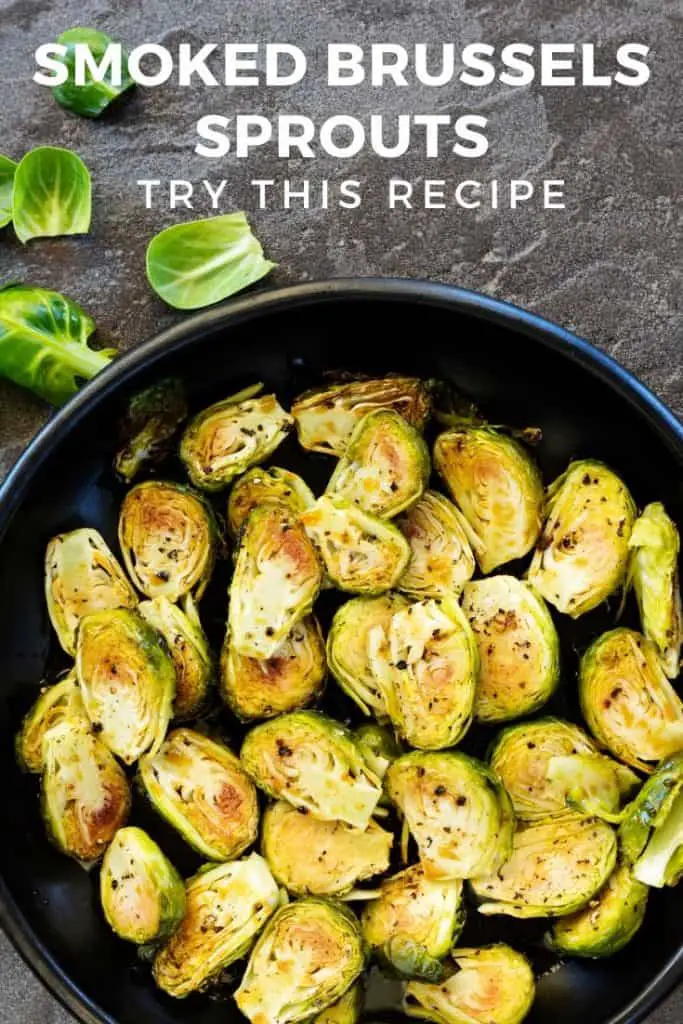 Ingredients:
1-1/2 lbs Brussels sprouts
2 cloves of garlic minced
2 tbsp extra virgin olive oil
Sea salt and cracked black pepper
1 tbsp balsamic vinegar
How to cook it:
First thing to do is to rinse the sprouts in cold water, then set them in a strainer and allow to drain. Remove the brown parts as well as the outer leaves that have been discolored.
Get a large bowl and transfer the sprouts from the strainer into the bowl. Pour olive oil and coat it with a brush, add minced garlic, as well as a bit of salt to taste before wrapping them in the foil again.
Use a vertical water smoker (preferably electric smoker) and heat it up to 250° Fahrenheit (121° Celsius) for about 45 minutes until it becomes soft and tender. You can also replace the water in the water pan with apple cider vinegar for added flavor.
To add flavor to the smoked Brussels sprouts, you can add chopped cooked bacon and sliced cooked sweet onions when you serve them, and drizzle them with a little bit of balsamic vinegar to improve their taste.
You'll definitely want to take a look at our accessory guide to get the gear you'll need for these recipes.
Smoked Cabbage
Despite its impressive nutrient content, cabbage is often overlooked to smoke with, and that's SUCH A WASTE!
Use a classic green cabbage with a small head. You have to remove the first 2 outer leaves and rinse it before smoking it.
Ingredients:
1 small head of green cabbage
1 tbsp balsamic vinegar
1/2 tsp sea salt
1/2 tsp black pepper
2 tbsp butter
Extra virgin olive oil (EVOO)
Sea salt and black pepper for the outside
Water and naturally sweetened apple juice
Hickory or applewood chips
How to cook it:
Use a vertical water smoker for this recipe and preheat it to 250° Fahrenheit (124° Celsius). Pour 50% water and another 50% apple juice in the water pan for flavoring in the steam when you smoke the cabbage and add the charcoal briquettes and the chopped wood in the wood chip tray.
Create a cylindrical cavity in the center of the cabbage by cutting out the core with a small knife. Make the cavity approximately 1.25-inch wide and 3 inches deep, but do not gouge out the core all the way through the cabbage head.
Pour in the vinegar, salt, and pepper into the cavity, then rub the external portion with EVOO. Afterward, coat it with salt and pepper to taste.
Create aluminum foil packets to place the cabbage in as you smoke it. Leave extra foil hanging out to close it later and envelop the cabbage. Make sure to lay the cabbage in there with the cut end facing upwards when you start to smoke it.
Start smoking the cabbage for about 1 and 1/2 hours. Add more chopped wood as well as water and vinegar and continue smoking it for another 45 – 60 minutes.
Close the foil with the extra hanging flaps and wrap it around the cabbage head, then smoke for another 30 minutes.
Cut the cabbage head into wedge designs for added aesthetics and you can pair it with apple sauce and pork chops.
Smoked Cauliflower
It is possible to smoke cauliflower in the same way we did with the cabbage head in the previous paragraph as they do belong in the same genus of Brassica.
However, I like to to break up the cauliflower into smaller pieces and remove the core before you smoke them.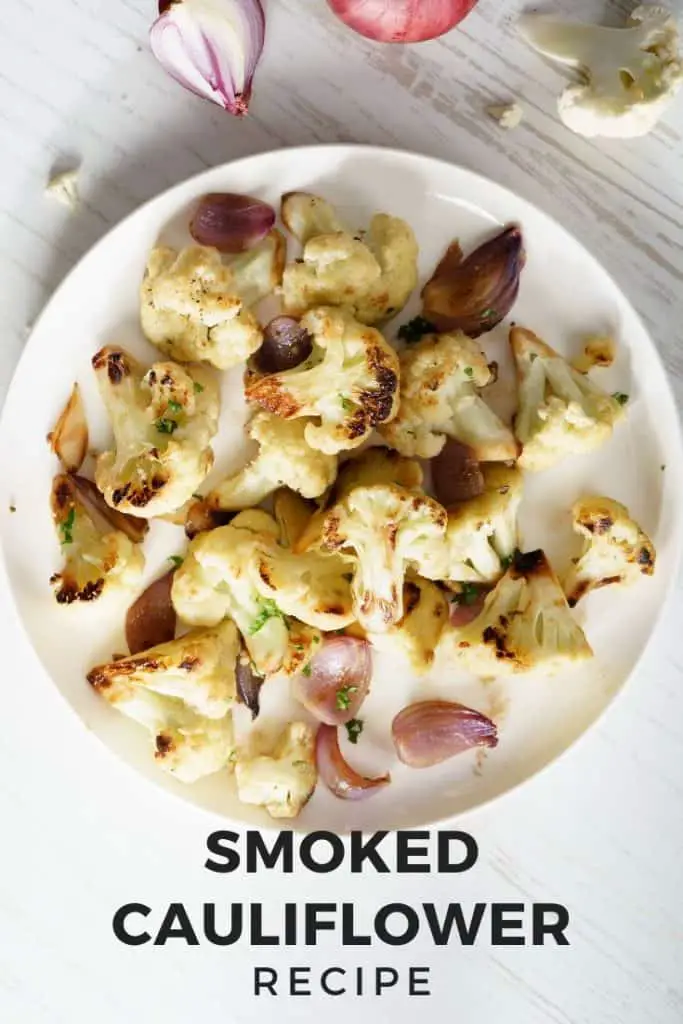 Rinse them in cold running water and place them in aluminum foil, then pour the olive oil, drizzle with salt and pepper and add some basil and oregano.
Set the temperature to 200° Fahrenheit (93° Celsius) and smoke it for 2 hours as you stir the mix at about half-time.
Continually add water and wood chips if needed and serve with a light vinaigrette or aioli once done.
The health benefits of cauliflower include vitamin C (80% of RDA – recommended daily allowance), low in calories and rich in dietary fibers.
Smoked Cherry Tomatoes
Tomatoes consist of 95% water and so they don't do well in heat which is why you'll need an oven pan to put them in if you want to smoke them as they burst when they reach certain temperatures.
The tradeoff is that you'll get really tasty, but messy juices you'll only get from roasted, smoky, charred tomatoes.
They'll go great together with pasta, salads and make delicious tomato sauce.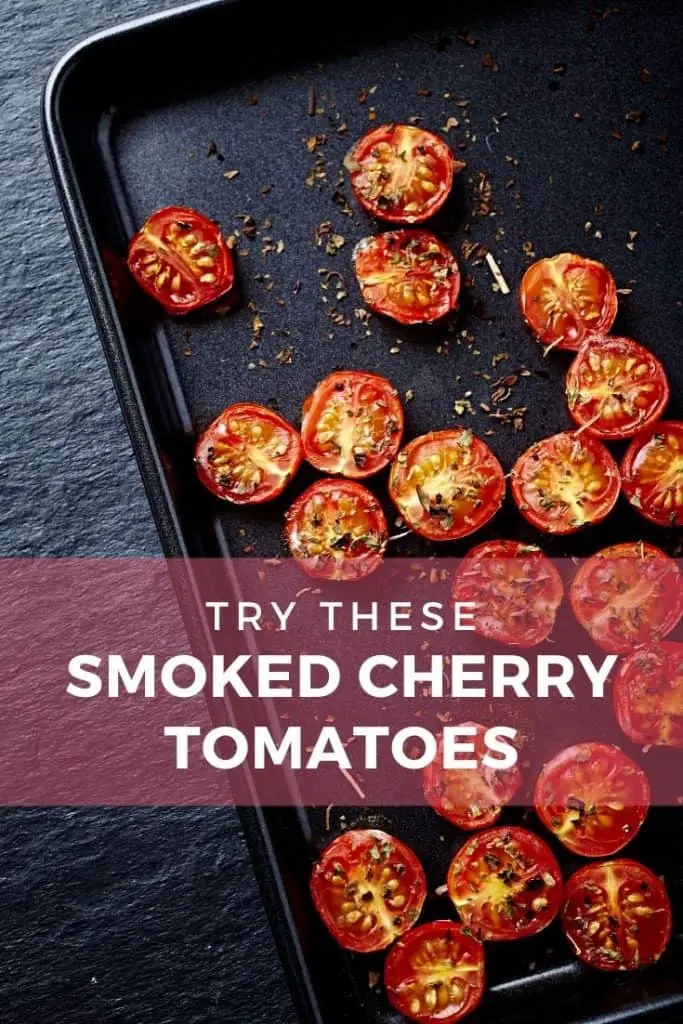 The tomatoes have a naturally sweet flavor so there's no need for seasoning them or brushing them with vegetable oil before you smoke them.
Ingredients:
2 pints of cherry tomatoes, or enough to fill the pan
Water
Mild wood chips
How to cook it:
Fire up the smoker and set the temperature to 225° Fahrenheit (107° Celsius). Add wood chips on the wood chips tray and water to the water tray to create steam.
Rinse the tomatoes and let them dry on top of paper towels.
Put the tomatoes on the grill rack and smoke them for an hour and a half. Continually add water and wood chips as needed and smoke them again for another 45 minutes to an hour.
Smoked Corn on the Cob
Corn is a nutritious and delicious vegetable. Among the health benefits, you will get from it includes vitamin B12, folic acid and iron which reduces the risk of anemia.
High in carbohydrates which will give you a boost if you're working out in the gym, and it helps increase the blood flow, lowers cholesterol absorption and regulates insulin, which is good for diabetic patients.
Getting all that health benefits from smoked corn will make you think that the best things in life are free, or at least they cost $4 per bushel in the market that is.
But you rarely get something this delicious when smoked and loaded with nutrients, so it's like it's free!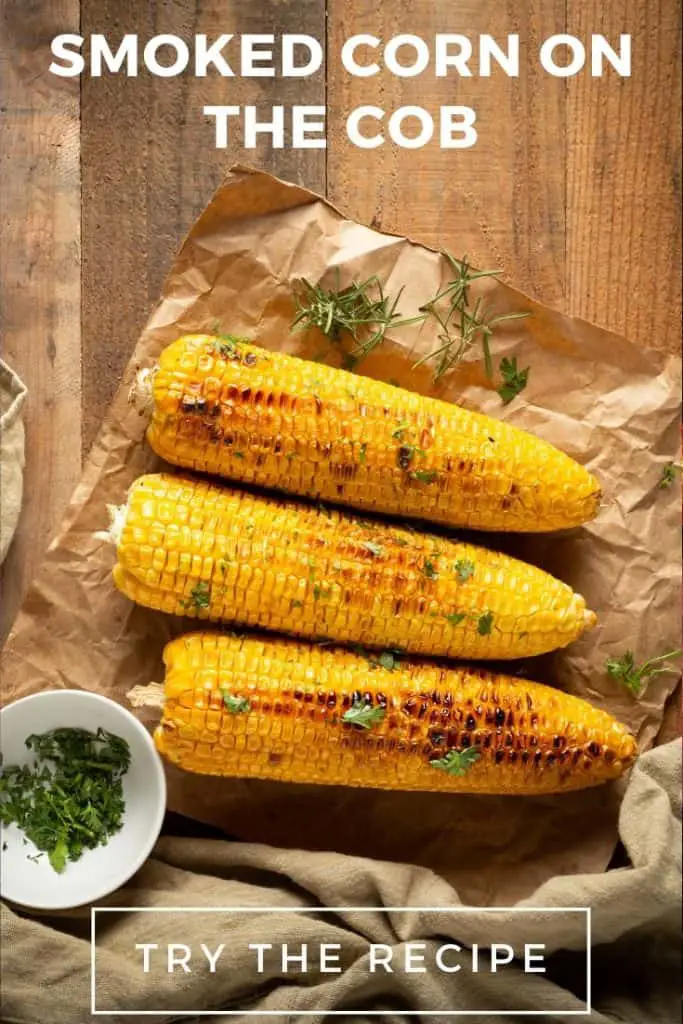 Ingredients:
6 to 12 ears of white or sweet corn
Butter, kosher salt, & cracked black pepper for serving
Water
Oak or hickory wood chips
How to cook it:
Peel back the husks gently but do not remove them from the stem (do it like when you peel a banana). Pull out the silks inside and make the corn free of it as much as you can. Place the husks back over the ears of corn and soak it in a bucket filled with 5 liters of water for 2 hours.
Fire up the smoker and set the temperature to 225° Fahrenheit (107° Celsius). Add wood chips on the wood chips tray and water to the water tray to create steam.
Place the corn cobs on the grill racks and smoke them for 2 hours.
Rotate them every half-hour while making sure there's always water in the water pan to create steam and plenty of wood chips for added fuel to burn.
Once you've smoked them almost 2/3 of the way (1 hour and 30 minutes), check the corn ear and make sure that they're not drying out.
Serve with butter, salt, and pepper.
Smoked marinated bell peppers
Slice the bell peppers and place them on soaked wood chips, allow to smoke for two hours.
-In a bowl mix together olive oil, apple cider vinegar, soy sauce, minced garlic, tomato paste and salt.
-Combine the smoked bell pepper and the sauce in a shallow dish and toss until coated.
-Allow the peppers to marinate for one hour.
What temperature should you smoke bell peppers at?
– 250°F
## What wood should you smoke bell peppers over?
– Use the following wood combinations for smoking bell peppers:
Oak or hickory is a popular choice. Other options include mesquite and apple; however, these woods might give your meat an overly strong flavor.
How long is a bell pepper good for once it's been smoked?
– The bell pepper will last for about
How do you store smoked bell peppers?
– Store in an airtight container. Best served at room temperature.
3 days refrigerated.
Smoke bell peppers at a temperature of 200 degrees fahrenheit and cook them until the peppers have been completely tenderized.
If you are looking for indoor smoking recipes, mention "indoor smoker". I used an indoor smoker to make this recipe.
Contrasting with outdoor smokers, indoor smokers are smaller in size. They
170 degrees F is the ideal temperature you want to smoke bell peppers at. This will allow for a tender smoky and delicious flavor if you rub, wipe or dip them with sauce. The pepper should turn an amber color when finished cooking. At this point you pull them off the heat and let cool on a rack until they reach room temp.
Smoked vegetables on a Traeger
In this video, Ace Hardware shows exactly how to make smoked vegetables on a Traeger grill, with their corn on the cob recipe.
This Traeger smoker is perfect for smoking your vegetables, you can check it out here: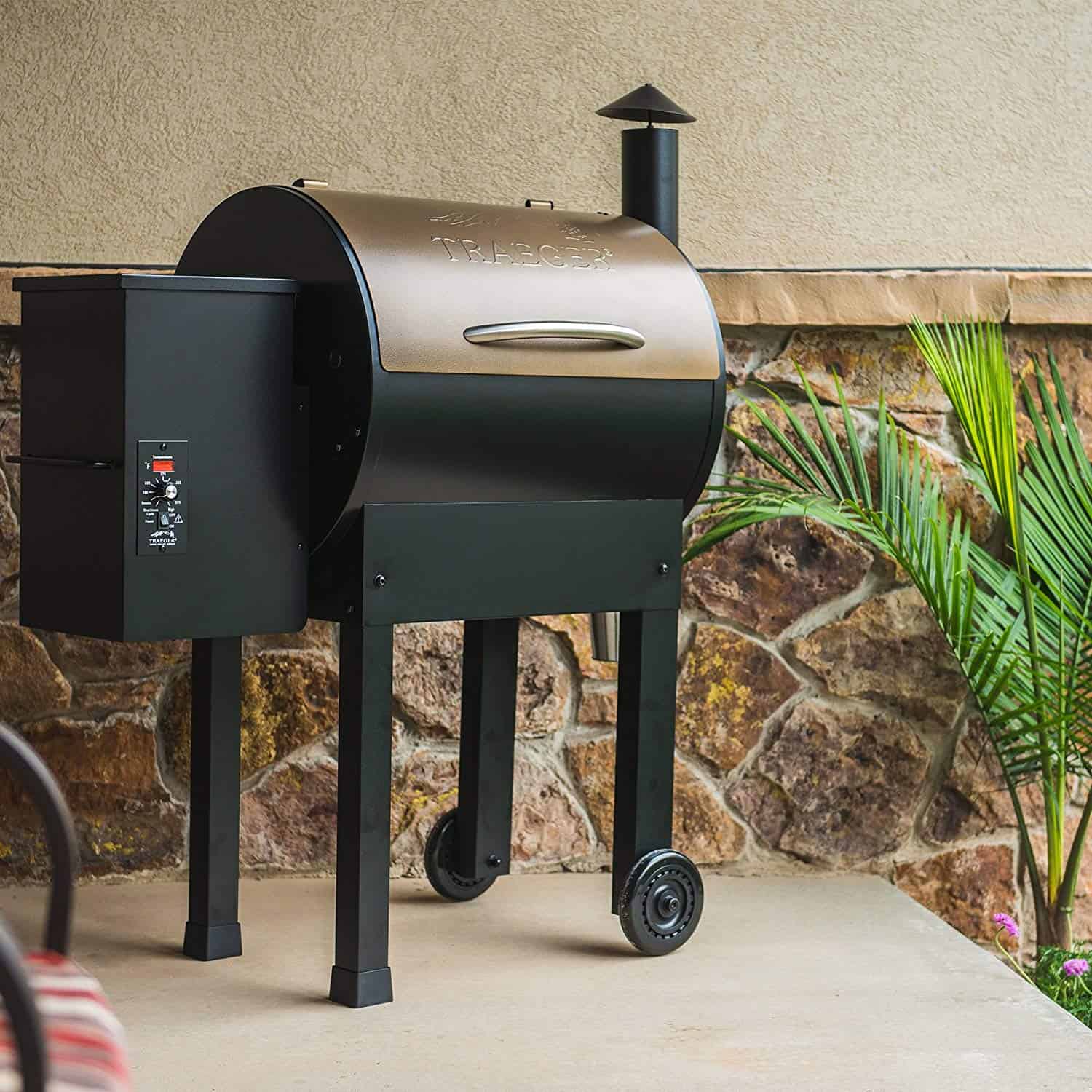 Also read: can you use a bbq smoker on your balcony?
Smoked vegetables on a Masterbuilt electric smoker
What better way to compare the two by also taking an ear of corn on the cob recipe and looking at how to prepare it on a Masterbuilt electric smoker.
Bummers-Bar-B-Q has made an excellent video to show you how exactly to make your smoked vegetables on an electric smoker:
Check out my review post on the Masterbuilt smoker out if you're interested in perhaps buying one.
What is Smoking Food?
Smoking is the process of flavoring, browning, cooking, or preserving food by exposing it to smoke (sometimes mixed with heated water vapor) from a low heat source (between 80° – 110° Celsius) such as charcoal, gas, wood and electrically induced thermal heat.
Meat, fish, and lapsang souchong tea are often smoked. Smoking is one of the oldest forms of food preservation methods and evidence suggests that the people living around the Caucasus Mountains near the Caspian Sea have been practicing this food preservation method as early as 9000 BC.
Over the millennia this food preservation method developed to certain levels of sophistication in various cultures in Europe.For example, Scandinavians were known to smoke fish pretty well, while in North America smoked hams were their highlight.
But by the mid-20th century chemical preservatives replaced this traditional method of preserving food; however, artificially created chemicals tend to have negative effects on health and so a new healthy food movement revived this technique once more.
Which Smoker Grill is Perfect for Smoking Vegetables?
While there are many different types of smoker grills sold in the market both vertical and horizontal smoker grills we reviewed here will do the work just fine.
Also, all smoker grills that have gas, electric, infrared, wood or charcoal fuel can smoke meat, fish, and vegetables effectively, but do choose products that are made with high quality so you won't be disappointed.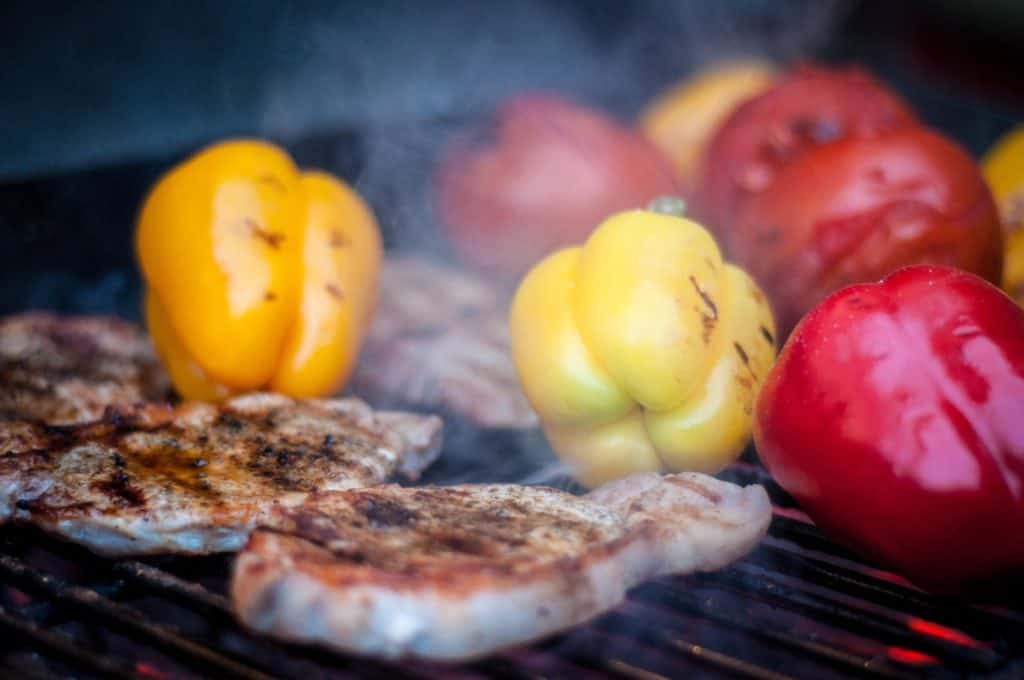 The best thing about smoking vegetables also is that you only need to smoke them in less the time it takes compared to smoking meat varieties, where it can take days and even weeks for them to be smoked in order to get that desired preservation that you want.
Did you know that you can also smoke fruit? Smoked fruit is delicious, I have some great recipes here
Frequently asked questions about smoked vegetables
You have asked me a lot of questions over time about smoking vegetables, and I want to take the time here to answer these in more detail so you can enjoy one (or all) of the above recipes.
How long should you smoke vegetables at 225?
It depends of course on the vegetable and the heat you're using. These are the cooking times and temperatures for the most popular smoked vegetables:
Artichokes: 1 hour at 200 degrees Fahrenheit
Asparagus: 90 minutes at 225 degrees Fahrenheit
Brussels Sprouts: 45 minutes at 250 degrees Fahrenheit
Cabbage: 2 hours and 15 minutes at 250 degrees Fahrenheit
Cauliflower: 2 hours at 200 degrees Fahrenheit
Cherry Tomatoes: 2 and a half hours at 225 degrees Fahrenheit
Corn on the Cob: 2 hours at 225 degrees Fahrenheit
Bell peppers: 90 minutes at 225 degrees Fahrenheit
Onion: 90 minutes at 225 degrees Fahrenheit
Zucchini: 1 hour at 250 degrees Fahrenheit
Yellow Squash: 1 hour at 250 degrees Fahrenheit
Eggplant: 1 hour at 250 degrees Fahrenheit
Carrots: 90 minutes at 225 degrees Fahrenheit
Are smoked vegetables healthy?
Smoked vegetables are a very healthy alternative to barbecued meat and we always incorporate some vegetable side dishes in our grilled meals. You should avoid eating burnt vegetables because of the carcinogens it releases so it's best to grill your vegetables over indirect heat.
If you'd like to learn more about the Traeger mentioned in this article, read our comparison here.
Joost Nusselder, the founder of Lakeside Smokers is a content marketer, dad and loves trying out new food with BBQ Smoking (& Japanese food!) at the heart of his passion, and together with his team he's been creating in-depth blog articles since 2016 to help loyal readers with recipes and cooking tips.