I love creating free content full of tips for my readers, you. I don't accept paid sponsorships, my opinion is my own, but if you find my recommendations helpful and you end up buying something you like through one of my links, I could earn a commission at no extra cost to you.
Learn more
Ah, there's nothing better than a great low and slow smoke but there are certain challenges a griller might face. One major problem is a lack of airflow.
This makes for uneven distribution of heat resulting in meat that is too smoky in some places and not smoky enough in others. That's where a fan comes in.
A barbecue fan provides airflow to ensure meats are smoked evenly.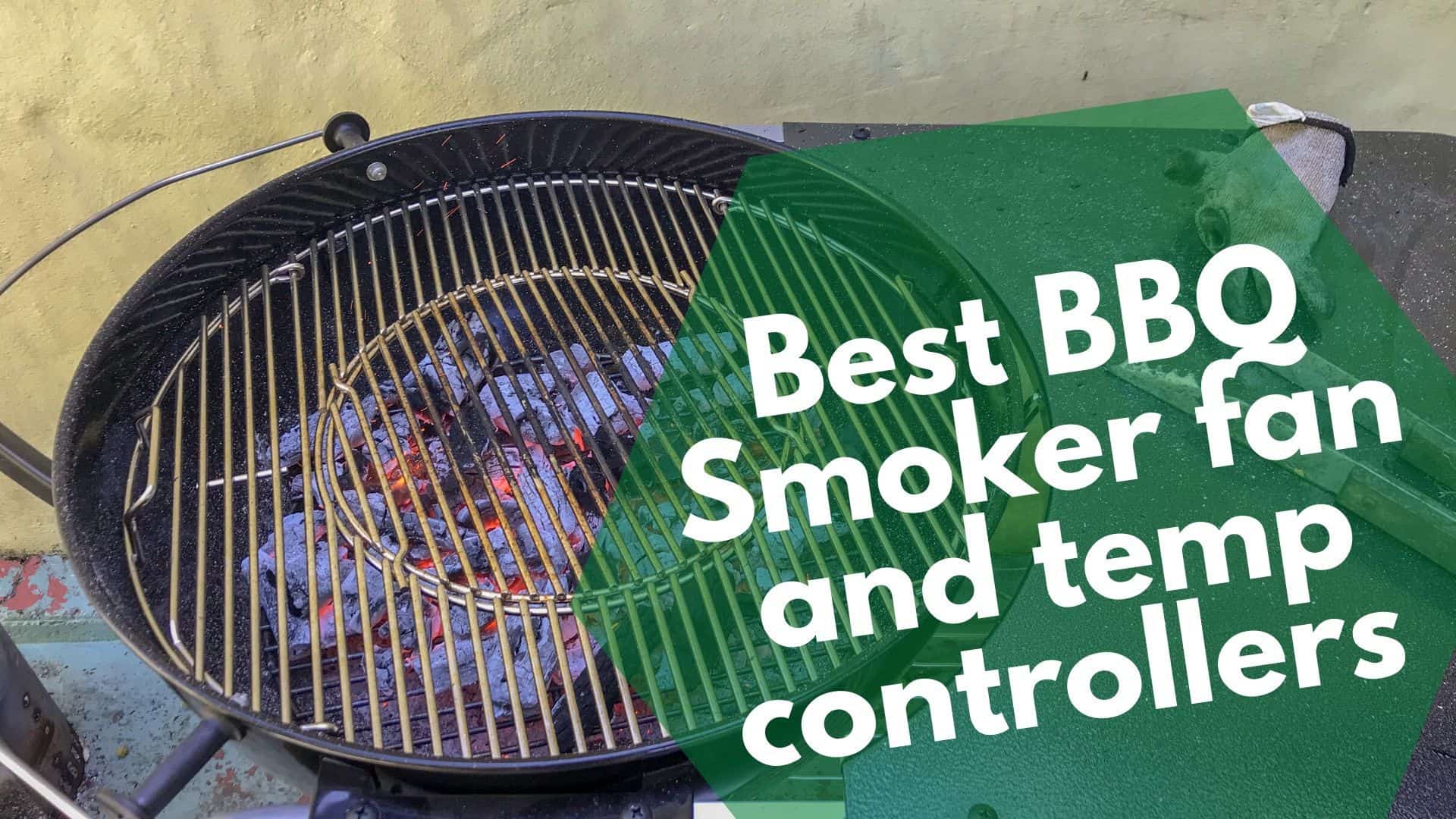 They are also good for regulating temperature to keep the meat from getting overdone and they reduce CO2 to make for cleaner, healthier cooking.
Once fans were available as pieces that were attached to the firebox or directly to the grill. These devices are still available but today, they are slowly being replaced by more advanced units known as digital temperature controllers.
A modern device like the Inkbird Automatic Smoker Fan Controller can help you control the cooking temperature in the smoker via an app and Wifi connection so you can go about your business while the meat is cooking low and slow. 
These digital thermometers can be purchased on their own and many have fans that can be sold separately.
The advantage of a temperature control mechanism is that it regulates the internal temperature in your smoker. Therefore, you can rest assured that your low and slow smoke goes well while you're doing something else.
If you are looking for a device to evenly distribute the heat in your grill and control temperature, there are certain features to look for to ensure you get a superior product.
This article will review some of those features and provide recommendations for the best fan on the market.
Let's take a quick look at the top choices and then dive into what you'll need to look out for in temperature control:
What is a BBQ temperature controller?
As soon as you start using a smoker, you realize that the only way to cook delicious foods is to smoke at the right temperature for the right amount of time.
A BBQ temperature control device is the first step to a successful smoking session. It is a device that you buy separately and it allows you to control the temperature inside the smoker. Thus, you can make adjustments to the vents and dampers.
Sure, you still need to get hands-on with the smoker but it gives you peace of mind when you see the temperature in the smoker.
These temperature control devices show you what the exact temperature is inside the smoker since they have a special probe. Some also include a meat probe so you can see the temperature inside the meat too! Pretty handy, right?
You set a target temperature and if the temperature fluctuates above or below this setting, the device will adjust and monitor the heat as needed.
So, you don't need to make an effort and waste your time babysitting the smoker for hours on end.
Buyer's guide: What to look for in your temperature controlling devices
There are certain things to look for in your temperature-controlling devices. However, these will differ depending on whether you are purchasing a fan on its own or temperature control and fan combo.
Here are some things to look for in temperature control devices.
Compatibility
While many of the most popular fans and temperature control devices are advertised as universal, that's not really the case.
Not all brands work with every smoker and so compatibility is very important. There are brands like Weber grills and smokers that usually work with a lot of these devices but some, like the Green Egg, for example, aren't compatible with most.
Therefore, you need to check if your smoker or grill is compatible with the temperature controller you want to buy.
The good news is that many brands offer different versions of their devices to cover a wider range of smokers. Usually, the device is almost identical but the connection and size are slightly different.
Placement & mounting
Where it is Located: Some fans attach to the side of the grill so they are directly over the meats while others attach to the firebox to cool the grill from within.
While both can be effective, ones that are placed directly above the grill can get in the way while cooking so if you choose to buy this design, make sure it is small and unobtrusive.
Some models are a bit harder to use because you have to remove and then replace the vent damper.
But, some are easy to install because they come with spring-loaded clamps that are also self-securing.
You also want to make sure your fan provides easy installation so it can be connected and disconnected from your grill easily.
Don't forget to think about how much space you have on your smoker. Can you fit the blower unit and attach it to the side of the smoker? Perhaps you need to have a flexible hose separate from the free-standing blower.
Temperature control
Some fans will have their own temperature controls to ensure your grill stays at the right temperature.
Others may not have such an accurate way of controlling temperature but they may have adjustable speeds that have an effect on airflow.
Technology & Wifi
Some temperature control units use an app that lets you control your grill from anywhere in the home. This is a convenient feature some chefs will not want to do without.
These days, almost every device you buy has Wifi or Bluetooth built-in (or both). So, it's only normal that temperature controllers come with Wifi capacity too. An automatic BBQ temperature controller has this too.
You can see what's happening in your smoker from a distance and control it via smartphone.
This feature makes smoking easier because you don't need to attend to the smoker at all times and you can even go watch a game while the brisket is smoking away for hours.
As a result, long smoking sessions will be easy to control and you don't need to waste time just checking on the grill.
Probes
Temperature units have probes that measure the temperature of the meat and the temperature inside the grill. For the most part, the more probes the better!
All temperature controllers have at least one temperature probe at the pit. This probe reading tells the unit when to turn on or turn off the fan.
But, the really great devices will have two probes. The second probe is the meat probe which tells you the temperature of the inside of the meat so you know when it's done.
There are some outstanding devices with more than one meat probe. These are useful because if you want to smoke a variety of meats simultaneously, you can see the temperature of each one at once.
It can help if you have trouble knowing when each meat type is fully cooked. However, if you already have wireless meat thermometers, you might not really need this feature.
Fan
If the fan is no good, the whole controller is kind of useless.
The fan is an important component of your temperature controller and it tends to be the one that gets damaged first. You need to look out for a fan made of quality materials, nothing flimsy and cheap.
You can also choose between fans with variable speed settings or simple fans which just turn on and off.
When you have a fan that is sometimes blowing at full power and sometimes on standby, the problem is that it can over fuel the charcoal and that causes unwanted temperature swings.
The best fans are ones with variable speed. These adapt to the size of your smoker and since they don't keep blowing at full or no speed, they don't cause extreme temperature changes.
Screen displays
Digital displays are the most common these days because they are easy to read.
Temperature controllers have screen displays that give you information on the temperature of your food the temperature in your grill and more. The more information these screens offer and the easier they are to read, the better.
It all comes down to how much info you want to see displayed on the screen.
The controller can display all the information that it collects like the specific temperature readings from the probe (s), temperature settings you've set, timers, and even errors when there's a problem.
Some of the more sophisticated models show a lot of numbers and data. Simpler models don't even have a display or only show the inside temperature. It depends on what readings you need.
If you are using a smartphone app with the controller you probably don't need to see the data on the display but if you're the kind of person who wants to see everything written clearly on the screen, you'll want a bigger display.
Timers and alarms
Temperature control units may have additional features such as timers or alarms that go off when grill temperatures get too hot. These added features can make a big difference to some chefs.
One of the advantages of a good temperature controller is that it can give detailed and accurate reports. But, it can also send alerts in the form of alarms when the fire pit is at the perfect temperature. It can also tell you when the meat is at the desired temperature or when there is a big fluctuation in the smoker.
Over-temperature and under-temperature alerts are very useful and the good thing is that you can set them as audible alarms for your phone.
One of the best types of alarms to have is the open lid detector. When you walk away from your smoker and forget to close the lid, this feature is a lifesaver.
I'm sure you know that leaving the lid open is a disaster for your smoked foods. If the lid is left open for a long time, the temperature will dip too low and the smoking session will be ruined.
This type of alarm is available with some models and it sends you an alert when it detects a temperature change as a result of an open lid.
Material and build
Some devices can have flimsy rubber or plastic components. These can be a problem because they get damaged easily and may even melt!
The truth is that the smoker has to withstand high heat and harsh conditions. Since it's exposed to heat and elements, there's a lot of dripping and spilling happening, especially with very fatty meat cuts.
Therefore, when you pick a device, look for temperature probes that are high heat resistant. Some are made of spill-resistant materials which can make them last longer.
Don't always go for the cheapest products because they are probably made cheaply and can get damaged easily so they need replacing soon after purchase and it's a waste of money.
Best barbecue smoker electric fans reviewed
Now that you know what to look for in electric smoker fans and temperature control units, here are some items that are recommended.
Best temperature controller overall & best with WiFi and Bluetooth: Inkbird Automatic Smoker Fan Controller
WIFI: yes
Bluetooth: yes
Number of probes: 3
Fan: variable speed
Alarms & timers: yes
Power: outlet or AC adapter
Accuracy: ±1.8℉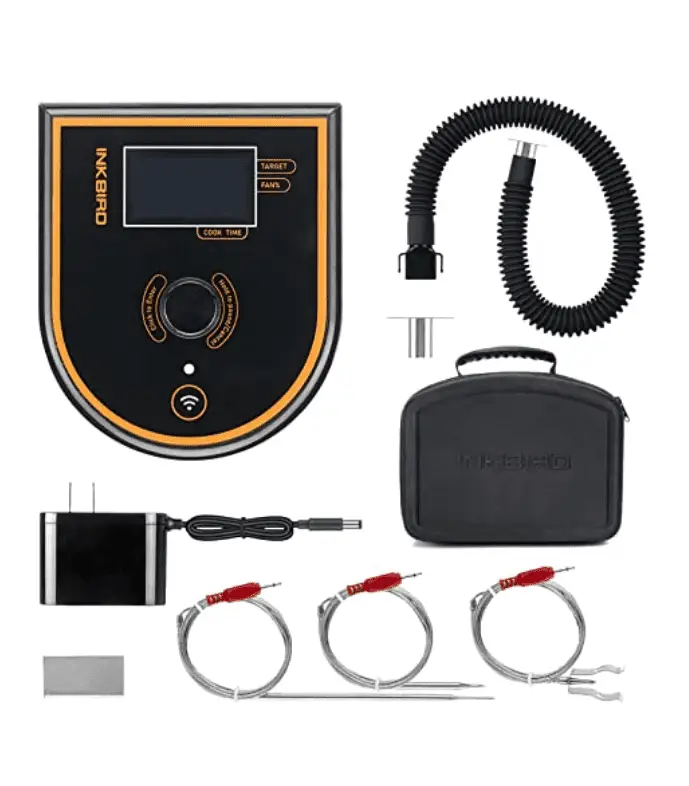 As BBQ temperature controllers are constantly evolving and improving, you need to try the latest features because they make your life so much easier.
The Inkbird fan and controller is one of the best on the market because it has built-in WIFI and Bluetooth technology.
The app on this device is really good and functions smoothly. It's easy to connect to WIFI and Bluetooth and the good part is that it doesn't drop or lose connection like many of the more expensive grill and smoker apps.
People complain about Weber apps disconnecting quite often but this Inkbird seems to run smoothly.
This means that you can smoke for many hours from a distance while controlling the temperature settings from your smartphone app.
Not only does this offer flexibility and free time, but it also ensures that you end up with perfectly smoked brisket every time.
A cool feature is that more than one person can control the temp via Bluetooth while smoking so if you have friends over for BBQ, they can participate in the cooking process too!
As you know, temperature fluctuations are the number one reason why smoke sessions turn out bad. But, with modern technology, this is no longer a real issue.
I really enjoy the user interface and the app that this device offers. The Inkbird app lets you set the pit target temperature directly from your phone. It also lets you set alarms and alerts for each of the 3 probes.
If you struggle to keep track of how your smoker works and how it handles temperature and heat, you can check the app's cook graph which displays the temperature history of each probe plus the pit.
This device has three probes: there is 1 probe for the pit and 2 for the meats so you can cook more than one type of meat simultaneously.
It also has a variable speed fan controller which automatically adjusts the speed depending on the temperature changes while smoking. Therefore it maintains stable temps and offers precise control and accuracy.
The Inkbird has a great temperature control range:
Short Time Measurement Range: from 32℉~572℉ (0℃ ~ 300℃)
Continuous Monitoring Range: from 32℉~482℉ (0℃ ~ 250℃)
Customers love how well this device works and that's why it's at the top of my list. It can hold the temperatures very precisely and doesn't overshoot.
Therefore, you don't need to worry about the fan shoot over the target temp. With older models, you had to wait until your smoker was about 25 degrees away from the target temp or it would overheat.
The design is rather minimalist with only one knob and a small display. Also, the limitation is that you can only set one temperature alert at once and there is also no open lid detection system.
Some people might find this problematic, especially if you tend to forget the lid open while cooking.
Overall, this is a very affordable temperature controller and is compatible with many smokers like Kamado, Akorn, Big Green Egg, Primo, Weber, Vision Grill, and more.
Therefore you get excellent value for your money. Although the Inkbird is a small device, it is made of sturdy material and has a heat-resistant hose.
You can't really go wrong with this one!
Best budget thermometer and blower Combo: BBQube Tempmaster
WIFI: yes
Bluetooth: yes
Number of probes: 3
Fan: variable speed
Alarms & timers: yes
Power: battery or AC adapter
Accuracy: ±2℉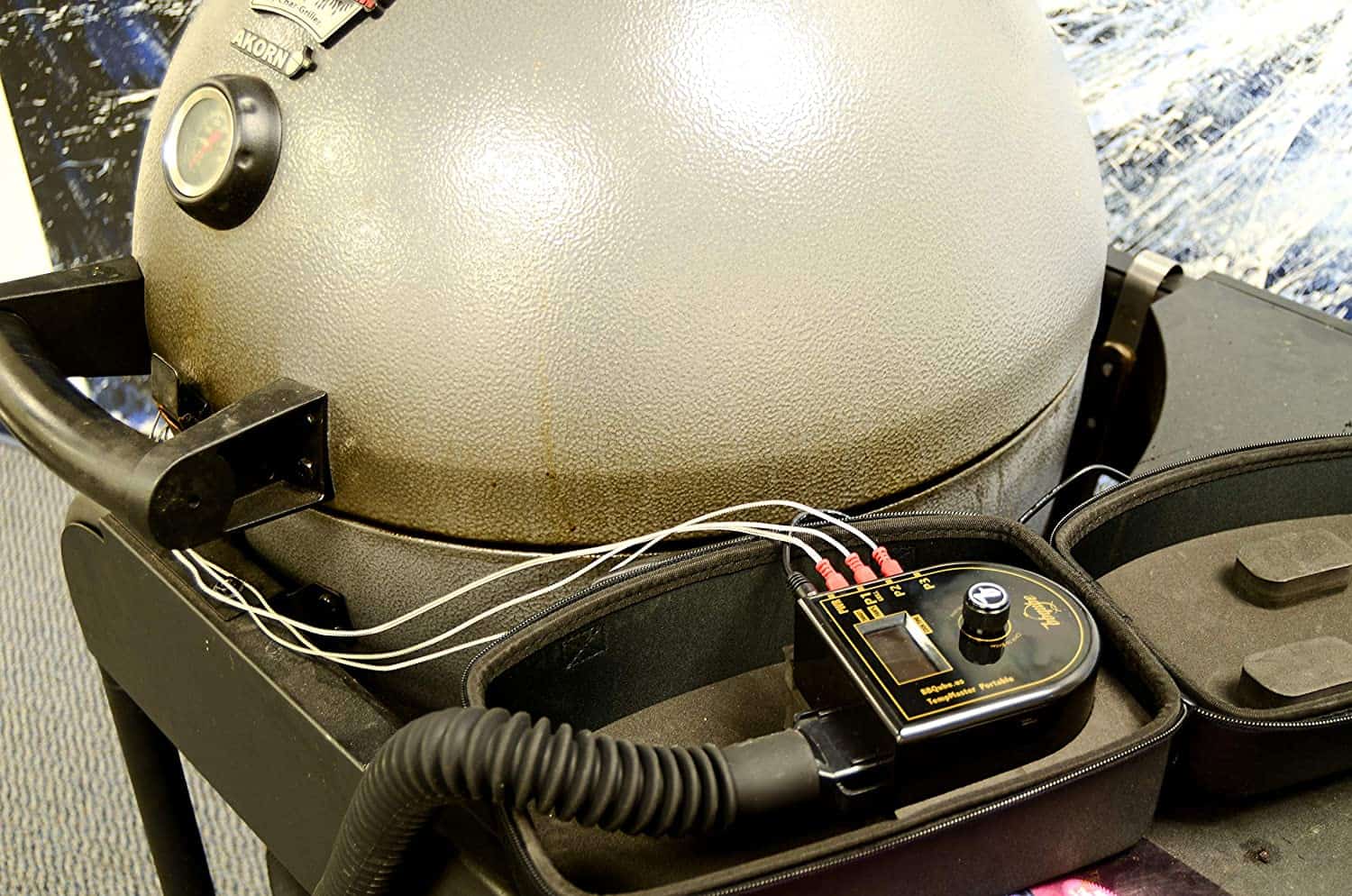 The TempMaster is a great cheaper alternative for the Inkbird temperature controller – it has an almost identical design, with a knob button for controls. Again, you can control the thermometer from a distance with the smartphone app!
Ok, the price difference is quite small but if you want to save a bit of money, this is also a good brand to invest in.
This device works for all kinds of grills and smokers from the Kamado, to other ceramic grills and even offset smokers. One of the reasons it's so good is that it can truly maintain a steady temperature even if the lid gets opened frequently.
With some other temperature controllers, if you open the lid, the temperature fluctuates too much, and if there is no open lid feature, you lose the heat. But, with this device, you can still smoke without worrying.
The fan has variable speeds which ensure precise airflow depending on what settings you use.
This device can be used on its own as a thermometer but you can add the blower to get the best of both worlds.
In addition to the temperature controller and blower, you also get 3 probes, some of which are for food and some are for the ambient temperature within the griller.
Since there's WIFI and Bluetooth connectivity, the device runs via an app and you can use one screen to control temperature and get all the information you need. But, it's not as versatile as the Inkbird which gives you more control options via the app.
The display is quite good because it's an OLED display so you can see the information clearly.
With a heat-resistant metal dial and metallic frame, this temperature controlling device is sturdy and well-built. None of the components feel very cheap or flimsy, and this is important, especially when you smoke for long periods.
In fact, you can smoke for 20+ hours because the device has a rechargeable 12 v battery pack.
Oh, and you can also use it with other fans beyond the Fireboard model.
Another feature I appreciate is that the product comes with a plastic carrying case, making it totally portable and easy to store next to the smoker.
However, this device has one major disadvantage: there are no preset cooking temperatures so you need to know what the ideal temperature is for each type of food you plan on cooking. That's why this device didn't take the top spot.
But, if you're not a beginner smoker, you will really enjoy using this controller for years to come.
Check out this review by a real user:
Inkbird vs BBQube TempMaster
These two temperature controllers are fairly similar, both in terms of performance and design. They look similar and come with most of the same features.
When it comes to accuracy though, the Inkbird readings are more accurate than the TempMaster. It seems like the probes are more fine-tuned to detect even the most minor temperature changes.
The Inkbird controller is amazing when it comes to maintaining a steady temperature and it's hard to beat because its fan system is very efficient.
Also, it's great for smoking from a distance and great when you're entertaining and want to control everything via app.
It just gives you lots of freedom and compared to the TempMaster, it has a better WIFI and Bluetooth range so it doesn't disconnect when you need it most.
However, if you plan longer smokes (15+ hours) then the BBQube is better because it has longer battery life. It runs for about 20 hours while the Inkbird can go for about 15-18.
I know this isn't a deal-breaker for most people but if you plan on using the temperature controller for commercial smokers, you might be interested in the longest battery life.
Both devices are compact and portable but also easy to install and attach to your smoker. However, there is a difference when it comes to the app and user interface. Most people really enjoy the Inkbird app because it runs smoothly and doesn't crash.
The TempMaster app is okay too but you've got limited control settings and options compared to the Inkbird. I guess that's a reason why it's cheaper than the Inkbird – it's not as functional through the app.
If you plan on using these devices, you should know that the Inkbird is specifically designed for lower temperature cooking (smoking low & slow) but the TempMaster temperature probes can withstand high heat up to 700 F.
That's not necessary when smoking but if you want to quickly cook something on your BBQ grill, it might be handy.
Best value for money temperature controller: PitmasterIQ 120 regulator kit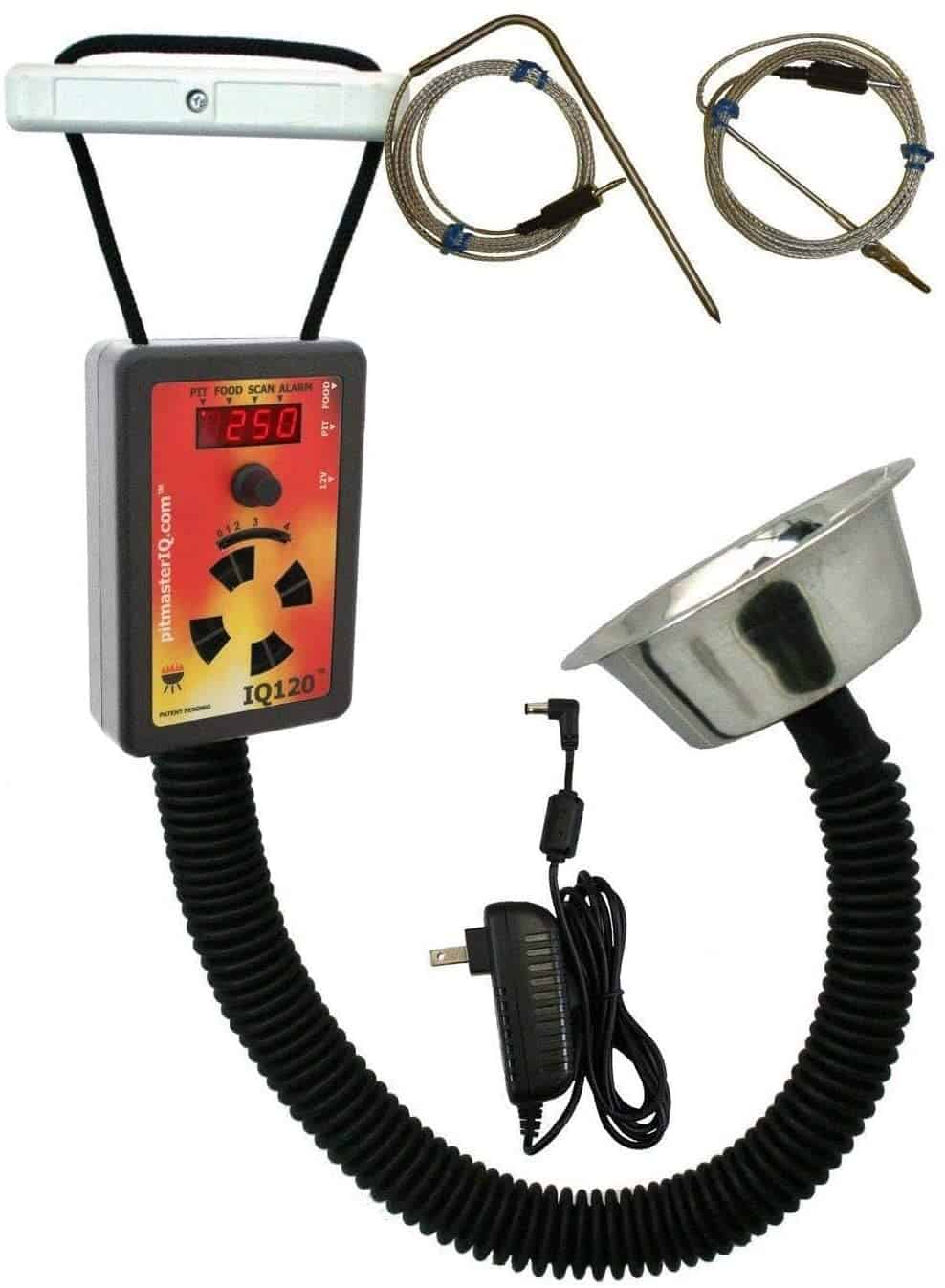 If you're looking for a Pitmaster quality temperature controller that works with a lot of smoker and BBQ models, the IQ120 is a great option. It's compatible with the Weber Kettle, the Smokey Mountain, Char-Broil, Viking, and many more.
This is what I would describe as a basic temperature controller that is easy to use, works efficiently, and sells at an affordable price. It's great for beginner smokers and pros alike and it has a sturdy build.
This unit is another that is way more basic than other units but some may appreciate the simplicity.
It comes with one food temperature probe and one ambient probe. These two probes are 6 inches long each and very robust and sturdy.
The device can regulate the temperature of the smoker with only a 1-degree variation from the temperature you set it to, thus it offers very precise control and ensures your food doesn't get burnt.
Some customers say that the accuracy level is not quite at a 1-degree variation, especially after extended use so it's best to always double-check, especially if you're smoking expensive cuts of meat.
This controller works by blowing air through the hose to the smoker to keep the temperature regulated. There's a display that will show you the functioning blower on the left side of the screen.
The unit will alert you when food gets too hot. It all works with a knob that doubles as a digital encoder that can select parameters and change settings.
Because it's a programmable device, you can always smoke according to the necessary temperature for different food types. So, if you need a lower temperature to smoke salmon, you can easily program it and you can count on the accuracy.
There are a total of 12 settings and an explanatory cheatsheet too so you know exactly how to use the settings.
Another good feature is that the IQ120 has an alarm alert system so you don't forget about the food you're cooking.
The screen is not overly large but it's a decent size and the digital number display is clearly visible and legible.
Some customers complain that there is no keypad with this device, but it has a rotating knob that anyone can use so it's actually easy to set up.
Also, the hose is made of a cheap rubber which might need replacing down the line but it's an affordable component.
Overall, this is a user-friendly probe with the basic features you need. Because it is affordable, it's a good value purchase that is easy to install and compatible with many smoker models.
Here you can see the advanced features of the unit:
Best temperature controller for non-ceramic smokers: Flame Boss 500
WIFI: yes
Bluetooth: no
Number of probes: 4
Fan: variable speed
Mounting: magnetic
Alarms & timers: yes
Power: battery or AC adapter
Accuracy: ±2℉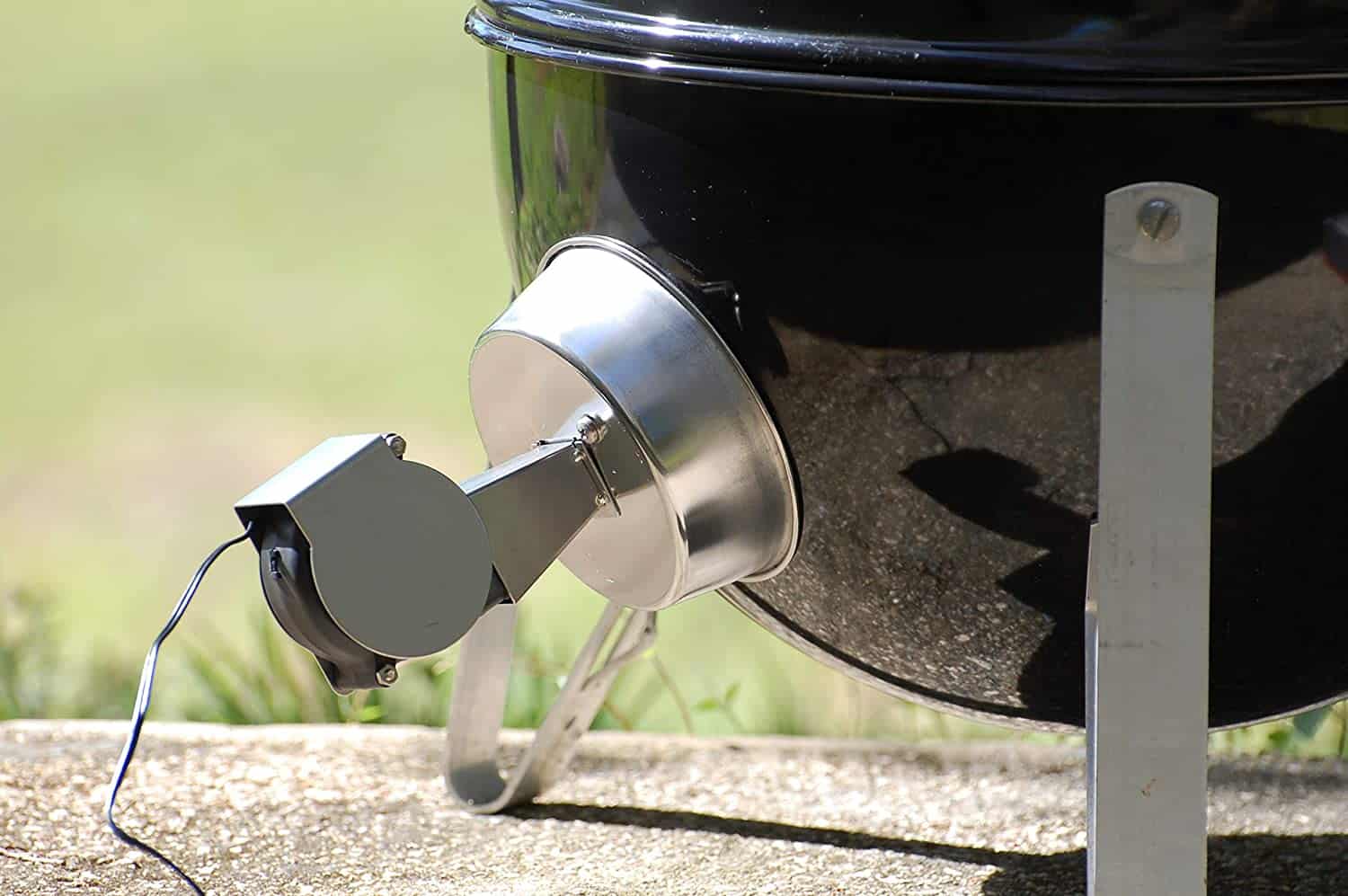 We talk about temperature control mechanisms for ceramic smokers quite a lot but what if you have a drum smoker or an offset? The Flame Boss 500 is the modern controller you need to try out.
Although it's designed for charcoal smokers, it can also be used with the following:
You can get the device for the Kamado/ceramic models too.
The kit includes a WiFi controller, blower and grill adapters, a high-temperature meat probe, a high-temperature pit probe, two probe cord organizers, power supply.
It is compatible with both Alexa and Google Home which is kind of cool because you can now officially talk to your smoker without raising eyebrows.
What makes the Flame Boss really good is that it works well and keeps a steady, accurate temperature. It alters the airflow inside the smoker according to your selected settings.
But, compared to other systems, this one doesn't have a remote monitor because the manufacturer doesn't supply it. Chances are though that you have one on hand so if you do, you're good to go.
This temperature and blower feature the latest technology and its variable speeds provide precise temperature control.
It is easy to install and use. It fits most grills and it has a superior online dashboard that allows you to monitor or change the temperature from your phone, tablet, or computer.
It also sends text notifications to update you on the progress of your food and it has a lid detection that shuts the fan when the lid is open.
There's a variable countdown timer so what you can do is set it t0 15-second intervals, anywhere between 0 to 24 hours. Although the timer feature isn't a game-changer, it might be useful especially for beginners.
You can also set an alarm to turn down the temperature if it gets too hot. There's a total of 4 types of alarms and many temperature settings that fall in the low and slow smoking parameters.
The Flame Boss can be used with 4 total probes and 3 meat probes that you can use without cables. These are very accurate so you can count on them to help you smoke the best meats.
I'll admit, this isn't the best-looking temperature controller and the design is very basic – think early 2000s pagers, but it's highly functional, and professional.
But, the good thing is that it's easy to install since it has a magnetic mounting bracket. So, you can stick it where you think it's most useful depending on the model of your smoker. The monitor can be popped on or off, making it practical.
There are 4 buttons for the controls and this is a disadvantage because the buttons are kind of hard to press without overdressing and skipping on settings. A dial button would be more practical but it's still quite easy to use.
Also, another issue is that if you use this device from the start of your smoke session, it tends to overshoot the temperature so wait a while before installing it on your smoker.
With some patience though you can cook the perfect smoked foods even from a distance because you have all the controls right on your phone or tablet.
Here's Smoking Meat Geeks talking about the Flame Boss 500:
PitmasterIQ vs Flame Boss
The Flame Boss (steel kit) is quite a premium temperature control but it's best suited for non-ceramic grills. So, if you still use charcoal smokers, like a classic drum, this is an excellent device.
You can get the Ceramic version too right here.
The steel kit though is the one that's really worth the money because charcoal smokers are notoriously hard to control in terms of temperature.
So, if you want to invest nearly $400, this controller is one that will actually keep the temperature steady no matter what.
Most people will agree that the Flame Boss has one of the best variable speed blowers on the market and this is what makes the difference between its competitors.
If you want to spend less money, the Pitmaster is the cheaper alternative. It's also got a digital encoder and works quite well.
Pitmaster, however, is one of those tried-and-true temperature controllers which is compatible with a wide array of grills and smokers so it's very versatile and you can install it on almost any cooker.
It's better suited for smokers because the probes only work at temps up to 400 degrees.
It all comes down to budget with this one and how accurate you want your smoke session to be.
Best basic temperature control mechanism: BBQ Guru DigiQ
WIFI: no
Bluetooth: no
Number of probes: 2
Fan: variable speed
Alarms & timers: yes
Power: AC & batteries
Accuracy: ±1℉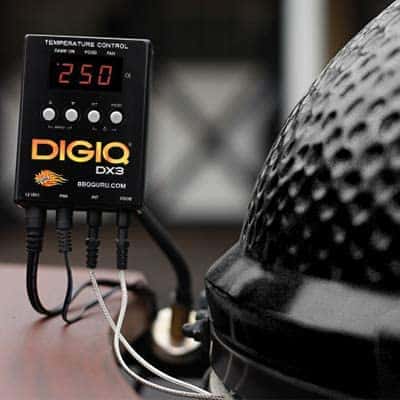 Are you looking for a basic temperature controller that is super easy to use? Perhaps you're just starting out smoking and want easy readings and displays with all the basic features you need.
The BBQ Guru DigiQ DX3 is one of the original temperature controllers and one of the earliest but still well trusted and accurate.
This is one of the first temperature controllers to be made and people love it for its simplicity. It does not have an app that could crash on you, rather it runs on batteries.
If you're just not into modern technology for your BBQ, this is a good product to get because there's no hassle with it. It provides temperature control for smaller cookers. It is durable and easy to install, and it keeps the temperature well regulated.
It has a Pit Viper Fan that people love so much they often buy it as its own unit and pair it with other devices. It works on almost all smokers.
There are two platinum probes that provide accurate readings, and some people say that this is a con of the product. Most smokers want more than two probes, especially when smoking more than one type of meat.
The advantage of the platinum probes is that they are high-heat resistant up to 500 F. The food probe has an L-shape, and you can poke it about 4 inches into the meat.
The other cooker probe comes with an alligator clip design for easy mounting.
However, the smoker temp probe and the meat temp probe are enough to give you a good idea of what is happening. Besides, the accuracy on this thing is amazing – only 1 degree + or -.
What people love most about this controller is the fan – it's one of the most durable and well-built ones out there. The fan is completely separate and contains an internal damper.
Another great feature is the simple interface and minimalist menu. While the DigiQ doesn't connect to the internet or Bluetooth, it still shows you what you need to know via a good display and it alerts you.
The system beeps when food reaches its desired temperature. It senses when the lid is open and stops blowing. This type of alarms and alert system comes in handy when you're not very familiar with the ideal cooking temperatures yet.
You can choose to get audible or visual alarms, depending on your preferences. The display flashes or beeps if the temperature inside the smoker gets too high or too low and even if you leave the lid open.
As a result, your food will always be perfectly cooked, and you can say goodbye to dry, chewy meat.
One thing to keep in mind though is that this is not an automatic damper so when the fan blows air in, you still must make minor adjustments to the vents.
Some BBQ newbies say this is a bit tricky to learn but with a few uses, you can perfect your skills.
Overall, this is a very well-made temperature controller that is easy to use and fits most smokers, including Big Green Egg, Kamado Joe, Weber, other ceramic grills but most charcoal smokers too!
Here's Ugly Drum Smokers looking at the new DigiQ DX3:
Also read: best meats to smoke in an electric smoker
Best smoker fan that attaches to firebox: Perfect Draft Fan Air Blower
WIFI: no
Bluetooth: no
Number of probes: 1
Fan: variable speed
Alarms & timers: yes
Power: AC & batteries
Accuracy: ±10 -15 ℉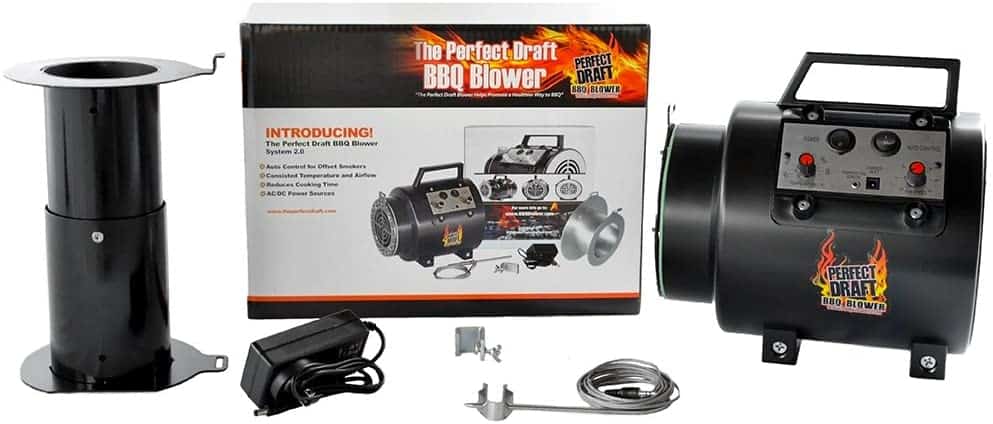 Are you looking for a complete temperature control set that's easy to set up and works with most reverse flow offset smokers?
What about a device with an air blower that has a very long run time? If you like long smokes, then this device helps you keep the temperature under control for up to 17 hours.
The idea behind this unique system came from a leaf blower – the inventor wanted an air draft system that fits onto the smoker perfectly.
Well, the advantage of this design is that it blows just enough air to maintain temperature and encourage combustion but it doesn't blow any ash onto the meat.
It's really a revolutionary product because it solves all your draft problems instantly and the fire burns super clean!
The Perfect Draft Blower is ideal for all kinds of grilling. It offers enough airflow for backyard fire pits as well as big reverse flow offset smokers.
It is not compatible with some other smokers though and this is a drawback. Also, it only has one temperature probe but if you have a wireless thermometer like these ones for the meat it's not a setback.
What sets this device apart though is that is battery operated. It's powered by a 12-volt battery so you have 17 hours of run time and then you can charge it with any AC plug.
To connect the device to the smoker, you attach it to the vent in the firebox. There are heavy-duty magnets in the Blower system so it stays put and doesn't move around.
This fan also has a safety hook for added protection. It regulates the airflow to provide even heat distribution and a cleaner burn. But, you'll have to drill a tiny hole in the firebox to attach the safety hook and some people don't like doing this.
Perfect Draft has variable fan speeds that you can adjust as well as a durable food-safe stainless-steel temperature probe to monitor the heat levels in the smoker.
If you set the temperature to 275 degrees, for example, you can use the automatic setting. It does the work and controls the fan automatically by controlling the amount of air blowing to the fire.
But, if you want to use manual mode, you decide what speed you want the fan to go at.
Overall, the build is durable and made in the USA, so you know it's made of good materials. It doesn't look or feel cheap even though it is a budget-friendly product.
Here's a video so you can see it in action:
BBQ Guru DigiQ vs Perfect Draft Fan
You've got two options here: the first BBQ Guru DigiQ is a very simple mechanism with no WIFI or Bluetooth and fancy features. It only comes with two temperature probes but for your basic smoking needs, it's quite satisfactory.
On the other hand, the Perfect Draft is a recent invention and a very popular way to keep a steady cooking temperature in your grill or smoker.
This fan is much larger so it can regulate the temps quickly.
You can set it on automatic or manual mode, but if you're not in the mood to keep watch over your meat, the automatic device can do all the work for you.
The Perfect Draft is very easy to attach because it has two magnets. The DigiQ is a bit harder to install but works well on most smokers, especially ones like the Green Big Egg or the Kamado Joe (here's how those two compare).
The downside is that it doesn't on offset barrel-type smokers.
I want to mention a very important difference between these two devices. When it comes to accuracy, surprisingly, the DigiQ is much better.
It can accurately tell you the temps to about 1 or 2 degrees + or -, whereas the Perfect Draft can be off by 10-15 degrees. That's quite a lot actually so many pitmasters recommend using an external BBQ thermometer.
It all comes down to what you're willing to pay. The Perfect Draft is quite expensive considering that it's not built of very durable materials whereas the BBQ Guru is cheaper and more accurate.
However, if you're following the hype and want to try a new innovative product, the Draft fan is easy to use and run.
Best fan for starting fires: BBQ Dragon Grill Fan
Material: stainless steel & plastic components
Fan: variable speed
Mounting: clip-on
Start time: 10 mins (approx.)
Power: battery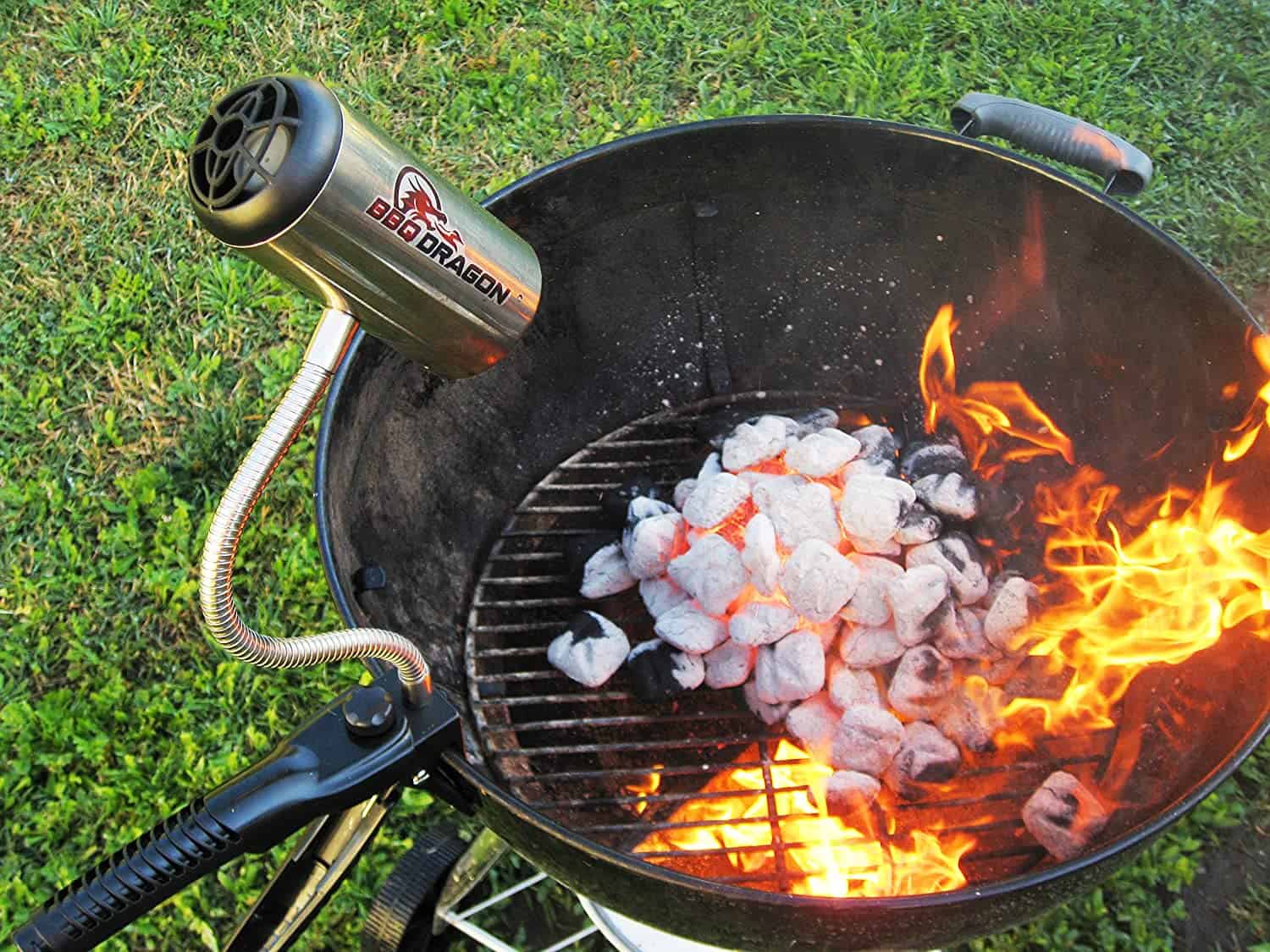 This technically isn't a heat control mechanism but it's a fire starter fan which you'll certainly need if you use a charcoal grill or smoker. It helps you start a fire in 10 minutes or less and you no longer have to struggle to get the fire going.
The electric bellow is very efficient and blows a large quantity of air to ensure the fire lights up fast. It's definitely easier than blowing on it with your mouth like back in the day.
Plus, it doesn't create a huge mess with charcoal particles everywhere. That's why some people even use it indoors to start a fire in their living room fireplace.
It works for all chimney starters to save you time.
But, some people even use this tool as a supplement for reverse searing like with the Slow-N-Sear because you can give the meat that lovely crust.
This fan is meant to get grill fires going without blowing ash. The fan can be adjusted to provide optimal results.
Since it has a variable speed motor, you can use it no matter the wind conditions outside or the temperature. On those windless days, you can use it on a lower speed setting and light the fire in minutes.
Although this fire starter is designed for charcoal grills and smokers, it works well on wood stoves, outdoor fire pits, fireplaces, and ceramic or Kamado grills.
It is easy to install and locks in tight for stabilization and it has a spring-loaded clamp that allows it to attach to grills of various sizes.
Basically, it's a one size fits all type of device and it just clips on easily so you don't really need to worry about compatibility.
The fan has a very long neck which you can bend so you can position it near the fire pit. Also, since it's made of durable stainless steel, it won't get torched and bent when exposed to high temperatures.
It has ergonomic handles that are positioned away from the grill for easy handling.
An advantage is that it charges with USB cables but can also run on batteries so you're never left without power and it's always ready to go when you are ready to cook meat.
One downside is that the fan is made of plastic. Some people claim that it's too flimsy so it doesn't last for many years.
Considering it's a cheap fire starter though, you'll get plenty of use from it as long as you're careful about not putting the plastic way too close to the fire.
Just keep in mind this tool is made to help you light charcoals and fire, but not to control the temperature of your smoker.
Although you can use it as a small fan to control airflow in your smoker, it won't be able to keep the temperature constant because it doesn't have a thermometer and other fancy features.
Here's the dragon in action:
Check prices and availability here
Conclusion
These temperature controllers all have their charms but if we had to pick just one, we would go for the Inkbird.
While the fans are great for old-school cooking, their lack of advanced features immediately disqualifies them from the race.
The Inkbird stands out from the other blowers because it has more probes, it is easy to use, its app allows it to be read anywhere in the house and it has a large screen that provides a wealth of information.
But don't let us have the final word! Try these fans and temperature controllers for yourself.
Which do you think will work best for your smoking and grilling needs?
Also, check out these BBQ Smoker accessories you'll want to get
Joost Nusselder, the founder of Lakeside Smokers is a content marketer, dad and loves trying out new food with BBQ Smoking (& Japanese food!) at the heart of his passion, and together with his team he's been creating in-depth blog articles since 2016 to help loyal readers with recipes and cooking tips.