I love creating free content full of tips for my readers, you. I don't accept paid sponsorships, my opinion is my own, but if you find my recommendations helpful and you end up buying something you like through one of my links, I could earn a commission at no extra cost to you.
Learn more
Ah, there's nothing better than a great barbecue but there are certain challenges a griller might face. One major problem is a lack of airflow.
This makes for uneven distribution of heat resulting in meat that is too smoky in some places and not smoky enough in others. That's where a fan comes in.
A barbecue fan provides airflow to ensure meats are smoked evenly.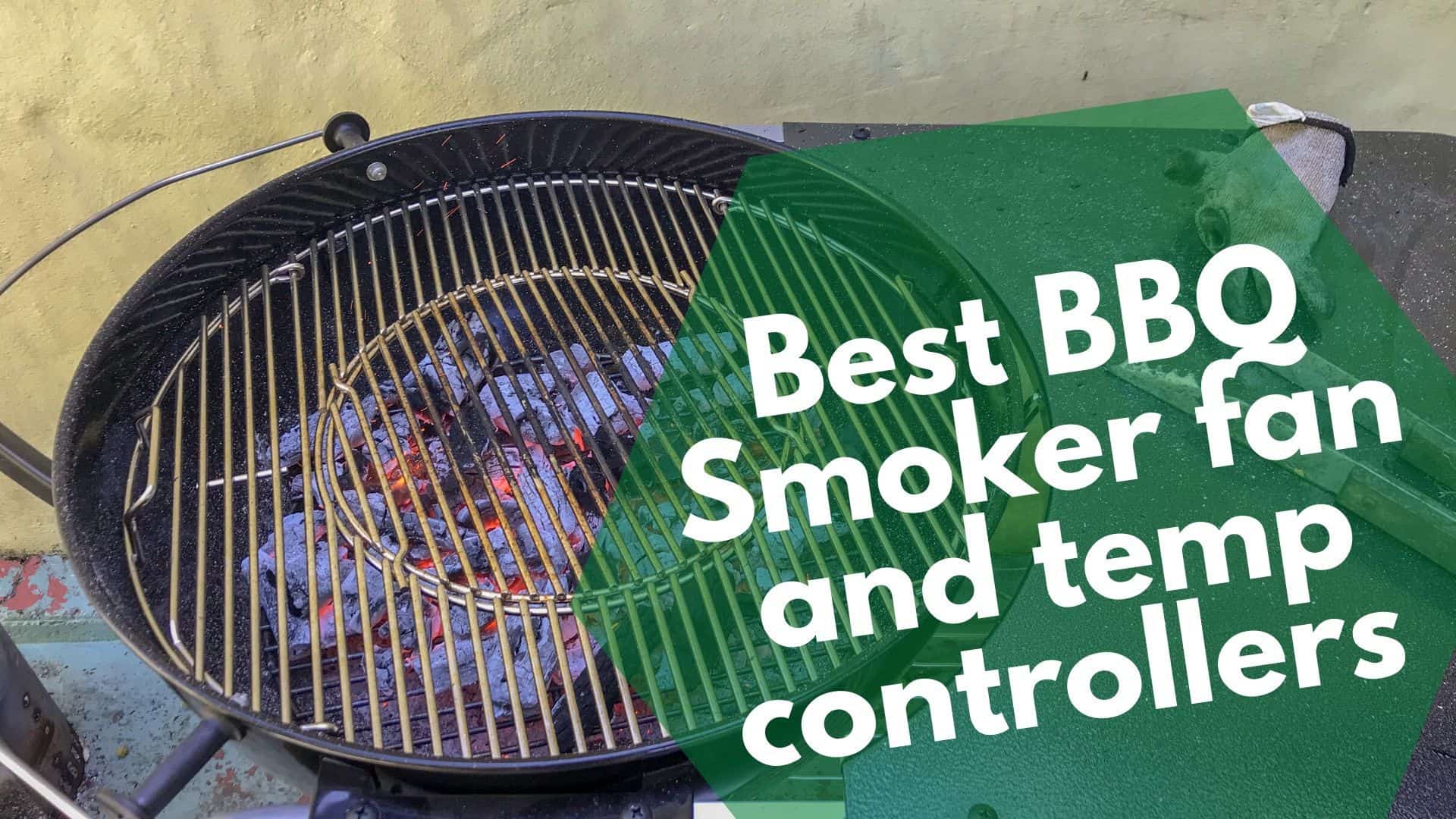 They are also good for regulating temperature to keep the meat from getting overdone and they reduce CO2 to make for cleaner, healthier cooking.
Once fans were available as pieces that attached to the firebox or directly to the grill. These devices are still available but today, they are slowly being replaced by more advanced units known as digital temperature controllers.
These digital thermometers can be purchased on their own and many have fans that can be sold separately.
If you are looking for a device to evenly distribute the heat in your grill and control temperature, there are certain features to look for to ensure you get a superior product.
This article will review some of those features and provide recommendations for the best fan on the market.
Let's take a quick look at the top choices and then dive into what you'll need to look out for in temperature control:
What to Look for in Your Temperature Controlling Devices
There are certain things to look for in your temperature controlling devices. However, these will differ depending on whether you are purchasing a fan on its own or temperature control and fan combo.
Here are some things to look for in a fan.
Where it is Located: Some fans attach to the side of the grill so they are directly over the meats while others attach to the firebox to cool the grill from within.
While both can be effective, ones that are placed directly above the grill can get in the way while cooking so if you choose to buy this design, make sure it is small and unobtrusive.
Temperature Control: Some fans will have their own temperature controls to ensure your grill stays at the right temperature. Others may not have such an accurate way of controlling temperature but they may have adjustable speeds that have an effect on airflow.
Installation: You also want to make sure your fan provides easy installation so it can be connected and disconnected from your grill easily.
Here is what to look for in a temperature control/fan combo:
Technology: Some temperature control units use an app that lets you control your grill from anywhere in the home. This is a convenient feature some chefs will not want to do without.
Probes: Temperature units have probes that measure the temperature of the meat and the temperature inside the grill. For the most part, the more probes the better!
Screen Displays: Temperature controllers have screen displays that give you information on the temperature of your food the temperature in your grill and more. The more information these screens offer and the easier they are to read, the better.
Other Features: Temperature control units may have additional features such as timers or alarms that go off when grill temperatures get too hot. These added features can make a big difference to some chefs.
Best Barbecue Smoker Electric Fans reviewed
Now that you know what to look for in electric smoker fans and temperature control units, here are some items that are recommended.
Best Smoker Fan that Attaches to Firebox: Perfect Draft Fan Air Blower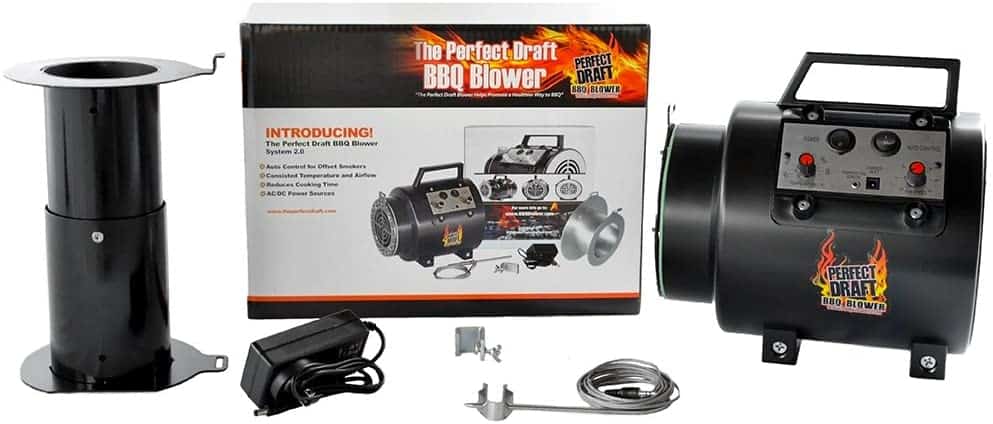 This fan has a safety hook and meat magnets that allow it to attach to the firebox easily. It regulates the air flow to provide even heat distribution and a cleaner burn.
It has variable fan speeds that you can adjust as well as a durable a food safe stainless-steel temperature probe to monitor the heat levels in the smoker.
The device runs on a rechargeable battery with a 17-hour run time. It is durable and made in the USA.
Here's their own owner and operator video:
Pros:
Has temperature probe
Adjustable fan
Long lasting, rechargeable battery
Provides even heat distribution and cleaner burn
Easy installation
Cons:
Customers report that product arrived broken
You can check it out here on Amazon
Best Fan for Starting Fires: BBQ Dragon Grill Fan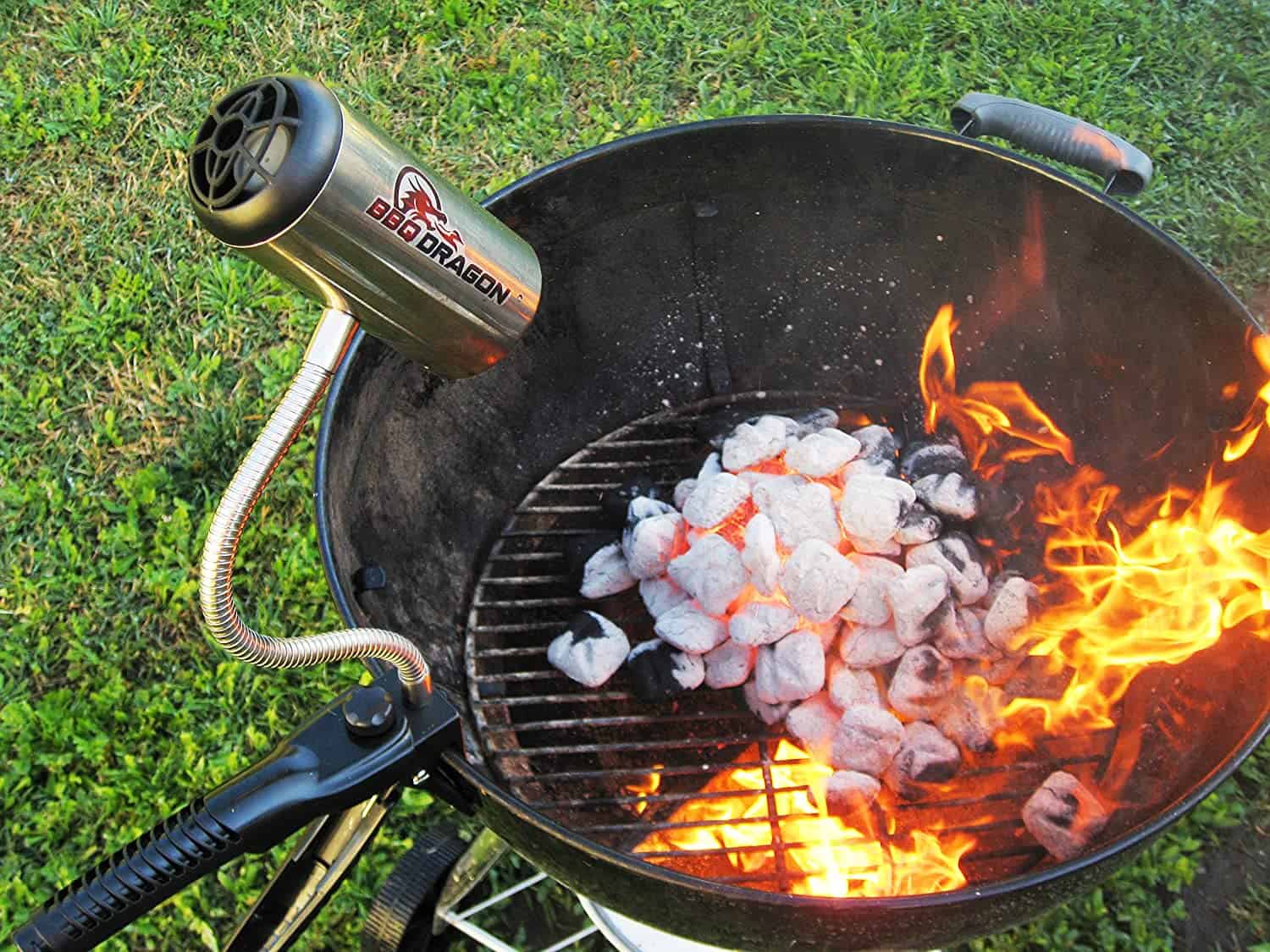 This fan is meant to get grill fires going without blowing ash. It is easy to install and locks in tight for stabilization and it has a spring-loaded clamp that allows it to attach on to grills of various sizes.
It has ergonomic handles that are positioned away from the grill for easy handling. It charges with USB cables but can also run on batteries. The fan can be adjusted to provide optimal results.
Here's the dragon in action:
Pros:
Easy installation
Adjusts to fit on any grill
Safe ergonomic handling
Does not blow ash
Runs on batteries and USB charging
Adjustable fan
Cons:
Can help get the fire going but not really meant for controlling smoke on meat
Check prices and availability here
Best Thermometer and Blower Combo: BBQube Tempmaster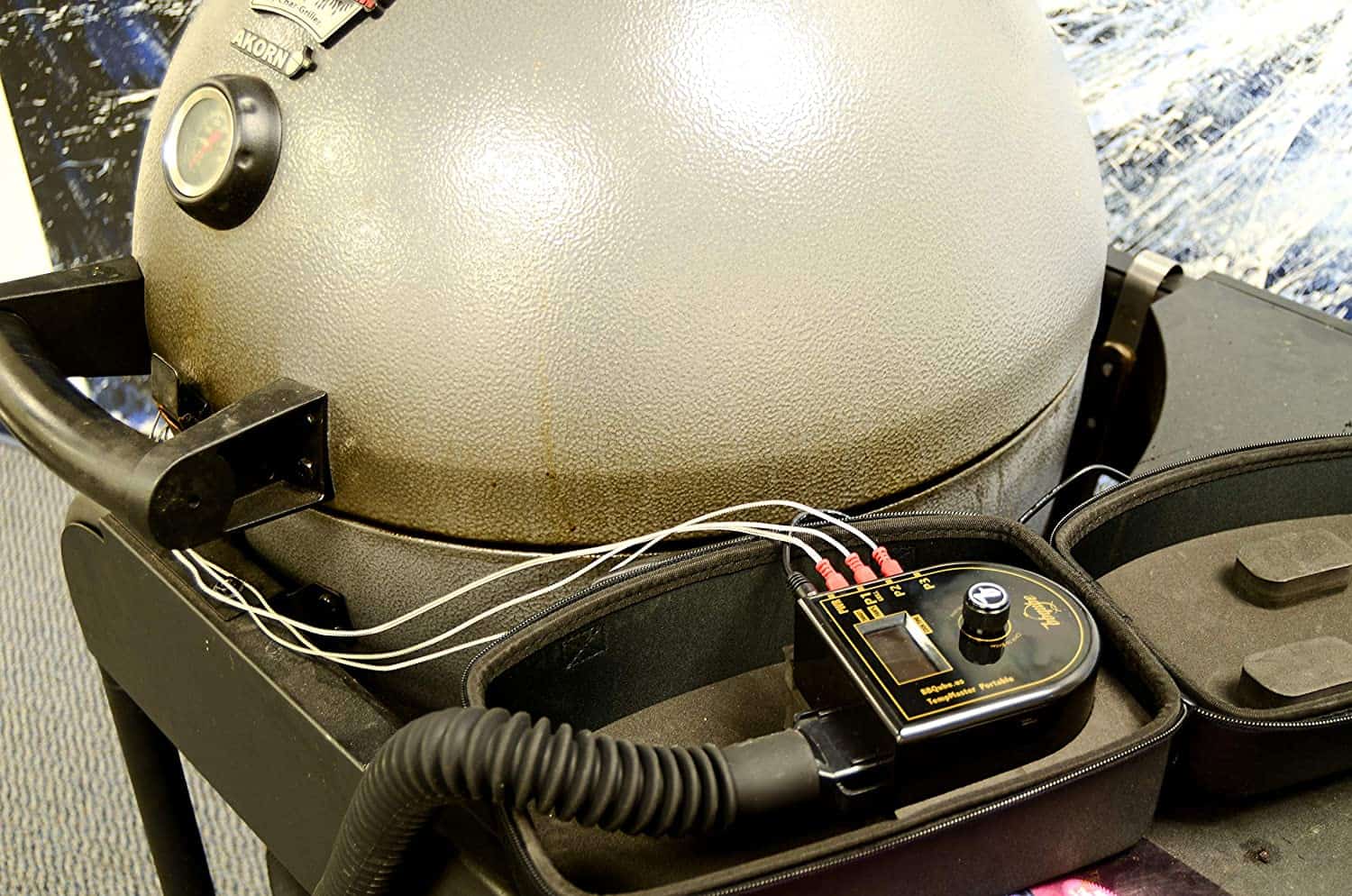 This device can be used on its own as a thermometer but you can add the blower to get the best of both worlds.
In addition to the temperature controller and blower, you also get probes, some of which are for food and some are for the ambient temperature within the griller.
It runs via app and you can use one screen to control temperature and get all the information you need.
Here's Grill Mark co.'s review:
The fact that it connects to Bluetooth means you can check the progress of your food from anywhere in the house. You can also use it with other fans beyond the Fireboard model.
Pros:
Runs by app
Bluetooth connectivity
Works with a variety of fans
3 probes to measure food and ambient temperature
Screen readings provide useful information
Cons:
Although the main screen provides a lot of information, the one that sits by the griller does not
No preset cooking temperatures
You can buy this temperature controller here
Best Wi-Fi Temperature Controller: Flame Boss 500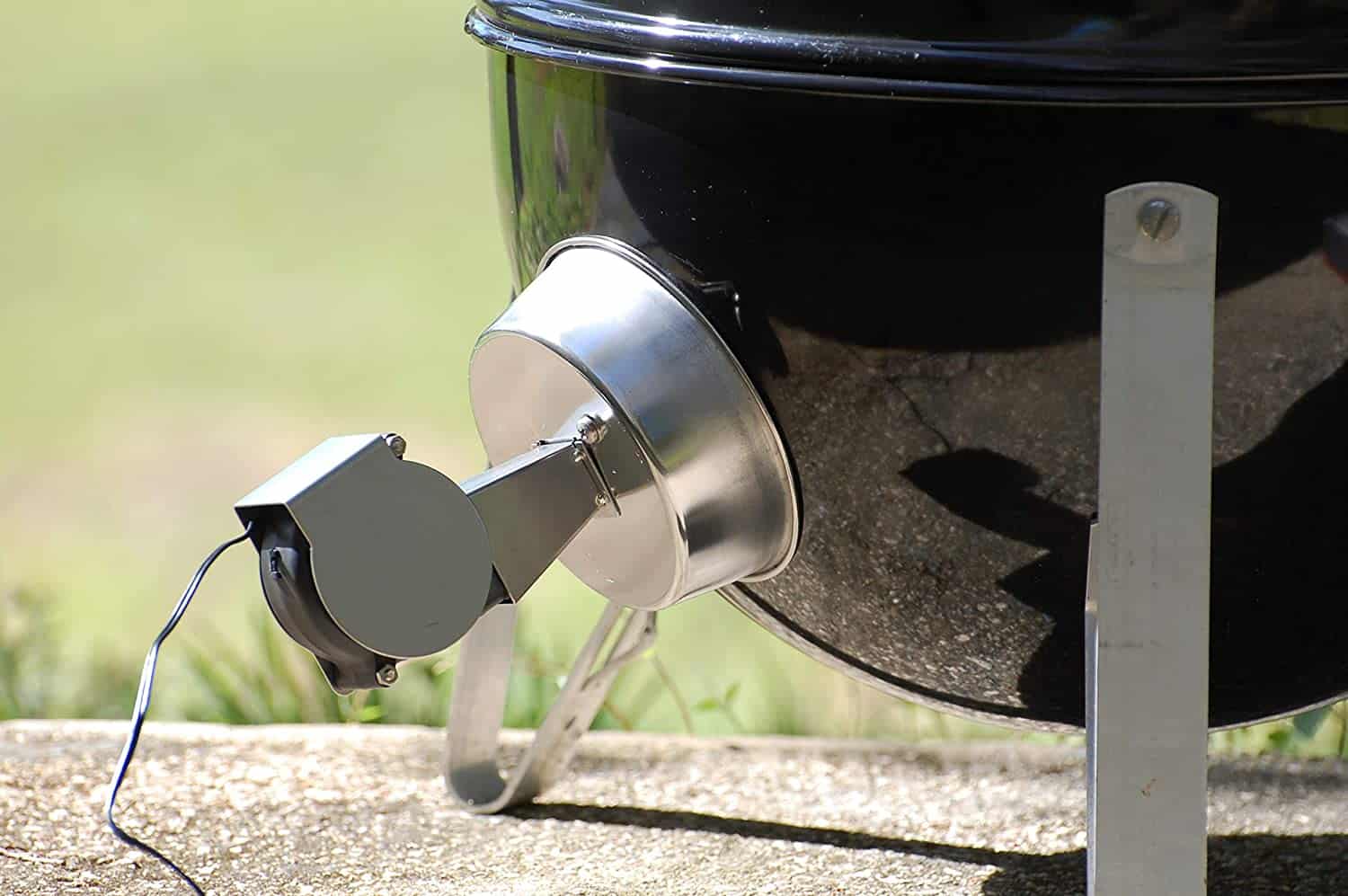 This temperature and blower features the latest technology and its variable speeds provides precise temperature control.
It is easy to install and to use. It fits most grills and it has a superior online dashboard that allows you to monitor or change the temperature from your phone, tablet or computer.
It also sends text notifications to update you on the progress of your food and it has a lid detection that shuts the fan when the lid is open.
Here's Smoking Meat Geeks talking about the Flame Boss 500:
You can also set an alarm to turn down the temperature if it gets too hot. It comes with three meat probes that you can use without cables.
Pros:
Easy to install
Wi-Fi allows it to be controlled from anywhere in the home from a variety of devices
Fan can be adjusted to various feeds
Text notification option
Open lid detection
Three food probes
Cons:
App is unreliable and can lose connection
Simplest Model Smoker Fan: BBQ Guru DigiQ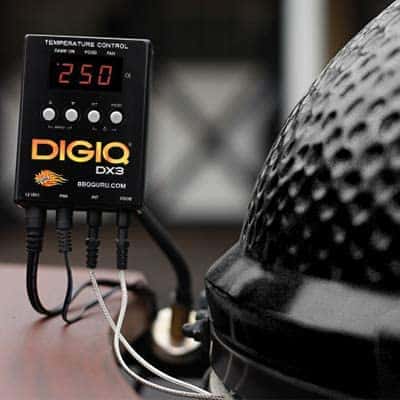 This is one of the first temperature controllers to be made and people love it for its simplicity. It does not have an app that could crash on you, rather it runs on batteries.
It provides temperature control for smaller cookers. It is durable and easy to install and it keeps the temperature well regulated.
It has a Pit Viper Fan that people love so much they often buy it as its own unit and pair it with other devices. It works on almost all smokers.
Here's Ugly Drum Smokers looking at the new DigiQ DX3:
It has two platinum probes that provide accurate readings and the system beeps when food reaches its desired temperature. It senses when the lid is open and stops blowing.
Pros:
Platinum probes that provide accurate readings
Highly sought-after fan
Simple to use
Works on a variety of smokers
Provides alerts when food reaches desired temperature
Stops blowing when lid is open
Cons:
Has less features due to limited technology
Only has two support probes
Also read: best meats to smoke in an electric smoker
Best value for money: PitmasterIQ 120 regulator kit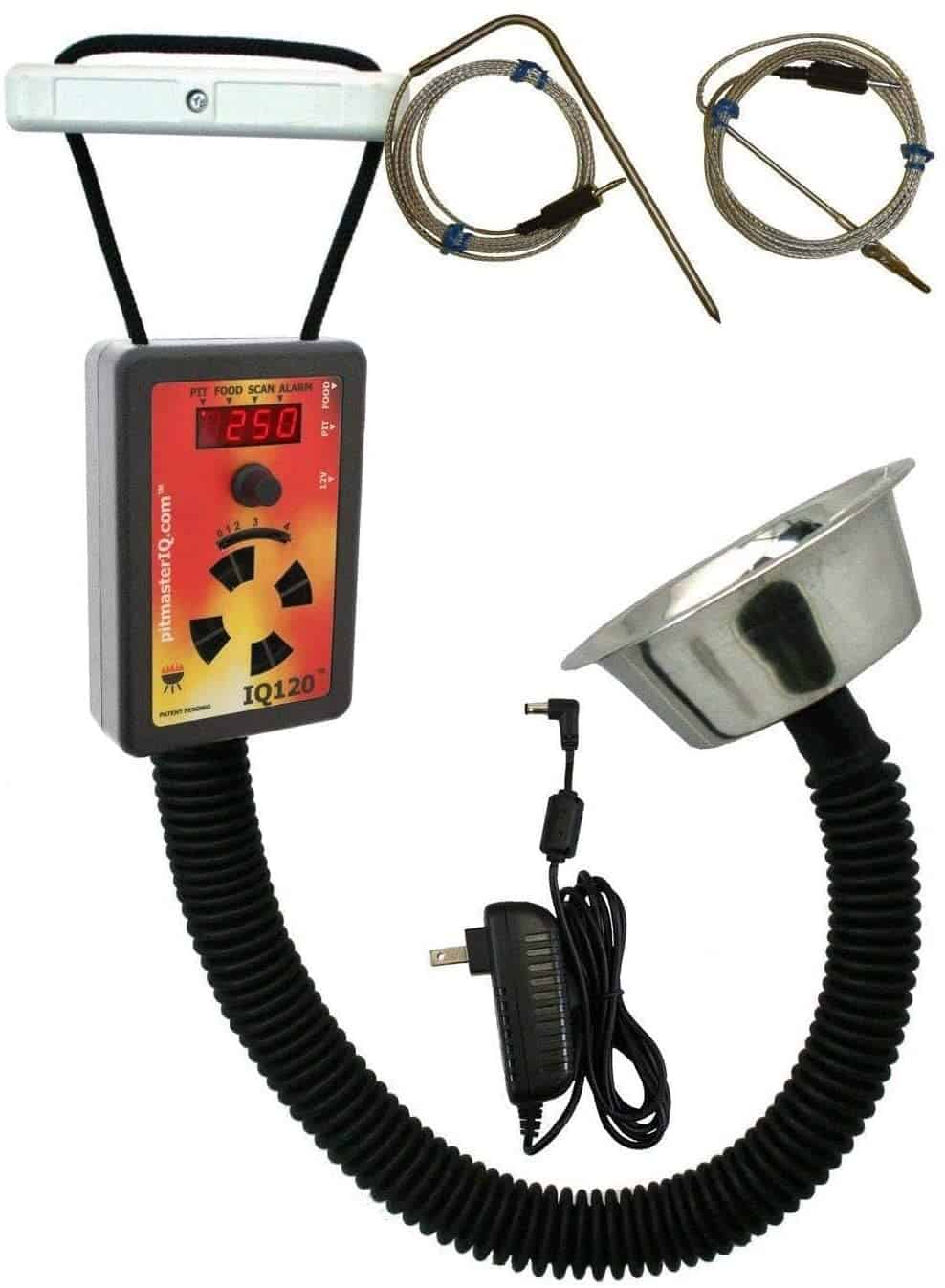 This unit is another that is way more basic than other units but some may appreciate the simplicity. It comes with one food temperature probe and one ambient probe.
It works by blowing air through the hose to the smoker to keep temperature regulated. The screen is not overly large but it's a decent size.
The unit will alert you when food gets too hot. It all works with a knob that doubles as a digital encoder that can select parameters and change settings.
Here you can see the advanced features of the unit:
Pros:
Screen is a decent size
Measures food and ambient temperature
Simple to use
Easy installation
Competitively priced
Cons:
Screen could be larger
Lacks the technology and therefore some of the bells and whistles of more advanced technology
Made with a cheap rubber hose that may need to be replaced down the line
Best trendsetter with wifi: BBQ Guru CyberQ Cloud
This unit is one of the first to be released that uses Wifi. The connectivity lets you control it from devices anywhere in your home. It has three digital thermometers and one pit probe.
It has a 'full time adaptive control algorithm' that learns your grill so it is better able to stabilize settings over time.
It has extremely accurate temperature probes. It is easy to set up and to use and it has open lid detection. It uses the much sought-after Viper fan.
Here's BBQ Guru on how to connect it:
Pros:
Powerful fan
Open lid detection
Easy to set up and use
Uses Wifi so it can be controlled from anywhere in the home
Accurate temperature readings
Cons:
The app is a bit outdated
Expensive
Conclusion
These temperature controllers all have their charms but if we had to pick just one, we would go for the Fireboard FBX11 Thermometer and Blower.
While the fans are great for old school cooking, their lack of advanced features immediately disqualified them from the running.
The FBX11 stands out from the other blowers because it has more probes, it is easy to use, its app allows it to be read anywhere in the house and it has a large screen that provides a wealth of information.
But don't let us have the final word! Try these fans and temperature controllers for yourself. Which do you think will work best for your smoking and grilling needs?
Also, check out these BBQ Smoker accessories you'll want to get
Joost Nusselder, the founder of Lakeside Smokers is a content marketer, dad and loves trying out new food with BBQ Smoking (& Japanese food!) at the heart of his passion, and together with his team he's been creating in-depth blog articles since 2016 to help loyal readers with recipes and cooking tips.