I love creating free content full of tips for my readers, you. I don't accept paid sponsorships, my opinion is my own, but if you find my recommendations helpful and you end up buying something you like through one of my links, I could earn a commission at no extra cost to you.
Learn more
Burn baby, burn! Any professional griller knows that the fuel is just as important as the food.
So how do you choose the highest quality charcoal for your BBQ? And what exactly is the difference between charcoal and briquettes?!

Whether you're grilling the perfect steak, smoking some delicious pork rashers, or delicately charring some vegetable skewers, you know that the fuel is the thing that either enhances the flavor or completely destroys it.
You took a long time to research and finally choose the perfect charcoal grill. You spent hours looking at the various accessories and functions of each option, and you finally picked the perfect grill that's going to be at the heart of so many great BBQ memories in the future.
But don't stop there.
When choosing your charcoal, pick wisely! The coals help determine the temperature and taste of everything you grill.
But what exactly should you be looking for? I've got all the answers you need below. I've done the research, so you don't have to!
And based on my findings, I've identified the top three lump charcoal brands for 2021. These three brands feature all of the key 'ingredients' you will need to ensure your BBQ is the envy of all the neighbors!
Whether you're grilling, smoking, or roasting over a live flame, these are three top choices for fuel. Here are my top picks to take your BBQ game to the next level.
What to keep in mind when choosing fuel for your grill
Charcoal isn't just a lump of burned wood. There's far more to its composition than meets the eye.
When you're trying to decide what fuel you need for your epic BBQ weekend, there are two key things to keep in mind:
What are you cooking and how hot does the fire need to burn?
Are there any chemical additives that could affect the taste of my meal?
Different foods cook better at different temperatures.
If you want to get a good sear on your steak while keeping the inside super juicy and tender, you will want a fairly hot fire. If you're roasting up some chicken, it's better to do it low and slow.
The quality of your charcoal is key to both the temperature and the taste of your food. Poor quality lump charcoal isn't going to give you the control over temperatures that you need – and may even burn out before you're done cooking.
To avoid a BBQ burnout, make sure you buy a top quality product.
How to check the quality of your lump charcoal
Size matters
The size of the pieces of lump charcoal determines the quality. There should generally be more of the larger pieces of coal in your bag.
They tend to burn much hotter for a longer period of time. If your bag is filled with smaller chunks, this indicates lower quality.
'au Naturel'
There's a reason you shouldn't use old building lumber for your BBQ! It's full of potentially hazardous chemicals that could affect your food if you burn the lumber.
Definitely not something you want to be flavoring your baby-back ribs.
The best lump charcoal is made from natural wood. Free from any additives, fillers, and chemicals. Look for the label that says 100% natural hardwood – then you know you've got a quality product.
Dust & wood chips
A large amount of dust is a sign of poor quality charcoal or inappropriate storage at the store. In this case, it's a good idea to test another bag before you decide to switch to another brand.
And don't forget to READ THE REVIEWS!
Find out what other people had to say about their experience with the brand. This is one of the best ways to check the quality of the product you want to buy.
Also read my complete buying guide BBQ smoker + the top 5 best BBQ smoker brands
The 3 best lump charcoal brands for every purpose
Now that you know more about choosing the best lump charcoal for your needs, allow me to share my top three choices for the year. These tick all the right boxes in terms of price, quality, and purpose.
My all-time favorite lump charcoal: Jealous Devil All Natural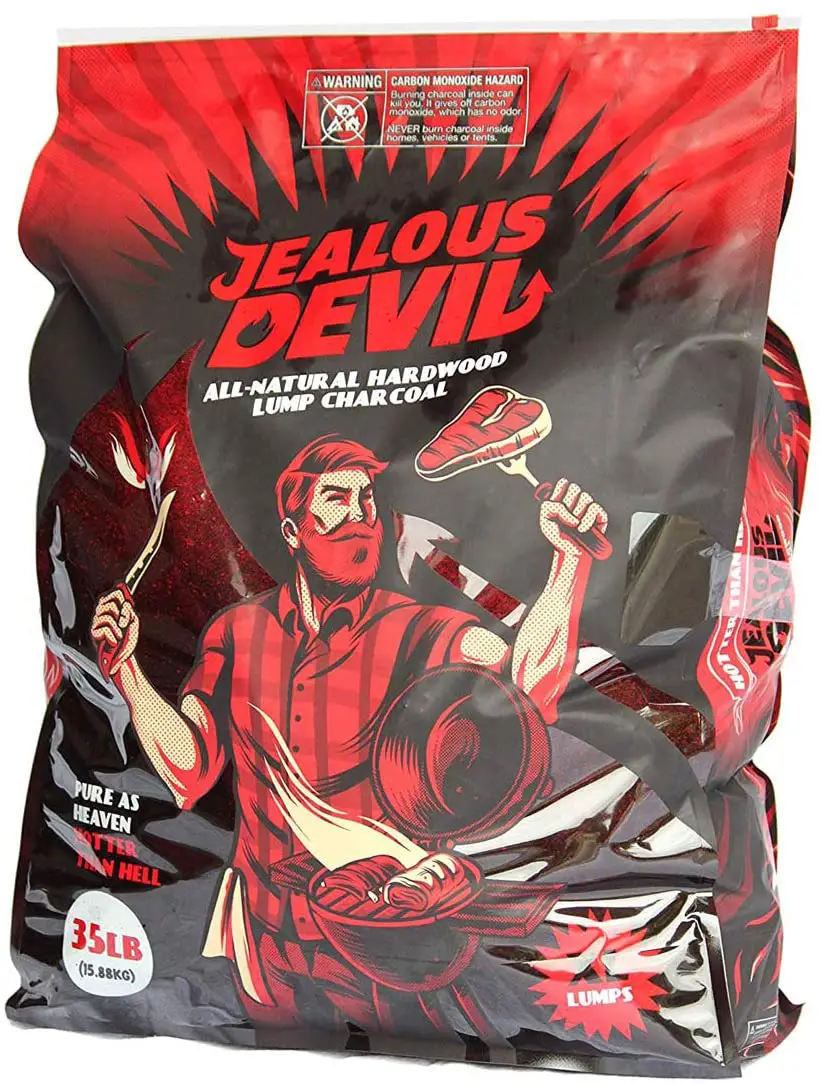 This is the absolute number one lump charcoal on my list. It's no wonder that it is a popular and top-selling quality product.
What makes it so great? It checks all the boxes in terms of quality, price, size, and minimal ash and clean-up!
Jealous Devil All Natural is impressive in terms of its quality versus price. While it's not the cheapest brand, you get a lot of 'bang' for your buck.
Upon opening the bag, you will notice quite a lot of medium-sized pieces and small quantities of dust. There are no foreign elements of any kind.
The ratio of medium-sized pieces to the rest is very high here, that's a huge advantage. On top of that, you will find a lot of big pieces and not many small ones.
The charcoal is made of South American hardwood (Quebracho Blanco) without any additives or fillers.
A huge amount of medium-sized pieces allows it to burn hot and pretty long. It can really achieve very high temperatures, it burns for very long and evenly at higher temperatures.
When starting the fire, I hardly noticed any sparks or cracks, which was also mentioned by many other customers in the numerous positive reviews of this product.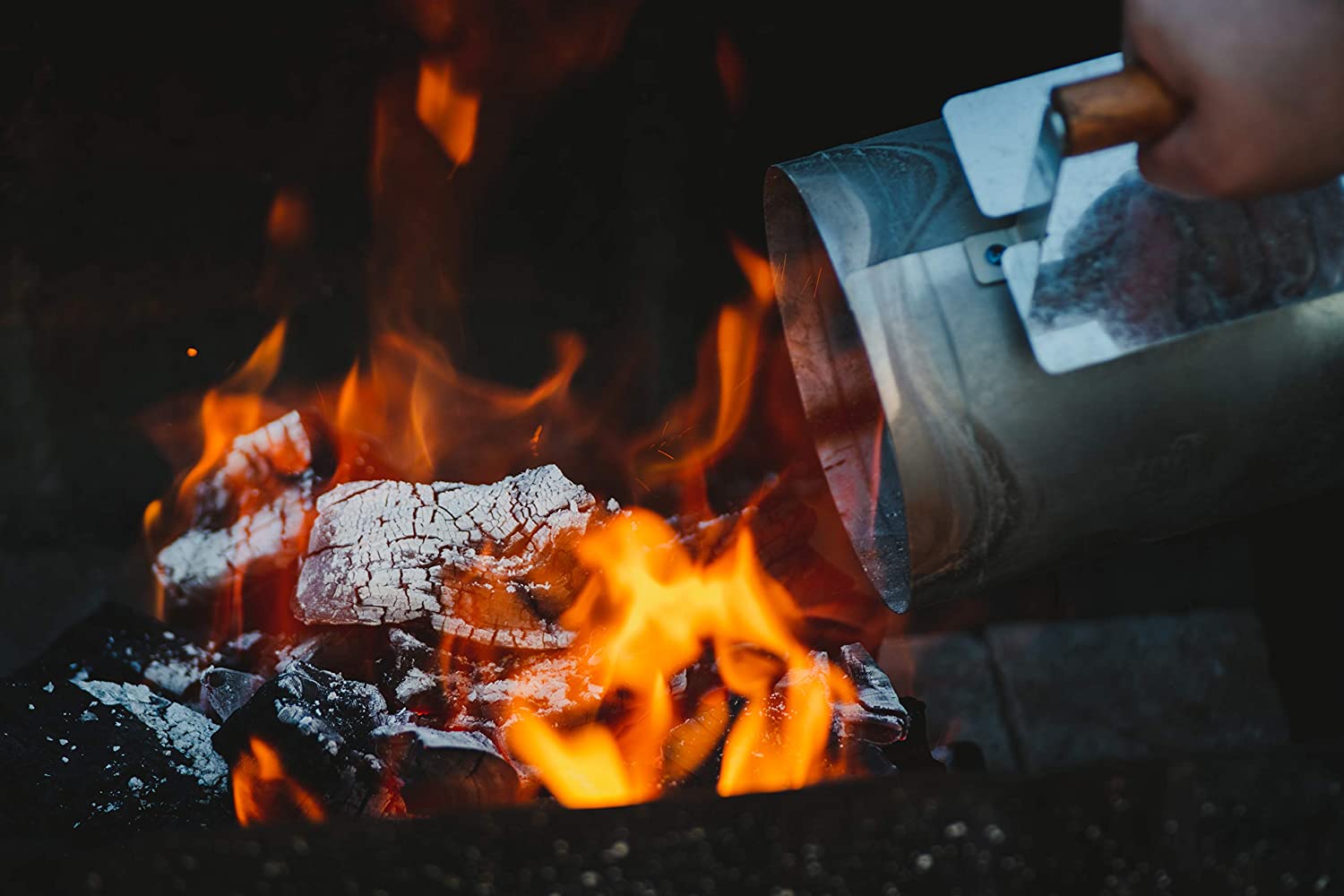 It is also worth noting that Jealous Devil leaves very little ash behind.
All of its advantages make it the best option on the market, especially for the owners of ceramic grills. When I want to cook something on a kamado, this is my favorite lump charcoal that I use most often.
Positives
A large portion of medium-sized chunks, very few small ones
100% natural
Very little dust and chips in the bag. After burning, it left very little ash in the grill
Check prices and availability here
For easy fire starting, check out my review post on the 5 best BBQ Smoker Chimney Starters
Best slow-burning lump charcoal: Fogo Super Premium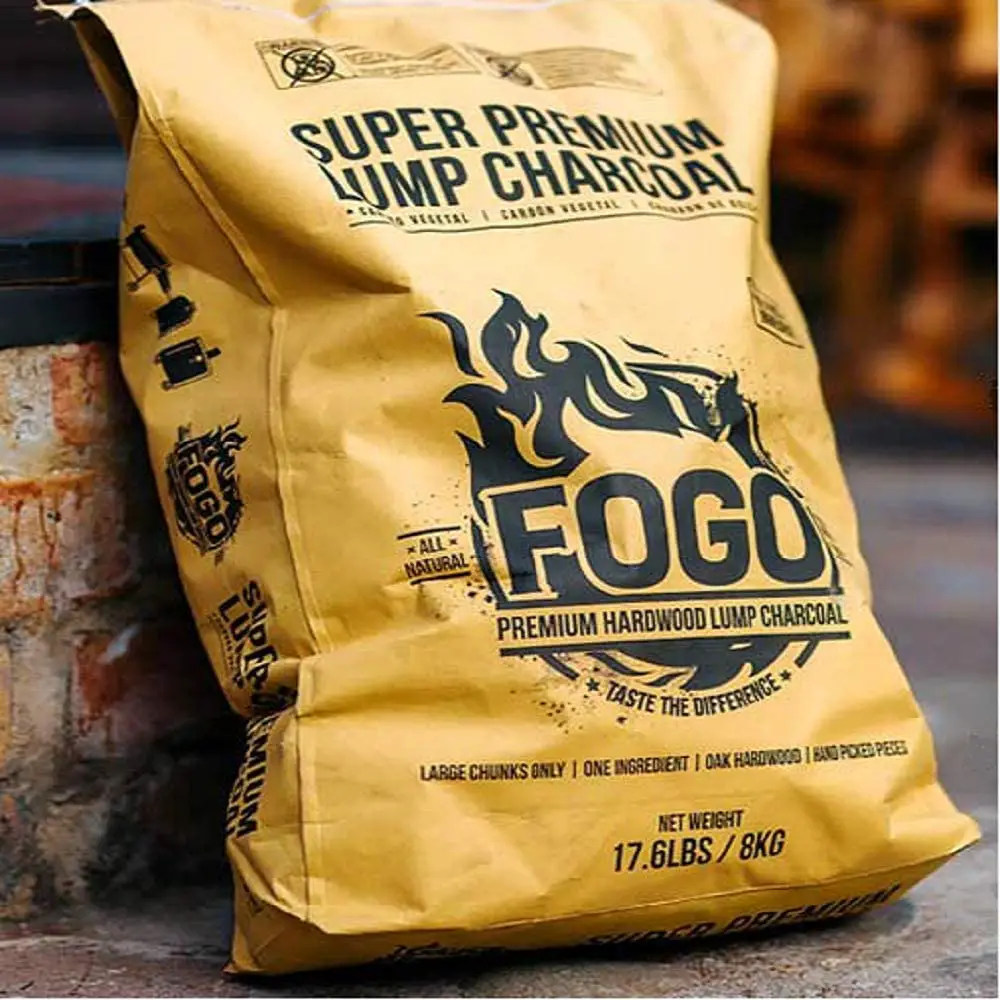 Another great lump charcoal that I use often, and always recommend to others. First and foremost, it is high-quality charcoal without any added chemicals etc.
Upon opening a bag of Fogo Super Premium, it's easy to notice a very high ratio of medium-sized pieces to the rest, as well as a small amount of dust.
A minor downside is that this coal takes quite a bit of time to really start burning. It is nothing particularly bothersome because what matters the most is efficiency, naturalness, and flavor, after all.
When it comes to the burning time and temperature, on the other hand, the results are very positive. I'm also very happy with the minimal amount of mess and ash left behind after burning.
Made of leafed tree wood from Central America (Salvador), the lump charcoal meets all of my requirements.
High quality, no chemicals, great efficiency, a relatively small amount of ash, a large number of medium-sized pieces, little dust, and good price.
Positives
A very high ratio of medium-sized pieces to the rest
100% natural
Very small amount of dust and chips in the bag, and easy clean-up due to the minimal amount of ash.
Best big-size lump charcoal: Kamado Joe KJ-Char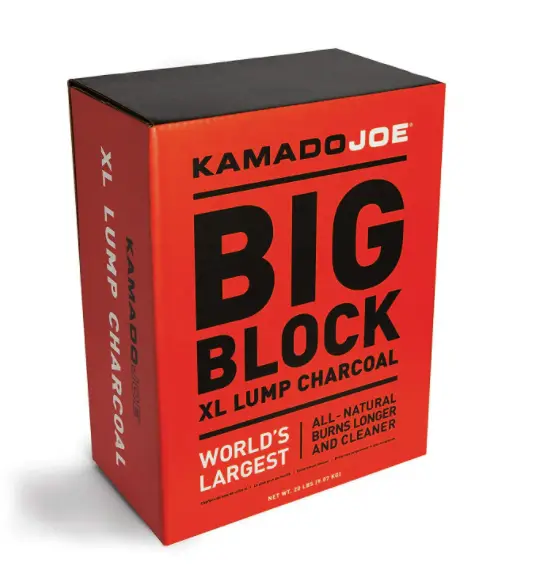 Made of four different Argentinian types of hardwood (Guayaibi , Guayacan, Mistal and White Quebracho) this is my third-favorite high-quality lump charcoal.
Kamado Joe KJ-Char is characterized by a higher ratio of large pieces to the rest. I have to admit that large pieces are really huge, but there aren't that many of them in there compared to competitive brands.
Bigger pieces work better during long cooking, maintaining higher temperatures for longer.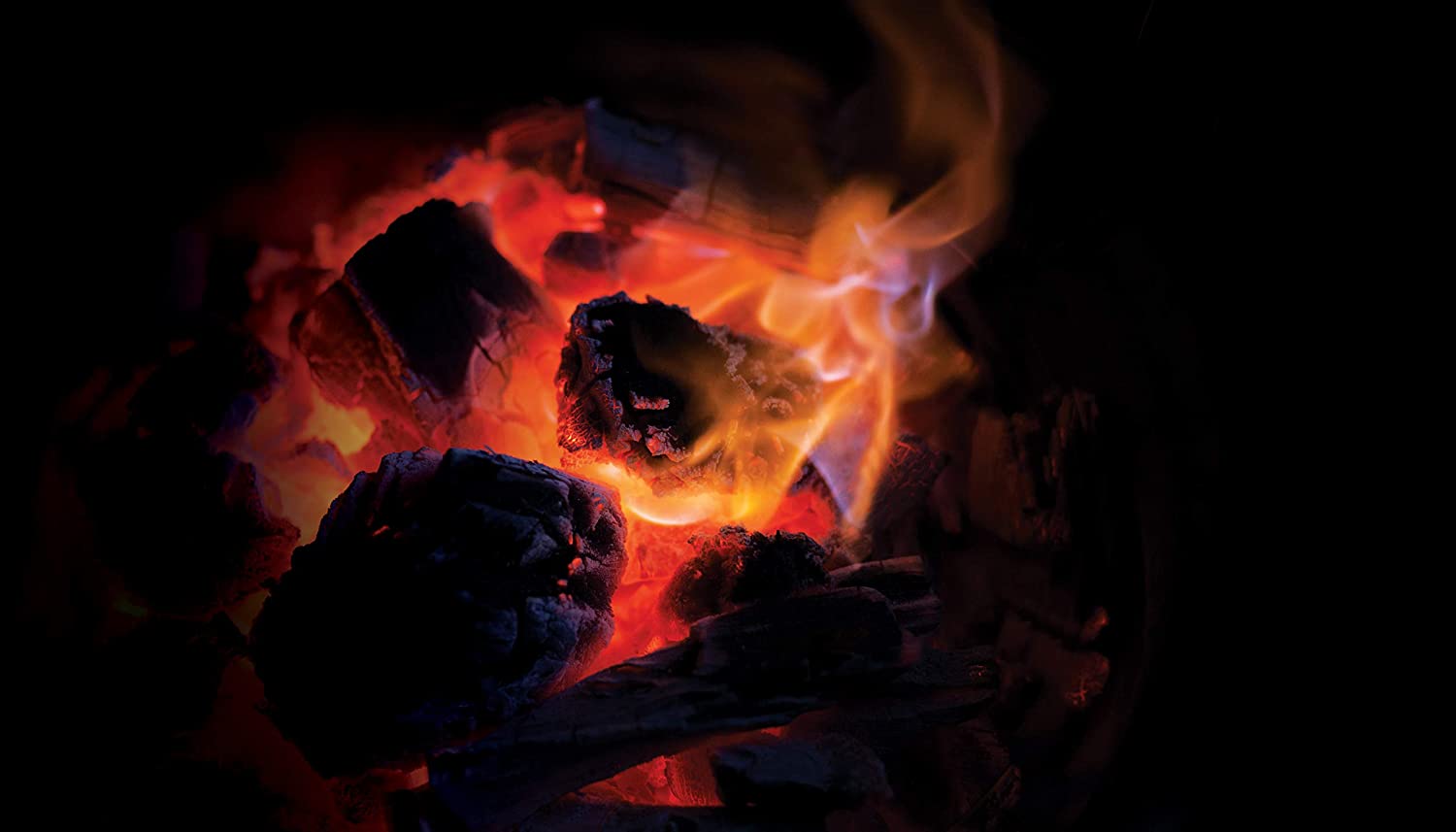 Overall, the lump charcoal from kamado does a very good job. It is natural, burns well, allows to achieve high temperatures over a pretty long time, and leaves an acceptable amount of ash.
Sadly, a small downside is the large amount of dust in the package. This, combined with its fairly high price is why I've placed it at number three on my list.
This charcoal would work well in a ceramic grill.
Positives
Lots of larger pieces – although some of the bigger chunks are really huge!
100% natural
Negatives
There's a lot of dust left in the package
A relatively higher price
Check prices and availability here
What's the difference between lump charcoal and briquettes? Which is better for my BBQ?
I personally use both types. I find that there are positives and negatives for both lump charcoal and briquettes.
I choose which one to use based on what I'm cooking, and the type of grill I'm using on the day.
Just remember, as with all things, quality counts. Choose the best quality option, and you're going to end up with a superior BBQ experience.
The pros and cons of lump charcoal and briquettes:
Lump charcoal
Briquettes

Lump charcoal is great for hot and fast cooking, for that reason it is highly recommended for ceramic grills.
Lump charcoal is the preferred fuel for most professional grillers.
It's usually the most natural form of charcoal, and lights faster than some briquettes. However, it can be a little more pricey and burns faster than briquettes.

Briquettes are best for cooking low and slow. They have a good steady burn for a long time.
Briquettes are made by compressing wood by-products (sawdust) together with some additives.
While they do burn more consistently, the additives can give off a chemical smell that is unappetizing. They also tend to leave a lot more ash than lump charcoal.
Briquettes burn more consistently and at a lower temperature to lump charcoal, so are useful when cooking certain foods that require low and slow grilling.
Learn more about the differences between wood pellets vs. charcoal vs. wood chips vs. wood chunks
Takeaway
Now that you know about the pros and cons of each of my top three lump charcoal brands for 2021, it's time to get grilling! Pick the best product for your needs, and light up the coals.
There's nothing more satisfying than the smell of the smoke, the sizzle of the meat, and the warmth of the flames. Enjoy!
Joost Nusselder, the founder of Lakeside Smokers is a content marketer, dad and loves trying out new food with BBQ Smoking (& Japanese food!) at the heart of his passion, and together with his team he's been creating in-depth blog articles since 2016 to help loyal readers with recipes and cooking tips.