I love creating free content full of tips for my readers, you. I don't accept paid sponsorships, my opinion is my own, but if you find my recommendations helpful and you end up buying something you like through one of my links, I could earn a commission at no extra cost to you.
Learn more
Seasoned grillers will know that grill baskets have two important functions.
One is to cook delicate foods and to stop them from falling through the grate. The second function is to keep hot coals away from food so you can smoke effectively without burning the meal.

In the article below, I've shared some of my personal experiences with grill baskets to help you make find the right grill basket for you.
I've outlined the best features of the top options on the market and highlighted what each grill is designed for.
What to take into account when buying a grill basket
There are four factors I take into account before making my decision to purchase a grill basket. Besides the type of basket, I also look at the size, quality, and brand.
This is the best advice I can offer to anyone looking to buy this kind of accessory for their grill:
Type of grill basket
Most baskets are specifically made for food OR for coals. Before you buy a grill basket, make sure that it is designed to suit your needs and your grill.
Remember that you can't use a charcoal basket for food and vice versa. They were designed for completely different purposes and won't serve any other task well.
Food grill basket – It is designed with cooking food in mind, it can only be used for this single purpose. The construction is designed in a way that allows achieving the best cooking results while also preventing small food from falling through.
Coal grill basket – If you cook on charcoal, you know that it's important to properly arrange briquettes or coals for heat control, and to assist in the smoking process. A well-designed basket makes it much easier to smoke on a regular kettle-type grill. On top of that, it significantly improves the burning efficiency of charcoal, extending the entire smoking process significantly.
Size
Match the basket size to the capacity of your grill and your needs. A large basket takes up a lot of space, so it's a good idea to match the size to your actual needs.
Remember, some are also designed to fit inside specific grills (like a kettle grill) so always check the product to see if it is compatible with your personal grill.
Quality of workmanship and durability
It's hard to evaluate the quality of a product online – especially when you can't physically touch the product.
My solution is to simply check the rating of the product, and the reviews of other buyers to see if they had any issues with the product, or if they are happy with the way it functions.
Brand
If you are not a seasoned griller, and you haven't yet learned what to look out for in terms of quality, then pick an option from a trusted brand.
There are several grill brands that have been on the market for many years and take pride in producing high-quality products. These include the manufacturers of high-quality smokers and grills like Weber and Char-Broil.
There are also some dedicated accessory manufacturers like Slow 'N Sear or Grillux.
Learn more about the world of grill baskets in this video:
The 7 best grill baskets reviewed
I've shared some of my top picks for grill baskets below. Which one do you think would suit your needs and your grill best?
Best quality vegetable grill basket: Weber Deluxe Vegetable Grilling Basket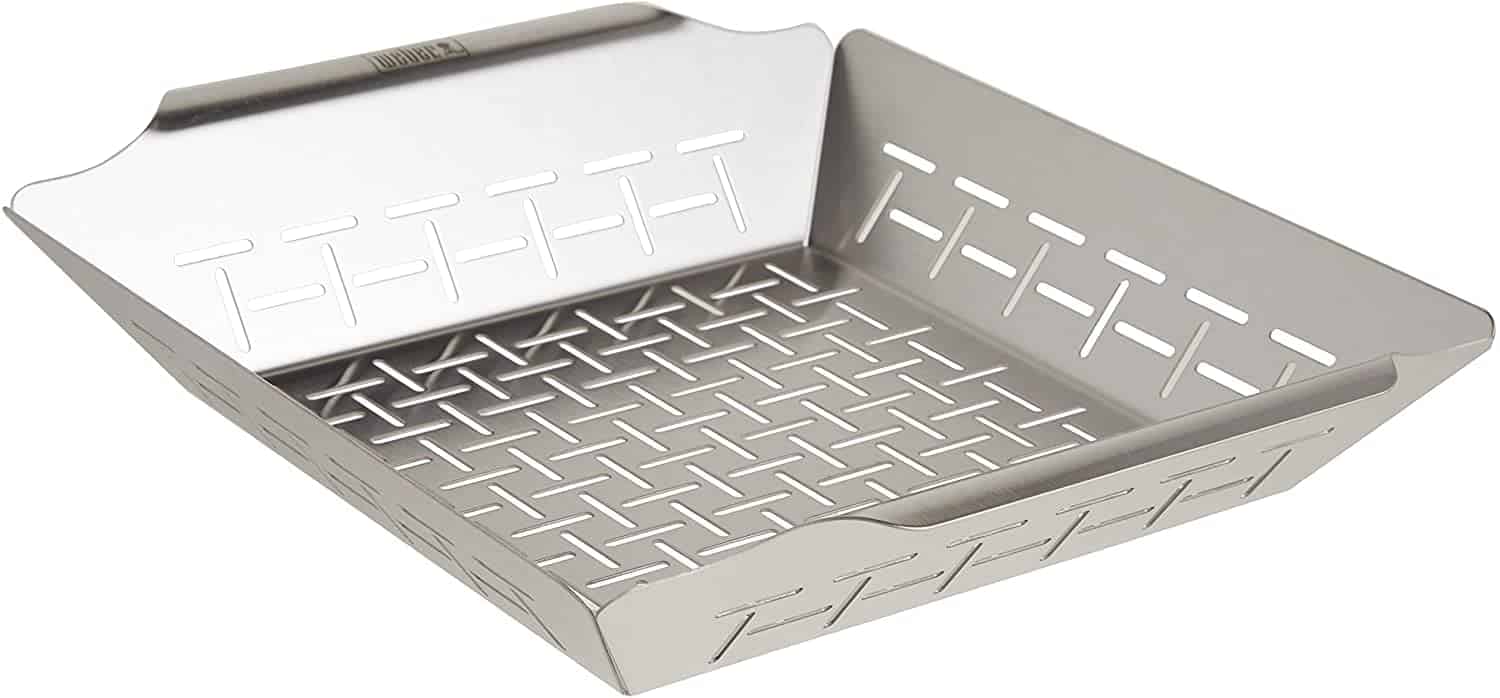 With the Weber Deluxe 6434 Vegetable Grilling Basket, you don't need to waste aluminum foil to line your griddle, nor do you have to worry about your food falling into the coals when the foil tears off.
This grill basket features slots instead of perforations. That means it can safely hold the smallest sliced and diced vegetables while allowing flames and smoky flavor to reach your food.
The Weber Deluxe 6434 has built-in handles, which make it easy to carry around. It is made of stainless steel, which ensures durability.
Just watch out for the sharp edges, which can be a potential hazard during cleaning.
Here's a review of this item, have a look to see if this could be your next favorite grill basket:
Features
Type: Food basket
Size: 13.8 x 11.8 x 2.5 inches; 1.1 Pounds
Quality: Stainless steel
Brand: Weber
Best grill basket for fish & kabobs: Grillux Vegetable Grill Basket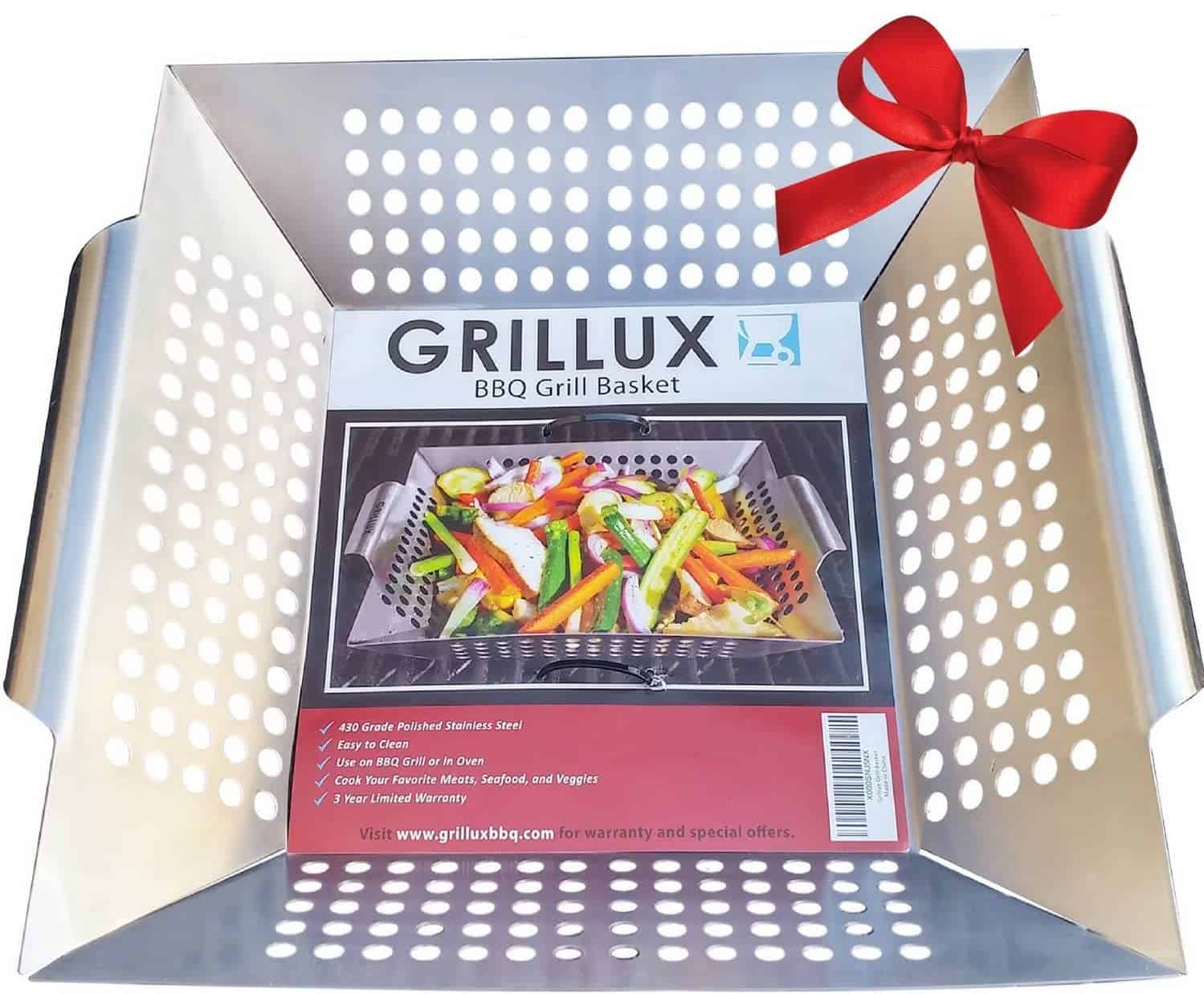 If you're looking for a high-quality grill basket that is perfect for grilling fish and veggies, you can't go wrong with Grillux Vegetable Grill Basket.
Very similar in shape and design to the Weber Deluxe above, except the holes are round instead of slots.
Some grillers prefer holes, while others prefer the slots – it's up to you to find what's right for you!
This grill basket is not only versatile, but it is also durable. Made with the best-quality stainless material, it can fit most grills.
Whether you use charcoal, gas, wood pellets (like these best brands), a kettle grill, or any other type of grill, you can be confident that Grillux Vegetable Grill Basket will serve you well.
This grill basket features raised edges, preventing your food from falling off the grate. You can also use it to grill pizza, kabobs, and various other types of meats.
Features
Type: Food basket
Size: 13 x 12 x 2 inches
Quality: Stainless steel
Brand: Grillux
Best grill basket for smoking with your grill: Slow 'N Sear 22″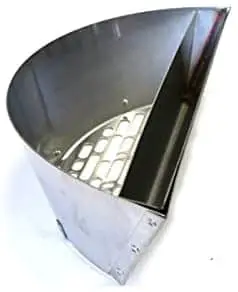 The Slow 'N Sear 2.0 from Adrenaline Barbeque Company is one of the most popular grill accessories on the market today.
As the name suggests, it is ideal for both low-and-slow smoking and reverse searing. It makes grilling and smoking easier and more fun.
The Slow 'N Sear 2.0 is ideal for someone who doesn't have a budget or space for a larger, dedicated smoker.
It can also be a great choice if you're new to smoking and want to start with a modest setup, instead of a pricey, complex cooker.
Here's how you handle this great accessory:
It is a particularly valuable investment if you already own a Weber Kettle Grill, one of my favorite charcoal grills, as it enhances the performance of the product.
If you want to make consistently perfect steaks with the reverse-searing method, you can't go wrong with Slow 'N Sear 2.0.
If you're new to this method, there are loads of videos online to show you exactly how to do this.
Features
Type: Coal basket
Size: 8.5 x 21 x 4.75 inches
Quality: Stainless steel
Brand: Slow 'N Sear
These are the 7 best recipes for smoking vegetables (+ How to: smoked veggies)
Best long-term investment grill basket: Grillaholics Heavy Duty Grill Basket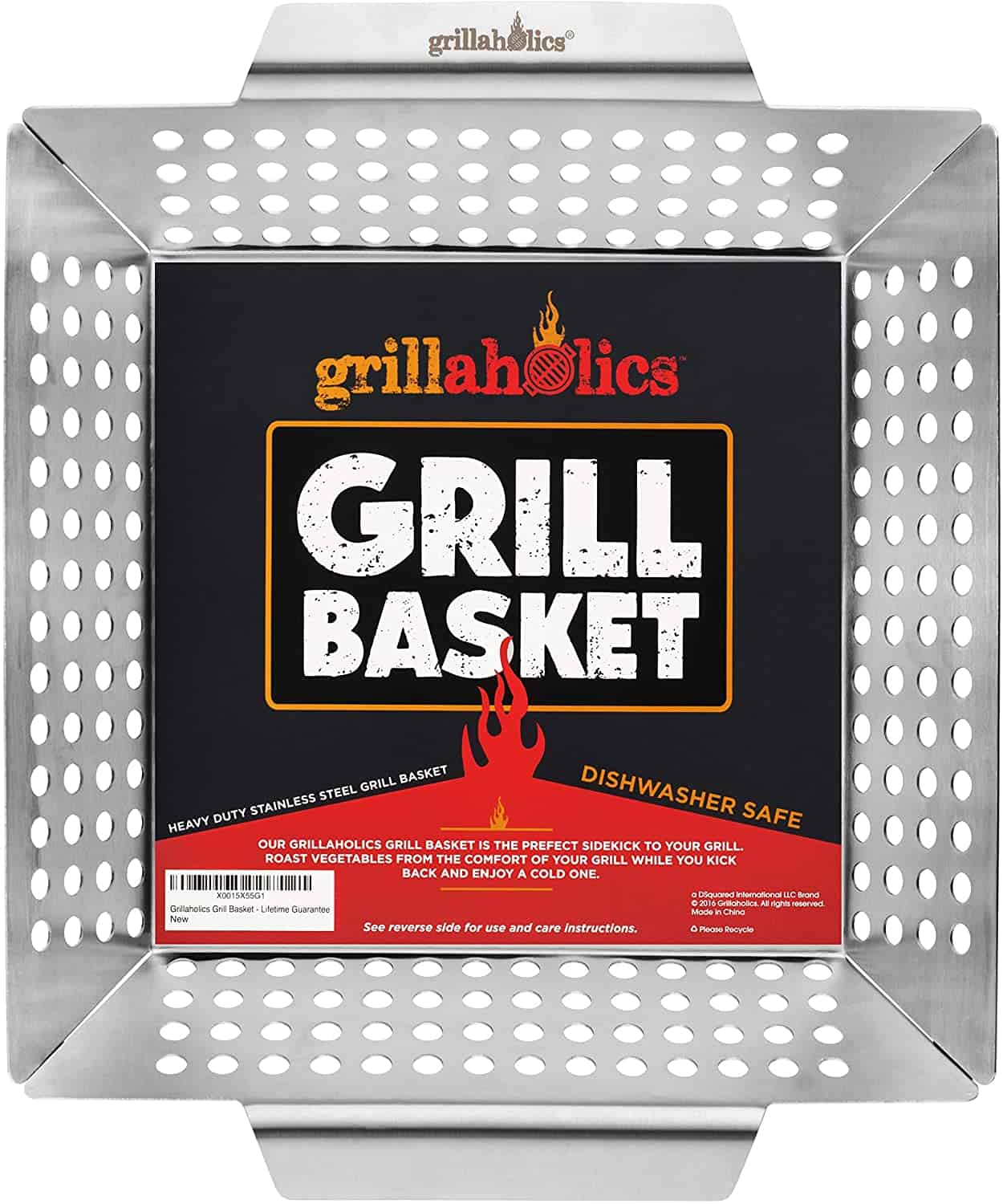 If you're looking for a heavy-duty grilling basket with the potential to offer long-term service, you should choose Grillaholics Grill Basket.
The heavy-duty stainless construction of this grill basket ensures that it will last several seasons, plus it works well with Weber, Traeger, or Big Green Egg grills.
The grill basket delivers efficient grilling, giving your food a pleasant, smoky palatable flavor. You can cook diced meat, vegetable, shrimp, and more. It comes with curved handles for better grip and increased safety.
This versatile grill basket can perfectly fit both charcoal grills and propane grills. And although slightly more expensive than the other grill baskets above, the quality justifies the price.
If you want a basket that's going to last, get this one!
Features
Type: Food basket
Size: 11.5 x 13.5 x 2.5 inches, 2 pounds
Quality: Heavy-duty stainless steel
Brand: Grillaholics
Best grill basket for chicken: Char-Broil The Big Easy Bunk Bed Basket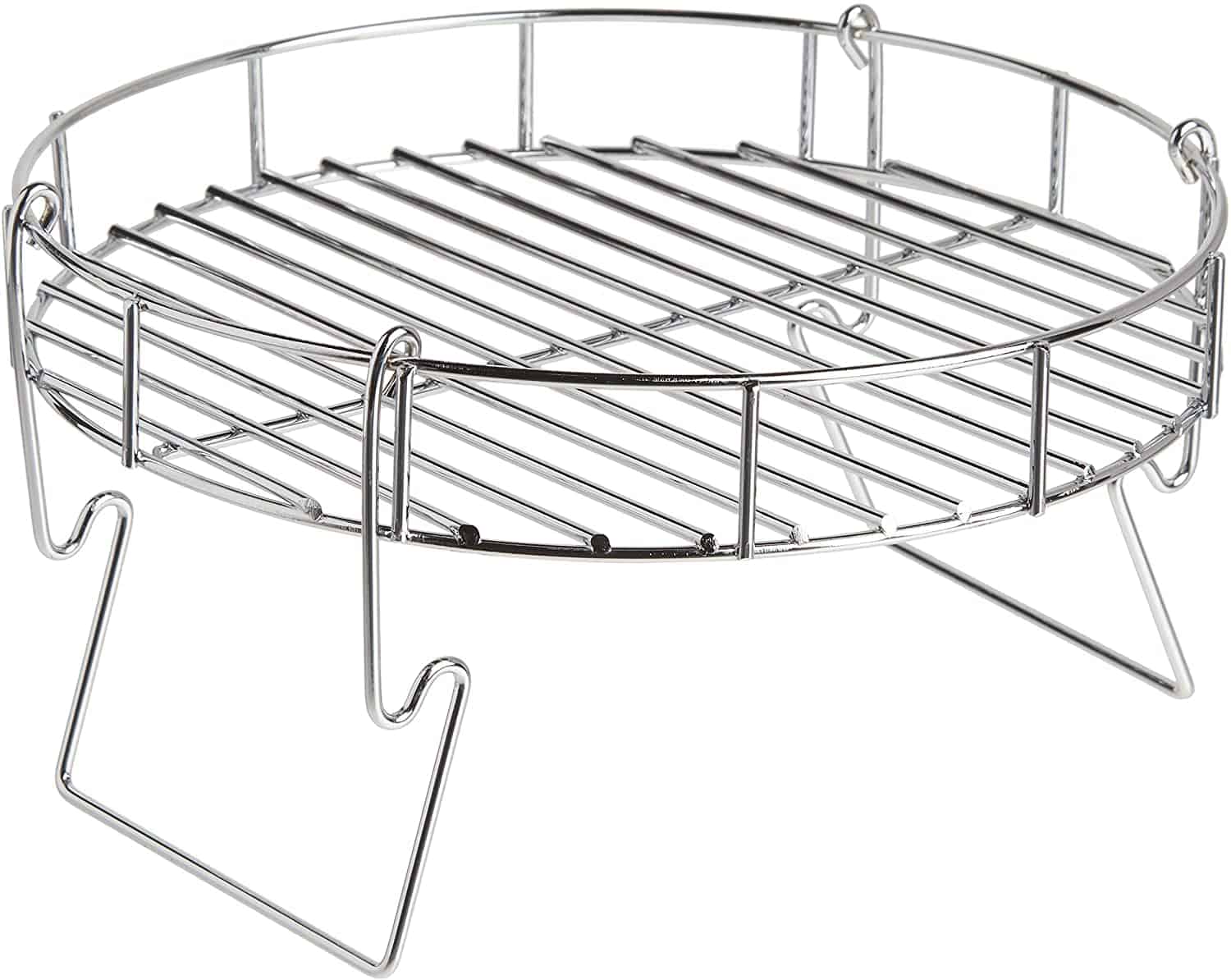 If you want to cook two chickens simultaneously, consider the innovative Char-Broil The Big Easy Bunk Bed Basket. With a 9-inch diameter, this grill basket offers an easy way to expand the cooking surface of your Big Easy cooker.
Char-Broil specifically designed the Bunk Bed Basket for expanding the cooking area within The Big Easy series of TRU-infrared grills. It can work well with The Big Easy Oil-Less Turkey Fryer.
The Bunk Bed Basket boasts a durable chrome finish, so you can expect to use it for many years to come. It is also dishwasher safe.
Features
Type: Food basket
Size: 1.44 x 9.25 x 9.31 inches
Quality: Chrome finish
Brand: Char-Broil
Best basket for grilling fish: SHAN PU Grill Basket with Removable Handle for Fish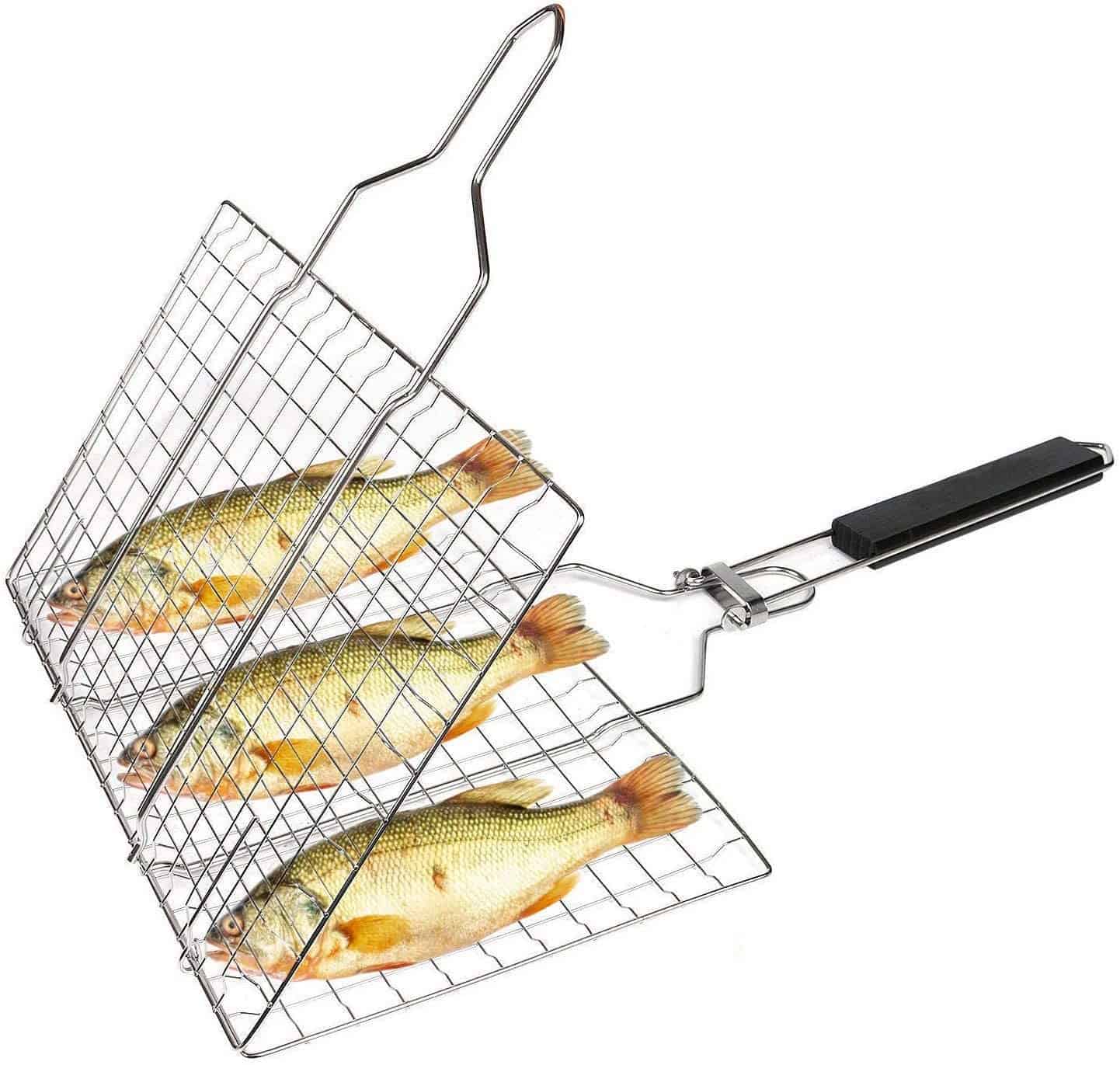 The SHAN PU Grill Basket with a removable handle is another excellent product for those looking for a heavy-duty grill basket with a large cooking surface.
This grill basket is made of premium quality 304 food-grade stainless steel, ensuring durability.
You can use this basket to grill meat, vegetable, fish, shrimp, and other delicate barbecue foods, but I personally love using it for fish. I never lose any meat through the basket grid, and the food still gets the perfect sear and flavor.
It offers a generous cooking area of 13 x 8.6 x 0.8 inches. This can accommodate food for at least three people.
It is versatile and can fit various types of grills, such as charcoal grill, gas grill, infrared grill, and much more. Learn how to grill fish with a basket like this in this video:
This SHAN PU grill basket features a thick, dense, and sturdy grill grate that ensures an even distribution of heat while keeping small food pieces from falling through the grid gaps.
Features
Type: Food basket
Size: 5.91 x 3.94 x 3.15 inches
Quality: Food-grade stainless steel
Brand: Aleath
Best grill basket for camping: AIZOAM Portable Grilling Basket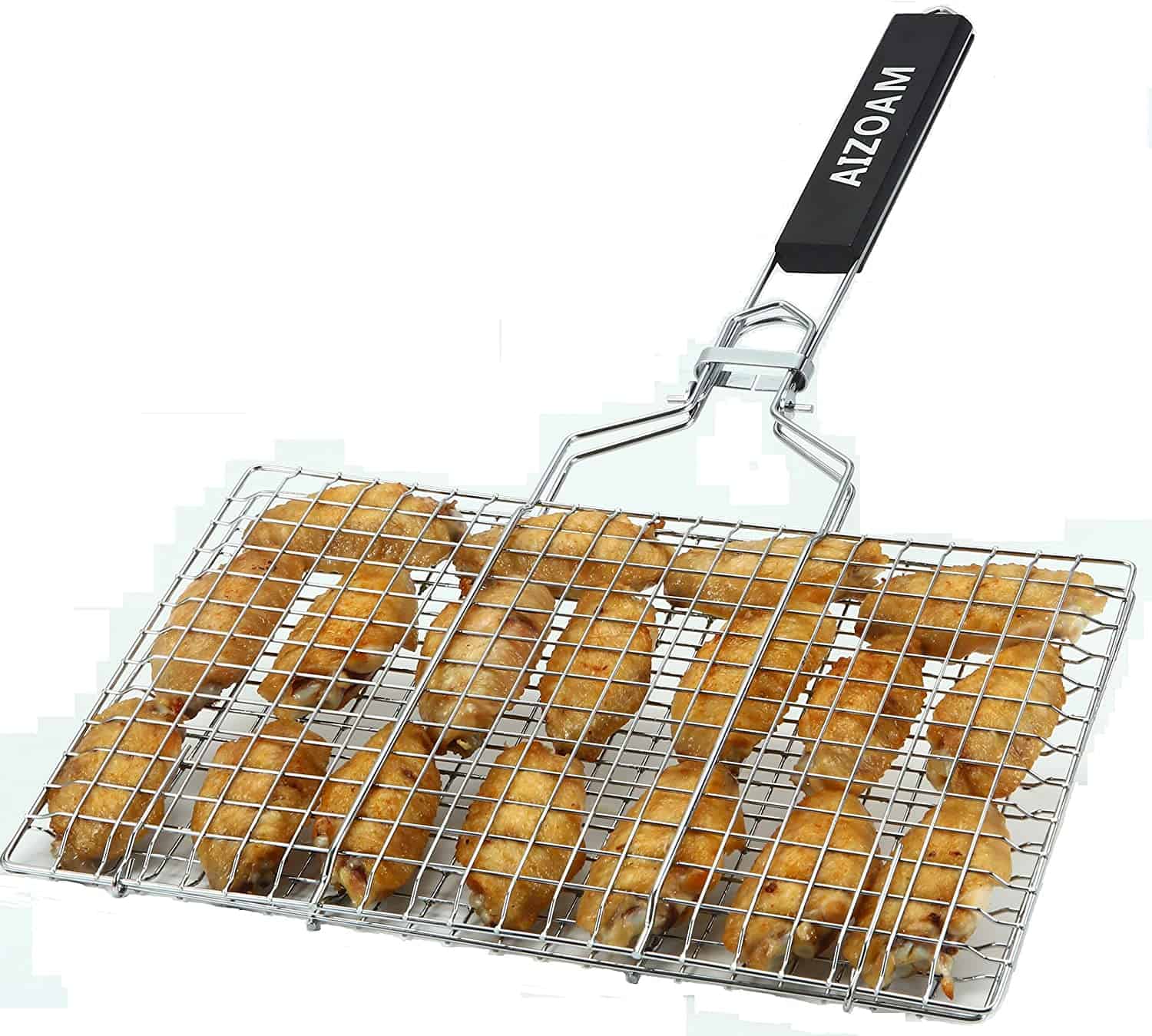 If you're looking for a grill basket that you can easily carry with you when you go camping, or join a tailgate party, you can't go wrong with AIZOAM Portable Grilling Basket.
This lightweight and portable grill basket is made of top-quality 430-grade stainless steel for exceptional durability. It offers a generous cooking surface of 12.6 x 8.6 inches, which can accommodate foods for at least two people.
This grill basket features an innovative lockable grill grate, which locks your food in place and makes it easy to flip grilled foods.
Features
Type: Food basket
Size: 13.15 x 12.8 x 0.98 inches
Quality: 430 grade stainless steel
Brand: AIZOAM
Find the best Grills for Camping Grills Reviewed here (+ 7 campsite cooking tips)
FAQs about grill baskets
Why should I cook my sides in a grill basket?
Grill baskets allow you to keep an eye on your grill at all times. No need to be torn between the kitchen and the grill. You can cook your meat and your sides right in front of you.
If you're cooking chopped veggies or even fish, grill baskets ensure that your food benefits from the flavors created by flame and heat without falling through the grate!
What exactly can I cook in a grill basket?
There are almost zero limits to what you can cook in a grill basket (as long as it's not liquid!). From sliced and diced veggies to chopped meat, and even burger patties.
The basket offers all the benefits of cooking food on a grill but stops it from coming into direct contact with the heat source.
Another way to keep your food safe from flames and your grill clean is by using a grill mat.
How can I stop my fish from getting stuck to my grill basket?
Most season grillers recommend brushing your fish with olive oil or a delicious marinade before placing it into your grill basket.
You could also gently oil your grill basket, or spray it with a nonstick spray.
What's the ideal temperature for cooking veggies in a grill basket?
Most people like their vegetables to still have a little bit of 'bite' or structure when they're cooked. Soft, mushy veggies aren't attractive, so make sure you grill your vegetables at medium heat in your grill basket.
Professionals recommend temperatures between 400 to 425 degrees Fahrenheit.
Takeaway
When it comes to cooking certain delicate food on your grill, a grill basket is a very useful BBQ accessory that every good griller should invest in.
You will be able to prepare a wide range of meals for your family and friends using a grill basket including finely sliced veggies, fish, and kabobs.
Charcoal baskets are loved by everyone who uses a charcoal grill. This is especially for those who have kettle grills, as it transforms your grill and allows you to cook so many more delicious types of food.
Read next: Best BBQ Smokers for Beginners: Top 7 Smokers + Buying Tips
Joost Nusselder, the founder of Lakeside Smokers is a content marketer, dad and loves trying out new food with BBQ Smoking (& Japanese food!) at the heart of his passion, and together with his team he's been creating in-depth blog articles since 2016 to help loyal readers with recipes and cooking tips.