I love creating free content full of tips for my readers, you. I don't accept paid sponsorships, my opinion is my own, but if you find my recommendations helpful and you end up buying something you like through one of my links, I could earn a commission at no extra cost to you.
Learn more
AS a party starts getting closer, it is time to start thinking about what to get that special BBQ Smoker fan in your life.
However, you probably noticed that if you look up "best BBQ smoker gifts" you won't get the best results ever.
Which is why today I want to share the best gifts I've received, the ones I would want and the ones I would love to give other aficionados like me.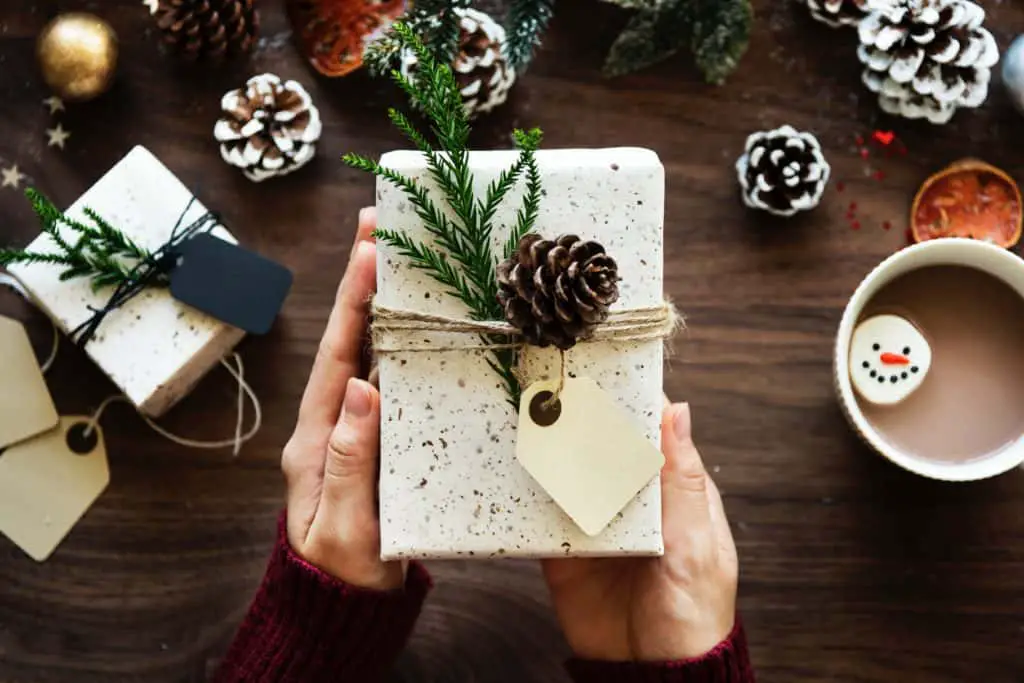 All of the gifts I will talk about are reasonably priced and definitely worth their price. As a BBQ smoker aficionado myself, you can never go wrong with something that will help us enjoy our passion even more.
In my case, the best gift I've ever received is this ThermoPro TP-08S Wireless Remote Digital Meat Thermometer. As you know, smoking meat is a slow and long process so being able to peacefully step away from the smoker every time we need and/or want to, and get remote alerts is amazing.
That is the most useful gift I've received and still use to this day. You also have other options, for example, for the smoker who truly has it all, how about a custom-made BBQ apron with pockets?
I've got that and more reviewed in this article.
The key to a great gift is for it to serve one of two main purposes:
It's useful and durable. So it will facilitate the grilling/smoking process and last me for the years to come.
It's fun and personalized. This means it will help me enjoy my hobby even more and make me feel special since you took the time to personalize it for me.
Now a lot of these tips are also in our guide to the best bbq smoker accessories, as well they should be. But we've also found some gifting specials you might like.
First, I want to present you with a quick list of the best BBQ smoker gift ideas I've received and/or purchased that serve one of these two purposes:
In this post we'll cover:
Best BBQ Smoker Gift Ideas reviewed
In the following paragraphs, I'll give a short review on each of these items so you can decide which one would work better for that perfect gift. As you will also see, some of these would work great if paired together for double the functionality.
Now, if the person you know has built his own bbq smoker, you know he'll want every accessory there is for his hobby.
ThermoPro TP-08S Wireless Remote Digital Thermometer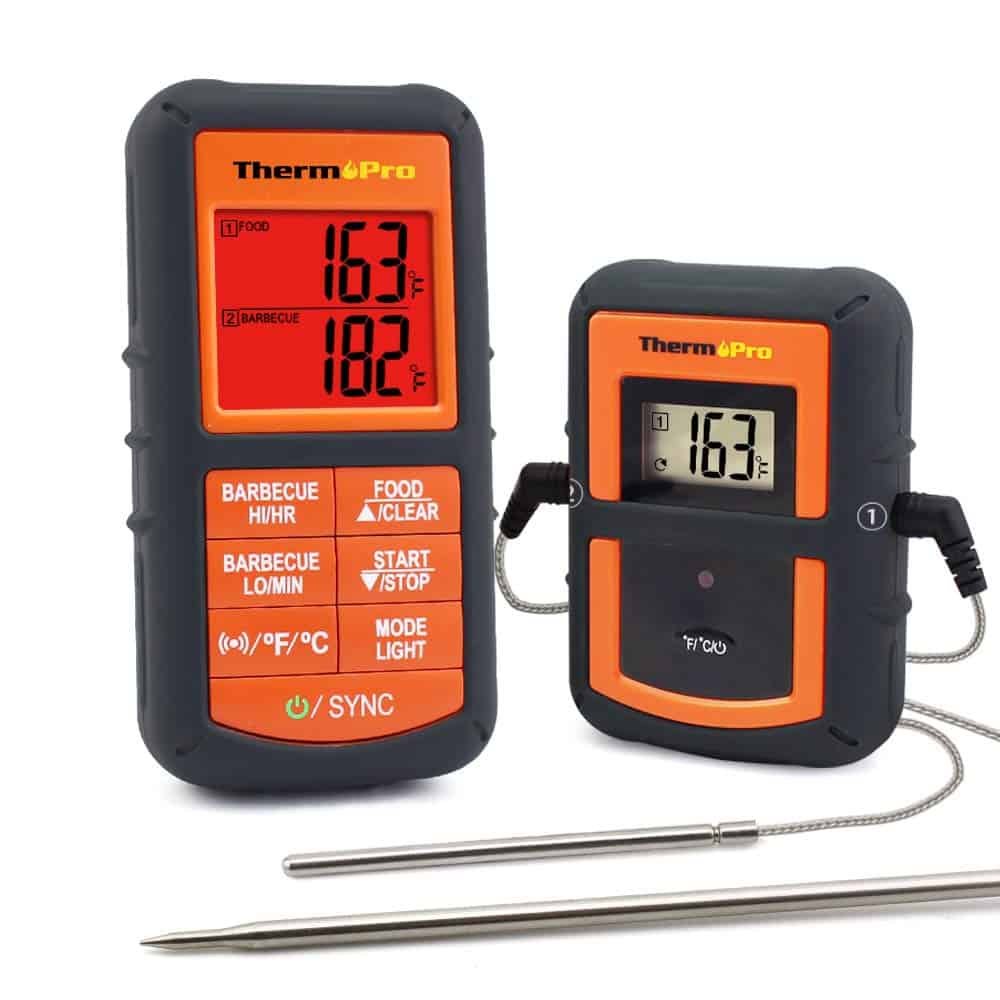 Simple and easy to use, this is bound to make any smoker's hobby easier and more enjoyable. It's useful and durable, so it will be a long-lasting addition to my BBQ smoking hobby.
This thermometer is perhaps the most useful item on this list. The ThermoPro TP-08S is an amazing dual probe Digital Wireless Thermometer that lets you monitor your smoker's and smoked meat's temperature remotely.
As long as you're within 300 feet, you'll be able to get alerts every time your smoker reaches a certain temperature that you can set from the remote receiver.
When you're smoking meat and if you take a look at our amazing BBQ Smoker Pulled Pork Recipe, you'll notice the importance of being able to get both readings (the meat's and the oven's) for easier time management.
Check the latest prices and availability here
BBQ Smoker Wood Chip Variety Pack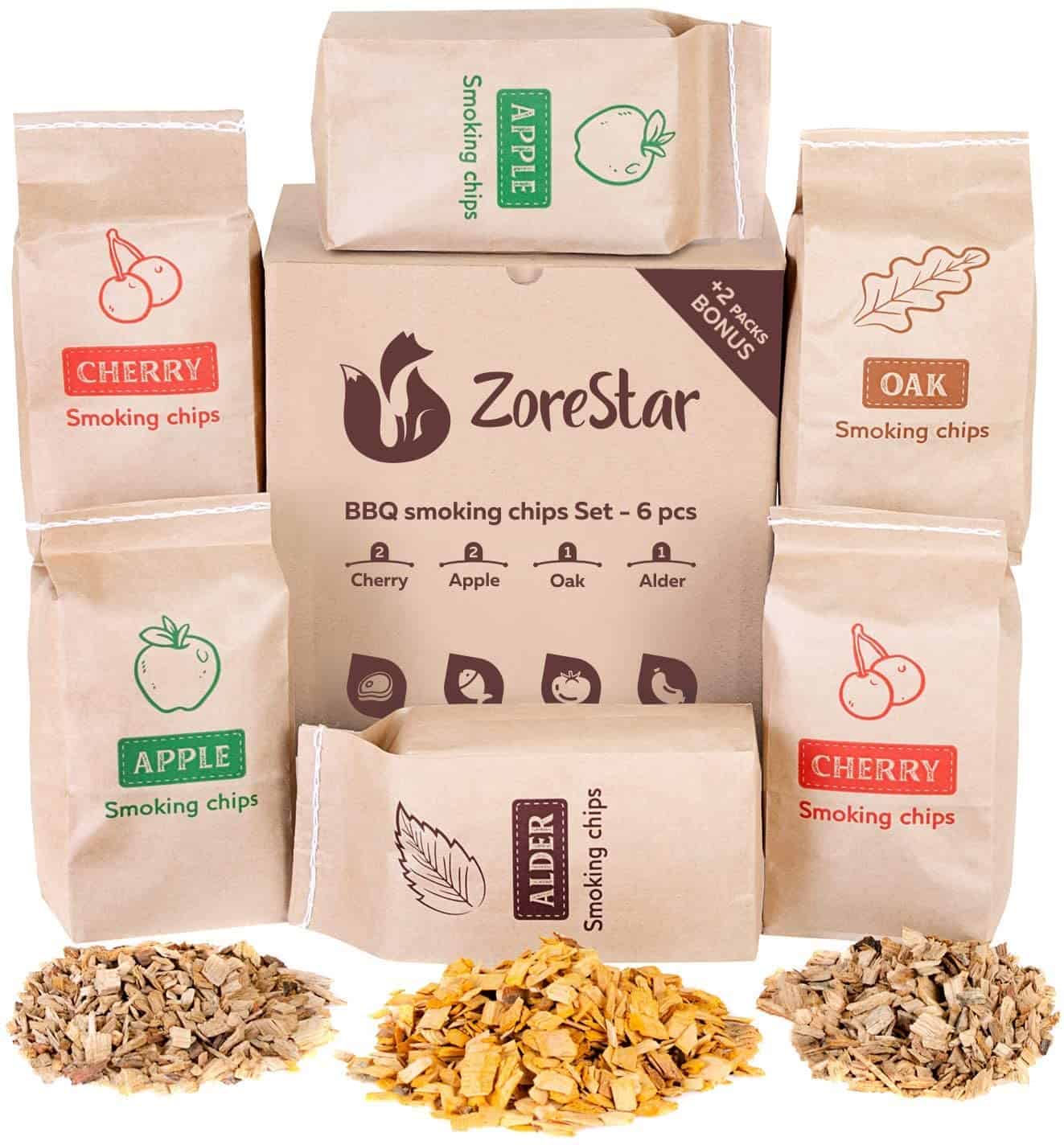 You can never go wrong with wood chips since everyone needs them for great smoking results.
These 100% natural professional wood chips are the best starter set to start smoking on the grill as a beginner or an expert.
It's the perfect mix to play around with and give your smoked meats new and exciting flavors.
This particular pack features wild oak, mesquite, and pecan wood chips which are great to create a large number of flavor combinations.
The packages are also resealable which makes it easy to use the amounts you need and save the rest for later.
Pulled Pork Shredder Claws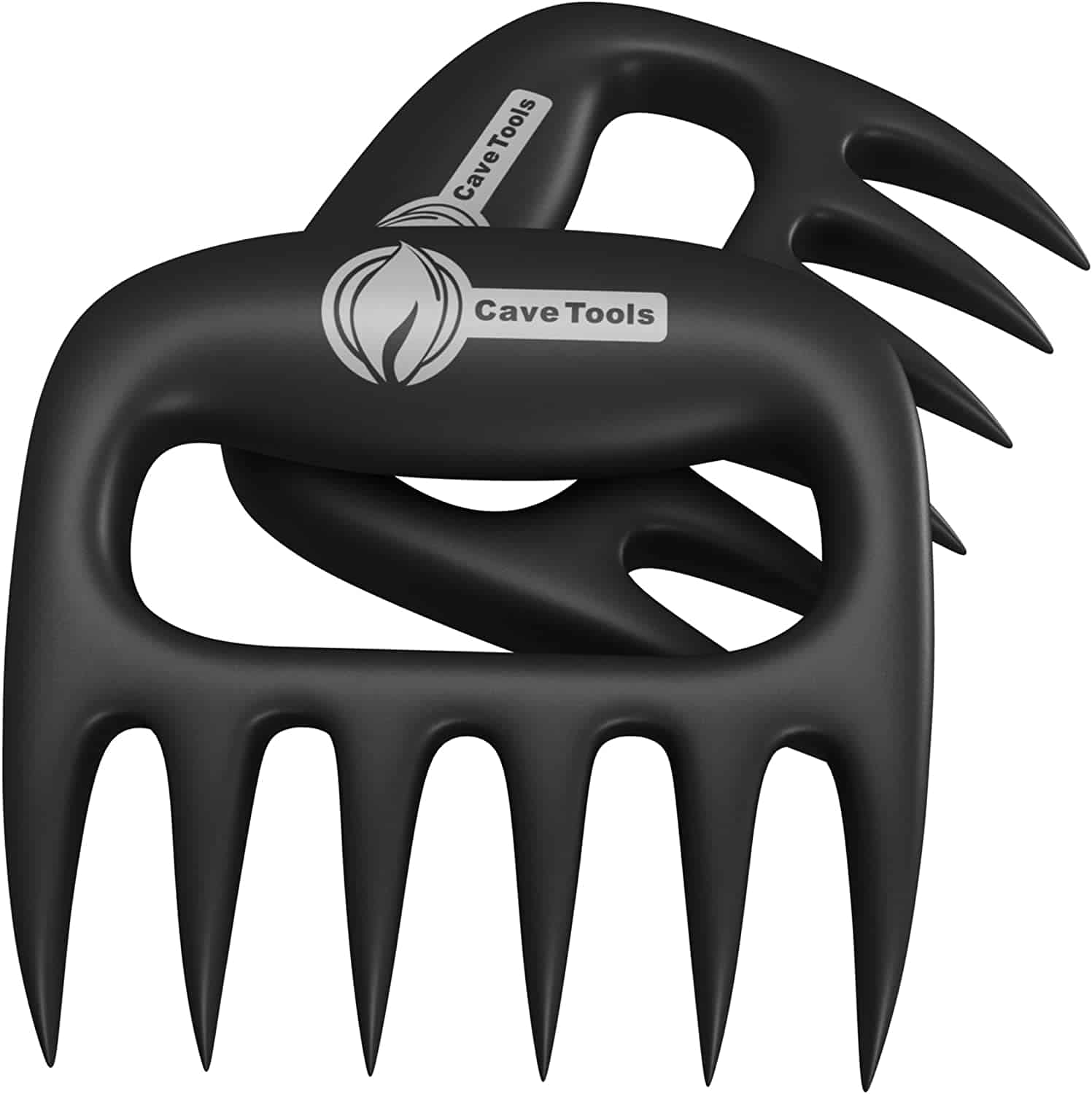 Who doesn't love pulled pork? Sure, you could use forks, but it's a thousand times better when you use shredder claws to pull it apart. Trust me.
These shredder claws will help you dominate any smoked meat in record time. The bear paw shape makes it easy to pick up and carry hot foods so your fingers don't have to suffer.
Since they're heat resistant and BPA-free you don't need to worry about using them on any piece of meat. And as a nice little extra, they include 25 professional barbecue recipes to try out.
Heat Resistant Gloves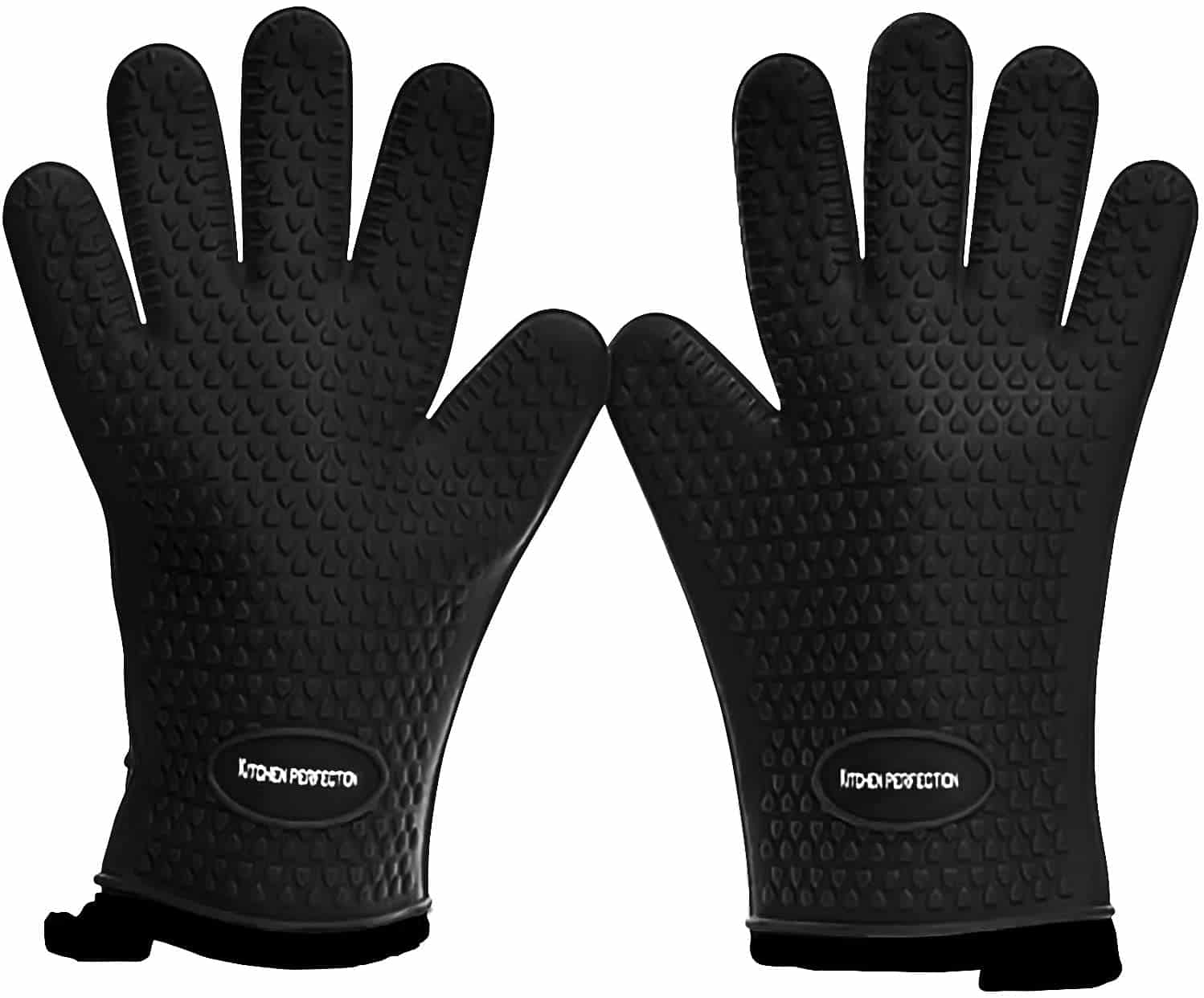 There's nothing worse than getting burned while having fun on your smoker/grill. With these, you can guarantee that person never has to go through that horrible feeling again.
Featuring an insulated non-slip five-finger design, the smoker lover in your life will easily be able to manage hot meats and even make pulled pork like the pros with these gloves.
Its 14" length also provides extra protection for the arms.
These are so good that you will want to get one to use in the kitchen as well. But if you know multiple people who could benefit from them, you can ahead and purchase three.
You can use the coupon code 4Pitfree and get an additional pair for free. Pretty good deal if you ask me.
Check prices and availability here
BBQ Pit Master seasoning gift set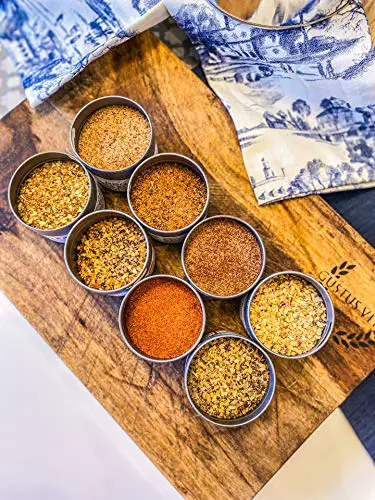 Great smoked meat requires a great rub for flavoring. The more devoted smokers would never accept a completely made rub, but you can give them the spices to create their own delicious mixes.
For a BBQ smoker aficionado, spices are a must to create the most amazing rubs. These delicious BBQ Pit Master seasoning gift set will make a great gift any time.
It includes Grill Master, Island Spice, Citrus Pepper, and Bold Bayou. And it gives you a surprise spice which could be any of these two awesome custom spices: Sriracha Hot Sea Salt to Rosy Cheeks Maple Bourbon.
Project Smoke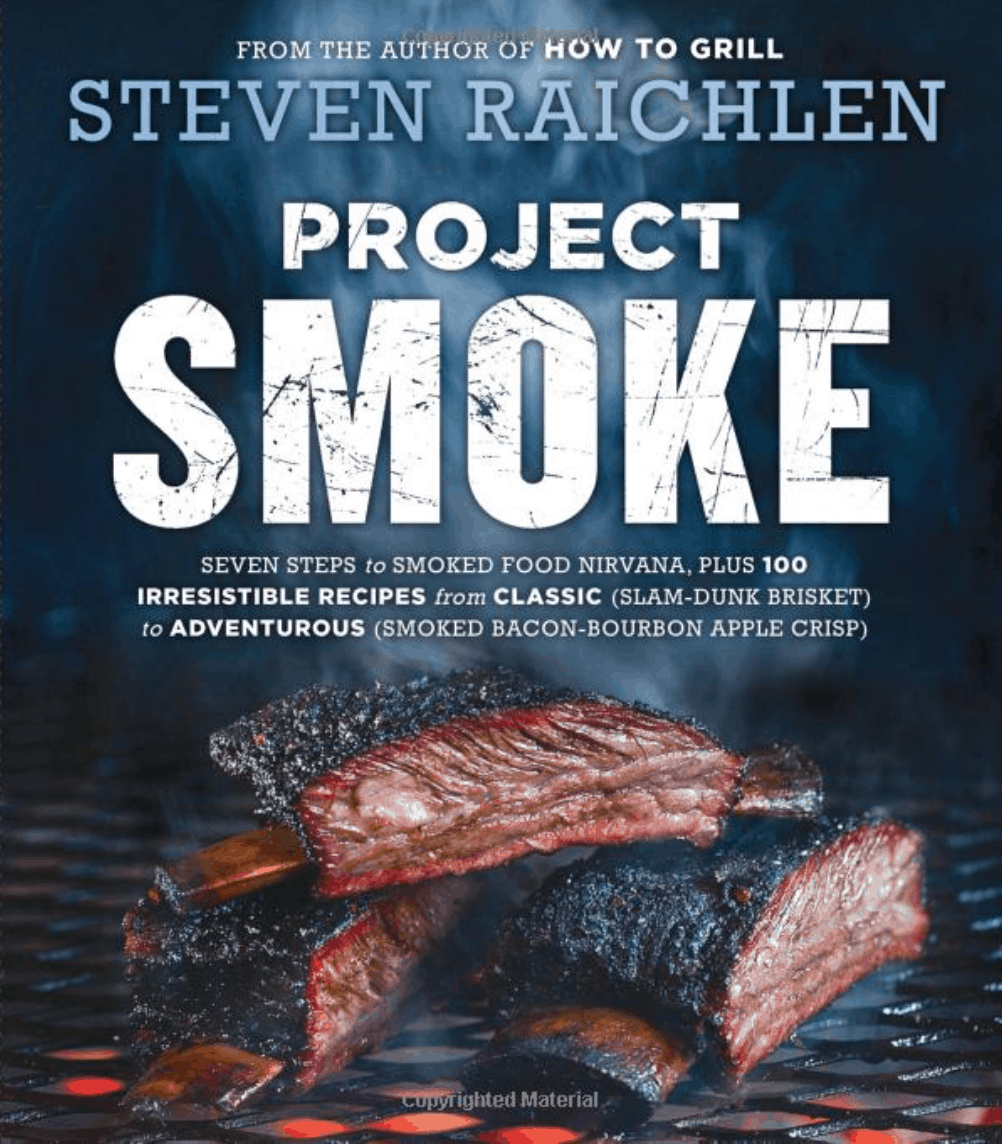 Aside from trial and error, the best way to get some new and better recipes is to get some extra knowledge from the people who've done it before. This book shares some tips and tricks to make your smoking experience easier.
Project Smoke is considered the Barbecue Bible for Smoking Meats and for a good reason. It's a complete step-by-step guide to smoking meats and includes 100 recipes.
It provides guidance on everything from understanding the different fuels, smoking woods, and tools, to how to master the essential techniques. Even if you know a lot about smoking meat, this book is a life-changer.
An added benefit is that all these recipes can easily be used in an electric smoker as well, so there are no limits.
Additionally, it provides you with a chart for each chapter showing what temperature to set your oven to as well as the target internal temperature for each type of meat.
I think this book would make an amazing gift especially if paired with the ThermoPro Thermometer we mentioned above.
Since it explains the differences in temperature and will provide detailed guidelines using two temperatures, the dual-probes will really come in handy.
BBQ Apron with Pockets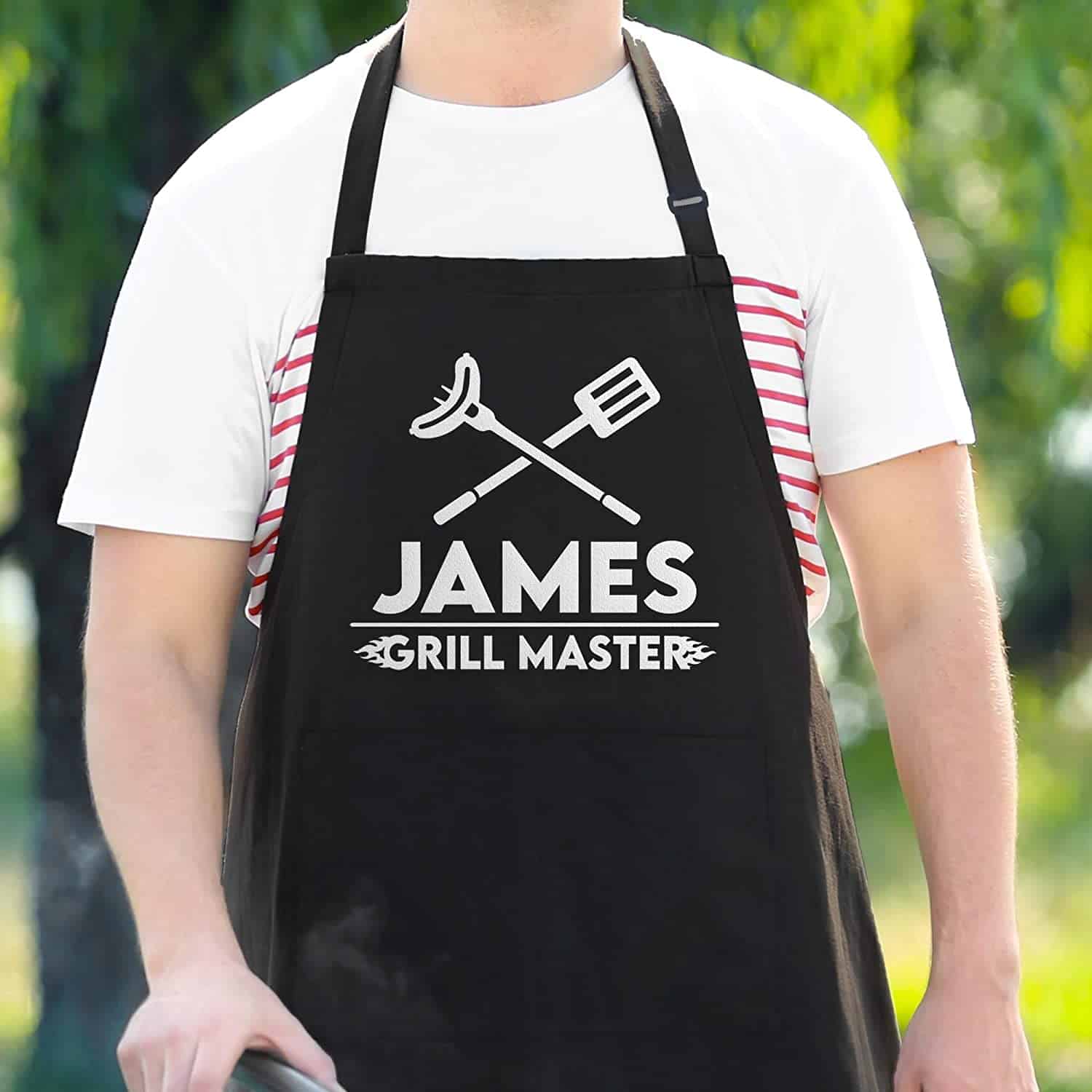 What's better than an apron for a BBQ grill master? A customized one. There are so many apron choices for BBQ smoker aficionados that you'll have plenty so they can smoke in style. (also read our full post on bbq smoker aprons)
Now, this gift is specifically aimed to make smoking just a little more fun. If you're in doubt, this apron will be the perfect present for that person who seems to have everything and loves having backyard cookouts.
The three pockets are also perfect for holding all your tools while smoking so your hands will always be free, while keeping your tools handy.
If you want to take the personalization even further, why not go ahead and order a completely custom-name BBQ smoker apron by WhatOnEarth. This is bound to get a smile as soon as your recipient sees it.
This custom apron lets you enter any name, nickname or witty phrase of your choice so, at the next cookout, that BBQ smoker aficionado will feel like a complete professional.
I'm ordering one for myself for this Christmas so my backyard cookouts will have a sort of known brand behind them. That's sure to get a fun conversation topic at the next reunion.
Final Thoughts
Whatever you choose, remember to take your time and consider what would make them happier. Try to find out what they already have in their home and what would be the next great addition to it.
We hope this list helps you in making the holidays even more special for that BBQ lover in your life. Stick around to get more amazing gift ideas, advice, recipes and more.
Joost Nusselder, the founder of Lakeside Smokers is a content marketer, dad and loves trying out new food with BBQ Smoking (& Japanese food!) at the heart of his passion, and together with his team he's been creating in-depth blog articles since 2016 to help loyal readers with recipes and cooking tips.