by Josh
|
Last Updated:
October 19, 2020
I love creating free content full of tips for my readers, you. I don't accept paid sponsorships, my opinion is my own, but if you find my recommendations helpful and you end up buying something you like through one of my links, I could earn a commission at no extra cost to you.
Learn more
There are a lot of BBQ smokers and grills to choose from nowadays.
So, if it is your first time buying one, I understand that the experience could be a bit difficult.
In this post, I listed seven of the best BBQ smokers for beginners to help you with your dilemma.
Understand the pros and cons of each smoker. Compare their features, advantages, and disadvantages, before making your first purchase.
If you are still confused about which one to choose, I also included some quick tips to help you make an informed decision.
My favorite one when you get started is this Dyna-Glo Vertical Offset smoker. It has a lot of great features but really isn't all that expensive.
Plus, a vertical smoker is very beginner-friendly.
But first, let's take a look at your top options real quick:
Tips on How to Choose a BBQ Smoker
As you know by now, you have plenty of options when it comes to BBQ smokers.
In this section, I will give you some quick tips on how to choose the right BBQ smoker for you.
First, you need to know what type of smoker fits your needs. There are four types of smoker grill that you can choose from:
Pellet Smoker
A pellet smoker has a rod that quickly ignites when you turn it on and starts putting in wood pellets. Its smoking process is pretty much automated, so you do not have to spend a lot of time on monitoring its internal temperature.
Gas Smoker
A gas smoker, on the other hand, is the perfect choice if you do not want to attend to your meat as it is being smoked. It is convenient and can give your meat the classic BBQ taste.
Charcoal Smoker
Unlike the gas and electric smoker, there is a steeper learning curve for handling and setting the temperature of a charcoal smoker. However, the charcoal smoker is more affordable and can give your meat intense smokiness.
Electric Smoker
Last but not least is the electric smoker. As the name suggests, it is powered by electricity. If you are after ease-of-use, this is the best smoker for you. All you have to do is plug it, choose the right temperature, and wait for your meal to cook.
Other Factors to Consider when Buying a Smoker
You also need to consider the following factors when purchasing a smoker:
Capacity – always think about the size and capacity of the smoker that you need. How big or how small the unit should be, how much meat it can accommodate, or on what occasions you want to use it.
Budget – how much are you willing to spend for your smoker? Always keep in mind that expensive does not mean high-quality. Some good quality smokers and grills are affordable. You just have to look for the right brand and model.
Features – what specific features are you looking for? Do you need a movable smoker? A portable one? Do you want one with ash pan or one that you can operate easily?
Top 7 Best BBQ Smokers for Beginners reviewed
Let's have a look at some good BBQ smokers.
Best value for money: Dyna-Glo Vertical Offset Smoker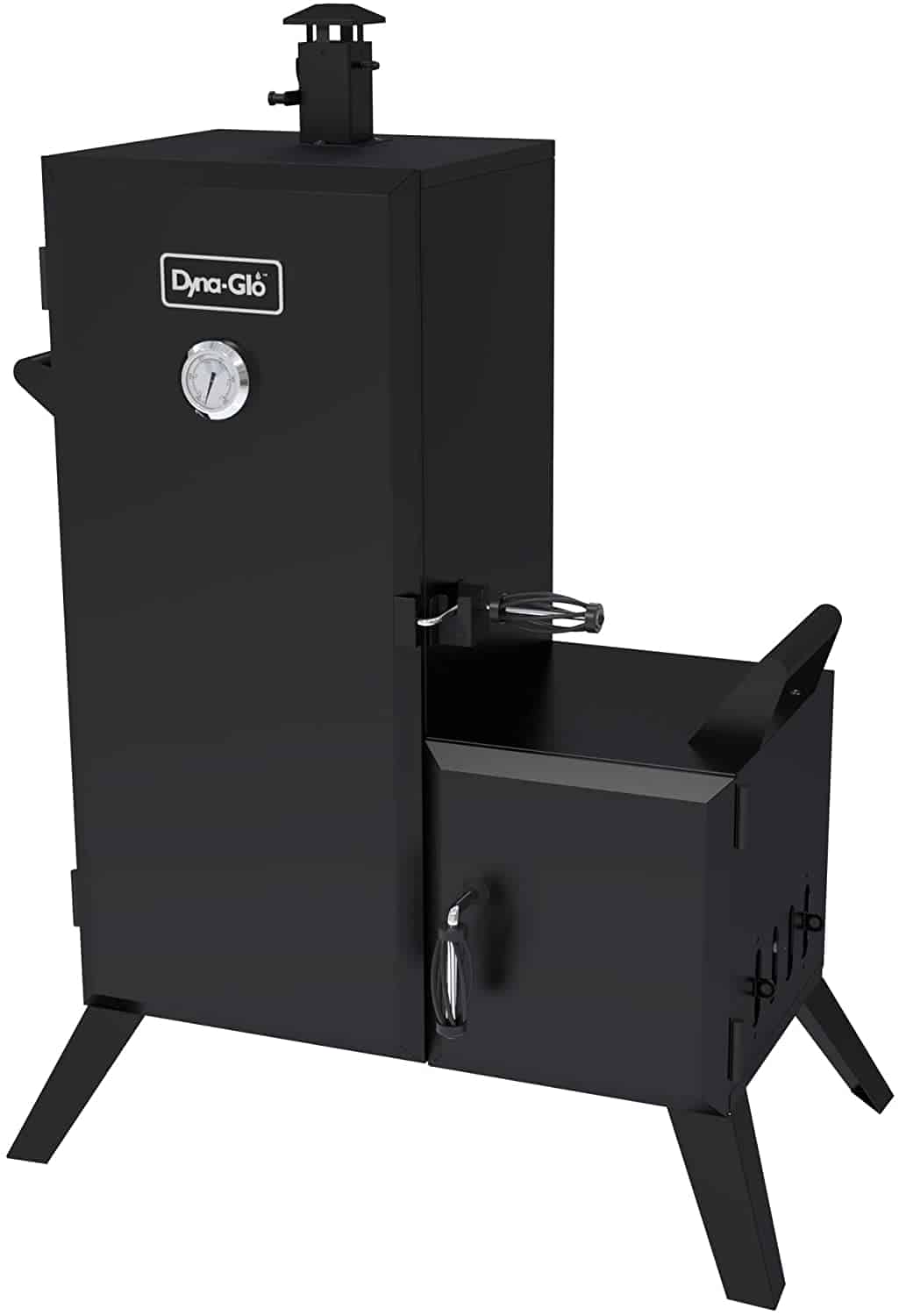 The Dyna-Glo DGO1176BDC-D Vertical Offset Smoker is one of the best BBQ smokers for beginners. This smoker has very few moving parts, so it is relatively easy to assemble.
Dyna-Glo DGO1176BDC-D Vertical Offset Smoker has 5-cubic feet of smoking area in its main chamber.
The chamber can be divided into sections using six adjustable, removable racks. Each rack can accommodate up to 25 pounds of weight.
This vertical offset smoker also has a built-in ash pan that you can easily remove. There is a porcelain-coated wood box on top of the ash pan where you burn your charcoal or woods.
Check out SteeveeDan here with his Dyna-Glo:
On top of the main chamber, there is an adjustable side damper, as well as an adjustable smokestack that will allow you to control the smoker's air flow and heat.
Performance-wise, Dyna-Glo DGO1176BDC-D Vertical Offset Smoker can basically handle anything you throw at it. The removable racks will allow you to smoke or grill different food, from ham and turkey to big pork shoulder.
To summarize, here are the pros and cons of Dyna-Glo DGO1176BDC-D Vertical Offset Smoker:
Pros
Adjustable smokestack
Adjustable damper
Removable ash pan
Removable firebox
Adjustable, removable racks
Cons
Heat retention issue when in cool climate due to thin metal
Best cheap budget smoker for beginners: Royal Gourmet Charcoal Grill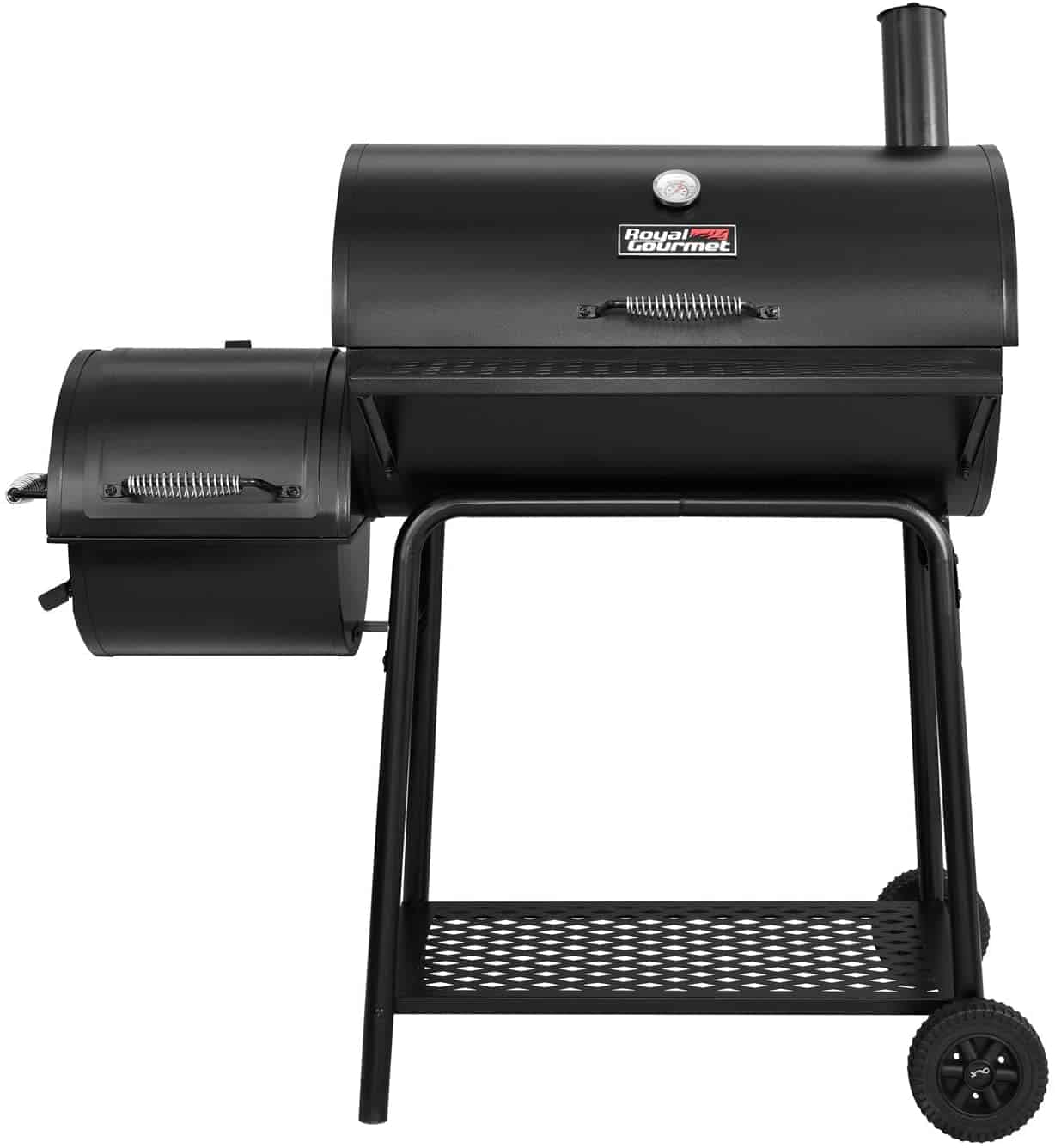 If you are after the classic way of smoking your barbecue, the Royal Gourmet CC1830F Charcoal Grill with Offset Smoker is the right smoker for you.
Aside from its compact structure, this charcoal grill is one of the best smokers for beginners because it is easy to assemble. It will not take you an hour to put everything in place.
The Royal Gourmet CC1830F Charcoal Grill with Offset Smoker has a side smoker that comes with damper controls. You can easily start a wood chip and charcoal fire in it without the need for direct fire in the main grilling chamber.
This smoker also has a sturdy cart with an expanded metal bottom shelf. This design and feature keep it rigid as compared with other smokers and grills.
Its grill gates are coated with non-stick porcelain. The adjustable charcoal pan will allow you to manage the fire and heat, depending on your need.
Here are some of the pros and cons of this smoker:
Pros
Affordable
Adjustable charcoal pan
Expanded metal shelf
Sturdy base
Cons
Small offset smoker box
Smoker box is hard to clean
Not suitable for large cut meats
Best Digital Electric smoker for beginners: Masterbuilt MB20071117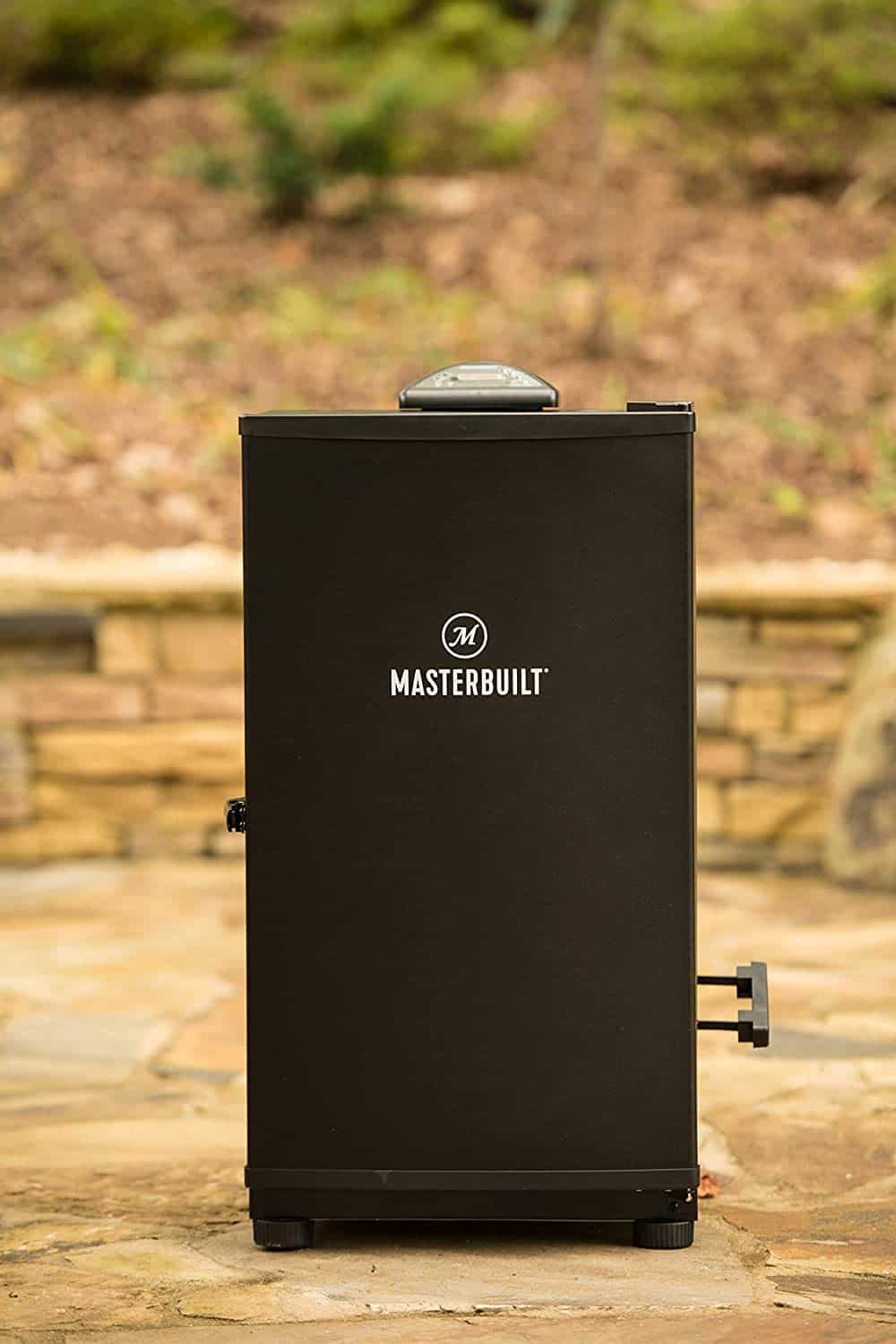 The Masterbuilt MB20071117 Digital Electric Smoker is a digital smoker recommended for newbies.
It is easy to operate, ensuring that you always get a flavorful meal even if it is your first time smoking or grilling.
You can easily add wood chips to this smoker without opening its door. That will allow you to keep the heat within the grill box at your desired temperature. It also comes with temperature and time controllers for quick monitoring.
Masterbuilt MB20071117 Digital Electric Smoker not only has a durable build, it also has enough space inside to grill or smoke your favorite meat.
Its grilling and smoking chamber comes with four adjustable and removable racks that will enable you to cook for three to four persons at the same time.
And because the racks are removable, you can easily adjust the space inside the chamber to accommodate large cuts of meat or poultry.
Keeping the Masterbuilt MB20071117 clean is not a problem as well.
There are two trays inside its grilling and smoking chamber. One is for collecting oil and grease, the other for collecting the ash from the wood chips.
To summarize, here are the pros and cons of this grill and smoker:
Pros
Easy to operate
Easy to clean
Durable built
Cons
Issue with control panels readings under sunlight
Check prices and availability here
Mid-range BBQ Smoker: Realcook Steel Charcoal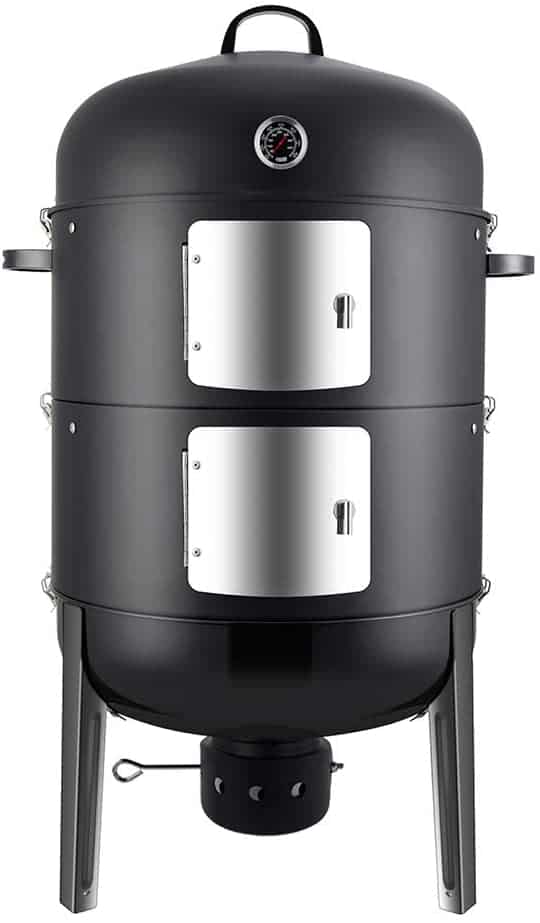 With its high-quality materials and affordable price, Realcook Vertical Steel Charcoal Smoker is a smoker that you will not regret buying.
It is extremely easy to assemble and will not take you over half an hour to put together.
The Realcook Vertical Steel Charcoal Smoker's multi-layer design allows it to work not just as a smoker, but also as a fire pit and barbecue grill.
It comes with a built-in thermometer, a bottom damper, and an ash collector. These allows for easy bottom airflow control and temperature maintenance within the barrel when you are smoking.
This smoker can be taken anywhere. You can quickly disassemble it into four parts and place it in your car trunk, making it suitable for outdoor activities like beach and backyard parties.
The Realcook Vertical Steel Charcoal Smoker has two cooking racks that can accommodate large cuts of meat. It is also tall enough for hanging slab of ribs, turkey, and other poultry using the four available hooks inside the lid.
Cleaning the Realcook Vertical Steel Charcoal Smoke is relatively easy with its pan that catches oil and other liquid drippings. If you want to get all the ashes out, just release the lower locking clasps and remove the top sections and lid.
Pros
Multi-layer allows for different functionalities
Can be used as a firepit, griller, and smoker
Hooks in the lid
Dual access doors
Cons
Small handles
Not suitable for cold weather
Best horizontal smoker for beginners: Char-Broil American Gourmet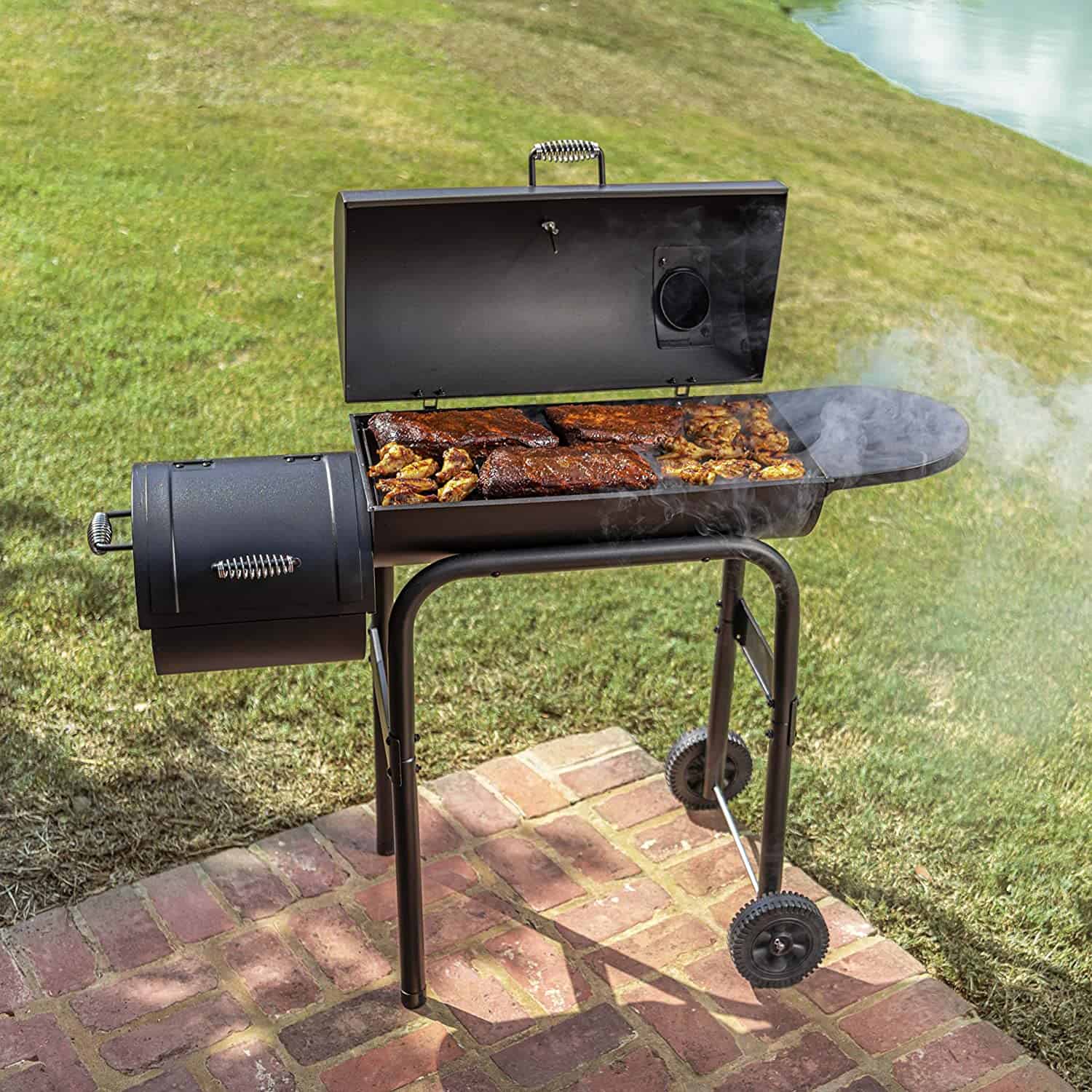 If you are regularly hosting barbecue parties, the Char-Broil 12201570-A1 American Gourmet Offset Smoker will be a great addition to your backyard.
Its main chamber alone has a 290-square-inch cooking surface, which can accommodate up to 18 burgers all at once. If that is not enough space for you, you can also grill in its 140-sq-in firebox.
The Char-Broil 12201570-A1 American Gourmet Offset Smoker comes with a vertical pipe smokestack, adjustable dampers, a temperature gauge, and an offset firebox.
The multiple dampers can give you more control over the heat and temperature within the offset smoker's chamber. They can be opened and closed effortlessly to adjust airflow.
On the other hand, the lid-mounted temperature gauge will allow you to monitor the internal temperature of your smoker and adjust it to your desired level.
The Char-Broil 12201570-A1 American Gourmet Offset Smoker cooking grates are porcelain-coated for quick cleaning. Another cool feature of this smoker is its cool touch handle and wheels that make moving it around fast and easy.
There is also a side shelf where you can place your sauces, rubs, and other grilling or smoking utensils.
Pros
High-quality product
Better mobility
Multiple dampers for easy heat and smoke control
Wide-surfaced grilling and smoking area
Cons
Best propane smoker for beginners: Cuisinart COS-244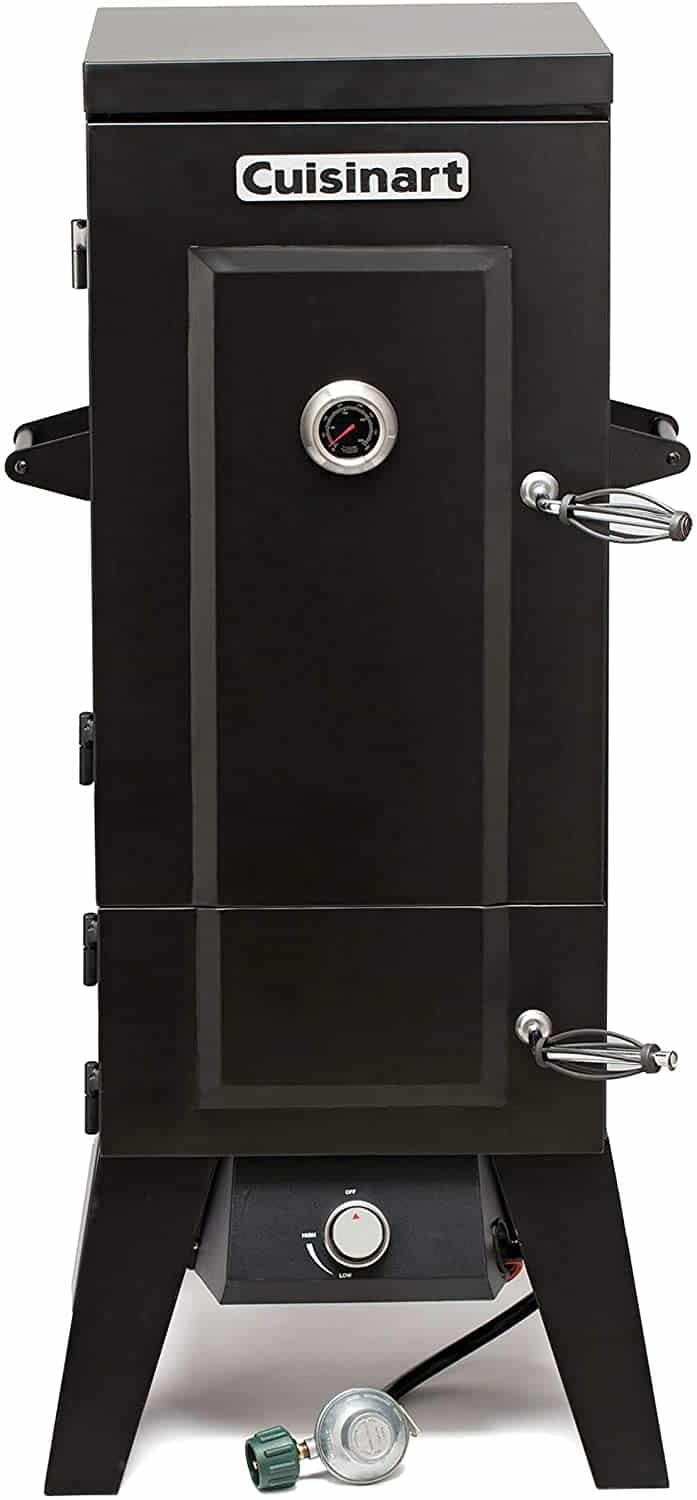 Are you planning to buy your first propane smoker?
If you are, Cuisinart COS-244 Vertical 36″ Propane Smoker may be the best smoker for you.
Cuisinart is relatively new when it comes to producing outdoor cooking products. But they did everything right with their vertical propane smoker.
To begin with, the Cuisinart COS-244 Vertical Propane Smoker stands 36 inches tall.
The vertical design makes it easier to store since it occupies little room unlike horizontal or offset smokers. It has a sturdy frame and body, with a twist lock door for sealing the chamber.
The smoking chamber measures 5.45-cubic feet and comes with four 14×14 inches racks. The grilling and smoking chamber is big enough to accommodate slabs of meat and poultry.
If you want to smoke fresh link sausages, you just have to set the rack at the highest position and tie your sausages to them.
The Cuisinart COS-244 Vertical Propane Smoker has a dripping pan for collecting oil, grease, and other liquid.
There is also a wood chip tray that you can easily pull out for quick ash disposal. Its grates are also porcelain-coated so cleaning them is not a problem at all.
Pros
Removable liquid drip pan
Removable wood chip pan
Comes with a 40-inch hose and regulator
Cons
No natural gas conversion
Small grates
To make the most out of your smoker, be sure to look at our recommendations for Best BBQ smoker accessories | 20 must-have smoking tools.
Premium beginner-friendly smoker: Weber Smokey Mountain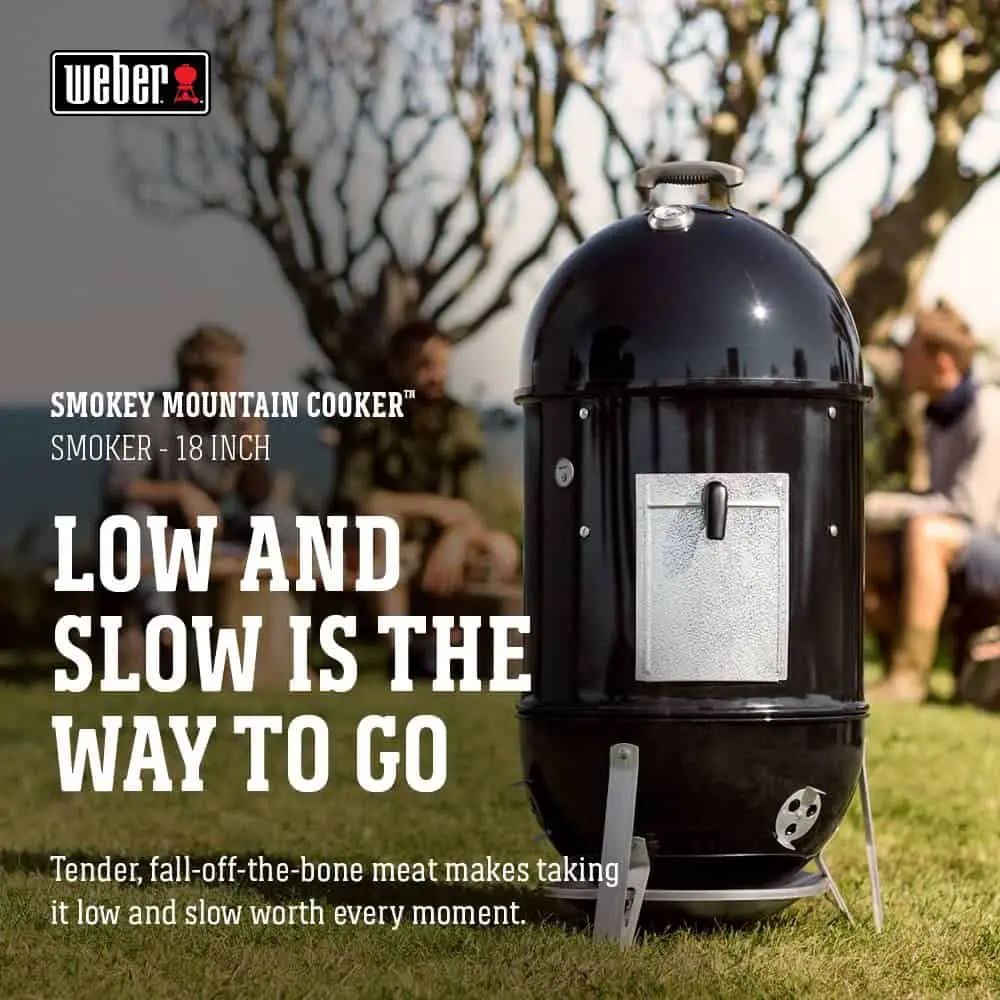 With its easy-to-operate design, the Weber 18-inch Smokey Mountain Cooker and Charcoal Smoker is one of the best BBQ smokers for beginners.
It is relatively small as compared to other offset smokers. However, the Weber charcoal smoker has already proven that "big is not everything" and here is why.
The Weber Smokey Mountain Cooker and Charcoal Smoker is lightweight and easy to move around. It is a simple smoker without much to offer as far as automation is concerned.
But that feature makes it user-friendly and easy-to-operate. In fact, because of its plain design, it is a favorite among BBQ competition participants.
The Weber Smokey Mountain Cooker and Charcoal Smoker comes with a porcelain-enameled base, middle cooking section, and a lid.
Its two cooking grates are made of stainless steel. There is also a water pan and a charcoal pan for refilling water, charcoal, or wood chip.
The smoker's metal legs are rust resistant. It also has a built-in thermometer for monitoring internal temperature of the chamber.
The Weber charcoal smoker has four aluminum dampers that will allow you to control the airflow and keep the temperature at your desired level.
Pros
Portability
Mobility
Easy access fuel door
Two-level smoking
Cons
No ash pan for quick disposal
Small size
Read more: What to look for when buying a smoker.