I love creating free content full of tips for my readers, you. I don't accept paid sponsorships, my opinion is my own, but if you find my recommendations helpful and you end up buying something you like through one of my links, I could earn a commission at no extra cost to you.
Learn more
Most often, gas grills are associated with the summer periods when the weather is all warm and pleasant for outings. But in recent times, grilling and barbecue parties are becoming increasingly popular, especially in the United States even during cold weather. As a result, interest in the BBQ market is rapidly increasing.
Two-burner gas grills are compact and feature a small surface area. Their smaller size makes them an excellent choice for grilling enthusiasts with small outdoor spaces. There is a wide selection of two-burner gas grills on the market. In this article, I explore some of the top-rated options you can find.
The market offers quite a lot of two-burner gas grills, most of them are a waste of time, but there are a few gems that are worth attention.
Before you choose one of the options, carefully analyze your needs and choose the right type of grill for your cooking style.
Here's the list of the best 2 burner gas grills for every occasion and situation.
I have created it based on my market research, own experience and reviews from many experienced cooks.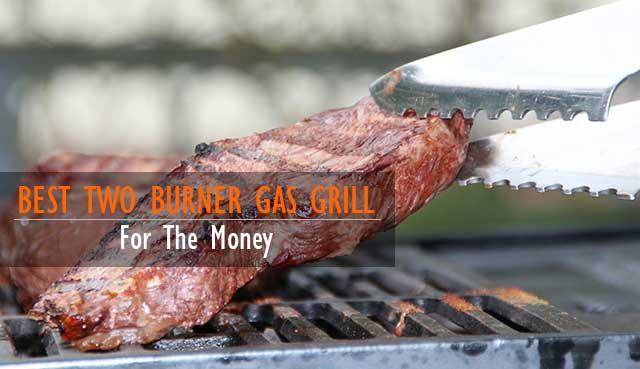 The increase in attention means that there are a lot of manufacturers trying to outdo each other to get more buyers, the competition has led to the creation of many innovative and yet affordable models for buyers to enjoy.
There are many things to consider when picking the best 2 burner gas grill, with things like quality, portability, and convenience leading that list. Furthermore, the longevity of each burner is significant to consumers for obvious reasons, because everyone wants to feel that they have made a right choice in terms of budget.
Of course, for any outdoor appliance, there are advantages and disadvantages. One of the best things about the new line of grills is that they are portable, which enables easy transportation. 2-burner gas grills are also more powerful than ever because they can produce excellent barbecues more frequently. This leads to another advantage.
Reliability. Of course, this varies from one brand to another, but it is a significant difference compared to the old models.
While many two-burner gas grills can handle most of the conditions Mother Nature can create, each varies depending on the resistance they have. A disadvantage shared by many grills is that they develop rust over time, giving them an aged appearance. Rust can also affect the proper functioning of its internal components, which directly affects the quality of the heating.
In most cases, it's better to spend an extra dollar to get a stainless steel grill, at least one grill with stainless steel grates. The cost of the gas grill can be high a disadvantage, but it depends entirely on the person buying it. The reason is that, unless you are someone who uses a grill a lot, you run the risk of spending too much for an object that you will use only a few times a year.
That said, the delicious flavors and home-style aromas, the benefits almost always outweigh the disadvantages of acquiring a two-burner gas grill.
Ah, sweet summer. The days are long, it's hot, and the dinner can be prepared on the grill without a pan to clean. What is there to love? Unless, of course, you don't have a grill!
Things to consider when purchasing a two-burner grill
1. What is your budget?
The first question to ask before getting into things like BTUs and if you prefer propane or natural gas is: how much are you ready to spend? Compared to their coal counterparts, gas grills tend to be more expensive. A gas grill usually starts around $ 200 and can cost more than $ 1,000 with all the bells and whistles.
That being said, there are ways to work with the system. Like everything seasonal, the beginning of summer is when 'you're less likely to find a great deal for a gas grill. If you can wait until the end of July or August, the savings could be well worth it.
2. How much cooking space do you need?
The next important thing to keep in mind is how much cooking you will do at the same time. Are you thinking of some steaks for you and your friend? Or do you plan a neighborhood party? (In this case, we recommend you place 20 hamburgers and a dozen hot dogs on the grill at the same time).
3. Do you want natural gas or propane?
The decision between natural gas and propane could be discussed: you would only be able to use natural gas if you have a gas line connected to your porch or deck, or wherever you will place the grill. If you do not have a gas line and do not want to add it, then propane is the best option.
If you have a gas line, the advantage is that you do not have to worry about keeping the tank full. On the other hand, propane gas can achieve higher temperatures than natural gas.
4. How much BTU do you really need?
Once you know how you will be fueling your gas grill, you can think about how much power you want or need from it. BTUs or thermal units tell you how much your grill can heat up …. And no, the best option is not to get the grill that has the most BTUs, which can consume fuel faster than necessary. The recommended formula is actually 85 to 100 BTU per square inch of cooking space.
5. What is the grill made of?
As with anything, the materials that the grill is made with will determine whether it is a $ 150 grill that will last a few years or a more expensive model that will last more than a decade. In general, you can find out if a grill is made of quality materials based on its weight. A heavy steel grate retains and distributes heat better than thinner steel.
Good materials include:
Stainless steel
Enameled steel
Cast iron
Cast aluminum
One thing to keep in mind is that, although stainless steel and aluminum are high-quality materials that do not oxidize, they eventually wear out as you use them. Similarly, if the cast iron is not well painted, it will oxidize (so pay attention to the quality of the grill paint). The enamel does not oxidize if it is not splintered.
If you live in a very humid area, the grill will rust. No matter the material, it will eventually oxidize. Stainless steel or aluminum are often the best choices for materials to prevent oxidation. Although a good guarantee is always advantageous, it is essential for people who live in wet areas if you do not want to buy a new grill every two years.
Although welds are not material, a right grill is well welded. Fully welded shiny surfaces and double-coated covers are features that are often found in high-quality grills.
6. What other features do you want?
Depending on your budget, this question may not be relevant, but if you have enough money to spend, you can add a million and one of the basic features of a gas grill. A smoker! A rotisserie feature! Infrared technology to ensure a tasty steak! Think about what is important to you and how you will use the grill: Many people choose elegant features, only to ignore them when they actually cook.
Next, we will see some of the best 2-burner grills, here are the top 5 two burner gas grills that we have discovered and researched.
Best 2 Burner Gas Grills reviewed
This product won the first position on the list. It has 2 powerful burners that can prepare a portion of incredibly tasty and well-roasted food. This is possible because heat circulates uniformly in the grill and, consequently, the porcelain enameled cast iron grates can be adequately heated.
With 26,500 BTU / hour burners, Weber can reach more than 500 degrees in less than 10 minutes. You don't have to wait long to enjoy a delicious meal.
Durability was another factor taken into consideration in Weber's construction. These burners do not oxidize quickly or lose gas due to damage. In fact, they are designed to stand the test of time, so it is not necessary to replace them soon.
Although it only has 2 burners, this model can still be considered a portable kitchen. It has 450 square inches of cooking space, so it is suitable for cooking several things at once. It is useful when you are preparing for an informal meeting with your friends or your family.
Besides, it has an electronic crossover-ignition system and a central thermometer. It comes with 6 tool hooks, a user guide, and a fuel level indicator. It is also covered by a limited warranty.
If you're looking for a stylish and high-performance two-burner gas grill, Weber Spirit II E-210 is a great choice. This grill comes with four major components, including a reliable ignition system that is guaranteed to ignite every time.
Other components are the sturdy burners that produce an even and consistent flow of heat on the grates that allow for even cooking. There are also the flavorizer bars, which capture drippings and convert them into lip-smacking smoky flavors.
Another component is the grease-management system, which prevents flare-ups and keeps the grill easy to clean. What's more, the Web Spirit grill comes equipped with porcelain-enameled, cast-iron cooking grates.
The Weber Spirit II E-210 also features an unlocking cart design, where you can store your grilling tools. Another remarkable feature is a foldable side table with a built-in hook, which lets you hang your cooking tools. There's also a fuel gauge and a warming rack.
This grill offers 450-square inches of cooking area, and the cast-iron cooking grates deliver 26,500 BTUs per hour.
Pros
Thanks to its compact design, this option can be adapted to a city building balcony or a more extensive patio or backyards.
It has cast-iron grates that have been coated with porcelain and, therefore, can distribute and retain heat evenly, allowing you to cook your food perfectly.
The model comes with six easily accessible tool hooks, so there is no need to move around when looking for kitchen tools.
It has sturdy wheels. So you can move this unit on the lawn or on a terrace.
Cons
If it is not maintained correctly, the bottom of the grid may begin to oxidize. Only a few users were affected by this problem.
The Char-Broil Performance 300 is an excellent alternative to the new electrical hot plates. It can be inserted into devices that can help you enjoy a healthy meal. Its useful features have placed it among the favorite gas grills of many customers.
If 'you're looking for a versatile grill, you can choose this option. It is available in elegant black color and looks like a piece of furniture. You can even put it away in the kitchen. This is made possible because the metal side shelves can be folded when not in use.
Though the cooking surface is not as big as other similar grills, it is equipped with 2 burners with a capacity of 24,000 BTU per hour. It is equipped with cast-iron grates covered with porcelain and a folding shelf made of the same material. Thanks to these structures, the heat spreads uniformly, and the food is cooked quickly and thoroughly.
You can check whether the temperature is suitable for cooking and adjust it with a temperature gauge mounted on the lid. The grill is electronically activated, so you do not have to worry about safety during this process. You can store propane tanks and accessories in the storage space.
Char-Broil holds a reputation for making wonderful products. The company has been in the business of grill systems since 1948. Their Performance 300 two-burner gas grill is a great choice if you engage in a lot of family and guest hangouts.
Besides its excellent design, this grill also comes at a pocket-friendly price. It is spacious and offers a reliable cooking performance. It features rust-resistant, porcelain-coated, cast iron grates.
The special grates ensure that your food doesn't stick and allow you an easy time cleaning the grill. What's more, Charbroil Performance 300 boasts a robust cooking performance with fast grilling.
Your guests won't have to wait too long.
Another feature worth mentioning is the push-button ignition system that allows for quick startups. Despite its great attributes, many users have pointed out that this grill is not as durable as you would expect from a grill of its class.
Nonetheless, it can stand the test of time if you manage it well. The grill also comes with a warranty, which you can claim if the grilling system malfunctions before the stipulated period.
Pros
This two-burner grill is convenient because the grill comes with a lid that you can use to protect it between uses.
The cooking space is 300 square inches wide made with cast iron grates coated with porcelain. A 100-inch square shelf is also included in the design.
A lid-mounted temperature gauge that is used for determining the amount of heat is built into the model design and is a welcomed addition for homeowners.
The grill itself is on four wheels. Two of the wheels can be locked so that the unit does not move unexpectedly.
Cons
In many cases, because of transportation issues, customers claimed to have received products with bent and or deformed parts. Few buyers have faced this problem.
Check prices and availability here
Monument Grills 14633
The Royal Gourmet Patio gas grill ranks third at a much lower price. It is an option for those who are more budget-oriented, but no way away from the great players of this game. For its price, it's one of the best grills on the market, gasoline or not. It has a very robust construction made of quality materials, with a small enough design to be easily transported and stored.
What distinguishes this grill the most is its size. Not only is it efficient in terms of cooking and roasting, but it also has a minimal design compared to other two-burner models. It has extendable (foldable) stainless steel tables that take advantage of the surrounding space. Once opened, they can replace a cutting board or any other surface on which you have to cook or store your food. This makes for an excellent patio grill.
When the tables are folded, the model can be adapted to any place, even on the smallest terrace, making it an excellent option for people living in small apartments.
If you are looking for a portable grill that can prepare a delicious dinner for your family, this model is for you. If you prefer something more significant and with more burners, consider models like Char-Broil Classic, which is still in this price category, but offers more burners and a higher consumption rate.
In terms of power, this grill is quite impressive for its size, judging by the numbers. It can produce about 24,000 BTU/ hour, which is sufficient for any type of cooking. Both burners can withstand high and reach very high temperatures in a short time thanks to the unique feeding system.
This also makes this grill much more economical than others in its price range and will not drain the propane cylinder as fast as the others, which gives it a slight advantage in terms of savings.
Pros
This model comes at a meager and affordable price, so almost anybody can buy it and indeed, anybody can use it.
The unit is designed to have a Sturdy and robust construction with powder-coated panels and stainless steel components; it is sure to last long.
The thermometer is incorporated in stainless steel to show the temperature rating of the grill when in use.
It has two folding shelves which can be used as a cutting board or a kitchen table.
Cons
Not big enough to be used for cooking for big parties
BTU output may not be enough for some people
Char-Broil 463632320 is our fourth option, but that does not mean that it is not a top product (only top products made this list). It has 2 stainless steel tube burners poted on top of the grill, this makes it a healthy alternative to a new electric burner. They are designed to last and can regulate the temperature better.
This grill has a cooking surface of 253 square inches, but the food will be well-cooked thanks to the porcelain-covered cast-iron grates. It emits 18,000 BTU of heat per hour, and the 2 burners help distribute the heat evenly on the grates, so you don't have to wait long for the food to be cooked.
Char-Broil comes with a handy, easily adjustable 120-inch stand. This addition is covered with porcelain for faster heating and better cooking. Another advantage is that the side shelves can be folded so that the shelf can be stored almost anywhere.
The ignition system is Surefire Electronic and produces safe sparks for each burner. Besides, the item can be easily converted from liquid propane to natural gas with a conversion kit sold separately.
The signature Char-Broil looks good and presents innovative features. Also, the price is affordable, depending on what it offers. Free shipping included.
Pros
This alternative offers no less than 325 square inches of porcelain lined iron bars so you can use them when preparing food for your friends or family.
It also includes folding side shelves. You can use them as a work surface when baking and fold them when storing the appliance.
This option has a particular type of ignition system that gives users a reliable spark all the time, which is a benefit for many owners.
For convenience, this unit can be used with a natural gas conversion kit that can convert propane into natural gas. The equipment is not included in the offer.
Cons
The gas conversion kit is not included in the product; People interested in using it will have to buy it separately.
Permasteel PG-A40201-RD
This Master Cook unit emits 32,000 BTU of heat per hour suitable for fast cooking, promising a unique experience in temperature control and balanced cooking.
Its integrated piezoelectric ignition system allows you always to be ready to grill perfect dishes.
There are many reasons why it is considered a very well built product. It has a stainless steel lid with a thermometer mounted in the center.
You also get folding tables with black powder coating and a stainless steel control panel mounted on the front. The chimney is also covered with porcelain, which makes it more resistant, while the black pivot and heavy wheels increase the versatility of the model.
It has a stainless steel lid with black covers and stainless steel handles. And, of course, we cannot forget the heart of the grill, which is two incredible stainless steel burners.
This indeed leads to an exceptional culinary experience.
Pros
Very fast and efficient. It can produce up to 32000 BTU which can be used to cook food faster without worrying about pars of the food getting overcooked or burnt while other parts are not well cooked because the heat is evenly distributed.
It has a very durable and sturdy construction.
Cons
It has no cover, which makes it vulnerable and a bit difficult to transport. It must be assembled, which also takes a long time.
Check prices and availability here
If you have limited space and have no plans to travel with your grill, the Weber Q3200 can be a perfect 2-burner gas grill for you. Introduced to the market in 2006, the Q3200 weighs about 83 pounds.
That means it's not a great choice if you're looking for something you can bring with you on your travels.  Nonetheless, it offers you indirect cooking abilities and as much space as a small, conventional gas grill. The grill is space-efficient, making it easy to store.
While it is not very portable, the Q3200 is a great compromise between a large, fully equipped grill and small, traditional grill. The size makes it ideal for tailgaters and apartment dwellers. One of the two burners runs around the edges of the grilling surface.
The other burner cuts across the middle. The layout ensures the grill gets enough power to heat 393 square inches of cooking area. Likewise, the power ensures the grill is hot enough to grill steaks while allowing for a lot of versatility in your grilling.
The Q3200 grill comes equipped with a hose and regulator to connect it to a 20-pound propane tank. It delivers 21,700 BTUs of cooking power. For the price, the design of the Q3200 is an excellent grill. It is a basic unit grill, ideal for someone who loves grilling small meals in a small space.
Tips for buying two burner gas grill
With a good quality two-burner gas grill, you can rest assured you'll enjoy mouthwatering food throughout the year. You won't have to wait for barbecue season to start making your favorite grilled foods. Two-burner gas grills are usually convenient, adaptable, and portable.
You can easily move them around and use them on the deck or patio. What's more, you can bring these kinds of grills to your camping, picnic, tailgating, or any other outdoor activity. There are many different brands and models of two-burner gas grills on the market.
One should follow almost the same rules as with all gas grills, with small exceptions that I will mention in detail below.
Budget – First define your budget, as the price of a two-burner grill might differ a lot depending on the brand. Are you looking for a decent, high-quality grill or rather a satisfying option at a low price.
Size – Most of the time 2 burner gas grills aren't big, but it's still a good idea to pay attention to the size. The cooking area in different models might differ by as many as a few dozen percent.
Mobility – You don't have much space in the backyard, you live in an apartment with a balcony/terrace, or maybe you travel a lot? Depending on the situation, you can find the adequate grill type by looking at the mobile features.
Features – In most cases, you can forget about large numbers of interesting features. A two-burner gas grill is usually a simple construction created for those less demanding and with a smaller budget. It's a good idea to check out the most renowned brands that offer a lot of separately sold accessories.
Warranty – It's a good idea to check out what is covered by the warranty, especially when it comes to less expensive grills. Those are more prone to manufacturing flaws, malfunctions etc., so it's better to get properly protected. It's also a good idea to consider a multiple-year warranty if you have a bigger budget and are looking for a solid two-burner grill.
People always have questions to ask about things they just finished reading about, and on most occasions, these questions are similar or the same. SO we have compiled a list of the common questions people ask about 2 burner gas grills
Where can you buy the products?
All of these grills available here can be purchased through an online store such as www.amazon.com. You should also be aware that prices may vary for each product because of the shipping rate in your area, and it is not a manufacturing problem.
Is it possible that a grill is flameless and smoke-free?
Yes, and many of these products are designed to be flameless. The feature that allows it is the patented design of the positioning of the components. Some products are designed that underside of the cooking grate, as well as ironing accessory, has a channel which the heating element hid under the grate.
With this, there will be heat transfer from the component to the cooking surface to prevent heat loss and also improve efficiency. Smoke and flames are always the results of exposed heating elements. Therefore, when the part is hidden, it is possible to avoid smoke and flames.
What is the best way to clean a grill?
To effectively clean all grill systems, simply moisten the paper towel you want to use and get a pair of thongs. It is crucial to clean shortly after using the grill when the entire system is still hot. Clean the paper towel along the surface of the rack to remove any food debris. For deep cleaning, you can remove the iron and wash alongside other dishes. Also, you can remove the lid and wash it with the grater or griddle.
But You 'don't have to do it frequently. The procedure can be performed after about 10 to 15 uses of the grill system. This will make the system new and sparkly, even if you have been using it for years. However, the trays must be washed after each use, to have it clean for the next grill.
Can the grill be used indoors?
Some grids may be used for internal and external purposes, and others are strictly for external use. So, how do you identify them? UL Listed Grids (registered trademark that supports product security) may be used for internal and external purposes. However, those who do not have these stickers are primarily intended for outdoor use.
Related: Best Gas Grills Under $500
Joost Nusselder, the founder of Lakeside Smokers is a content marketer, dad and loves trying out new food with BBQ Smoking (& Japanese food!) at the heart of his passion, and together with his team he's been creating in-depth blog articles since 2016 to help loyal readers with recipes and cooking tips.