I love creating free content full of tips for my readers, you. I don't accept paid sponsorships, my opinion is my own, but if you find my recommendations helpful and you end up buying something you like through one of my links, I could earn a commission at no extra cost to you.
Learn more
No tanks to refill, and no need to worry whether you'll run out of gas halfway through your barbeque! Just grilling – the way you like it.
There are loads of reasons to love natural gas grills. Besides the convenience of gas-on-tap, it's also one of the cheapest forms of fuel.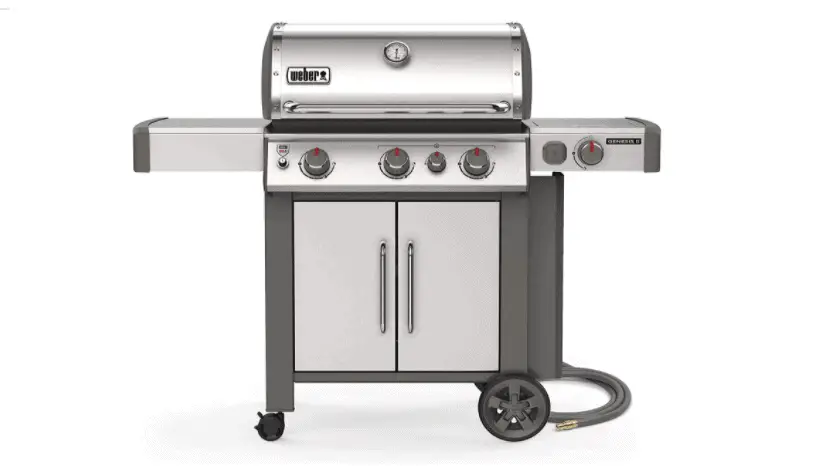 So if you don't need to move your grill around much, a natural gas grill could be just the thing you need to be the best BBQ master on the block!
Because they're built to last, natural gas grills do cost a little more than propane ones. But that doesn't mean you won't find one in your budget.
If you're looking for a great natural gas grill that ticks all the boxes, then my recommendation is always the Weber Spirit II E-310 NG because it has everything you need to grill at the highest level without the frills. Plus it has a 10-year warranty.
I have three other grills that are in my top four. If you're looking for the best option available for you, take a look at my recommendations below to help you choose.
Tips for buying a natural gas grill
With such a big variety on the market, how do you narrow down the options to something that really suits your budget and your needs?
There are four things that I always identify when I'm choosing a natural gas grill:
Budget
Sadly, natural gas grills cost more than their propane gas counterparts. This is due to the plumbing of the gas pipes inside the grill, and other features that don't come with propane grills.
Set your budget before you shop, and only look at the ones you can afford.
If you decide you can't get a quality grill with the features you want within your price range, try looking at good propane grill options instead.
Number of burners
I always say that the minimum number of burners in a stationary grill should be three, although I'll accept two if it's in a much smaller model.
Three burners give you the ability to create three different heat zones, providing for more options when cooking different foods at the same time.
Limited in space and looking for a small grill though? Check out these Best Two Burner Gas Grills
Size
This is completely up to your individual preferences. You need to think about how much food you cook, and for how many people. Don't buy a grill that is too small!
I believe that all three burner versions have a "universal size" which provides enough space for most occasions.
Features
If you've got a flexible budget, an extra burner is always a good additional feature to look for.
I always recommend a sear burner as the best option. It gives you the ability to get great sear marks on your meat without much effort.
Other dedicated burners you could look for would be a side burner, and a smoker burner plus smoke box for wood chips. This means you can add some smokey flavors to your food, too.
The 4 best natural gas grills reviewed
These are, in my opinion, four of the best natural gas grills on the market today. I'm sure that one of them will turn out to be perfect for you and your needs.
Best natural gas grill overall: Weber Spirit II E-310 NG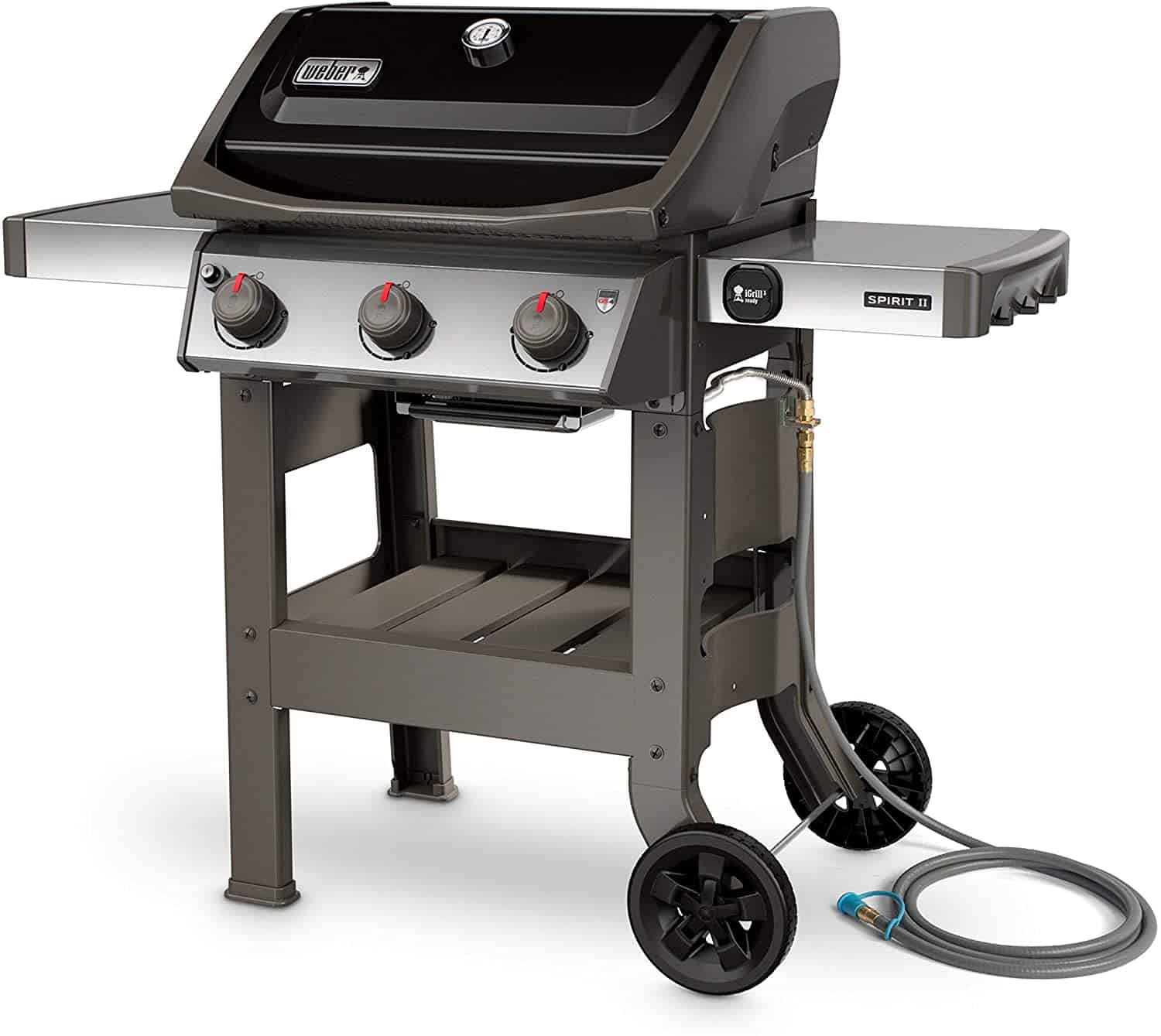 A universal size, three burners, functional construction, high quality of workmanship, solid warranty, and a great price. This is why the Weber Spirit II E-310 is my top pick for the best overall natural gas grill.
While it's not the cheapest at first glance, it's the best 'bang for your buck'. It is a simple model that comes complete with all the functional elements you would expect.
The open construction offers a lot of space under the grill, with two large side shelves for working space and hooks for your BBQ accessories.
Under the lid, you will find 429 square inches of cooking area – enough for most people doing everyday cooking. It comes with three burners which is the recommended minimum number for this size.
Creating different heat zones is a huge advantage that I make use of a lot while also grilling different kinds of food.
This grill doesn't come with any fancy features, but it has everything you need to be able to grill at the highest level.
And if you want to go a step further for more precision grilling, you can get a separate iGrill3 (a Bluetooth BBQ thermometer), which is compatible with this model.
If you'd rather pick your own Bluetooth thermometer, check out my extensive review of the best Bluetooth thermometers here.
It makes it possible to monitor the cooking process on the screen of your mobile device.
You can also decide to go with the Amazon Expert Assembly, but it's really not that hard to put this grill together.
Watch this no-nonsense assembly video to get you on the right track:
This grill also comes with a great manufacturer's warranty – 10 years. That's pretty impressive!
Pros
Budget: Not the cheapest natural gas grill, but you will get the most 'bang for your buck' with this one
Burners: Three solid burners
Size: 429 square inches of cooking area
Features: While it's not exactly an 'added' feature, the 10-year warranty shows how much the manufacturers believe in this model and its quality. I would say this is actually a really valuable 'feature'.
Wanting to test your new grill right away? How about making a delicious Beef and Pork Chili on a Natural Gas BBQ?
Best mid-range natural gas grill: Weber Genesis II E-335 NG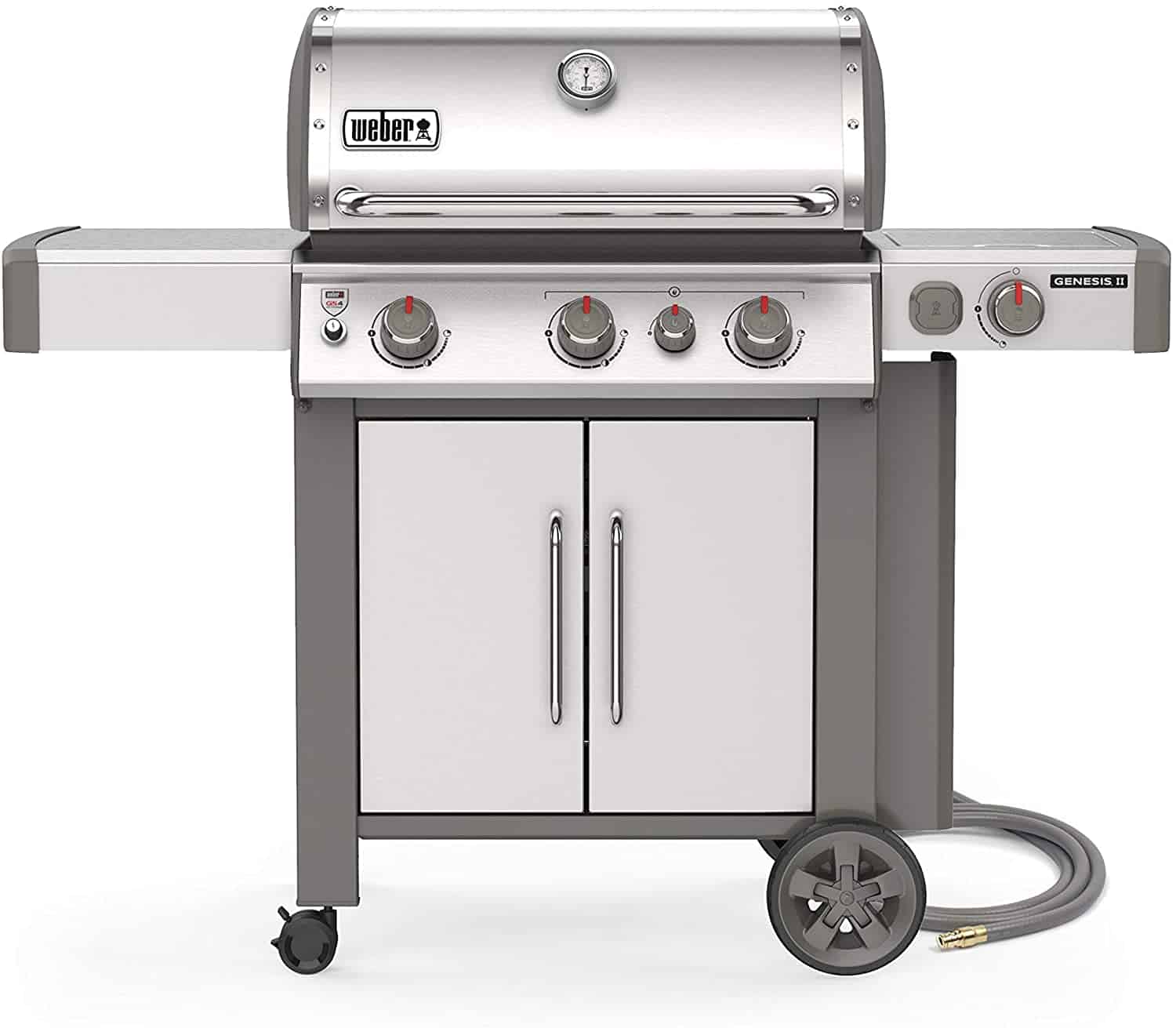 In terms of efficiency and quality it is a similarly high level to the Spirit II series, but with a few more interesting features added and a slightly bigger cooking area – about 20%.
The Genesis II E-335 natural gas grill also costs a bit more – but it might be worth stretching your budget if you need the extra cooking space! Plus there are 2 additional burners.
At 513 square inches, the main cooking area is generous. It's the perfect capacity for a bigger family and more than enough for smaller family reunions.
It comes with three main burners, but due to a larger cooking area, their power has been increased to provide greater effectiveness of heating.
What sets the Genesis II series apart from the competitors' offerings is the increased functionality thanks to the two extra dedicated burners.
The sear burner makes it possible to easily and quickly get perfect sear marks on the surface of meat or veggies, while the side burner is useful to heat up sauces or prepare any other added meal options.
See all the features of this Weber grill model showcased here:
The solid structure, on top of its looks, also amazes with its functionality. Large, folding side shelves offer a whole lot of workspace, while the hooks and the space underneath the grill give you a lot of room to store your accessories.
A definite upside is the cabinet style design so your mess is hidden behind doors, and attention to details like the steel lid handle. Of course, this model is also compatible with the separately sold iGrill 3 Bluetooth thermometer.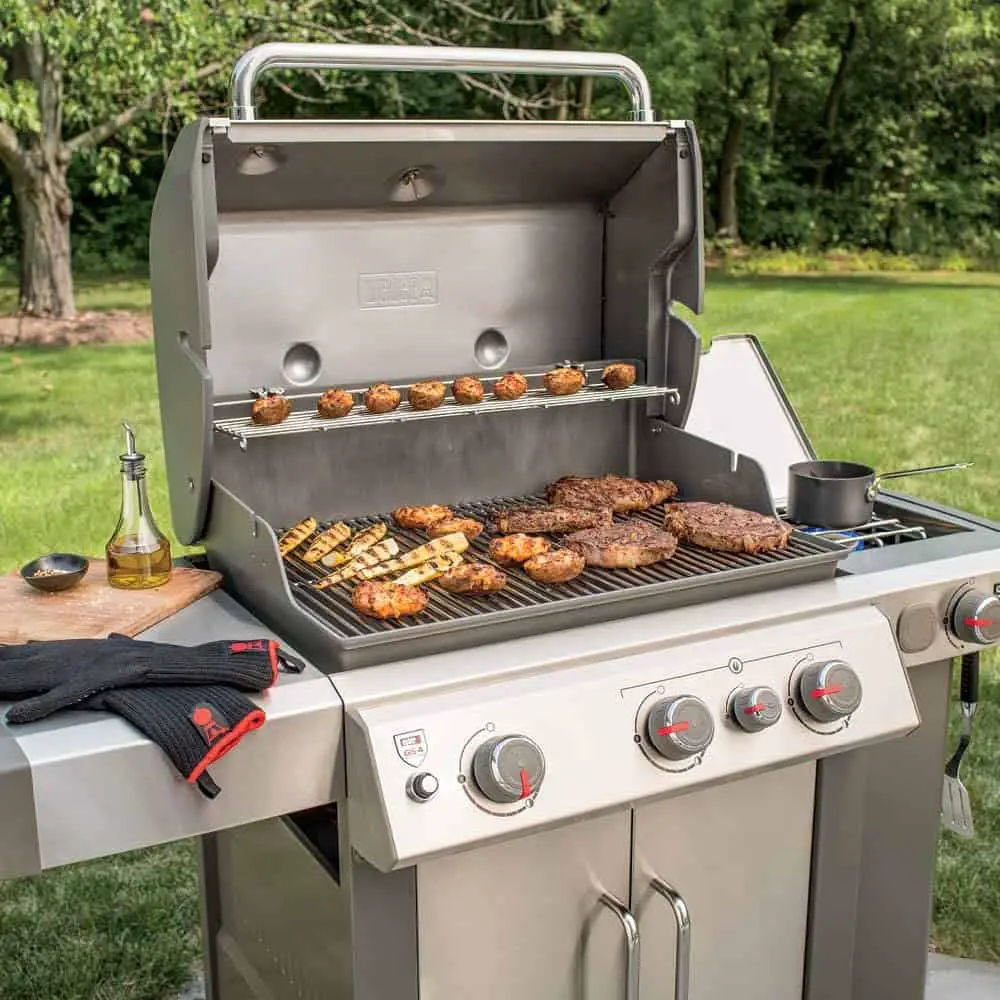 Weber Genesis II E-335 NG is a functional, efficient, and solidly built grill, but includes options for those seeking additional features that increase versatility.
If you have any doubts regarding the quality of workmanship then just a reminder of the 10 year warranty you get with Weber products that should set your mind at ease.
Pros
Burners: Three main burners, plus 2 additional ones
Size: Main cooking area is 513 square inches
Features: A sear burner and a side burner, plus a lot of workspace, hooks, and cabinet style design, 10 year warranty
Cons
Budget: This grill comes in on the more expensive side of things, but if you're looking for the extra features, it's worth the investment.
Not sure if the Weber Spirit of the Genesis is right for you? I compare them even more in-depth here: Weber Spirit vs Genesis: Ultimate Battle
The Coyote S-Series Grill is all stainless steel, parts of it are welded by hand and are seamless, and it is 700 square inches large – big enough to feed a restaurant of hungry people!
This is one for the griller who wants/needs ALL of the features and accessories – including an Infrared rotisserie.
Coyote spared no expense when making the S-Series grills. This grill will stand outside through rain and snow and will hardly show signs of wear and tear.
The attention to detail is faultless. I love the way the burners turn on and off, and the construction of the cooking top. This is a grill that any professional griller would be happy to work with.
The burners are fantastic. There are two Coyote Infinity burners, one Coyote Rapidsear Infrared burner, and one Coyote Infrared rear burner. Plus you get the rotisserie function and smoker box.
See them in action here in this extensive video review:
An extra useful feature is the set of lights so that you can keep an eye on your food if you're cooking at night. I also admire the ingenuity of the grill shelf which allows you to keep your food warm without cooking it further.
This one's a definite winner if you can afford it.
Pros
Size: Main cooking area is 700 square inches
Features: Rotisserie, smoker box, extra lights, additional grill shelf for food warming,
Cons
Number of burners: Two Coyote Infinity burners, one Coyote Rapidsear Infrared burner, and one Coyote Infrared rear burner. While these are all fantastic burners, plus the additional rotisserie option, an extra Infinity burner would have pushed this grill to the next level. For a lower price, the Weber Genesis II E-335 NG (at #2) has three main burners plus two featured side burners.
Budget: The price of this one is very steep! But for the professional who is looking for excellent quality plus all the top-notch features, it's definitely worth considering
Check prices and availability here
Looking for more High End Gas Grills? Find my top 10 reviewed here
Most versatile natural gas grill: Weber Summit S-470 NG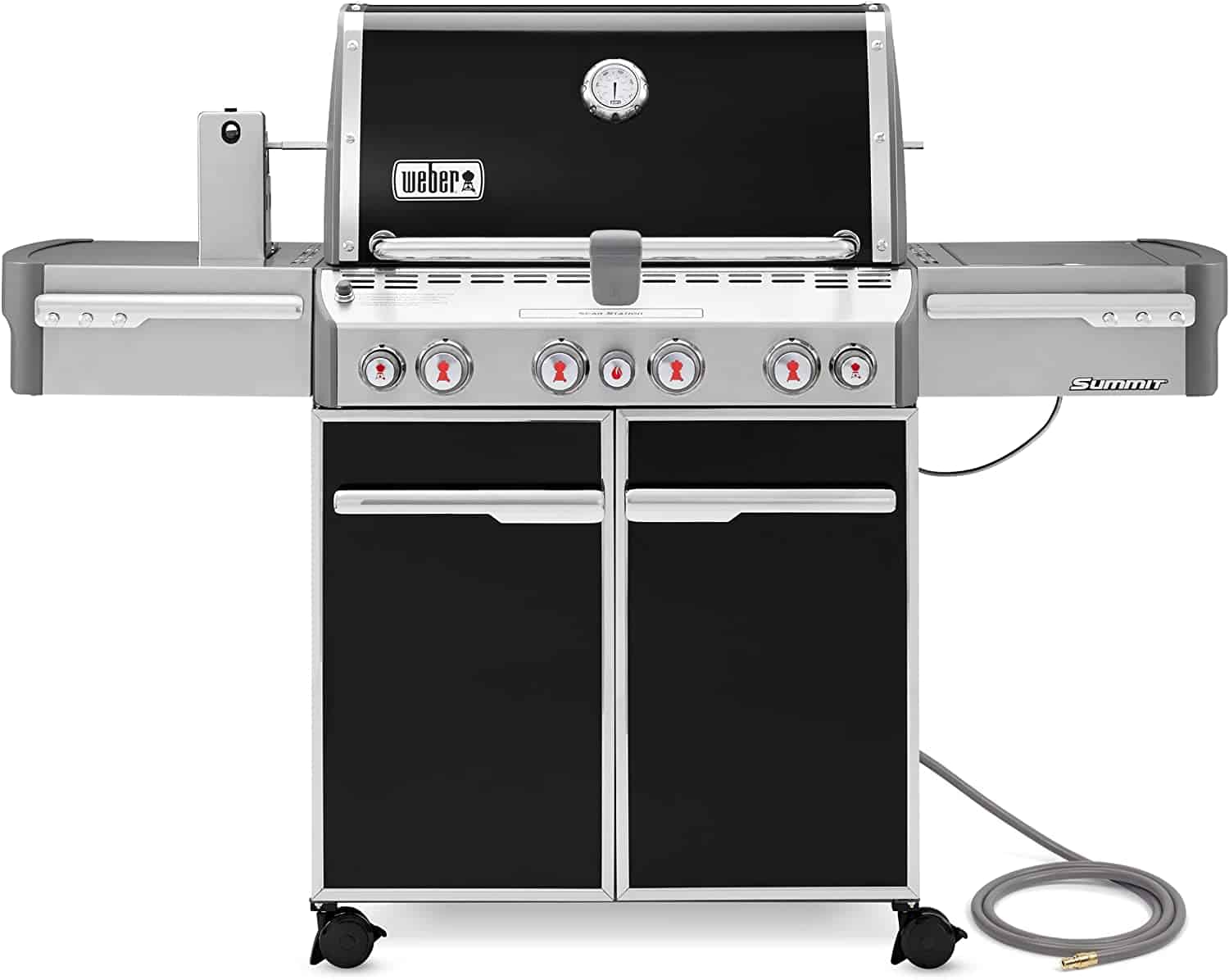 The Weber Summit S-470 is the most expensive grill I've reviewed, but as you'll see, there are good reasons for its price. And if you can afford it, I'm sure it will meet all of your needs!
On top of its solidly built and durable construction, the Weber Summit S-470 is characterized by the best features and gadgets on the market.
It's the option for those who love to experiment and play around when grilling, creating all sorts of different effects with their food.
This is not just a simple grill where you turn on the burners, place the meat on the grate and you're done.
Together with the four main burners, you have four extra burners to choose from! Each one has a completely different purpose.
Get the perfect sear marks with the sear burner, prep your BBQ sauce on the side burner which is hidden in one of the side shelves, and enrich the food's flavor using the smoker burner to warm up wood chips in the smoker box, generating smoke.
And don't forget the rotisserie!
Here's BBQ & Bottles giving you a full rundown of this grill:
I am really impressed by the style and attention to detail in the build-quality of this model, and it obviously also come with a 10-year warranty, like all Weber grills.
The Summit series is a very versatile and solidly built unit that will provide you with a lot of cooking space and interesting features.
You could say that it is a luxurious grill considering the price, but this is an option for experienced people who will make full use of the features offered by this model, and to them, it's worth it.
Pros
Number of burners: Four main burners plus four extra burners
Size: 580 square inches of total cooking area
Features: Two work surfaces, one grill-out handle light, six tool hooks, tuck-away rotisserie system with flip-up motor, sear burner, side burner, smoker box, 10-year warranty
Cons
Budget: This is the most expensive grill on my top four list, but it really does have some top-notch features. While it's more expensive than my fourth option below, it does have four burners plus an extra four featured burners – what more could you want?!
FAQs natural gas grills vs. propane grills
As you may already know, not all gas grills are the same. They divide into two types of fuel – propane and natural gas.
Check out the upsides and downsides of both types carefully so that you can make an informed choice of the right grill for your type of cooking, and the environment that you cook in.
Is natural gas cheaper than propane?
If you can hook up to a local supplier of natural gas then you'll pay much lower prices than having to buy separate propane tanks.
This becomes even more cost-effective and convenient if you already have an operational natural gas line installed.
Which is more dangerous – natural gas or propane?
Propane is heavier than air so if it is released, it will sink to the ground. This means that it is more of a risk for a dangerous explosion.
Natural gas floats up into the atmosphere when it is released so it disperses more quickly, lowering the chance of an explosion.
Will I ever run out of natural gas?
Using natural gas means you don't have to worry about refilling the tank every couple of months, especially if you cook a lot and have a big grill.
It requires effort to visit the propane tank refilling station, with petrol and time being used to get the tank filled.
Not having to worry about the amount of fuel you have means you get more convenience but at the expense of mobility.
You can move your propane gas tank, but your natural gas comes from wherever it was installed, so that's where your grill has to go.
Can I use propane and natural gas with the same grill?
Definitely not. The two are not interchangeable. Each fuel source requires special gas fittings.
When is natural gas preferable to propane?
A natural gas grill is a great solution if you cook a lot, especially when your grill has a large number of burners.
However, its lack of mobility means that it is an option for people who want a big stationary grill.
Read next: Keep your BBQ clean & protected with this top 5 best grill covers
Joost Nusselder, the founder of Lakeside Smokers is a content marketer, dad and loves trying out new food with BBQ Smoking (& Japanese food!) at the heart of his passion, and together with his team he's been creating in-depth blog articles since 2016 to help loyal readers with recipes and cooking tips.