I love creating free content full of tips for my readers, you. I don't accept paid sponsorships, my opinion is my own, but if you find my recommendations helpful and you end up buying something you like through one of my links, I could earn a commission at no extra cost to you.
Learn more
If you're looking for a grill that has 3000 years of history to back up its top-notch quality and versatility, then the Kamado grill is exactly what you need!
These charcoal-fueled ceramic grills are excellent for both grilling AND smoking due to their phenomenal insulation. Plus, with the right care and maintenance, they last a lifetime.
They make great smokers, roasters, pizza and bread ovens, or paella and tandoori cooking, as well as grilling of hamburgers, steaks, or wings.
It is hard to believe, but these are all things a ceramic Kamado is great at, all while giving a very intense smoky flavor.

As you'll see below, the Kamado Joe Classic II is my absolute favorite ceramic grill. It has all the essentials at a comparable price to that of the Big Green Egg (which doesn't come with as many accessories). It is my top pick as I don't believe its quality and features can be matched for that kind of price.
There are others options as well though, for if you are looking to spend a bit less, or take your Kamado grill on the road. Have a look at my top 3 below.
In this post we'll cover:
What is a Kamado grill?
The history of Kamado grills dates back as far as 3000 years. Originally, Kamado grills come from China and Japan, but similar ones can also be found in India.
This type of grill is known under different names around the world, but they are all essentially referring to the same thing.
There are two key features of Kamado grills:
They are made of fireproof materials such as terracotta, clay, cement, or ceramics
They offer incredible insulation – so grillers can maintain a consistent internal temperature
Today the Kamado grill is known under many other names such as Kamado cooker, ceramic smoker, or Big Green Egg, but it all refers to the same thing.
The best Kamado grill is made from ceramic materials, and that's what I'd recommend to anyone who wants to buy one. There are steel grills available too, but they aren't as durable as the ceramic ones, and their insulation is definitely poorer.
Steel or aluminum Kamado grills are still fairly good quality though and are a good option for beginner grillers with a limited budget.
Tips for buying a new Kamado grill
Buying a new Kamado grill is an investment into your grilling and smoking future.
They don't come cheap, but they are definitely built to last and will give you years of grilling pleasure if you look after them carefully.
If you're in the market for a new Kamado grill, there are five things I always tell BBQ enthusiasts to look at to help them narrow down their choices:
Budget
It is one of the few types of grills where the price range is diverse. Plan your budget and only look at the ones you can afford to buy.
Construction material
Analyze the upsides and downsides of the two most popular materials Kamados are made of – ceramics and steel. Decide which material suits your needs best.
Size
For their price and size of the construction, the Kamado doesn't offer that much space – the exceptions are the models with multi-level cooking systems.
Remember that the bigger the size, the higher the price. Mobility is also limited.
Features
Pay attention to whether the Kamado you're interested in comes with all the essential accessories.
Some manufacturers sell Kamados without the basic elements, which at first glance looks great due to the lower price. But once you've added all of the extras the price might be much higher than if you'd just bought it all at once.
Warranty
An integral element of every purchase, especially those where you spend a lot of money, is a good warranty.
Even the best manufacturer can make a mistake, which is why you should investigate what the warranty covers, and for how long.
See how an Electric smoker compares to a Kamado grill, do you go for ease of use or versatility and real smoke flavor?
The 3 best Kamado grills reviewed
In the reviews below, I've shared three of my favorite options of Kamado grill, and the reasons they are in my top 3.
I hope this will help you identify your own needs and narrow down the right grill for you!
Best ceramic Kamado grill overall: Kamado Joe Classic II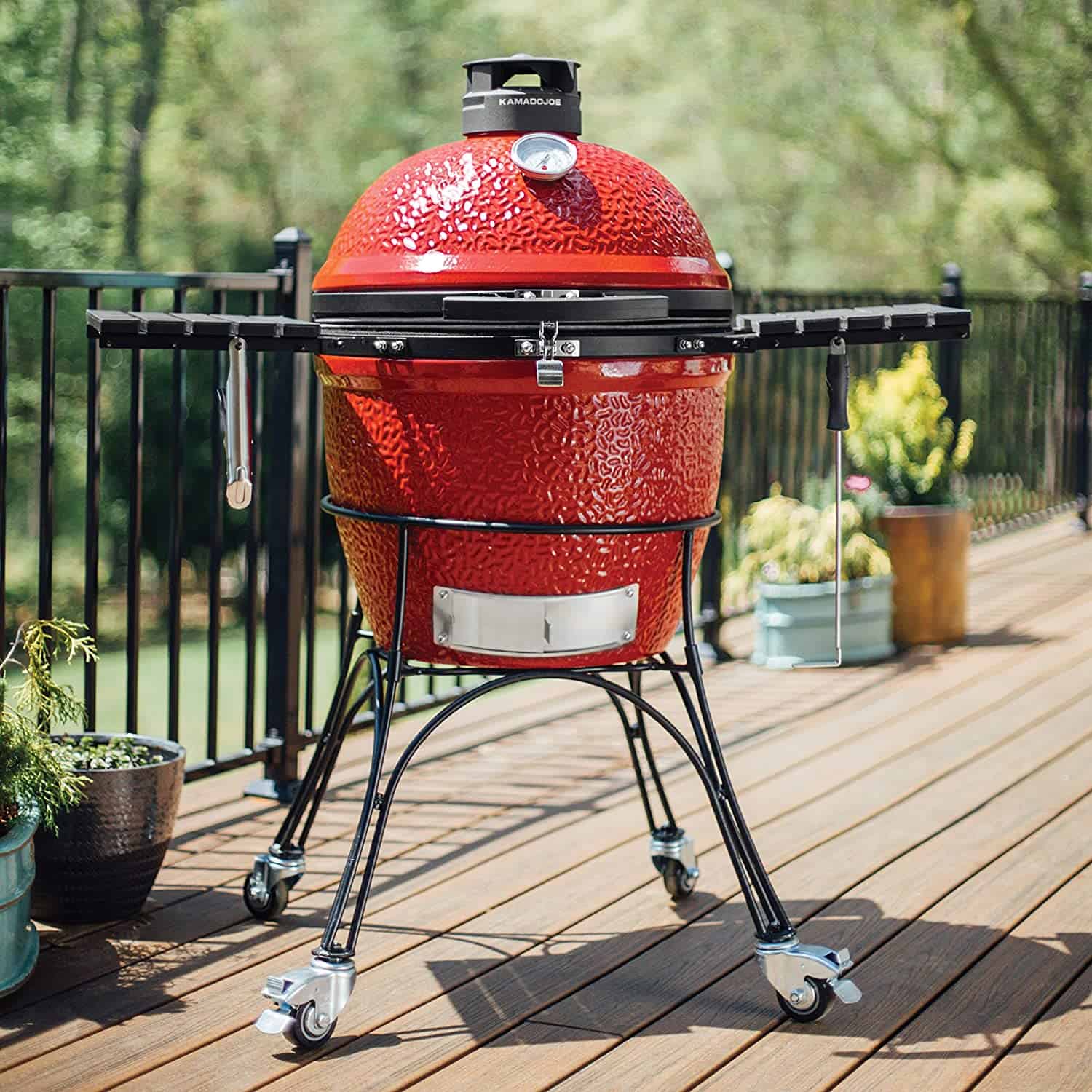 The Kamado Joe Classic II is such a great example of freshness and change that even loyal fans of the Big Green Egg are considering switching to the red Kamado grill.
It is a solidly built ceramic Kamado grill that is characterized by high-quality workmanship and innovation. The manufacturer, Kamado Joe, is a relatively new, yet valued, maker of modern ceramic grills.
Some advantages of the Kamado Joe Classic II include:
The air lift hinge is one of those innovative elements that put this grill on the map. You can open this grill with one finger, and never have to worry about the lid falling while you're working, either.
The split-grate cooking system increases versatility and makes it possible to create different zones, using them to cook different foods at the same time.
The redesigned top vent is made of better material (lighter and resistant to corrosion) and with better adjustment options.
The 6-part construction of the firebox eliminates cracks from forming.
The removable ash drawer makes cleaning a charcoal-fueled grill easy, convenient, and effective.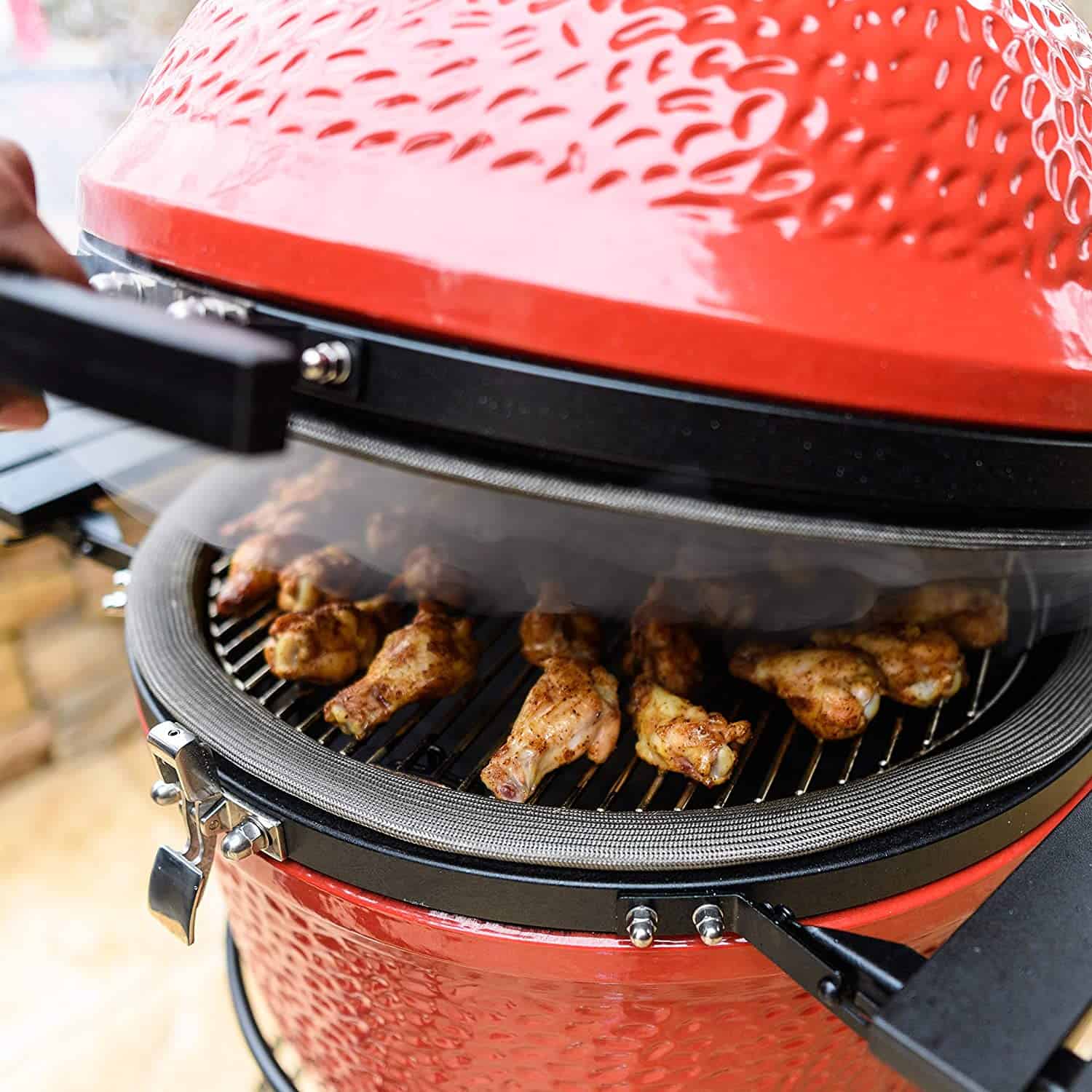 All the other elements such as the cast iron cart and wheels are made of high-quality materials.
Kamado Joe even focused on high-quality wire mesh fiberglass gaskets – characterized by better insulation and more importantly, better durability – so you won't have to replace those, either.
This is a fantastic piece of equipment, plus you get a lifetime warranty!
Also, when it comes to Kamado Joe you can expect a lot of separately sold accessories that improve the functionality and cooking convenience of your grill.
See the unboxing of a Kamado Joe Classic II here to know what to expect when ordering one:
The Kamado Joe Classic II is my absolute favorite ceramic grill. It has all the essentials at a comparable price to that of the Big Green Egg (which doesn't come with quite as many accessories).
Pros
Budget: This one is not cheap, but you get way more than what you pay for, and that's important
Construction material: Ceramic and Stainless Steel
Size: 26.4 x 26.4 x 36, 250lb
Features: Air-lift hinge; split-grate cooking system; fiberglass gaskets; ash drawer
Warranty: Lifetime warranty
Most budget-friendly Kamado grill: Char-Griller Akorn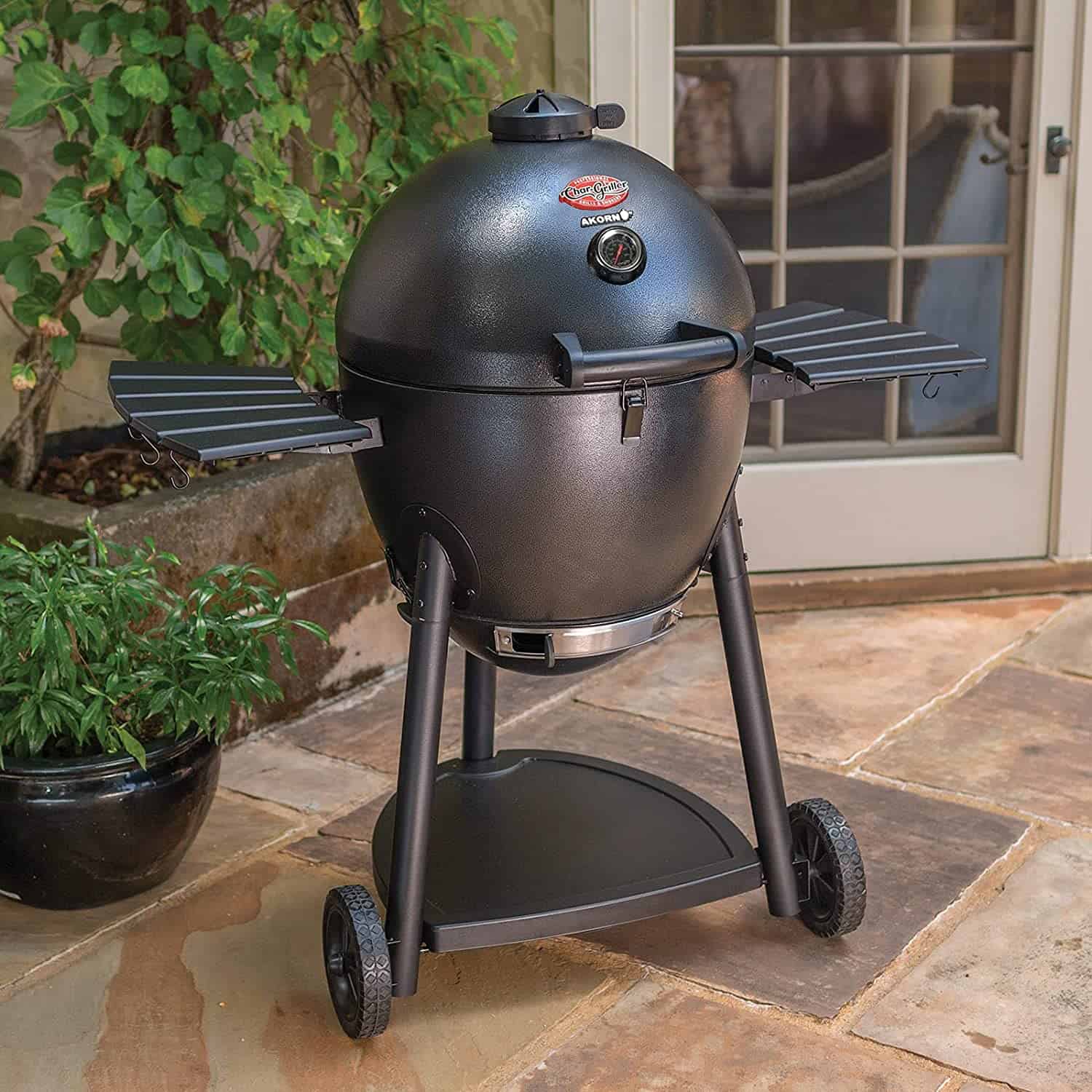 The Char-Griller Akorn is a steel Kamado grill. It looks just like every other Kamado, but it is made of steel which makes it much more budget-friendly.
However, this has its upsides and downsides.
Upsides: It is lighter, cheaper, and more mobile than a ceramic grill
Downsides: It doesn't offer as much insulation as ceramic grills, and is susceptible to corrosion eventually
The Char-Griller brand focuses on making grills that differ as little as possible from the ceramic Kamados but are ultimately a more budget-friendly product.
The Akorn is a well-built and solid grill, but it won't last a lifetime. The steel will eventually rust in the future.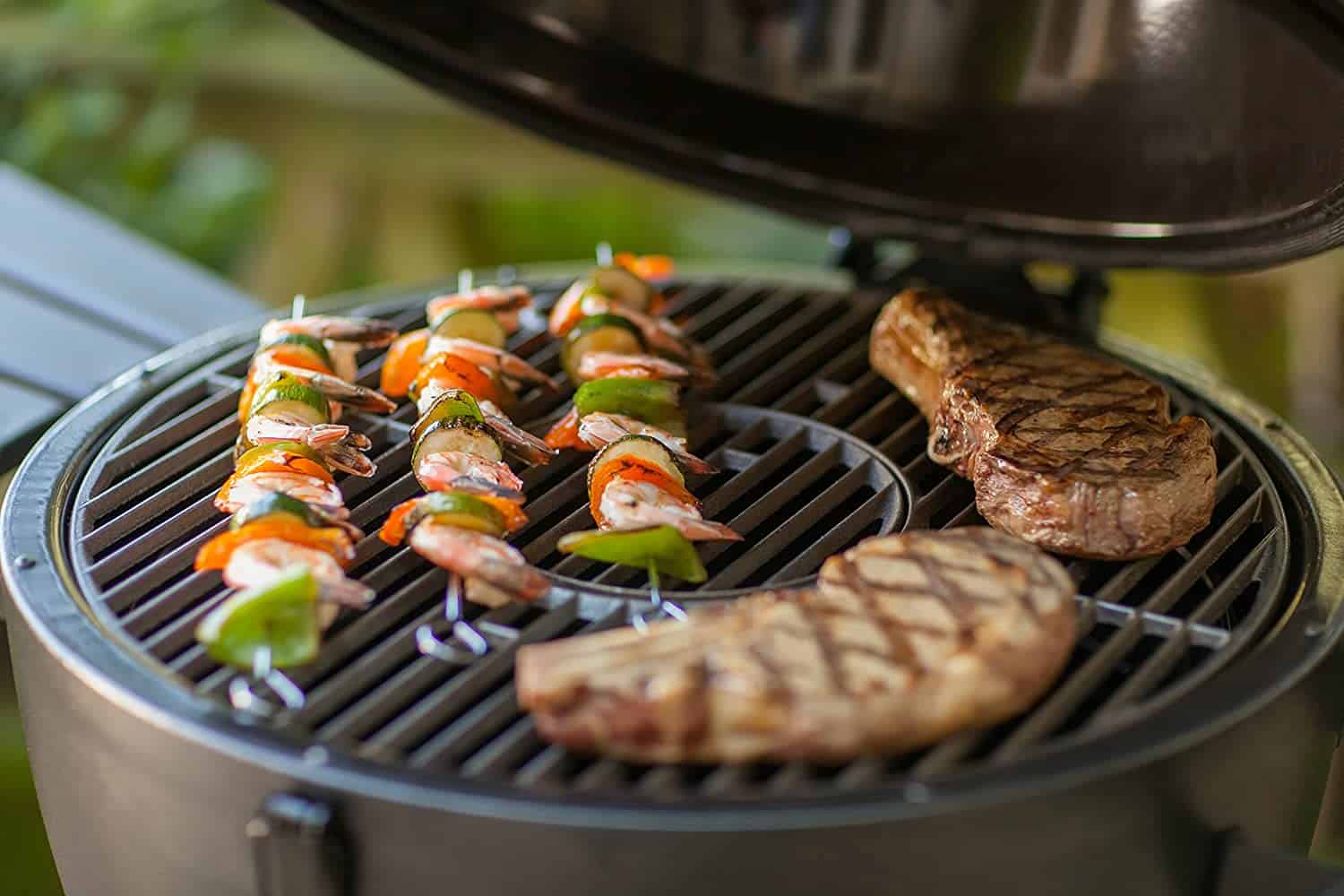 If you're looking for a Kamado-style grill that won't burn a hole in your pocket, then I believe that the Char-Griller Akorn will give you a lot of 'bang for your buck' and a good few years of grilling pleasure.
See how it holds up after about 3 years of use in this video:
The Char-Griller Akorn comes with all the necessary elements and accessories so you can start cooking right away without any additional costs.
Pros
Budget: Compared to ceramic grills, this is very budget-friendly, and will give you everything you need (for a limited period of time)
Size: 26.6 x 24.8 x 21.65 inches; 90 Pounds
Features: Light and mobile; folding side shelves; top and bottom dampers for temperature control
Cons
Construction material: Steel (this is not as durable as ceramic, but does lower the price of the grill substantially)
Warranty: one year/five years depending on parts (Ceramic grills often come with a lifetime warranty)
Best portable Kamado grill: Char-Griller Akorn Jr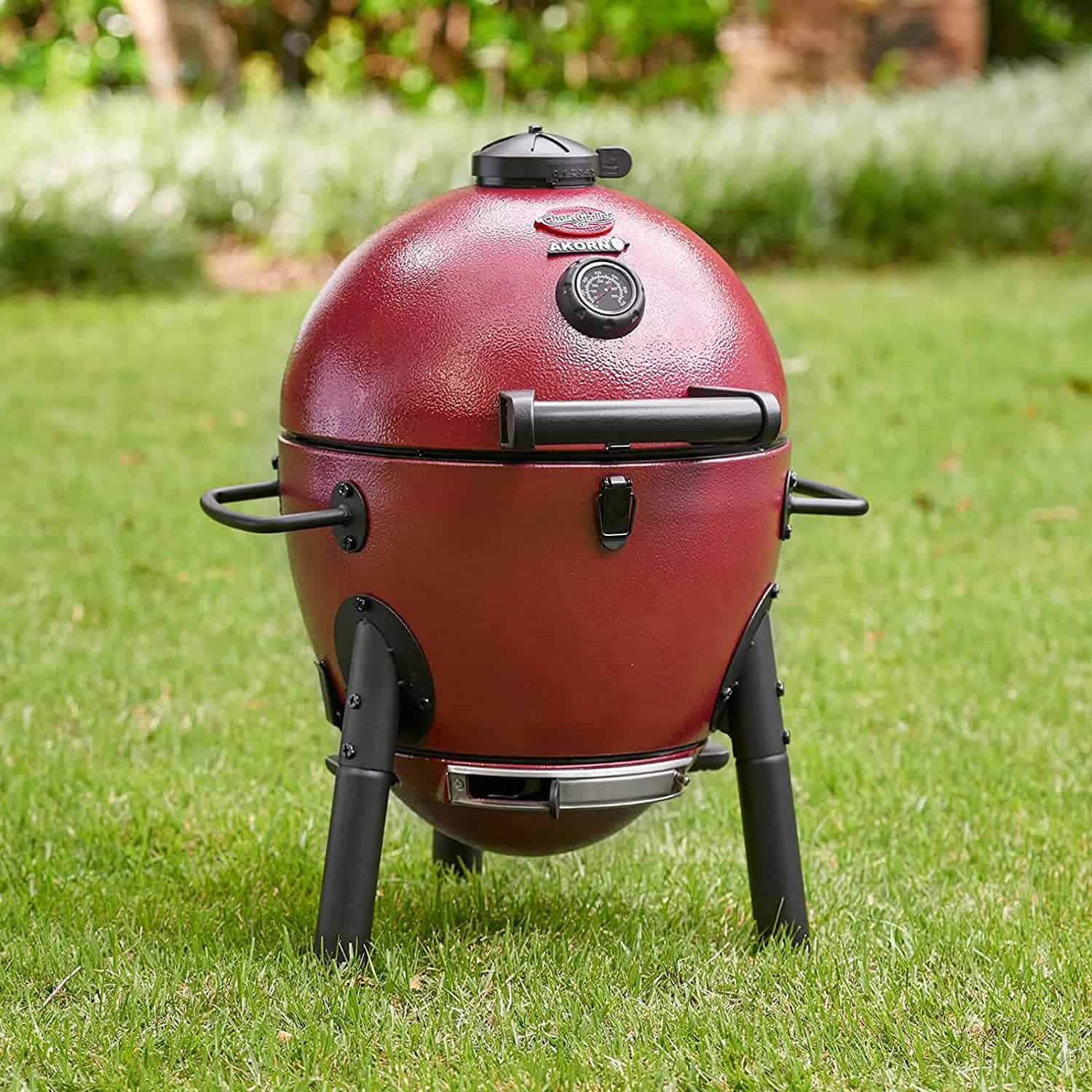 The Char Griller Akorn Jr. is a tiny Kamado that combines all of the best features of Kamado grills (ceramic durability & insulation) – into one affordable unit.
The small size makes it budget-friendly, while still giving you all of the benefits of a ceramic grill.
While the Char-Griller Akorn Jr. doesn't have much space under the lid, but it is more than enough to prepare food for a small family.
Thanks to its small size it can reach the required temperature very fast, and it also uses much fewer fuel thanks to its excellent insulation.
If you've never used a Kamado grill before, and you want to explore this method of cooking, then the Char Griller Akorn Jr. is the perfect option for you.
It doesn't cost much and allows you to feel what it's like to cook on this type of grill without spending a fortune.
For some inspiration, see how you smoke some delicious baby back ribs in this Kamado here:
Once you gain experience, you will know whether this is a cooking style for you and you can upgrade to a bigger option.
Despite the fact that this little grill doesn't come with a lot of added features, it will give you a great grilling and smoking experience.
Pros
Budget: Very budget-friendly for the type of grill
Construction material: Ceramic
Size: 20.5 x 21.5 x 25.3 inches; 37 Pounds – great for mobility!
Cons
Warranty: The Char-Griller brand offers a one year/five-year warranty depending on parts
Features: easy-dump ash pan; top and bottom dampers for temperature control; convenient handles for grilling on the go
Kamado grills FAQ's
Should I buy a ceramic or steel Kamado grill?
Each of those materials comes with plenty of upsides and downsides. Here are the key characteristics you need to weigh up in order to make the right choice:
Price
A steel Kamado is a perfect option for those with a limited budget or those who just want to try cooking on a Kamado without spending a fortune on a ceramic grill.
In doing so you will gain experience and know whether this type of grill is for you. If you enjoy it, then I would encourage you to upgrade to a ceramic Kamado which is more expensive, but far more durable and offers better insulation.
Weight and mobility
Ceramic models are very heavy. Steel models, on the other hand, are much lighter which makes them easy to move.
If you're looking for mobility, then you should look at a very small ceramic grill or a lighter-weight steel model.
Quality of workmanship
Ceramic grills are characterized by much better quality of workmanship, and they come with less separate elements than Kamados made almost entirely out of steel.
Durability and warranty
Steel models are much more resistant to mechanical damages and better for traveling, but their lifetime is poor because they rust.
Ceramics are 100% resistant to corrosion, but prone to cracking when dropped. That's why ceramics usually come with a lifetime warranty, where steel only gives you a few years at best.
What is the difference between a Kamado grill and a conventional grill?
There are a number of reasons I prefer a Kamado grill for certain applications. The way you cook with a Kamado is completely different to conventional grilling.
Here are some reasons I love cooking on a Kamado:
Flavor
A charcoal-fueled grill always wins in terms of flavor against all the other types of grills. What also matters in this case are air flow and insulation which gives the food an even better flavor.
Versatility
Kamado is phenomenal at grilling and smoking, but with all the available accessories it can also turn into a great pizza oven, bread oven, paella cooker and more.
Durability
This applies to ceramic models that are characterized by 100% resistance to corrosion, which in good hands makes a Kamado an investment for a lifetime.
Great insulation
There is no grill more airtight than a Kamado, especially the models made of ceramic. The insulating properties of Kamados are so good that I recommend them as the only grills to cook on during winter.
For more on grilling and smoking in colder temperatures, read: BBQ smoker danger zone | How cold is too cold?
Effectiveness
Great insulation means you hold in the heat. This requires less fuel to maintain the same temperature as in a regular charcoal smoker, which loses heat much faster due to poor insulation.
Low & slow or fast & hot
A Kamado grill is great at maintaining a fixed temperature over many hours or at achieving a very high temperature very quickly. That makes it great both at quick grilling and slow smoking.
Are there any downsides of Kamado grills I should know about?
There are a few factors that might make you reconsider purchasing a Kamado grill.
Price
A ceramic grill is among the most expensive type of grills. They can up to 10 times as much as a basic charcoal grill.
Temperature control and time
Beginners may have a lot of problems with temperature control.
Learning how to manipulate the air vents requires time and practice, just like getting the charcoal burning to achieving the right temperature.
Find my Top 7 Best BBQ Smokers for Beginners (+ Buying Tips) here
Sensitive to errors
Great insulation has its downsides. Reacting too aggressively might have a negative impact on the temperature. Too much charcoal results in temperature being too high.
You need to figure out how much charcoal is needed to achieve your desired temperature. All of that requires experience.
Weight
This applies mostly to ceramic models, which are very heavy. They're the kind of grill that should stay in one place as they're not easy to move around.
An alternative might be the steel models, or smaller ceramic ones like the Char-Griller Akorn Jr.
Takeaway
If you're reading this then you want to buy a grill. So the first question is "What kind of grill should you buy?"
If the answer is a Kamado, then the next question is "How far can you stretch your budget?" This will tell you what type of construction you need to look at.
Based on your answers, this review of the top three Kamado grills will help you identify a grill that works well for your needs and your budget.
Now you've selected the best grill for you, let's have a look at the Best Meats to Smoke
Joost Nusselder, the founder of Lakeside Smokers is a content marketer, dad and loves trying out new food with BBQ Smoking (& Japanese food!) at the heart of his passion, and together with his team he's been creating in-depth blog articles since 2016 to help loyal readers with recipes and cooking tips.