by Joost Nusselder
|
Last Updated: 
May 20, 2021
I love creating free content full of tips for my readers, you. I don't accept paid sponsorships, my opinion is my own, but if you find my recommendations helpful and you end up buying something you like through one of my links, I could earn a commission at no extra cost to you.
Learn more
What is a Kamado grill, and how does it differ from an electric smoker?
Well, there's a big difference between the two because they are two distinct cooking units. The electric smoker is a food smoker that runs on electricity. The Kamado is an insulated and egg-shaped charcoal grill and smoker hybrid usually made of ceramic material.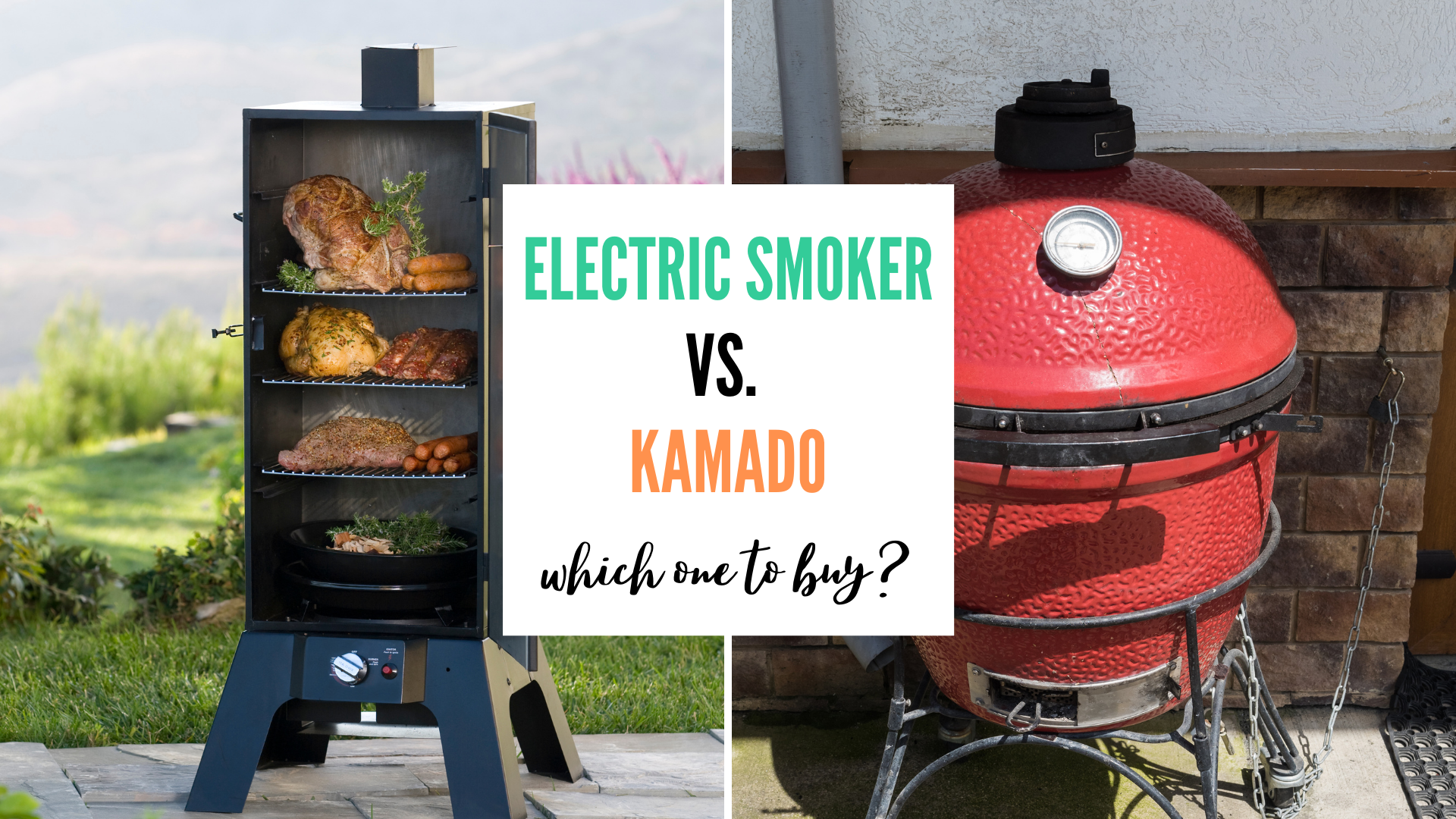 Both electric smokers and kamados can cook delicious foods like briskets, ribs, wings, cheese, fish, and more.
However, when it comes to flavor, the kamado delivers the type of smoky aroma you can only get with charcoal.
But, when it comes to convenience, it's hard to beat an electric smoker.
So, it's up to you what you want more of; convenience or flavor?
I am comparing the two smokers, and I will explain the pros and cons of each to help you make an informed decision before purchasing one.
What is an electric smoker, and how does it work?
An electric smoker is a vertical smoker that runs on electricity when connected to an outlet. It heats the meat with a large heating rod or heating element.
Most smokers then have a separate wood chip tray where you can add your favorite flavored wood chips to give the meat some smoky aroma.
A separate water pan is usually located at the bottom of the smoker, and adding water makes the food juicy and tender, so it's advantageous if you want to smoke big cuts of meat.
The electric smoker is the most beginner-friendly smoker out there because it's a kind of set-it-and-leave-it device.
Once it is set up, you can leave it to smoke for hours without worrying about the fluctuating temperature.
Why is an electric smoker good?
One of the many reasons people love their electric smokers is their overall fuel efficiency.
The "fuel" here refers to electricity, and it's cheaper than charcoal, propane, wood pellets, wood chunks, and gas.
If you like to smoke frequently, this type of set-it-and-leave-it smoker is hassle-free, cheap to operate, and has a decent cooking capacity.
Depending on the size of the unit, you can cook six or more whole chickens, briskets, ribs, seafood, cheese, or anything you like in one batch.
As well, many electric smokers can be used indoors, so they are handy if you live in an apartment and can't smoke outside.
But, for the best cooking experience, I recommend using your electric smoker outdoors on your patio. This way, you don't smoke up your house.
Using an electric unit is fairly easy because the smoker has a digital display and buttons so you can set the desired cooking time and temperature.
If the smoker also has a remote control or Bluetooth function, you can modify the temperature from a distance; thus, it's truly convenient.
Best electric smoker for everyday use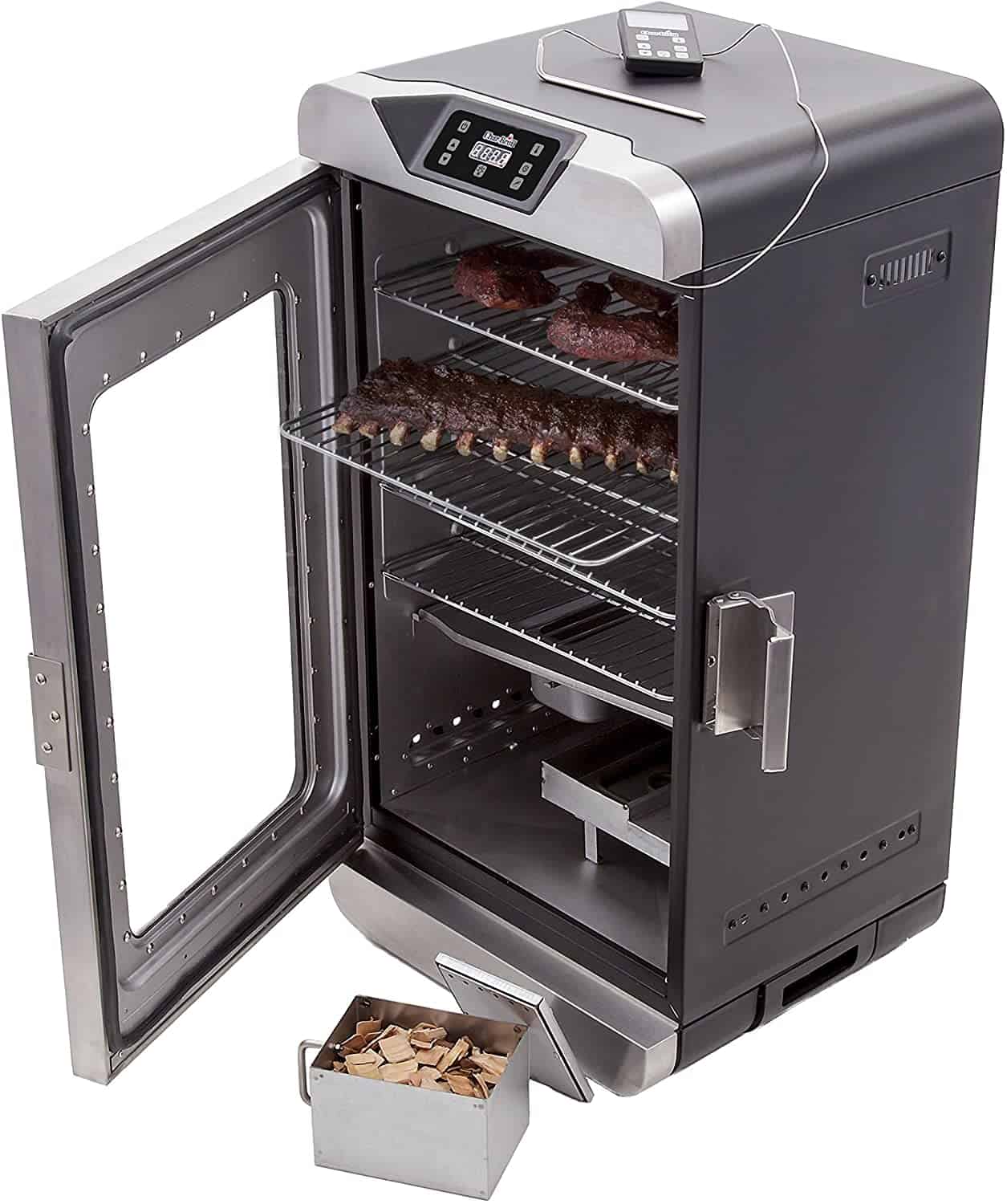 I recommend the Char-Broil 17202004 Digital Deluxe because it is budget-friendly and comes with a remote control so you can smoke from a distance.
This particular Char-Broil model is compact yet spacious enough for four racks of food. The racks are adjustable, so you can play around with the setup depending on what you're smoking.
See Forrest on Fire use this particular smoker preparing delicious brisket and ribs in this family-friendly video:
The pans and trays of the Char-Broil are dishwasher friendly, so if you hate cleaning up after cooking, you won't mind using this smoker.
I like this smoker because it has a glass door, so you can see the food smoking, which is something that kamado grills don't offer.
For more on electric smokers, check out my Complete electric smokers guide: how to choose 1, AND use your pick!
What is a Kamado grill?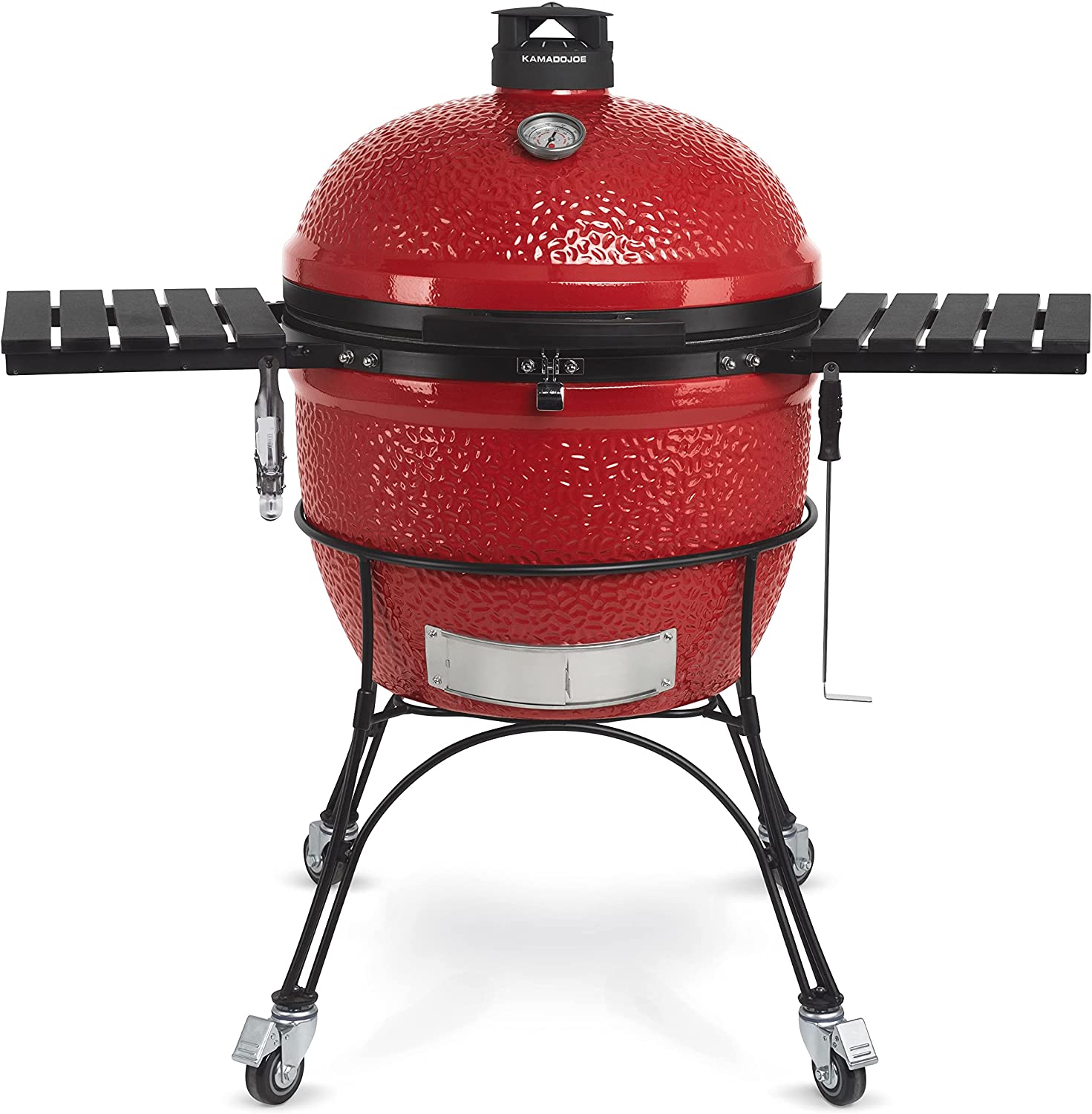 The history of the kamado grill goes back thousands of years, and it has been one of the best ways to cook food.
The design of this urn or egg-shaped grill originates about 3,000 years ago in Japan.
In short, a kamado grill refers to an egg-shaped unit with a hinged lid. It is spacious inside, and the airflow between the grates creates the perfect atmosphere for smoking and grilling.
The fuel source for kamado grills is lump charcoal.
Most kamado grills are made of a ceramic material, although steel and cast iron ones are popular too. They have very thick walls and efficient insulation.
Thus, they can hold both very high and very low temperatures. That's why they're considered ideal grills and smokers.
However, it takes some trial and error to get the hang of using Kamados. Controlling the temperatures is harder than with an electric smoker, but a charcoal grill is unbeatable when it comes to the smoky flavor.
Kamado grills vary greatly in price. Some, like the Char-Griller E06614 Charcoal Grill, are about $150, while the most famous Kamado grills, called (view more images), cost $2000.
Why are kamado grills good?
A lot of people rave about old-school kamado grills, and there's a good reason for it.
The most high-quality units are made of a durable and heavy-duty ceramic material. Therefore, this is the type of cooker that will last you for decades if you take care of it.
As well, due to its egg shape, this smoker radiates heat 360 degrees for even cooking. This also means it is a highly fuel-efficient cooking device, so you use less charcoal.
The thick material ensures that the grill can retain the heat, and it's very good at keeping both very high and very low temperatures.
A general conclusion is that kamado grills have top-notch insulation, which is almost incomparable to other types of grills and smokers.
Charcoal smokers are limited as to what you can cook, and electrics are for smoking only.
But kamados are versatile because you can grill, smoke, bake, roast, and even make pizza.
In fact, a kamado grill doubles as a pizza oven because the heat circulates throughout the cooking chamber, and the result is a pizza with a crispy crust and melted cheese on the top:
Best kamado grill for everyday use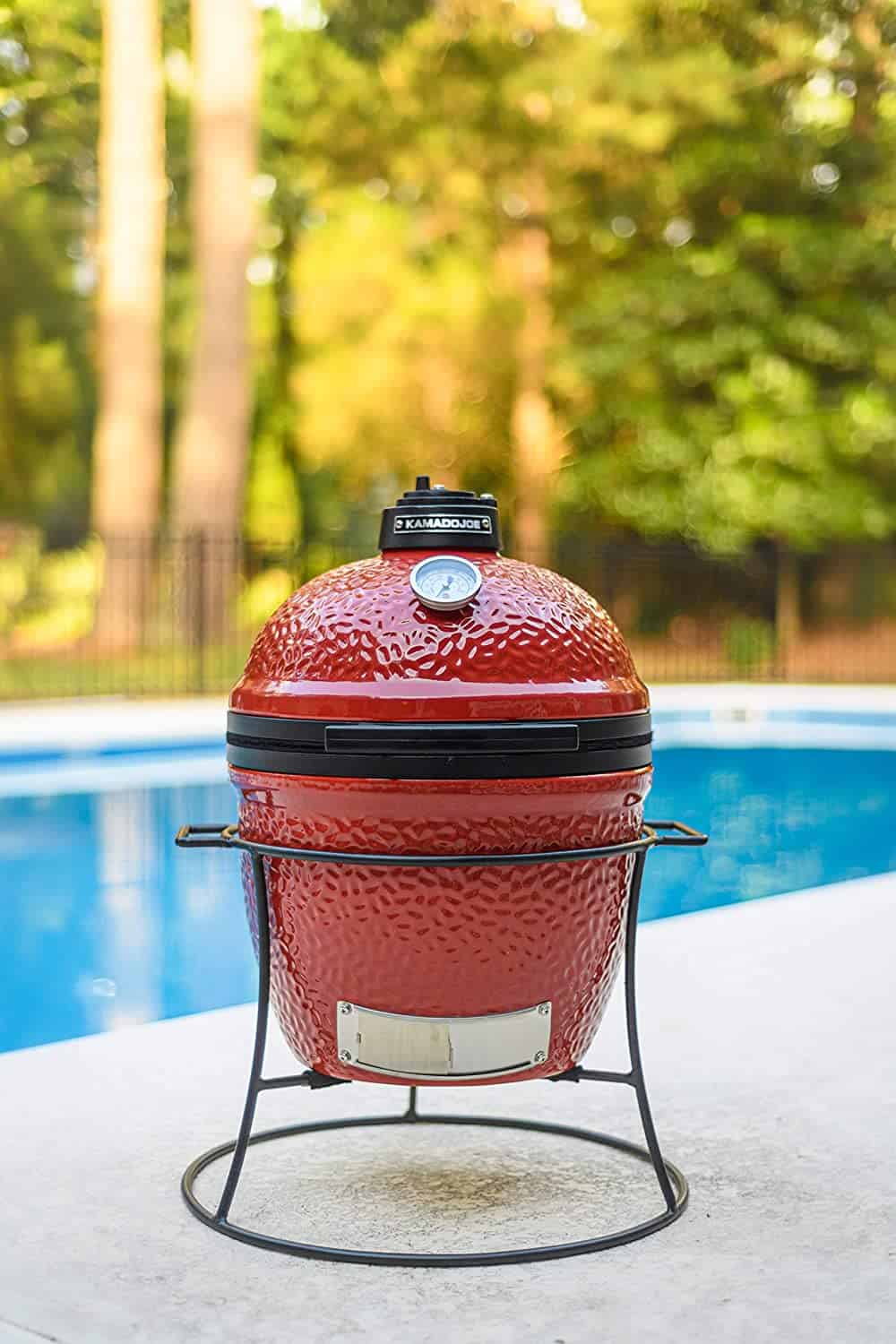 If you're just considering starting with a kamado grill, then a great option is an original Kamado Joe like the Kamado Joe KJ13RH Joe Jr Grill.
It's one of the smallest (68 lbs) in the Kamado Joe series, but it still has 148 sq. inch cooking space, which is great for entertaining and making family dinners.
What makes it stand out is that it's portable and great for camping or other outdoor activities and gatherings.
The grill has the classic, heavy-duty insulation that these grills are known for. It also has a built-in thermometer and a ceramic heat deflector which makes cooking a bit easier.
Since it has excellent heat retention properties, this unit is ideal for smoking too.
Although it's harder to use than an electric smoker, the natural wood-flavored food is going to impress everyone.
Ready for an upgraded Kamado grill? Check out my Blaze Aluminum Kamado Grill review!
How does the Kamado compare to an electric smoker?
Better flavor with the Kamado
First of all, let's talk about flavor. Most pitmasters will agree that nothing beats the flavor of a charcoal smoked piece of meat.
The Kamado definitely delivers on that front because the foods you cook with this egg-shaped unit are delicious and full of smoky flavor.
The electric smoker is electrically powered and not heated by charcoal or wood. Therefore, the wood chips that give the smoke aren't going to give the meat that intense smoky aroma of a Kamado.
So, with the electric smoker, you have to compromise a bit on flavor.
The bottom line is that the kamado grills give a superior smoke profile.
More convenience with the electric smoker
On the other hand, an electric smoker is so much easier to use and thus more convenient.
If you are a beginner smoker, it's going to be easier to learn to smoke with electric units.
The reason is that you simply set the temperature, put the meat on the grates, fill the water pan, add wood chips and then let the smoker do the work for many hours.
You don't have to keep checking to see if the temperature fluctuates too much.
With a charcoal smoker like kamado grills, the temperature still fluctuates, and you need to check on the food more often. You use a special deflector plate to change from the grill to the smoker function.
Plus more fuel-efficient
In terms of fuel efficiency, the electric smoker is the winner because electricity is cheaper than using lots of charcoal.
Even though kamado-style grills are pretty fuel efficient due to their heat retention properties, you still need lots of fuel for a long smoke.
Electric smoker vs Kamado: pros and cons
Kamado pros
Versatility: with a kamado, you can grill, broil, smoke, bake, roast, sear.
Once it reaches the correct temperature, the grill doesn't require much attention.
It's suitable for all skill levels. Pitmasters love to play around with the Kamado and create new recipes.
360 degrees of heat radiates inside the kamado.
Excellent heat retention as a result of great insulation.
Fuel efficient.
Can cook well in cold weather and rain.
The meat is moist and very smoky flavored.
Made of high-quality materials: usually ceramic, steel, or cast iron.
Lasts for decades, and it is durable.
Doesn't require lots of maintenance.
Come in different sizes with various cooking surfaces.
Usually portable.
Kamado cons
Expensive, especially the original Kamado Joe series.
Heavy and hard to move around.
Compared to an offset or electric smoker, the price is usually at least double.
The ceramic material can crack and break if left in winter weather without protection.
Also prone to breaking if the temperature gets too hot.
There are flashbacks if you open the lid too quickly while cooking because too much oxygen enters the cooking chamber.
Can only use lump charcoal with this grill.
Electric smoker pros
Beginner-friendly and easy to use.
Set it and leave it, so you don't have to monitor it constantly.
Come in a variety of sizes and prices.
Many are portable.
Easy to set up.
Some models work indoors.
Not a lot of maintenance required.
The temperature doesn't fluctuate.
Fuel efficient because electricity is cheaper than wood, charcoal, or gas.
Meat is moist and tender and still has a smoky flavor.
Electric smoker cons
Not versatile because you can only smoke, and you can't really grill, sear, bake, or roast.
Limited temperature range.
Some units are expensive.
Not all models are portable, and some are very bulky.
You have to season the smoker before using it.
Requires constant cleaning of the grease plates to avoid fires.
You have to use the smoker near an electrical outlet at all times.
The bottom line
Before you invest in a smoker, you should really think about what you need it to do for you.
If you only want to smoke, then an electric smoker is handy, easy to use, and cheap to operate. It helps you cook large batches of food for the whole family.
If you're craving the most succulent, fall-off-the-bone ribs with smoky flavor, then you might be better off buying a charcoal kamado grill.
After all, nothing can beat charcoal grills when it comes to versatility and flavor.
Read next: 5 best BBQ smoker brands | A complete buying guide