I love creating free content full of tips for my readers, you. I don't accept paid sponsorships, my opinion is my own, but if you find my recommendations helpful and you end up buying something you like through one of my links, I could earn a commission at no extra cost to you.
Learn more
The number of propane grills on the market is impressive, it is difficult to make a decision, which is why I have decided to prepare a guide for buyers that includes a lot of valuable tips.
In this guide, you will learn what to pay attention to when buying a new propane grill.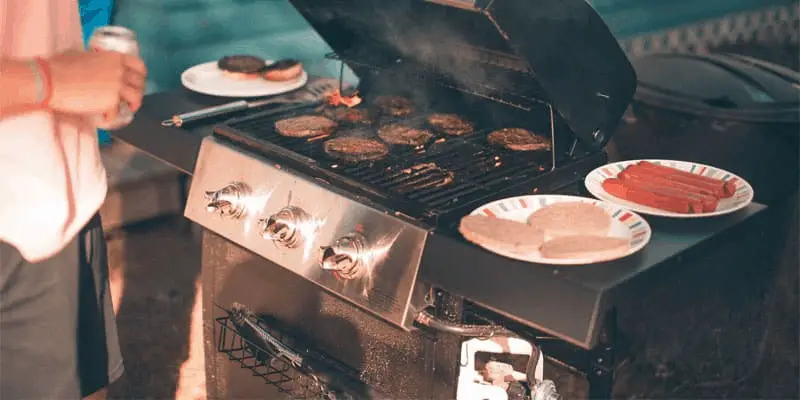 Convenience and speed are advantages that are hard to resist, but equally important are the quality of workmanship and efficiency.
The diversity of construction types, features, gadgets, etc. all cause the price range for propane grills to be very big, from around 100 dollars up to as much as a few thousand.
The best propane grill for you is one that fully suits your needs and fits within your budget. Each of us has different needs which is why I have prepared what I believe to be several best options for every occasion.
Here are my top five propane grills to check out, with the Weber Spirit II E-310 as my best overall choice. It comes with three burners, enough space, several useful features and it's available at a decent price. It is the best entry-level grill, great to start your grilling adventure with. 
You might be looking for a more premium option though, or something smaller or more portable. Don't worry, I've also got you covered.
Check out my top five favorite propane grills and read on to learn what makes exactly these so great.
Tips for buying a propane grill
Before we get to the nitty-gritty on each individual grill, I've narrowed down some of the things I look for when choosing a new grill for myself.
If you apply these basic checkpoints, you will end up getting the best grill for your needs, and you won't break the bank!
Budget
Defining your budget before you shop is the best way to narrow down the options and avoid looking at things that are way beyond your price point.
This means you'll only be looking at things you can actually buy, so you won't be tempted by features that don't exist in your price range.
Size
Analyze the space in your backyard or wherever you're planning to cook, as well as for how many people you want to cook.
Remember that the bigger the grill the higher the price, fuel consumption, and cleaning time, so it's better to match the size with your actual needs.
Number of burners
Another thing to consider is the number of burners you'll need. If you want a portable grill, you will have to settle for fewer burners.
On a stationary grill, I'd recommend at least three. This is the number that gives you cooking flexibility without too much space being taken up.
Obviously, if you're cooking for large numbers of people on a regular basis you may need more.
Features
The features you'll get on a grill are directly linked to the price-point of that grill. So, if your budget is limited then don't look for a grill with loads of additional features!
But if you can spend a bit more, some of the additional features on grills can be very useful – like Bluetooth thermometers. They could also save you money in the long run, because you won't need to buy them separately.
Mobility
If you're someone who travels with your grill then you're going to want something smaller and more portable so that moving it is easy. This could then double as your grill at home.
Rather looking for a portable charcoal grill? Find the 5 Best Portable Charcoal Grills reviewed here
The 5 best propane grills reviewed in-depth
As I've already mentioned, the available selection of propane grills is very large. For this reason, I've put together a list of the best grills in various price ranges to make your choice an easy one.
Best overall propane grill: Weber Spirit II E-310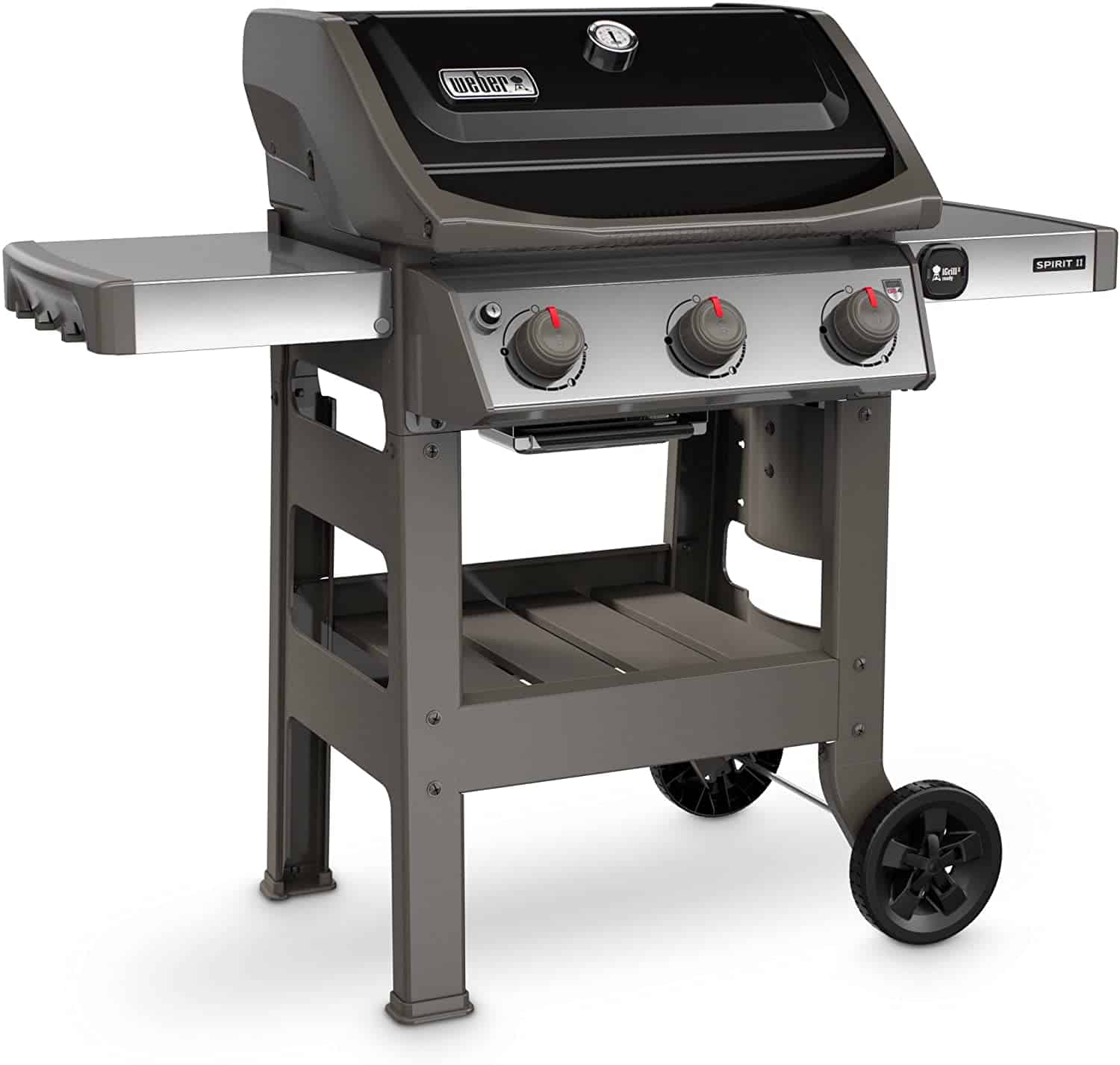 The Weber Spirit II E-310 is the grill I'd recommend for anyone who wants a solidly built, quality grill with features, but has a fairly limited budget. In my opinion, it is the best entry-level grill with useful additional features.
The three burners make it possible to create three independent heat zones, good for cooking different meats simultaneously or cooking meat on one side and vegetables on the other.
The universal size provides enough space for one or two people as well as for bigger groups – 424 square inches of the main cooking area is a lot of space.
The open construction will not be enjoyed by everyone, but this is the only drawback to a grill that has EVERYTHING else you could ask for at this price, including a 10-year warranty.
The shelving system does, however, give you a lot of space under the grill to store your things, including accessory hooks, large side shelves that provide working space, a built-in thermometer, a tank fuel level indicator, and so on.
See all its great features showcased by Richard Holden, one of the UK's top BBQ chefs, here:
The Spirit II series was created for those who demand quality and efficiency at the lowest possible price.
It doesn't come with extra (some may say unnecessary) gadgets, but it does have all the essentials for convenient grilling at the highest level.
Pros
Budget: The best entry-level grill with essential features
Size: 529 Square inches of cooking space over three burners. Left Table down width – 42 inches
Burners: 3 Burners
Mobility: The small size makes it fairly mobile for home use and ease of storage
Features: Six tool hooks, built-in lid thermometer, improved infinity ignition, burners, porcelain-enameled flavorizer bars, and grease management system
Cons
Design: The open construction without a storage option for the propane bottle may put some people off
Best large heavy-duty propane grill: Weber Genesis II E-335

If the Weber Spirit II E-310 is too simple for you and you expect more features, then the Genesis II series is a perfect choice.
It ensures just as much efficiency, but with an improved better quality of the finer elements, and plenty of interesting features that are worth paying extra for.
The Weber Genesis II E-335 is an option for experienced BBQ masters who have grilling running through their veins.
This one also comes with three burners, but with higher power because the cooking area is slightly bigger – 513 square inches. This grill has a cabinet-style storage area, which I prefer over the open cart style design.
It has a large storage space behind the door and comes with tool hooks. The big, solid wheels make it easy to move the grill to a different spot, too.
Weber has really gone to town on this grill finishing-wise, and their execution of minor elements such as the steel lid handle and other details needs praise.
The greatest advantage of this series, however, is the additional burners, which provide a lot of fun and enhance versatility. My favorite is the sear burner, which gives your food perfect sear marks.
See here for some great tips on how to cook the perfect steak on the Weber Spirit II:
The side burner is hidden under a cover on the side shelf and offers the same features as a gas stove burner, meaning that you can use it to prepare sauces or heat something up.
The Weber Genesis II E-335 is a very solidly built propane grill for pro grillers. It offers a lot of working space, high-quality burners, functional construction, and a lot of gadgets. It also comes with a 10-year warranty.
Pros
Size: Dimensions: Primary cooking area 513 square inches, tuck-away warming rack area 156 square inches
Burners: 3 Burners
Features: Side burner, sear station, built-in lid thermometer, propane fuel gauge, improved infinity ignition, burners, porcelain-enameled flavorizer bars, and grease management system, the grill cabinet adds enclosed storage space for all of your essential grilling tools and accessories,
Cons
Mobility: The larger size makes it heavier and less mobile
Budget: Due to the additional features, this is on the pricier side
Before you start to use your new grill, you need to season it. Find out how to season a grill here
Best budget propane grill for small spaces: Char-Broil Performance 300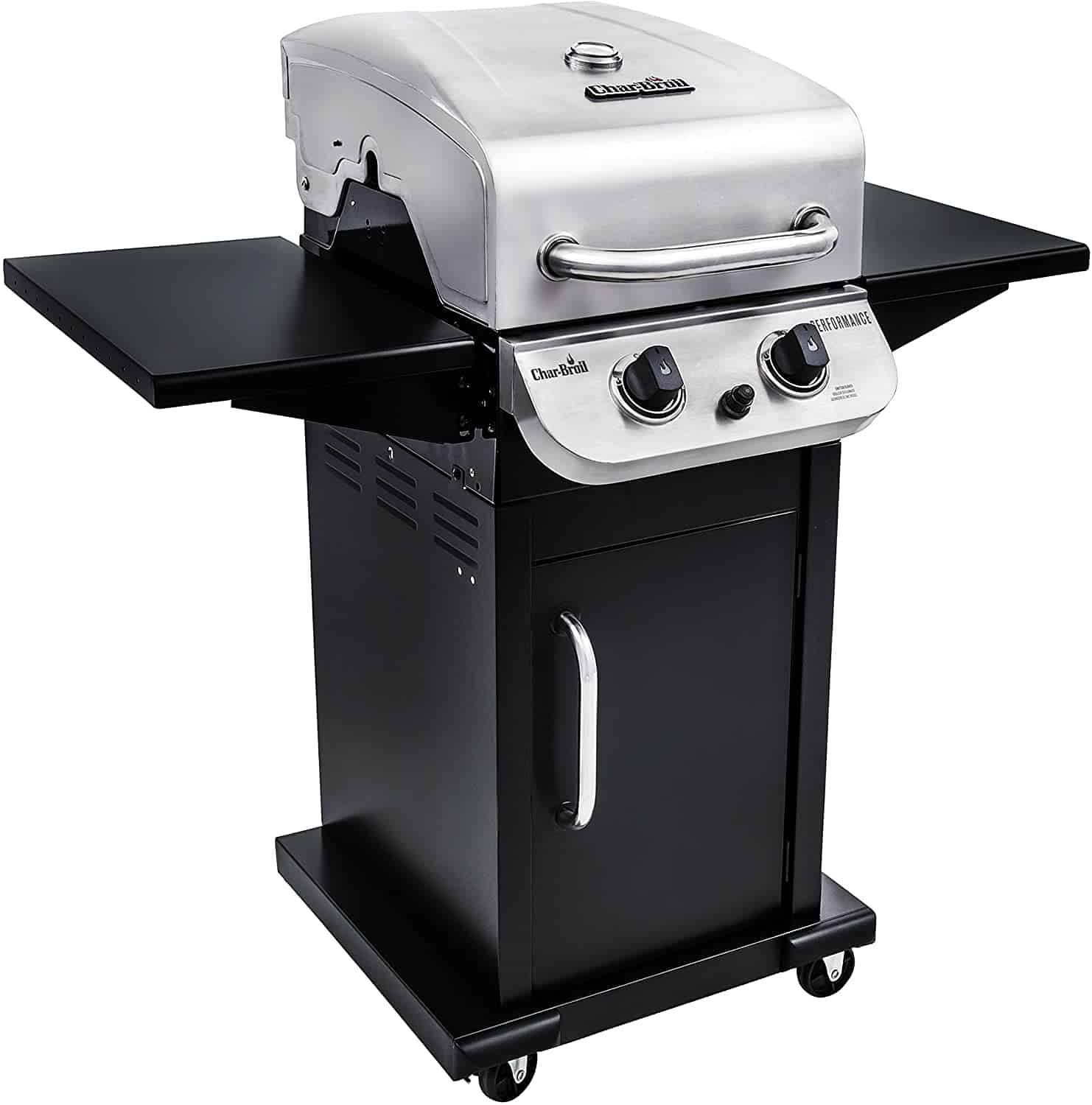 This is a solidly made grill from a company that is known for doing grills on the cheaper end of the spectrum. This grill is about as cheap as I would recommend you going, as, in my experience, anything less than this is not going to last.
The Char-Broil Performance 300 is the best option for those with a limited budget and/or those who don't cook for a lot of people.
There's no point in buying something bigger than this if you only cook for a couple of folks. It will save you some money as well as some space in the backyard.
It comes with two burners, but at 300 square inches of cooking area, it is more than enough.
I like the construction of this grill, and the cabinet style is better than having an open area under the grill, as you get a space to store your things without it looking messy.
What also stands out is the large side shelves, providing convenience and workspace.
The Performance 300 is a simple yet solidly built propane grill for a great price. Get one if your budget only extends this far.
Pros
Budget: Very affordable for what you get, and the quality of the product
Size: 24.5 x 42.9 x 44 inches
Burners: While there are only 2 burners, they offer 300 square inches of primary cooking on porcelain-coated cast iron grates, plus 100 square inch swing-away rack with porcelain-coated grates
Mobility: The small size makes it fairly mobile. While I wouldn't take it camping, it's easy to move around your home and to pack away into storage when not in use
Cons
Features: Because it's more budget-friendly, this grill doesn't come with a whole host of features, but the propane tank storage cabinet is a feature that makes it look very sleek.
Best luxury propane grill: Weber Summit S-470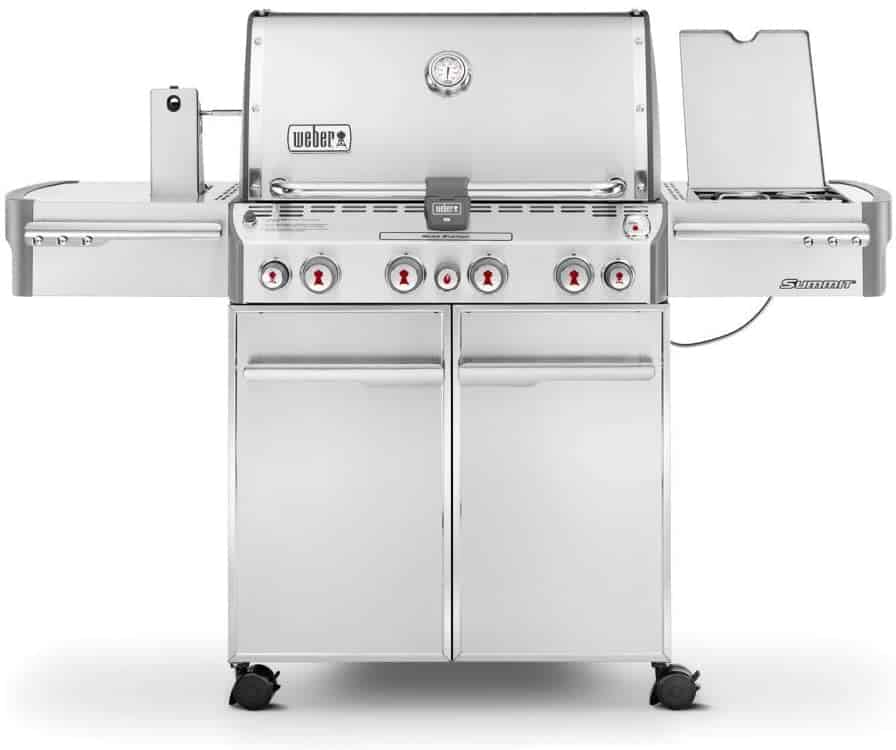 The Weber Summit S-470 is a high-end propane grill for experienced grilling enthusiasts.
The Summit Series was created for those with the most demanding expectations, which is why they're among the most expensive grills out there.
The Weber Summit S-470 is a high-quality functional grill. It comes with plenty of interesting cooking solutions that enhance the convenience and diversity of the food prepared.
On top of the four main burners, it also comes with as many as four additional burners. The Summit S-470 has a sear burner, a side burner, a smoker burner plus a smokebox, and an Infrared rear-mounted rotisserie burner.
These allow you to prepare a truly diverse menu by cooking food in many different ways.
See a full run-through of all its features here:
The construction of this propane grill comes with plenty of convenience in form of appliance hooks, large side shelves for workspace, and a large area behind the cabinet doors for storage.
Also worthy of appreciation is the functionality of the entire unit as well as the quality of workmanship.
It is simply a solidly built grill. This one's for you if you want the best, and are willing to pay for it.
Pros
Size: Primary cooking area 580-square-inches
Burners: 4 Burners
Features: Side burner, Sear Station burner, smoker burner, and a rear-mounted infrared rotisserie burner, enclosed cart, built-in thermometer, LED fuel gauge – LP models only, two stainless-steel work areas, a Grill Out light, six tool hooks
Cons
Mobility: The larger size makes it heavier and less mobile
Budget: This is one of the most expensive propane grills on the market, but it is high quality and has some great features
Also read: How to Clean a Weber Grill
Best portable propane grill: Weber Q2200

And now for the portable grill – which actually fits next to the Char-Broil Performance 300 when it comes to budget (they are almost the same price).
The Weber Q2200 is a versatile BBQ that is characterized by a great design which makes it very mobile.
It is a great stationary grill when you're at home, and a brilliant portable one for cooking away from home, like camping trips or tailgate parties!
This grill offers 280 square inches of cooking space, which is a fair amount for a stationary grill and a whole lot for cooking away from home.
It comes with only one burner – probably the only downside of this small grill. You will, however, be impressed with its efficiency. It has no problem reaching the right temperature fast.
The Weber Q2200 has gained huge popularity which can be seen from the host of positive reviews about its quality and functionality.
It is easy to damage a regular grill in transport, which is why the grill's structure is well designed. The grill's main body is made of cast aluminum, with the rest of the elements are just as solid.
All-in-all the construction is very durable, making it perfect for transport and outdoor adventure.
If you will mostly be using it at home, you can consider buying the Weber Q Portable Cart to put your grill up higher.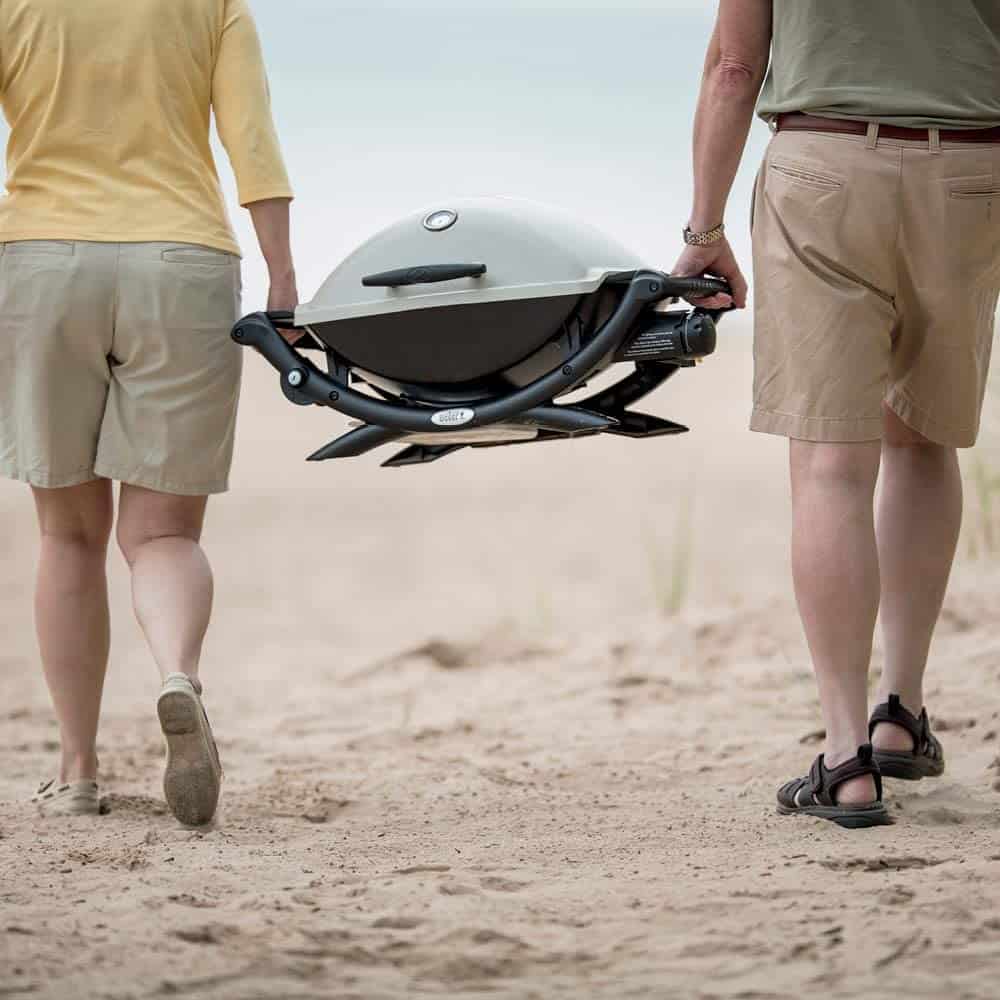 Get this if you need a movable propane grill!
Pros
Mobility: The small size makes this grill extremely portable. It's definitely one to take on camping trips or tailgate parties
Budget: This is one of the most budget-friendly, quality grills on the market
Features: Electronic ignition with built-in thermometer, two folding work tables
Cons
Size: Primary cooking area 280 square Inches
Burners: 1 burner
Frequently Asked Questions
Should I use propane or natural gas?
Gas grills can be divided into two types of fuel: propane and natural gas. Which of them is better? That depends on the situation.
Here's a list of the advantages and disadvantages of propane vs gas grills:
 
Propane
Natural gas
Source of fuel

Propane is available in tanks which means that it's easily transportable, but before each grilling session, you must make sure that you have enough gas in the tank.

A good solution is to buy a spare tank so that you avoid trouble halfway through cooking. 

When it comes to natural gas, you need the right installation that provides you with constant access to a natural gas pipeline. From the moment you plug into the natural gas line, you don't have to worry about whether you run out of gas while grilling.

Mobility

A stationary grill runs on propane from large tanks, but there are also mobile models that run on propane from smaller tanks. 

In both situations, it is a great solution in terms of mobility. You can easily bring a tank along wherever you like, especially a small tank when going on a trip or camping.

Natural gas eliminates any kind of mobility because the grill can only function when hooked into a gas line. 

The installation is permanent which is why the grill has to stay somewhere close enough to connect it.

Price

Propane costs more due to being charged for the tank or for refilling, plus having to drive to the propane retailer.

Natural gas, on the other hand, is delivered by local companies that have completely different prices – usually lower.
Bottom line: natural gas is a good option when you have a big backyard, a big built-in grill and you cook a lot.
Otherwise, there's no point setting up a gas installation just to cook on the grill once in a while. So, if you don't cook a lot and/or you don't have a gas installation at home, I'd stick to the propane option.
Using a BBQ Smoker on your Balcony? Watch out for these 10 things
Joost Nusselder, the founder of Lakeside Smokers is a content marketer, dad and loves trying out new food with BBQ Smoking (& Japanese food!) at the heart of his passion, and together with his team he's been creating in-depth blog articles since 2016 to help loyal readers with recipes and cooking tips.