I love creating free content full of tips for my readers, you. I don't accept paid sponsorships, my opinion is my own, but if you find my recommendations helpful and you end up buying something you like through one of my links, I could earn a commission at no extra cost to you.
Learn more
Outdoor cooking is fun, informal, and relaxing, and, with the invention of the grill basket, outdoor cooking has become easier than ever.
My favorite recipe for my grill basket is a delicious whole fish with an Asian twist. It's a huge hit with family and friends, and is also relatively healthy. This is something they won't expect, so be ready to impress.
In this article, I'll offer basic guidelines on getting the most out of your grill basket and 7 simple but tasty recipes like this one to get you started.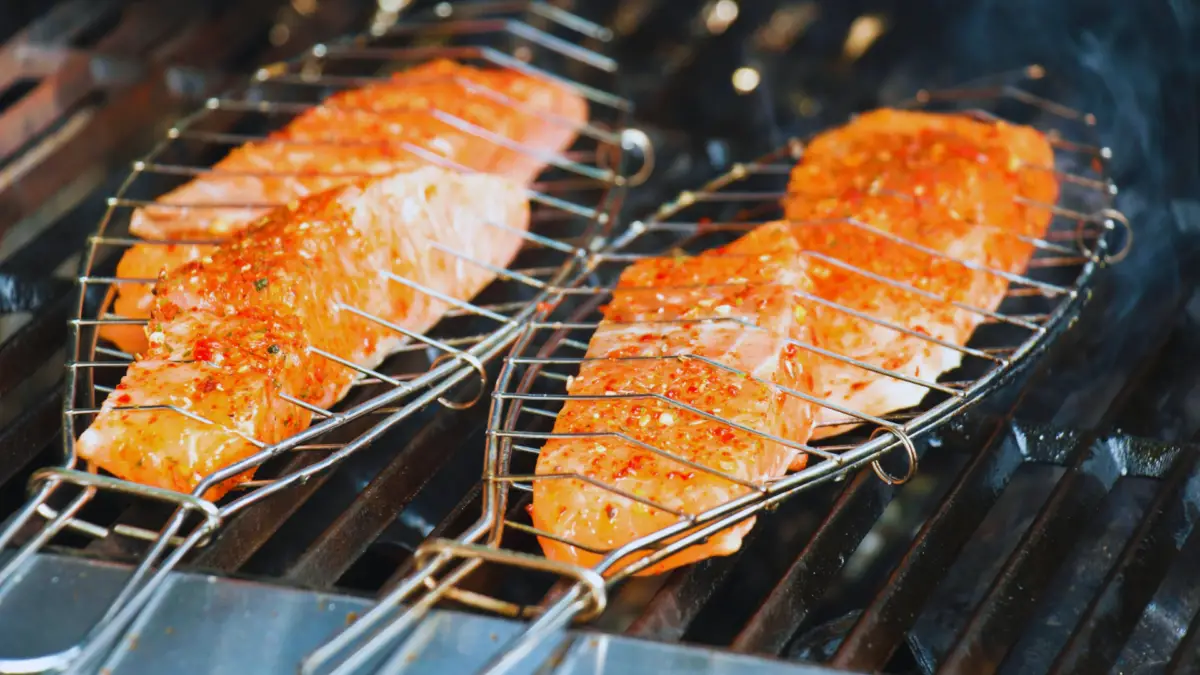 If you have recently purchased a good grill basket, or been given one as a gift, you may be looking some ideas and recipes for your grill basket that will show you how to make the best use of it.
There's so much versatility in this great outdoor cooking utensil!
Why the grill basket is perfect for grilling fish
While I have some great recipes for grilling meat, chicken, and vegetables in a grill basket, my main recipe focuses fish because the grill basket is perfect for this dish.
If you've ever tried to grill fish, then you understand how tough it is to cook over flames.
Flaky fish is notoriously difficult to grill. It is difficult to turn and just when it is ready, it often disintegrates when you remove it from the grid.
Using the grill basket, you can avoid all these problems.
Here's my best fish grill basket recipe:
Whole grilled fish with an Asian twist
Whole grilled line fish with an Asian slant using your fish grill basket.
Ingredients  
1

whole line fish – salmon

grouper, kingklip, halibut, yellowtail (any firm, meaty fish)

1

red onion

1

big handful of coriander/cilantro

2

tsp

garlic

chopped finely

2

tablespoons

sweet chili sauce

2

tsp

ginger

grated

1/2

cup

soy sauce

2

tsp

sherry

1

tsp

sesame seed oil

1

lemon
Instructions 
Scale the fish, if not already done. An easy way to do this is by pulling a fork against the grain which will take the scales off.

Make sure your fish is gutted and the cavity is nice and clean.

Score the skin of the fish to allow the flavors of the marinade to infuse the meat.

Chop the red onion and coriander and fill the cavity of the fish

Finely grate some lemon rind into the cavity.

Mix together the garlic, sweet chili sauce, ginger, soy sauce, sherry and sesame seed oil.

Use half of this mixture to rub into the fish and coat it. Keep the rest for basting during the grilling process.

Oil your grill basket with a high heat cooking oil. Place the whole fish in the grill basket.

Cook the fish over medium coals for approximately 20 – 25 minutes, flipping every 3-5 minutes so that the skin doesn't burn. Baste the fish with the leftover marinade each time you turn it.

The fish is ready when the skin has pulled tight. If you take a fork and pull the meat from the backbone, it should pull away easily.

Serve with steamed coconut rice and wedges of fresh lime.
Tips for grilling fish on your BBQ
Cooking fish on the BBQ is not as easy as, let's say, some hotdogs.
I'm going to share some general tips for how to grill fish over the coals. No matter what recipe you follow, these tips can be used every time.  
General tips for grilling fish over the coals:
It is important that the fish you cook on the grill is fresh.
You can grill a whole fish 'open' or 'closed'. Grilling it 'open' exposes a larger area of the fish to direct heat and it cooks more quickly.
Grilling is best for fatty or oily fish like salmon and sturdy fish like tuna, cod, yellowtail, and halibut. Make sure the fish you buy is not on the endangered list and ask for it to be gutted and scaled and the head removed.
Fish should be at room temperature before starting to grill.
Always oil the grill basket (preferably the hinged style or a custom-made fish grill basket) with a high-heat cooking oil or a non-stick spray.
It is important not to overwhelm the delicate flavors of the fish with very strong seasonings and spices. It is a good idea to stick to butter, herbs, garlic and lemon juice, salt and pepper. The fish can always be served together with a tasty sauce.
It is important not to overcook fish as it becomes dry. Fish is ready when it turns white and flakes when you insert a fork into it.
I'm sure that this will be a huge success at your next barbeque event, and that you've learned some valuable tips on how to grill fish.
For even more tips read: How to Grill Fish on a Charcoal Grill
But for those who want to explore some other flavors and meats, I've also shared my top grill basket recipes for chicken, vegetables, and meat below.
Best chicken recipes for your grilling basket
Before you put your chicken meat in your grill basket, take note of some of the top tips below.
These will help you grill deliciously succulent chicken every time!
General tips for cooking chicken on the grill
Chicken loves marinade and many grill recipes require the chicken pieces to be marinated before cooking. Before grilling the marinated chicken, it is a good idea to microwave it for about 10 minutes. This will ensure that the flesh is cooked thoroughly but not charred on the outside.
Another tip is to butterfly your chicken if you are grilling a whole chicken. This allows the meat to cook more evenly and also increases the surface area for the marinade.
Position a pan of water next to the coals when grilling chicken. This helps to keep the chicken moist as it cooks. Marinating it also helps to keep chicken from drying out.
Use a medium heat when grilling chicken.
Here are two of my favorite chicken-based recipes for the grill basket.
Simple and delicious marinade for chicken cooked in a grill basket
Ingredients
Chicken pieces – thighs, drumsticks, wings
4 tablespoons of olive oil
2 tablespoons of brown sugar or honey
4 tablespoons of Worcester sauce
2 tablespoons of lemon or orange juice
4 garlic cloves, chopped
2 sprigs of rosemary, chopped
1 teaspoon of smoked paprika
Method
Mix all the ingredients together in a large bowl. Add the chicken pieces, cover and leave to marinate in the fridge for at least an hour. Turn the pieces occasionally.
To prevent the chicken pieces sticking, use a high-heat cooking oil such as avocado, corn or canola oil to lightly coat your grill basket before adding the chicken.
Preheat your grill to medium. Place chicken on the grill and cook for around six minutes, then turn and grill for another six minutes.
Another five minutes may be needed to ensure no pink remains at the center of the chicken.
Bacon-wrapped drumsticks cooked in a grill basket
Ingredients
12 chicken drumsticks
1 ½ teaspoons salt
½ teaspoon pepper
3 -4 cloves of garlic, finely crushed
12 rashers of streaky bacon, rind removed
Method
Microwave drumsticks for around 10 minutes. Sprinkle the drumsticks with salt and pepper and spread with a little crushed garlic.
Stretch the bacon and wrap one rasher around each drumstick, starting at the thin end. Secure with a toothpick.
Coat the grill basket with a little high-heat cooking oil. Arrange the drumsticks in the grill basket. Grill over medium heat, turning frequently, until bacon is a good brown color and the chicken is cooked.
Serve with a sweet dipping sauce.
For more tips read How to Cook Chicken on a Weber Charcoal Grill
Best vegetable recipes for your grill basket
For those who want some vegetarian recipes for your grill basket, I've shared two of my top recipes below.
General tips for cooking vegetables in the grill basket
The key to cutting vegetables for grilling is to not slice them too thinly. If you use 'hard' vegetables like potatoes, carrots and cauliflower, it is a good idea to steam them or microwave them for a few minutes, before grilling.
You can put almost any vegetable on the grill, and it will develop delicious flavors. Grilling vegetables releases their natural sugars while at the same time adding that delicious char flavor from the grill.
Some vegetables will cook more quickly than others and they can be removed while the others continue to cook.
It can take up to 45 minutes to cook some of the hard vegetables, like potatoes and carrots, while other tender vegetables, like mushrooms and beans, cook very quickly.
You can either shake the grill basket or turn the vegetables with tongs, allowing them to get equal surface time.
Recipe for best grilled vegetables in a basket
Ingredients
8 oz cremini mushrooms
1 zucchini, cut into 1/4-inch-thick slices
1 red pepper, seeded and cut into 1/4-inch-thick slices
1 red or white onion, cut into 1/4-inch-thick rings
1/3 cup balsamic vinegar salad dressing
Method
Preheat the grill to medium.
Combine all the ingredients in a shallow dish and allow the vegetables to marinate while the grill heats up.
Put the vegetables in your grill basket and grill about four inches above the heat, turning a few times, until the vegetables are cooked through and lightly charred, about 20 minutes. Transfer to a bowl and serve.
Recipe for easy grilled vegetables in a basket
Ingredients
4 cups any vegetables chopped or sliced into roughly equal pieces
2 tablespoons olive oil
1 tablespoon minced garlic (about 3 large cloves)
1/2 teaspoon salt
1/2 teaspoon black pepper
1/2 teaspoon red pepper flakes optional to taste
optional herbs and seasonings: Italian, chili powder, onion powder, etc.
Method
Combine all the vegetables in a large bowl and toss them with the oil and seasonings.
Preheat the grill. Add the vegetables to an oiled grill basket, distribute them evenly and cook over high heat.
Cook for about 10 minutes stirring occasionally. Keep a good watch on them so they don't burn.
Taste for tenderness when they are starting to char and look cooked through, adjusting cooking time as necessary.
For an Asian flavor: add some sesame oil and soy sauce instead of the olive oil and salt.
For a curry flavor: add a teaspoon of curry powder before grilling and then toss them with a can of coconut milk after they're cooked and serve over rice.
Best meat recipes for your grill basket
Cooking meat in a grill basket is also a successful way of getting great flavor into your meat. Here are two of my top grill basket recipes for meat.
General tips for grilling meat
If you have time, marinate the meat before grilling. This tenderizes it and keeps it moist
Meat should remain at room temperature for at least 30 minutes before grilling
Invest in a meat thermometer if you want to be sure your meat is cooked to your taste
Flip your meat just once
Let it rest for at least 10 minutes before slicing
Slice meat against the grain
Recipe for marinade for rump, sirloin or fillet steaks cooked in a grill basket
Ingredients
Steaks – rump, sirloin or fillet
1/2 cup extra virgin olive oil
1/2 cup balsamic vinegar
1/4 cup low sodium soy sauce
1/4 cup Worcestershire sauce
1/4 cup pineapple juice
2 tbsp brown sugar
2 tbsp Dijon mustard – smooth
1 tsp ground black pepper
2 tsp garlic powder
Method
Combine all the ingredients except the meat. Mix well and pour into a ziplock bag. Add the meat and leave to marinate overnight or for a minimum of four hours.
Oil your grill basket with a high smoke point oil. Add the steaks and cook over a hot grill. Use a meat thermometer to ensure the steak is cooked to your taste. Remember to let it rest for at least ten minutes before slicing.
Recipe for shish kebabs in a grill basket
Ingredients
1-2 kilograms rump, rib-eye or sirloin cut into 3cm X 3cm cubes
2 large onions cut into chunks with layers separated
2 peppers with seeds removed, cut into square chunks
250 g small button mushrooms
250 g cherry tomatoes
Ingredients for marinade
½ cup olive oil
½ cup lemon juice
2 ½ teaspoons each of ground cumin, ground coriander, ground paprika
2 teaspoons dried oregano
1 teaspoon salt
½ teaspoon black pepper
Method
In a large bowl mix all ingredients for the marinade. Toss the beef cubes into the mix, stir until all the cubes are coated. Cover the bowl and marinate for at least three hours but preferably overnight.
Remove the marinated chunks and thread them on the skewers, alternating with the pieces of onion, pepper, mushrooms and cherry tomatoes, packing them tightly together.
Brush the kebabs with any leftover marinade.
Kebabs can be quite fragile, so using the grill basket is the best way to ensure they cook perfectly without breaking up. Cook over a hot grill for about 8 minutes.
Serve with coconut rice and a green salad.
Rather get going with your smoker? These are the Top 10 BBQ Smoker Recipes Out There (From ribs to veggies)
Takeaway
A grill basket is a great addition to your outdoor cooking utensils. From fish recipes to chicken, meat and veggies, a grill basket can really spice up your next barbeque.
I hope these tips and recipes have given you the confidence to try yours out when you next light up your grill – whatever is on the menu.
Here's another great tool to get more out of your BBQ: the grill mat (+ how to use it)
Joost Nusselder, the founder of Lakeside Smokers is a content marketer, dad and loves trying out new food with BBQ Smoking (& Japanese food!) at the heart of his passion, and together with his team he's been creating in-depth blog articles since 2016 to help loyal readers with recipes and cooking tips.