I love creating free content full of tips for my readers, you. I don't accept paid sponsorships, my opinion is my own, but if you find my recommendations helpful and you end up buying something you like through one of my links, I could earn a commission at no extra cost to you.
Learn more
By placing a grill mat or grill basket on your grill, you can change up the type of food you cook.
Grill mats are similar to grill baskets in that they allow you to cook food that would usually fall through the grid of a conventional grill.
Grill mats, however, offer more functionality than grill baskets!
They are usually larger, and if you get a quality mat, you can even add grill marks to your food without the food actually touching your grill.

For pro-grillers, having a variety of grill mats on hand is a 'must'. Different thicknesses and different sizes are good for different things.
However, I would recommend always choosing a mat that is more than 0.1" thick to ensure its quality and durability.
My personal favorite is the Kona BBQ Grill Mat due to the fact that it offers a seven (!) year warranty. You'll get hours and hours of grilling pleasure out of this reasonably priced, high-quality product.
In this post, I've identified four of the grill mats that I always recommend to friends and family, and why they are my top choices. I'm sure this will help you narrow down your options!
Why you need to have a grill mat
You can cook pretty much anything you want on a good grill mat!
From meat to fish to veg and so much more. You could even grill up some sausages and eggs for breakfast. These mats help retain the moisture in the food and prevent flare-ups.
Here are some of my top reasons to add a grill mat (or four!) to your essential BBQ accessories list.
They are easy to use
They prevent flare-ups
They help you cook foods like fish, seafood, and vegetables over the grill
A mat's surface is non-stick and 100% safe for health
They heat up and cool down fairly quickly
They are easy to store (just roll it up and pack it away after cleaning)
They are very easy to clean. Use a sponge with hot water and soap, and most of the dirt will vanish after just a few wipes of the sponge
Food cooked on grill mats retains great flavor (the food will have more juices left around it)
You can still get decent sear marks on the food's surface
They have a fairly large temperature range for safe cooking
They are not expensive when you consider the price to use ratio – they can be used multiple times before they need to be replaced
Another great way to keep your grill clean and protected is by always covering it with a good grill cover when not in use
Tips for buying a good quality grill mat
Buying a grill mat is easy, but selecting the right one for your needs might feel a bit overwhelming when you see how many options are out there.
I've got three key things that I look at when selecting a good quality grill mat for my own grill. Here they are:
Size
Make sure the mat will fit into your grill. Grill mats come in different sizes and shapes, so choose one that will best fit the dimensions of your favorite grill.
Find the top 5 best small grills (gas, charcoal, pellet) for great results reviewed here
Thickness
The right thickness is important because it impacts heat transfer.
A mat that is too thick will not spread heat evenly, while a thin mat will not be as durable, and won't protect the food from direct heat as well as it should.
In my experience, I've found that mats that are 0.1" thick and over are the best option.
Maximum temperature range
Depending on what food you're going to cook, pay attention to the temperature range the mat is manufactured to withstand.
Most mats will work for the usual grilling techniques and types of grills – with the exception being very hot grilling.
Did you ever wonder by the way why Barbecue And Beer Mix So Well?
The top 4 best grill mats reviewed
There are plenty of grill mats on the market, which makes a quick decision nearly impossible unless you have the experience that helps you know what to look for.
I've shared my own observations below to help you make the right choice for your needs.
Best quality grill mat overall: Kona Heavy Duty 600 Degree Non-Stick Mats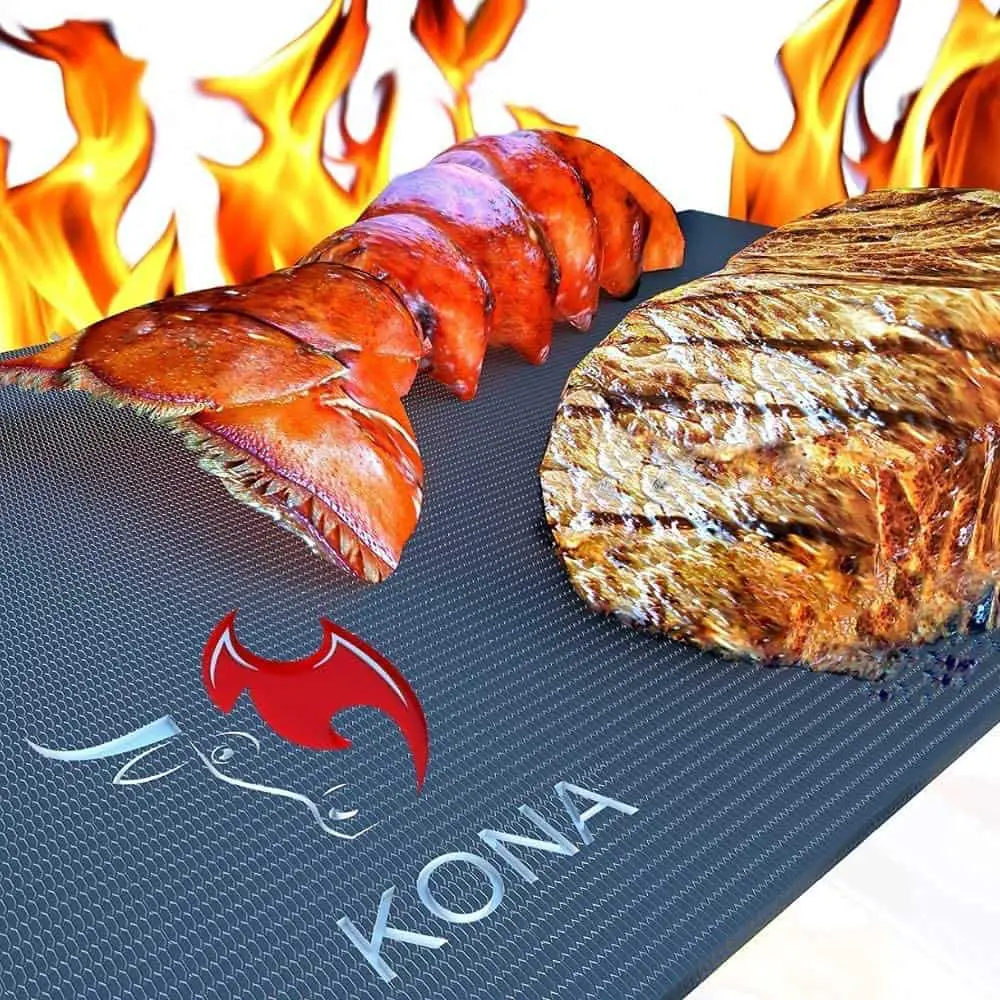 This grill mat from Kona features a non-stick surface that ensures grilling is fun and easy. The mat is also a bit thicker than the conventional models on the market, making it more durable.
Don't worry, it isn't too thick, so it still offers fantastic heat distribution.
Due to its user-friendliness, both professional chefs and amateur grillers alike love to use this mat, which you can tell from the reviews and comments of the product.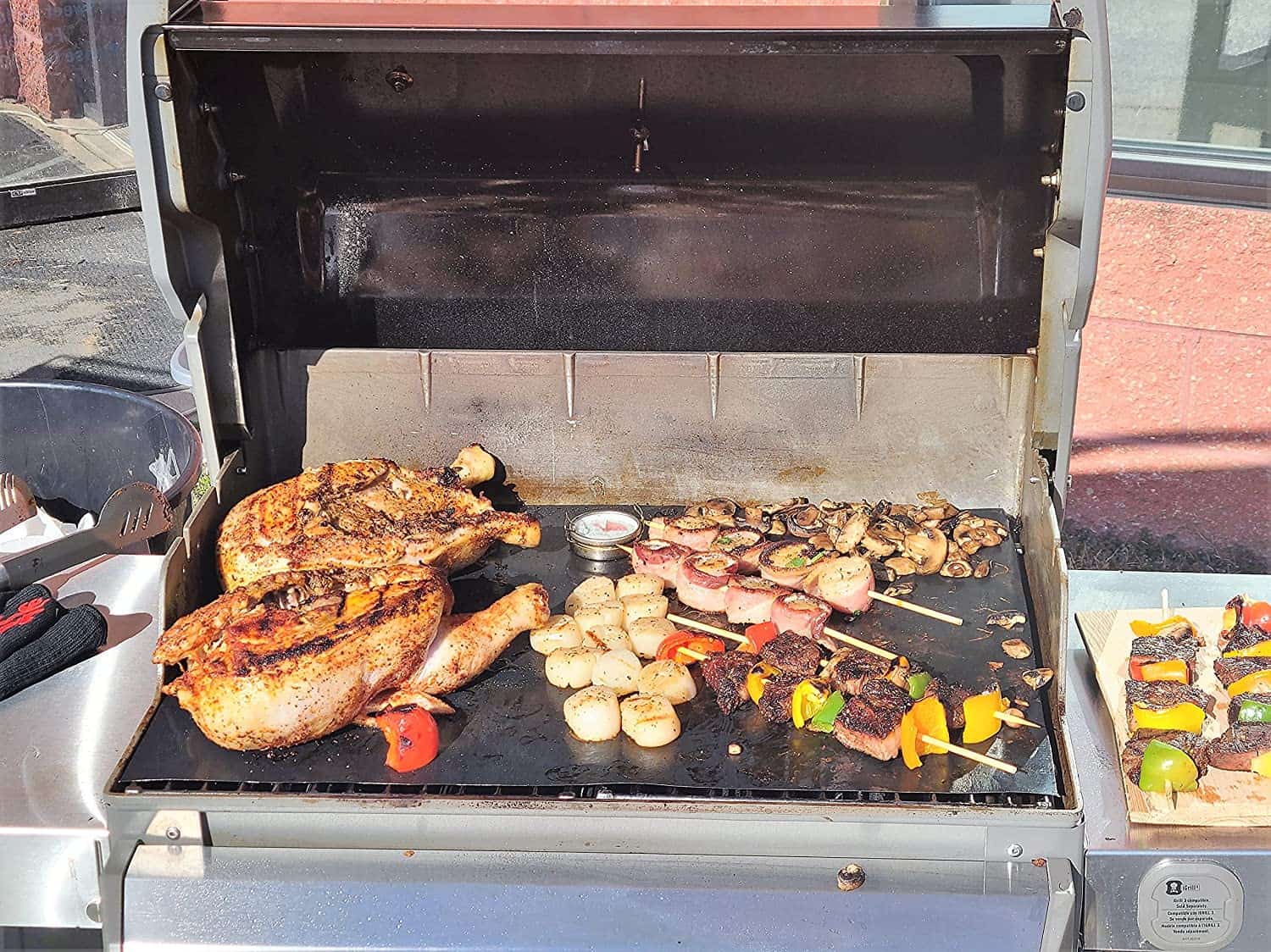 You can grill the juiciest steaks and smoke the most tender chicken with this mat.
You can also sauté the thinnest sliced vegetables on it with ease. Once your grilling is done, you can clean the mat easily, and put it away for storage.
The product also comes with a seven-year warranty from its manufacturer. That means you can use your mat for many, many grilling sessions.
Here's an adorable family showing you how to use the Kona grill mat properly (and why quality matters when it comes to grill mats):
Features
Size: 16 x 13 inches
Thickness: 0.1 inches
Temp range: up to 600 degrees Fahrenheit
Best heavy-duty 0.1" grill mat: Grillaholics Set of 2 Heavy Duty BBQ Mats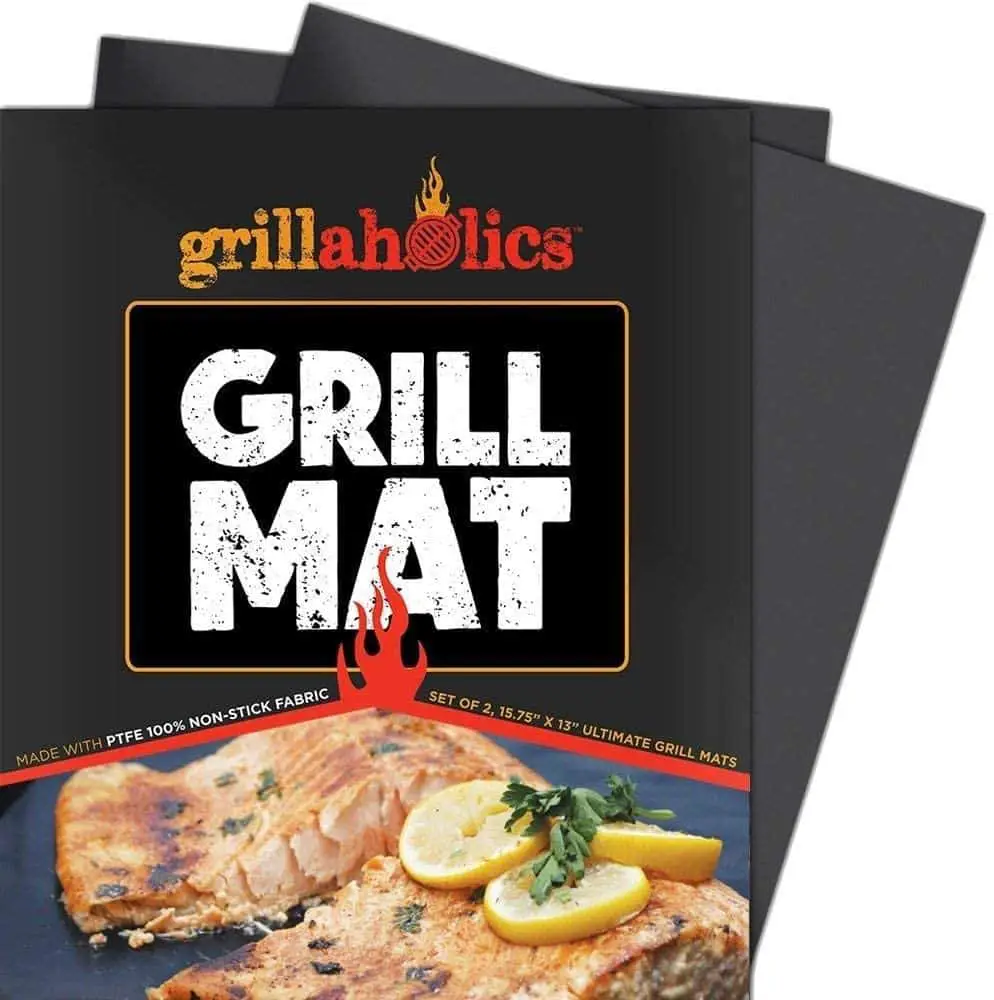 Very similar to the Kona mats, this top-quality grilling mat is heavy-duty and offers a non-stick surface for cooking a wide range of foods.
My only personal reason for the Kona mat beating the Grillaholics mat is the thickness. I love the thickness and structure of the Kona which is 0.1".
This set of grill mats from Grillaholics is multipurpose as it can be used for any grill, whether it is gas, electric, or charcoal. The brand also stands by the quality of its products and offers a lifetime manufacturer's warranty.
If your mat doesn't fit perfectly into your grill, you can trim it with scissors, and you can also use it as a baking mat in your oven at home.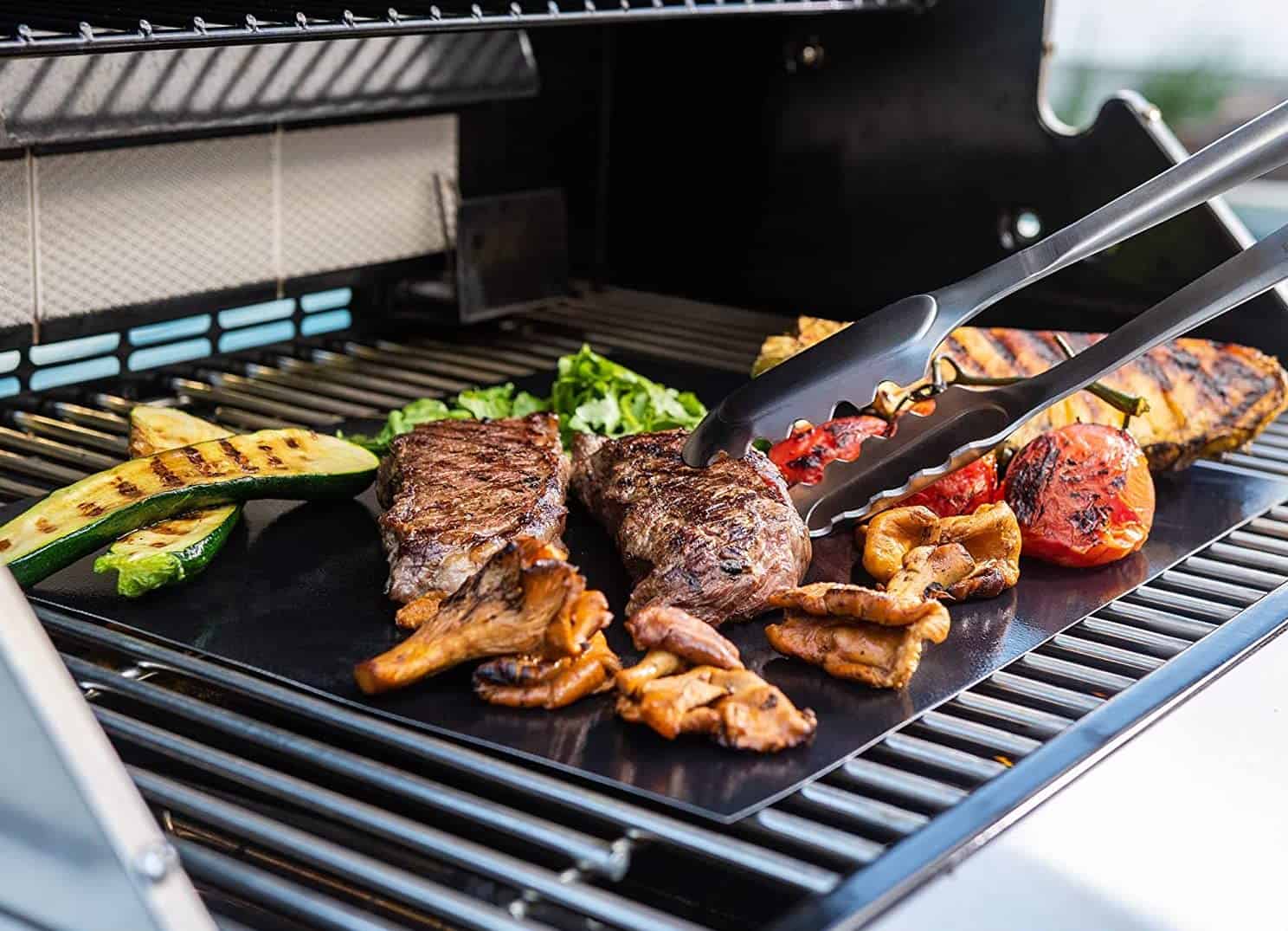 Features
Size: 15.75 x 13 inches
Thickness: 0.01 inches
Temp range: up to 500 degrees Fahrenheit
Best grill mat set for a lower budget: Aoocan Set of 5 Heavy Duty BBQ Grill & Baking Mats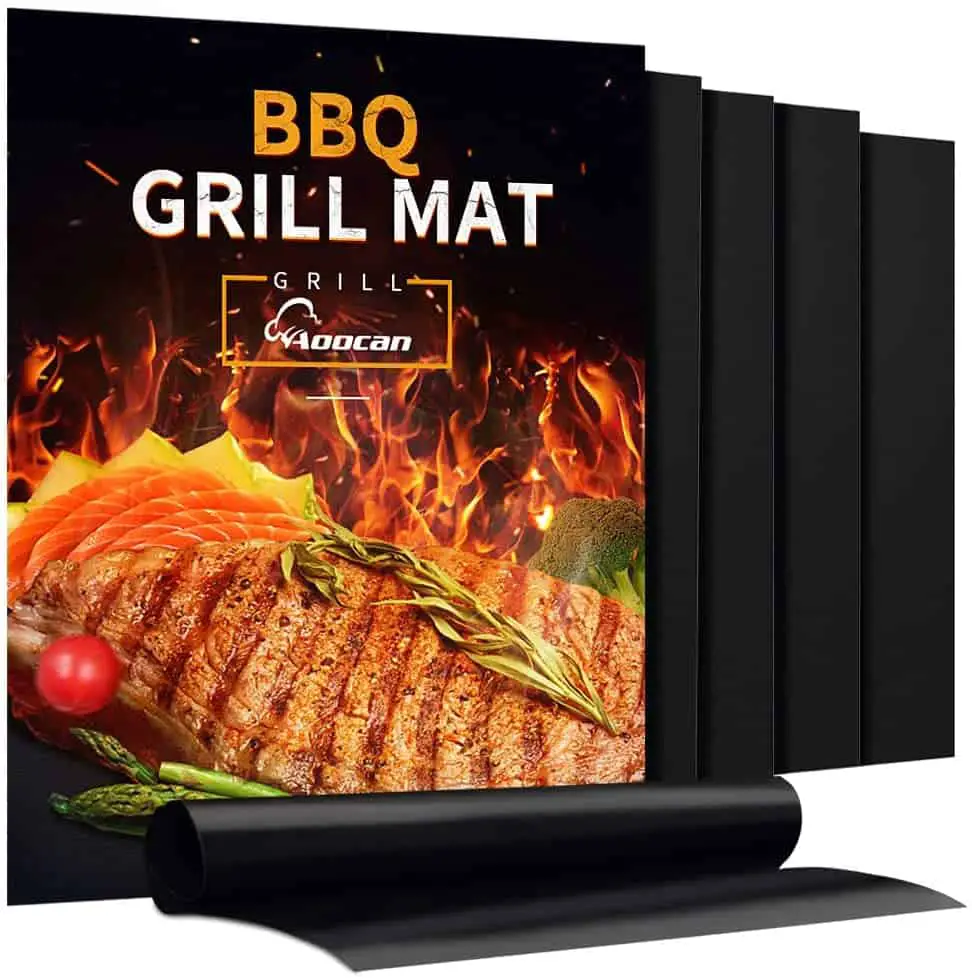 The best thing about grilling mats is that they help with the clean-up after you finish grilling. You don't have to spend ages scrubbing down your grid if you use a mat.
Most grill mats are also dishwasher safe – making clean-up an absolute breeze.
The Aoocan grill mat is no different. Thanks to the non-stick surface, you just have to wipe it down with warm water and soap and you're done (or you can pop it into the dishwasher).
These come in at a similar price to the YRYM HT Grill mat set (below), and the manufacturer also offers an extended warranty.
However, the reason I prefer these to the YRYM HT Grill mats is the thickness. They are a good 0.1 inches thick – which is my personal preference.
Features
Size: 15.75 x 13 inches
Thickness: 0.1 inches
Temp range: up to 500 degrees Fahrenheit
Best multi-purpose grill mat set: YRYM HT Set of 5 BBQ Baking Sheets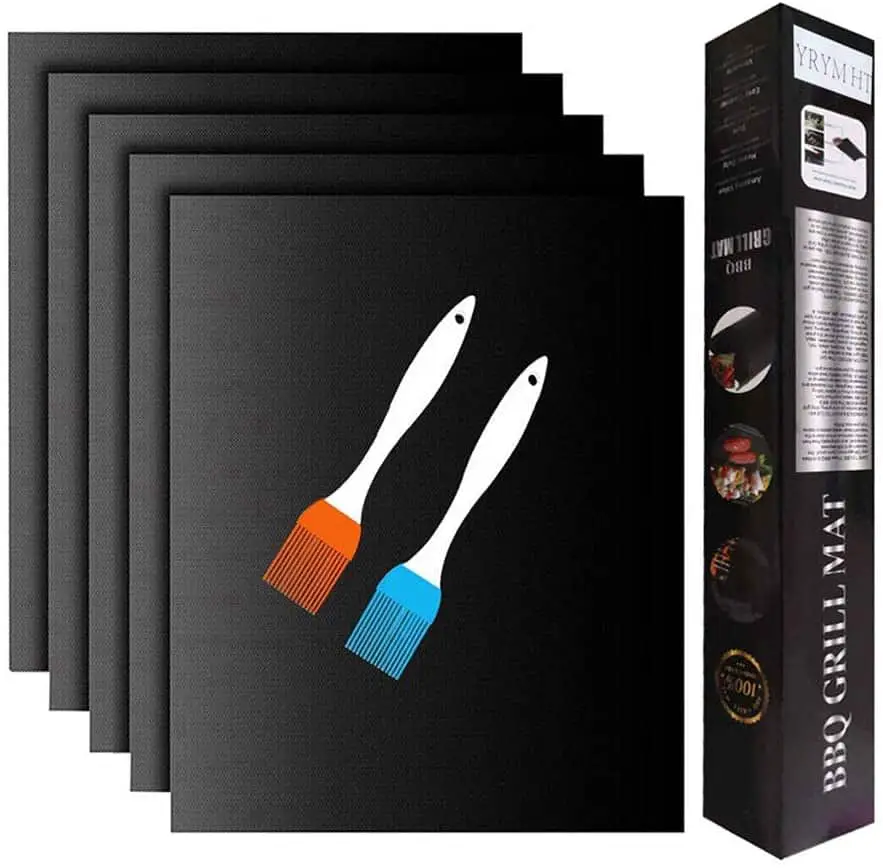 These Teflon sheets can be used for grilling AND can be used as baking mats in your oven. They are a great multi-purpose option that offers a stress-free grilling experience.
While not as thick as the Kona mat, they are also very easy to clean and store.
You can also prevent fish filets (like delicious catfish) from sticking to your grill, and vegetable slices from falling through the gaps in the grate.
By using the Chef mat, you can avoid sauces and marinades dripping into your grill and causing flare-ups. A great advantage of all the juices staying on your food is that it stays succulent, and boosts the flavor!
The manufacturers do offer an extended warranty, but it is not nearly as long as the lifetime warranty of the Grillaholics mat or the 7-year warranty of the Kona mat.
Features
Size: 15.75 x 13 inches
Thickness: 0.01 inches
Temp range: up to 500 degrees Fahrenheit
FAQs about grill mats
Let's finish off with some frequently asked questions about grill mats.
Do grill mats actually work?
Grill mats are designed to stop food from falling through the grate on a conventional grill, while still ensuring the food is exposed to the heat and smoke from the grill.
It gives food the flavor of grilling while protecting it from direct flame. Grill mats also allow you to cook different types of food on the grill from eggs to veggies and other foods that would normally fall through the grate.
Are grill mats safe to cook on?
Yes, they are made from food-safe materials and have been tested for any potential health concerns. Grill mats are safe to cook on and won't affect your health.
Do grill mats leave grill marks?
This is one of the reasons that grill mats are great! Unlike a flat top grill, grill mats do leave grill marks on your food.
Due to the fact that they are only around 0.1 inches thick (or less), they allow the heat to permeate, but keep your food from falling through the grate.
You can get excellent grill marks on your steaks, sausages, and burger patties with a grill mat.
How long can grill mats last?
Depending on the manufacturer and the quality of the mat, grill mats can last around two or three years. This is also dependent on how often you use them, and whether or not you keep them in good condition.
How can I clean my grill mat?
Most grill mats are really easy to clean. All you have to do is pop them in the dishwasher. You can also wipe them down with soapy warm water if you don't have a dishwasher.
Do grill mats help prevent flare-ups?
Yes, grill mats stop the oils and fats from dripping through the grid onto the flames below, thus preventing flare-ups.
Also check out these delicious Cedar Grilling Planks Recipes: Classic salmon & even cheese!
Takeaway
While most grill mats do pretty much the same thing, they are distinguishable by the range of temperatures they can withstand, and the manufacturers' guarantee.
Now that you know about my top picks for grill mats, you can make an informed choice.
Grill mats also make a great gift for the grilling enthusiast, so you might want to get a set for your friend too!
Talking about gifts, these are the 7 Best BBQ Smoker Gift ideas for the smoker enthusiast
Joost Nusselder, the founder of Lakeside Smokers is a content marketer, dad and loves trying out new food with BBQ Smoking (& Japanese food!) at the heart of his passion, and together with his team he's been creating in-depth blog articles since 2016 to help loyal readers with recipes and cooking tips.