I love creating free content full of tips for my readers, you. I don't accept paid sponsorships, my opinion is my own, but if you find my recommendations helpful and you end up buying something you like through one of my links, I could earn a commission at no extra cost to you.
Learn more
Clean, shiny, and oh so impressive. There's something about stainless steel that just makes a statement. Many grillers aim to own a stainless steel grill one day. Is today your day?
If you're in the market for a stainless steel grill, then you've come to the right place. I've been in the grilling business for many years, and I've tried almost every grill out there.
In this article, I will outline some of the reasons I love these three top options. I am sure they will help you decide on your favorite.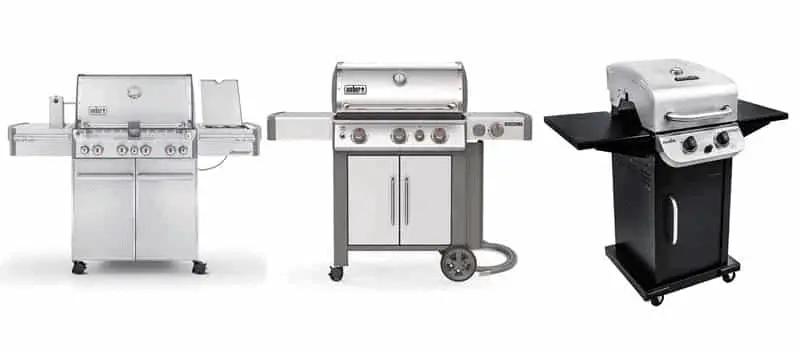 My personal number one is the Weber Genesis II S-335 – you can't go wrong with this kind of quality at the price. It has all the features you need from a solid grill, it heats up fast and efficiently and it boasts a 10-year warranty. Weber really knows their stuff. 
I have another Weber on the list if you have a bit more to spend, but if you are looking for a more budget stainless steel grill, check out my number 3 below.
The ultimate stainless steel grill buyer's guide
There are some crucial factors you need to consider when buying a stainless steel grill.
I always check these five points before investigating further details of a product. They help me to narrow down the wide range of options on offer.
Steel grade (go for grade 304)
One of the biggest things to note when you're looking for a new stainless steel grill is that not all steel is made of the same grade. Only high-quality stainless steel offers effective protection from corrosion.
Cheaper steel – and cheaper products – are far more prone to corrosion, so make sure you look for the magic number: 304. This means that the steel is high-grade steel and will last for years to come.
Read the descriptions and figure out whether the entire grill is made of high-grade stainless steel or just the small elements like connectors and screws.
Grade 304 stainless steel is what you should look for if you expect the highest resistance to corrosion and ultimate durability. It is non-magnetic steel and is characterized by the best protective properties when it comes to corrosion.
Grade 430 stainless steel is a much cheaper alternative. You can quickly tell the difference if you check out the product in the store, as it is magnetic. This type of steel is far less resistant to corrosion.
Budget
Stainless steel grills come in an extensive range of budgets from very affordable to extremely high-end. Make sure you narrow down your budget and only look for grills within your price range to avoid disappointment.
Although it never hurts to dream.
Size
Think about how much space you have for a new grill and how often you cook. When it comes to capacity, there's a lot to choose from, so analyze all your needs carefully.
Accessories & gadgets
Do you want functionality and interesting gadgets? I have to admit that I like a lot of them myself, but you have to remember that they increase the price significantly.
If you have a limited budget, a much better solution is to buy a simple yet solid grill. You can always invest in additional features and gadgets at a later stage.
Number of burners
I recommend at least three burners. This allows you to create different heat zones and allows you to cook different types of food at the same time, or even to cook indirectly.
The best stainless steel grills reviewed
I have identified three of the best options in different price ranges and sizes. In my opinion, these are the best products you will get for your money.
Best overall stainless steel grill: Weber Genesis II S-335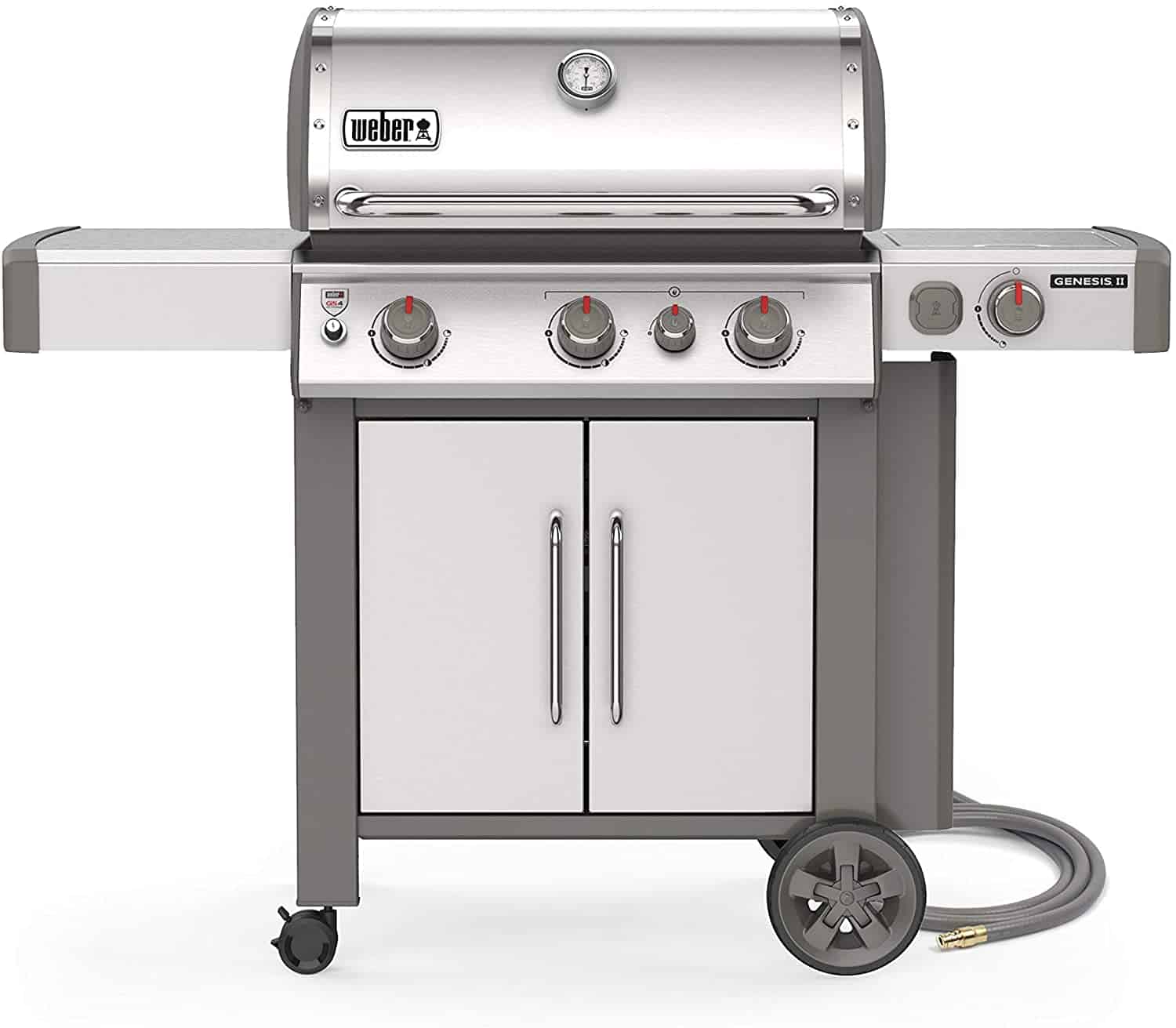 A respected brand, with many years of experience in manufacturing quality products. You really can't go wrong if you invest in the Weber Genesis Genesis II S-335.
This solid grill is made of high-quality materials and is a great option for the experienced griller who wants to add a stainless steel grill to their collection.
It's ideal if you cook often, and for large gatherings as its cooking area is expansive (513 square inches) and includes three burners. It also includes several useful gadgets and features as well as a useful workspace.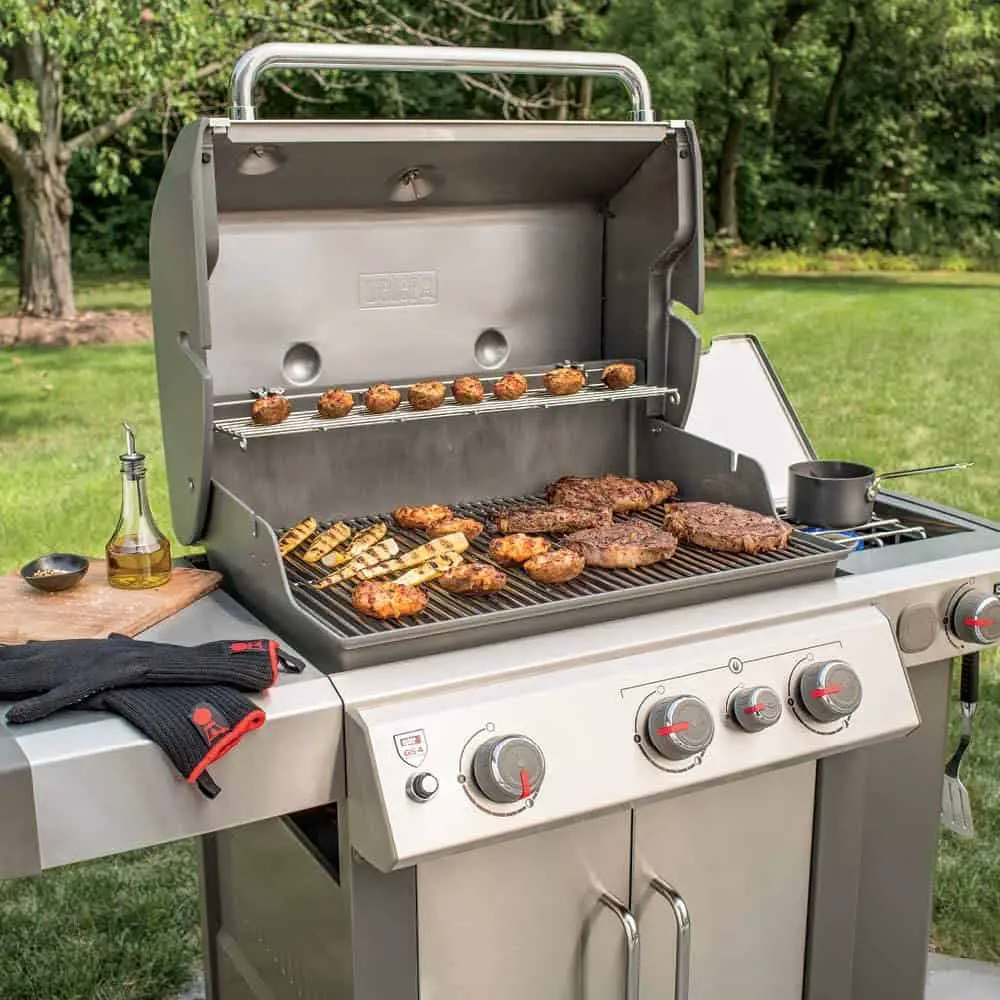 Besides the main burners, you also have a side burner and a sear burner at your disposal. I use the sear burner most often, as it allows me to perfectly finish every dish, and add a professional quality to the food I prepare.
On top of great burners, the Genesis II series stands out with its phenomenal quality of workmanship for this kind of money. It is no wonder that Weber has decided to cover this series with a whole 10-year of warranty.
This grill was built using high-quality materials, which can be felt and seen right from the moment you unbox it. It is surprising that even the minor elements were taken into account, such as the steel lid handle.
I know it's a fairly expensive grill in comparison with regular options, but I believe that this is the best stainless steel grill that you can get for the price.
If you consider the price to quality ratio, functionality, durability, quality of workmanship, and of course great warranty, this is actually a bargain!
Pros
Budget: A bargain considering the quality and functionality
Size: 59 x 29 x 47 inches; 154 Pounds
Accessories: Side burner, sear station, 10-year warranty, useful workspace
Steel grade: High quality 304 stainless steel
Number of burners: Three burners
Check prices and availability here
See how the Weber Genesis holds up against the Weber Spirit in the classic gas grill battle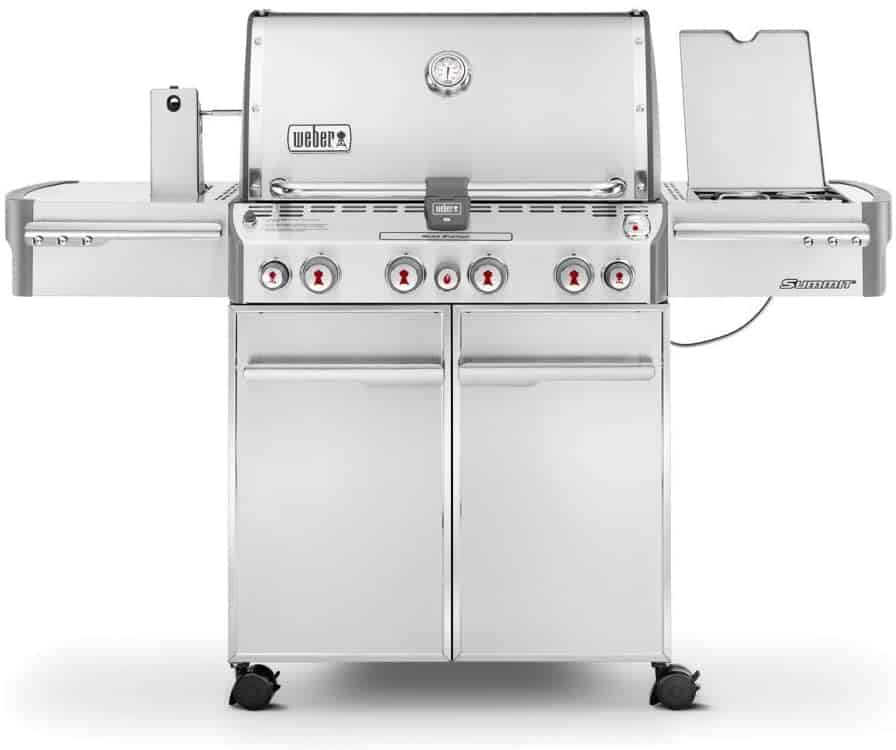 My next suggestion is one of the most versatile stainless steel grills on the market. It's a large and solidly built grill that looks spectacular in the backyard, but is also really functional, and offers a fantastic grilling experience.
But the Weber Summit S-470 is only for decided and experienced grillers who don't need to worry about the budget. If you love grilling and like to experiment, it is a perfect choice for you.
It has 468 square inches of main cooking area, four main burners and as many as 4 additional burners.
The Summit series mostly stands out thanks to the four additional burners. Each of them offers a lot of very useful options that will take the grilling experience to the next level.
The dedicated burners consist of a sear burner (my favorite), a side burner, a rotisserie burner, and a smoke burner & box. The entire construction is made of high-grade stainless steel, even the tiniest elements.
This grill costs a lot, but considering the quality of workmanship (10 years warranty) and functionality, I think that it is worth its very high price.
For that kind of money, you get a top-of-the-line grill that guarantees a lot of fun thanks to its versatile gadgets.
Pros
Size: 38.6 x 30.5 x 52 inches; 20 Pounds
Steel grade: Entirely constructed out of high quality 304 stainless steel
Number of burners: Four main burners plus four additional burners
Accessories: Side burner, sear station burner, smoker burner, and a rear-mounted infrared rotisserie burner, enclosed cart, built-in thermometer
Cons
Budget: Very pricey, but worth the investment
Check prices and availability here
Wondering how a gas grill compares to a pellet grill when it comes to easy-of-use, flavor and versatility?
Best stainless steel grill for limited space & budget: Char-Broil Performance 300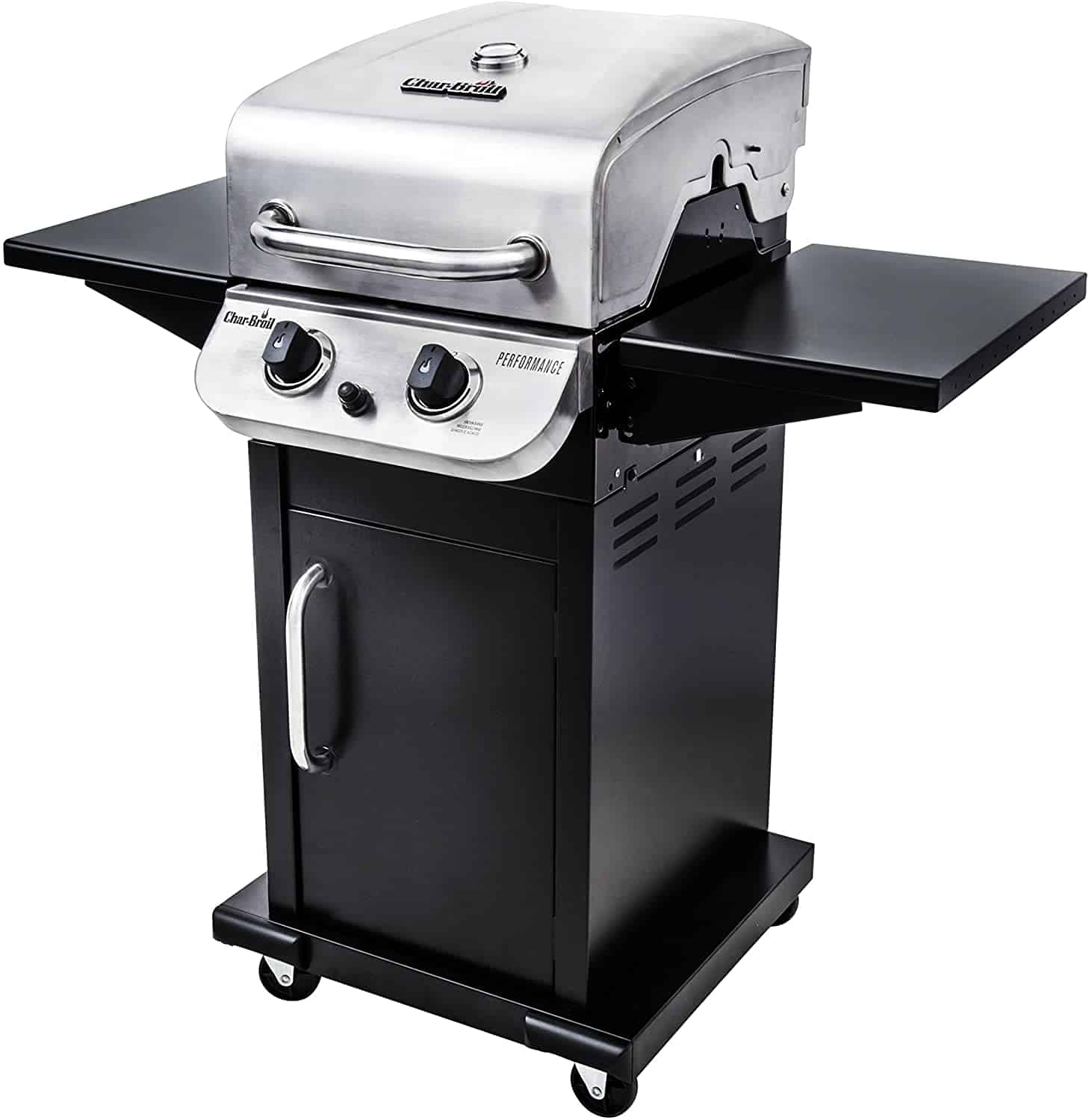 If you have a limited budget, but still want a solid stainless steel grill, then the Char-Broil Performance 300 is the grill for you!
This small-sized cabinet-style grill is equipped with two burners and all the essential elements and features that you need for a great grilling experience.
It's perfect if you're not cooking for large numbers of guests, and have a limited budget to spend on a stainless steel grill. It's also great for those who don't have a lot of space to store a grill, or who don't have a large yard to cook in.
Please note that the lid and the front panel are made of high-quality stainless steel, while the rest of the model isn't stainless steel.
However, I consider it to be one of the best models in the entire Char-Broil range. It's a brand that offers gas grills at affordable prices at the expense of quality, but this time it's different.
In terms of quality of workmanship and durability, the Char-Broil Performance 300 has really impressed me. I am very surprised with the solid workmanship and efficiency of the two burners despite the relatively low price.
It has 300 square inches of the main cooking area, and the two burners make it possible to create two heat zones. The whole construction was very well designed, which makes cooking very convenient.
The side shelves provide a lot of work area, and the space behind the door makes it possible to safely store accessories.
It's a pretty simple grill that only comes with the essential features and elements, guaranteeing convenience and efficiency.
Another result of the simplicity is higher attention to workmanship, which ended up in a solidly built grill that will withstand a lot.
Pros
Budget: Very affordable
Size: 24.5 x 42.9 x 44 inches; 82.5 Pounds
Accessories: The side shelves provide a lot of work area, and the space behind the door makes it possible to safely store accessories. Metal side shelves fold down when not in use.
Cons
Steel grade: Only the lid and front panel are high quality 304 stainless steel
Number of burners: Two burners
Check prices and availability here
Find more great small grills reviewed here (gas, charcoal, pellet)
FAQs about stainless steel grills
Do stainless steel grills rust?
No, stainless steel grills don't rust. However, they can be discolored over time through exposure to moisture, salty air, and concentrated chemicals.
Be sure to always clean your grill with gentle, specifically formulated products to protect it from damage.
Do stainless steel grills last longer?
Due to the fact that they don't rust, stainless steel grills usually outlast any other type of grill. This does mean, however, that they are a little more expensive.
Should I have a cover on my stainless steel grill?
It's always advisable to have a cover over your grill to protect all of the parts and accessories from damage and extreme weather conditions.
Takeaway
Now that you know all about my top three recommendations for stainless steel grills, which one do you think would suit your budget and your needs best? Let's get grilling!
Before you use your new stainless steel grill for the first time, make sure to season it properly. Here's How to Season a Grill
Joost Nusselder, the founder of Lakeside Smokers is a content marketer, dad and loves trying out new food with BBQ Smoking (& Japanese food!) at the heart of his passion, and together with his team he's been creating in-depth blog articles since 2016 to help loyal readers with recipes and cooking tips.