I love creating free content full of tips for my readers, you. I don't accept paid sponsorships, my opinion is my own, but if you find my recommendations helpful and you end up buying something you like through one of my links, I could earn a commission at no extra cost to you.
Learn more
Grill tool sets make awesome gifts for keen grillers. You can never go wrong with a good grill tool set, so whether you're buying one for yourself or a fellow grill enthusiast, it's always a good investment.
Grill tool sets are also perfect for anyone who is starting their grilling journey and needs to get set up quickly.
You've got the best grill for your needs, but now you need the essential tools before you can fire up the grill and get your BBQ going.
Just for you, I have picked several of my go-to grill tool sets for different occasions and situations. The contents of each of these sets is very diverse.
Make sure you analyze your personal needs so that you know exactly what type of grill set you're looking for, and what tools are in your list of top priorities.
My personal favorite is the Alpha Grillers Heavy Duty BBQ Grilling Set. While it includes just four tools, they are high quality, well crafted, and are the absolute 'must haves' for professionals and beginners alike.
What exactly do grill sets include?
While they can vary in quality and size, most good grill tool sets come with the absolute essentials including:
a spatula
different types of tongs
something to flip burgers with
something to move hot charcoal around
a brush to keep the grill clean once it's all over
I know that there are even more interesting accessories that could be added to the sets, like a good meat thermometer for example, but for now, I'm focusing on the basic, most essential cooking tools.
To find out what else is great to have around your grill and add on to your BBQ tool set, check out my top 10 best grilling accessories.
What to pay attention to when buying a grill tool set?
Before buying a particular set, check out my top three tips below. These tips will help you narrow down the enormous range of options to the ones that just suit your individual needs.
Budget
Grill tool sets can differ a lot depending on your budget. Some are cheap and cheerful and won't last very long, but others are very budget-friendly and relatively high quality.
If you're looking for something long-lasting and of top quality then you will pay for it. Compare sets available in a similar price range to see what you can get for your particular budget.
What the set includes
A lot depends on the price, but pay attention to the set's contents. Some of them only consist of 2-3 things, whereas there are also sets that include more than a dozen different tools.
Of course, I prefer a smaller quantity but better quality, so that I can be confident about the durability.
Quality of workmanship and brand
Speaking from experience, it's best to buy a grill tool set from a known and reputable BBQ and accessories manufacturer.
The cheapest options won't last long and will be frustrating to use as they won't work as well as they should.
Just like with a good grill, it is better to pay a little extra and have higher-quality tools, which is why I recommend slightly smaller yet better-made sets.
The best grill tool sets reviewed
Grill accessories improve the convenience of cooking significantly. When I first started grilling, I had no idea which accessories would be the right ones to purchase, and which ones I couldn't live without.
But over the years, I've refined my needs and I've figured out exactly which accessories are worth investing in, and which ones aren't.
I can't imagine grilling without my favorites. I've done the research, and have had years of experience, so you don't have to make the same mistakes I've made.
I've listed three of my go-to grill tool sets below, and outlined why I love each of them.
Best grill tool set overall: Alpha Grillers Heavy Duty BBQ Grilling Set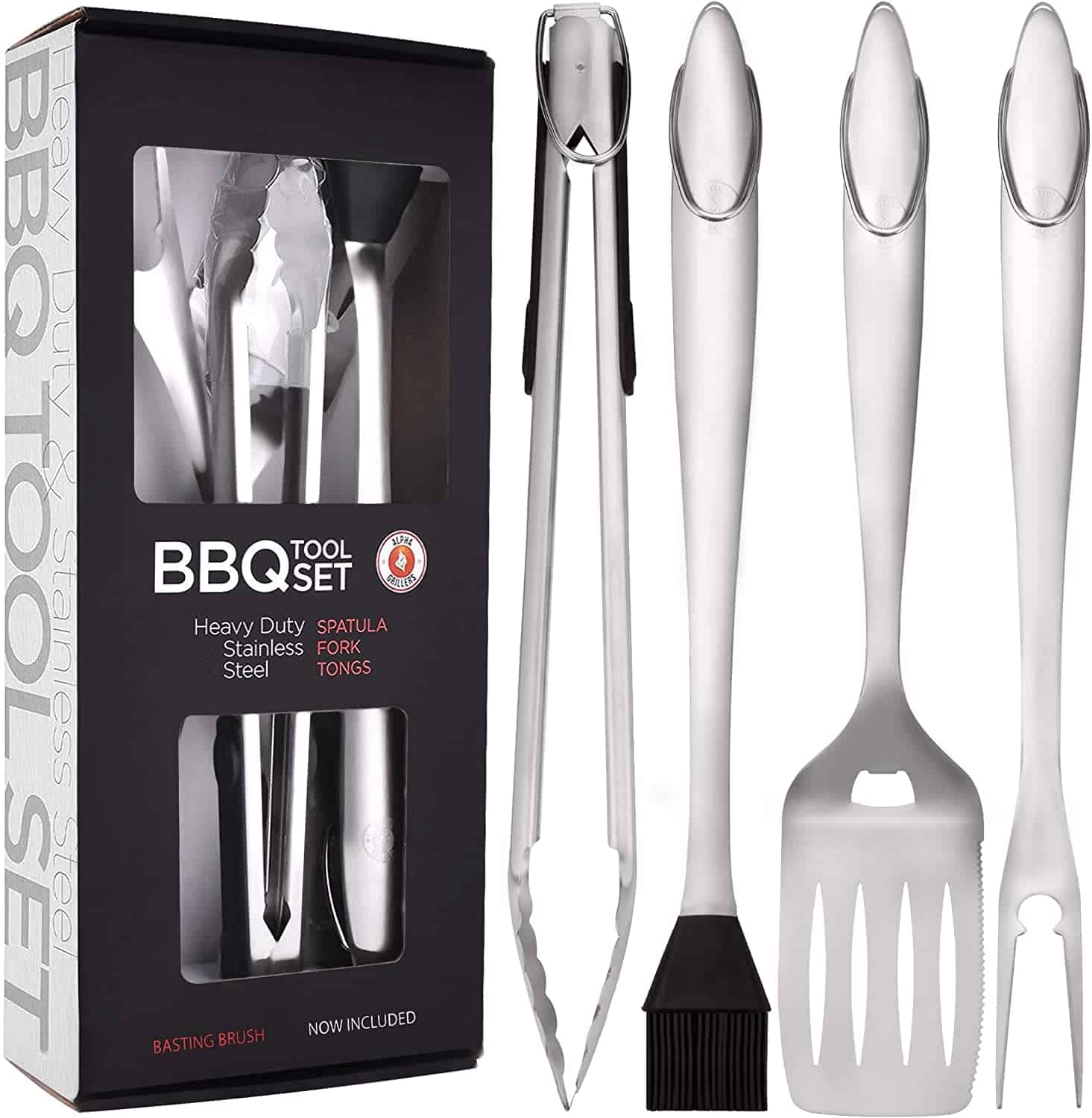 The small Alpha Grillers tool set only includes four tools, but they are the absolute essentials. Plus they are of excellent quality and will last for ages.
This set includes a set of tongs, a spatula, a basting brush, and a fork.
While the price isn't the cheapest set on the market, the entire set is made of high-quality stainless steel. Perfect for the passionate griller who loves to cook a lot.
These four tools are the most basic essentials that will get you through most grilling-related tasks.
Wondering how to use that basting brush? It's very practical making Bacon Jerky for example.
All the tools in this kit come with long handles so you never burn your hands over the flames. Despite the slightly higher price and only four tools, it is really worth it to buy this set if you value the quality of workmanship.
It's always possible to expand your tool collection over the years. It's fun to test out other interesting accessories, but if you want four solid tools that will not let you down, then this set is the way to go.
Features
Budget: You can't get a better price for the quality of each of the tools in this set
What it includes: Extra thick stainless steel spatula, fork, basting brush, tongs
Quality: High-quality stainless steel. The reviews speak for themselves – there are loads of people who recommend this set for its superior quality
If you store your grill outside, also consider getting a good grill cover to keep your BBQ clean & protected
Grill tool set with the best additional accessories: Cuisinart CGS-8036 Grill BBQ Set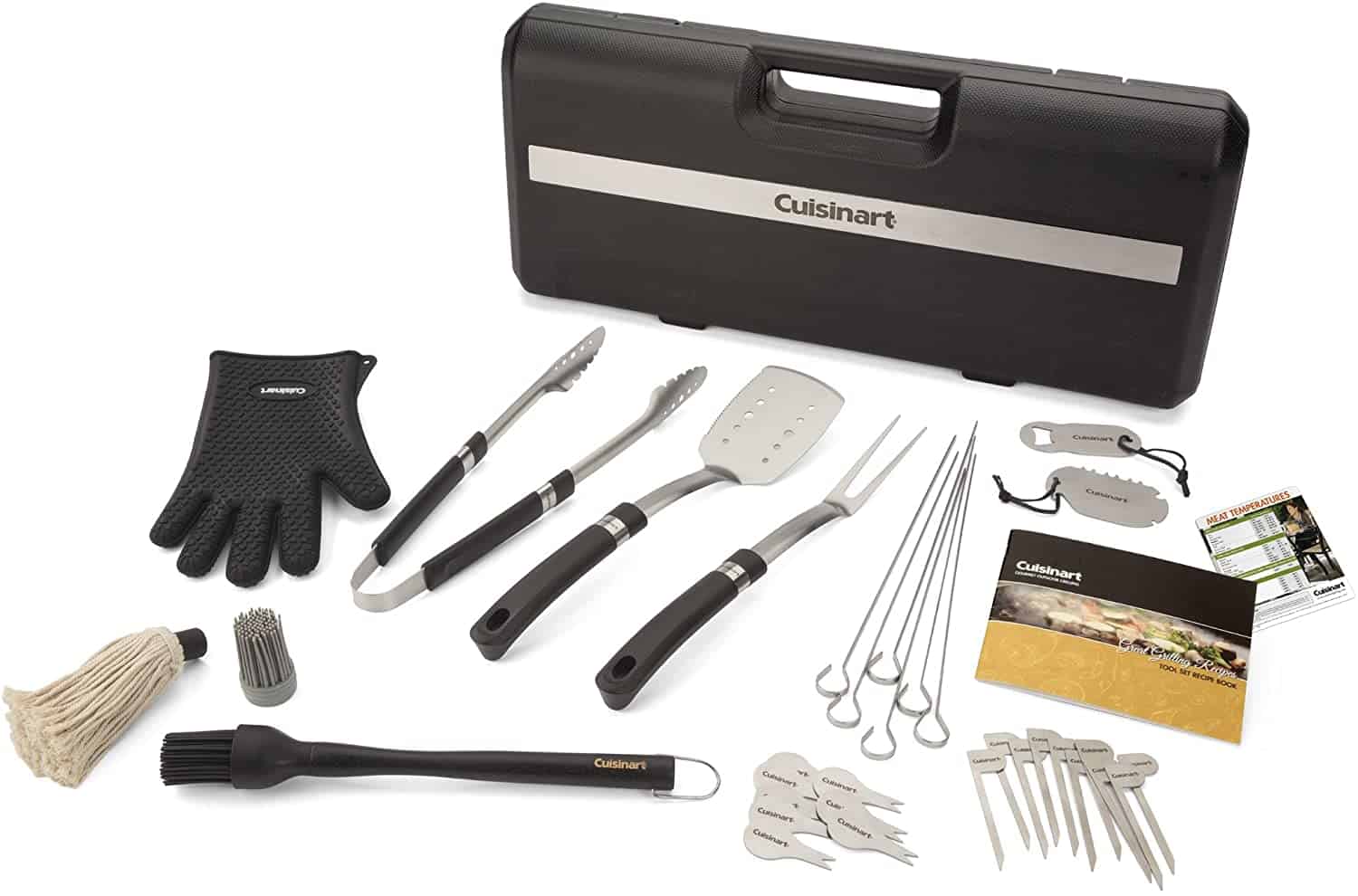 The Cuisinart CGS-8036 Backyard BBQ Tool Set is a really sophisticated grill tool set. It includes the top four essentials like the Alpha Grillers set above, but it also comes with some pretty awesome grilling gadgets.
I'll start with the major tools: tongs, fork, spatula, and basting brush.
These are the tools that I consider to be essential for every griller. They are all well-made in terms of quality and design, and their handles are long enough to ensure you don't get hurt.
A huge advantage of this set is the number of additional tools that it comes with. They aren't 'essentials', but they do come in handy when you need them.
These include a beer opener, corn cob holders, metal shish kebab skewers, grate holders, and steel burger flags.
All of these minor elements improve the comfort and convenience of grilling.
If you're looking for a set of the most essential grilling tools PLUS some of the most useful additional accessories, that won't break your budget, this set is phenomenal.
Considering the price, quality of workmanship, and functionality, it's a good investment.
Features
Budget: You get a lot of bang for your buck with this set. For the level of quality, it's a very fair price.
What it includes: chef's spatula, fork, tongs, basting brush, replacement silicone brush head, replacement mop brush head, heat-resistant glove, 6 stainless steel skewers, 8 stainless steel corn holders, 10 burger flags, saw tooth grill scraper, bottle opener, temperature guide, recipe book, and storage case
Quality: This is not Cuisinart's top quality set, but it's still very decent quality for the price. Made of stainless steel, these tools should last a few seasons or so.
Best grill set for gifting: Home-Complete BBQ Grill Set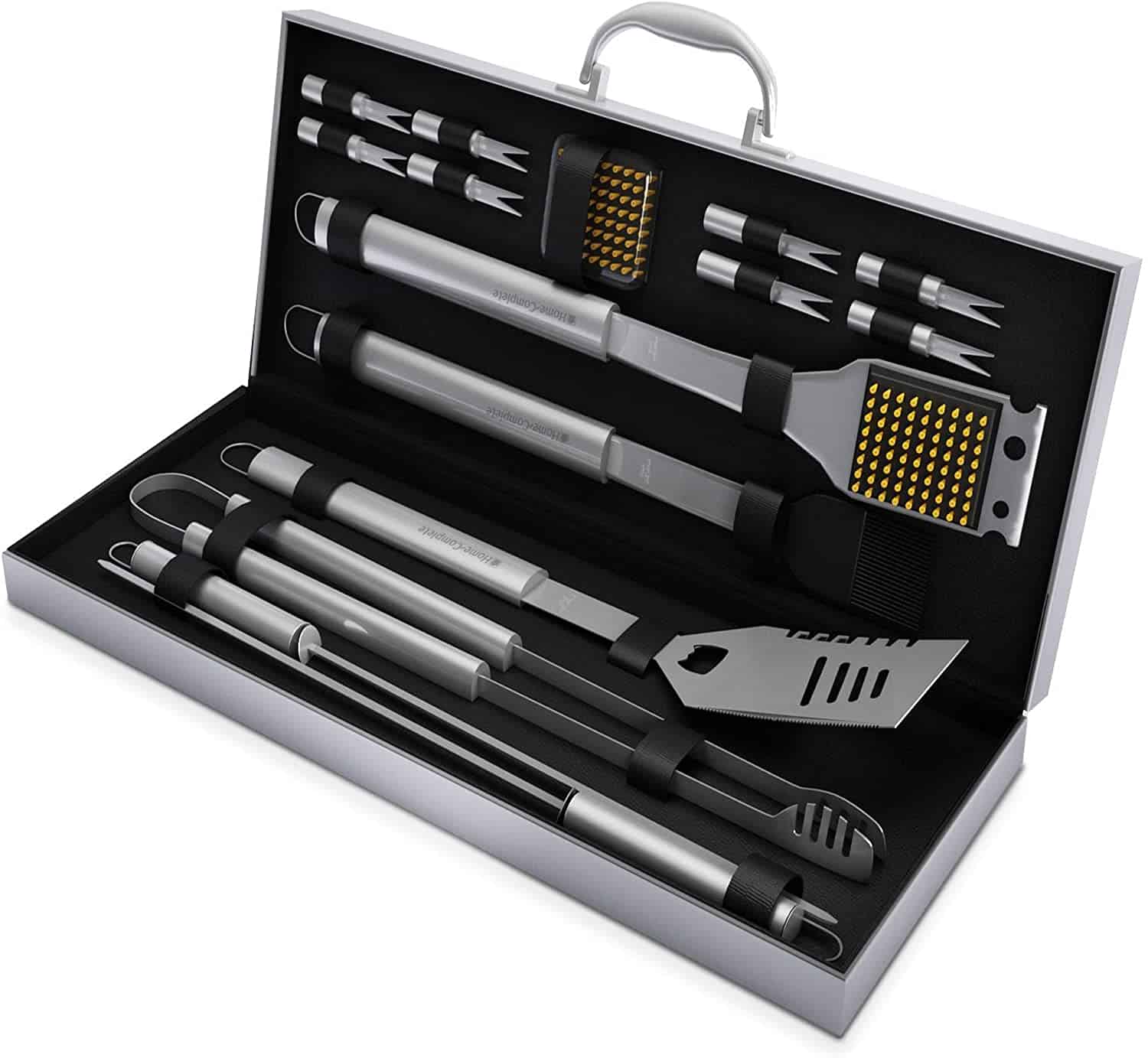 When it comes to this set, I recommend everything in it except for the grill brush. I need to make this clear from the start, out of all the accessories in this set, the grill brush is extremely disappointing.
The poor quality of the brush means it leaves a lot of bristles behind which could affect your health if the bristles get stuck in your food and you ingest them.
BUT, besides the brush, I really love the quality and functionality of the rest of the accessories in the Home-Complete BBQ Grill Tool Set.
It's a very affordable price considering all the tools you get, and it makes for an awesome gift for a grill enthusiast, or for yourself!
It includes the most useful, essential tools (tongs, spatula, basting brush, fork) as well as some great additional ones like the Swiss knife, corn holders, and kabob skewers.
I like the steel tongs and spatula and the time put into their design and finishings.
Sadly, the huge downside I'd like to mention once more is the brush, as this is the only reason why I was hesitant about placing this set on my list.
Check out the best grill brushes in this review here to find a better option and complete this kit.
Features
Budget: A great starter set for a grilling beginner, at a very reasonable budget.
What it includes: 16-piece set includes Swiss knife, spatula, tongs, basting brush, cleaning brush, corn holders, and skewers. Spatula has a built-in bottle opener.
Quality: Don't expect the best quality at this price, but overall the tools are fairly robust. The poor-quality brush does not reflect the rest of the tools in this set.
FAQs about grilling tools
Are grilling tools really necessary?
Every good griller knows that good tools are essential! It would be difficult to prepare even the most basic food without them.
You need tongs to move food or take it off the grates, you need a spatula to flip burgers, you need the right tongs to effectively grab chicken wings.
Remember that grilling comes with the risk of burning your hands if you don't have the right tools. It is hard to keep your hands on a hot element or directly over the heat.
These are just some of the situations where you need even just the most basic grill tool set.
What are the most essential grill tools?
Depending on the cost, tool sets differ a lot. But there are some essential tools that no griller can do without.
Spatula – useful for flipping food over (like burgers), and for soft foods like fish
Tongs – they make it possible to conveniently grab food and move it from one place to another. There are many types of grill tongs and not all of them are suitable for every situation, which makes it a good idea to analyze the type of tongs.
Barbecue gloves – a very useful accessory, especially if you cook on charcoal. Without at least one glove, you won't be able to touch or move very hot elements such as charcoal chimney, grill grates etc.
Grill brush – a clean grill is a must, especially the grill grates, which is why a good brush is necessary. Make sure you buy the right kind of brush for your grill. Some brushes aren't suited to ceramics and could end up damaging your grill instead of cleaning it.
Fork – Another very useful tool that makes it easier to hold food and move it around your grill.
Combining all these tools makes every grilling event an absolute pleasure.
Of course, there are more diverse grilling accessories that are useful in certain situations, but they aren't obligatory.
As you get into grilling, you will define your own grilling style, and you'll have the chance to test out a range of accessories that suit your particular needs.
How about flavor infusing grilling wraps for example? Or grilling cedar planks?
I always recommend that newbies try out as many accessories as possible so that they can find their own 'must-haves' and enjoy a personalized grilling experience.
Takeaway
While there are some essential accessories that every griller should invest in (get the best quality you can for your budget), there are some fun extras that don't have to break the bank.
If you're not using them every time you grill, you can afford to spend a little less to test them out and see if they should become part of your BBQ arsenal.
Grilling and smoking are all about adding your own personality, flavor, and knowledge to each meal, so enjoy every minute, and experiment as much as you can!
Already a grill master and looking to start smoking? These are the top 7 best BBQ smokers for beginners (including buying tips)
Joost Nusselder, the founder of Lakeside Smokers is a content marketer, dad and loves trying out new food with BBQ Smoking (& Japanese food!) at the heart of his passion, and together with his team he's been creating in-depth blog articles since 2016 to help loyal readers with recipes and cooking tips.