I love creating free content full of tips for my readers, you. I don't accept paid sponsorships, my opinion is my own, but if you find my recommendations helpful and you end up buying something you like through one of my links, I could earn a commission at no extra cost to you.
Learn more
The smoked tuna steak will blow your senses into overdrive!
If you have trouble thinking about what recipe to prepare for your next smoking session, or you simply just want to prepare a nice meal for yourself or your guests; then you ought to try the smoked tuna steak!
In this post, I'd like to walk you through my marinated & smoked tuna recipe.
This would be the seafood version of the beefsteak that you're used to when watching football games on tv, or when you go camping.
It's also healthier compared to the usual red meat that you buy from the meat market as it has fish oils that are good for the heart (i.e. omega 3, 6, and 9 fatty acids).
But even if you didn't care about the tuna's health benefits, I bet you will be ecstatic about the whole recipe itself!
Smoking the marinated tuna steak is best done in an electric smoker grill if you prefer indoor smoking, but the propane, offset, or pellet smoker work just as fine.
Still, if you're really meticulous about how the smoked tuna steak should taste to the perfection that your senses desire, then you should smoke it using a charcoal grill as it gets the taste of anything right.
In this post we'll cover:
The secret to the smoked tuna steak
The reason why the smoked tuna steak is very easy to cook yet tastes absolutely bonkers is the ingredients it has got for the marinade.
The marinade is a mixture of fresh parsley, citric extracts, garlic, and oregano!
Once the marinade seeps through the fish meat and you smoke it, then the result will be a heterogeneous explosion of aromatic scent and a burst of exotic flavors once it touches your mouth.
To get the best flavor out of your smoked tuna, these are the best woods to choose for the smoker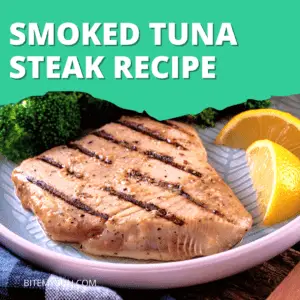 Smoked tuna steak recipe
Ingredients  
1/4

cup

orange juice

1/4

cup

soy sauce

2

tablespoons

olive oil

1

tablespoon

lemon juice

2

tablespoons

fresh parsley

chopped

1

clove

of garlic

minced

1/2

teaspoon

fresh oregano

chopped

1/2

teaspoon

ground black pepper

brown sugar

as needed

4

(4 ounces) ahi tuna steaks
Instructions 
Put all the ingredients for the marinade in a bowl and mix them vigorously to make a good blend of all the flavors.

Submerge the fresh tuna pieces fully into it.

If you think more marinade is required, don't hesitate to be generous until it covers the tuna steaks fully.

You could pour the marinade into zipper bags and pack the tuna steaks separately into them or use a bowl.

Once the tuna steaks are fully submerged in the marinade, refrigerate them for an ideal time of 3 hours. This will pass maximum flavors to the meat without overpowering its natural taste.

After the marination period is over, you can either pat dry the steak or rinse it; the choice is yours.

I would highly recommend pat drying because it won't clean all the "good stuff" off the steak surface, keeping the flavors intact.

After pat drying the tuna steak pieces, it's time to air dry them so that they develope a perfect pellicle on the surface with little moisture.

It can take about an hour or two, depending on the environment of your area. You can expect more time if the air conditions are primarily moist.

With the pellicle developed and the tuna still somewhat moist, the next step is to coat the tuna steaks with a layer of brown sugar in both sides.

You could also use garlic powder or ground black pepper seasoning instead, but that's really up to your preference.

Afterward, It's time to vamp up the smoker temperature to 175 degrees and place the tuna steaks onto the rack.

Now let the tuna steaks smoke for at least 1-2 hours, or until their internal temperature reaches 140 degrees.

Once the tuna steaks achieve the right temperature, pull them out of the smoker, and they are ready to serve with vegetables, rice, and some fresh lemon juice.
Notes
Smoking tuna steak with apple or cherry wood chips is vital for a flavorful final result. Using smoky woods like mesquite or hickory could overpower the overall flavor of the smoked tuna, ruining the whole recipe. 
Recipe substitutions & variations
You could also use yellowfin tuna instead of ahi tuna if you want that extra fattiness and tenderness in the meat.
However, ahi would be an ideal choice as it has got just the right amount of fat content and texture to perfect this smoked tuna recipe.
Plus, it is widely preferred for smoking compared to yellowfin, which is mostly eaten raw.
For more great fishes to smoke, check my top 10 best smoked seafood choices!
FAQs
How do I choose a fresh tuna?
Smell and color are what define the freshness of a tuna steak.
So when picking your meat cut, see if it has a rich red or pink color, a fresh sea-air smell, and a fine, smooth texture with zero coarseness.
If yes, look for a steak with the maximum fat content, probably an A-grade cut.
Is smoked tuna good?
Smoked fish tuna is good for several reasons. It tastes delicious and has all the vitamins and nutrients inside the meat intact.
Moreover, as smoking halts the bacterial activity, the meat stays preserved for a longer duration.
So if you want to have a quick snack later, you can pull it out of the fridge, heat it, and eat it!
How much fat does a smoked tuna steak have?
Tuna steaks are primarily lean with very low-fat content. A 3-4 ounces Yellowfish or Ahi tuna contains about 5 grams of fat, of which 1.3 grams are saturated.
Thus, making it an almost pure protein food with zero health risks if consumed in the right amount.
Now, if you're getting ready to cook for a larger group, chances are there are some vegetarians too, so be sure to take a look at our vegetable recipes as well.
Joost Nusselder, the founder of Lakeside Smokers is a content marketer, dad and loves trying out new food with BBQ Smoking (& Japanese food!) at the heart of his passion, and together with his team he's been creating in-depth blog articles since 2016 to help loyal readers with recipes and cooking tips.