I love creating free content full of tips for my readers, you. I don't accept paid sponsorships, my opinion is my own, but if you find my recommendations helpful and you end up buying something you like through one of my links, I could earn a commission at no extra cost to you.
Learn more
Have you ever considered cooking rice on a grill?! If you're a seasoned BBQ enthusiast and you're wanting to branch out and stretch your skills, now's the time to consider a flat top grill.
These versatile grills allow you to cook all of the regular BBQ foods plus some added extras.
Flat tops are relatively light and mobile and are great for taking on camping trips as you can cook pretty much every meal on them from breakfast (eggs and bacon) to lunch (pancakes) and dinner (regular BBQ and vegetables!)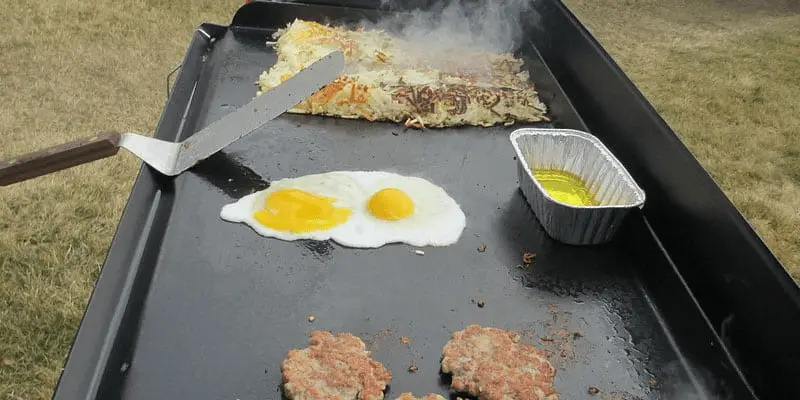 I personally recommend the Blackstone 36 inch Outdoor Flat Top Grill as my top choice because of its exceptional quality, and thoughtful design. It even comes with a removable cutting board built into one of the side shelves.
I've had years of experience in grilling, smoking, and cooking up a storm on a barbeque grill, and I am so happy to share this journey with you.
In the article below, I've detailed four of my favorite flat-top grills to help you decide which one would best suit your needs and budget.
Tips for buying a flat top grill
Remember, this is a completely different type of grill, and it could take a little bit of time to get used to cooking on one.
But once you've got the techniques in hand, I'm sure you'll love it as much as I do. You can even cook up a delicious griddle-fried rice recipe on this type of grill!
Before you make your purchase, though, there are some things you need to take into account:
Budget
First, define your budget so that you can narrow down the options to only the ones you can afford. This ensures you don't waste time scrolling for hours through models that are completely out of your price range.
Size & number of burners
Figure out how much food you generally cook, and how much space you have in your yard for a grill. Flat tops do offer loads of cooking space, so you can get quite a lot of grilling areas for a limited budget.
Remember, the more burners you have, the more heat zones you can create. But most passionate grillers prefer two to three burners.
Accessories & extras
Most of the time, flat top grills are simple and don't come with gadgets, but it's a good idea to check out the construction.
Find out if it has hooks, a lot of working space, a place to store tools, and a well-designed grease collection system (see below).
Cleaning
Pay attention to reviews of the grease collection system. Some brands haven't paid attention to the design, and the hole is in the wrong place, so it doesn't drain well.
Mobility
Are you looking for a stationary grill or a portable one to take on camping trips and tailgating parties? There are compact options available that work great for traveling or camping.
Also check out my post on the best portable smokers available
The 4 best flat top grills reviewed
Here are my four recommended flat top grills that I would recommend based on quality of construction, price, and features.
Best flat top grill for largescale cooking: Blackstone 36 inch Outdoor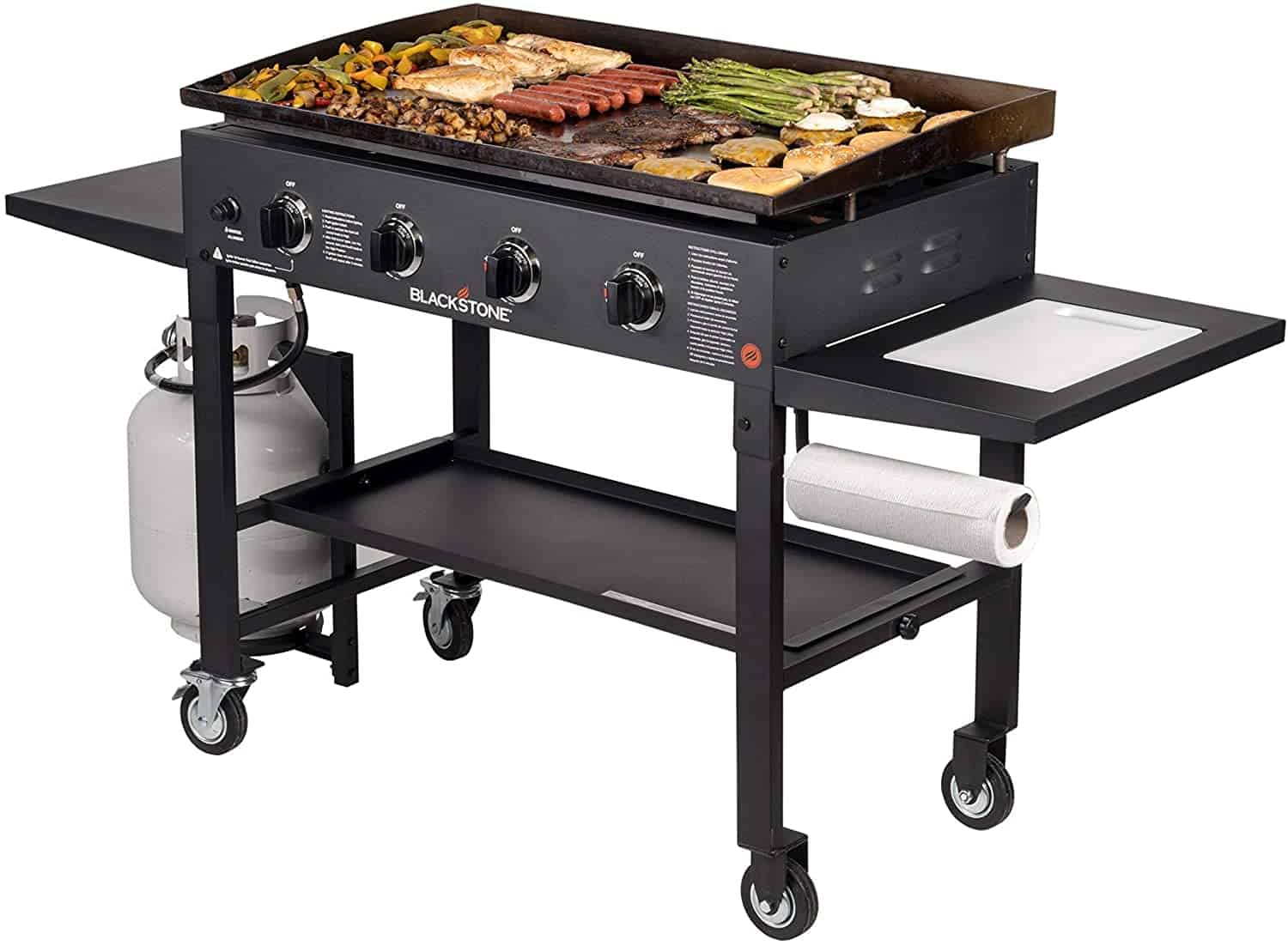 If you often cook for a fairly big crowd, the Blackstone 36-inch Outdoor Flat Top Grill is an ideal choice for you. This flat top grill features four independently controlled burners, delivering 60,000 BTUs in total.
This is my personal favorite due to its size and efficiency. I regularly have friends and family over in the summertime, and I bring out this grill to ensure that I can cook up a whole load of food and enough BBQ meat for everyone at once.
It offers 720 square inches of cooking surface, which you can use to prepare a wide variety of foods. This unit is easy to assemble, user-friendly, and easy to clean. This Blackstone grill also features a removable griddle.
All four of its legs are foldable which makes it a great choice if you're looking for a fairly portable grill that you can bring with you on your outdoor expeditions such as camping events.
Here's Todd, just like me a huge fan of this outdoor griddle station:
Another positive feature of the Blackstone 36″ flat top grill is that all the essential parts are stainless steel. These include the frame, cooktop, and burners.
Stainless steel construction helps to enhance the grill's durability. Also worthy of note is the small, built-in, detachable cutting board on one of the side shelves.
The cutting board helps you prep your food quickly and easily. There's also a paper towel holder, which can come in handy on your camping trips.
The Blackstone 36-inch Flat Top Grill also boasts a rear-mounted grease-management system, which ensures the grill is easy to clean and maintain. Blackstone is simply a top-notch brand when it comes to outdoor grills.
Pros
Budget: Very affordable for the quality (stainless steel) and added extras
Size & number of burners: 66.52 x 27.6 x 35.43 inches; 4 burners
Accessories & extras: Side shelf with a removable cutting board, convenient paper towel holder, strategically placed trash bag hooks
Cleaning: Effective rear grease management system
Mobility: At 134 pounds it's not exceptionally light, but the legs do fold up for ease of movement, and it's great for camping if you don't have to carry it too far
Best flat top griddle & grate combo: Camp Chef Flat Top Grill 600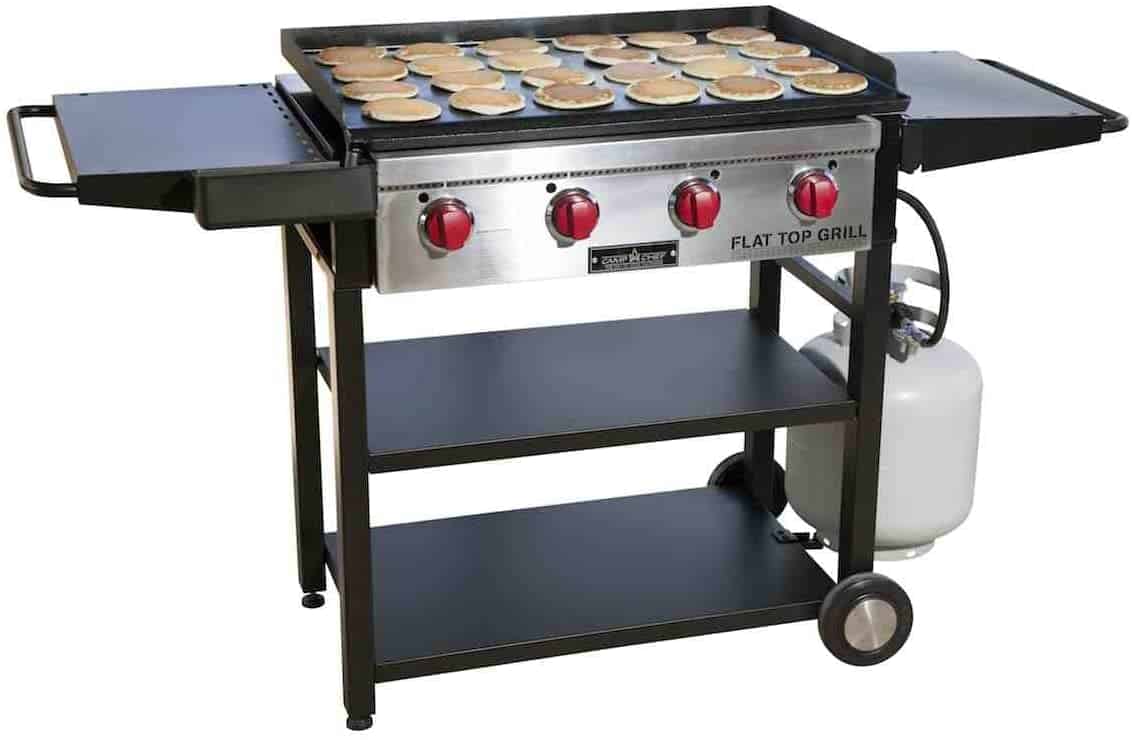 If you're looking for a versatile, restaurant-grade flat top grill that is relatively easy on your pocket, you can't go wrong with Camp Chef Flat Top Grill 600.
This grill has a large surface area and features an interchangeable steel top. The steel top can transform between a flat top griddle and grill grates, giving you plenty of options on what you can cook.
The Flat Top Grill 600 boasts a spacious cooking area, including 604 square inches for the griddle and 501 squares inches for the grill.
It features four adjustable stainless steel burners, delivering 48,000 BTUs of cooking power.
The company designed the grill to distribute heat evenly, which prevents hotspots and ensures you have a reliable, restaurant-grade cooking experience.
Another fantastic feature of the Flat Top Grill 600 is the two sizable side shelves, which allow for easy prep. The lower shelf space offers a convenient place for storing condiments, paper towels, food trays, or BBQ cleaning supplies.
This Camp Chef grill features an easy electronic push-button ignition system to allow for reliable and quick starts.
The grill has a grease-management system, which makes it easy to clean and maintain.
Pros
Budget: Very affordable considering it comes with a griddle and flat top
Size & number of burners: 62.5 x 37 x 22 inches; 4 burners
Accessories & extras: Side shelves and storage space on the lower shelf
Cleaning: Grease management system included, comes with good reviews
Cons
Mobility: At 142 pounds it's heavier than the Blackstone, and the legs don't fold away. The grill comes with roller wheels attached to the bottom to enhance portability. The adjustable leg levelers ensure you have a flat, sturdy grilling surface.
Camp Chef is also a great brand known for their pellet grills. I've reviewed the Camp Chef PG24 pellet grill here
Best tabletop flat top grill for camping: Blackstone 1666 Heavy Duty Station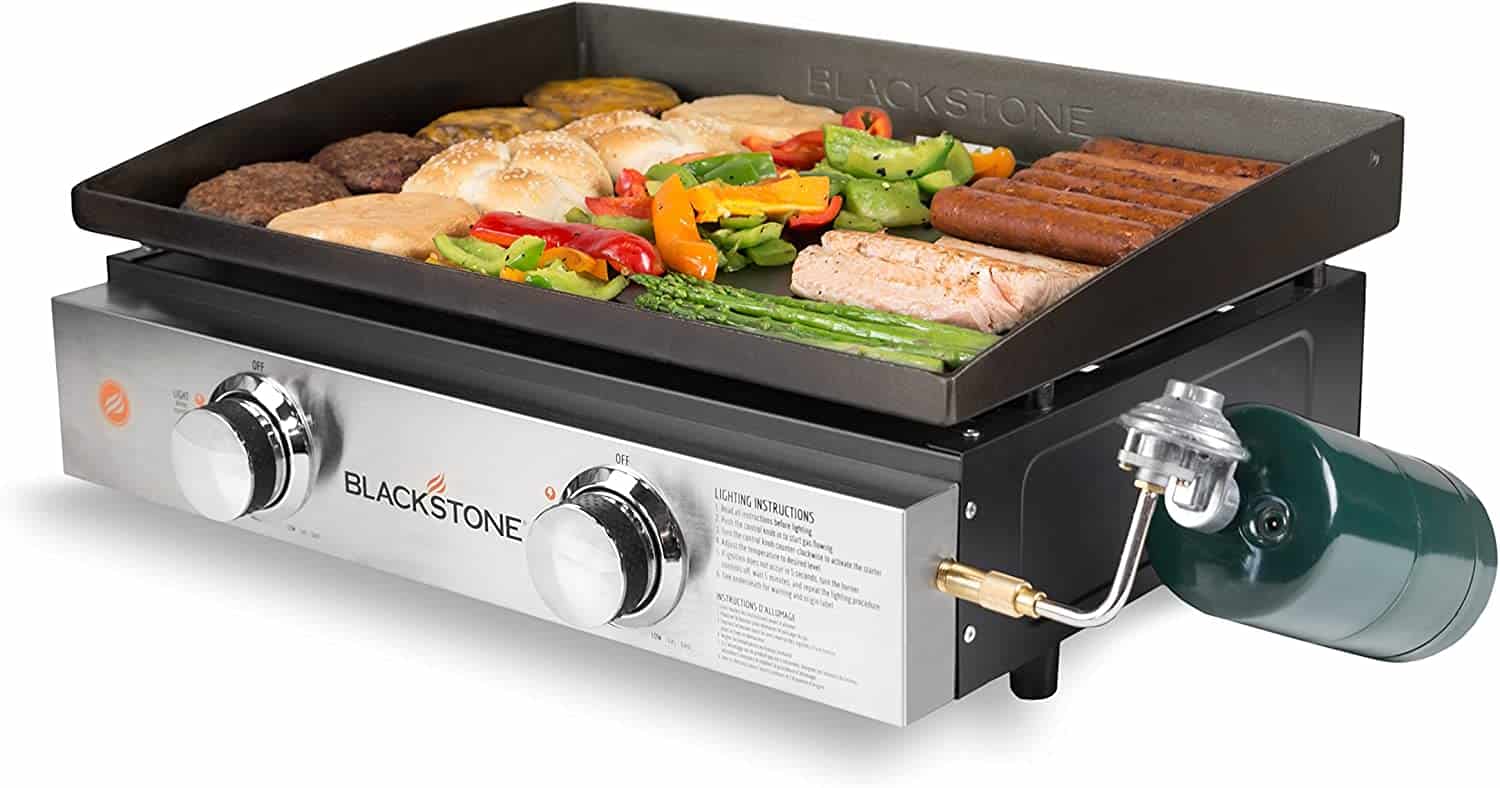 If you're looking for a small, convenient grill on a budget, Blackstone 22-inch Flat Top Table Grill is a great choice.
This Blackstone grill is ideal for camping, tailgating, road trips, hunting, and weekend gatherings. At just 32 pounds in weight, it's very mobile and can be placed on any stable work surface.
The Blackstone finish on the griddle makes it easy and less messy to clean up. The grill has a stainless steel H burner, which takes less than a minute to heat up.
This portable griddle has everything you need to whip up a smorgasbord of eggs, crunchy hash browns, crispy bacon, and fluffy pancakes all at the same time.
The heavy-duty flat griddle features a rear grease trap that collects all the grease and spills and ensures the clean-up is easy.
Pros
Budget: The price is great for the quality
Size & number of burners: 22.5 x 19 x 9 inches; 2 burners
Cleaning: Rear grease collection system
Mobility: 32 Pounds
Cons
Accessories & extras: There are no accessories with this simple, but effective grill
Most simple electric flat top grill: Presto Electric Griddle

If you are a small family, or you are always on the move and want to buy a budget-friendly, functional, and portable grill, the Presto Electric Flat Top Griddle with detachable handles is an ideal choice.
This flat top electric grill features a non-stick cooking surface so you can cook with little to no oil.
The griddle offers an 18-square-inch cooking area, which is spacious enough to prepare a meal for your whole family. Moreover, it is easy to clean.
You can use it in your kitchen at home, or on a camping trip as long as you are close to an outlet. The removable handles make it easy to store in a small space.
Whether you use it at home or during your outdoor expeditions, all you need is a power source, and Presto Electric Flat Top Grill will help you cook your favorite meals.
Pros
Budget: Extremely affordable
Size & number of burners: 18-square-inch cooking area; zero burners (it's electric)
Cleaning: Non-stick surface, slide-out drip tray removes and cleans easily.
Cons
Accessories & extras: No accessories with this simple grill
Mobility: Just 6.5 pounds, but you need to be close to an electrical outlet
FAQs about flat top grills
Why buy a flat top grill?
If you have ever wondered if a flat top grill is worth your time, these are some key advantages:
Very large cooking area
Thanks to the flat surface, the capacity is very large compared to traditional grills with grates. It's a great option when it comes to cooking very large quantities of food.
Grills of this type are very often used at restaurants or during large events precisely because of their large capacity and efficiency.
Versatility
Besides grilled meat, you can prepare many different things that you won't cook on a regular grill. You can cook chopped meat and veggies, or fry eggs and pancakes etc.
You have plenty of possibilities to prepare classic grilled meat plus interesting additions, creating a wholesome, diverse meal – that's the greatest value of this style of cooking.
Ease of use
You don't have to worry about controlling temperature, air vents, getting the charcoal burning etc. A flat top grill is very easy to use, I recommend watching a video to see it in action.
Here's Camp Chef with a demo cooking a complete meal:
What's the difference between a flat top grill and a conventional grill?
Flat tops offer a far larger cooking area compared to grills that have a griddle top. You can squeeze a lot of food together on a flat top, which is why this type of cooking is preferred by many restaurants.
If you're a home BBQ enthusiast, then it is recommended to have both types of grills (or one grill that has interchangeable tops so that you can choose between the two)
Can I cook good burgers on a flat top grill?
Absolutely! You're guaranteed to have succulent, delicious burgers on a flat top grill.
Where the juices all fall away between the grates on a conventional grill, the flat top allows the patties to fry in some of their own fat (most of the fat is channeled away into the collection tray).
Also read: How long should you grill Frozen Burgers + how to do it!
Are steaks better on a flat top or on a grill grate?
Grilling over flames with a grill grate requires higher temperatures than griddle cooking. The heat transfers from the fire directly to the meat as well as through the metal of the grill grate.
This allows you to get brilliant sear marks on your meat and steaks. Most chefs prefer to grill their steaks on a conventional grill instead of a flat top griddle so that they can achieve perfect sear marks.
This is the Best Way to Cook a Tomahawk Steak
Which is healthier? Flat top griddles or conventional grills?
Neither one is more healthy than the other. Cooking healthier food depends on what type of food you're cooking, and the contents of the sauces that you use with them, as well as the sides.
Can you close the lid if you're cooking with a flat top grill (like a Blackstone)?
Yes, you can. In fact, it is recommended that you cook thick cuts of meat with the lid down in order to ensure even cooking throughout the meat.
Takeaway
Flat top grills are a fantastic innovation, and definitely, something to consider adding to your grill collection – particularly if you camp a lot, or have to cook for large numbers of people on a regular basis.
I am confident that by narrowing down the pros and cons of each of these grills you will be able to identify one that's best for you and your needs.
Read next: Top 10 best grilling accessories | Take your cookout to the next level
Joost Nusselder, the founder of Lakeside Smokers is a content marketer, dad and loves trying out new food with BBQ Smoking (& Japanese food!) at the heart of his passion, and together with his team he's been creating in-depth blog articles since 2016 to help loyal readers with recipes and cooking tips.