I love creating free content full of tips for my readers, you. I don't accept paid sponsorships, my opinion is my own, but if you find my recommendations helpful and you end up buying something you like through one of my links, I could earn a commission at no extra cost to you.
Learn more
If you own a pellet smoker grill, then you're certainly aware that one of the biggest issues that you could face is when the grill isn't able to provide the right temperature needed to properly cook your meat.
Thankfully, you won't have to deal with this problem if you're going to choose the Camp Chef Woodwind SG pellet grill with sear box.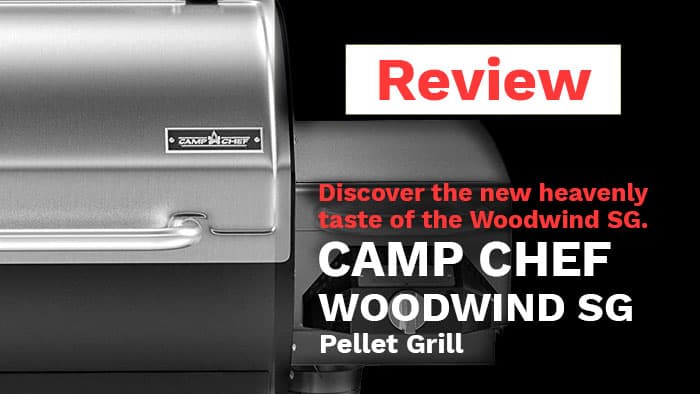 With this grill, you just need to flip your meat over to the sear box that comes attached to the grill, and you'll be able to achieve the desired crispiness for your meat!
In this Camp Chef Woodwind SG review, we will find out more about this grill, including its features and benefits.
In this post we'll cover:
In-Depth Camp Chef Woodwind SG Review
Any smoker grill in the market may be able to serve its purpose for providing a nice smokiness to your meat. But in most cases, some of these grills won't help you achieve the right temperature. In fact, others cannot go beyond 500° F, which is a shame as this will prevent you from achieving the right crispiness when searing meat on the grill.
This is why Camp Chef created the perfect grill to solve this issue. The Camp Chef Woodwind SG 24 pellet grill with sear box was specifically designed to address this problem. It comes with an integrated sear box allowing you to reach a whopping 900° F temperature, which is usually not possible with other grills!
Because of this feature, you can use it to grill, smoke, bake, braise, roast, barbecue, and sear meat without any temperature limitations! Furthermore, this grill comes with highly innovative features, most of which cannot be found in other brands and models.
Camp Chef Woodwind SG Main Features
Here are some of these features:
Temperature Control
One of the best features of the grill is the Smart Smoke Technology. With this technology, there's a dual LED temperature readout that keeps the heat in a constant temperature. Therefore, you can simply sit back and relax while the grill works. You can set the temperature between 160 ° F and 500° F.
The grill comes equipped with a pellet feeder system that slowly burns the meat to achieve an intense flavor. It also uses an auto start ignition for its operation that requires to be plugged into a standard 120-voltage outlet.
Ash Cleanout System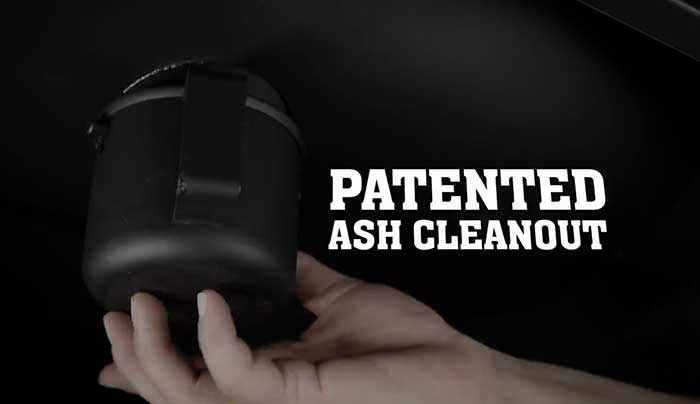 The Ash Cleanout System is a great feature that allows for the easy cleaning of the grill. With this feature, you just need to gently pull a lever and the ashes from the grill will fall towards a removable cup. Thus, you no longer need to go through the hassle of having to manually take out the ash or use a vacuum cleaner for the task.
This is a really smart idea that many customers love, as shown on the other Camp Chef Woodwind SG grill reviews that you'll find online as well. In fact, the company has decided to patent this feature. It saves lots of time and effort when removing the ashes from the burner.
Integrated Sear Box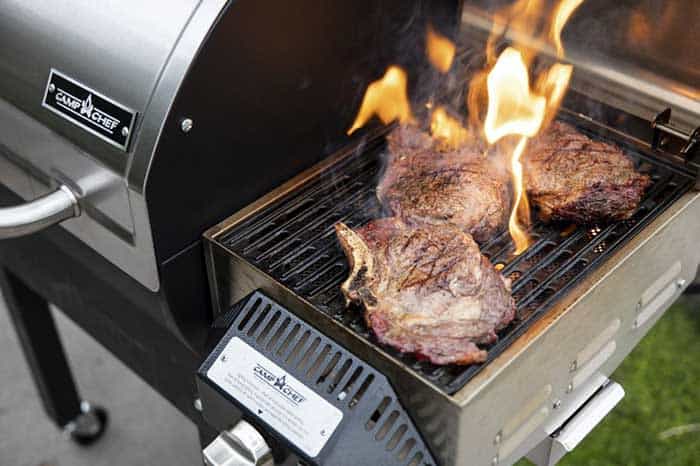 As stated at the start of this Woodwind SG pellet grill with sear box review, one of the biggest benefits of the grill is that it comes with an attached sear box that makes the entire grilling experience a breeze. This feature allows for your meat to be completely smoked while also having the ability to grill and sear (like these grills with sear boxes) it perfectly.
Instead of having to manually manage the desired searing at the external grill, you just need to flip the meat over to the stainless steel burner that can reach a temperature of up to 900° F. This is a truly fantastic feature because most of the standard pellet smokers can only be adjusted within a temperature range of 150° F-500° F.
Slide and Grill Technology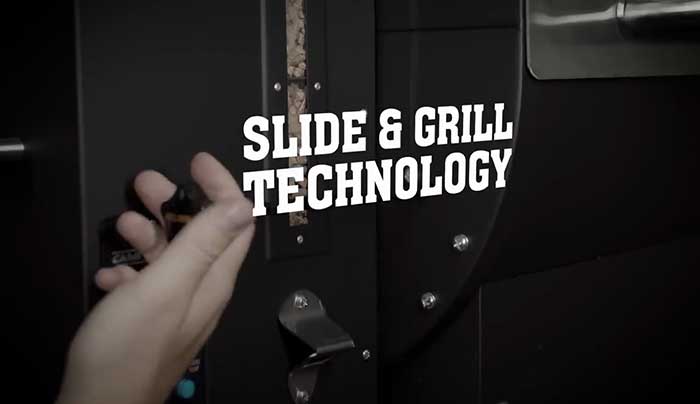 Another great feature that the grill comes with is the side and grill technology. With this feature, grilling has never been so convenient because it allows you to easily change from indirect to direct cooking option. All you need to do is to slide the heat deflector tray to a certain position.
To do this, gently pull the knob to unleash direct flame grilling. The tray allows for the flame to easily come through and get into contact with the meat. There are holes on the tray small enough to allow the flame to easily come through the grilling area while still preventing drippings to get into the holes according to Camp Chef Woodwind SG reviews.
Functionality
When you check out the Camp Chef Woodwind SG with sear box review online, most customers praise the product due to its great looks and excellent functionality. This grill is coated with stainless steel, giving it a sleek look. In terms of functionality, you can never go wrong with this grill.
It has an ample-sized cooking area. At 570 square inches, you'd be able to cook enough food for a huge crowd! Plus, it comes with a caster wheel, allowing you to easily move the grill from one place to another!
Easy to Clean
Another feature that customers love about this grill is that it's very convenient to clean! As mentioned, it comes with the patented feature known as the "Easy Ash Cleanout." With this feature, you no longer need to disassemble the grill. All you need to do is to twist the grill a bit and the ashes will directly fall into a removable cap. This saves the user a lot of time for cleaning!
If you still can't make up your mind on whether you should go for this grill or not, here are its pros and cons:
Pros
Comes with an attached sear box capable of reaching temperatures as high as 900° F.
Easy clean-up technology.
Highly durable.
It comes with a Smart Smoke Temperature Monitoring feature.
Portable
Cons
Doesn't have Wi-Fi capabilities
Accessories could cost a lot.
Check prices and availability here
Common Issues with Pellet Grill
No matter how great your pellet grill is, you're still bound to face issues with it at one point or another. When this happens, you'll have three options:
Replace the grill.
Get it repaired by an expert.
Repair it yourself.
If you're someone practical, you'll probably go with the third option, which is to try to repair it. So to help you with this process, here are some tips.
First, you need to understand how a pellet smoker works. This includes understanding which part goes where and how each part works. Once you have a basic knowledge of how the thing works, fixing the issue should be easy.
Next, you need to figure out what the problem is. Is the grill making weird noises? Are the pellets not lighting? Are the pellets stuck making the grill and are unable to function?
Here are some solutions to these common problems:
Grill Making Noises
A weird noise usually indicates that there's a problem with the motor. This is the part that's responsible for rotating the auger of the grill. In this case, the best solution is to replace the motor. And because the motors and augers are packaged together, you can expect to pay more for the replacement.
If you don't want to spend, then you can just leave it as it is. But this issue could make the auger not being able to feed the pellets well at your desired rate, which means that you may not be able to achieve the right temperature needed to cook the meat.
Pellets Not Lighting
This is a common problem but it also has an easy solution. This may have something to do with the connection of your lighting rod or the system itself is damaged. Your best bet is to repair the wiring. But if you find it too complicated, you can simply replace the lighting altogether. When you purchase this part, it will come with an instruction manual that you can easily follow.
Pellets Getting Stuck
When your pellets are stuck, there's a good chance that you've done something for this to happen. Simply clean the gunk, remove the ashes, and take away any charcoal that might have gotten into the feeder mechanism. If none of this works, then it's probably because you are not using the right size of wood pellets.
Conclusion
You're probably convinced by now to invest in the Camp Chef Woodwind SG 24. Indeed, it's a great product and can make for a really good investment. As you can see above, this product is equipped with great features that can make your grilling experience convenient and efficient.
If you take time to read the Woodwind SG pellet grill with sear box review written by customers who have tried using the product, you'll understand why this grill scores high in almost all categories!
It's rare to find a complaint or a customer review that criticizes the product. Overall, the Camp Chef Woodwind SG pellet grill with sear box has a highly versatile grill technology. Its removable ash cop and the attached sear box are two of its best features that have made this product stand out from the rest of the pellet smoker grills in the market.
Joost Nusselder, the founder of Lakeside Smokers is a content marketer, dad and loves trying out new food with BBQ Smoking (& Japanese food!) at the heart of his passion, and together with his team he's been creating in-depth blog articles since 2016 to help loyal readers with recipes and cooking tips.