I love creating free content full of tips for my readers, you. I don't accept paid sponsorships, my opinion is my own, but if you find my recommendations helpful and you end up buying something you like through one of my links, I could earn a commission at no extra cost to you.
Learn more
An outdoor gas grill is one of the best investments that you can make to enhance the functionality and style of your outdoor kitchen.
However, you have to be very selective when choosing a built-in gas grill because it's something that you're going to keep and use for a very long time.
Ideally, you should find something that's strong, durable and hard-wearing.
If you're on the lookout for a new outdoor built-in grill, we've got you covered with a review of the best built in grills on the market.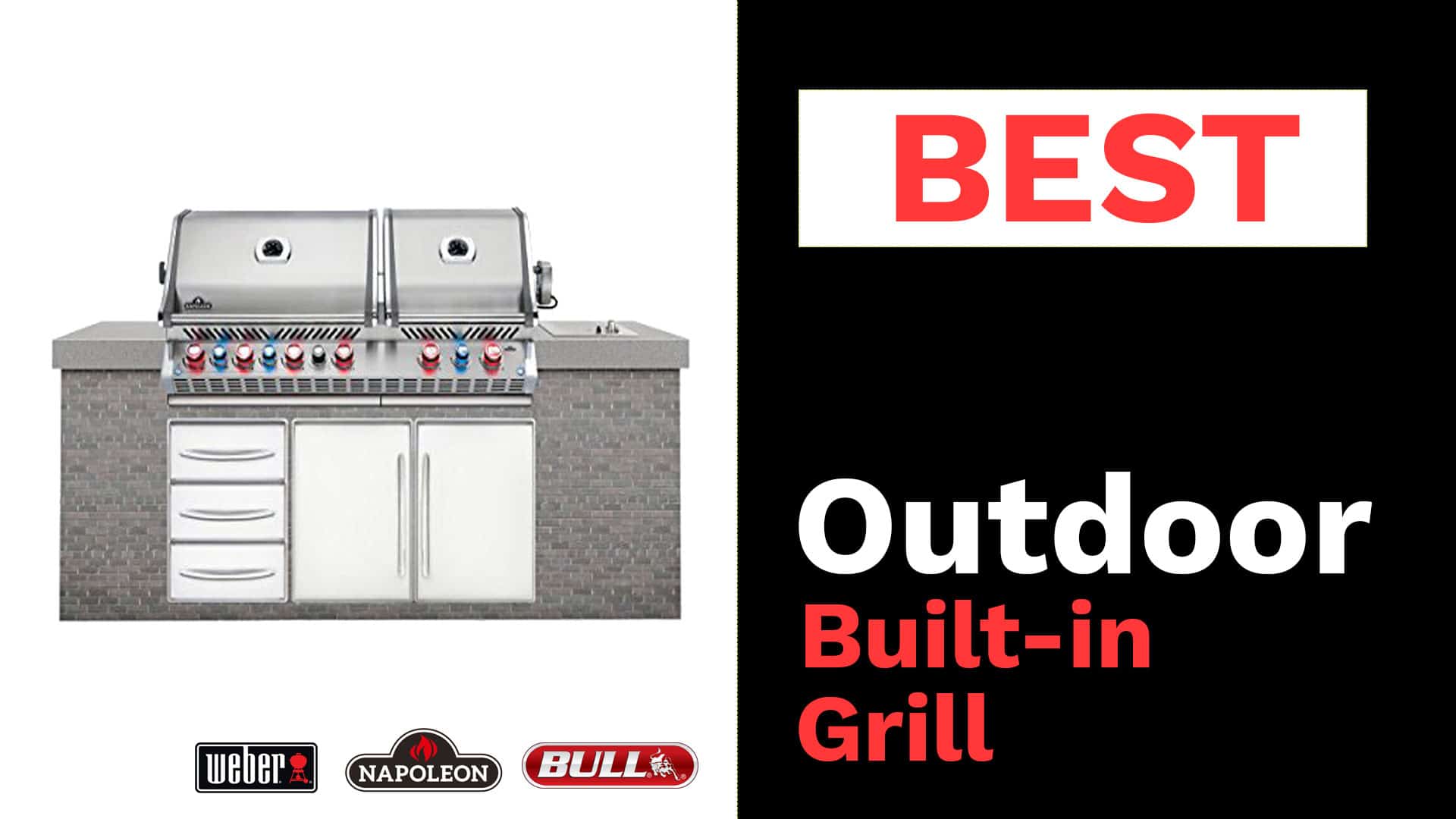 Why Buy a Built In Gas Grill?
A built-in gas grill is a great product for anyone that needs a permanent outdoor cooking fixture. It allows you to grill and cook outside without worrying about how the elements will affect your cooking. That's because unlike indoor grills and stoves, built-in outdoor grills are made to withstand different weather conditions.
Sure, you won't be able to move it around because of the weight, but you'll have a peace of mind knowing that you'll find everything in the same place that you left it. Users say that it's easier to fill up a built-in outdoor gas grill with fuel because it comes with the gas line already attached.
Some of the best outdoor built in grills on the market come with features like lots of space and glow-in-the-dark control knobs. Plus, they look easy on the eye and will perfectly compliment the other tools and appliances in your outdoor kitchen.
Tips for buying built in grill
An outdoor kitchen is an investment for years to come, don't let all that money go to waste. Make use of my tips when choosing the right built-in grill so that you can avoid disappointment and problems in the future.
Budget – Define your budget right at the start, with such large offer on the market the price range is so big that it will make it easier for you to search within a single price bracket.
Number of burners and size – Think about how much you cook and what type of food. The build of an outdoor kitchen should be very well thought-out, as it will be difficult to make any changes later without spending a lot of money. Match the grill size to your lifestyle and the amount of food you cook.
Build Quality and durability – A high quality built-in grill should be made entirely of the best quality materials (including top quality stainless steel). That's the only way you can be sure that the grill is indeed durable, efficient and resistant to corrosion for many years. (regardless of the type of built-in grill, I always recommend using a grill cover).
Design and style – When making an outdoor kitchen, its look and style are important, and a built in grill is one of the elements that have a huge impact on the final look. The built-in grill should be elegant and eye-catching, for that reason you should check out whether the material the grill was made of goes well with all the other elements of the kitchen (shelves etc).
Features – There's more to it than strong and efficient main burners. Check out if it's possible to create separate heat zones, whether the grill comes with a rotisserie burner or a sear burner and many other interesting solutions. Of course features of this kind cause the price to go up significantly, which is why it's a solution for those with a thick wallet.
5 Best Built In Grills
To make your job of finding an outdoor built-in grill easier, we've compiled a list featuring ten of the best outdoor built in grills for the money. This list features a variety of options with different features, sizes and price points. Of course, you're free to do your own research on each grill but this should ideally serve as a guide to give you an idea of what's available out there.
The Napoleon brand is a well-known manufacturer of reliable and well-built grills. They certainly live up to that reputation with this Prestige Pro 825 model. It features stainless steel construction with well-appointed chrome detailing. It definitely scores a 10/10 in the style department and will add panache and style to any outdoor kitchen.
It has "night light" enabled control knobs that glow in the dark at night to let you know if you've left the grill on by mistake. They also make it easier to grill food at night, which is what you'll probably be doing on those balmy summer evenings.
You'll be glad to know that this grill comes with two separate grill heads to increase the cooking options available to you. This means you can cook a seared steak on one side of the grill and a rotisserie lamb on the other. This is in addition to the large 1,245 square inches of cooking space which will help you cater to large gatherings.
Another interesting feature is the smoker tray which allows you to transform the grill into a smoker if you want to. All told, this grill is a complete cooking system that will inspire you to use your outdoor kitchen more often this summer.
The next built-in grill is only available in a natural gas version, so think your choice over carefully.
Napoleon Grills Built-in Prestige 500 is another noteworthy option, especially if you're planning to buy a slightly cheaper built-in gas grill.
Of course it still costs quite a lot, but considering the price to quality and size ratio compared to competitive options, this model definitely wins.
It looks great, but it's more important how it's made and what it offers.
It comes with 760 square inches of cooking area and as many as five burners.
It includes solid grill grates made of stainless steel and a rotisserie burner.
The entire construction is solidly made, but certain elements were made of aluminum instead of steel. I don't see it as a bad thing, aluminum is 100% resistant to corrosion and much cheaper.
Thanks to that, it is possible to buy a built-in grill this good at a great price. Of course most of the important elements were made of high-grade stainless steel, which makes this grill look very good.
It comes with all the essentials, a sufficient number of burners, a lot of room and an adequately low price compared to its very good quality of workmanship.
Pros
​Comes with an impressive nine burners
Beautifully designed
Generously sized grilling space
Durable and long-lasting construction
Features separate cooking areas
Cons
It's time-consuming to clean because of its large size
Expect the stainless steel to become discolored over time due to natural wear and tear
Check prices and availability here
Weber is another well-known name in the gas grill manufacturing industry. Their grills are usually pricier than Napoleon grills and this one is no exception. Are they worth the extra cost? Let's find out.
First of all, this grill has a very modern design that might be appealing to most consumers. It has a "Snap Jet" igniter which heats up the grill within minutes of ignition.
On the downside, this grill doesn't come with the "Accu-Glow" controller knobs featured on the Napoleon models and it lacks the space needed to allow for total cooking freedom.
With that said, this grill is perfect for anyone with limited space or a limited budget because it's available at a very reasonable price. You won't be able to barbecue at night and it only works with propane gas but at least it performs various grilling functions.
Pros
​Made from high-quality durable stainless steel
Features an eye-catching design
Weather-proof
Well priced
Comes with an integrated protection mechanism
Cons
​You cannot convert this grill from natural to propane gas
The smoker box allows too much air and that can reduce its efficacy
While Bull Outdoor Products is a relatively new player on the block, they've done well with this grill. It features 810 square inches of grilling space with an extra 210 square inches dedicated to keeping your food warm. It's one of the best built in gas grills out there but it's available at a fraction of the price of competing grills. It's powered by liquid propane which is a convenient source of fuel that's easy to work with.
The only downside to this grill is that it doesn't come with control knobs that light up at night. This can be a problem when you want to cook at night. But it's a small price to pay considering that you're getting a premium quality grill (here are some more options we've reviewed) at half the price of a Napoleon or Weber. This grill definitely offers more bang for your buck.
Pros
​Comes with lots of grilling and warming space
Features four porcelain coated burners
Each burner has 60,000 BTUs
Individual Piezo Igniter for each valve
Durable stainless steel grates
Cons
They use stainless steel grade that tends to rust over time
Adjusting the flames can be difficult at times
This grill was made using high-grade stainless steel (grade 304). It means that the Bull Outdoor Angus Built-in Grill is solid and durable.
This is great news considering the large capacity, four main burners and a rotisserie burner, and all of that at a very competitive price.
It has 810 square inches of the main cooking area and four pretty strong burners.
It is available in two versions (propane and natural gas).
The grill comes with an entire spit set included so that you can start using the rotisserie burner right away.
It incorporates an internal lighting system that makes cooking more convenient during late evening hours.
The manufacturer declares a lifetime warranty for the burners, grates and the fire box (limited).
If you're looking for a different configuration or size then the Bull Outdoor offers many other interesting options.
It's a suggestion for those who value quality of workmanship, convenient price and durability.
It costs quite a lot but compared to the competition it isn't that much considering all the features and the high quality of workmanship.

This is one of the best built in barbecue gas grills from Napoleon and it's very affordable. It's a versatile grill that comes with five individual burners which you can use to prepare all types of different meat and vegetables. You can use it to cook steaks, burgers, bacon, turkey, hot dogs etc.
It comes with stainless steel cooking grids that add to the appeal with sear marks on the meat. This grill is suitable for baking and slow roasting as well, thanks to the double-walled lid and it offers superb heat retention.
Napoleon's iconic JET-FIRE ignition system makes it possible to heat up the grill almost immediately and with 850 square inches of grilling space, you'll be able to serve big crowds at your next cookout. All in all, we recommend this grill for anyone that's looking for an all-in-one built-in outdoor grill that looks and works great. It's one of the best built in natural gas grills on the market.
Pros
Nice design
Offer plentiful grilling space
JETFIRE ignition
Very well made
iGlow knobs for night-time grilling
Cons
This is a heavy unit that weighs 300 lbs. and it can be difficult to set up and install
It doesn't work well in the rain due to the drip pan
Large cooking area, five strong burners, solid grill grates and very good quality of workmanship.
Lion Premium Grills 32″ is a great built-in grill available at a decent price.
It was made of high-grade stainless steel (grade 304), which is characterized by great properties, guaranteeing durability and resistance to corrosion.
It comes with an Infrared rotisserie back burner.
Inside you will find high-quality stainless steel grates, with two lamps above them to illuminate the interior.
Also included are a smoker box, a cover and a griddle.
I believe that this is the best option available on the market.
For that kind of price, you're getting a whole lot of cooking area plus as many as five very strong burners. All elements are very well made using high quality materials, which guarantees durability.
Without a doubt, this category of grills is among the most expensive ones, but that doesn't mean you need to spend a fortune on a really solid grill.
This model is available in two versions to choose from, propane or natural gas.
Conclusion
Shopping for an outdoor built in grill should be an exciting experience because it's part of putting your outdoor kitchen together. However, many people find it to be a frustrating experience because there are a lot of options out there.
In this article, we've narrowed down your options to the best outdoor built in grills that money can buy. We focused on grills that offer all the features you'll need to make the most of your outdoor kitchen. Out of all the options we reviewed, we can safely say that the 26038 Liquid Propane model from Bull Outdoor Products offers the best bang for your buck. It features powerful high-quality burners, lots of grilling space and porcelain coated burners that are easy to clean. In our opinion, it would make for a great addition to any outdoor kitchen setup.
Joost Nusselder, the founder of Lakeside Smokers is a content marketer, dad and loves trying out new food with BBQ Smoking (& Japanese food!) at the heart of his passion, and together with his team he's been creating in-depth blog articles since 2016 to help loyal readers with recipes and cooking tips.