I love creating free content full of tips for my readers, you. I don't accept paid sponsorships, my opinion is my own, but if you find my recommendations helpful and you end up buying something you like through one of my links, I could earn a commission at no extra cost to you.
Learn more
There is nothing better than a delicious cut of smoked meat.
But during the winter, your cooker is exposed to cold temperatures. This makes it difficult to get your meat smoked properly.
Enter the smoker insulation cover.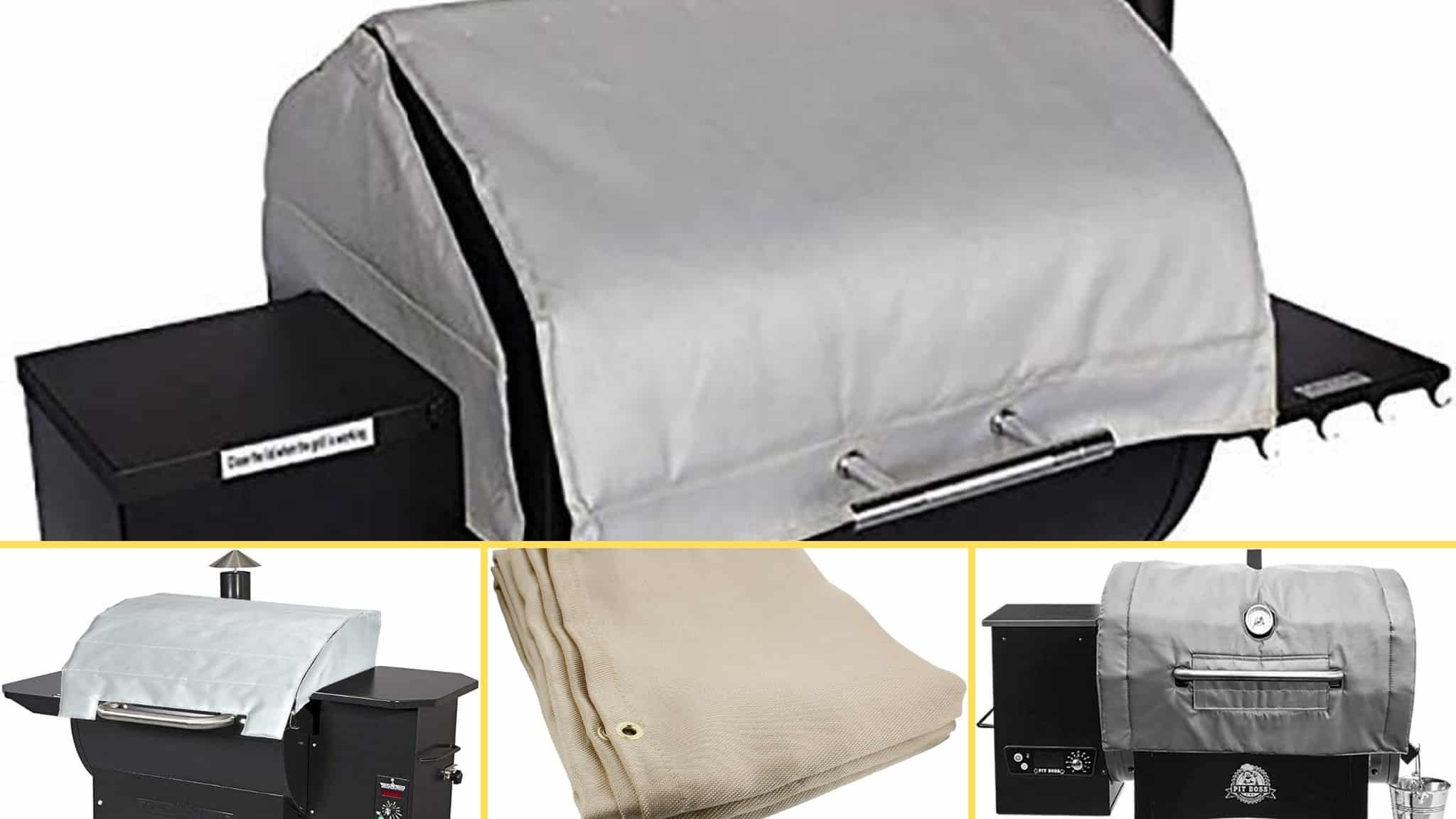 A smoker insulation cover wraps around your smoker to help it hold in heat.
It keeps temperatures high to ensure meats smoke properly. It can be in the form of a cover or blanket.
But how do you wrap the smoker to ensure it holds in meat? What products can you use to wrap your smoker? And what types of materials make for optimal insulation?
Read on to find out the answers to your questions and more.
Why Use Smoker Insulation?
Meat is typically smoked outdoors.
When it's cold out, the low temperatures, chilly winds, and precipitation make it difficult for smokers to maintain the constant heat that is necessary for giving the meat its rich smokey flavor.
An insulator will hold the heat in so your meat gets smoked properly.
Insulation jackets may also keep your grill safe from combustion. If there are combustible materials near the grill, the jacket will shield appliances and structures from a fire hazard.
It will also save cooking instruments from warping and protect the underside of the grill from rust and corrosion.
An insulation jacket will be necessary if your grill consists of combustible materials like wood, polyvinyl chloride, or high-density polyethylene.
But even if your grill is not made of combustible materials, a jacket will be necessary if there are combustible items nearby.
The jacket will also protect your grill keeping it safe from the elements that can especially factor in during the winter.
It also protects you from burns.
If you touch the grill through the insulation, it will not feel as hot and it is not likely to result in a serious burn. This is good news if you have young children around.
Note, it is always best to avoid touching the grill, whether you have an insulation cover or not.
Also read: Best BBQ Smoker Gifts | 7 gifting ideas for the smoker enthousiast.
What Should I Consider When Buying an Insulation Cover for My Grill?
Some grills come with a jacket and some do not.
If your grill does not come with a jacket and you think you need one, be sure to order one that's made for your grill.
If you find a jacket that fits your grill but was not actually made for it, it may not be holding in the heat or protecting it properly.
That's why it's important to find one that is compatible.
In addition to compatibility, you must also think about the type of blanket you would like.
Different Types of Insulation Blankets
This section will tell you about different types of insulation blankets and the characteristics you should look for in each.
Insulation Jackets
Insulation jackets are often used to insulate vertical smokers. They feature aluminum foil insulation.
Aluminum foil is one of the most effective insulating materials because it reflects heat and conducts thermal radiation.
Insulation Blanket
An insulation blanket also uses aluminum foil insulation.
However, the jacket will have the insulation on the outside while the blanket has it on the inside.
Because both types of insulation feature aluminum, they offer similar amounts of protection.
The main difference is, the jacket lays on the grill while the blanket wraps around. Therefore, you don't need the blanket to have a perfect fit.
Some blankets may drape over the grill while others need to wrap around several times. Ones that wrap around may have a Velcro closure to keep them in place.
Welding Blanket
A welding blanket insulates your grill just as well as an insulation blanket.
If you have one hanging around, you can use it as an alternative and you won't have to fork over extra money to buy another device.
Welding blankets are meant to hold up to extreme levels of heat. They are made with inorganic, heat resistant fibers and can withstand temperatures that range from 300 to 2500 degrees.
Make sure the welding blanket you are using is suited to the temperature you are grilling at.
How to Insulate Your Smoker Firebox
When insulating your grill, you won't want to cover your firebox. This will cause the insulation to burn.
However, because this is a heat source, it's a good idea to keep this insulated as well. You can do this with a cement board.
A cement board is made of materials like clay and stone combined with aluminum, iron, silicon, calcium, and other ingredients. These are meant to withstand high heat.
Make sure the cement board is not mixed with any chemicals that can get into food.
Once you find a cement board you are happy with, here are the steps you will want to take to make sure it functions properly.
Make sure there is no fuel burning in the firebox before lining it.
Measure the inside walls of the firebox with a tape measure.
Mark the cement board with those measurements.
Place the board flat on a work table.
Use a knife to cut out the piece of board you are using as marked.
Repeat the process for each side of the firebox.
Fit the pieces inside the firebox.
While the firebox can not be covered by a regular insulation jacket or blanket, all other parts of the grill should be covered including the cover, sides, and door.
Make Your Own Smoker Insulation Lid
If you would like to save some money, you also may consider making your own lid.
Here are the steps you will want to take.
Apply strips of adhesive tape to the inside of the barbecue grill lid. Each strip should overlap the one next to it to ensure full coverage.
Measure the exterior panels of the grill that need to be covered. Draw the shapes of the panels onto a thermal insulating blanket ensuring they are one inch larger than your original measurement in each direction. Cut out the shapes.
Assemble the panel strips in the proper location on the grill so they are overlapping by ½" on either side. Use thermal tape to fasten the overlapped seams. Cut vent holes where necessary.
Once the cover is assembled, slide it onto the grill once it has reached the appropriate cooking temperature. Remove it and set it aside when you need to tend to the food.
Read up more on BBQ smoker accessories: BBQ Smoker Door Handles, Latches, Hinges and Gasket Sealer.
Best BBQ Smoker Insulation Products
If you are planning on getting a grill insulation product, there are many on the market to choose from.
Here are some options that can be purchased on Amazon.
Note: While insulation covers and blankets and welding blankets are available on Amazon, I could not find any cement boards. You may be better off purchasing them at the hardware store.
Best insulation blanket: Green Mountain Grills Thermal Blanket
Although this is called a thermal blanket in the product description, it fits tightly like a cover.
It is designed to fit Jim Bowie grills although it can be used on any grill or smoker with 658 inches or less of cooking surface.
It cuts pellet usage in half, and is form fitting to hold up to any weather conditions.
It completely wraps around the hood to provide the ultimate in insulation and protection. Its high-quality materials are extremely durable.
It is easy to apply and it will protect your grill from scratches and other types of external damage.
Best smoker insulation cover: i COVER
This i COVER grill cover is constructed from 600 Denier polyester oxford fabric. It has a PVC water-resistant coating that will keep your grill safe from precipitation.
It also makes for easy cleaning. The cover is made for Dyna-Glo charcoal grills. It has Velcro closure straps at the sides to provide a snug fit.
Check prices and availability here
Best Fire Retardant Insulation Blanket: ABN Fiberglass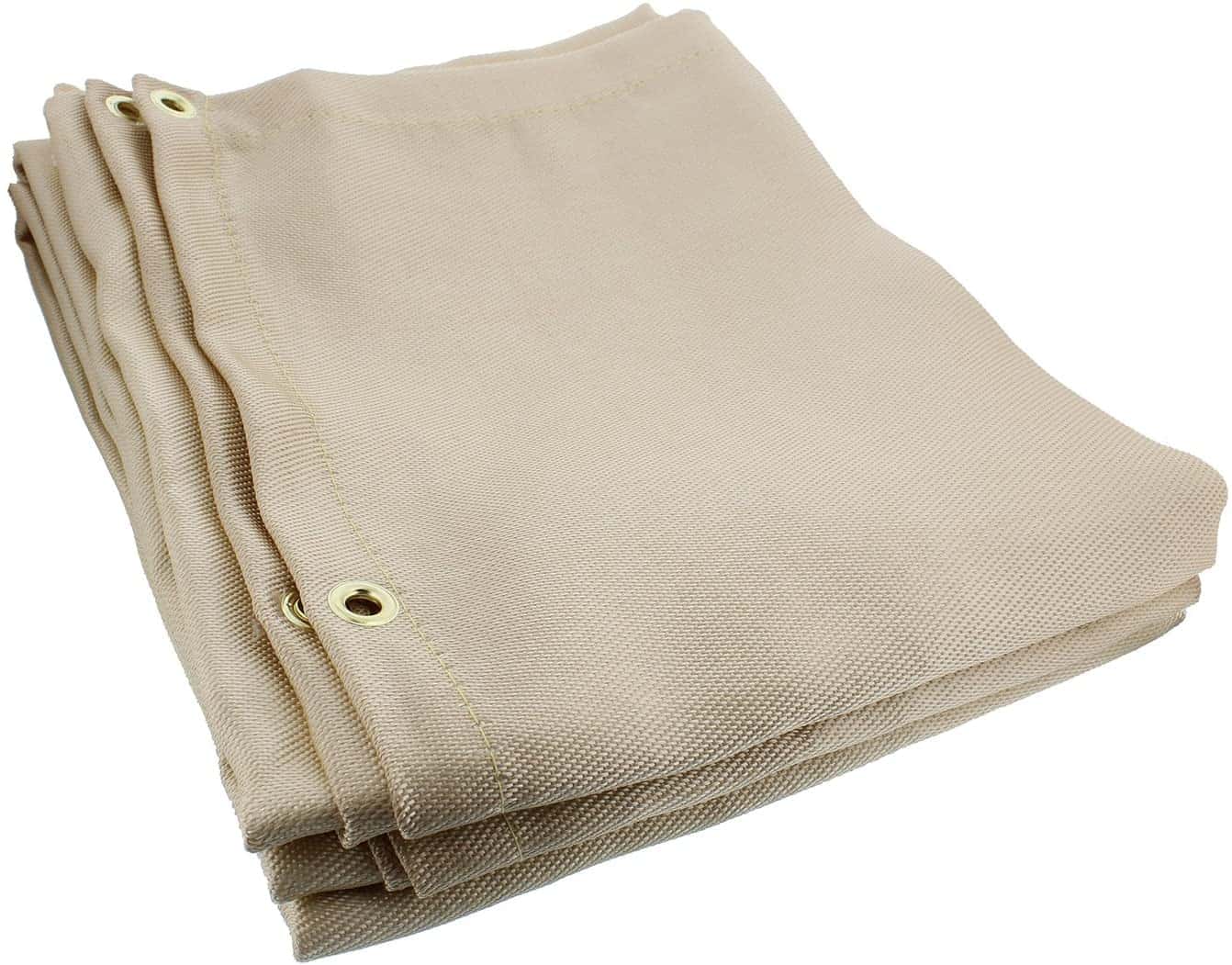 If you prefer to use a welding blanket, there are plenty you can choose from.
This ABN heavy duty fiberglass fire retardant blanket is recommended.
It comes in 4×6' and 6×8' sizes.
It is 100% fire retardant so as to protect yourself and your surroundings from fire hazards. It is made of a fiberglass material that is built to last.
Tight weaving is used around the edges to ensure it doesn't fray. It folds up like any other blanket so it is easy to store.
Check prices and availability here
Best Camp Chef model insulation blanket: Stanbroil Thermal Insulation Blanket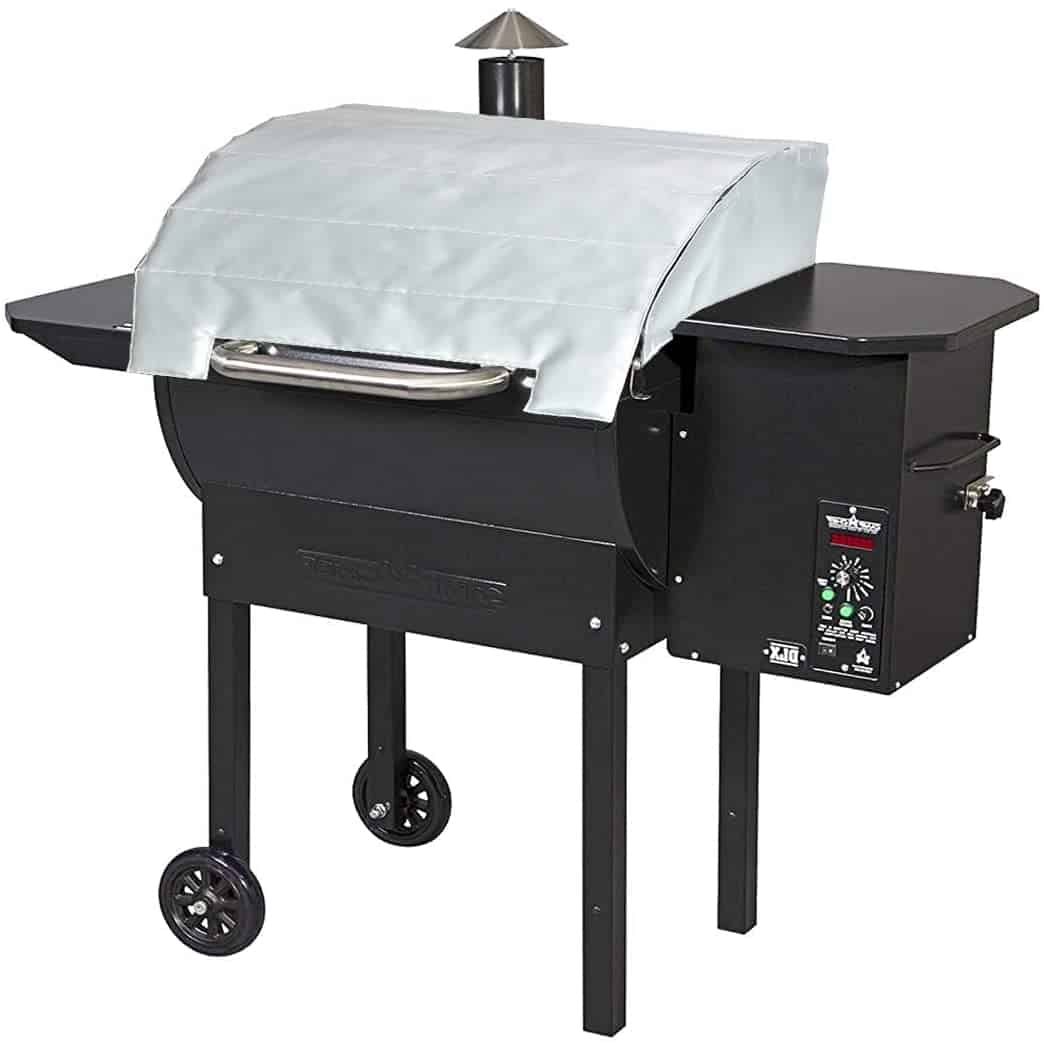 This heat resistant thermal insulated blanket protects the grill from the elements and reduces the excess fuel that needs to burn due to plummeting temperatures.
It also minimizes the need for extra pellets. It traps heat so you can grill at higher temperatures.
It protects the grill from damage. The magnetic design makes it cling to the grill to hold it in place
Best Masterbuilt Insulation blanket: Masterbuilt 32 inch MB20100513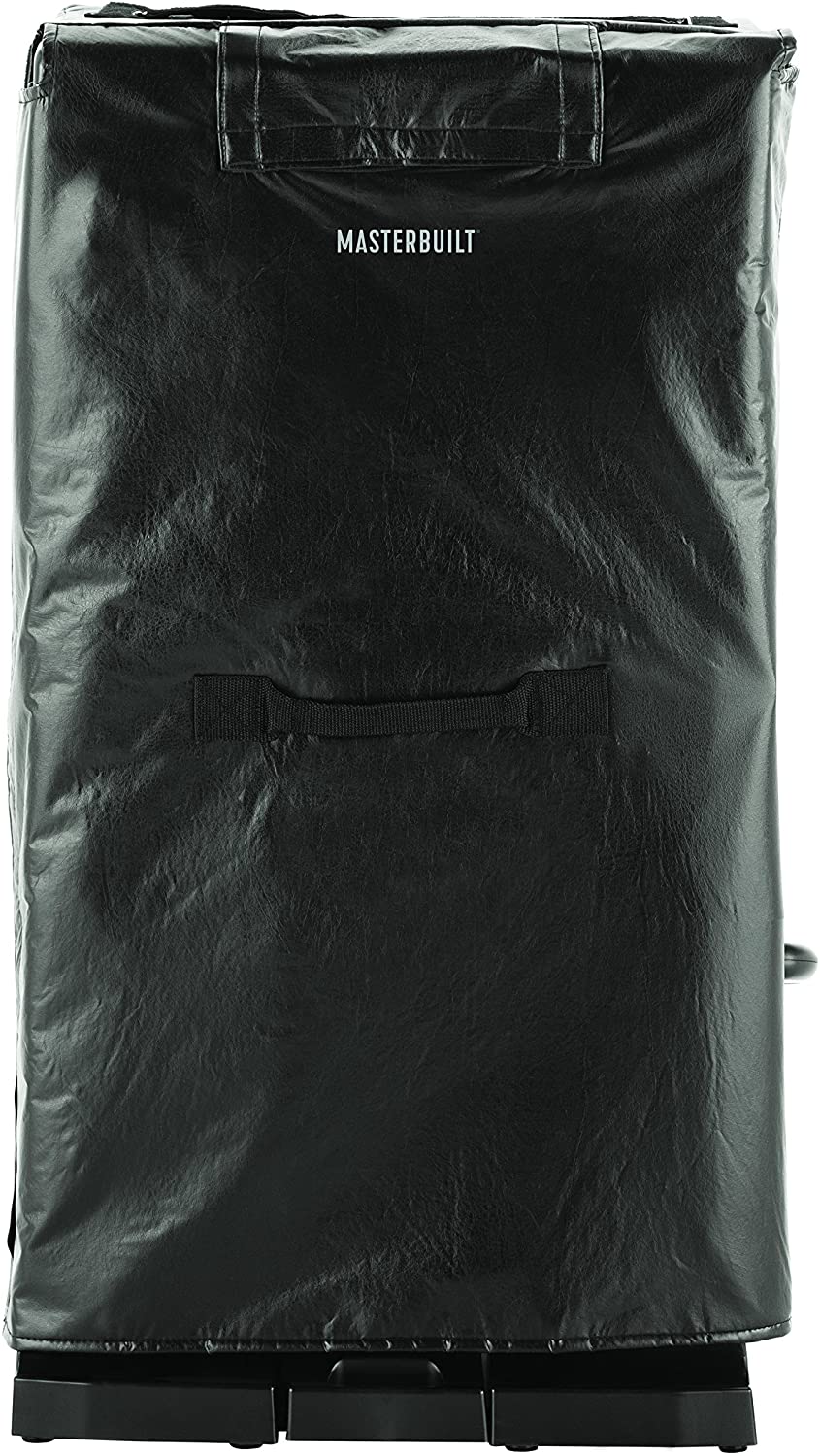 This Insulated Smoker Blanket is more of a traditional blanket style insulator.
It fits most Masterbuilt Digital Electric Smokers.
It keeps heat in so you can maintain a consistent temperature in cold weather and enjoy smoked food year-round. It is recommended for use in temperatures below 50 degrees.
Check prices and availability here
Best Panoxidized Insulation Blanket: Tillman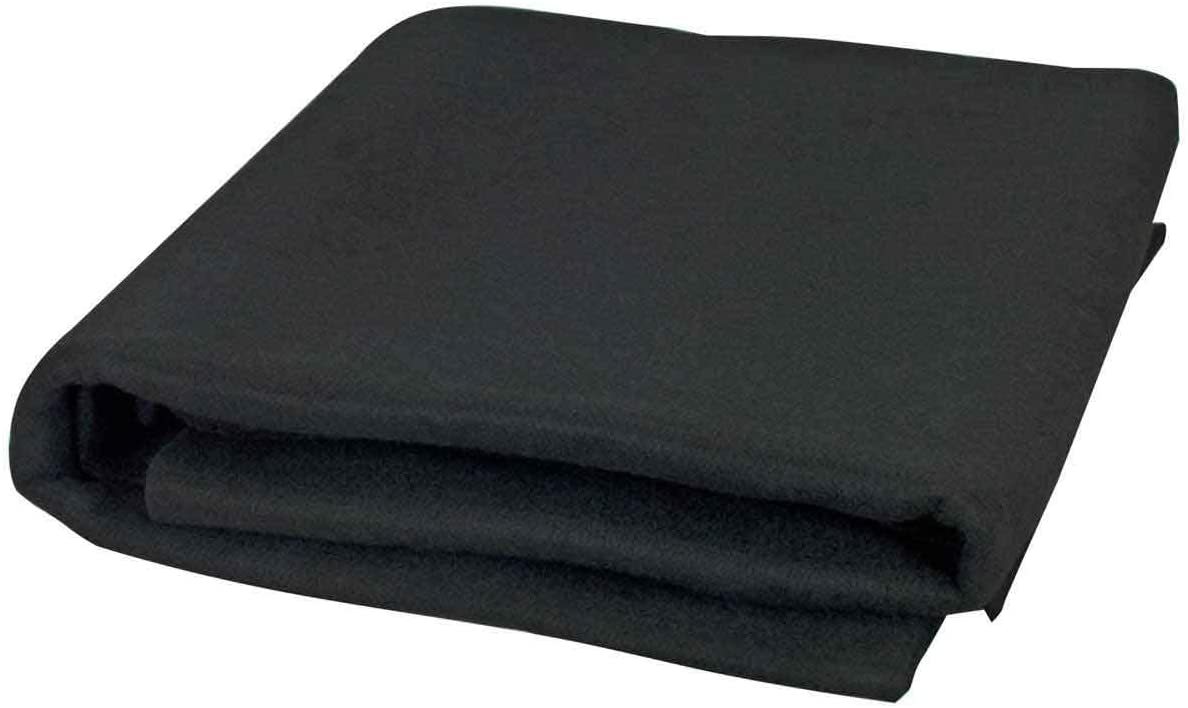 This 16 oz. Panoxidized Felt Back Welding Blanket is made of a non-flammable thermofelt that is non-melting, non-shrinking and scratch-free.
It works at temperatures up to 1800 degrees. It is meant for light welding and its lightweight and smaller size makes it perfect for grill insulation.
Best insulation blanket for Traeger Grills: Grisun Grill Blanket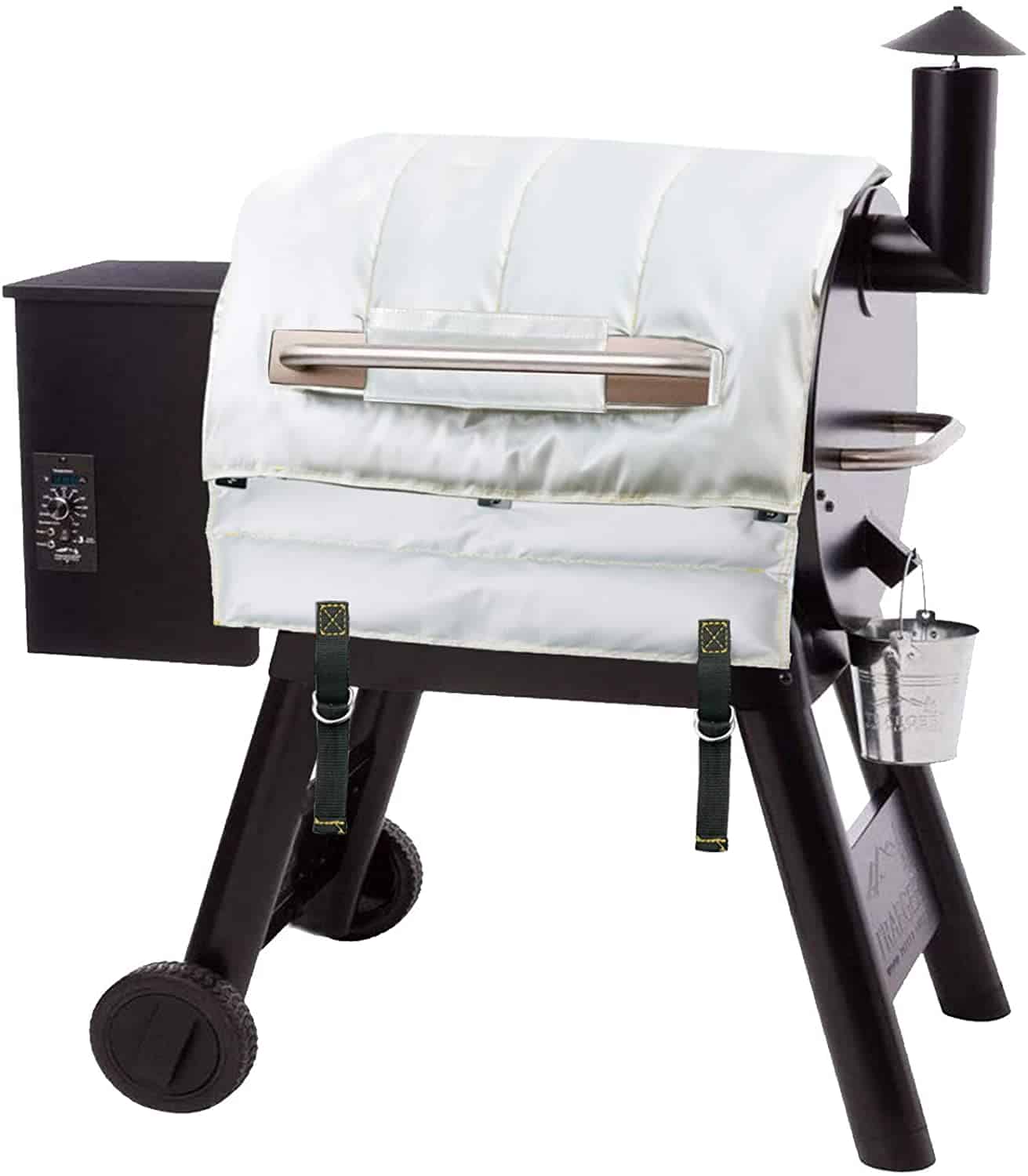 This blanket is custom-designed to fit various Traegar grills.
It measures 23.5" in width, 41" in length, and 1" in thickness.
It works in temperatures as low as -20 degrees. It maintains temperature limiting coal and pellet use.
It keeps the grill safe from water and precipitation. It is easy to clean and can be wiped down with a hose or cloth.
Best insulation blanket for Pit Boss: PIT Boss 67342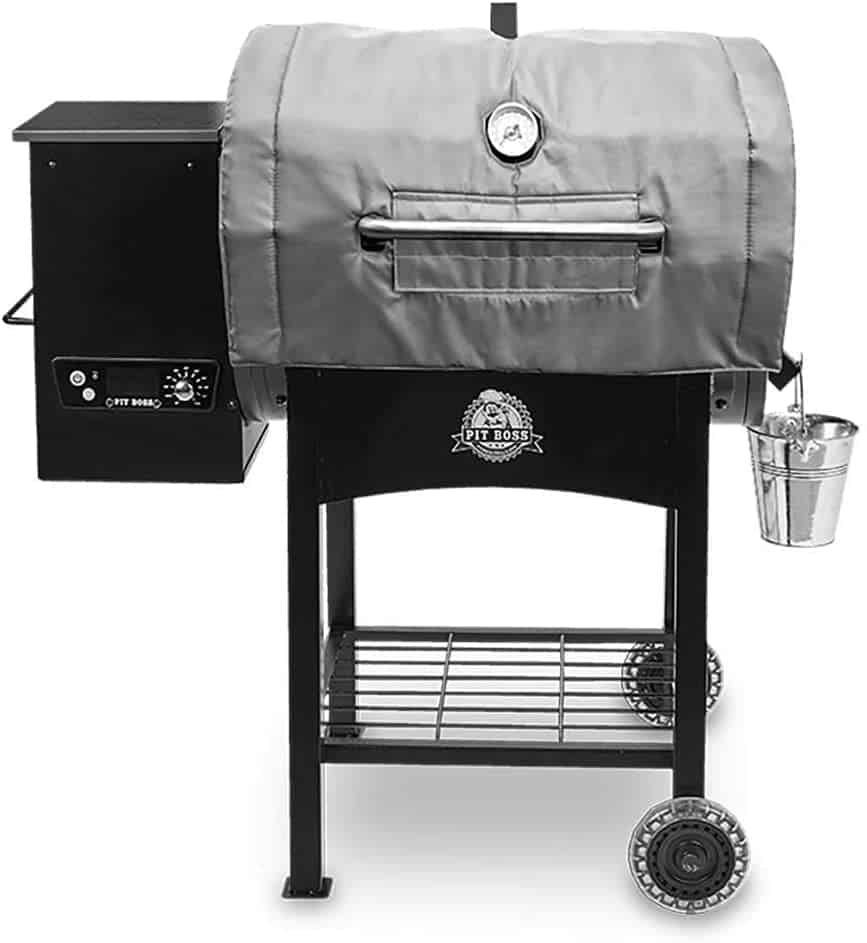 This blanket is made for a variety of Pit Boss Pro Series grills.
It provides year-round protection from precipitation. It maintains the temperature to eliminate excess use of pellets or fuel.
It helps your grill run at maximum efficiency.
Other Tips for Smoking in the Winter
When the temperature drops, the right insulation will keep your smoker nice and toasty.
Here are some other tips that will get you a good smoke no matter how cold it is outside.
Open Your Smoker Vents: This will allow more oxygen to get into the smoker making it easy for the temperature to rise.
Avoid Opening the Lid: Although it may be tempting to open the lid to see how the meat is doing, remember that every time you open it a little bit of heat will escape. Keeping it closed will help maintain the temperature better.
Invest in a Digital Thermometer A good digital thermometer will help you gauge temperature from anywhere limiting the need to open the lid.
Don't Open the Lid When It's Raining: Rain can get into the smoker to cause the temperature to drop. If you really need to open the lid, ask someone to hold an umbrella over you while you do so.
Stock Up on Fuel: You will need more fuel to smoke meats during the winter. Make sure you stock up so you don't run out mid-smoke.
Think of the Location of Your Grill: Your smoker should be positioned so that the wind blows in the same direction as the natural flow of smoke. This will be a fuel-saving step and it will minimize temperature spikes. It's also a good idea to put your grill in a space where it is somewhat sheltered from wind and rain. However, enclosing it entirely will be unsafe.
Smoking meat in the winter is not easy, but it's doable if you have the proper insulation products.
What do you recommend using to ensure your food is cooked perfectly?
Using a BBQ Smoker on your Balcony? Watch out for these 10 things!
Joost Nusselder, the founder of Lakeside Smokers is a content marketer, dad and loves trying out new food with BBQ Smoking (& Japanese food!) at the heart of his passion, and together with his team he's been creating in-depth blog articles since 2016 to help loyal readers with recipes and cooking tips.