I love creating free content full of tips for my readers, you. I don't accept paid sponsorships, my opinion is my own, but if you find my recommendations helpful and you end up buying something you like through one of my links, I could earn a commission at no extra cost to you.
Learn more
In any BBQ setup, having the right kind of equipment makes the difference between having a good meal and a not-so-good one.
Of course, cooking skills play a significant part, but even the most celebrated chefs can have a rough time when it comes to cooking without the right tools.
One of the key parts of smoking food is the preparation and cutting of the meat so that's why you need sharp knives designed for smoking and grilling. 
Let's talk about those knives, what you'll need for the perfect carve and which brands to get.
The Oklahoma Joe 3-piece BBQ knife set offers the top knives that will help with food prep. These knives let you do everything from trimming, slicing, and carving, to deboning chicken so you can take ready-to-eat food from your smoker and start serving right away.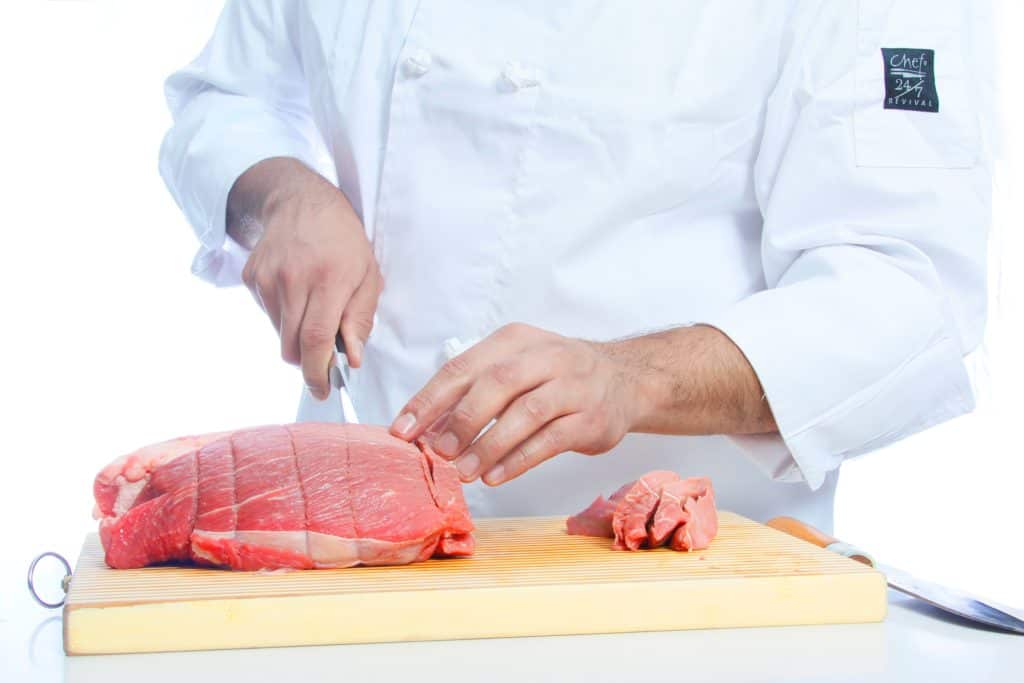 When you combine excellent cooking skills with the right tools, the results are always remarkable.
When it comes to BBQ, the essential things to have are meat, fire, and a good knife in that order. This is why you need to have the right knife for the right job.
However, before we jump to that, let us look at the top knives you need for smoking:
BBQ knife buyer's guide
Even since knives were invented, they have evolved a great deal.
The caveman was probably looking for a sharp object to help him cut the meat from animals, but today we use knives to do much more than that.
You will need a knife for cutting, chopping, slicing among many other jobs.
So, when you are buying a knife, you need to consider not only its quality but also its ease of doing its job.
The market today is flooded with a million and one knives, and sometimes it becomes hard for BBQ lovers to buy the right knife at the right price.
Ease of use
A knife is as good as it cuts and this is why you need a knife that cuts with ease.
A good knife should naturally be easy to cut with, and this is one of the first things that you should look for when buying a knife.
You should also consider the specific use of the knife and the types of food you will be using it on.
However, the underlying factor is that a knife should naturally do its job efficiently.
Electric knives were probably introduced to help ease the efforts used in cutting, but for BBQ lovers, the manual knife remains the best option.
Material 
Another factor to consider when considering a knife is the material used to make it.
Even though there are different materials used to make the blades, a steel blade is always the right pick.
The harder the blade, the better since it will remain sharper for longer. Knives that have a range of between 52 and 62 HRC are probably the best.
It is also important to note that hard steel is good, but the harder the steel, the more likely it is to break or chip.
Manufacturers mainly use two materials to make the blade: carbon steel and stainless steel. The carbon steel is stronger than stainless, but it is prone to discoloring and staining.
The knife handle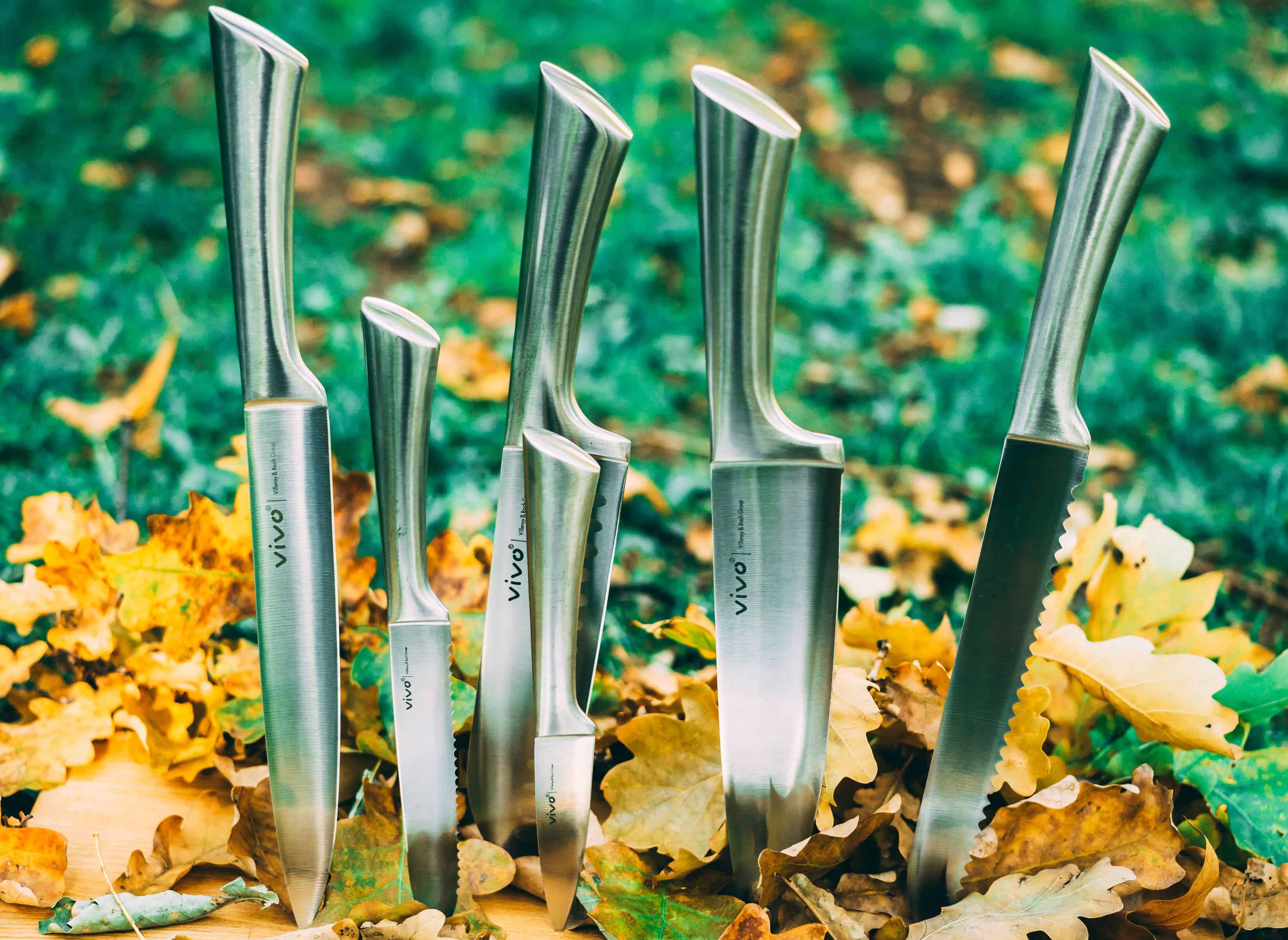 Handles are also an important point to consider since that's the point of contact with your hands.
Go for knives with a good grip so that you will be able to have the right control when using the knife. Most smoker knives have either plastic or synthetic handles or wooden ones.
Polypropylene handles are the better choice because they repel bacteria and cleaning them is easier. 
There should be a balance between the weight of the handle of the knife and of the blade. This will ensure that there is easier maneuverability when using the knife.
When it comes to the long knives, ensure that it has an extended tang. This way you will be assured that it will not break easily.
Also check out my review of another great pitmaster tool you must have: the BBQ smoker chimney starter
Types of knives every pitmaster needs
As we mentioned earlier, different knives perform different tasks, and you need to know the purpose of the knife before purchasing it.
Some of the most important tasks include tanning, slicing, and paring knives. Here we will look at the specific jobs in each category and the best knives in each category.
Here we go:
Boning knives
It is often said the sweetest meat is always next to the bone.
However, getting that meat is not an easy task, and this is why the boning knife was introduced.
These are the knives that have a sturdy handle, and the blade is thin and measures about 5-6 inches long.
Since the primary purpose of this knife is deboning and probably butterflying, it can either be stiff or flexible.
Depending on the type of meat you usually deal with, the blade of this knife can either be curved or straight.
Here's how to de-bone steak:
Most' cue lovers prefer straight and stiff blades which makes it easy to work on the blade bones in pork or on chicken meat.
Additionally, the knife is excellent on ribs as well as deboning fish. 
Also read: How to Cook Steak on a Pellet Grill
Slicing knives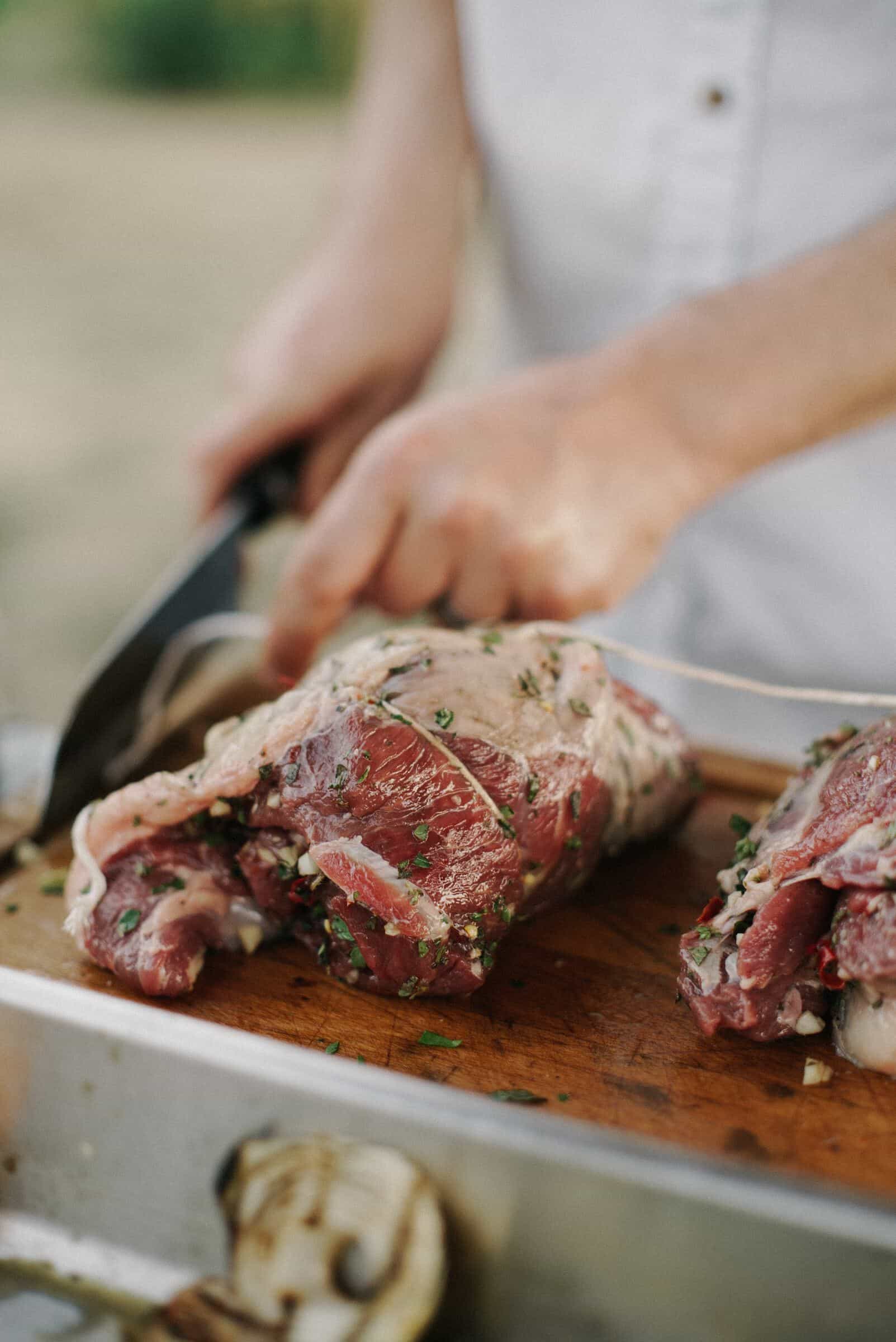 On top of making excellent food, presentation is also another major point of consideration, and this is why you need to have the best tools for it.
In this category, there are several types of blades to consider such as the straight, scalloped and serrated.
The latter is best for slicing, but if you are looking to slice your perfectly smoked brisket, you will definitely need a straight knife.
However, all three need to be long, rectangular (the shape of a ruler) and the tips should be rounded. To reduce the drag, a good slicing knife should have scallops or hallow air pockets.
This way, you will be able to make clean slices without shredding the soft meat. 
The Chef's knife
If there is a knife that really performs significant tasks in the kitchen, it's the Chef's knife.
The knife has been known to help in slicing, chopping, and dicing. In fact, every part of the knife has a task it can help in.
Take the tip; for instance, it is used where small slices are needed.
The edge is used for making large slices together with dicing, and the heel is used for chopping.
This is a must-have knife in any kitchen setup with its length ranging from 8 inches to 12 inches thou you will find most chefs using the 10-inch knife.
The main reason why most people prefer the 10" knife is that the 12" knife can wear out your hand easily and the 8 "is not ideal for making massive cuts as well as not being ideal for considerable chops.
Just like the other knives, choose a knife that has a good balance between the handle and the blade since this will help you have good control, as well as help, reduce wearing your hand easily.
Additionally, go for a wider blade since this will make chopping of thick items easy as well as protect your fingers from hitting the chopping board with every chop. 
Butcher's knife
Butcher knives can be used for slicing pork, cubing cold meats, cutting steaks, and trimming fresh meat before you place it in the smoker. 
For butchering and cutting huge chunks of meat, this is a broad knife with a wide, curved point. Large animals can also be skinned with it.
This can be useful if you shot deer and want to smoke the meat – there's nothing like fresh smoked venison.
A scalloped blade on some butcher's knives prevents the meat from adhering to the blade when cutting.
Butcher knives are large and powerful. This allows you to employ force without worrying about the blade breaking or chipping.
Cutting through big portions of meat and around bones is easier with the curved blade.
Best knives for smoking reviewed
Now, let's take a look at the best knives for pitmasters. I've thought about all types of knives you need and found the best in each category. 
Having a dull knife can ruin your BBQ experience. When you're prepping your ingredients for the smoker, you need to de-bone, trim fat, carve foods like brisket, and then slice veggies.
For these various tasks, you need some sharp knives with excellent edges and ergonomic handles so you can perform the tasks safely and easily.
Best basic smoker knife set: Oklahoma Joe's Blacksmith 3-Piece Knife Set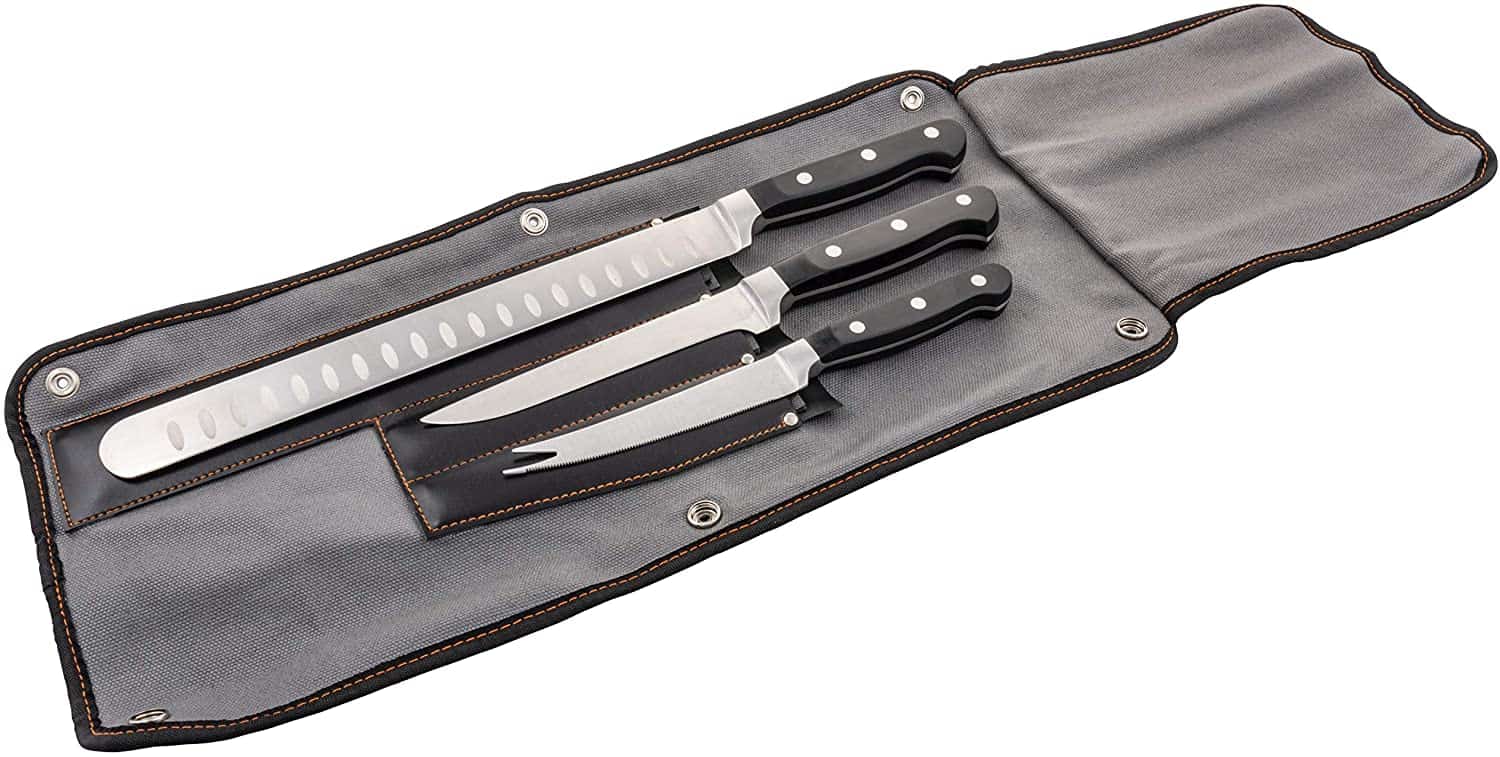 Type: brisket knife, boning knife, utility knife
Blade length: brisket knife is 16.34″, the boning knife is 11.28″, utility knife is 9.18″
Blade material: stainless steel
Handle: plastic
Best for: slicing, cutting, chopping
If you're just starting out smoking, you need a set of knives you can use for all the cutting, slicing, and chopping tasks.
Whether you're cutting meat or vegetables, the affordable Oklahoma Joe's BBQ knife set is the perfect starter kit with the three types of knives you need.
Pitmasters use this knife set for BBQ competitions and home cooking too because it contains the three must-have blades: a brisket knife for cutting larger meat, a boning knife for removing bones, and butchering fish or poultry, and the all-rounder utility knife which can cut and slice all foods.
Some of the knives can be dull when you take them out of the box so they might require sharpening before use. But once sharpened, these knives have an extremely sharp edge and excellent cutting abilities.
The brisket knife is the star of this set because it's easy to use, has a sharp blade and its design makes it easy to carve around all types of meats. That knife makes cutting and trimming the brisket a breeze.
The boning knife can be used to cut the meat and break off chicken or turkey, but it can also be used as a fat trimmer for pork, lamb, and beef.
You can also cut, peel, and chop vegetables with the smaller blades so this set offers everything you'd need during your next BBQ.
These knives are not dishwasher-safe so be sure to handwash them after use.
As a bonus, you also get a knife roll which is great because you can carry the knives to and from the smoker or take them with you when going camping.
But what really stands out is that these knives create very clean cuts with no damage to the meat. Usually, cheaper knives like these can make rough cuts which are just aesthetically displeasing to look at.
Compared to Chicago Cutlery's 3-piece set, the Oklahoma Joe set has better handles.
The Chicago knives have rough wooden handles that aren't comfy to hold but they also get damaged and aren't as durable as the Oklahoma Joe 3-piece set.
Best complete knife set & best for pitmasters: Ross Henery Eclipse Premium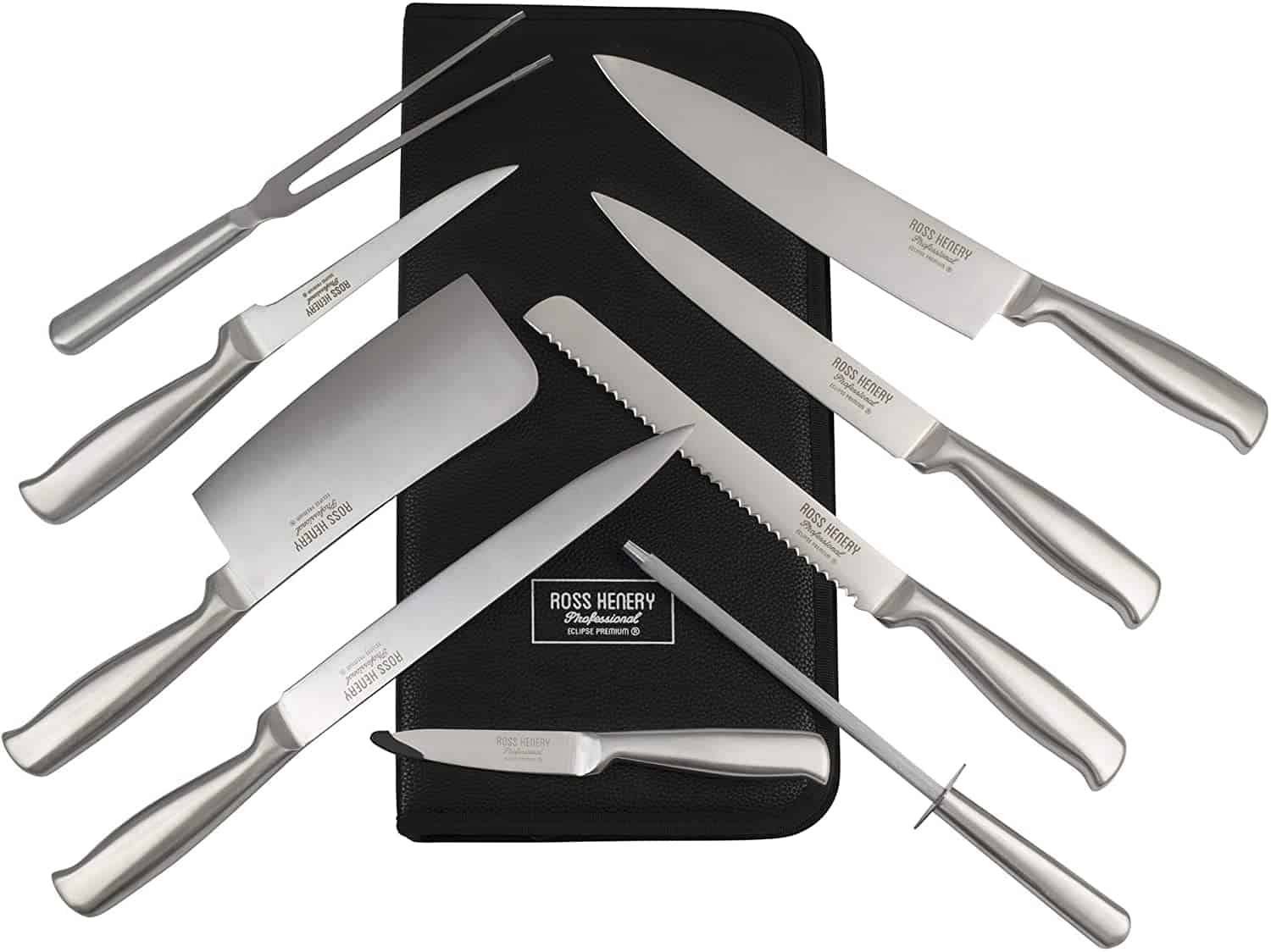 Type: 9-piece set
Blade length: 8-12"
Blade material: high carbon stainless steel
Handle: stainless steel
Best for: slicing, cutting, chopping, carving & butchering
As a pitmaster or budding grill master, you need to have a complete knife set that includes all of the blades necessary to butcher, trim, prepare, and serve the food you smoke.
Instead of spending hundreds of dollars on expensive BBQ tools, you can get the Ross Henery professional 9-piece set. 
Here's what you're getting:
14" chef knife
14" carving knife
13" bread knife
5" utility knife
12" boning knife
8" paring knife
12" sharpening rod
A meat cleaver
carving fork
heavy-duty zipper case
The set comes in a carrying case with a zipper to keep your knives safe. It's a great way to store and move your knives around when you're barbecuing and camping outside.
What sets these tools apart is that you have all of the knives you need for smoking and grilling. You even get a meat cleaver which is necessary if you butcher your own meat.
A carving fork is also included which is a must-have if you want to cut up and serve the food without ruining its texture.
Each knife is hand-sharpened and polished at the factory. Considering the affordable price, these knives are a great value purchase because they are durable and hold their edge really well.
The knives are made of carbon and stainless which makes the metal much stronger, so it holds a sharper edge for a long time.
Overall, most of the knives have near perfect balance so you can make precise cuts. The boning knife is especially good at butchering chicken.
Because these are high-end knives, regular care is required to ensure their durability and functionality. Caring for such knives is requires handwashing and drying the knives before placing them back in the case.
Also, you need to sharpen the knives with the steel rod provided when the blade starts to feel dull. These simple things will maintain your blades razor-sharp, rust-free, and protected for many years.
This knife set is made of high carbon premium stainless steel, which is meant to keep the knife's edge while also resisting rust.
Each knife has a stainless-steel handle which is hygienic but not quite as easy to clean as plastic. Also, you tend to end up with a bit of dirt trapped in the grooves, so you need to perform a thorough cleaning.
The paring knife is the weak item in the bunch because it just doesn't cut through meat and vegetables very smoothly and leaves ridges and rough edges.
So, you have to apply a lot of pressure while cutting.
The Eclipse Premium set is of considerably higher quality than many of the budget knife sets on the market. Although there are plenty of no-name brand sets on Amazon for a lower price, you're not getting good-quality blades.
Many knife sets appear fantastic in photographs but don't last very long due to the budget materials utilized.
Therefore, you're much better off with the Ross Henery set because you can actually perform any cutting, slicing, chopping, carving, and butchering task safely and efficiently.
Best boning knife: J.A. Henckels International Forged Synergy 5-1/2-Inch Boning Knife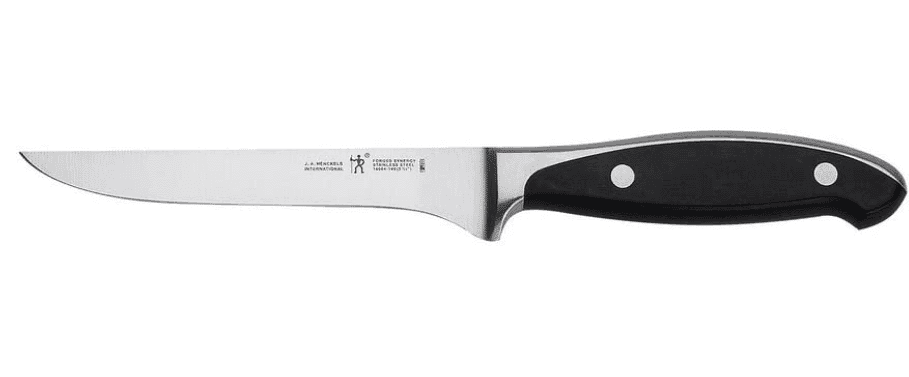 Type: boning knife
Blade length: 5.5 inches
Blade material: stainless steel
Handle: plastic
Best for: boning, filleting meat and fish
Before the dry rubs and the wood chips, you must debone your meat, especially poultry.
But, to be able to remove all the meat from the bone, you need a very sharp boning knife with a straight blade and sharp tip. 
The Henckels boning knife is slightly smaller than the average boning and fillet knives out there, but this gives you more leverage and makes it easier to use.
One of the main benefits is that this boning knife makes super clean cuts.
A quality boning knife helps you remove the meat from the bones. It has to get right in there along the bone contours or else you'll end up wasting lots of meat that sticks to the bone.
The knife's sharp tip helps you poke the cartilage and remove almost everything so you're left with bare bones.  
Some users are saying the knife doesn't hold its edge well and it's dull when you take it out of the box, but this doesn't seem to be the overall experience.
In fact, most customers are saying this knife has a very sharp blade and offers the perfect amount of flexibility.
When you're deboning chicken, turkey, or game birds, you need to have a slightly malleable blade so you can get really close to the bone to remove the meat.
This knife is also excellent if you want to trim steaks, roasts, and larger cuts like brisket. Even if it's a smaller knife, its sharp edge makes it suitable for cutting through all meat cuts, raw or smoked.
Additionally, the vendor has ensured that the blades are less weight forward, but the handles are heavier meaning the users have a weight balance when using the knife.
Although they are on the cheaper end of the spectrum, they are of good quality and feel extremely durable.
Because of the strong bolster, the balance is good too, so your hands don't get tired if you have to debone a large quantity of meat.
The double-rivet plastic and steel handle is well-made and easy to grip, even if your hands are slippery or greasy. Also, the knife can be washed easily in the dishwasher, but I still recommend handwashing specialty knives.
Overall, this knife is a great value product, and it holds its edge pretty well even after many uses.
Check prices and availability here
Best curved boning knife: Dexter-Russell 6″ Curved

Type: curved boning knife
Blade length: 6 inches
Blade material: carbon steel
Handle: polypropylene (plastic)
Best for: deboning poultry
A boning knife with a curved blade will make it easier to cut joints, ligaments, and flesh right off the bone. The Dexter-Russell's blade is just as sharp as the Henckels knife I reviewed earlier but it has a longer curved blade with a pointier tip.
The Dexter-Russell knife has a similar design to a classic Japanese boning and fillet knife like the Shun but it costs a fraction of the price.
When you're out there smoking and grilling tasty American BBQ, you probably don't need a specialty Japanese knife. This budget Dexter knife has an amazingly sharp edge and cuts everything off the bone instantly.
It has a flexible blade which means that it won't chip or crack when you really push down on the meat and ligaments. Since the blade is curved, this knife is perfect for de-boning small birds, chicken, and turkey.
Since you're able to get really close to the bone, you end up eliminating food waste and getting more meat from the animal.
You can also use the knife to trim brisket and roast from the smoker without having to take out a special slicing or carving knife.
Compared to some other similar knives, the "flexible" blade is pretty stiff and not as flexible as it can be so keep in mind that you won't have the same maneuverability although its blade is very strong.
This knife is often compared to Mercer or Victorinox because those have very sharp blades. However, many pit masters prefer this knife because it doesn't rust, and the handle is much better. Also, if you're trimming hams or larger cuts, the Dexter knife holds its edge better.
The handle is made of a non-slip plastic material which makes it easy to clean and stays hygienic.
J.A Henckels vs Dexter Russell curved boning knife
When it comes to choosing between the straight blade Henckels knife or the curved blade Dexter knife, it comes down to personal cutting style and preferred techniques. 
The Henckels knife is half an inch smaller and has a classic Western-style straight blade design which many people prefer.
Using a curved boning knife can take some practice because you have to get used to the blade's flexibility.
Also, the Henckels knife is dishwasher-safe and if you hate cleaning up after smoking, you can skip the handwashing. 
Both knives have a similar build quality and extra sharp blades. When it comes to durability and value the Henckels knife takes the top spot.
However, the Dexter knife holds its edge better which means you can use it to de-bone larger quantities of meat at once. 
If you're looking for a budget-friendly boning knife to prepare the best meats in your smoker, the Dexter Russell is hard to beat.
It's a great sharp knife with an ergonomic handle and a very durable build. 
Also read: these smokers are the perfect BBQ grill for smoking meats
Best slicer & carving knife: DALSTRONG Slicing Carving Knife 12″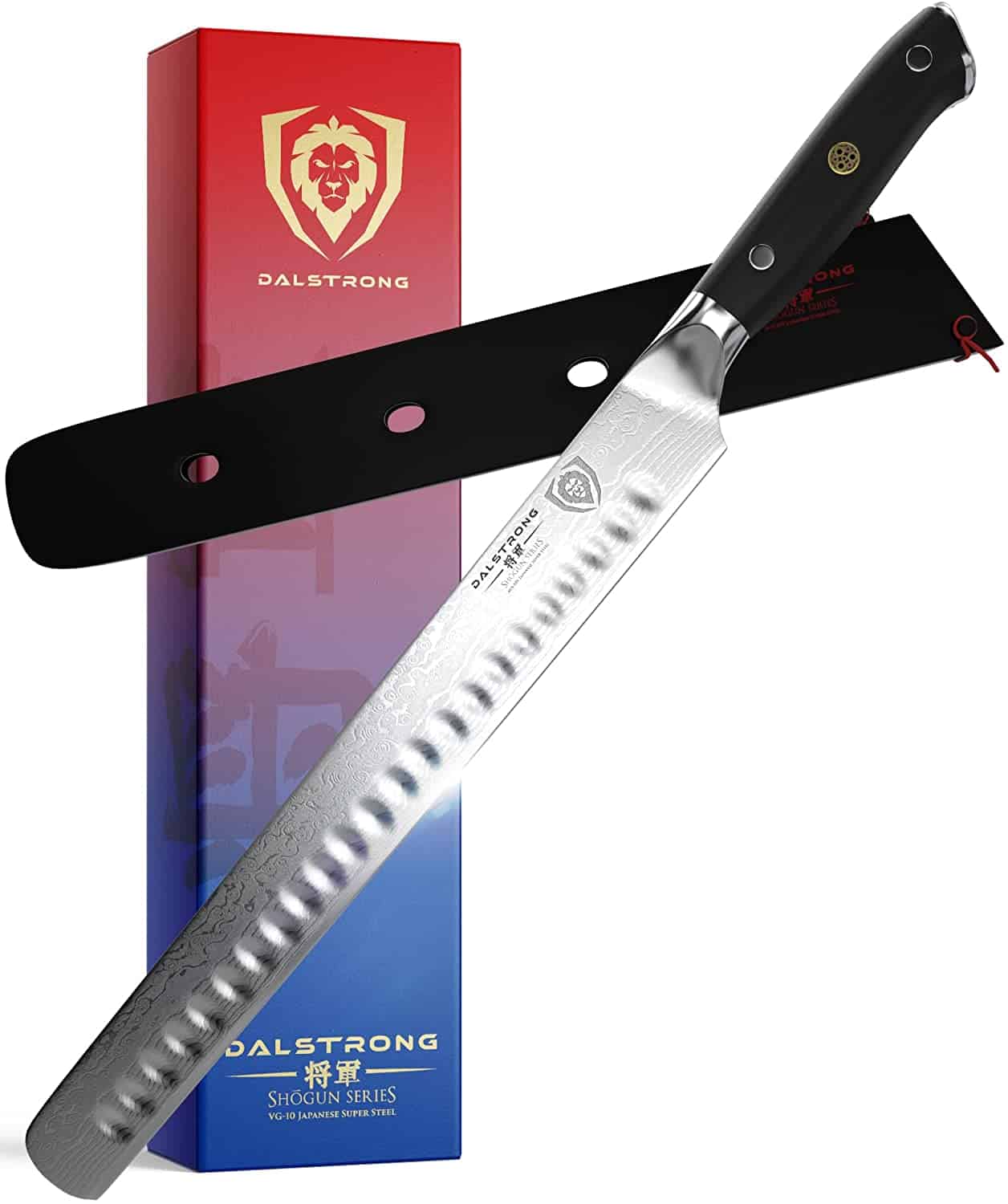 Type: carving and slicing knife
Blade length: 12 inches
Blade material: Damascus steel
Handle: G10 fiberglass laminate
Best for: slicing large meats, cutting ham
When it comes to slicing meat, precision is the key. You don't want to end up with rough edges and uneven slices.
A Damascus steel forged knife like the Dalstrong has a long blade and granton edges which ensure your meat doesn't stick to the sides of the blades and help you cut clean meat slices.
This Dalstrong Series extra-long 12-inch slicer is a good addition to your kitchen and one that has the capabilities of slicing with precision.
In most cases, slicing of briskets, roasts, turkey, ham, and other large pieces of meat requires a knife that is both long and cuts without shredding the meat.
Since it is long, sharp, and is ultra-thin and thus it is able to slice with a single and smooth stroke.
The knife is just 2 millimeters thick; therefore, it is able to provide uniform slices that ensure the meat is as juicy as you would want it.
Not only does the knife look elegant, but the manufacturer has done a fantastic job to create a strong and durable knife.
This knife is made with AUS 10V Japanese super steel which makes it last a long time and gives the users a long-lasting service.
There are 67 layers of steel, and the steel has a scale of over 62 in the Rockwell Hardness scale.
This means that the manufacturer has done so well in ensuring that this knife is hard and ready for the gruesome task in the kitchen.
The handle of this knife is ergonomically made so that users can have a strong and firm grip. The famous G10 military-grade handle is used to ensure that the handle that lasts longer.
Additionally, the handle is highly impervious to heat, moisture, and cold; thus, it is built for the kitchen.
For an even resilience, the manufacturer uses a triple rivet which is recommended for any long knife. The vendor has the end cap engraved as well as a copper mosaic for beauty and distinction from other knives.
Some users are saying that this knife is very lightweight and that's problematic if you have to chop a lot of vegetables.
Since it's not as balanced as heavier Japanese knives, you won't have the stability and weight to chop a lot of veggies. The knife can slip and it's hard to use with wet hands.
The knife is also very sharp, and hence you will not have to struggle when using it. Not only is the knife used to slice meat but it also other foodstuffs such as fruits, vegetables, bread, and even cake.
The Dalstrong Shogun Series is a great addition to your kitchen, and it will not only be used for slicing but also other functions as well.
The fact that it is sturdy and durable, the knife is able to perform different tasks without the user worrying about the possibility of it wearing out easily.
Some people are using this knife to slice thin slices for homemade smoked beef and turkey jerky!
Best chef's smoker knife: ​​DALSTRONG Chef Knife 8″ Shogun Series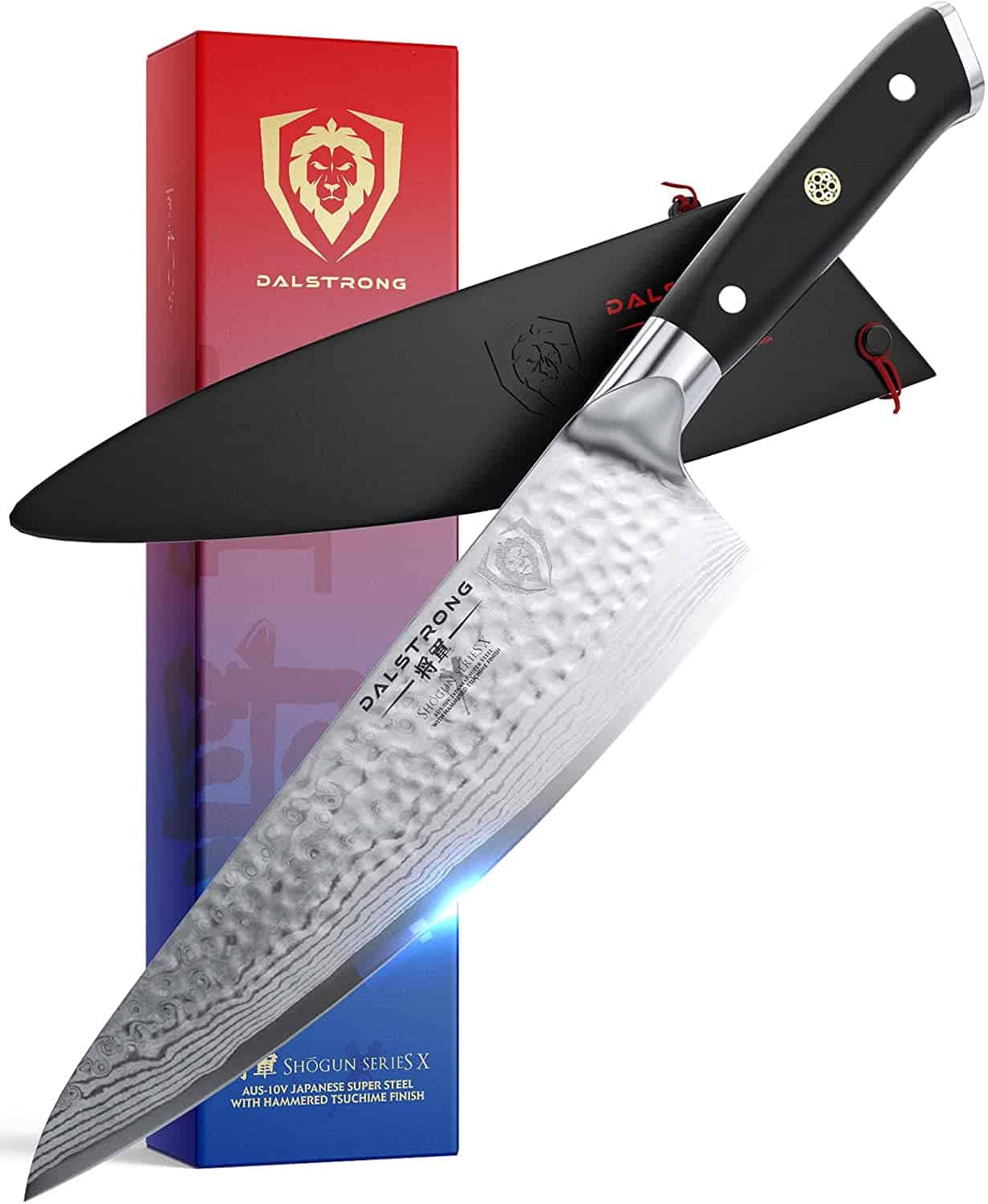 Type: chef's knife
Blade length: 8 inches
Blade material: Damascus steel
Handle: pakkawood
Best for: meat and vegetables
The chef's knife is probably the most versatile kitchen knife which you can use for all your smoking as well as cooking needs.
That's why it's better to invest in a high-quality chef's knife like Dalstrong's Shogun series rather than buy cheap useless knives.
A chef's knife has to be strong and durable because you can use it to slice up your ham or to chop potatoes for your side dish – it's up to you how you use the knife.
This knife has a beautiful, hammered finish which ensures the food doesn't stick to the sides of the blade so you can cut faster without having to stop to remove the stuck-on foods.
If you love super sharp edges, then the Shogun series delivers just that! It's hard to find a sharper knife at this price point.
That's why Dalstrong has such a fan following – the value is amazing, and the knife is very durable.
This knife cuts well, has good edge retention, and is quite light. If you like heavier Western knives, you might be taken aback by how lightweight this knife is. It has the same weight as the slicing knife.
Some people are saying the blade is slightly off balance and that can be problematic if you're using it for all your cutting and slicing tasks. But as a smoker and grill knife, you probably won't notice.
The elements on this Shogun X chef knife are a bit of a mishmash.
Its overall design is similar to that of a western chef's knife, but the grind and hardness are more typical of Japanese knives so it's kind of a "best of both worlds" situation.
However, for the most part, these characteristics do not conflict with one another.
Since it's got excellent edge retention, this knife is suitable for all-day use in a restaurant kitchen but it's also great for BBQ.
Because it's so versatile you can switch between trimming some fat off the brisket, removing the chicken breast, or cutting up bell peppers for the grill.
This knife can be used to mince garlic and cut up onions into smooth slices too so you can use it to replace some of your other knives.
Overall, the cutting ability is much better than any type of Cuisinart or Mercer knife and competes well with the likes of Wusthof.
Best BBQ butcher's knife: Dexter-Russell Butcher Knife

Type: butcher's knife
Blade length: 10 inches
Blade material: carbon steel
Handle: polypropylene (plastic)
Best for: slicing large meat cuts into thin slices, cutting fish
When you want to smoke a large chuck roast, beef brisket, or pork shoulder, the problem is that it's hard to slice through these big meat cuts with any old knife. 
Use this Dexter-Russell butcher's knife to slice roasts into thinner pieces that you can serve to your friends and family.
It's all about the curved blade shape which slides into the meat's fibers to make clean cuts.  
If you're looking for a versatile multi-purpose knife, the Dexter-Russell butcher knife is an affordable option. It has a long 10" curved blade which makes chopping and cutting large meat quite easy.
But, when I say it's versatile, I mean it! You can use this knife to cut and slice large fish, lamb, pork, and of course, beef.
Those who grill and smoke fish will find this butcher's knife a great alternative to Japanese knives because it has a super sharp edge.
Therefore, you can cut and chop up a 100lb tuna or fillet catfish for grilling and your blade won't go dull during the process.
Some people also use this knife to butcher game meat like caribou and it even works for chopping up the chewy meat.
I wouldn't use it for poultry though just because it's not a deboning knife and chicken, for example, has too many bones so you risk ruining the knife's blade.
As soon as you unbox this knife, you'll realize the blade is razor-sharp.
This is a true "BBQ knife," which means you use it for pretty much all foods when grilling. It serves as a spatula, a barbeque fork, and, of course, a knife.
The knife's "spine" is quite thick, and it has some weight to it but it's still well-balanced.
This Dexter-Russell butcher knife's slip-resistant handle is "Sani-Safe," which means it's easy to clean and can withstand extreme temperatures.
Therefore, it's safe for use on hot grills or in the smoker to cut up the meat when needed.
The knife is designed to endure commercial kitchens and will last a long time in your own — and it's dishwasher-safe, which is a handy feature because everyone hates cleaning up after smoking.
The only minor criticism is that the blade is a bit thin so you might have an occasional wobble if you're slicing through huge fatty meats.
This is a budget-friendly knife, so it's not forged but it's well put together. As a result, the blade stays sharp, and the handle doesn't come apart. It's the kind of product that will last for many years.
Bottom line
A knife may seem to be a small tool in the kitchen, but it is one important tool.
But if you want to perform the basic meat prep tasks, a small set like Oklahoma Joe's Blacksmith 3-Piece Knife Set will help you trim the excess.
Plus, you also get a knife roll so you can take the knives for a BBQ camping trip. 
Knives are constantly evolving, and users have to be on a constant lookout for new additions in the market.
As BBQ lovers continue to discover new ways and means of enhancing great 'cue experience, there continues to be a need to have the tools to do this.
However, buyers need to be careful to get tools that have good value for money. We believe that the above knives are some of the best in the market.
Next: trick out your grill with the 9 Best BBQ Grill & Smoker Decals + Stickers!
Joost Nusselder, the founder of Lakeside Smokers is a content marketer, dad and loves trying out new food with BBQ Smoking (& Japanese food!) at the heart of his passion, and together with his team he's been creating in-depth blog articles since 2016 to help loyal readers with recipes and cooking tips.