I love creating free content full of tips for my readers, you. I don't accept paid sponsorships, my opinion is my own, but if you find my recommendations helpful and you end up buying something you like through one of my links, I could earn a commission at no extra cost to you.
Learn more
When we think of how to prepare chili, most of us think of making it on the stovetop.
However, some chefs will argue that there is a way to make it even more delicious and that's to smoke simmer it on the grill.
If you would like to try a smoked chili recipe for your next meal, there are several factors to consider like what type of woods will work best, how long you will need to smoke your chili for and more.
This article will answer some of those questions to help you achieve the most delicious smoked chili possible.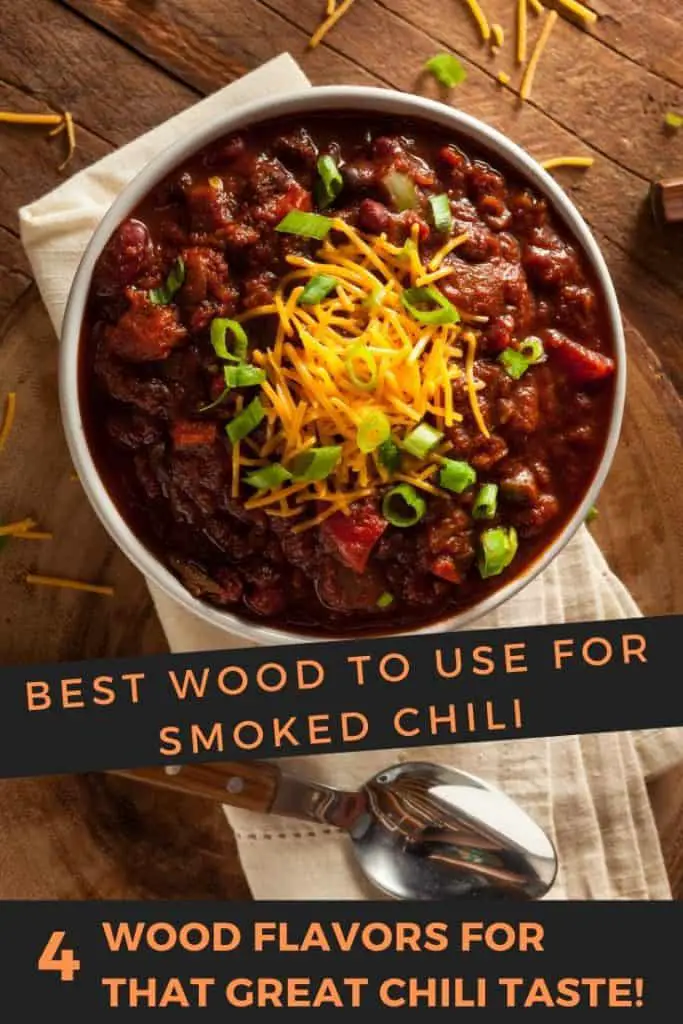 In this post we'll cover:
Best Woods for Smoking Chili
The secret to making a great smoked chili is to smoke the meat before searing it on your grill. Then you can add it to the chili with the other ingredients and put the entire pot on top of the smoker to further enhance the flavor.
Most chili recipes call for beef. If you will be using beef for your recipe, here are the woods that are recommended.
Oak: Oak is recommended for those who are new to smoking meat. It gives beef a medium to strong flavor that is rarely overpowering so you really can't go wrong.
Hickory: Hickory is versatile for all types of meat. Its flavor is sweet, savory, hearty and a bit like bacon. When using hickory, it is important not to overdo it as this can result in a bitter taste.
Mesquite: Mesquite has a strong, intense and unique flavor that is recommended for grilling red meat.
Pecan: Pecan gives red meat a sweet, nutty flavor. In certain instances, the flavor can be overly sweet so you may want to add a harder wood to counter the effects.
If you prefer leaner meat, such as chicken, turkey or ham, here are some recommendations.
Maple: Maple will give the meat a light taste and a subtle, smokey flavor.
Apple: Applewood is light and sweet lending a mellow flavor to white meats.
Cherry: Cherry has a light, fruity taste that works well when mixed with hickory.
Alder: Alder wood has a delicate and sweet taste that goes well with fish and salmon.
Woods to avoid when smoking chili
Although certain wood will work better with different types of meats than others, most will give it a nice flavor. However, there are certain woods you will definitely want to avoid using.
In general, softwoods should be avoided. They contain high levels of terpenes and sap that can give wood a funny taste and they can even make you sick.
These softwoods include pine, redwood, fir, spruce, and cedar. Some use cedar planks for cooking but they should never be chopped up for smoking.
Elm, eucalyptus, sycamore and liquid amber can also give meat a funny taste.
Woods that are sourced from certain trees, plants and shrubs can contain toxins that will stay in the wood even after it is burned. These plants include mangrove, sassafras, poisonous walnut, yew, tambootie, oleander, and laburnum.
It should go without saying that any wood that has been chemically treated, painted, stained or has signs of mold should not be used for smoking.
I'm sharing my delicious smoked chili recipe, which includes tasty red and pinto beans, smoked minced beef, spicy jalapeno, spices, and the surprising secret ingredient: bittersweet chocolate!
Trust me; once you try this smoked dish, you'll be cooking it over and over again.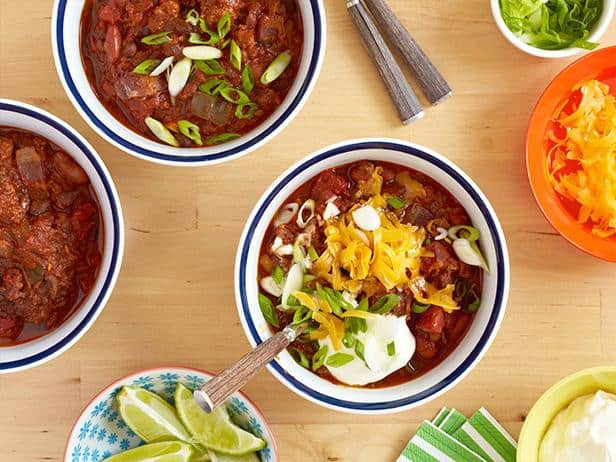 Of course, the brand of BBQ smoker you use matters a lot, but this recipe is doable with any type of smoker: charcoal, electric, or gas.
This Texas-style chili recipe combines the delicious smoked beef aromas with a classic spicy Jalapeno chili base with red kidney beans for a smokey delight!
Many smoked chili recipes have lengthy ingredient lists with a ton of spices you probably don't even have.
Luckily, this one is simple, and trust me; you don't need lots of species and condiments to get delicious flavors. The smoked beef is the star of this recipe!
You may also want to read Best Recipe of the Week: Marinated Tuna Steak
Smoked Chili with Minced Beef
This Texas-style chili recipe combines the delicious smoked beef aromas with a classic spicy Jalapeno chili base with pinto and red kidney beans for a smokey delight!
Ingredients  
For the chili base
3

tbsp

olive oil

extra virgin

2

large

yellow onions

diced

3

green peppers

diced

1 or 2

Jalapeno peppers

1½

tbsp

chili powder

1

tsp

garlic powder

2

cans

diced tomatoes

28 oz each

1

can

red kidney beans

drained and rinsed (15.5 oz)

1

can

pinto beans

drained and rinsed (15.5 oz)
For the minced beef loaf
2½

lbs

ground beef

2

tsp

Worcestershire sauce

2

tsp

salt

preferably Kosher

1

tsp

black pepper

ground

1

tsp

Montreal steak seasoning

¼

cup

bittersweet baker's chocolate
Instructions 
Cooking directions can vary depending on your smoker type. I will include separate instructions for an electric smoker and a kamado-style charcoal cooker like the Big Green Egg.
Step 1: Making the chili base
You need to get your cast iron Dutch oven and heat it on medium-high heat on the stovetop. Add the olive oil and wait until it's hot.

Next, add the diced onion, bell peppers, garlic, jalapeno peppers and saute for approximately 5 minutes until the onion becomes translucent.

Now, add in the diced tomatoes, all the beans, chili powder, and garlic powder. Set everything aside.
Step 2: Prepare the minced beef loaf
Grab a large bowl and add the minced beef. Combine it with the Worcestershire sauce, salt, black pepper, and the Montreal steak seasoning.

With your hands, shape the meat into a bread loaf form and set it aside.
Step 3: Smoke the beef (This setup is best for ceramic egg smokers, but you can set the same temperature range on all smokers, you'll just have to tinker with the way you place the Dutch oven in the smoker. )
You need to set up your smoker and get a steady temperature of 275- 300 degrees F. Insert a plate setter so you can set up the Dutch oven for indirect cooking.

Put some hickory wood chips or chunks into the smoker for smoke wood flavor.

On the plate setter, put a grill grate and put your Dutch oven full of chili on it. Leave it uncovered on the grate.

Now, it's time to add a second grill grate on top of the Dutch oven, or if you're using the Big Green Egg, you can get the extender kit. It makes a sturdy second rack. Place the minced beef loaf on the second rack.

Leave the Dutch oven on the rack and smoke the beef loaf for about 2 hours until it reaches an internal temperature of 150 degrees F.

Once the beef has reached 150 F, remove it from the rack and crumble it into small pieces.

Put it into the Dutch oven with the chili and cook it for an additional 2 hours.

Remove the chili and stir in the bittersweet chocolate while the chili is still piping hot. Mix it well so the chocolate dissolves.
Notes
You don't want to make the chili too smoky. So, don't add any more wood chips. You only need to add wood chips once at the start.
Nutrition
Calories:
366
kcal
Carbohydrates:
9
g
Protein:
21
g
Fat:
27
g
Saturated Fat:
9
g
Polyunsaturated Fat:
1
g
Monounsaturated Fat:
13
g
Trans Fat:
1
g
Cholesterol:
81
mg
Sodium:
583
mg
Potassium:
619
mg
Fiber:
3
g
Sugar:
4
g
Vitamin A:
637
IU
Vitamin C:
44
mg
Calcium:
66
mg
Iron:
4
mg
Smoked chili cooking tips & substitutes
When buying ground beef, look for meat that's not too lean but also not too fatty. A good ratio to go for is 85% lean meat, and the rest 15% should be fat. You might find 80/20, which is also good for this recipe. A little fat is required to give the chili a bit of greasy texture.
Kidney beans and pinto beans are great for a southern style bbq, but you can use just one type or mix in your other favorite types of beans like black beans, fava, green beans, etc.
Some people say they're not sure when the chili is finished cooking. Well, it should be bubbling but not simmering too hard. Take a spoonful out and make sure the beef is very tender and the smokey flavors are well combined.
How long do I need to smoke chili?
For this recipe, the general cooking time is around 4 hours, but it really depends on the type of smoker you have.
It's important that you smoke the chili base and the minced beef at 275 – 300 F for at least 2 hours. The meat's internal temperature must be 150 F before you crumble it into the chili.
Then, make sure to cook the chili for an additional 2 hours, so it absorbs the hickory wood chip flavor.
Here's the thing about smoking the beef. You don't need to overdo it. Beef naturally absorbs a lot of wood smoke and flavors, so you don't need to over-smoke it.
A great smoked chili will start with smoking the meat. Different meats will take different amounts of time to smoke but most will be ready within 6 to 8 hours. Brisket can take up to 22 hours to smoke.
In general, when smoking meat, you should follow a 3-2-1 rule:
For the first three hours, meat is left to smoke
For the next two hours, the meat is wrapped in aluminum foil to allow the interior to cook properly
For the last hour, the foil is removed to allow the meat to develop a crisp interior.
Once you have smoked the meat, you can combine it with vegetables (smoked or otherwise) of your choice. Onions, peppers, and tomatoes are recommended. You can also add other meats like sausage and to truly make it chili, you will want to add the right sauces and seasonings.
Garlic, chili seasoning, beef broth, hot sauce, and Worcestershire sauce will produce the right flavor and consistency.
Once you get the combination you prefer, mix all your ingredients in an iron pot and place it directly on your smoker. Cook uncovered for 2 ½ hours stirring occasionally. Then add beans (optional) and continue cooking for an additional hour.
Once the chili, like this beef & pork one, is thoroughly cooked, you can serve it with your favorite toppings like shredded cheese, lime wedges, sour cream, and more.
Also read: Will adding fire bricks to my smoker help it to maintain a consistent temperature?
How to serve smoked chili
It's best to serve this chili while it's still hot. You can pour it into bowls and serve alongside bread, cornbread,  or tortilla corn chips.
Blue corn chips are super tasty with this chili but also healthy.
Some good chili toppings include:
Shredded cheese
Sour cream
Lime wedges
Chopped green onions
Spicy habanero peppers
What equipment do you need to make smoked chili?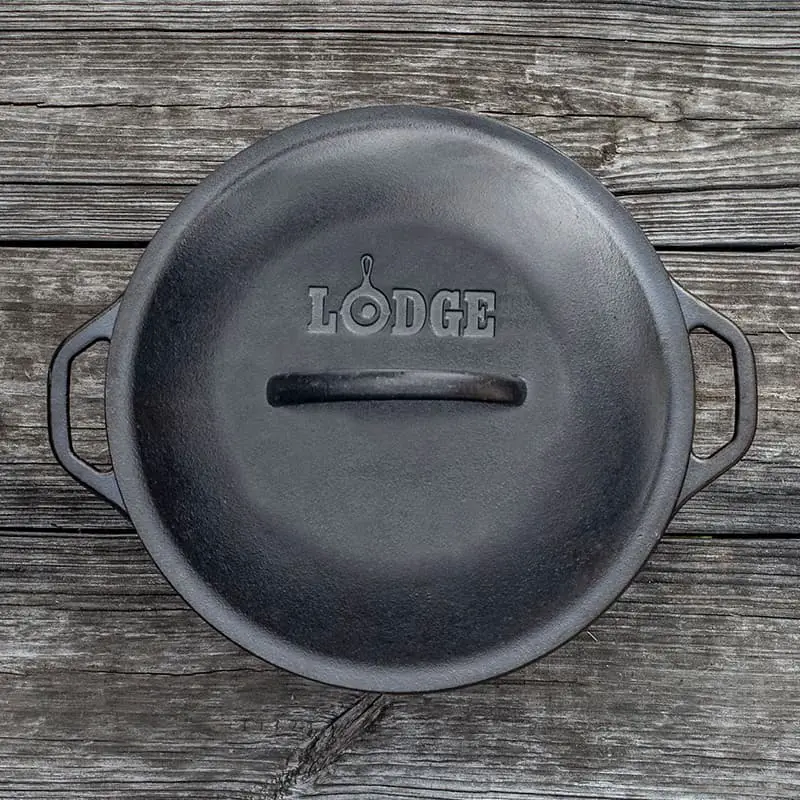 First, you'll need to have a Dutch oven in which to prepare and cook the chili. This large Dutch oven is where you'll add the smoked minced beef.
I recommend something like the Lodge 6 Quart Dutch Oven because it's spacious and heat resistant up to 500 F.
You can use any kind of natural gas, charcoal, or electric smoker to make chili. If you have a Big Green Egg or Kamado Joe smoker, though, it's super straightforward.
There's something about cooking with charcoal that's hard to beat because it just imparts the food, especially meat, with a whole lot of smoky aromas.
An electric smoker is good because you can also add smoking woods to give the chili a delicious wood smoke flavor.
Gas or propane smokers are great, too, and you can even cook the base for the chili right on the gas smoker.
You also need some hickory wood chips or chunks to smoke the beef and chili.
Western brand hickory wood chips are top-rated by pitmasters because they give off the perfect amount of smoke when burning, and they are well-priced.
Hickory is a good choice for beef because it has a strong smoke profile, and it gives the meat an earthy, bacony flavor.
If you're feeling adventurous, you can try different woods for smoked chili. I've listed the best options here.
Dutch ovens are great to make chicken as well! Here's a great Camp Dutch Oven Chicken recipe to try 
Can you freeze smoked chili?
Since you're making a large portion of smoked chili, you might have some leftovers. If you want to save it for the next day, you can put the chili in a plastic or glass container once it's cooled off and save it in the fridge for the next day.
Alternatively, you can place some plastic wrap onto the plastic containers to prevent freezer burn and place it in the freezer for a few months.
Chili is the type of meal that sits well in the freezer, and it tastes great when you reheat it.
So, you can even meal-prep this smoked chili for those days when you can't be bothered to cook!
Conclusion
What I love most about this smoked chili recipe is that it's very versatile. You can swap ingredients and make substitutions with your favorite ingredients.
For example, you can smoke a brisket for this chili or use pulled pork. It's up to you to make it delicious any way you like.
However, the combo of smoked ground beef and this bean mix makes for a super tasty recipe. The Jalapeno peppers add a Mexican-style spicy kick and I'm sure you'll have people asking for seconds.
Now, for dessert, let's try this Delicious & Easy Camp Dutch Oven Apple Crisp Recipe
Chili is a comfort food that is terrific on a cold winter's night. Smoking it can elevate the taste giving it that added special something.
What tips do you have for making your chili even more delicious?
Did you know, fruit woods are the best when smoking white meat like delicious cornish hens?
Joost Nusselder, the founder of Lakeside Smokers is a content marketer, dad and loves trying out new food with BBQ Smoking (& Japanese food!) at the heart of his passion, and together with his team he's been creating in-depth blog articles since 2016 to help loyal readers with recipes and cooking tips.