I love creating free content full of tips for my readers, you. I don't accept paid sponsorships, my opinion is my own, but if you find my recommendations helpful and you end up buying something you like through one of my links, I could earn a commission at no extra cost to you.
Learn more
We all know that one of the responsibilities of owning a BBQ grill is cleaning up after a great cookout.
It's important for you to make sure your grill and your griddle are in tip-top condition, hygienic, and ready for your next BBQ.
To help make the clean-up process less tedious, there are some fantastic products on the market. In my opinion, these products should be as safe as possible and contain the least number of chemicals whilst still being effective.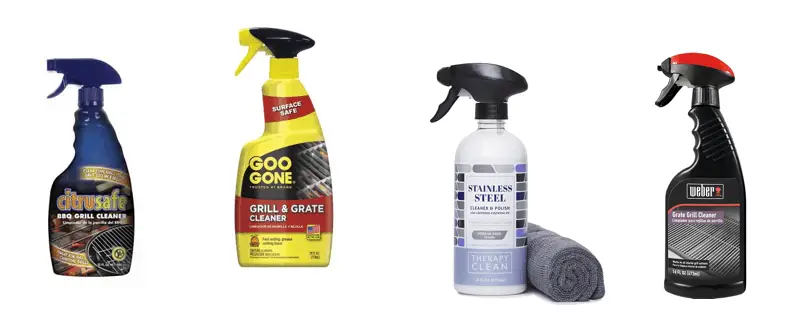 Some grills are made of ceramics, while others are stainless steel and everything in between. Make sure that the cleaning product you pick is suited to your grill type, otherwise, you could risk damaging it!
You should also select your cleaning product based on what you're going to clean, and how dirty it is. Not all cleaners are suitable for every task.
My personal favorite is the Therapy Premium Grill Cleaner because it does such a great job of cleaning AND polishing for a very reasonable price.
There are plenty of options available on the market though, and the wide range can be really confusing. This is why, to make the task easier for you, I have made a list of what I believe are the best grill cleaners.
I have eliminated the dangerous products that contain a lot of chemicals, and have identified the ones that have the safest formulas possible while still being extremely effective.
Have a quick look at my recommendations, before I discuss each one in more detail below.
Tips for buying the best grill cleaner for your needs
To help narrow down the wide range of products available to just the ones that would suit my needs and preferences, there are three important things that I always look out for:
Formula
Carefully check the composition and ingredients in the cleaner.
Avoid harmful chemicals (unless you know what you're doing). Some products are strong enough to destroy the surface of certain materials.
The best and safest cleaners are citrus-based. You really don't need strong agents to clean the grill well, unless under special circumstances.
Type of material and purpose
When choosing a cleaner, match it to the type of material you're planning to clean. If your grill is made of stainless steel then buy the right cleaner intended for cleaning stainless steel grills.
If, on the other hand, you're planning to clean grill grates, then make sure you know what material the grill grates are made of. Identify a product that is specifically manufactured to clean grill grates.
Scent
A citrus scent is usually an indicator of a safe formula.
If you can smell weird, strong, chemical scents, then it's a sign that this cleaner's formula may contain some strong, undesirable, and possibly harmful substances.
Always read the composition on the label in order to make sure.
The 4 best grill cleaners reviewed
Out of all the products available on the market, it is really tough to choose just four of the top ones. Luckily, I have many years of grilling to back me up, and I've had opportunities to test plenty of different brands.
I've detailed my experiences below to help you decide on the best grill cleaner for your grill and your needs.
Best grill cleaner for cleaning & polishing: Therapy Premium Grill Cleaner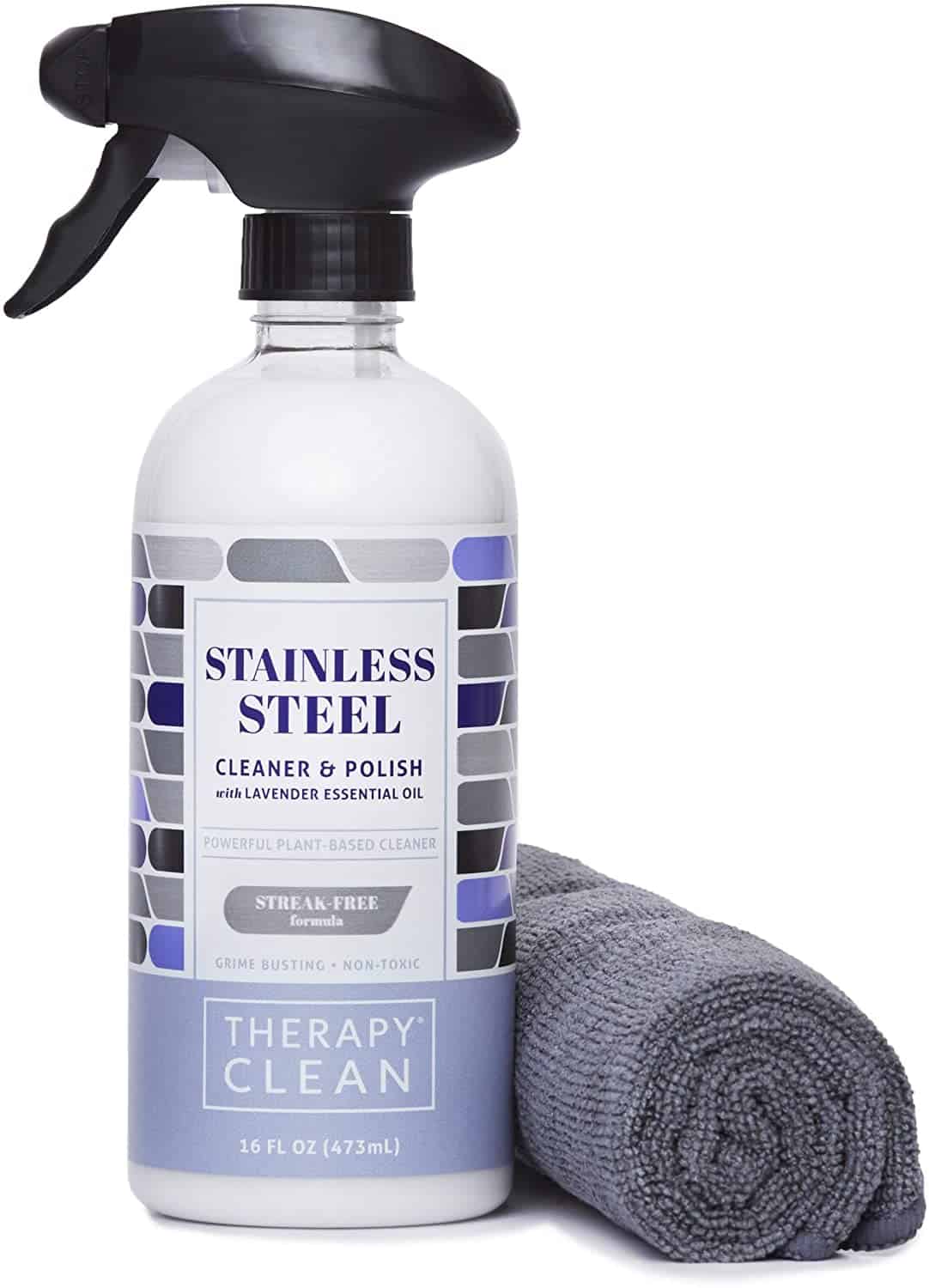 If you want to get rid of grease and dirt from your grill AND also polish it, then Therapy Premium Grill Cleaner is a great choice.
This grill cleaner delivers a unique two-in-one action that leaves your grill shining like new. All you need to do is spray a little of the cleaning agent on the stained area and then wipe it away with a microfiber cloth.
This grill cleaner is made of 100% natural coconut oil and enriched with vanilla and lavender essential oils.
Besides giving your grill a thorough cleaning, it will also leave it with a pleasant smell. You can also use this cleaner on other types of stainless-steel surfaces like kitchen sinks.
Features
Formula: Plant-based stainless steel cleaner – Therapy Clean uses natural coconut oil to clean, polish, and protect stainless steel surfaces. Solvent-free formulation is safe for you and your family.
Type of material it can clean: Cleans black stainless steel and leaves a protective barrier that resists fingerprints, dust, dirt, oil, and smudges
Scent: Lavender & vanilla
Before using your grill for the first time, make sure to properly season it!
Best grill cleaner for stubborn grease: Goo Gone Grill and Grate Cleaner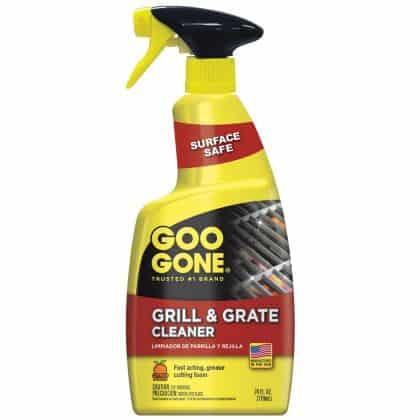 If you're looking for an affordable yet efficient and versatile grill cleaner, you can't go wrong with Goo Gone. In this pack, you get two for a very reasonable price.
The Goo Gone Grill and Grate cleaner is surface safe and can be used for cooking grates, racks, drip pans, grill interiors, and exteriors.
It's safe for stainless steel grills and uses a powerful citrus-based formula to clean up grease and food waste. It is also biodegradable, reduces smoke/flare-ups, prevents corrosion, and is safe on food-prep surfaces.
Features
Formula: Super-strength gel specially formulated with citrus power
Type of material it can clean: Safe for use on metals, cooking grates/racks, drip pans, grill interiors/exteriors (do not use on aluminum or faux stainless steel)
Scent: Citrus
Best grill cleaner for general cleaning & spills: Weber Grill Cleaner Spray

Weber 8027 Grill Grate Cleaner Spray is another great product for those looking for an environment-friendly, non-toxic, and non-flammable grill cleaner.
It is a simple, safe, and powerful cleaner that removes burnt-on residue from grills. The ingredients are non-toxic and don't cause any skin irritation.
Plus, the product is biodegradable and relatively odorless.
Features
Formula: Environment-friendly, non-toxic, and non-flammable grill cleaner
Type of material it can clean: Works on grills, smokers, ovens, microwaves
Scent: Relatively odorless
Also read: How to Clean a Weber Grill
Best for cleaning a cold grill: Citrusafe BBQ Grill Cleaner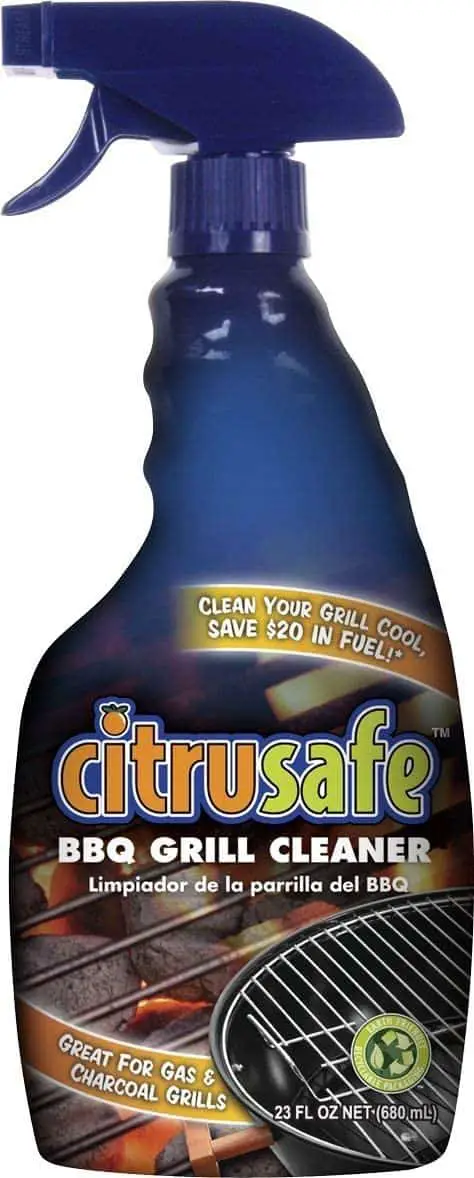 Citrusafe is an excellent way to clean your BBQ grill. It eliminates stubborn stains and grease fast, leaving your grill shining as new.
This grill cleaner is composed of citrus compounds and is biodegradable, non-flammable, non-toxic, non-corrosive, and phosphate-free.
So, you don't have to worry about the safety of your food once you clean your grill. It is also safe for your skin.
What's more, you don't need to heat your grill before cleaning with Citrusafe BBQ Grill Cleaner.
Besides grills, this cleaner is also useful in cleaning cookers, ovens, microwaves, and smokers.
Features
Formula: With d-limonene as the core ingredient, Citrusafe is non-flammable, non-corrosive, non-toxic, biodegradable and phosphate-free
Type of material it can clean: Works great on the grids of grills, cookers, smokers, and ovens
Scent: Citrus
Takeaway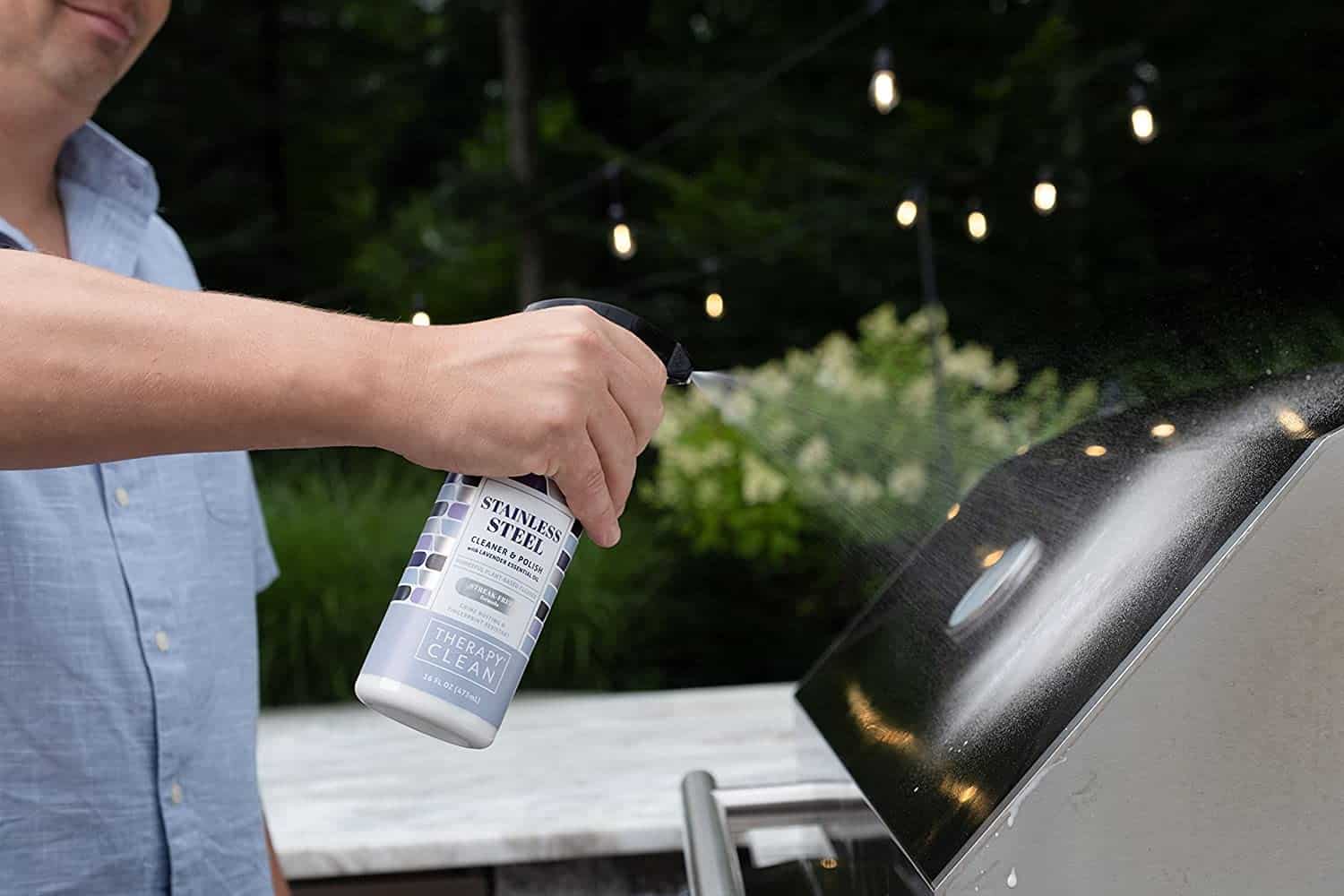 In order to maintain your grill's prime condition, you need to take good care of it. Use any of these top-rated grill cleaners to keep your grill in tip-top shape.
Remember that a natural cleaner will never be as effective as one that contains toxic and powerful chemical substances.
On the other hand, only a natural formula ensures your safety (and the safety of your friends and family) and won't damage any surface of your grill.
Some grills are covered with a special coating that protects them from corrosion. By using very strong chemical cleaners on some grills, you can significantly weaken the surface of the grill or a particular element.
This is why it's so important to use cleaners that are safe for your type of grill.
Contrary to popular belief, natural cleaners can actually produce fantastic results. Just follow the instructions correctly, and make sure you've got a quality grill brush.
You will find that natural cleaners are very effective. And you'll have peace of mind knowing that your grill is safe from harmful chemicals and from potential damage.
A good way to keep your grill clean and protected in between grill sessions is with a good grill cover
Joost Nusselder, the founder of Lakeside Smokers is a content marketer, dad and loves trying out new food with BBQ Smoking (& Japanese food!) at the heart of his passion, and together with his team he's been creating in-depth blog articles since 2016 to help loyal readers with recipes and cooking tips.