I love creating free content full of tips for my readers, you. I don't accept paid sponsorships, my opinion is my own, but if you find my recommendations helpful and you end up buying something you like through one of my links, I could earn a commission at no extra cost to you.
Learn more
If you consider yourself a pitmaster or a connoisseur of grilled meat, then you probably own a sturdy and sizeable grill at home already.
But, you may want to enjoy the odd grilled steak or smoked trout while you're camping or boating, and in order to do that you need a quality portable charcoal grill.
The great thing about buying a portable charcoal grill nowadays is that consumers are spoilt for choice with all the available options in the market.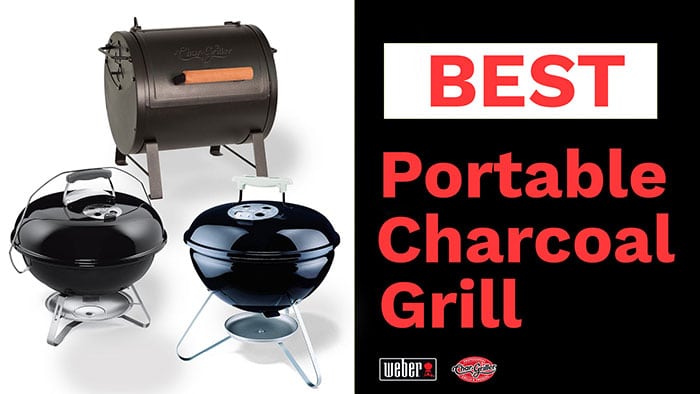 A portable charcoal grill should be as effective as possible, preferably just as much as a full-sized charcoal grill.
On top of that, it has to be very lightweight and convenient to transport, which allows you to easily take it along everywhere you want.
Grilling doesn't have to only take place in your backyard, the summer weather is good for activities away from home.
It's a great opportunity to bring along a small-sized grill and get on the road knowing that no matter where you are, you have the ability to prepare delicious food.
This is where a problem arises, do you have a small and compact enough grill?
I looked deep into the topic and created a guide where you will learn the best portable charcoal grills for every occasion.
Portable charcoal grills are available in a wide price range and they come with all types of different features. If you're on the market for a new portable charcoal grill, you've come to the right place.
We've put together a comprehensive guide on the best portable charcoal grill on the market.
In this post we'll cover:
Best portable charcoal grill you must have
Overall best portable charcoal grill: Weber Go Anywhere
Weber is a well-known name in the grill manufacturing business but the company is known mostly for its large and imposing models. This one, however, weighs just 7.5 pounds and has a surface area of 190 square inches so it's safe to say that it's large enough to cater to two or three people at a time.
It features foldable legs that make it easy to travel with and put it away when you're done.
On the downside, this grill is not at all that well-made. First of all, temperature control could use some serious improvement, as the multiple holes on the grill make it difficult to maintain heat. The workmanship can be shoddy at times and perhaps that's why it's so cheap. But, it's the perfect grill to buy if you're looking for something to bring on a once-off camping trip or to use for one season. Otherwise, don't expect it to last that long because it's not that well-built.
The next suggestion is actually for those who only think about grilling (forget about smoking).
On top of that, it's a grill created strictly for those who travel, which you're going to find out while checking out its features.
The greatest advantage of Weber Go-Anywhere is the mobile construction that makes it very convenient to transport.
Thanks to the very low weight and the number of handles, it is incredibly easy to carry. Despite its small size, it has two handles on the sides and one on the lid (total of 3).
It has 160 square inches of cooking area, enough to fit up to 6 burgers at once (that's slightly more than the described earlier Smokey Joe).
I really like the legs that are usually used to keep the grill in the right position, but when folded, they serve as a lid lock. A truly great, versatile solution that everyone will appreciate when away from home.
When it comes to the quality of workmanship, Weber has lived up to the task and maintained high level of workmanship for this kind of money.
Sadly, it is necessary to mention several downsides that in certain situations might turn out to be upsides.
Not enough distance between the grates and the furnace makes it necessary to use the right amount of charcoal.
Adding more briquettes will result in high temperature, which makes it easy to burn the food. On the other hand, you can utilize it to create great sear marks at the end of the grilling process.
Another downside to some people might be not enough space between the grates and the lid. This type of construction also offers much poorer temperature control compared to kettle style grills.
The last downside is lack of any cleaning system whatsoever, which luckily isn't quite as bothersome thanks to small size of the grill.
All those downsides don't actually matter that much, as this is a grill made for simple grilling away from home. You need to understand that it's not possible to solve all the problems in such a small grill.
Pros
Very affordable
Lightweight and easy to carry
Easy to assemble
Cons
Poorly built
Difficult to use temperature control
Check prices and availability here
Weber 10020 Smokey Joe Portable Grill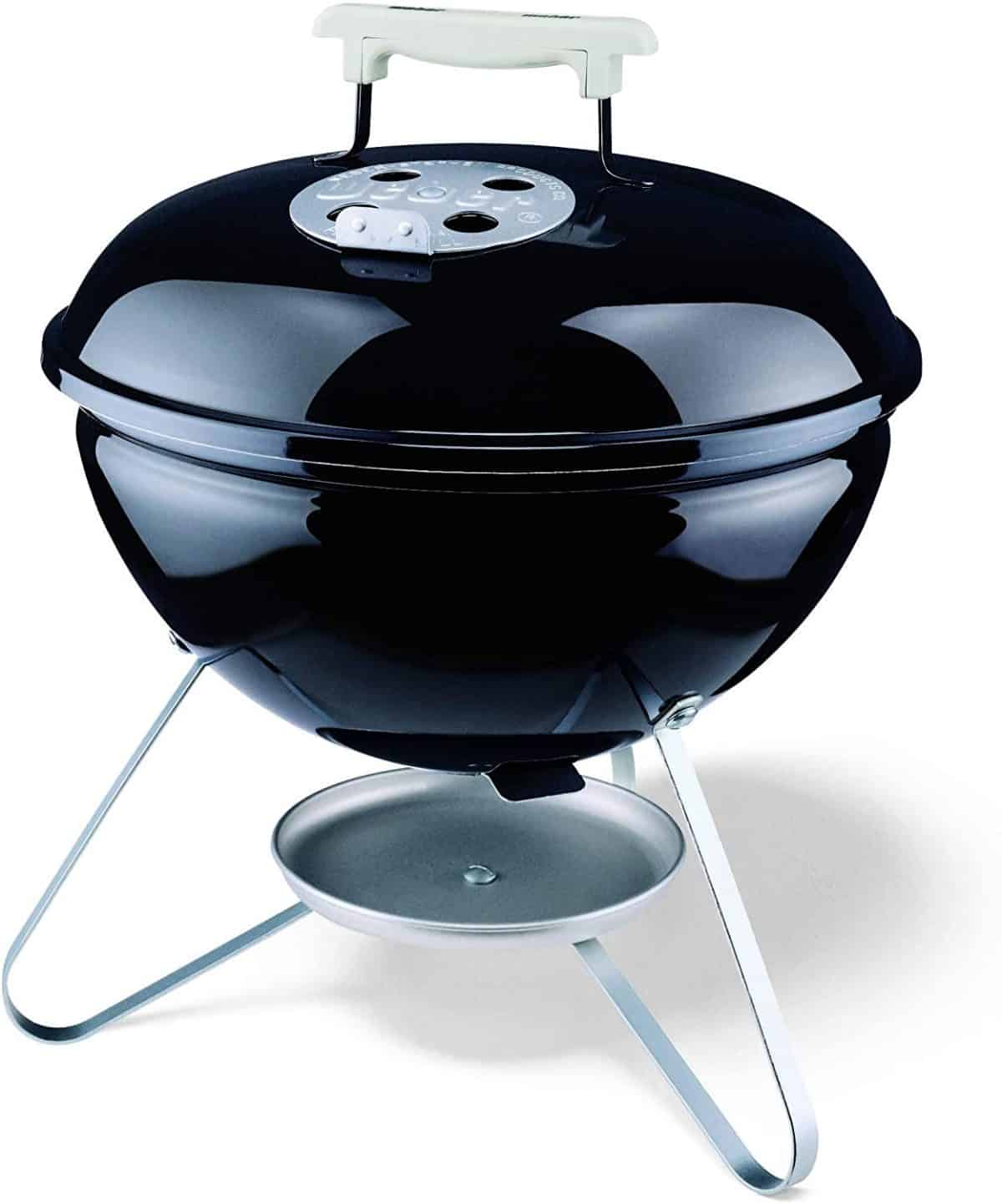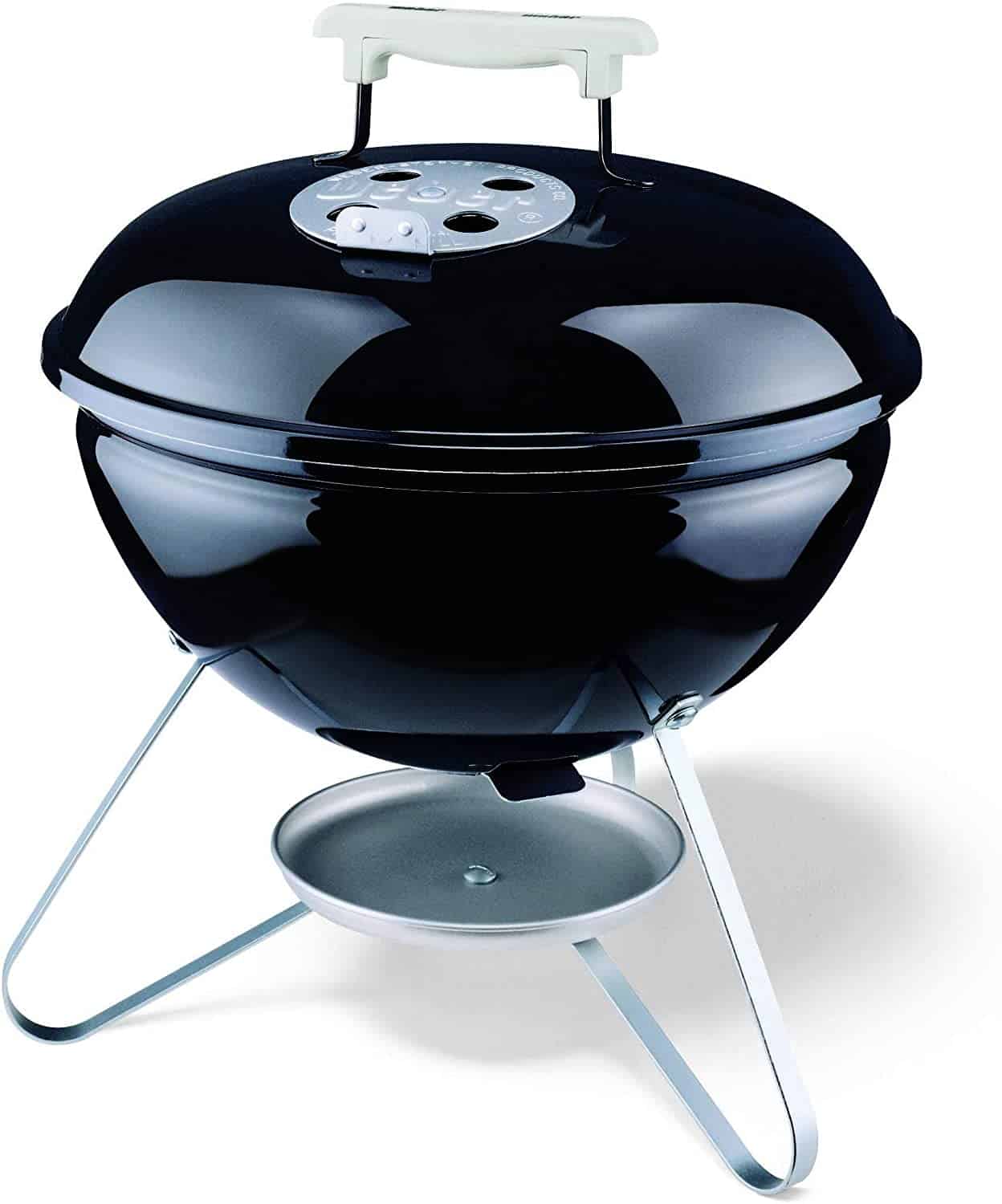 The Weber brand is well-known for making long-lasting, durable, and reliable charcoal grills. The company doesn't disappoint with this model which is called the 10020 Smokey Joe.
It's lightweight and easy to carry so it fits snugly into any truck or boat, and you can actually lug it with one hand to take it from one point to another.
Many avid grill masters have called it the best portable charcoal grill for camping and it's perfect to use at the beach, park or any camping area that you may want to visit.
Although small, this grill has a generous cooking area that measures 147 square inches which means it's large enough to cater for two people at the same time.
You don't have to worry about temperature control as the Weber Kettle lid and air vents take care of that for you.
That's why this grill offers superb even cooking throughout while reducing your chances of burning or overcooking food.
To control the temperature, all you have to do is open the air vents or take off the lid to improve airflow.
Of course, this is a small grill so you can't expect it to perform miracles. By this we mean you can only prepare small chunks of meat on it like burgers, hot dogs, steaks, and chicken wings.
But, you can't use it to make things like rotisserie (like with some of these models) chicken or a whole fish.
Great for grilling at home for one or two people and to be brought along someplace else.
Weber Smokey Joe is a very simple, small-sized and lightweight portable charcoal grill available at a very attractive price.
Despite not costing much, it is a solidly built and very durable grill, which is what the Weber brand is famous for.
It is covered with 10 years of warranty and I am sure that in good hands it will last for much longer.
A small charcoal grill is perfect for those who only want to prepare food for themselves for example. It doesn't take much space, is cost-effective, and very easy to clean.
It has a tray under the grill where the ash goes, it is easy to remove and empty.
A small downside is lack of lid lock and lack of side handles, which would be very useful in the event that a hot grill has to be moved somewhere else.
Besides, a small kettle-style construction isn't quite as effective when it comes to temperature control.
If smoking or better control are important to you then I really recommend the slightly bigger "Weber Jumbo Joe" version.
A little advice from someone experienced, if you want to achieve the highest possible temperature, open the air vents all the way and take off the lid.
If you don't feel like getting a big grill burning just to grill some very simple and small-sized meal then this is a perfect option. If you don't have much space for a standard grill, this is a great alternative.
If you need a real portable charcoal grill then it's also a perfect choice, especially for those with a limited budget.
Pros
Good price
Nice and compact
temperature control
Cons
It's difficult to maintain because of the lower air vents that get congested with ash
Did you know you can also smoke with a charcoal grill? I explain how it works here
Char-Griller E22424 Table Top Charcoal Grill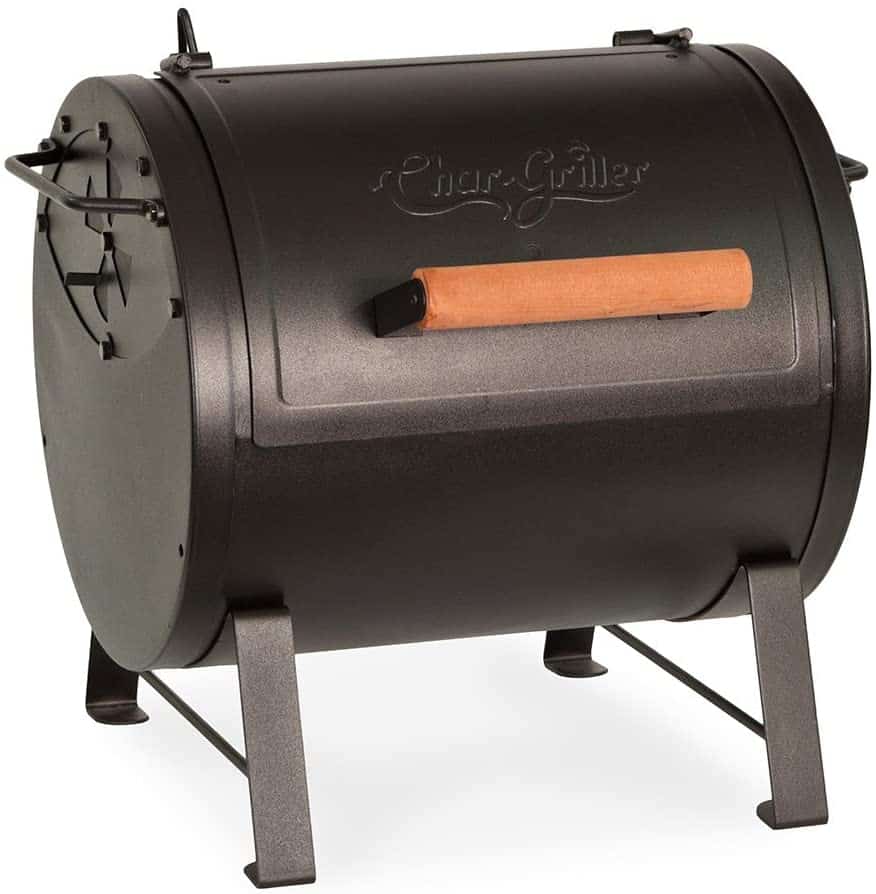 You might be forgiven for thinking that this grill is the full-sized version due to its sturdy construction.
It also weighs 40 pounds which makes it slightly larger than your average portable grill but it's still fairly compact compared to a full-sized smoker.
It's perfect for cooking while camping, boating, fishing, or just BBQ-ing in the park on a sunny summer's day.
The grilling surface is quite generous at 250 square inches, which means it's large enough to cater to a small group. It's also kitted out with cast-iron grates so you won't be replacing them any time soon.
Although, we'd be remiss not to mention the side handles which make it difficult to carry the grill, and to make things worse, there's no lid lock.
On the bright side, cleaning and maintaining this portable grill is quite simple and straightforward. Its unique shape makes it easy to dispose of the ash by taking out one side of the grill.
This solution earns this grill a gold star for ease of maintenance as cleaning it is very easy.
Definitely one of the best portable charcoal grills Amazon offers.
Pros
Comes with a removable ash bowl
Sprawling cooking surface
Ideal for smoking and searing meat
Versatile
Cons
It weighs a lot for a portable model
The paint job doesn't look nice
It can be difficult to carry
Quick Grill Medium: Original Folding Charcoal BBQ Grill

Our next option is a grill that's so small and portable that you can take it with you on your next epic hiking adventure.
Weighing just 4.75 pounds, this portable grill will fit right into your hiking backpack so you'll never be without a warm meal as you traverse through challenging terrain.
Although small, this grill has a surprisingly large cooking surface which you can use to cook meals for 2 or even 3 people.
It's large enough to prepare 6+ chicken wings, a whole fish, 2 medium-sized steaks, 4 burgers, a few hotdogs, or several vegetables (with the ideal 225 degree temperature).
This grill was made for outdoor living and it's the perfect way to make sure that you're well fed as you make it through beautiful landscapes.
It's also perfect for grilling at the beach, park, or on your boat.
The best part about this grill is that it's easy to put together as well and if you're traveling by car you won't even feel the weight or notice that it's there.
This is the best portable grill for RV travel.
Pros
Ultra lightweight and easy to carry
Easy to install
Highly portable
Cons
This is quite a pricey model but it's totally worth it
Weber Jumbo Joe Charcoal Grill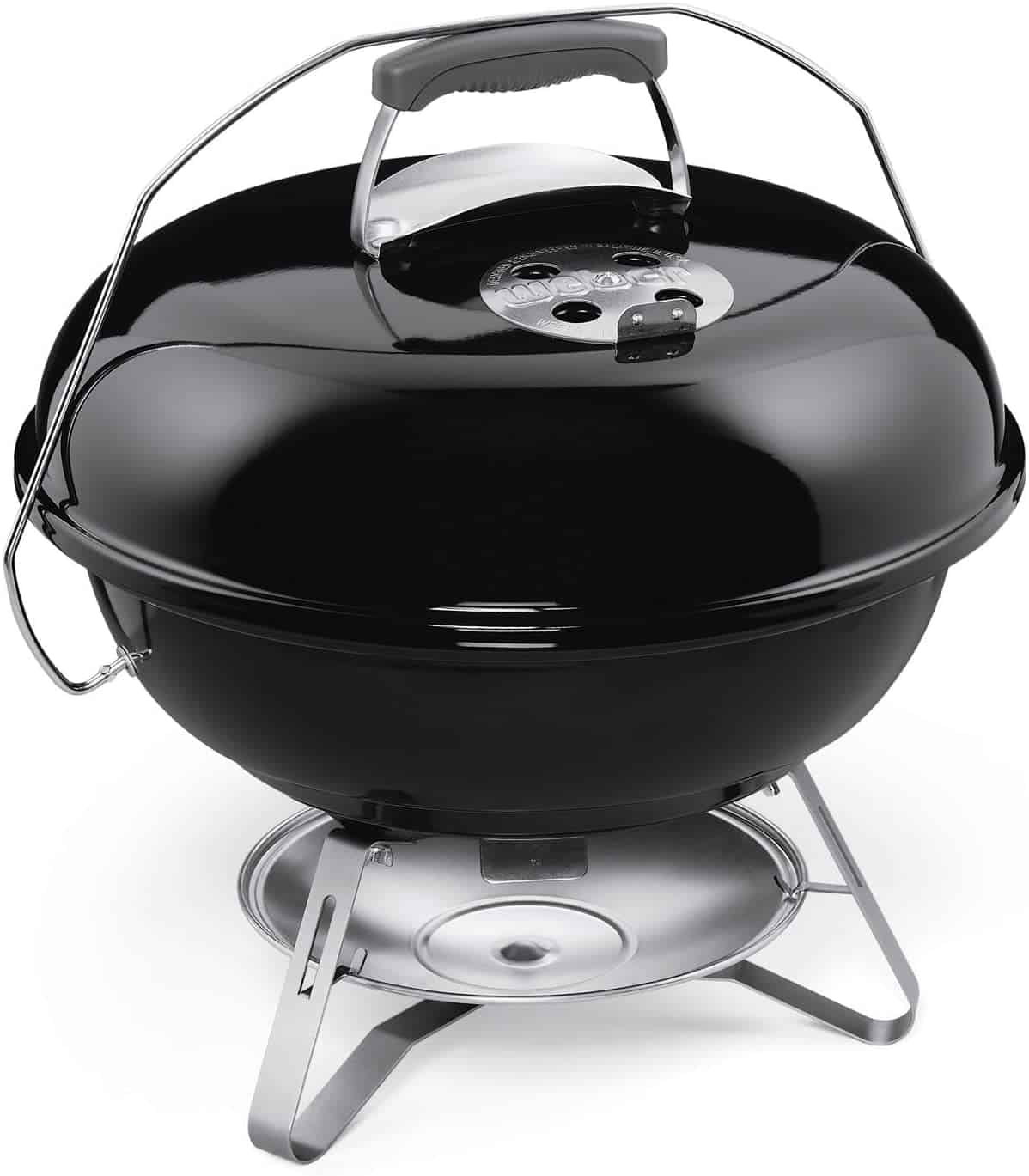 This well-priced portable grill comes with all the features you need to make the most of your camping, boating or hiking trip.
It has a lightweight and low profile design but with a sprawling surface area that makes it possible to cook for a small group with very little effort.
What we love about this grill is the quality workmanship. It has a sleek design that'll help you stand out when you take it out at the park or the beach.
But, this grill isn't just good for traveling though, because it looks great when placed on a small patio and balcony and could be the right solution for a space-challenged pitmaster.
You'll be glad to know that Weber designed the Jumbo Joe to resemble their world famous Weber Kettle which is one of the best-selling charcoal grills in the world.
This means there are a lot of features to like on this grill including a large cooking surface of 240 square inches and a perfect temperature control.
It also gives you the option to sear or slow cook your food if you like.
You can use this grill to cook for a small group and it's durable enough to withstand the elements when used in outdoor environments.
Plus, it offers direct and indirect cooking as well. Simply put, this is one of the best small charcoal grills on the market.
Pros
This grill offers great value for money
Cooking efficiency
Large cooking surface to cater to a small group
Great temperature control
Cons
The inside of the grill has a very shallow vertical space
Check prices and availability here
Char-Griller Akorn Jr.
Kamado is mostly associated with very heavy ceramic grills that don't have much to do with mobility.
The Char-Griller Akorn Jr. is an exception for two reasons, the first is small size and several portable features. The second is not being made of ceramics but of steel instead, which allows it to weight a little less.
Of course, compared to other options in this guide, it is still a very heavy grill. It does have handles on either side, though, which makes it easy to move it from one place to another.
I believe there won't be any trouble transporting this grill conveniently, like when camping.
Despite about 150 square inches, you are able to cook enough food for as many as several people.
Bigger construction and weight also mean much better functionality and convenience.
Kamado is specialized in grilling and smoking at the same time thanks to the great properties of insulation and air flow control.
Great insulation guarantees much better efficiency of charcoal (lower consumption) and the ability to easily achieve very high temperatures.
It comes with an ash drawer that you can remove and empty at any time, like after you're done cooking.
Char-Griller Akorn Jr. is a solid and durable portable kamado grill, but sadly it is pretty expensive compared to other options.
I think that it's mostly an option for experienced kamado enthusiasts who spend a lot of time away from home. It's not particularly lightweight nor mobile, but it's hard not to appreciate the versatility, functionalism and solidly built construction.
Tips for buying a new portable charcoal grill
The criteria for choosing a new compact grill are similar to those in the case of full-sized models, which you can read about in the guide to the best charcoal grills.
When looking for a portable grill, you also have to take such aspects as size, weight, and portability features into account.
Budget – At the very start decide what price range you tolerate. Luckily portable charcoal grills are among the cheapest, but it's possible to find pretty expensive options among them.
Size and weight – Analyze your needs, the number of people you cook for and where you're planning to go. In the next stage take the weight of the grill into account, especially if you're planning to walk large distances on foot with your grill. If you're going camping, the weight will probably not be a problem, because you will most likely go by car.
Cooking style – You're only interested in grilling or maybe you are more ambitious and think about smoking? In case of the latter it is important because not all grills offer enough space between the grill grates and the lid.
Portable features (handles, lid lock, etc ) – As the name suggests, a grill of this kind should be mobile and to make it possible, several basics are required. Just as important as small size and low weight are additional handles, folding legs/stand or a lid lock.
Cleaning – After each cooking, it is necessary to clean up after yourself, this task cannot be skipped. Pay attention to how the manufacturer has solved this problem in their grill, if it comes with an ash tray/container etc. Cleaning a grill, from ash among other things, is not exactly the most pleasant task, which makes different useful ash removal systems welcome.
Conclusion
When it comes to cooking meat outside, nothing beats the efficiency or the results of a good quality charcoal grill (we have some full-sized examples here).
Now you can enjoy sizzling seared meat with your own portable charcoal grill.
Just remember to look for a well-built model that offers a large cooking surface and decent temperature control so that you don't end up with half-cooked or burnt meat.
As we said, this product is based on their internationally renowned Weber Kettle which continues to steal hearts to this day.
The Jumbo Joe has a 240 square inch cooking surface which means you can use it to cook for a small group of family and friends, and yet it's small enough to carry and transport with a car or a boat.
If looks are important to you then you'll be glad to know that Weber spared no expense when designing this grill and it comes at an accessible price point as well.
This is undoubtedly one of the best portable charcoal grill for camping, hiking, boating and for anyone with a small patio or balcony.
Joost Nusselder, the founder of Lakeside Smokers is a content marketer, dad and loves trying out new food with BBQ Smoking (& Japanese food!) at the heart of his passion, and together with his team he's been creating in-depth blog articles since 2016 to help loyal readers with recipes and cooking tips.