I love creating free content full of tips for my readers, you. I don't accept paid sponsorships, my opinion is my own, but if you find my recommendations helpful and you end up buying something you like through one of my links, I could earn a commission at no extra cost to you.
Learn more
Which brand is better: Camp Chef or Traeger? If you're buying a new pellet smoker you are likely asking this very question.
Well fear not! I've written the article below to help you decide which brand would best suit your needs.
Traege​​​​r is an icon in the world of BBQ, and everyone is familiar with the brand. But from the moment their patent expired a lot of other brands have appeared on the market with the goal of getting customers to switch to their newer, more interesting product offerings.
One such brand is Camp Chef, which comes with many innovative and useful features that you won't find on Traeger grills.
In this article, have compared both brands and revealed my choice of the winner in the Camp Chef vs Traeger competition. But whatever you decide, be assured that both brands offer top-quality pellet grills in the middle or upper price range. They both have a lot to offer their customers.
In the table below, I've briefly identified some of the key characteristics of the two pellet grill brands, and how each of them matches up:
| | | |
| --- | --- | --- |
| Characteristic | Camp Chef | Traeger |
| Price | √ |   |
| Temperature range | √ | √ |
| Mobility  |   | √ |
| Hopper | √ | √ |
| Features | √ | √ |
| Workmanship/materials | √ |   |
| Warranty | √ | √ |
| Brand and Marketing |   | √ |
| Size |   | √ |
| Versatility | √ |   |
In this post we'll cover:
Camp Chef vs Traeger
Now let's have a closer look at these important pellet grills features and how I would rate each brand on the spectrum.
History
Camp Chef – This is no longer a young brand, but compared to Traeger it may seem that way, especially when it comes to pellet smokers. Camp Chef focuses on products intended for cooking at camping grounds, in backyards, and all other outdoor areas. The brand has earned renown among customers and is famous for its high-quality equipment.
Traeger – Traeger is, without a doubt, an icon not only of pellet smokers but of BBQ products in general. It is one of the few manufacturers that everyone in the United States knows, even if they are not into BBQ.
The history of the brand dates to 1985. Just a year after they formed, they patented the pellet smoker design and held the monopoly on the product for 20 years until the patent expired. Traeger was fantastic at developing and marketing their smokers, making it the most recognizable brand of pellet grills to this day.
Price
Camp Chef – I would place the price range of Camp Chef somewhere between the middle and upper ends of the spectrum. The price for a pellet smoker from Camp Chef that is similar in size to a model from Traeger is about on par. That's why I'd encourage you to read this article to discover the important differences between the brands.
Traeger – Depending on the series you pick, the price varies between the middle and upper ranges. Being on the market for so many years as such a recognizable brand does mean that the grills from Traeger cost a fair amount. Are they worth the price? I've given reasons for this below.
Temperature range
Manufacturers like to brag about the temperatures their grills can reach, but you only need certain ranges when smoking. Traeger and Camp Chef offer similar temperature ranges, but it is Camp Chef that comes with a separately-sold sear box that can take up to 900 degrees Fahrenheit of direct heat.
Thinking about cold smoking? These are the Best Cold Smokers & Generators (+ How to Cold Smoke)
Mobility
Both manufacturers took care of the basic elements – such as handles and suitable wheels – that give the option for mobility to these smokers. But if you need a typical small-sized mobile pellet smoker, then you can only find it in the Traeger grill product line.
Hopper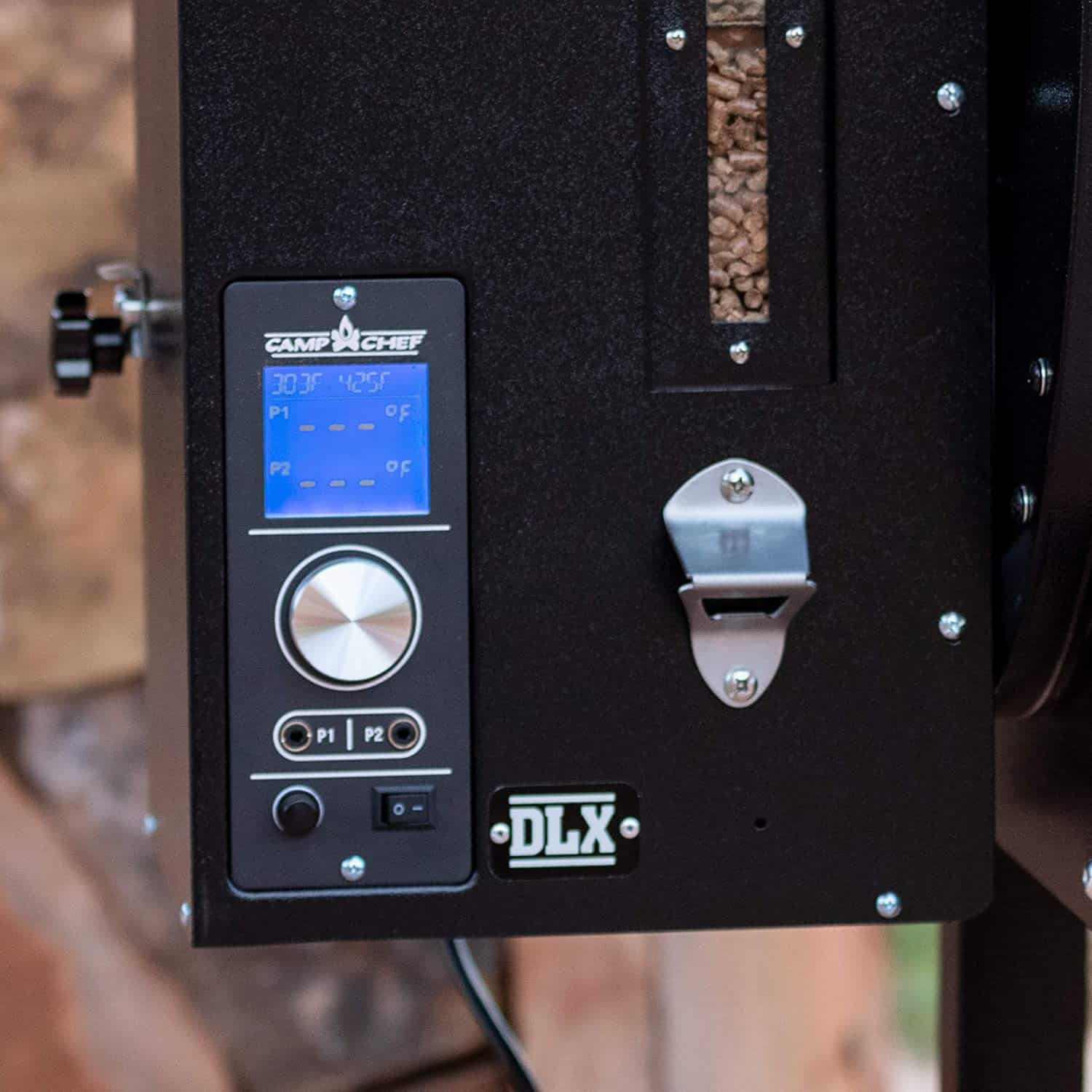 In both cases, you can expect similarly sized pellet containers that are more than enough to meet your expectations. A full container in each model from both manufacturers is enough for over a dozen hours of smoking without having to refill. This amount is sufficient for all but the most time-consuming cooks, and a bigger container would only take up more space.
Top features
Camp Chef – The side sear box is something that makes a pellet smoker from Camp Chef stand out among all the other manufacturers. It is an expensive gadget but comes in handy when cooking. It gives plenty of unique cooking opportunities that you otherwise wouldn't have, like the ability to quickly sear the skin on the meat towards the end of smoking. On top of that, the Camp Chef also comes with all the essential features that meet current standards.
Traeger – In its latest series of smokers, Traeger has introduced a lot of new things in terms of technology. Depending on the model you buy, you have several interesting programs to choose from, the ability to use Wi-Fi for certain things, and the option to plug in a probe. Besides these, the rest of the features are up to today's standards.
Quality of workmanship and materials
Camp Chef – When you compare models in similar sizes and prices across brands, you will conclude that Camp Chef cares much more about the finer details of construction. The whole structure looks much better than its competitors. I own a Camp Chef PG24 and I can say that the quality of workmanship is high-level.
Traeger – In terms of quality for this kind of money, Traeger is a bit hit-and-miss based on what product you buy. You won't get anything bad, but you also won't necessarily be completely blown away, either. You'll get a product of decent quality, but one could expect a little more. It is nice to know that the latest series from Traeger has raised the quality level.
Warranty
Both Traeger and Camp Chef offer three years of warranty. When buying a more expensive model from one of these manufacturers, I would expect a much better warranty than just the 3-year period, so it's a lose-lose here, I'm afraid.
Brand & marketing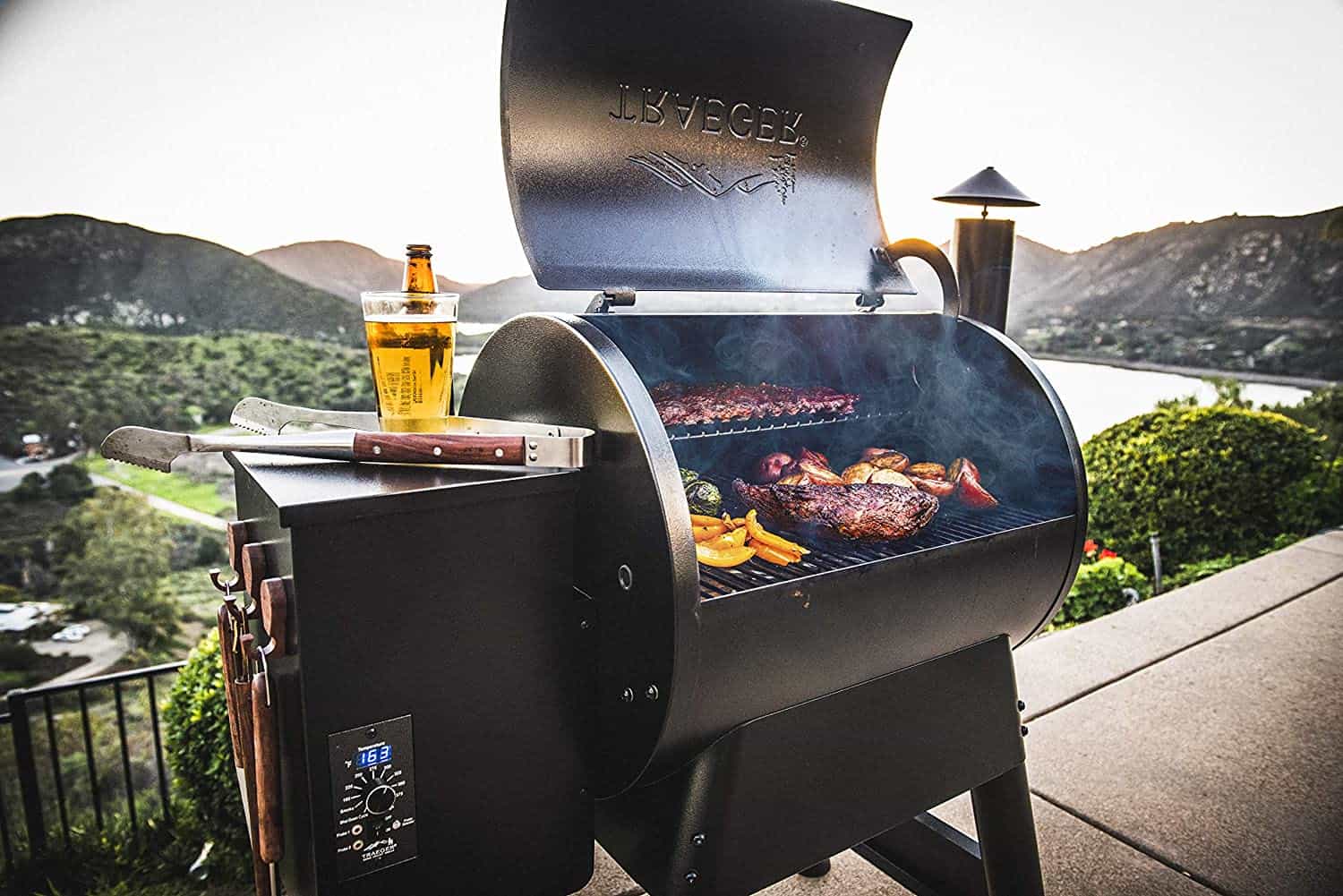 Camp Chef – The brand is renowned among campers and those who cook away from home. Camp Chef has been present on the market for many years, but it only got into manufacturing pellet smokers after the Traeger patent had expired. Ever since then, the brand has earned renown among the BBQ community by manufacturing truly great pellet grills at decent prices.
Traeger – The roots of this brand go back almost three decades – it is one of the most famous brands among the BBQ community. Traeger is responsible for creating and manufacturing the first pellet smoker, and for promoting it. It is a sponsor at many prestigious BBQ competitions and during many important events. After so many years on the market, they still sell the most grills compared to all other brands.
Size
Camp Chef – Sadly there isn't a huge choice of sizes in Camp Chef grills when compared to other manufacturers. Their offering only includes several universal sizes that should meet the expectations of most customers. But those who want something specific may be disappointed.
Traeger – This manufacturer has a few different series of grills in their offering, and each of them is available in different sizes. This gives you a vast choice, regardless of whether you need a small mobile pellet smoker or a huge one to feed a lot of people.
Versatility
In this regard, the winner is Camp Chef, which offers a separately-sold sear box. It is an expensive addition, but it's certainly worth its price if you take smoking and grilling seriously. It makes it possible to get very hot direct heat in a short amount of time, which you won't get with any of the Traeger models.
Also check out my Camp Chef Woodwind SG Review
Traeger vs Camp Chef – final verdict
If you are driven by sentiment towards Traeger then I must admit that the brand has definitely upped its game with the latest series.
However, if you care more about the price to quality ratio than the brand itself, check out the Camp Chef offering. It is a brand that has introduced a lot of new things to the world of pellet smokers and created a durable product at a decent price.
Who is the winner in my view, then?
Some time ago I was also faced with this decision and upon a thorough analysis of both manufacturers, my choice was the Camp Chef brand.
I really liked the sear box (sold separately) and the ability to choose smoking or grilling with direct heat (in newer models). At first glance, the quality of workmanship looked better, too, and that has proven true after a few years of use.
It is worth noting that this is not just my choice – many valued sites such as Exchange Bar and Grill also have also selected Camp Chef as the best pellet smoker.
A pellet smoker from Traeger still makes it possible to prepare great BBQ, but in this comparison, the final criterion was quality and price to value ratio – and for that reason, I picked Camp Chef.
Read next: Best BBQ Smokers for Beginners: Top 7 Smokers + Buying Tips
Joost Nusselder, the founder of Lakeside Smokers is a content marketer, dad and loves trying out new food with BBQ Smoking (& Japanese food!) at the heart of his passion, and together with his team he's been creating in-depth blog articles since 2016 to help loyal readers with recipes and cooking tips.