I love creating free content full of tips for my readers, you. I don't accept paid sponsorships, my opinion is my own, but if you find my recommendations helpful and you end up buying something you like through one of my links, I could earn a commission at no extra cost to you.
Learn more
The fun part about camping is cooking delicious food outdoors and then sharing it with friends and family. But carrying lots of cooking equipment can be a real challenge.
That's why you need something portable, easy to use, and durable while smoking your favorite dishes.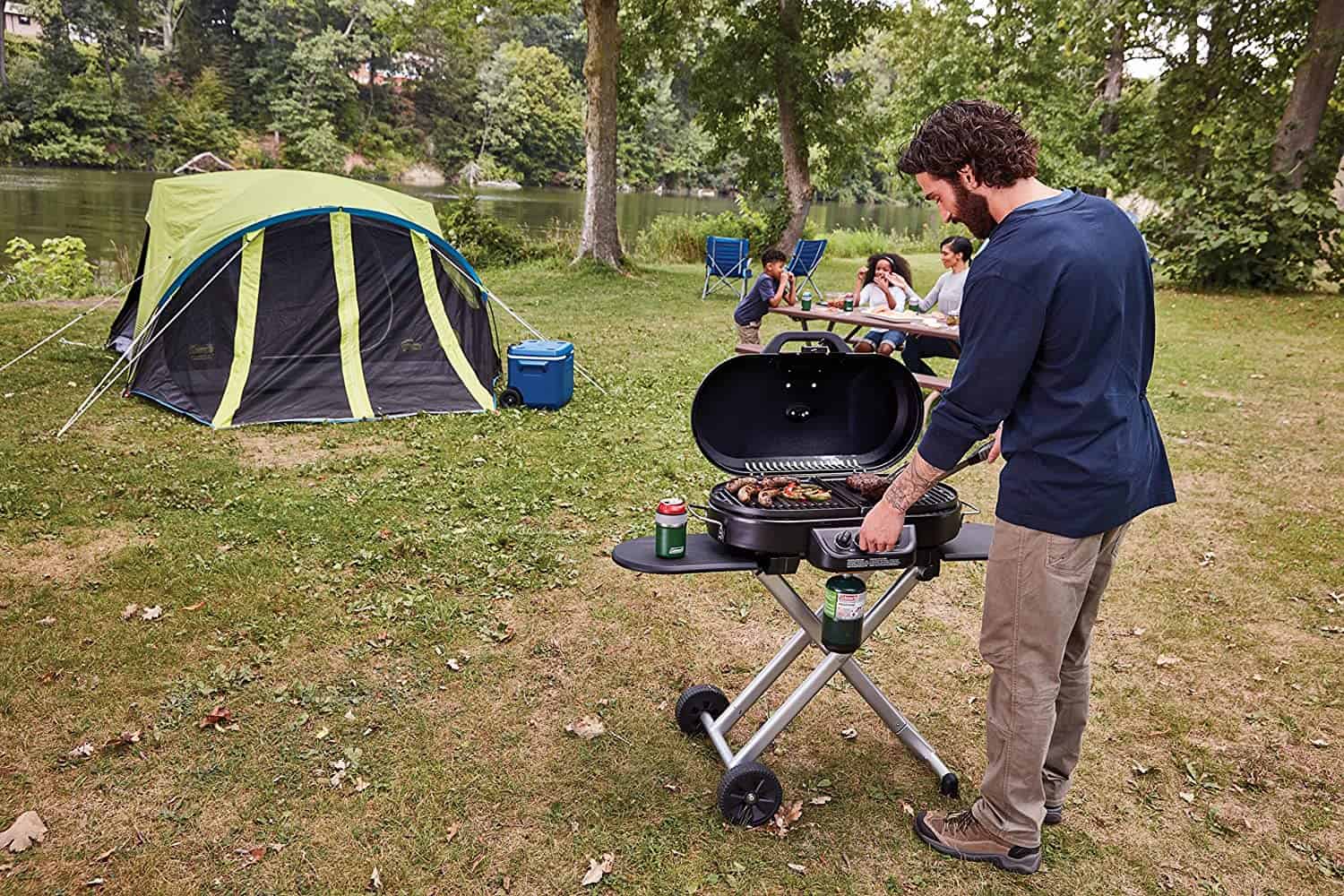 For all your smoking and grilling needs you can always count on the Cameron Large Stovetop Smoker. It is a compact wood chip smoking box with a grill grate that smokes food directly over a campfire or on any stovetop. 
If you're planning to rough it out for a few days in the wilderness, then camping is not camping without the Camerons Smoker because you don't need a major fuel source; simply add wood chips and place it on an open fire.
Well, the idea of camping outdoors is to get away from it all, enjoy nature, rejuvenate your soul, reignite your passions for things that you may have forgotten long ago, and, of course, cook nice meals.
In this article, I'll share my top recommendations for the best compact portable smokers.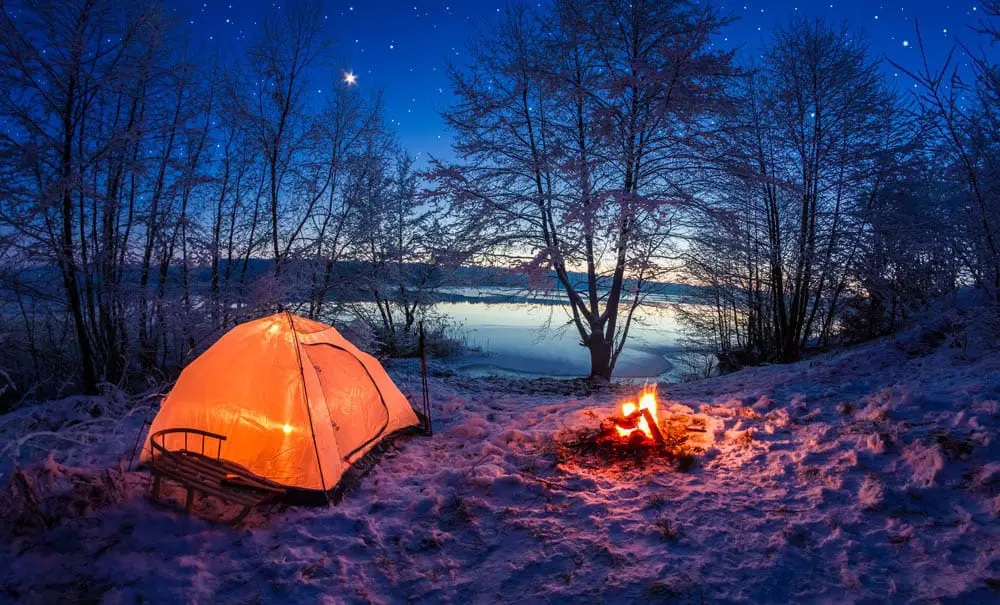 Buyer's guide – how to pick the right smoker for camping
There are some features to consider before you choose a smoker for camping. Let's examine them and see what you should look out for.
Direct vs indirect heat
Direct heat smokers are a bit harder to use because you're not smoking using the airflow inside the unit. Instead, you have to observe the food as it smokes and play around with temperatures quite frequently.
You end up using less wood and fuel because the smoking process is faster than the classic offset low and slow smoke. Small portable smokers work best with direct heat because they infuse the meat with smoke quickly.
An indirect smoker cooks and smokes the food via indirect heat, so that means heat isn't directly heating up the food.
An electric or pellet grill is an indirect smoker which cooks food via airflow. Indirect smoking is the low & slow type. These smokers are quite easy to use compared to direct heat units.
Type of smoker
Propane – the propane smoker is a great one to have. The Coleman one is one of the best portable small smokers that can fulfill all your cooking needs. A propane smoker is much easier to use because temperature control is much easier than with a charcoal grill.
However, the disadvantage is that propane tanks run out, so you need to have an extra tank with you for the trip so that you have enough fuel. If your tank runs out of gas mid-smoke, it's game over unless you have a backup.
Charcoal – this type of smoker is most commonly used for camping. Charcoal is cheap and easy to transport and you just light it and you're good to go. The advantage is that these smokers are cheaper and they infuse the food with an amazing smoky flavor.
The disadvantage is that it's hard to control the temperature. Also, you have to be careful where you start the fire and use the smoker to make sure it's a safe spot and you don't light anything on fire.
Wood pellet smoker – simply add pellets, set the temperature, and let the smoker do the work for you. This type of smoker is very easy to use, even for beginners so it's a great option to take with you.
Portability
If it's not portable and moveable, it's not a good smoker for camping.
Consider the following:
does it have wheels?
how heavy is the smoker?
is it foldable and easy to store?
does it have sturdy legs?
are there handles?
is it a compact smoker?
Clean-up
A propane grill or smoker is pretty easy to clean and after you're done there's not much heavy scrubbing required.
A charcoal grill leaves ash and residue behind that has to be emptied. So, you need a smoker that's easy to empty out.
If you're camping your access to scrubbing and cleaning tools is limited so make sure the smoker doesn't drip all the grease, ash, and burnt wood out.
Size
Now, you're kind of limited with size if you are driving to the campsite in a smaller car. Most portable smokers are pretty small and the open-fire direct heat ones are not chunky, so they will fit in your car.
But, if you have a large truck or an RV, you can take a large full-size smoker like the Weber Smoky Mountain with you. Then you can make lots of food at once, even rib racks.
It depends on your needs and how many people you have to cook for. If you're not a frequent camper, then a smaller charcoal grill like Oklahoma Joe's is a nice option because you can make enough food for 4 to 6 people.
Best smokers for camping reviewed
Now let's have a closer look at my top recommended smokers for camping.
Best overall camping smoker & open fire or stovetop: Camerons Large Stovetop smoker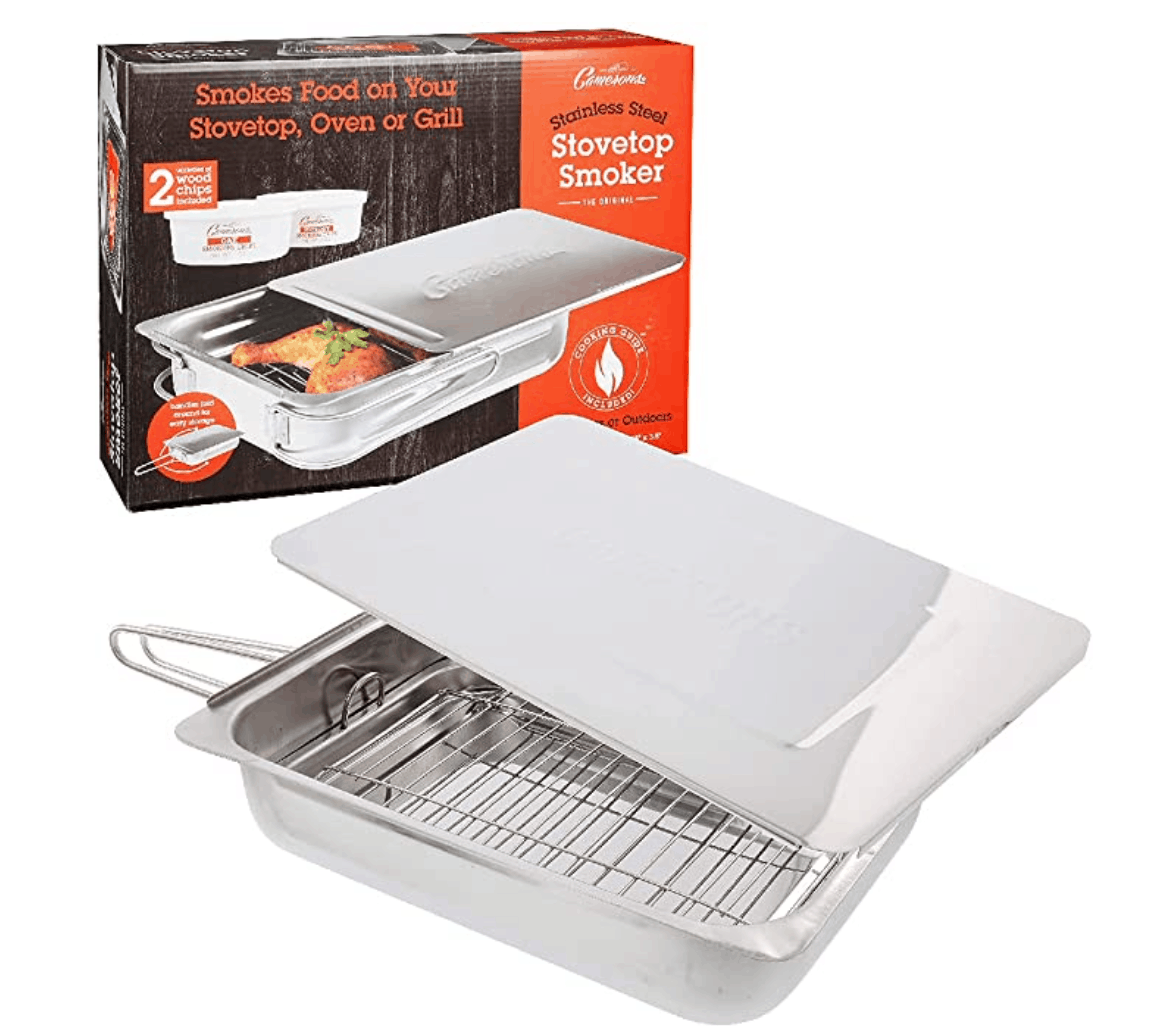 Don't be fooled by the term stovetop, this portable smoker is great for using over a campfire, fire pit, or on your RV stovetop.
It's shaped like a metal pan with a lid but it's made of stainless steel, so it's not flimsy like those disposable camping grills.
This is the perfect small smoker for fish like trout or salmon and it's especially handy when you go on fishing trips and want to smoke some delicious food.
The Cameron comes in a few sizes but they're all small enough to be portable and perfect for outdoor smoking. But, if it starts to rain, you can go inside and smoke on the stovetop without making a huge mess.
Overall, it's a great little smoker and it's easy to clean. Simply throw out the wood chips and wash.
I like this versatile smoker because it's also a multi-use type of smoker because you can roast, poach and steam with it.
But another nice feature is that the smoker and its components are compact and you can place the grill grate and other accessories into the pan, place the lid, and store it.
Also, I want to mention that this portable smoker is affordable and with some wood chips, you're good to go on your next camping trip. You'll save time and money by using this smoker but the food will be delicious no doubt.
Best pellet smoker for camping: Green Mountain Grills Davy Crockett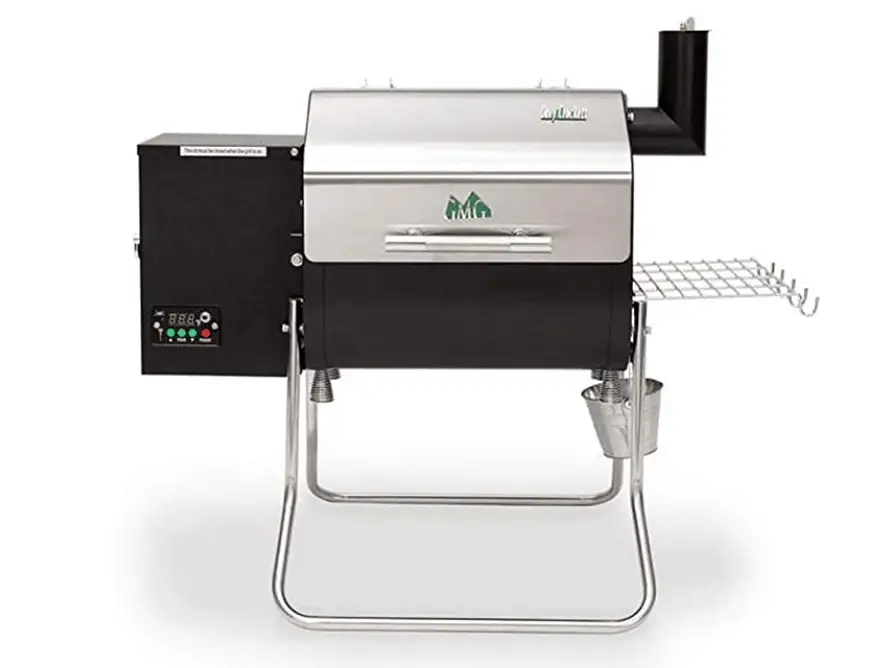 If you're looking for modern features like WIFI control, then look no further than the Green Mountain portable pellet smoker & grill combo. This is the perfect portable pellet smoker that's easy to carry on the road because it has foldable legs and a tray table.
So, while I wouldn't really call this smoker "small" compared to the stovetop unit, it's still compact, lightweight, and easy to store.
There are 219 sq. inches of cooking space spread out on two levels, which means you can smoke lots of sausages, fish, steak, ribs, and even whole chicken.
After all, if you're going to go through the effort of taking your smoker with you on the road, it must be versatile and easy to use. Pellets come in many different wood flavors and they don't take up that much space but they sure give tons of flavor.
What really sells this smoker though is that it runs on a 12-volt car battery so it's perfect for camping. It's also a great pellet smoker and grill combo for tailgating and RVs because you can always pull the power out and connect the smoker to the vehicle.
This smoker also comes with a temperature probe which means there's one less thing to pack, and controlling the temperature is as easy as set it and leave it.
Stovetop vs pellet smoker
These two smokers are very different from each other, but they're perfect for people looking for an easy and effortless smoking experience.
There's nothing like smoking food with a pellet smoker because you've got amazing flavors and the temperature is easy to control. So, if you want to impress when you're smoking outdoors at a campsite, there's nothing better than the portable Green Mountain.
But, if you think carrying the 57 lb smoker is too much for you, or you lack space, a small stovetop and campfire direct heat smoker like the Camerons is the cheapest and easiest solution.
It's a small metallic tray and since it's so small, it's perfect for smaller groups and families. I also recommend it for fish and seafood, so it's a great fisherman's companion cooker.
It all comes down to how serious you are about smoking. If you can't compromise on perfection, the portable wood pellet smoker is better but for the everyday camper, my best overall recommendation is the Camerons Stovetop Smoker.
Best tabletop charcoal smoker for camping:

Oklahoma Joe's 19402088 Rambler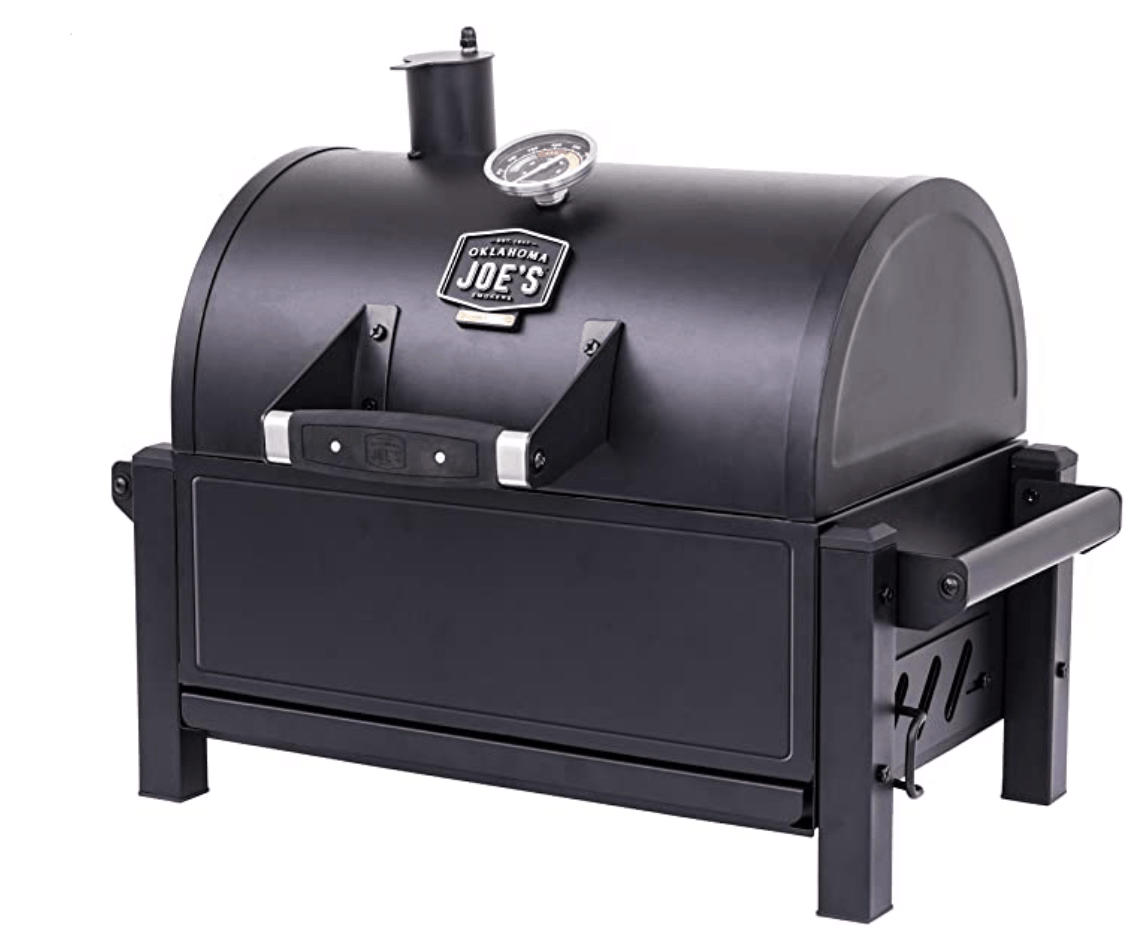 Type: charcoal 
There's nothing quite like good old charcoal BBQ. When you take the Oklahoma Joe Rambler with you, it guarantees that the meat is perfectly seared and infused with flavored wood smoke.
It's the classic Texas-style BBQ flavor for those of you wanting the tastiest BBQ ever.
This tabletop smoker fits on your camping table but you can also put it on the floor if it's more convenient. It is made of heavy-duty steel that doesn't rust and is pretty durable. It also has thick cast-iron grates to give the meat those gorgeous sear marks.
This kind of smoker is ideal for cooking all kinds of food, including corn on the cob, pork butt, or a large rib rack because it has plenty of cooking space even though it's compact.
The charcoal tray is height adjustable and what I like is that you've got some large air dampers you can use to control the airflow. And once you're done smoking, the ashtray is completely removable and easy to clean. Then you can pack it up and get it ready for the next day.
The final verdict is that Oklahoma Joe makes some of the best full-size charcoal smokers and this smaller version is no exception. It's a great cooker and every true BBQ lover will be satisfied with the smokey, tasty foods.
Check prices and availability here
Also read my review of the best lump charcoal, don't go for low-grade fuel!
Best full-size smoker for camping: Weber Smokey Mountain Cooker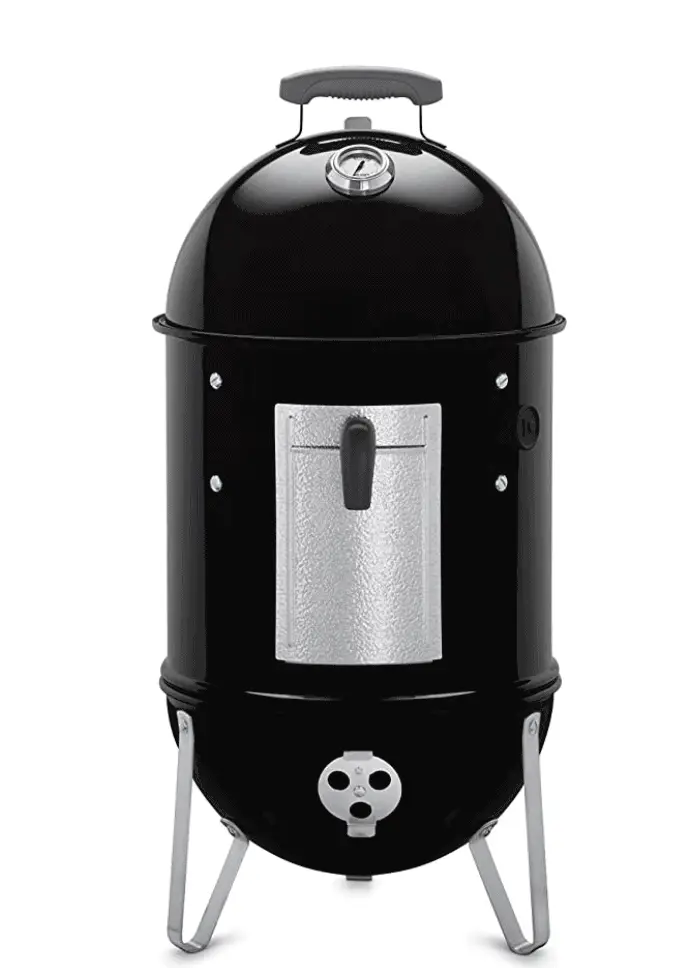 Type: charcoal 
If you're on the market for a cooker you can use at home and on a camping trip, the full-size yet compact Smokey Mountain is the best option. Sure, it's only 14-inches, but it's the perfect size for a small gathering or a family camping trip. It's a grill and smoker combination, so you can use it to quickly grill hot dogs, or add a rack of ribs and smoke it to perfection, it's up to you how you use it.
There are two nickel-plated cooking racks so you can make anything from rib racks to burgers, to hotdogs and even fish.
It reaches temperatures of about 190F but you can also use it for low and slow smoking if you're comfortable with temperature control. You can always see the internal temperature on the built-in thermometer at the top of the cooker.
This means you don't have to carry all those extra smoker accessories (there are a few good ones though!) with you!
The grill and smoker (like some of these we reviewed here) combo is a pit barrel shape and quite easy to transport. It only weighs 23 lbs so you can lift it by yourself and then set it up without help from others.
The rust-resistant legs make this smoker ideal for outdoor use in camping areas and even in the rain. It's quite the weather-proof cooker that will last you for many years.
Oklahoma Joe's vs Smokey Mountain
Both of these are charcoal grills but the Oklahoma Joe is a small compact version of their large charcoal cookers. It is perfect for serious pitmasters looking for intense flavor and sear marks even while camping.
After all, smoking is an activity that's best done outdoors in the wilderness.
The Smokey Mountain is fairly similar but it's a pit barrel shape. It also delivers intense flavors, sear marks, and it's honestly the easiest charcoal smoker to use.
I think it's even simpler to use than the Oklahoma Joe but it's a bit larger and bulkier so it might take up more space to carry with you due to its shape.
The final verdict is that I prefer the Rambler's shape but the Smokey Mountain is more versatile and not exclusively made for camping.
How to have the best BBQ camping trip
Set the date and do shoutouts to friends who want to tag along
First, you have to decide whether you want to go camping alone or with family or friends. So, pick your desired date to go camping and then invite your loved ones and/or friends to go with you.
For me camping in groups is much better than going alone, but of course, if you really want some alone time, then, by all means, go alone.
Planning for the trip
Scouting a location for where to set up camp can be difficult if you have no one in your team who has firsthand knowledge about the camping location or has already been there himself/herself.
If you're unsure where you want to camp or have never been to the place where you're interested in camping, then you can use these camping apps that you can download and install on your phone or tablet and find a suitable camping ground without having to spend days just to physically scout the area yourself.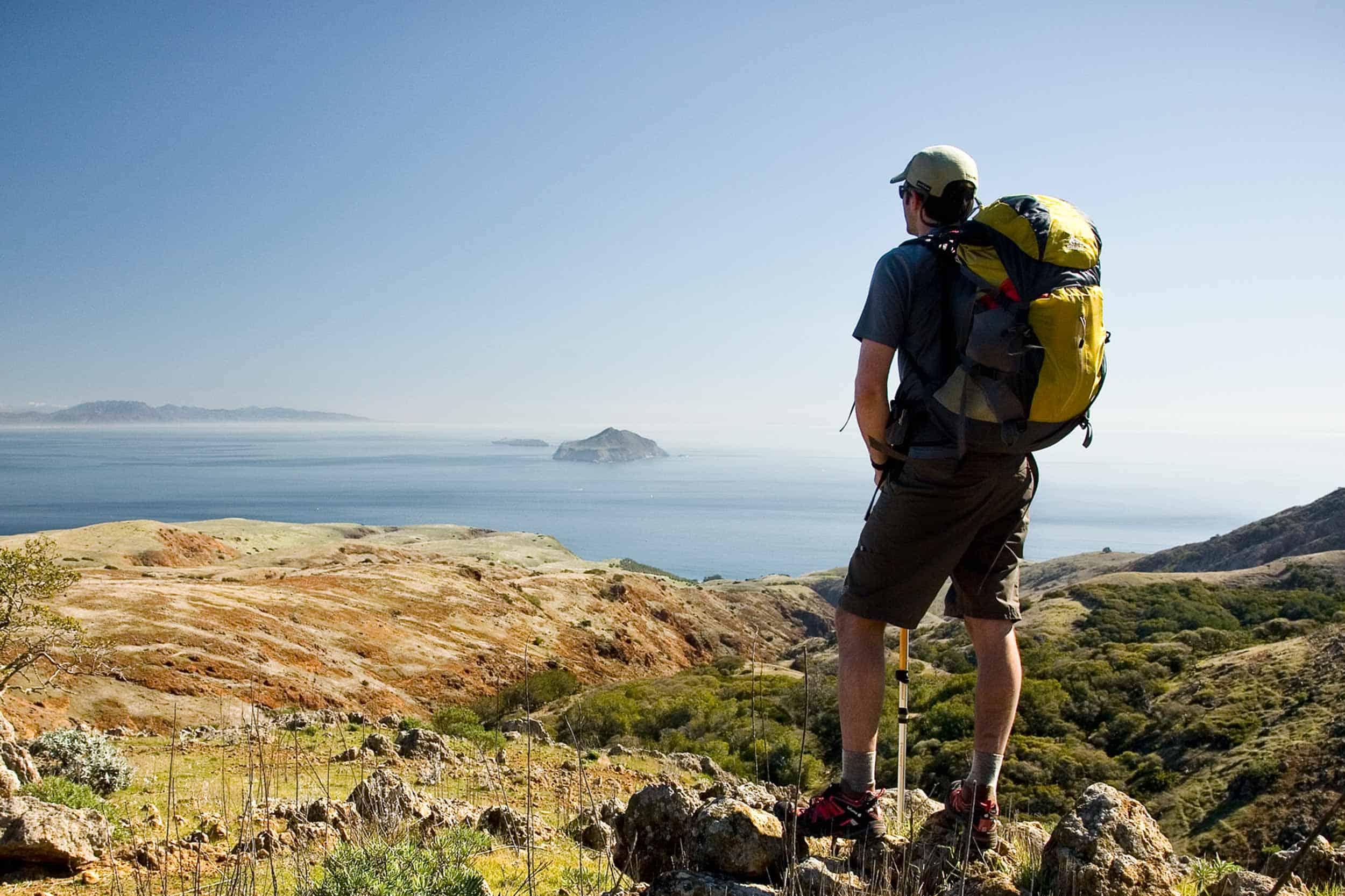 Once you've found a suitable spot to camp, then you can start writing a checklist of the things to bring, transportation and fuel, the amount of food you'll need based on how many days you want to camp outdoors. Of course, you don't want to forget your smoker.
You may also want to read Smoking Food and Staying Healthy
Prepare the food
Food preparation is also an essential part of the planning process. Make sure that the food you'll cook while camping is easy to cook and not the kind that requires a chef's skills to prepare.
Efficiency is the mandate in this case and everything has to be light and quick to do or pack. The Oklahoma Joe's, Camerons, Green Mountain, or Weber Smokey Mountain are all suitable replacements for your stove, so if you bring it along, then you can leave the stove behind. These are versatile and multi-use smokers and cookers.
Still, it's always best to be prepared for anything, because you'll never know when you'll need the stove also.
In fact, any charcoal or propane smoker is suitable for cooking while camping. Make sure that it's portable and not too heavy so you can travel comfortably and set it up quickly.
Transportation and other tools
Perhaps the most important thing to consider when camping is to ensure that you won't get stranded out in the middle of nowhere and be able to get back to civilization. I mean, have you seen James Franco's 172 Hours?
That would be such an unpleasant experience, so it's better safe than sorry. You may want to bring the best recreational vehicle (RV) when you'll go camping because it's big and spacious and is designed to cruise long distances and even on off-road tracks.
I'd recommend the RexAir, Lazy Daze, or the Coleman/Dutchman Denali as they are very reliable. Before you roll out into the campsite be sure to check the RV's engine, gas, oil, brakes, water levels on the radiator, battery, and other important details.
Bring tools for repairs as a precaution should your vehicle malfunction, but 90% of the time if you check your RV properly, it will run efficiently with no problems at all. So always do the "safety first" inspection before leaving.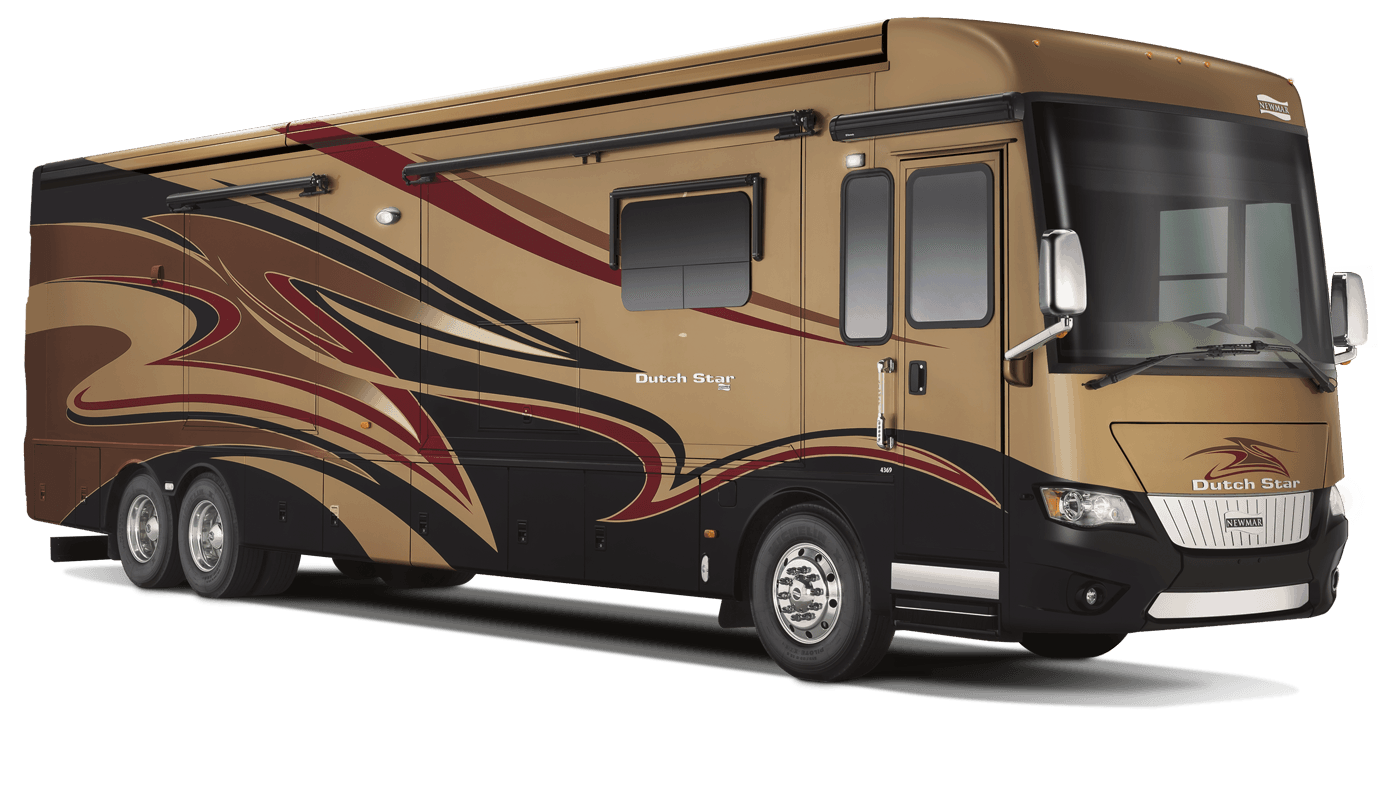 Camping materials
Campsite gear
Lantern fuel or batteries
Extra blankets
Sleeping pad for each camper
Repair kit for pads, mattress, tent, tarp
Extra tarp or canopy
Sleeping bag for each camper
Tent, poles, stakes
Pillows
Chairs
Tent footprint (ground cover for under your tent)
Headlamps or flashlights (extra batteries)
Lantern
Kitchen
Roasting sticks for marshmallows, hot dogs
Fuel for stove as well as the smoker
Extra bin for washing dishes
Food-storage containers, bags
Plates, bowls, forks, spoons, knives
Matches or lighter
Firewood
Frying pan
Paper towels
Pot
French press or portable coffee maker
Sponge, dishcloth, dishtowelCorkscrew
Tablecloth
Stove or grill (in this case bring the Coleman BBQ smoker)
Paring knife, spatula, cooking spoon
Trash bags
Cooler
Ice
Water bottles
Cups, mugs
Cutting board
Foil
Biodegradable soap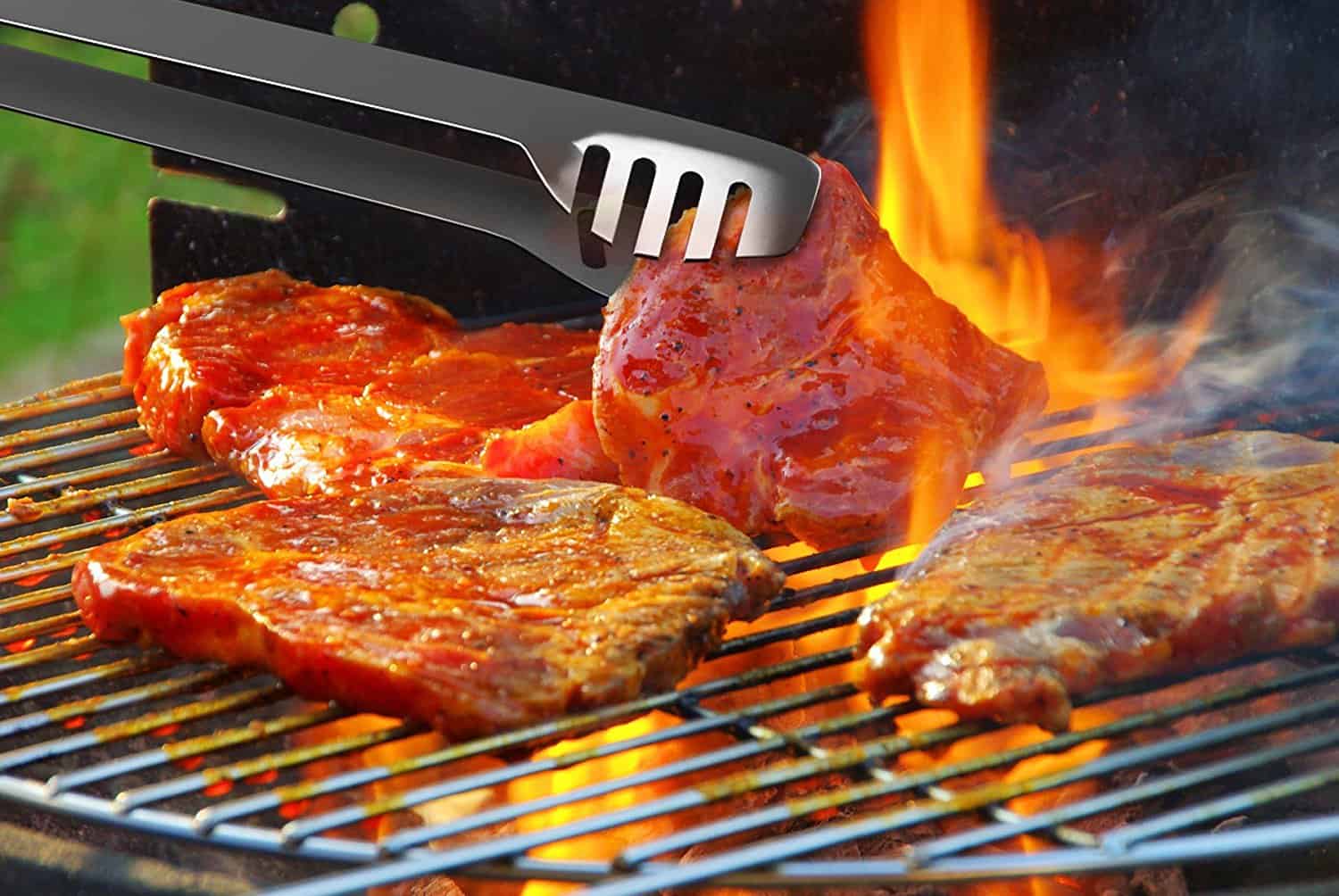 Clothes
Extra layers for warmth
Clothes for daytime
Rainwear
Hats
Shoes: hiking/walking shoes, easy-on shoes, water shoes
Sleepwear
Swimsuits
Gloves
Personal items
Soap
First-aid kit
Insect repellent
Toothbrush, toiletries
Prescription medications
Sunscreen
Miscellaneous items
Bikes, toys
Campsite reservation confirmation, phone number
Maps, area information
Camera
Pet supplies and food
Takeaway
If you're on the hunt for an effortless small smoker you can use when you make a campfire, the Camerons Stovetop unit is the best choice because it's budget-friendly and runs on wood chips which are easy to carry. But, for something a bit more sophisticated, take the Oklahoma Joe charcoal smoker and you're pretty much covered with all your cooking needs.
These smokers are compact, easy to carry, and perfect for outdoor cooking and dining. The fuel is cheap and there's not much clean-up required.
With any of the smokers, you're ready to go on a camping adventure! Your RV should be able to take you to the nearest national park of your choosing.
Make sure to fill up the fuel tank of your RV to full so you won't run out of gas in the middle of your trip. Carry an extra 5 gallons of fuel if you have to just to be sure.
Be prepared for anything, but more importantly, enjoy the trip.
Also check out my Camp Dutch & Stove Dutch Oven cooking review
Joost Nusselder, the founder of Lakeside Smokers is a content marketer, dad and loves trying out new food with BBQ Smoking (& Japanese food!) at the heart of his passion, and together with his team he's been creating in-depth blog articles since 2016 to help loyal readers with recipes and cooking tips.