I love creating free content full of tips for my readers, you. I don't accept paid sponsorships, my opinion is my own, but if you find my recommendations helpful and you end up buying something you like through one of my links, I could earn a commission at no extra cost to you.
Learn more
Pellet smokers are fast becoming a favorite among the BBQ community and it's not hard to see why. They deliver the same result you'd get from a grill with half the effort.
While some conventional pit masters have been vocal about their disapproval of pellet smokers by citing that they make it too easy, this shouldn't deter you from doing your own research because they may actually work for you.
We also can't ignore the fact that smokers cost significantly more than your average charcoal or gas grill. But, you'll soon find that this is a small price to pay for the level of simplicity and ease of use that smokers provide.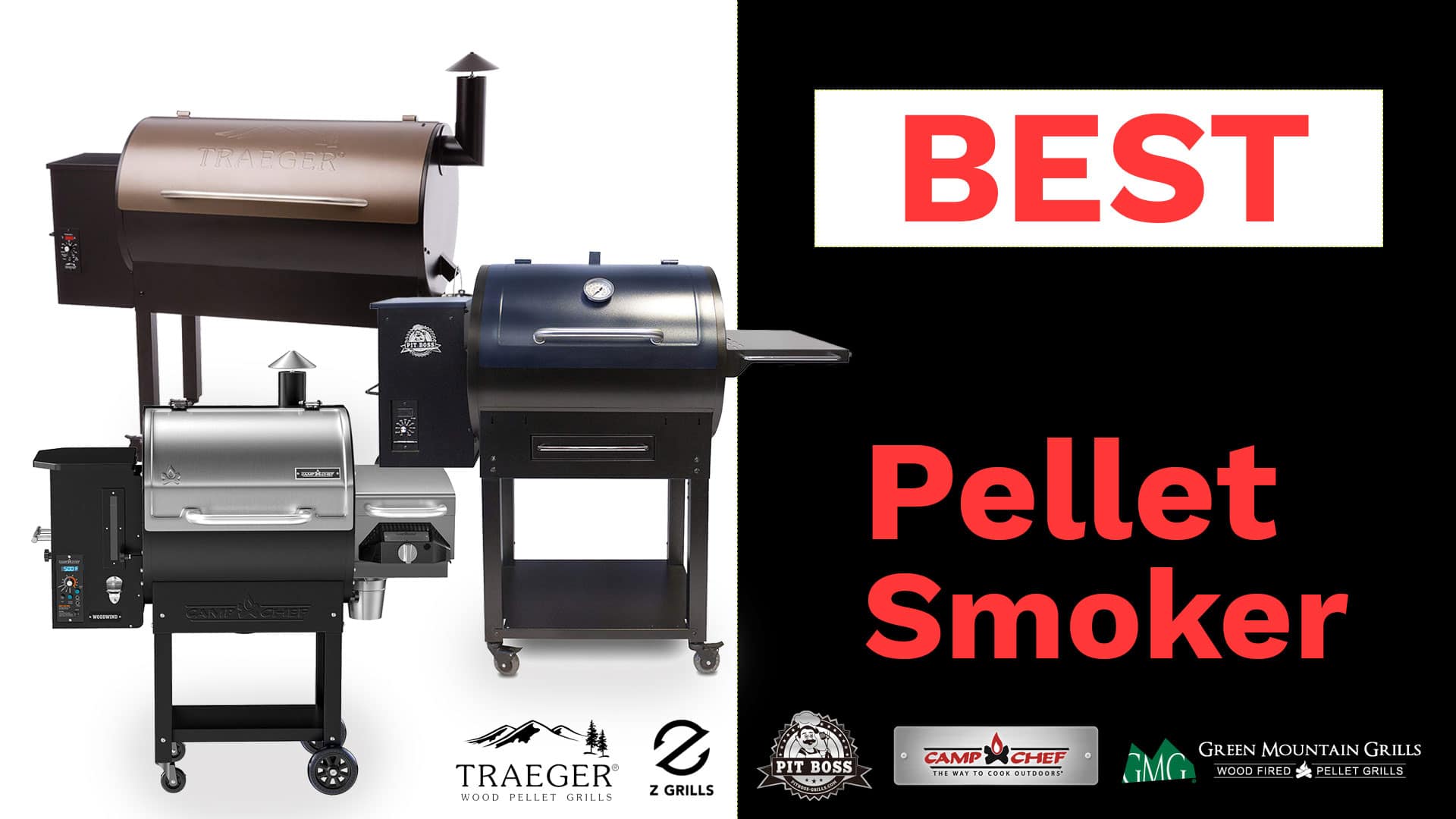 Besides, thousands of people have taken the plunge to buy a smoker because they're a good investment.
To help you find the best smoker for your needs, we're going to give you a review of the top rated pellet smokers on the market right now.
But before that, let's start by going through a helpful guide on pellet smokers to give you an idea of what we're working with here.
Disclaimer; don't be confused when we use the words pellet grill and pellet smoker interchangeably. It's the same thing.
Complete pellet smoker buying guide
As with any purchase, it's important that you know a few things about pellet smokers before you go on a shopping spree.
Here are the most important features to keep in mind when looking for the best pellet smoker for the money.
Construction
A well-built smoker is worth more than a thousand cheap grills because it will last you for a lifetime.
Some of the most durable materials that can be used to make good quality pellet smokers include rust-resistant stainless steel, which can take quite a lot of abuse without deteriorating.
A well-made smoker offers guaranteed heat retention and outstanding performance for longer.
Portability
There are different aspects of portability that you need to consider before you buy a pellet smoker. For example, it should ideally be lightweight enough for you to lift it and carry so you can travel with it anywhere.
But, it should also feature sturdy wheels so you can move it from one spot to the other without asking for help to lift it up.
Temperature Range
Your smoker has to offer a wide temperature range so that you can use it for more than just smoking meat.
Check out the controller's temperature adjustment range, the newer the model the better it looks. The best controllers are the digital ones, which make it possible to freely pick the temperature, like from 170 to 500 degrees F at 5 degree intervals, for example.
Size
The size of your smoker will depend on how much of an entertainer you are. If you're buying the smoker just to cater to your small family then a nice and compact model is fine.
But, if you have a penchant for hosting BBQs and parties then you'll need a large cooking surface and maybe even a warming rack.
Versatility
Get a smoker that offers more value for money by providing you with different cooking options, from grilling to braising and roasting.
Ease of Use
You'll know that a pellet smoker is easy to use when it features a digital control function that simplifies the process of temperature control.
Also look out for pellet smoker reviews to find out how quick and easy it is to clean it because you don't want a smoker that's maintenance heavy.
This means it should at least have a grease and/or ashtray, while a built-in probe is another nice-to-have worth considering.
Controller
A basic pellet smoker will come with three main settings including low, medium and high temperature.
Ore advanced smokers offer multi-position controllers that allow you to fine-tune the temperature according to your preferred heating range.
If you're looking for something even more precise, be sure to check out models with a one-touch non-RFID controller.
You want the best temperature control possible? Look for newer controllers, preferably digital ones, which have a better precision when it comes to the temperature choice and lower tolerance for temperature fluctuations. Stay away from models equipped with an old type controller, they only have a few temperature settings and quite big temperature fluctuations.
Wi-Fi
This isn't necessarily an essential feature but it can come in handy when you want to remotely monitor and control the smoker's temperature and settings through your smartphone.
Hopper
For best results, opt for a large hopper so that you can load enough pellets to last through the whole cooking session, as a smaller hopper will require that you keep replenishing it.
Keep in mind that smoking meat can take hours and hours, so you want to have a large capacity hopper.
Warranty
Most pellet smoker manufactures offer a one-year warranty. But, some models come with a 5-year warranty which is a much better offer and guarantees you peace of mind should the smoker experience any structural or factory faults.
Budget
The next stage is defining your budget, sadly this type of grill is among the most expensive ones, which is why you should determine your budget. It will make it much easier for you to pick a new grill out of all the available models.
Best pellet smoker grills reviewed
Now that you know what to look for and how to take care of your pellet smoker, let's dive into the different options available for you to choose from.
Overall best pellet smoker: Traeger Grills Pro Series 22

As the progenitor of pellet smokers, Traeger is one of the best and most reliable brands on the market.
This particular device doubles as a smoker and grill and it's powered by hardwood pellets that allow you to slow cook food for a nice smoky flavor.
The best part is you won't have to deal with messy charcoal.
Did we mention that this is a six-in-one cooker? Yep, and it comes with a built-in Digital Elite Controller that will help you maintain the temperature at a favourable level.
This grill is perfect for catering small-to-medium parties because it has 41 square inches of grilling space. That's enough to cook four whole chickens, 16 burgers or five rib racks at once.
It's easy to use even for the average home cook. It's one of those "set and forget" models and it's perfect for use in cold weather conditions so you can use it all year round.
Pros
Beautifully designed
Built to last
It can handle extreme weather conditions, including cooking in the cold
Great value for money
Cons
We have no complaints here!
Check the latest prices and availability here
Best large cooking surface: Traeger Pro Series 34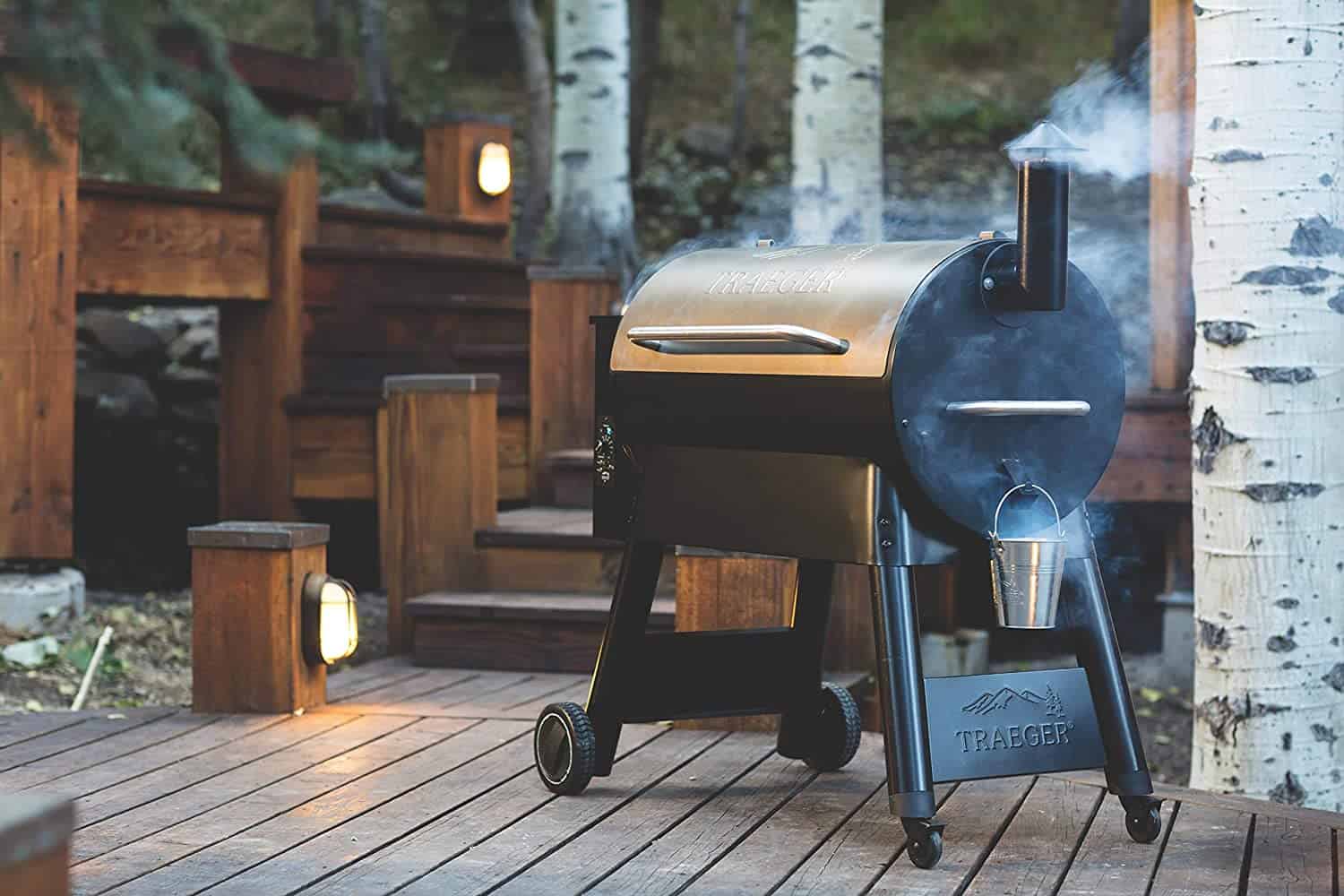 This is yet another awesome model from Traeger's Elite series; it's packed with beneficial features, like 646 square inches of cooking surface, an LED display and Digital Elite Controller combo to simplify control of the unit.
The design of this model is focused on ensuring a positive user experience. Yes, its pricier than most other models but it is a high-end option after all and you really do get what you pay for.
This grill/ smoker combo is perfect for home chefs and pit masters that like to host large parties as it has a large cooking surface that allows you to prepare multiple types of food at once while spending less time hovering over the food.
In fact, this grill works more like an outdoor oven because it's super easy to control the temperature and it's versatile as well.
Pros
Features tons of cooking space
Offers easy temperature control through Digital Elite Controller
Easy to clean and maintain
Ideal for use when catering to large gatherings
Cons
Beware of fake distributors of this product, as some reviewers have complained about receiving defective and substandard versions of it, which is not what they expected or paid for
Best Pellet grill with flame broiler: Pit Boss Grills PB72700S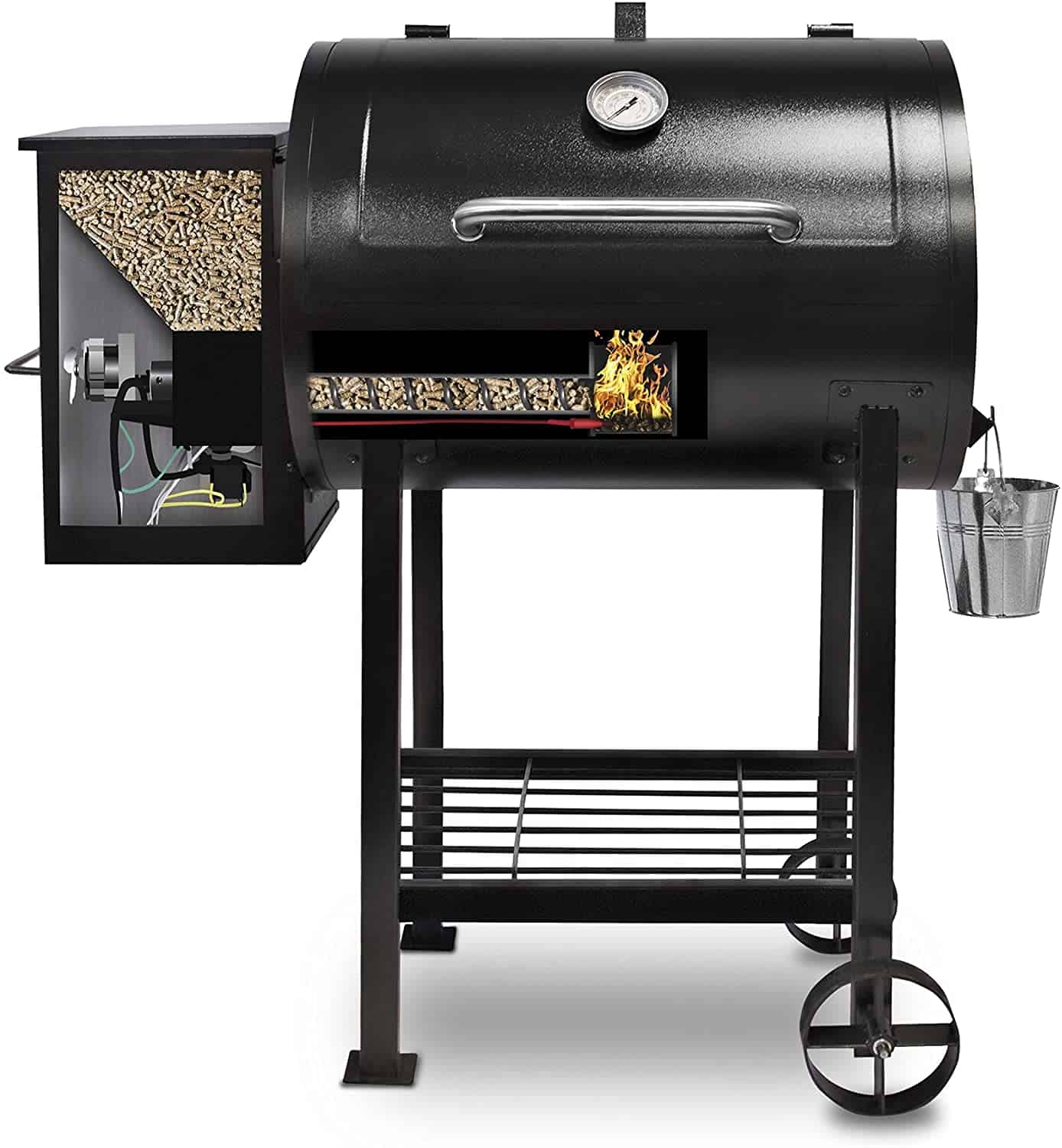 Pit Boss might be a relatively new player in the industry but they're slowly winning the hearts of pit masters around the country.
This particular model has a generous 700 square inch cooking surface which makes it easy to cook for medium to large gatherings.
This is a versatile grill that you can use to smoke, roast, sear, bake, BBQ, char-grill and braise effortlessly.
It's a great investment because it satisfies all your cooking needs, thus eliminating the need to buy other types of cooking equipment. Also read full review Pit boss 700s bbq pellet reviews
We're glad Pit Boss didn't neglect the construction side of things as this unit is made with high quality cast iron with porcelain coated grates of the same quality.
This makes it easy to clean and prevents food from sticking onto the surface. Needless to say, this is one of those grills that you can use multiple times per week for years without sustaining major wear and tear.
It also has a built-in flame broiler for when you want to cook your food quickly. Lastly, this grill has a digitally controlled bum system which enables you to manage and control the grill's temperature from afar.
Pros
Low-profile, simple and elegant design
Well-made and long lasting
Allows you to "set it and forget it"
Versatile and easy to use
Simple and easy to assemble
Cons
We have nothing negative to say about this smoker
Best pellet grill with wifi: Camp Chef Woodwind with Sear Box

Right off the bat, the first thing you notice about this grill is the large cooking surface. In addition to this, the grill comes with a second rack that you can use to expand the space further, or you can just use it as a warming rack.
Read our full Camp chef woodwind SG 24 Pellet Grill review
Perhaps we should put it out there that this is a convection grill which means that once it switches on it circulates heat constantly while delivering it to the upper rack.
We were also impressed by the fact that you can split the rack and remove it in order to access the bottom grates. This is in addition to the main grill rack which can be separated into two smaller racks that are easy to use and clean.
If you like, you could swap out the original grill grates with cast iron grill grates from Camp Chef to solidify this and fortify it against wear and tear. The cast iron will also improve its heat retention ability and the smokiness of the meat.
Pros
Sears steak like no other grill on the market
Comes with a large cooking surface
Features digital temperature display
The temperature probe is a nice touch
Cons
It's not well-built
It's not easy to assemble due to difficult instructions
Pellet grill with best digital temperature control: Camp Chef SmokePro DLX PG24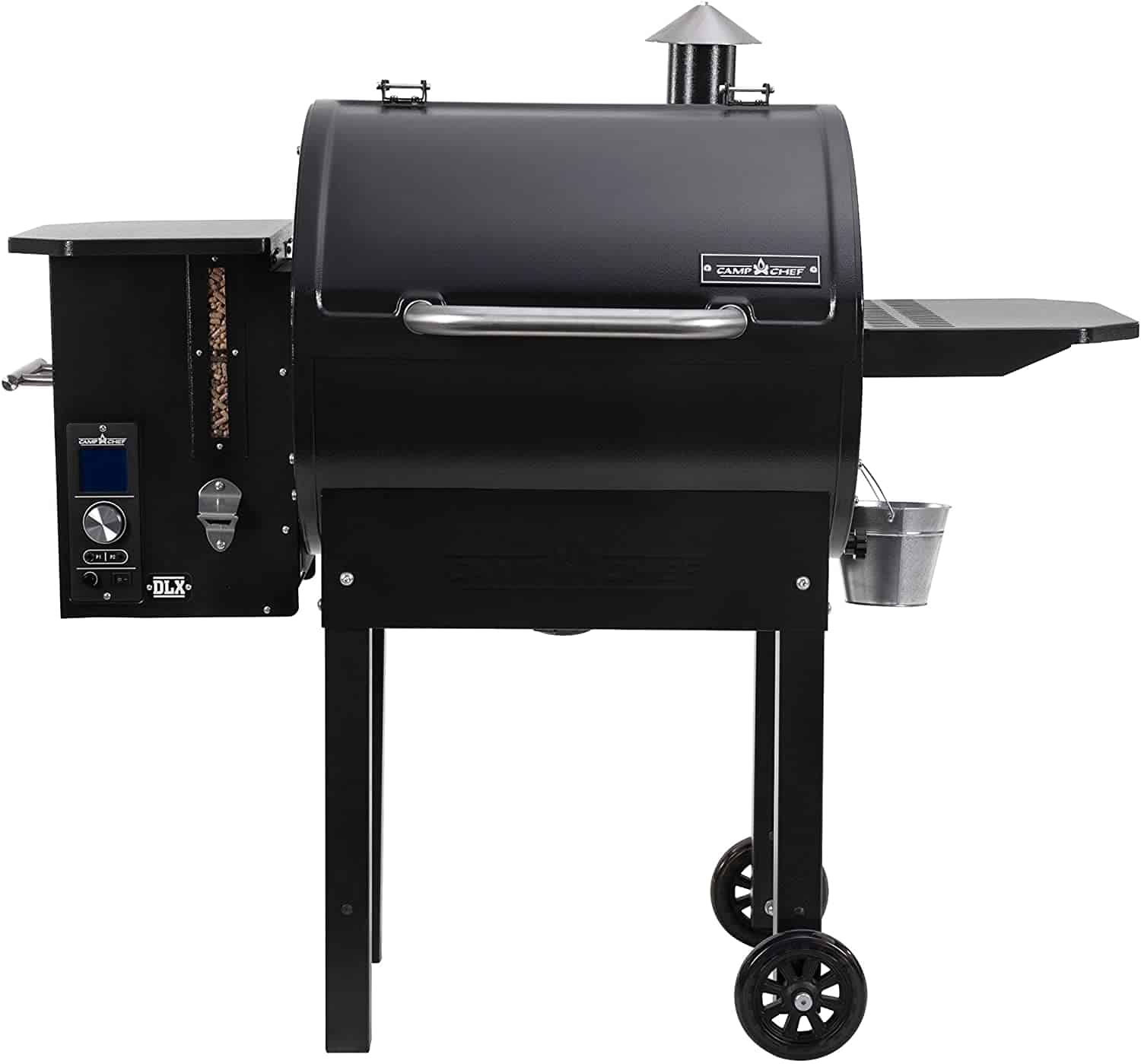 This Camp Chef wood pellet smoker is perfect for pit masters that want to try something new and interesting. It has a cutting edge design with advanced grilling and smoking ability. Also read full Camp chef smokepro dlx pg24 pellet grill review
However, it's easy enough to use for home cooks or novice BBQ lovers as well. There are no complicated controls and the manufacturer has integrated a lot of easy to use features that are designed to simplify the process.
For instance, the built-in thermometer ensures that you maintain the same temperature throughout so you don't have to constantly check the temperature or progress of the meat.
This smoker/ grill combo comes with an awesome recipe book to get you started and an easy to follow user guide.
The best entry-level pellet smoker, great quality of workmanship, durability, universal size, precise controller and a price adequate to all that.
Camp Chef is a valued and trusted manufacturer of different types of grills including great pellet smokers. Their offer includes plenty of different models but I have decided to only choose one.
Camp Chef SmokePro Deluxe is in my view not only the best model in this manufacturer's offer, but also the best choice in this price range. Great both for beginners and advanced users looking for a solid grill.
Every grill should be solidly built and durable but when it comes to pellet grills another thing that matters is electrics. I'm talking about the controller together with the entire system managing the grill's operation.
When smoking, fixed temperature is incredibly important which makes it just as important to have a high quality controller – The newer the controller the better, you get more versatility and precision.
In this model, the controller works great, not having any problem maintaining a fixed temperature with a full pellet container over many hours. The controller itself offers quite a lot of settings, you can choose among initial settings such as "High", "LO Smoke" or "Hi Smoke" and the ability to manually set the temperature within a range of 170-400 degrees F.
What is really important, this model has a fully operational and well thought-out ash catching system which is rare in this price range and at this kind of size and model configuration.
Therefore, the above advantages have helped Camp Chef Deluxe definitely stand out among its competitors and take the well-deserved first place in my guide as the best entry-level pellet grill.
Pros
Simple and easy to use
Can handle meals for up to 6 people
Well-made and sturdy
Provides consistent performance
Superb temperature control
Cons
The auger has difficulty loading pellets sometimes
Check prices and availability here
Pellet grill with best warranty: Z Grills Wood Pellet Grill & Smoker 700D

With 513 square inches of cooking space, an extra warming rack and a large closed cart, this smoker has plenty of space to cook burgers, ribs chops chicken and steaks at your next cookout.
And there'll be space leftover to keep your cooking supplies and any extra pellets that you haven't used. Also read full Z-Grills 700D pellet grill review
Z Grills is an amazing brand and this pellet smoker certainly delivers, but if it shouldn't, they're not scared to give you a full 3- year warranty on their products.
That's how much they believe in their grills!
Temperature control is a cinch thanks to the dedicated control dial which allows you to set the temperature which ranges from 180 degrees Fahrenheit to 450 degrees Fahrenheit.
This grill can stay at the same temperature which makes for consistent cooking.
This grill is also easy to clean, thanks to integrated spigot drains that help to prevent the build-up of grease. The construction of this grill is pretty solid as its made from stainless steel lid and a coated steel grill frame with locking caster wheels.
The hopper can hold 20 pounds of pellets and the best part is the package comes with a 20-pound bag of oak pellets to help you get started.
Pros
Simple and elegant design
Solid construction
Can fit 20 pounds worth of pellets for prolonged and uninterrupted cooking
Easy to assemble with helpful instructions
Cons
The manufacturer should look into improving smoke production and high-heat cooking function
Best budget pellet grill with wifi & app: Green Mountain Davy Crockett

If you're looking for a grill that's simple to use this Green Mountain Grills Davy is the way to go.
It's a small and compact model with just 219 square inches of cooking space with foldable legs, which means you can take it with you on the road for camping, fishing, boating etc.
Surprisingly the hopper has the capacity to hold 9 pounds of pellets in one go. There's also an added mesh tray located on the side for you to keep your tools and utensils.
This grill offers remote controlling through your Android or iOS device and this includes setting and monitoring the temperature, set timers, check the progress of your food and even choose to receive alarms when the food is ready.
No competitive model offers configuration this big for a price this low. First and foremost, the greatest surprise is the fact that there's a mobile pellet smoker and it's really great.
The structure was made with convenient cooking away from home in mind, like when camping. For that purpose, the grill has to be convenient to transport and that's the case here. The size was shrunk significantly, thus lowering the weight, and folding legs were added.
Considering the quality of workmanship and of materials I can honestly say that GMG Davy Crockett is also a durable grill.
Even though it is a mobile pellet grill, remember one thing, this type of grill requires constant access to electricity so keep that in mind when you want to cook away from home. Of course the manufacturer provides an adapter for as many as 3 different power options to make the access to electricity while away from home easier.
In terms of mobility, there is certainly no better model on the market right now, even at much higher prices.
It is also surprising in terms of functionality, it comes with a digital controller with a wide temperature range ( at 5 degree intervals ). The biggest surprise, however, is the Wi-Fi technology in this price range. It makes it possible to remotely control the grill straight from an app on your phone or tablet.
In practice, it is not quite so mobile as it would seem, its huge weight still requires two people to comfortably transport it on foot.
I have to admit that temperature control looks very good, it is stable and precise but when it comes to maximum temperature, it is only able to achieve about 400 degrees F.
Pros
Made from durable stainless steel metal
Compact and lightweight
Features remote control capability that allows you
to monitor your smoker via your smartphone
Easy to store and carry
Cons
Best pellet grill with cold smoker: Cookshack PG500 Fast Eddy

The Cookshack PG500 Fast Eddy Pellet cooker is a commercial grade smoker that features a sprawling 800 square inch cooking surface and a durable frame that's made from 100% stainless steel.
We love how compact and straightforward the design is because it makes it easy to find the controls and actually operate the grill.
The interior of this grill consists of an upper and lower grate system that you can use to switch between direct and indirect cooking and even cold smoking!
There are also two warming drawers placed beneath the burner to your food warm while you finish up preparing other dishes.
Other features on this model include digital temperature controls, an automatic igniter, and a large capacity hopper.
Pros
The hopper is easy to access through the dedicated trap door at the front
It can smoker, bake, sear, and grill over direct flame
Commercial quality grill good enough for competition teams
Easy to clean
Cons
We have nothing bad to say about this smoker
Should You Upgrade Your Current Smoker Grill?
Most manufacturers offer a 1 to 3-year warranty for their pellet smokers. For instance, Camp Chef typically offers a 1-year warranty, while Traeger smokers come with a standard 3-year warranty.
For best results, we'd advise you opt for a smoker with a longer warranty but make sure that it's well-made.
The key to keeping your grill in good condition for more than five years is to maintain it properly. This means cleaning it thoroughly after each use and replacing some of the components regularly so they don't wear out the rest of the system.
Most of the problems that grills develop over time can be traced back to lack of proper maintenance which leads to congestion and temperature inconsistency.
However, if you can see that your smoker is beyond repair then you should ask yourself the following questions before you buy a new one:
Will Upgrading Fix My Problem?
Sometimes fixing a broken pellet smoker is as simple as replacing a specific part. Therefore, you'll end up spending just $50 or even less instead of forking out hundreds or thousands of dollars on a new smoker.
If the problem is with the smoker's digital operations, then hire a professional to help repair it for you.
Do I Know How to Perform the Upgrade?
Unless you have specialized knowledge in electrical engineering or welding, repairing your smoker on your own is probably out of your depth.
However, there are certain small fixes that you can perform with the help of your user manual and YouTube tutorials.
When Should I Look for a New Pellet Smoker?
The answer to this question depends on the type of malfunction your smoker is experiencing. If it's a fixable problem, then it's probably best that you try and get it fixed instead of chucking it out and buying a new one.
Sometimes, it's as easy as changing the hopper or replacing the digital control panel to maintain the same smoke levels. However, if all of that doesn't work anymore then you're due for a new pellet smoker and we'll help you find the right one.
Conclusion
There's no denying that the modern-day pellet smoker features cutting-edge technology that was unimaginable when Traeger first created this special grill. Today's pellet smoker grills feature automated cooking systems that allow you to control the temperature remotely, or "set it and forget it" which means setting the temperature and leaving it to cook the meat on its own. Alternatively, you can set the temperature at intervals of 5 degrees Fahrenheit through the digital control feature to allow for a more hands-on approach.
Well, there you have it! That's our guide on how to find the best pellet smoker on the market. Whether you're a beginner or an experienced pit master we hope you've found an option that you like.
Our favorite from the ones we reviewed above is the Traeger Elite series.
This smoker features a classic and thoughtful design that looks good on any patio or smoker centered outdoor kitchen. This model is a six-in-one cooker with a portable weight and plenty of cooking space.
This is perfect for the average home cook and one of the best pellet grill under $1000 on the market.
Joost Nusselder, the founder of Lakeside Smokers is a content marketer, dad and loves trying out new food with BBQ Smoking (& Japanese food!) at the heart of his passion, and together with his team he's been creating in-depth blog articles since 2016 to help loyal readers with recipes and cooking tips.