I love creating free content full of tips for my readers, you. I don't accept paid sponsorships, my opinion is my own, but if you find my recommendations helpful and you end up buying something you like through one of my links, I could earn a commission at no extra cost to you.
Learn more
If you've been grilling for a few years as I have, you've realized that some tried and tested accessories are key to a successful barbeque.
Whether you're grilling or smoking, there are some must-have accessories that help you ensure an absolutely delicious result every time. From thermometers to spatulas and everything in between, I've tried (almost) all of them!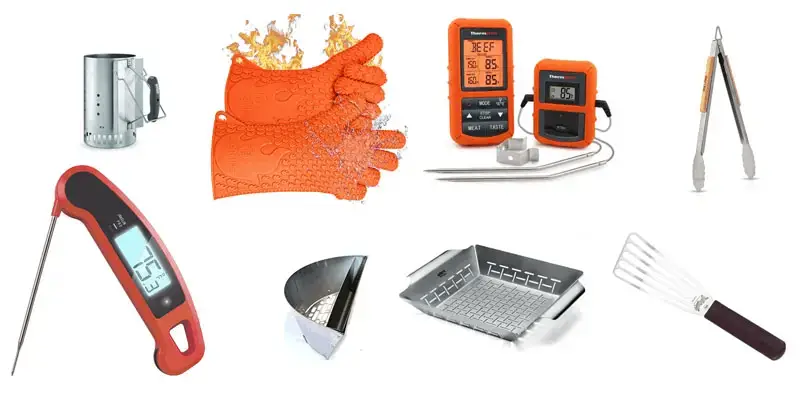 And I've nailed down my top 10 best grilling accessories that any griller or smoker should have in their toolbox. These will help you achieve the best results with the least extra effort.
Do you have all the items on this list?
If not, the accessories I've recommended here are my personal favorites. I've outlined all the reasons why below. I'm sure they will be perfect for your needs too.
Best grilling accessories reviewed – my top 10 favorites
Most professional smokers and grillers know that a meat thermometer is a key accessory, but have you ever considered that your tongs, spatula, and grill brush can also make a difference to your grilling experience?
And if you're a dedicated charcoal griller, then a charcoal chimney starter is an accessory that you will soon find you cannot live without!
You may also like my list of the 22 must-have BBQ smoking tools & accessories
Best charcoal chimney starter: Weber 7447 Compact Rapidfire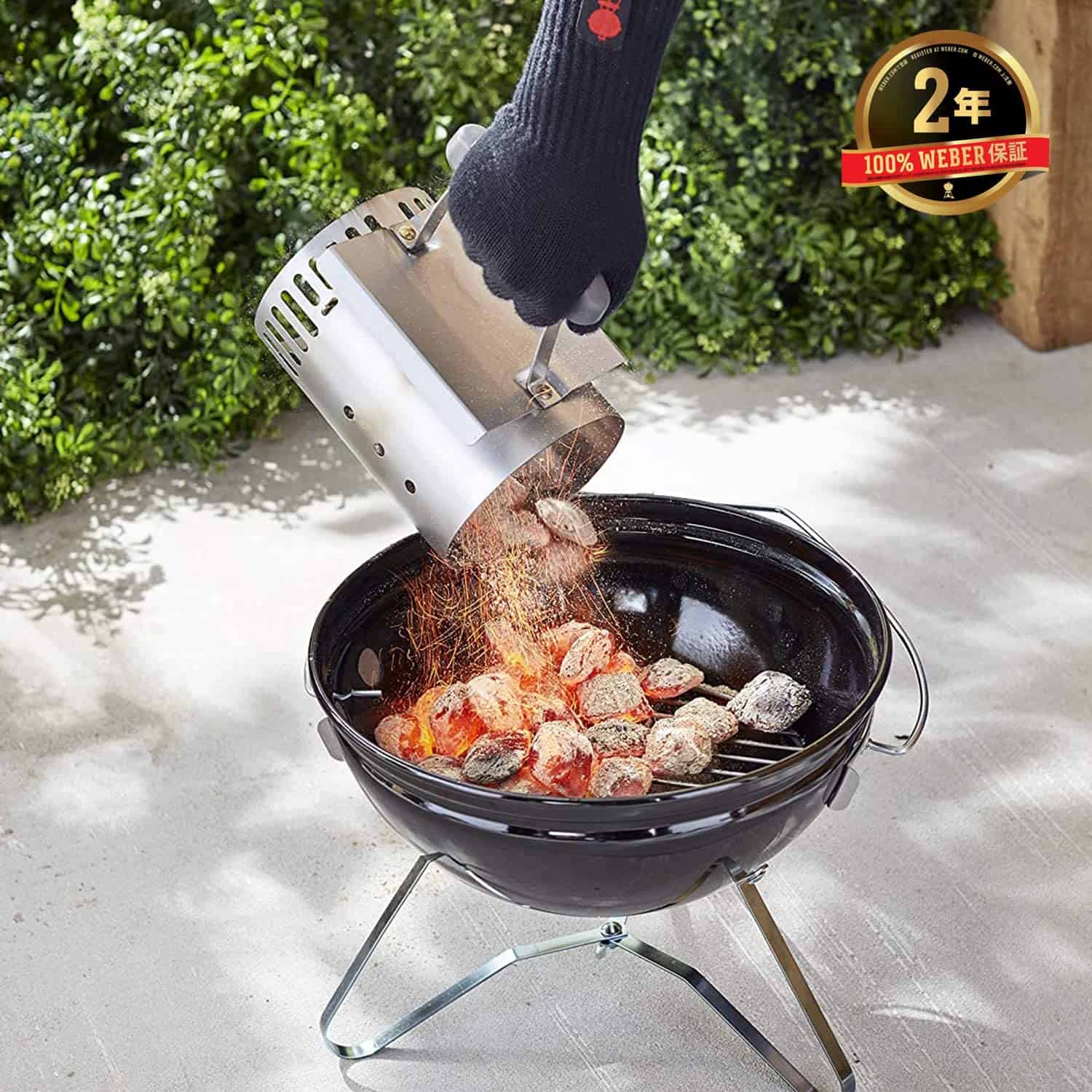 Almost everyone who is passionate about grilling owns a charcoal grill.
But not everyone is patient enough to get the charcoal burning without using potentially toxic substances like lighter fluid to help it along.
All you need to get the charcoal started is a charcoal chimney starter. My personal favorite is the Weber Rapidfire Chimney Starter.
It's the quickest, easiest way to light all types of charcoal and get it burning evenly. I've been using it for years and I know that it is solidly built, durable, and inexpensive.
All you need to do is fill the chimney with high-grade charcoal, place paper underneath, and ignite it. There are various sizes of charcoal chimneys, so pick one that is suited to your grill.
After about 15 minutes, the charcoal will get covered with a white coating of ash – this means that it is ready, and you can start grilling.
No need for potentially toxic firestarters! All you need are a few paper sheets to get the charcoal to start burning.
Best grill gloves: CI Jolly Green Products Ekogrips Premium BBQ Gloves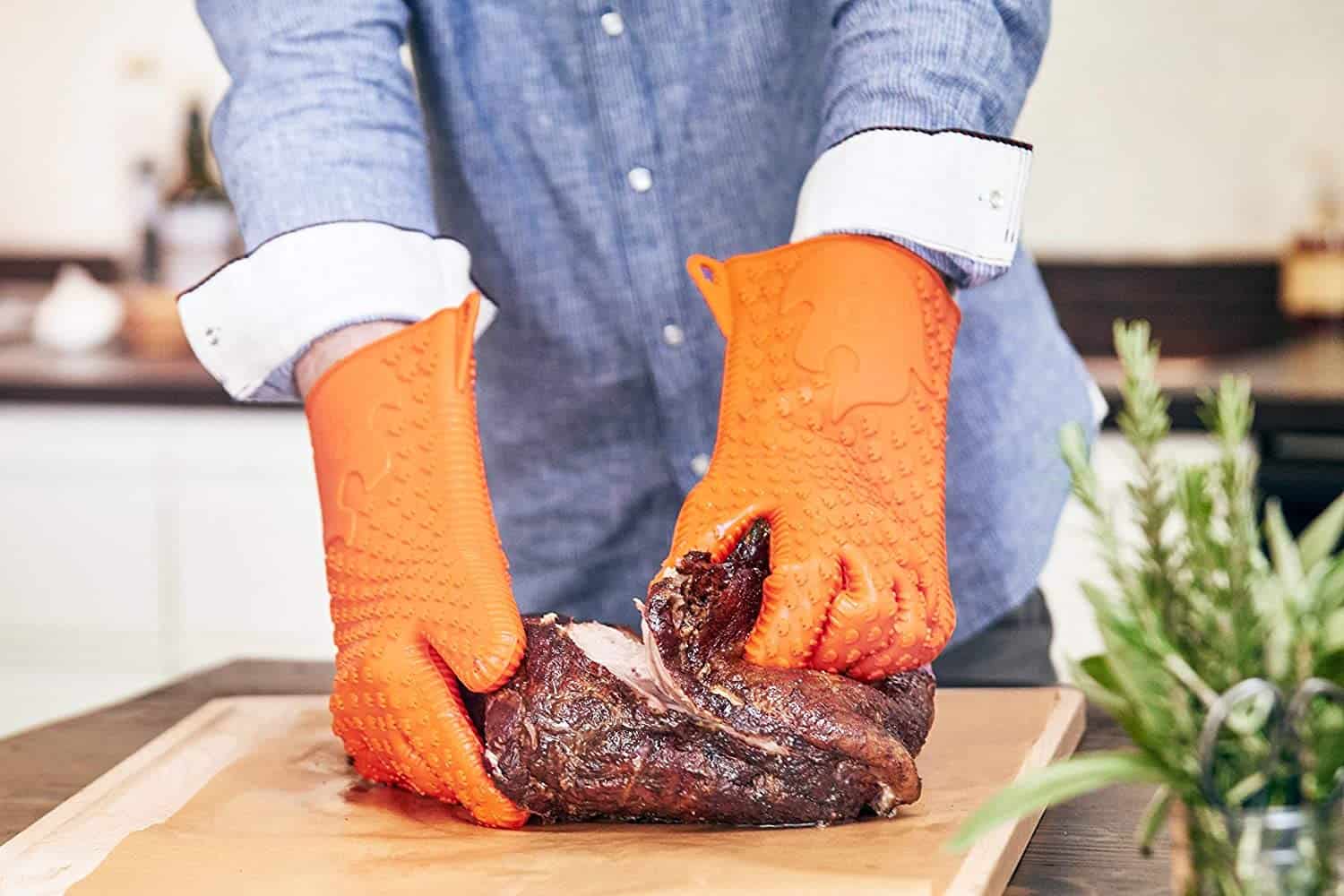 It's hot, hot, hot in there. Intense heat is part of grilling, so you need to protect your hands from getting burned. This can happen in an instant, even if you're being really careful.
Just moving food from one side of the grill to the other, or refilling the charcoal has its hazards. Rather be safe than sorry, and get yourself a sturdy pair of grill gloves.
I always recommend CI Jolly Green Products Ekogrips Premium BBQ Gloves. This is one of the absolute non-negotiable accessories. They cost very little and could save you from a potentially painful experience.
They are effective up to 425°F and can also be used as oven gloves in your kitchen. The Ekogrips are made of silicone, which makes them resistant to stains and odors.
Just pop them in the dishwasher to clean. No more greasy, messy (flammable) dishtowels!
Also read: How to Put Out a Charcoal Grill
Best instant-read thermometer: Lavatools Javelin Pro
This type of thermometer is best used for quick grilling. It's ideal for measuring the temperature of steaks – especially if your guests prefer different levels of being done.
From rare to well-done, an instant-read thermometer will help you get a delicious result every time.
These thermometers also help you ensure your food is never dry and overdone!
My preferred instant-read thermometer is the Lavatools Javelin Pro. It's high quality, and it reads temperatures really fast. In my opinion, it has some of the best features on the market and is a very affordable price considering.
The Lavatools Javelin Pro reads temperatures ultra-fast (1-3 seconds) with an accuracy better than ±0.9°F. It also has a large auto-rotating ambidextrous backlit display and splash-proof construction.
What more could you want?
Best leave-in thermometer: ThermoPro TP20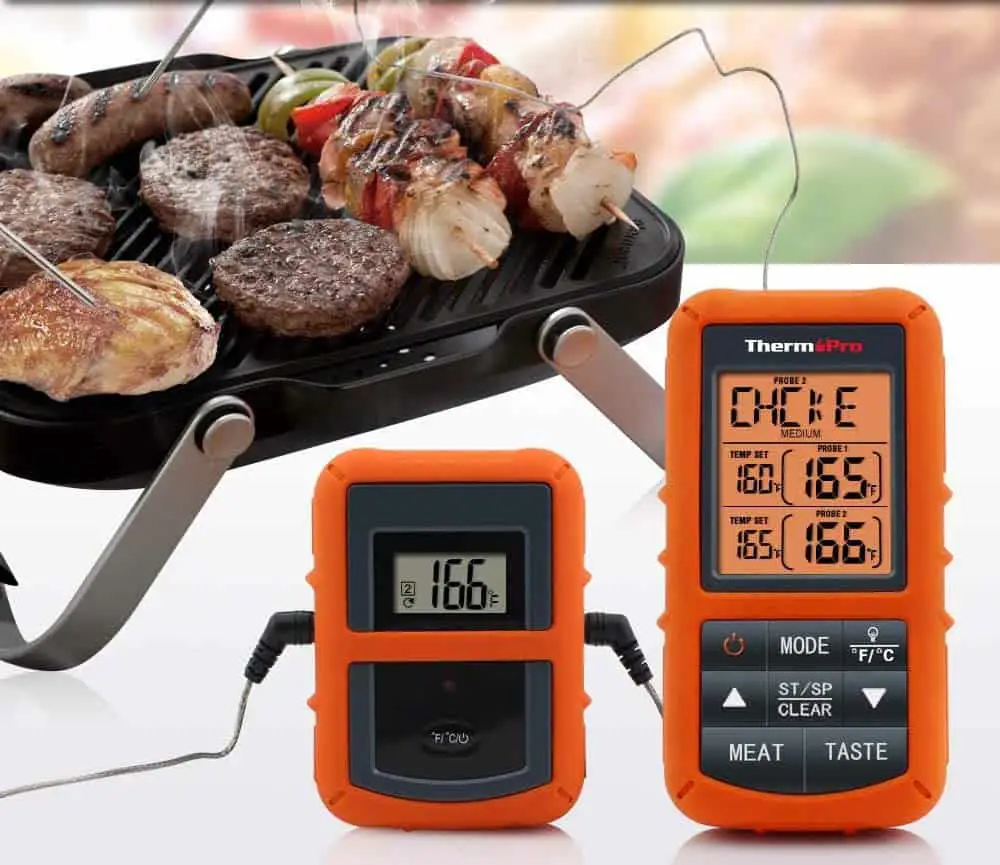 While the instant-read thermometer is best for grilling, I always recommend a leave-in thermometer for smoking.
For smoking, you want a low and slow temperature over a long period of time.
That's why I think the ThermoPro TP20 is one of the best wireless leave-in thermometers.
It comes with two probes, making it possible to monitor the temperature inside the meat and the grill at the same time.
While some grills do come with built-in thermometers, they are not always as accurate as they need to be. I never rely only on the grill's thermometer.
My trusty ThermoPro TP20 has never let me down yet! It's a solidly built smoker thermometer that also comes with many useful features and a great manufacturer's warranty.
Most efficient grill brush for all types of grills: Kona 360° Clean Grill Brush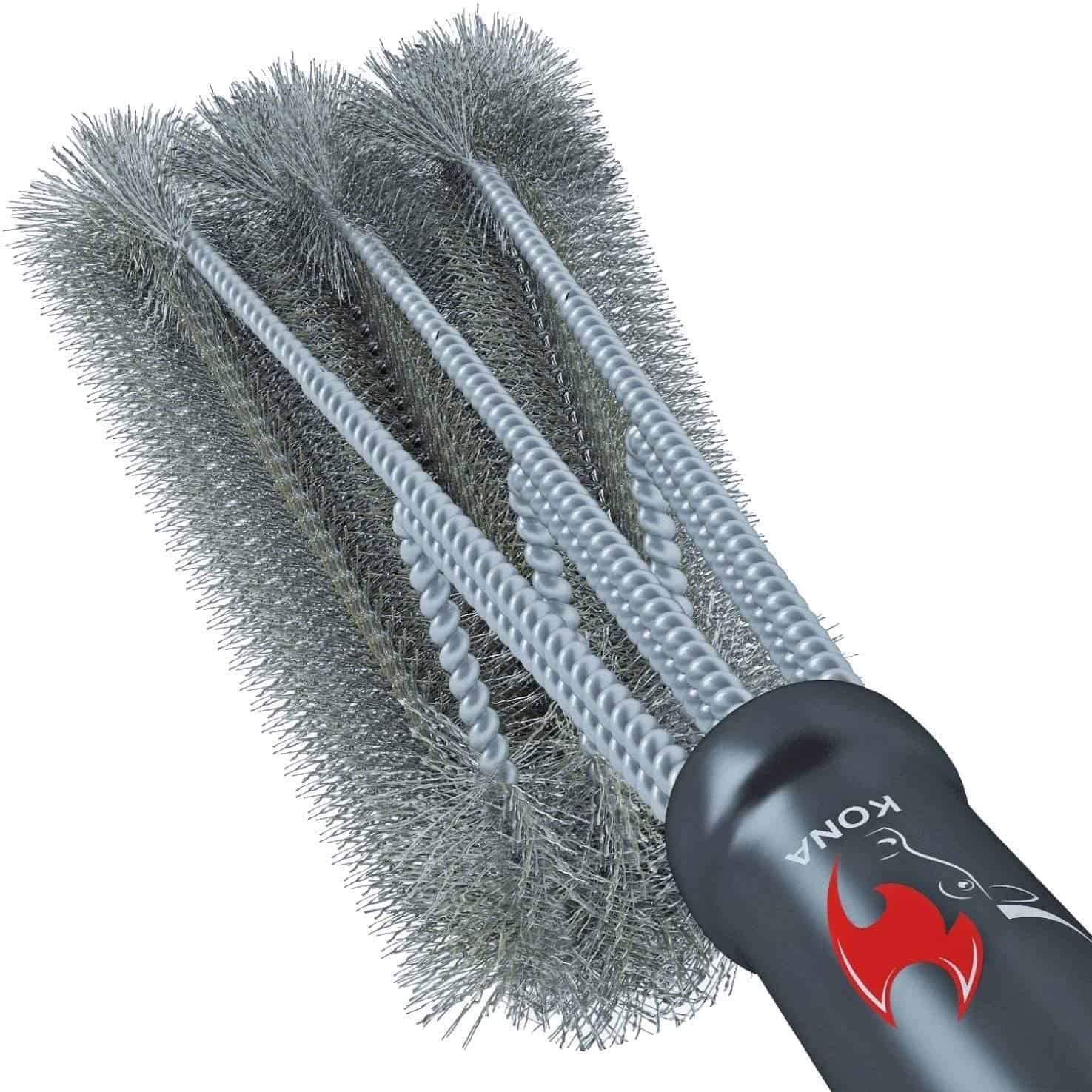 While you can be as tidy as possible, the truth is that there will always be something to clean up after grilling.
Cleaning out your ash (if you use charcoal), and making sure the grill grates are scrubbed is important to prolong the life of your grill.
Grease and food stick to the grill grates, and if they aren't removed properly they will affect the flavor of your next meal. This can also lead to more frequent flare-ups, and your meat sticking to the grill grates.
The post-cooking cleanup is an integral element of grilling, but it doesn't have to take hours of tedious scrubbing. Over the years I've tested out many grill brushes to help make the clean-up process as fast and painless as possible.
My favorite grill brush at the moment is the Kona 360° Clean Grill Brush.
I love the unique design which includes 3 brushes – meaning that you get a 360° clean, not just the top surface of the grill grate.
This grill brush is also very affordable, so it makes for a great gift for the BBQ enthusiast in your home or a housewarming gift for your buddy.
One of the benefits of the Kona is that it's suitable for all grill types. It's safe for porcelain, ceramic, infrared, weber, and char-broil grills.
It also has a long 18-inch handle so you won't burn your hands when you scrub down a warm grill. The quality is so good that it even comes with a 5-year manufacturer's limited warranty.
This grill brush is an absolute must-have for any keen griller.
Rather go for a non-wire grill brush? I've reviewed a good option here in my roundup of the best grill brushes
Most useful tongs for grilling: GRILLHOGS Barbecue Grill Tongs
(view more images)
While some grillers think that all tongs are the same, the grill professionals know that a good set of tongs can make your grilling and smoking experience much more efficient.
A poor set of tongs, on the other hand, can lead to some disastrous situations!
Dropping food into the flames because they don't close tightly, or burning your hand because the handles are too short can ruin your grilling experience.
If you grill on charcoal, I highly recommend buying TWO sets of grill tongs: one for moving food around, and one for moving charcoal. That way you won't ever get grit or charcoal ash directly on your food.
Tongs should be solidly made, durable, and of adequate length in order to protect your hands from intense heat. Personally, I mostly use GRILLHOGS Barbecue Grill Tongs.
They are 16 inches long, solidly made, and durable. They include a scalloped edge clamp that can hold tightly to even the biggest hunk of meat without piercing it.
I also love the oak wood grips which stay cool while you're grilling, and the lock and hook combination means they are easy to store and don't take up awkward space in my tool cabinet.
Most durable spatula for grilling: Mercer Culinary Hell's Spatula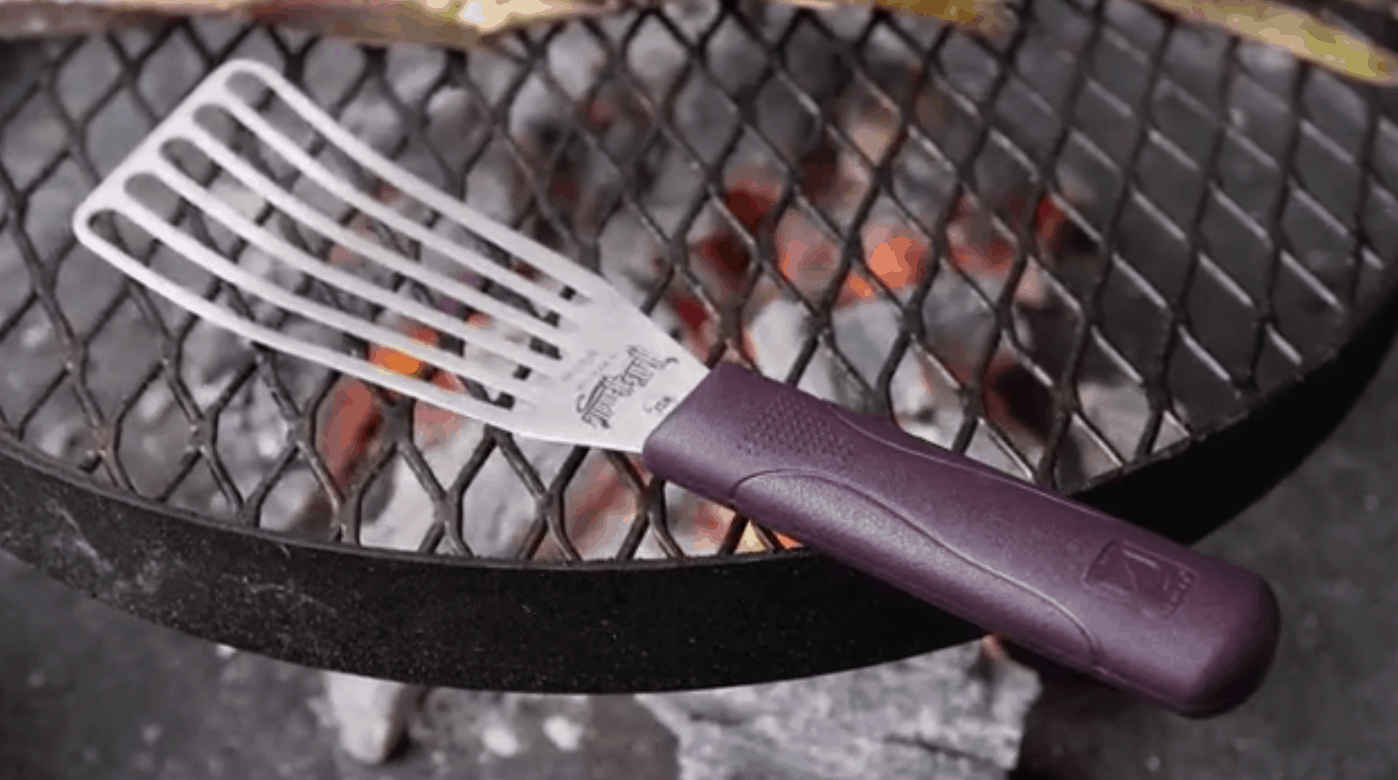 This is one tool I never really considered as a beginner, but now I know how essential it is to my list of top ten accessories for grilling.
There are some foods that just don't work well with tongs. Things like delicate fish and raw burgers need to be handled with a spatula so that they can be placed on the grill and flipped gently to avoid breaking.
There are plenty of spatula options on the market, but one of my favorites is Mercer Culinary Hell's Spatula. The handle is long enough to protect my hands, plus it is made of heat-resistant material so it stays cool to the touch.
For a really affordable price, you also get a precision ground, highest quality Japanese stainless steel blade. This offers an ideal combo of flexibility and stiffness.
Best of all? It comes with a limited lifetime warranty so you know it's excellent quality and made to last.
Most versatile vegetable/food basket: Weber Deluxe Grilling Basket
It's not just meat that benefits from being grilled. The flames and smoke make vegetables delicious too. However, as you know, most grill grates are too big to handle the majority of vegetables – they just fall through!
Whenever I want to add a bit of BBQ goodness to my vegetables, I use Weber Deluxe Grilling Basket (also one of the best reviewed here). It's high-quality stainless steel, and can also double as a wok pan for diced meat.
The construction allows for airflow through smaller vents – ensuring that the food gets the benefit of grilling without falling through the grate!
And when you're done, just pop the basket in the dishwasher for a quick clean-up.
And have a look at these 7 best Vegetables You Should Be Smoking At Home (+ recipes!)
Best griddle for your existing grill: Little Griddle Sizzle-Q SQ180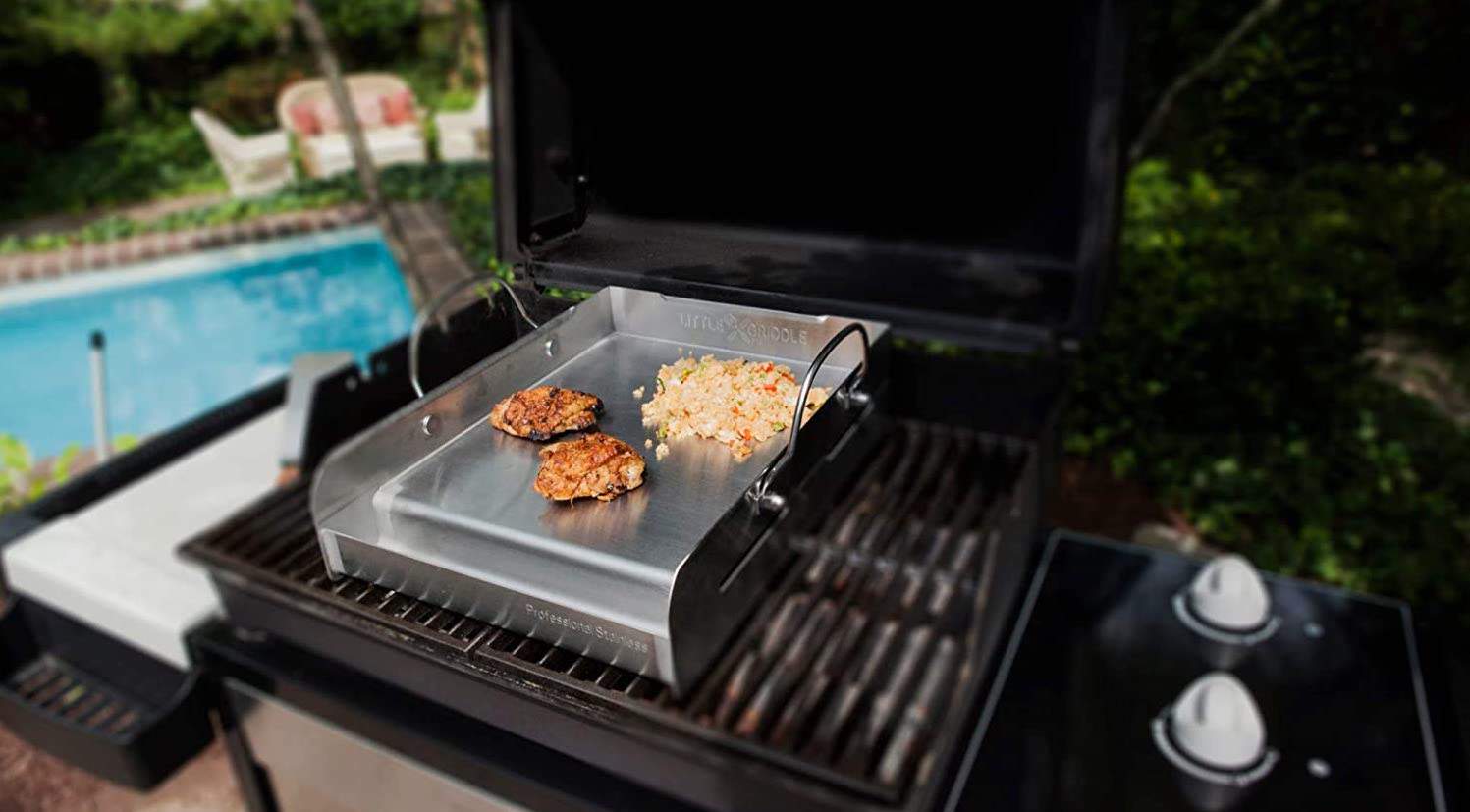 Are you in a mood for grilling something completely different? A griddle makes it possible to some really interesting items including pancakes, small vegetables, and eggs.
With a griddle, you can prepare a delicious breakfast feast on your grill! I love using my Little Griddle Sizzle-Q SQ180 on camping trips to make breakfast for the family.
You can do eggs and tomatoes on the griddle and sausages on the grill.
Solidly made of very high-quality steel, it is durable and also features underside cross-bracing for strength and rigidity. This accessory also has a built-in grease well to collect cooking oil and prevent flare-ups in your grill.
A great little side accessory for the serious griller who wants to be able to cook breakfast, lunch, and dinner on their grill.
Best sear station: Slow' n Sear Deluxe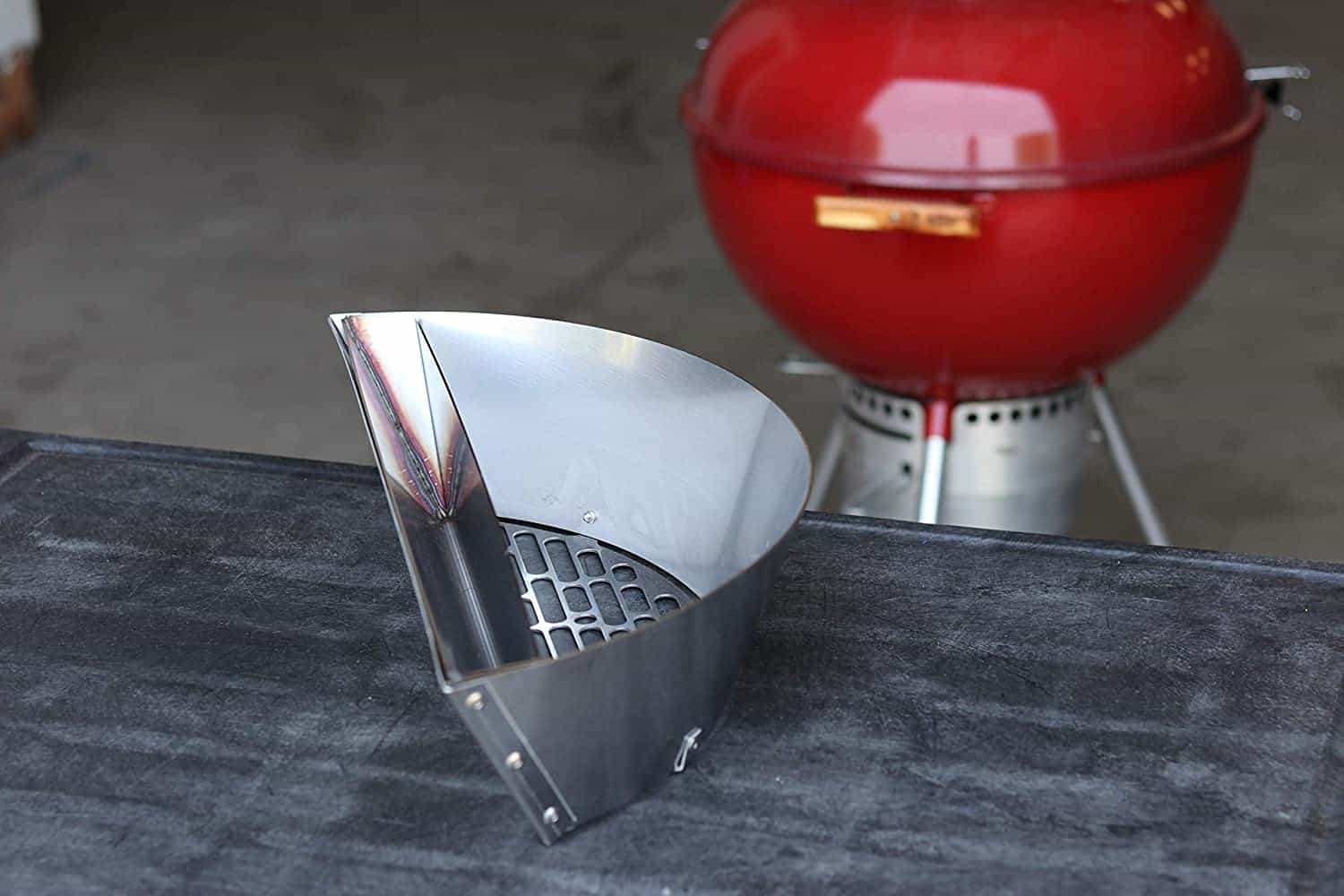 The Slow' n Sear Deluxe turns your favorite kettle grill into an even more versatile BBQ & grilling tool. Using this accessory, you can create two distinct cooking zones with the water reservoir in place inside the basket.
This means you can do a low 'n slow barbecue, or turn your kettle grill into a smoker.
You can also use a full basket to create a very high temperature that is focused in a single spot – perfect for searing.
This accessory also uses charcoal more efficiently, so you will use a lot less fuel than normal grilling. Definitely something to consider if you've got a kettle grill and you want to stretch your grilling and smoking skills.
I love experimenting with this accessory. There are also a lot of tutorials and ideas online that you can check out for inspiration.
Takeaway
I'm sure you have some accessories and grill gadgets that you love most. Are they on this list? These are my top 10 go-to accessories that I use personally.
I couldn't imagine grilling without them as they make every grilling and smoking experience an absolute pleasure.
I am sure that you will love them as much as I do!
Another cool accessory to consider for your grill: Flavor Infusing Grilling Wraps (find out how to use them & top choices to buy here)
Joost Nusselder, the founder of Lakeside Smokers is a content marketer, dad and loves trying out new food with BBQ Smoking (& Japanese food!) at the heart of his passion, and together with his team he's been creating in-depth blog articles since 2016 to help loyal readers with recipes and cooking tips.