I love creating free content full of tips for my readers, you. I don't accept paid sponsorships, my opinion is my own, but if you find my recommendations helpful and you end up buying something you like through one of my links, I could earn a commission at no extra cost to you.
Learn more
So, you've decided you need a grill. But what if you don't have space for a behemoth like the ones you see on TV all the time? What if you're working with a really tiny outdoor space?
Well, in this guide I've prepared a list of the top small grills so you can get one that suits your needs in terms of space, without sacrificing too much on the other benefits and accessories.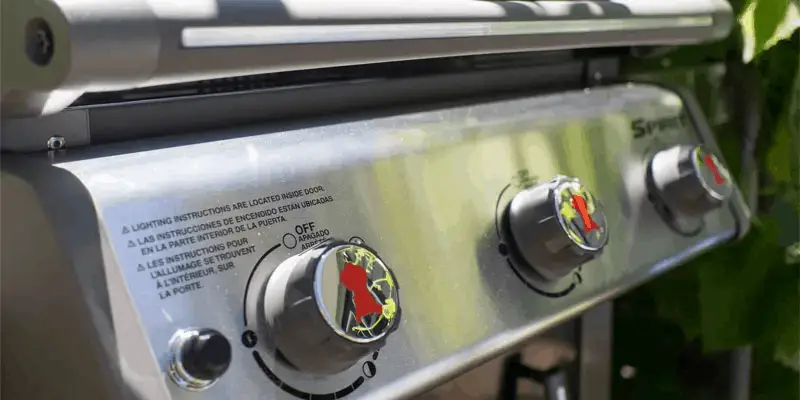 A small grill is actually a great option for someone who cooks for 1 or 2 people and doesn't need that much cooking space. It is also more cost-effective and mobile, too.
If you are looking for the best gas grill for a smaller backyard, I really recommend the Weber Spirit II E-210. Its compactness does not mean it's not powerful and efficient. It has all the features and quality we are used to from Weber, but because it only has two burners, it takes up a lot less space than other gas grills. 
You might be looking for a good small charcoal grill though, or a gas grill to take on the road. Of maybe even a pellet grill, to smoke as well as grill.
In this review, I have focused on the most popular types of grills in all fuel types so that everyone can find something no matter how little available space is available, and what your fuel preference is.
Small grill buyers guide
There are six things I usually check on before I narrow down my choice of small grills.
These six characteristics help me to narrow down the wide range of options to the best grills for my needs and preferences.
Then I spend a little more time looking at the details and identifying the perfect grill for me. I am sure that my methods will help you do the same.
Fuel type
There are plenty of types of fuel to choose from: charcoal, gas, electric, or pellet. Each of them has its upsides and downsides.
Do some personal research on the different fuel types so you know which one you prefer. You should also find out what type of fuel is allowed where you live, as there may be certain limitations.
Size
You need to picture your grill in your space. Measure out the area you have available, and make sure you look at options within that range. Consider where you need a grill: on a patio, on a terrace, or in a small backyard.
Slightly bigger models come with various features, like side shelves etc for better convenience, so you may want to consider that too if possible. The solution for those with extremely limited space are the smallest options, though.
Cleaning
Even a small charcoal grill might cause frustrations in urban areas due to the ash.
In this case, a gas or electric grill would be the way to go. Consider the cleaning system as well, because without a decent one it's very difficult to remove ash and grease.
Mobility
Small grills are usually more mobile just because of their size and weight.
But there are grills designed specifically for those who want to grill while camping, or hiking. These are made to be extremely mobile, lightweight, and easy to clean.
Check out the mobile versions (like Weber Q1200, Smokey Joe, or GMG Davy Crockett) if this is something you need.
Versatility
If you care about grilling, but you'd also like to smoke some food occasionally, then you should look for a versatile grill. In this case, the best choice would be Weber Kettle 18" or a Smokey Joe.
Warranty
Do you want your investment to last for as long as possible? Then pay attention to the warranty. In most cases the longer it is, the better the quality of the grill.
Of course, it doesn't always prove true, but either way, it's a good idea to have a warranty in place to protect your investment.
The 5 best small grills for every purpose
I have split this review into three main sections, with each one focusing on a different type of fuel:
Gas grills
Charcoal grills
Pellet grills
That way, you can easily find the best small grill that suits your needs perfectly.
The truth about grills is that most of us don't NEED a huge grill with seven multi-purpose burners and lots of gadgets to prepare delicious food.
You can get very good results from a small grill – which is awesome for those of us with space limitations.
Best small gas grill for limited space: Weber Spirit II E-210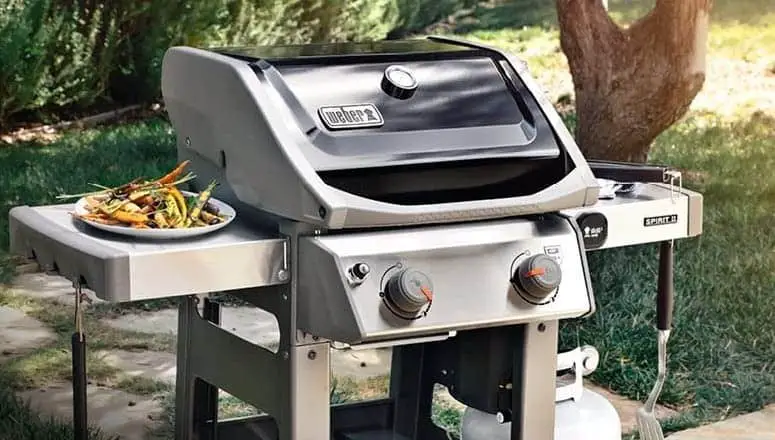 This is the best entry-level small gas grill.
First and most importantly, it was designed so that it takes up as little space as possible, but despite its size, it has maintained all the essential features present in a regular grill.
It only differs in its smaller cooking area and a smaller number of burners. It also offers a large working area on the side shelves, which can be folded anytime.
It comes with tool hooks and a lot of room under the grill to store different accessories. It's also high quality. Weber is famous for its solidly made grills and that is also the case here.
In practice, it heats up very fast, it reaches high temperatures and makes it possible to cook just like you would on a big grill.
Two burners aren't a whole lot, but it is still possible to create two different heat zones. The Weber Spirit II series models are also covered with a great warranty of up to 10 years.
Here's a great video showing this model after 18 months of use and how to give it a good clean:
Personally, I own a bigger model from this series, and I recommend it to everyone, regardless of their experience. The Weber Spirit II E-210 is a phenomenal grill that makes chef-quality grilling possible in a small space.
It is the best option in terms of quality, efficiency, and most importantly the price. It would work great on a small patio, balcony, or any place where size matters.
Features
Fuel type: gas (propane)
Size: 48 x 26 x 57 inches
Cleaning: good system for easy cleaning
Mobility: Fairly small and light, but not specifically designed for mobility
Versatility: Very good – you can smoke on this grill
Warranty: 10 years
Best small gas grill for mobility: Weber Q1200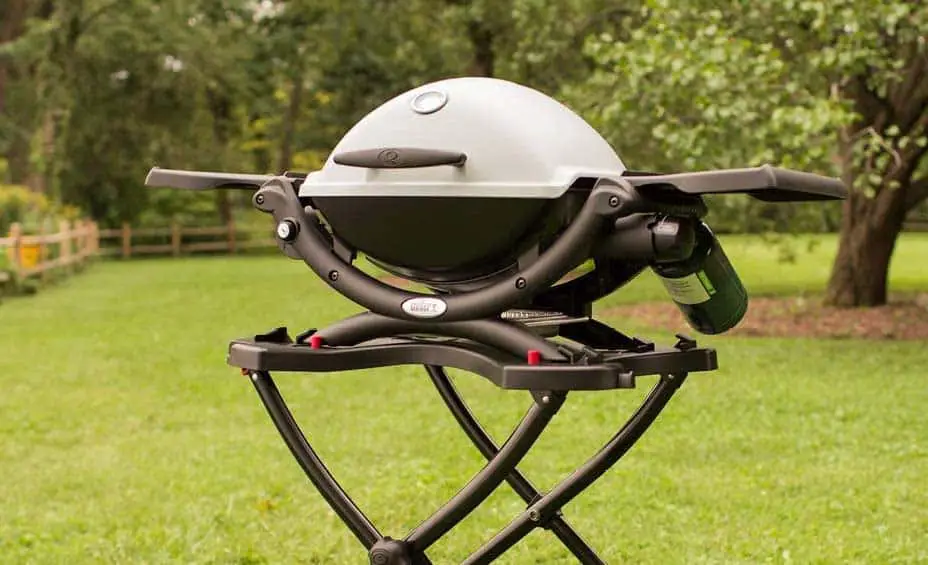 (view more images)
Weber Q1200 is a small mobile gas grill that every fan of grilling should consider.
It features high-quality workmanship, and the small construction will work great in tight spaces. Taking it away from home (like when camping) is really simple, too.
It gives results similar to the ones you'd get cooking on a full-sized grill, but it takes up much less space.
It looks unusual if all you've ever seen are regular grills, as it's a table-top design, but the construction was well thought-out.
You can put it on a table, on the ground or on any other surface and start cooking, or you can buy the separately sold Q Portable Cart which raises it up to the level of a regular propane grill.
The advantage of the stand is that you can fold it and put it away when you're done cooking.
It only has one burner, but that is more than enough on a surface of 189 square inches, especially as Weber burners are strong and efficient.
This small gas grill is ready after just 15 minutes from the moment you fire up the burner.
You also don't need to worry about grease and cleaning the grill up after yourself, as the well-designed cleaning system will make sure that everything ends up on a tray that can be replaced with a new one quickly and easily.
Here's an unboxing video giving you a sense of the maneuverability of this grill:
The warranty on this grill is also 10 years, and that tells you something about how it's made.
The body is made of cast aluminum, which is something that works great in this type of grill to increase durability and decrease the risk of damage. The workmanship is superb.
A huge advantage of Q1200 is versatility. For everyday use, it can serve as a small stationary grill, and when you go camping, you can bring it with you!
Features
Fuel type: gas (propane)
Size: 24.6 H x 40.9 W x 20.5 D
Cleaning: good system for easy cleaning
Mobility: very good – you can take this camping very easily
Versatility: okay – it can do everything it needs to
Warranty: 10 years
Rather have a smoker to take camping? I have reviewed the top 4 portable smokers here
Best small charcoal grill for limited space: Weber Kettle Original Premium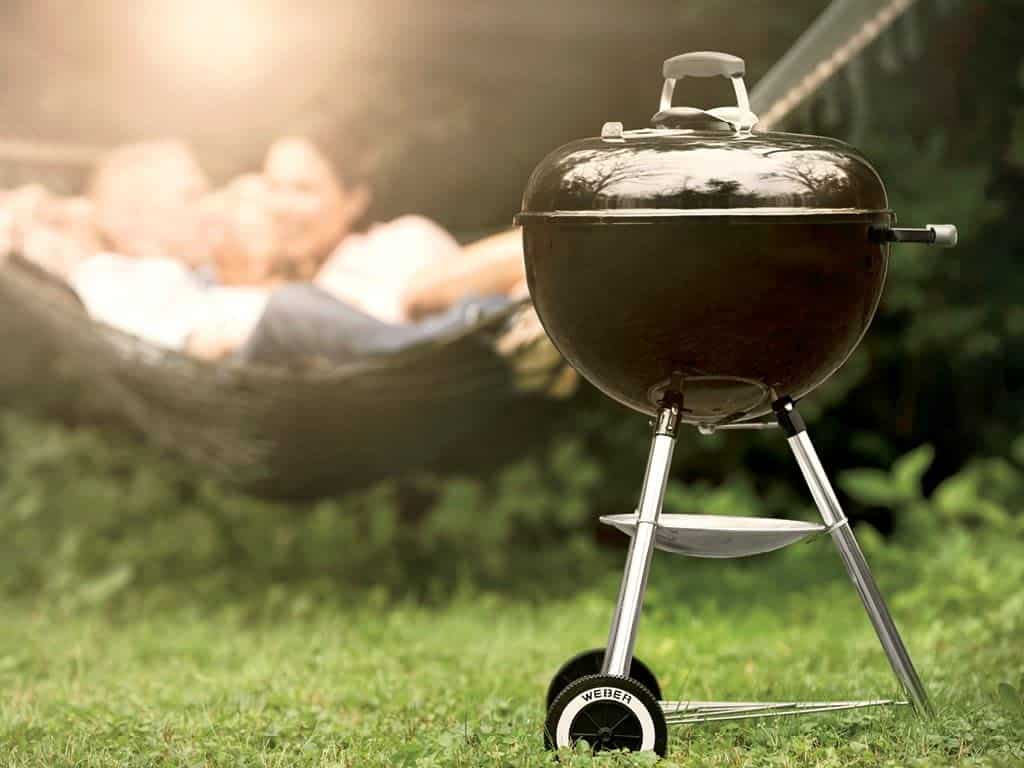 Do you prefer grilling with charcoal?
No problem, here are my top two picks for small charcoal grills for small spaces. One of them is bound to be perfect for you!
Weber has an excellent range of charcoal grills at low prices, and this model is a perfect choice for people with limited space.
It is small-sized and doesn't take up much space, but it's still a full-sized kettle that is characterized by great temperature control.
The Kettle original premium 18" offers 240 square inches of cooking area which is enough to easily prepare food for a couple of people.
Here's how you cook the perfect steak on this grill:
The quality of workmanship, just like with the rest of the offer from this manufacturer, is top-level. Despite the 10 years of warranty, I am sure that in good hands this model can last for much longer than that.
And that's great news considering the low price compared to other types of grills. If you have ever used a bigger kettle from Weber, you should know that this model doesn't differ in terms of efficiency despite its smaller size.
For example, it comes with the One-Touch cleaning system which is an important requirement for those who hate removing ash from their grill.
The only downside is the limited working space when cooking, and no room for accessories. This is, however, a problem with almost all small charcoal grills.
So if having prep room and workspace is important to you, then I recommend checking out some slightly bigger models. Here's a full buyer's guide on finding the right charcoal grill for you.
Features
Fuel type: Charcoal
Size: 18 x 23 x 35 inches
Cleaning: One-Touch system – good for easy cleaning
Mobility: Good – can be moved around easily
Versatility: Does everything that other charcoal grills can do
Warranty: 10 years
Best small charcoal grill for mobility: Weber Smokey Joe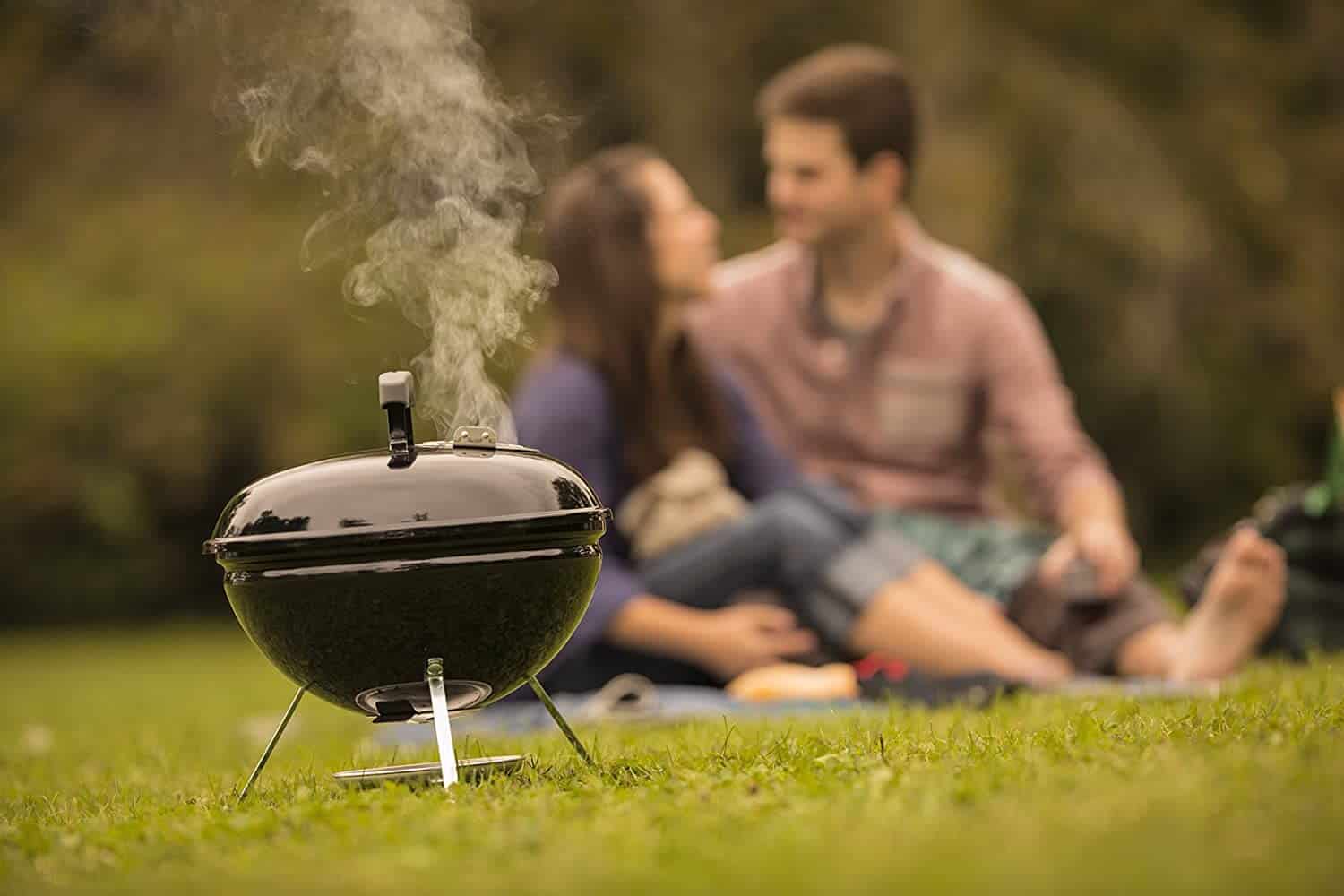 The Smokey Joe is a grill made with mobility in mind, which means that on top of cooking at home you can bring it along anywhere you want.
There's no need to use a big grill when a small kettle grill will be more convenient and cost-effective.
It comes with short legs, which makes it a great tabletop grill. If you're going to use it as a stationary grill, all you have to do is put it on a table, and you've suddenly got a lot of working space when cooking.
And do you feel like smoking? You can easily smoke some delicious ribs on this compact grill:
The kettle-shaped construction of the Weber with the well-situated air vents to ensure great air flow, significantly improves temperature control. The lower tray is great at collecting ash, which makes cleaning less frustrating to clean.
It is lightweight so you can easily bring it along to the park, to the beach, or camping. The Weber Smokey Joe is also characterized by its quality of workmanship, with a 10-year warranty included.
A great option if you have very limited space, or want a mobile charcoal grill.
Features
Fuel type: Charcoal
Size: 14.2 x 14.5 x 17 inches
Cleaning: Good system for easy cleaning
Mobility: Excellent – this thing can go anywhere
Versatility: It can do anything any other charcoal grill can
Warranty: 10 years
Best small pellet grill for smoking and grilling: GMG Davy Crockett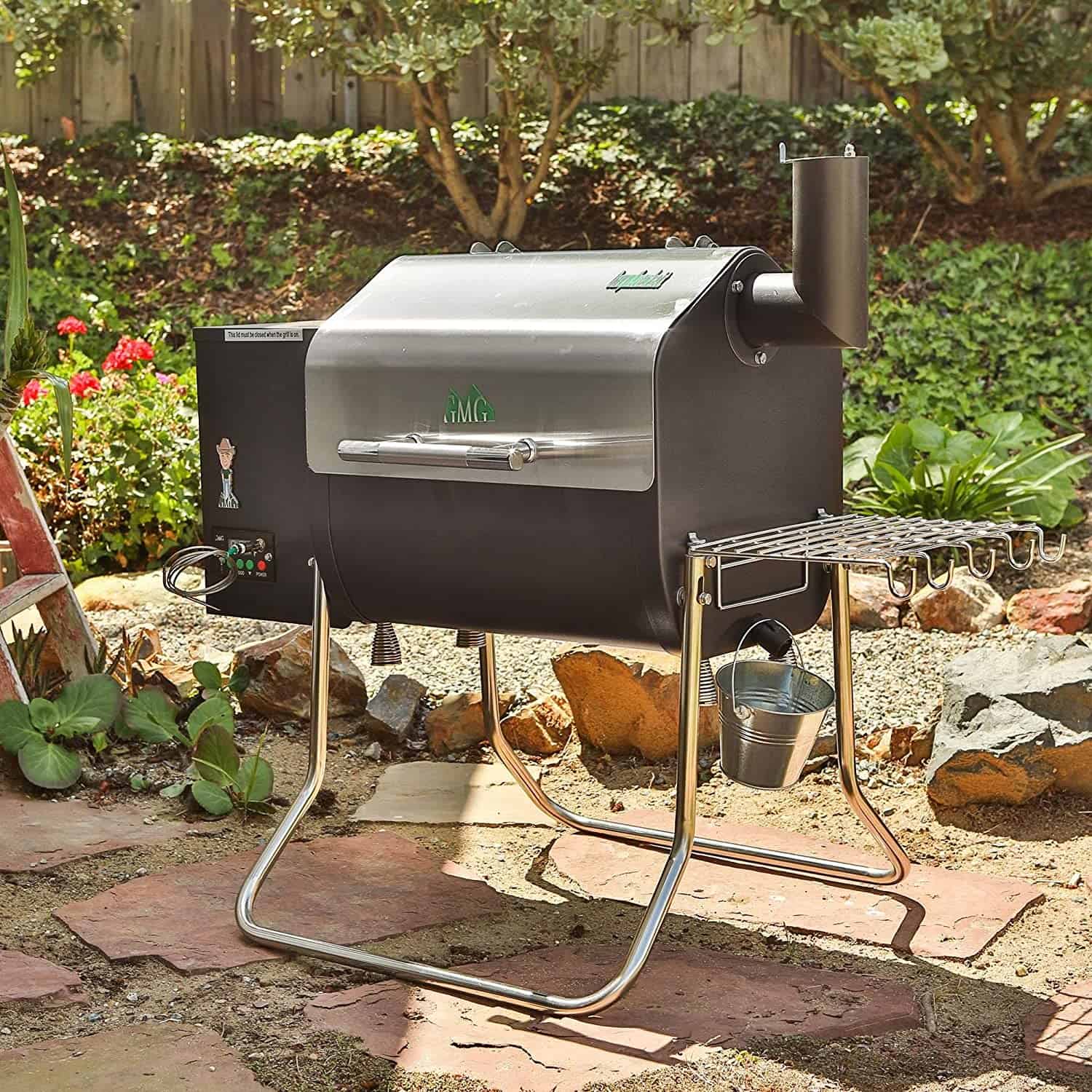 There's also a great small grill option for those who are fans of pellet grilling.
It was a surprise to me as I associate this type of grill with big, expensive options, but if you have a bigger budget and value convenience then this is the perfect 'set and forget' style smoker.
The GMG Davy Crockett is a small smoker with a lot going for it! Yes, it's much more expensive than the gas or charcoal grills, but it comes with a LOT of helpful accessories.
It's also extremely versatile as it is excellent at both smoking and grilling.
This little grill was designed with mobility in mind, which makes it a great option to go camping with, for example. It comes with folding legs which makes it easier to store it or to bring it along on the road for camping or a tailgate party.
The GMG Davy Crockett is an awesome option for smoking enthusiasts with limited space. Here Adventure Endeavor explaining why this one is also great to take on the road with you:
The grill is controlled by Wi-Fi. You can connect to the digital controller using a smartphone/tablet app, making it possible to monitor the entire smoking process on the screen of your mobile device.
It also comes with a peaked lid for rib racks and other stand-up foods, a convenience tray, and a meat probe.
Out of all the options presented in this list (gas, charcoal and pellet) only the Davy Crockett offers such a high level of convenience and no temperature control issues, while also giving the best food flavor (read more on that in the second part of the guide).
If your budget can get you there, then this is a definite winner.
Features
Fuel type: Pellets
Size: 29.92 x 14.96 x 21.65 inches
Cleaning: Good system for easy cleaning
Mobility: Very good, especially with all the features included
Versatility: Excellent – can grill and smoke, and the process is controlled by Wi-Fi and your phone app, so you don't have to worry about undercooked or overcooked food
Warranty: Manufacturer – sends replacement parts and tech help
Not sure to go for a gas grill or a pellet grill? I've compared the two more in-depth here
Small grill FAQs
Let's finish off with some commonly asked questions about small grills.
Are you allowed to grill where you live?
This is an important question that you should answer before you purchase your small grill, as you may be severely limited in your buying options.
Someone living in the city in an apartment must comply with certain regulations.
Violating these regulations not only opens you up to penalties, but you are exposing yourself and others to dangerous situations when you violate them, too.
If you're in a rented apartment, find out if the owner agrees to the use of grills before using one – no matter what the rules of the complex say.
More freedom is enjoyed by those with a small backyard, but they still have to adhere to certain rules if they live close to other people.
Due to safety and legal reasons it is necessary for you to read about the rules applicable where you live. You wouldn't want to put others at risk or get fined for violating regulations. It is much better to stick to the rules and be safe.
What are the advantages of small grills?
Why go small when you can go big? Well, small grills actually have quite a bit going for them.
Mobility
Most of the models in this review were designed to be light weight, and easy to move.
However, some models were specifically designed for you to be able to bring them along wherever you want – Making them perfect for camping, tailgating, or just enjoying a grill in the great outdoors.
Low fuel consumption
A small cooking area needs less power to maintain the right temperature inside the grill, making a small grill more cost-effective as it needs less fuel than a larger one.
Price
Smaller construction means less materials used in building and thus a lower price. It may be a good idea to buy a small yet solidly made grill rather than something bigger but of poorer quality.
They don't take up much space
The small size of these grills is very convenient for those who only have a small back yard, terrace, or balcony to enjoy grilling.
Takeaway
Whether you are after a simple charcoal grill or a high-tech pellet one, there's a solution that will fit into almost all small spaces!
Now all you have to do is figure out which one suits you, based on what you want to do with it. Good luck!
Got your grill? Here's the Best Recipe of the Week: Marinated Tuna Steak
Joost Nusselder, the founder of Lakeside Smokers is a content marketer, dad and loves trying out new food with BBQ Smoking (& Japanese food!) at the heart of his passion, and together with his team he's been creating in-depth blog articles since 2016 to help loyal readers with recipes and cooking tips.