I love creating free content full of tips for my readers, you. I don't accept paid sponsorships, my opinion is my own, but if you find my recommendations helpful and you end up buying something you like through one of my links, I could earn a commission at no extra cost to you.
Learn more
If you love the flavor of wood-smoked meat but don't have the space for a large outdoor smoker (maybe you live in an apartment), then you'll be glad to know there's a way to smoke tasty food right on your stovetop.
Have you heard of indoor stovetop smokers?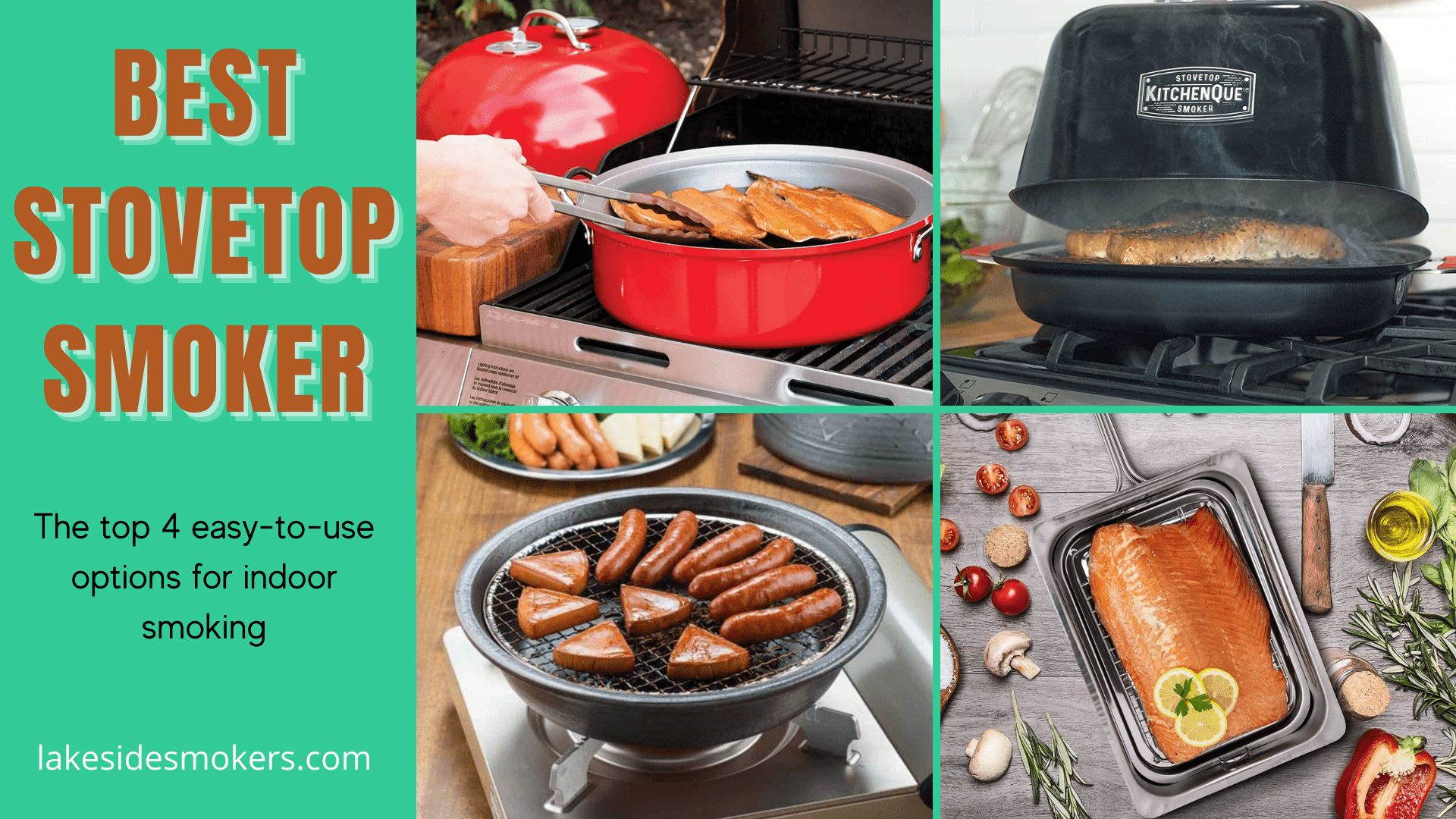 These are small pan-sized stovetop smokers you can safely use indoors. Not only are they easy to use, but they give amazing flavor since you add wood chips, just like in the outdoor smoker.
Camerons original stovetop smoker is the top stovetop smoker if you want an affordable and compact tool to help make tasty foods using wood chips.
I'm going to share the top stovetop smokers on the market so you can choose the one that best fits your budget and needs.
Check out the table with the best smokers then read full reviews down below.
Stovetop smoker buyer's guide
Surely you've seen what tasty recipes you can make with a stovetop smoker. But, when it comes to shopping for a smoker, you should know all the features it needs to have.
Size & cooking area
The first thing to consider is the size of the stovetop smoker. The Camerons original stovetop smoker is the perfect family-sized smoker but you can't expect to fit too much food onto the tray.
The large Camerons, for example, has almost double the cooking area so it's better for larger rib racks and big chickens.
But, even with the regular size, you can still smoke meat for a family and small restaurant.
With kettle smokers, you can fit more food on them and they are generally larger, about 13 -12″ inches or so. They are great for small restaurant use and home use.
The Japanese donabe is very small when it comes to the cooking surface so you can cook for 1-2 people max. There are large sizes available too but those will cost a lot more.
Another thing to consider with the size and cooking surface is how high the food tray is placed. If it's too high, you won't have enough space for taller meat like a big chicken.
The dome lid gets you extra space as long as the food grate is not placed too high on top of the chips and drip tray.
Material
Most stovetop smokers are made of steel bodies.  This is the best material because it lasts long, it's strong, and easy to clean. If there's an aluminum or enamel coating it's even better because it adds to the unit's aesthetic appeal.
Check the handle material and make sure it's quality metal and not flimsy or cheap looking as it can be dangerous. The best smokers also have a silicone coating on the handles.
Japanese smokers like the Donabe are made of ceramic clay and this is amazing at heat retention. It also locks in the moisture for very juicy and tender smoked foods.
Cooktop compatibility
Most stovetop smokers work on electric and gas cooktops. Many of them, including the Camerons are not yet induction-hob compatible.
Most smokers are also oven and campfire-compatible so you can use them in many ways.
Check to see if the smoker is compatible with glass, ceramic, and induction cooktops and if using a diffuser is a possibility.
Find out how gas and induction hobs compare to each other here
Temperature controls
The Camerons original stovetop smoker doesn't offer temperature control because there is no built-in thermometer.
However, more expensive models have a built-in temperature gauge and thermometer so you can see the interior temps.
The best stovetop smokers reviewed
Let's keep all that in mind while we dive into the full reviews for each of the choices on my list.
Best overall stovetop smoker: Camerons The Original
size: 7" x 11" x 3.5"
material: stainless steel
heat source: gas, electric, oven, or campfire
induction-compatible: no
dishwasher-safe: yes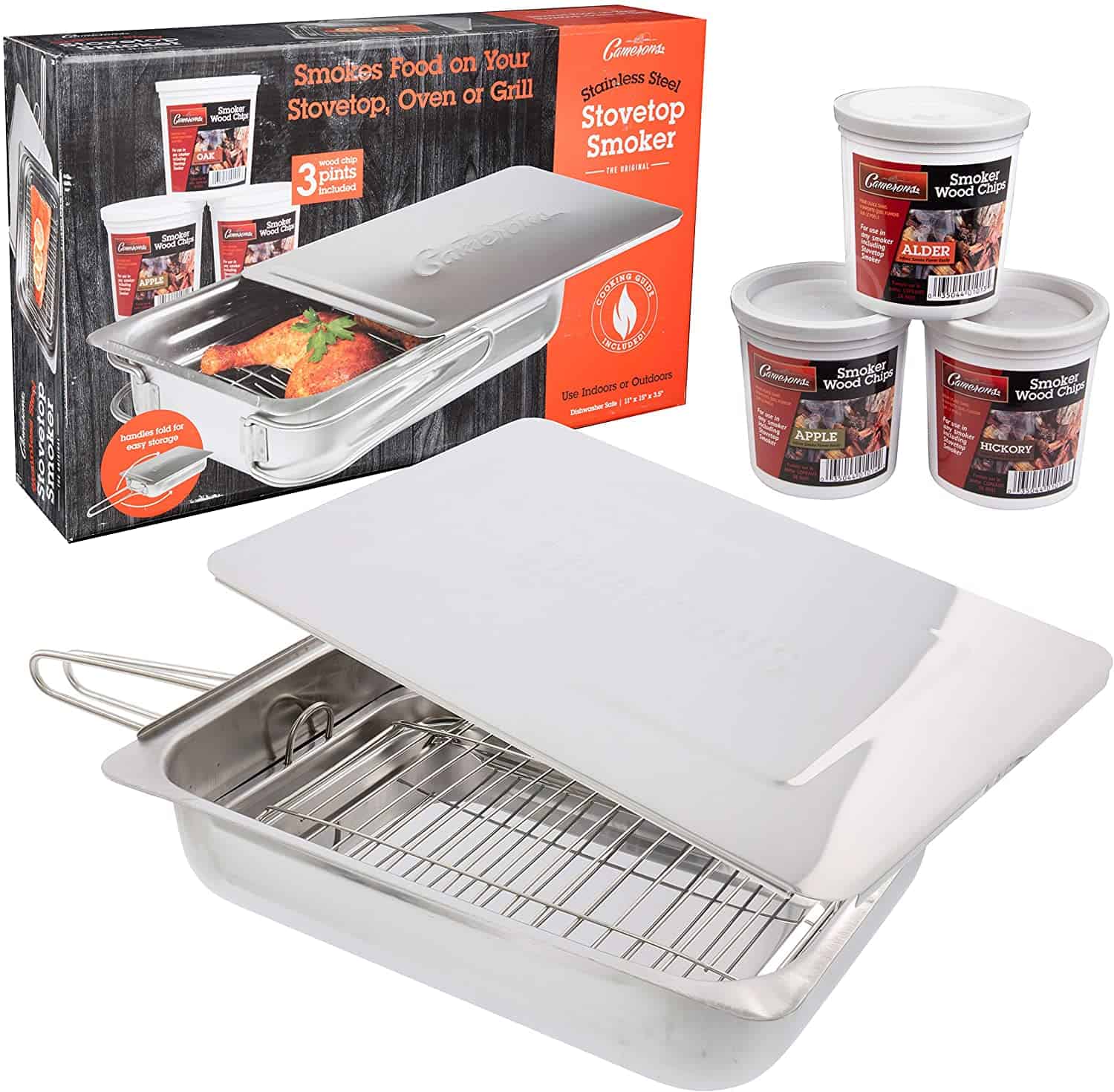 This is an option to consider if you are only smoking small quantities of food or if you cook for 1 or 2 people only.
For example, if you only offer one smoked meat option on your menu, this may be your best money-saving option. It's the cheapest option available for smoking – it costs between 30-40 dollars.
With this product, you can smoke fish, vegetables, all kinds of meat on any stovetop, except induction.
Smoking on the stovetop can be very affordable and flavorful. When you use the stainless steel Cameron smoker, the meat is full of smokey flavor.
The meat retains its natural juices and moisture so you never end up with dry chewy meat. Just give seafood, poultry, and smaller pork or beef cuts a try and I promise your guests will love it.
They'll think you just finished a long outdoor smoke session!
The advantage of using this cooktop smoker is that you can have smoked meat in 15-60 minutes depending on the meat. Just imagine how much time you can save when you think about how many hours it can take to smoke outdoors.
However, there's one downside to using this unit: there is no temperature control or built-in thermometer. Therefore, you have to do some guesswork and check on the food to make sure it's well cooked through before you serve it.
A good instant-read thermometer (like these ones) will help you get more precise.
Also, you will have to use some aluminum foil to cover the drip tray so you don't need to scrub it after every use. Although it's technically dishwasher-friendly, the drip tray seems a bit flimsy so I would just protect it with foil.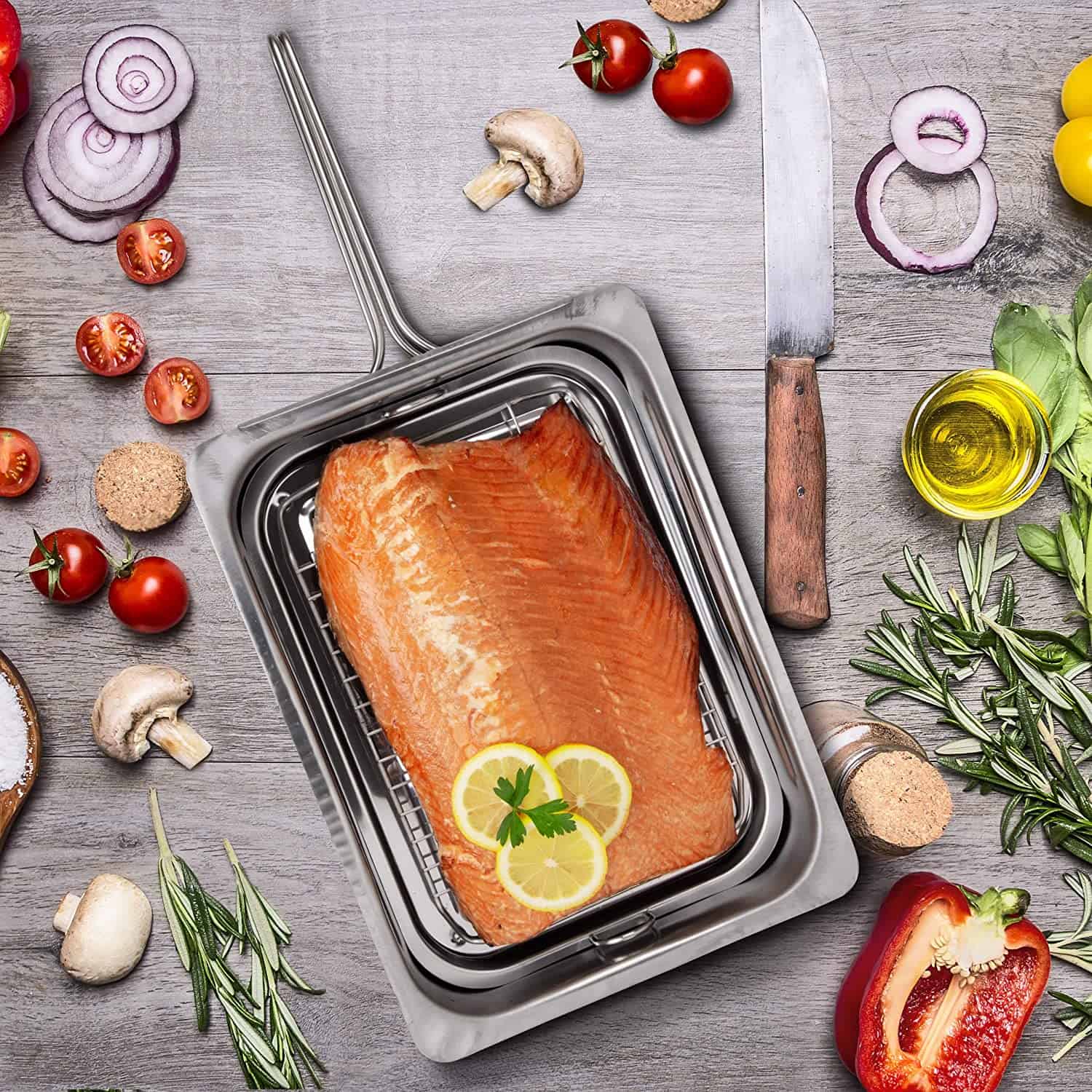 The Cameron works with any type of heat source: open flame, electric stovetop, and oven and it's the perfect size to go right on top of your hob.
Oh, and it doubles as a steamer too which is great if you're on a diet and want healthy food options.
This set on Amazon comes with a sample of oak wood chips. Oak is a flavorful smoke wood and it imparts a strong aroma.
Don't worry about smoking up your home or kitchen, this smoker only releases a very minimal amount of smoke, especially if you cook poultry, fish, and vegetables that aren't as greasy.
This product is dishwasher safe, so you can clean it fast and use it over and over again in your restaurant or home.
The product is very light, only 2.7 pounds. Therefore, not only is it easy to move around the kitchen but it's compact and easy to store.
Compared to a bulkier kettle smoker, it doesn't take up much space.
I recommend that if you are looking to smoke food for commercial purposes, you buy two or more of these stovetop smokers to use simultaneously so you can smoke larger quantities of meat at once.
Alternatively, you can get the same smoker in a larger size. The bigger Cameron smoker measures 11″ x 15″ x 3.5″ and it's more suitable if you're smoking more meat and vegetables at once. Perhaps your restaurant serves more smoked foods or you have a large family.
Check out the latest prices here
Best kettle stovetop smoker: Nordic Ware
size: 7" x 13" x 13.5"
material: aluminum steel
heat source: gas, electric, induction, oven
induction-compatible: yes
dishwasher-safe: yes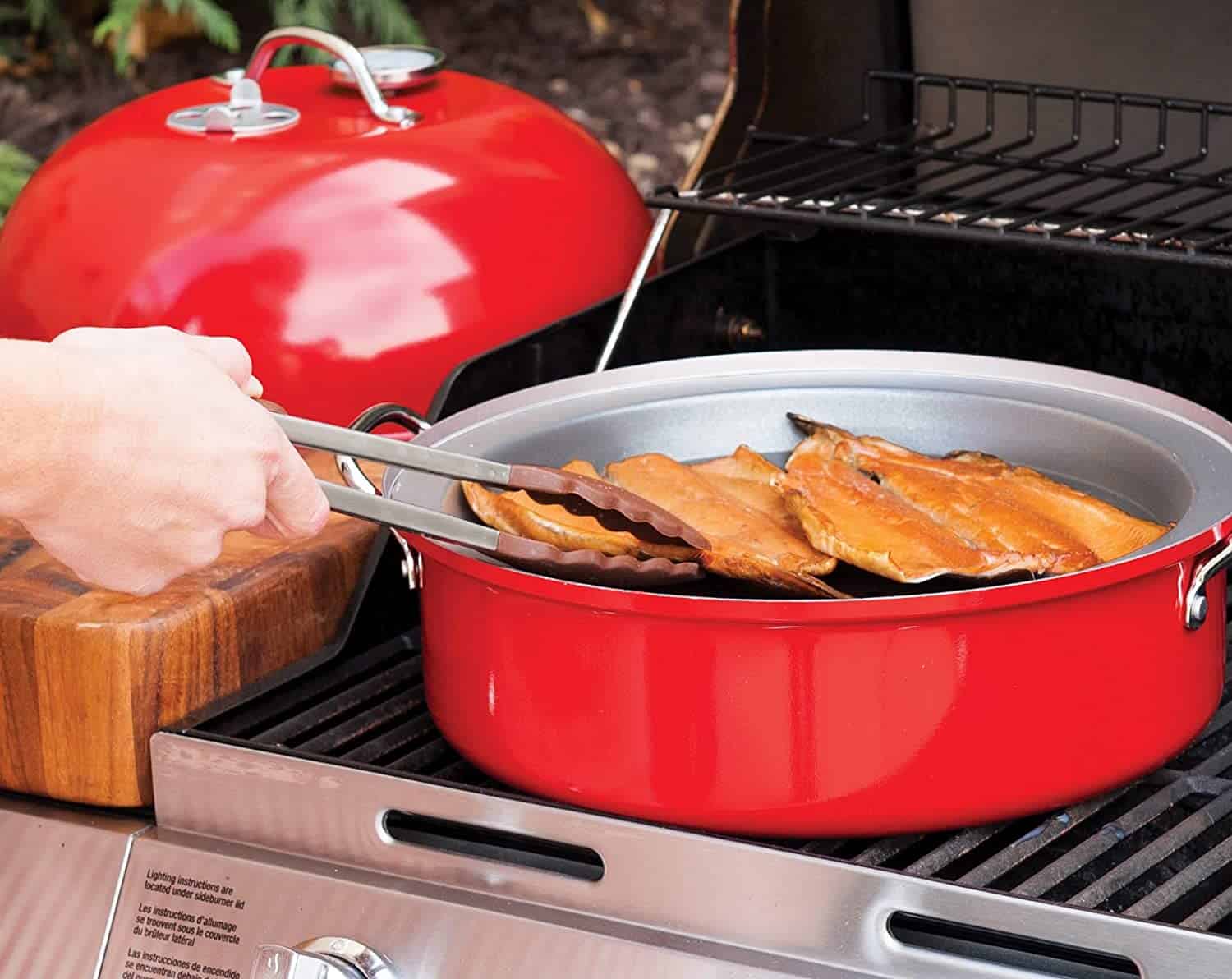 If you're serious about stovetop smoking and want a smoker that also doubles as a steamer and roasting pan, Nordic Ware's kettle model is a perfect choice. The reason why it's impressive is that you can use it for dry or moist smoking.
If you want to serve moist, tender, and juicy chicken, for example, you can add some water, flavored broth, or beer into the drip tray. This makes the meat especially tender but also gives it that smoky aroma from the wood chips.
But, if your restaurant offers dry smoked meats like hams and sausages, you can skip the water in the drip pan and use the wood chips only.
The first difference you'll notice between the Camerons and this is that the Nordic Ware kettle smoker is tall and has a high dome lid. This allows the smoke and steam to circulate better and some people claim the food is smokier as a result.
The kettle is made of aluminum steel but it has a beautiful red enamel-coated porcelain exterior which is much nicer than the basic steel Camerons smoker.
Another stand-out feature is that this smoker allows you to smoke on all cooktops, including induction hobs.
One disadvantage is that you should not cook on high heat – so reserve it for smoking only. The recommended temperature for smoking is between 190-210 degrees F.
So, it's a bit bulky and takes up storage space which is something to consider when buying it.
Also, there is no wood chip compartment at the bottom but you simply add about 1-2 tablespoons of chips right on the bottom of the unit.
Some people also complain that the food grate/tray is a bit too high which is a shame since the whole point of a high dome is to make the smoker more spacious. Your larger chicken might end up barely fitting.
In terms of design, what makes this smoker great is the small perforations in the food tray which allow for better smoke circulation. Overall, the flavor is pretty close to that of an outdoor smoker, especially for poultry and fish.
Camerons vs Nordic Ware
When you use either of these two units to smoke food, you'll realize they function in the same way. You add wood chips at the bottom, put water in the drip pan, place the food on the food tray, and close the lid.
First, let's compare the shape and size of these smokers. Camerons small smoker is much smaller but has a flatter, compact shape. It's great for smoking fish like salmon, vegetables, and smaller meat cuts.
The Nordic Ware, on the other hand, is shaped like a kettle, with a dome lid, and fits chicken very well.
It can also be used to smoke pork, ribs, and some beef cuts. You can easily fit a rib rack on it and it will retain moisture so it will taste juicy.
The difference you might notice though is the flavors of the food.
Both units infuse the meat with smokiness, but the Nordic Ware smoker is larger and has a dome shape with a perforated food tray that allows for superior smoke and air circulation.
This makes the food's flavors more prominent and you can taste more of the wood's flavors.
Another thing to consider is that the Nordic Ware is compatible with induction and ceramic cooktops whereas the Camerons smoker isn't. But, the Camerons is far less bulky and easy to store.
Finally, I want to mention that the Nordic Ware has a beautiful enamel coating whereas the Camerons smoker is a basic stainless steel box. But, it's much cheaper and at half the price, it does an amazing job smoking.
That's why it takes the overall top spot in the stovetop smoker category. It is affordable, comes in two sizes, and delivers smokey food in minutes.
Also check out my top list of the 22 must-have smoking tools & accessories
size: 13.5" x 12.5" x 9.5"
material: coated steel
heat source: gas, propane, electric, induction with diffuser
induction-compatible: yes, with a diffuser
dishwasher-safe: yes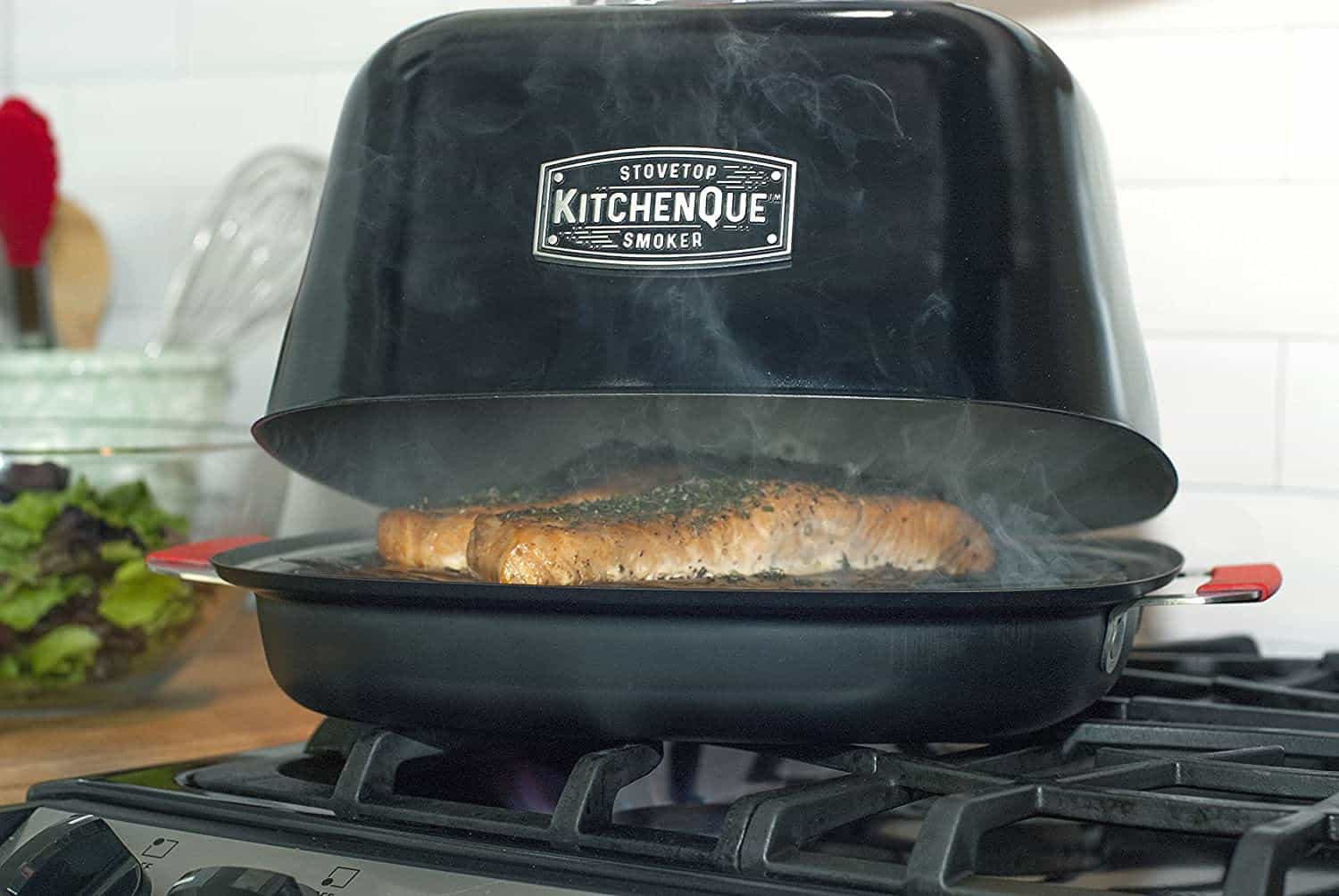 This product is always a top pick by people who love to smoke salmon and chicken because it's the perfect size and shape for whole birds.
In fact, it's a premium stovetop smoker for serious smokers who love to eat and serve smoked food year-round and ideal for a busy restaurant kitchen.
Charcoal Companion is the type of kitchen cooking accessory that is going to last you for many years to come. It can reach 400 F (200 C) so it cooks and smokes the food at the same time and saves you lots of time.
I know that this smoker has a high price tag, considering it's so similar to the Nordic Ware kettle, but it's made of higher quality materials so it's a great investment for your restaurant.
If you don't plan on buying an outdoor smoker but still want to serve a couple of smoked foods on the menu, this smoker will cook up tasty recipes.
When it comes to getting the best flavor, you can count on Charcoal Companion to infuse the food with real smoke aromas.
Just like the Nordic Ware and Camerons, this smoker has four components: the bottom pan where you place the wood chips, an enameled steel drip pan, stainless steel grate, and a dome lid.
It also has two silicone heat-proof handles on the sides and one large handle on the lid. Therefore, it's safe and easy to move the smoker around and maneuver it while filling and emptying it.
The smoker also comes with a built-in thermometer. This feature is the most useful because it will show you how hot the temperature inside is. After all, you need lower temperatures when smoking and since this unit can reach 400 F, you need to keep an eye on it.
When it comes to cooking time, you can get a quality roast chicken in about an hour or so.
One issue people have though is that the unit leaks a bit of smoke because it seems the seal just doesn't close tight enough. Therefore, you might stink up the place with some smoke but if you're serious about smoked meat, I doubt it is too much of an issue.
What I like about it compared to the Nordic Ware is that the food tray is low enough so you have plenty of space for larger pieces of meat and large chickens.
Overall, this product is a great value for your money and a handy alternative to grilling indoors. If you prefer smoking over grilling, you can use this unit indoors and outdoors and skip the big bulky smoker altogether.
Besides, you can't really beat the complex flavor profiles this offers with other stovetop smokers.
Best Japanese stovetop smoker: Japanese Donabe Smoker
size: 8.7 x 8.7 x 5.5 inches
material: clay
heat source: direct fire and electric cooktops
induction-compatible: no
dishwasher-safe: yes
microwave-safe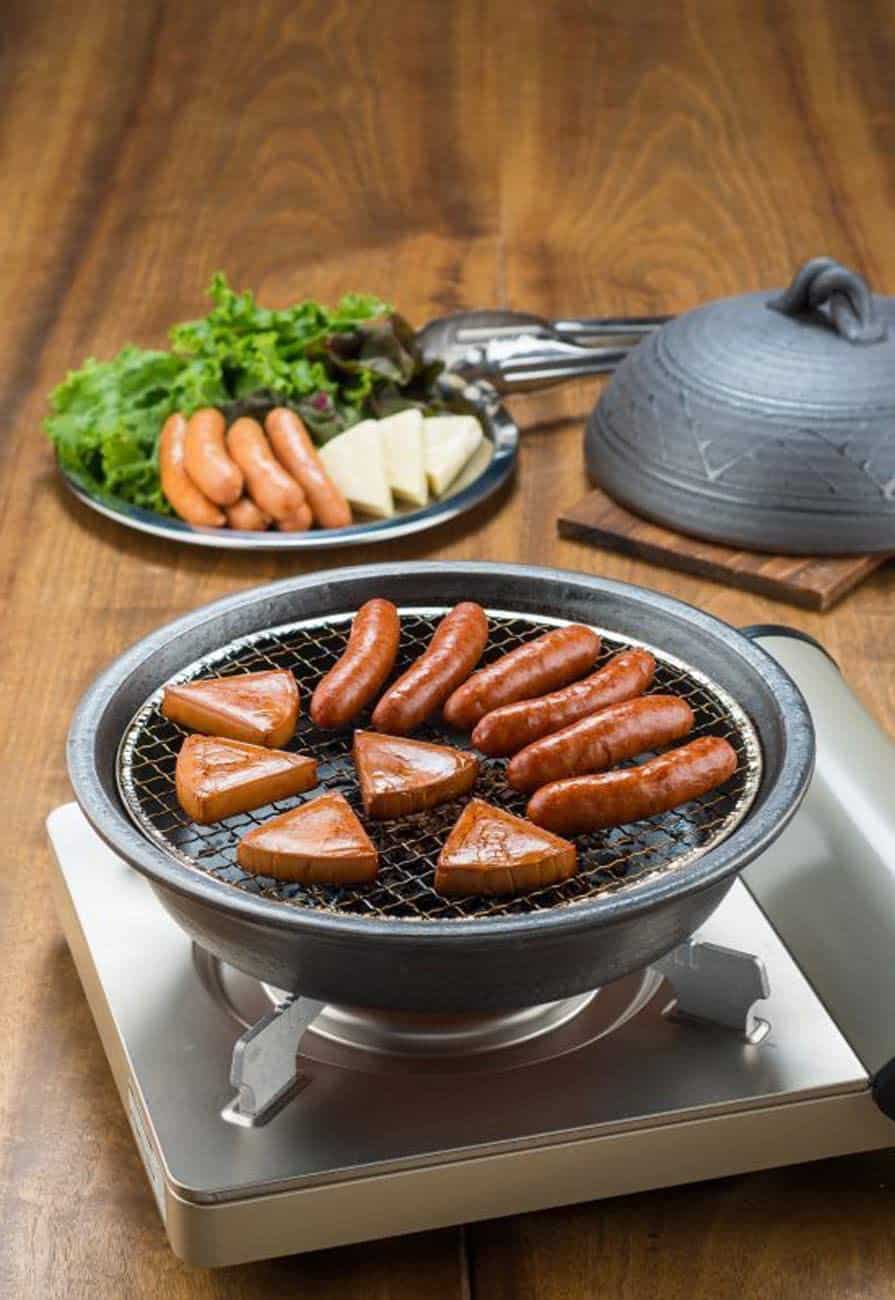 If you're looking to go beyond traditional steel stovetop smokers and you have an electric cooktop, the Donabe is the Japanese clay smoker that you have to try.
The functioning principle is the same as a regular steel smoker: you add wood chips to the bottom of the pot, add your grate, place your food, and cover it with the lid to cook and smoke the food.
The major difference though is that there is no drip tray here so the grease drops onto the wood chips. As a result, there's lots more smoke here but the clay lid top is usually very well at sealing off the smoke you don't end up stinking up the whole house.
Many people call the donabe a true all-rounder because it's such a versatile and multi-purpose cooking unit. Traditional stovetop smokers are usually used to smoke meat and some veggies but Japanese chefs love to smoke all kinds of foods.
You can use the donabe to infuse meat like chicken, pork, beef, fish, octopus, eggs, cheese, and vegetables with a delicious smoky flavor. The great thing is that you can make chicken in 5 minutes on high and 10 minutes in low heat.
This donabe is quite small (0.8 liter capacity) so it's best for singles and couples who love to smoke foods for a quick dinner or lunch. I wouldn't use it as a heavy-duty smoker for a restaurant as there are special large donabes for that.
Just because it's made of clay, doesn't make this smoker very fragile. Sure, you have to be careful not to put water on it while it's hot or it can crack but overall it's sturdy and well built.
In fact, the pot is made of Bankoyaki ceramic from Mie, Japan also used to make those traditional black teapots. This is a durable and heat-resistant material that keeps the juices and moisture locked in for more tender smoked meat.
One disadvantage I discovered with this one is that it's a bit too small and if it was a few inches larger it would be even more practical. Also, it's best washed by hand to avoid damaging it in the dishwasher.
Another thing to keep in mind is that the Donabe doesn't have a built-in thermometer gauge.
Overall, this smoker is much more versatile than others. The smoker allows you to try all kinds of exciting Japanese and Western recipes.
It acts as a grill, steamer, smoker, and the rack is just about the right size for small meals.
Here are the 7 best recipes for smoking vegetables with your stovetop smoker
Charcoal Companion KitchenQue vs Donabe Japanese Smoker
These two unique smokers are worth comparing because they are expensive and a bit different from the average steel stovetop smoker.
If you love to smoke foods indoors, you want to get amazing results and these two products offer just that.
However, you need to think about how much food you want to smoke and how often. If you like to smoke larger meat cuts, the KitchenQue is the better choice because it's larger and you can offer the family or customer more food.
The Donabe smoker allows you to smoke in very small portions and quantities. It's better for recreational home use.
Another difference here is the material of the stovetop smoker. The KitchenQue is a great indoor smoker because it's made with coated steel and stainless steel and this makes it very durable. It's not going to break even if you drop it.
The Donabe is made of ceramic clay though, so you want to handle it carefully and avoid hot water on it while it's in use. I guess you can call it the original stovetop smoker because this Japanese cooking method is ancient and the flavors it gives are amazing.
With the Japanese stovetop smoker, you can actually get more cooking done in a very short time – shorter than the Charcoal Companion smoker.
It really comes down to how you like to smoke – using traditional Western kettle-style smokers or you prefer the clay one.
What is a stovetop smoker?
The stovetop smoker is an indoor cooking device you use on your stove.
These smokers are made of stainless steel or aluminized steel and have a bottom pan for woodchips, a grill grate or mesh for the food, and a large lid that allows the smoke and steam to circulate and infuse the meat with plenty of smokey flavors.
The food in these smokers is heated on a stovetop but the wood chips give it that BBQ flavor.
In fact, what makes the stovetop smoker such a good option is that you use flavored wood chips like hickory, cherry, maple, etc to give your food that smoked wood aroma, just like with an outdoor smoker.
For those who don't want to go outside merely to cook, stove-top smokers are the greatest indoor choice.
Not only is a stovetop smoker safe to use in a small house or apartment but it doesn't make a mess either.
Sure, there might a bit of smoke but if you use the smoker properly as the instructions tell you to, you will not smoke up your home.
The bottom of the pan is filled with flavored wood chips, a drip pan goes on top of the chips, then the food (usually meat) is placed on a grate on top, and then it's covered with a lid. This way the cooker is sealed shut.
These smokers provide food with a unique taste, flavor, and texture, so you might want to test them out if you're trying something new.
Stovetop smokers are ideal for those who can't or won't cook outside, or for those who can but only cook small amounts and don't want to use a larger grill or smoker.
Because they can be used on campfires or small gas burners, stovetop smokers are ideal for camping vacations. They are very popular with fish and poultry.
The smoked meat is moist, flavorful, delicate, and complex, and you can simply adjust the time and temperature for different types of meat cuts.
Why should I buy an indoor smoker?
When you already have a very good outdoor smoker, you probably don't need a stovetop indoor smoker, unless you like to smoke in the winter but don't want to do it outside.
But these smokers are so useful, let me explain why!
Indoor smokers are better suited for smaller kitchens. So, if you have a tight space, you can use the smoker on the cooktop without using up counter space.
The stovetop smoker is a great money saver for small restaurants that serve only a couple of smoked foods on the menu.
You can use the stovetop smoker all year round and it doesn't matter what the weather is like outside.
Stovetop smokers don't create a lot of smoke indoors so you don't have to worry about smoking and stinking up your home.
The stovetop smoker is cheaper and more cost-effective than an electric device or outdoor smoker. These won't use a lot of electricity or gas and thus don't raise the utility bills significantly.
These smokers are relatively easy to clean and many components are dishwasher-safe.
The food tastes amazing and it is juicy, and flavorful since you use flavored wood chips.
Did you know you can also make your own stovetop smoker? I explain step-by-step instructions here
What kind of accessories do I need?
Most stovetop smokers are equipped with everything you need.
But, a supporting accessory like an external thermometer and meat probe is very handy to have.
If your smoker has a temperature gauge on the lid, it's easier to know how long it's going to take to smoke the meat.
Also, look for ergonomic handles that are easy to hold and don't get hot. Some have silicone layers to protect your fingers from the heat.
The smoker should have handles on the sides and lids for easy access to the food.
Are stovetop smokers any good?
Yes, stovetop smokers are quite good and very practical.
If you can't cook outdoors, you can get almost similar flavors using an indoor smoker.
The only problem is that the stovetop smokers are not always compatible with all flat cooktops.
How do you smoke on a stovetop?
First, you add some wood chips to the bottom of the stovetop smoker.
Next, you add the water pan and fill it with some water. This locks in the moisture and keeps the meat from drying out.
Now, place the food tray on top with your food on it.
Place the lid and turn on your cooktop. Let it smoke for anywhere between 20 minutes to 1.5 hours depending on the meat or food type.
Can you put a stovetop smoker in the oven?
Many of the top stovetop smokers are oven-safe so yes you can use them in the oven.
The kettle-style ones with silicone handles or plastic components are not oven-safe so beware!
Final thoughts
If you like the comfort of smoking indoors on your stovetop without waiting for 5 to 8 hours for a smoke, then the stovetop smoker is the perfect solution.
With a Camerons smoker or a kettle-style unit, you can make your favorite smoked food recipes in less time without compromising on taste.
Honestly, with so many wood chips you can buy for these smokers, you can experiment with flavors each day and prove to your family or customers that smoking meat doesn't have to be a grand task.
Want to take your smoker to the campsite? I've reviewed the best portable smokers here
Joost Nusselder, the founder of Lakeside Smokers is a content marketer, dad and loves trying out new food with BBQ Smoking (& Japanese food!) at the heart of his passion, and together with his team he's been creating in-depth blog articles since 2016 to help loyal readers with recipes and cooking tips.