by Joost Nusselder
|
Last Updated: 
October 10, 2020
I love creating free content full of tips for my readers, you. I don't accept paid sponsorships, my opinion is my own, but if you find my recommendations helpful and you end up buying something you like through one of my links, I could earn a commission at no extra cost to you.
Learn more
The oil drum bbq smoker has surprising benefits when you prefer to cook your food in it.
Choose the vertical oil drum bbq smoker if you want to cook the perfect beef jerky.
The secret to making great beef jerky on an oil drum bbq smoker is to start with a small, controlled fire because slow burn makes the best-smoked meats.
In this post, I'll be looking at the 3 best oil drum barrel smoker models and also be talking about what you need to look out for.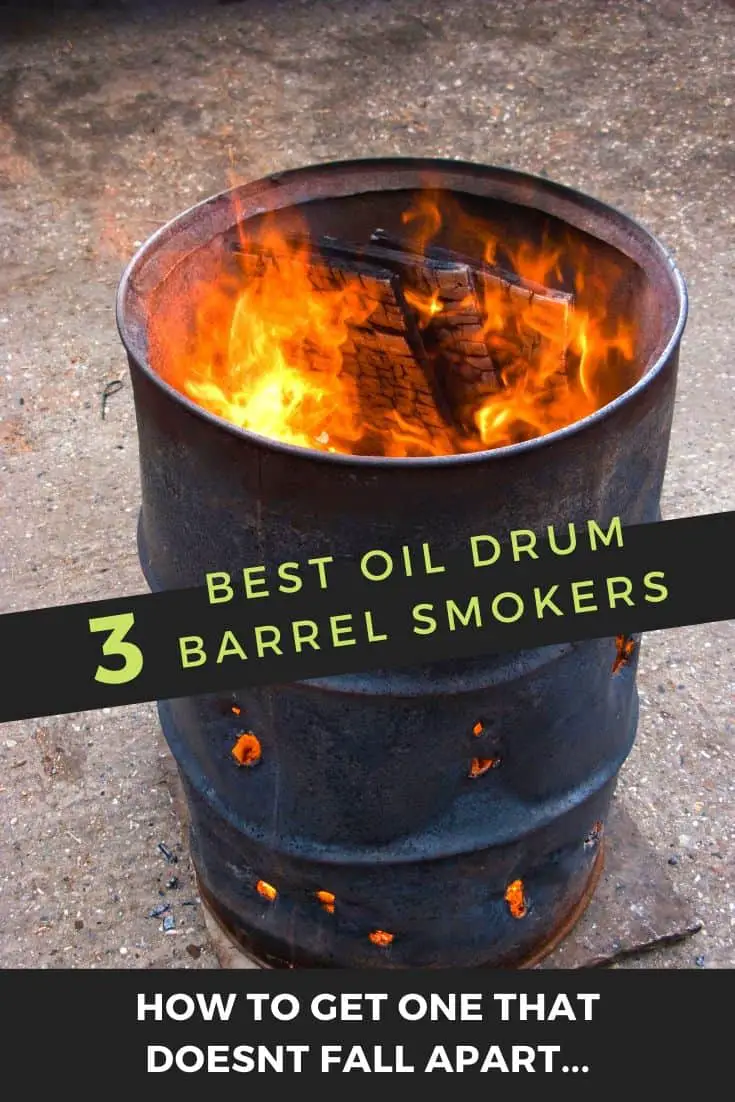 Normally the beef jerky will be ready roughly around 2-3 hours under optimal conditions, meaning, you add charcoal as needed in order to keep the fire at the right size and temperature. If it got too big or too hot, then you'll burn the meat and get a bad taste.
It isn't like cooking on a teppanyaki grill at your house where you can move your meat around your plate a lot.
What Oil Drum BBQ smoker should I buy?
You can get anything from a simple drum to a full-fledged oil drum cooking station. And these are of course in very different price categories.
We recommend getting one of these two, depending on your budget:
Best oil drum smokers reviewed
Best wood & charcoal barrel smoker: Barrel House Cooker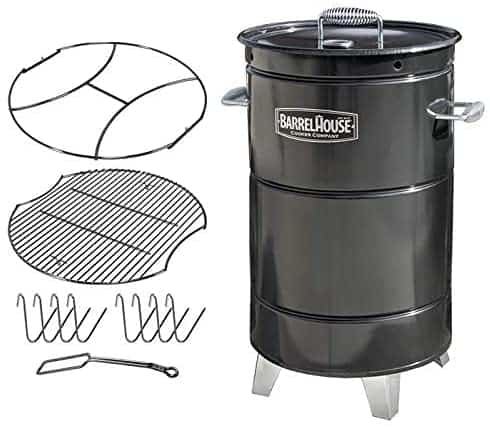 The Barrel House is a bit more expensive, but it's great for that authentic BBQ flavor. The Barrel House is super easy to use and consistently produces quality smoked food 40% faster than traditional smokers.
The unique design infuses flavor by catching meat drippings from meat hanging directly over coals while the virtually sealed barrel creates a convection oven to cook the food evenly from top to bottom.
Look at this video review of the Barrel House cooker:
It really is the best oil drum smoker you can get in our opinion. So if you can spare the extra money, it's more than worth it!
Most complete drum smoker package: Classic Pit Barrel Cooker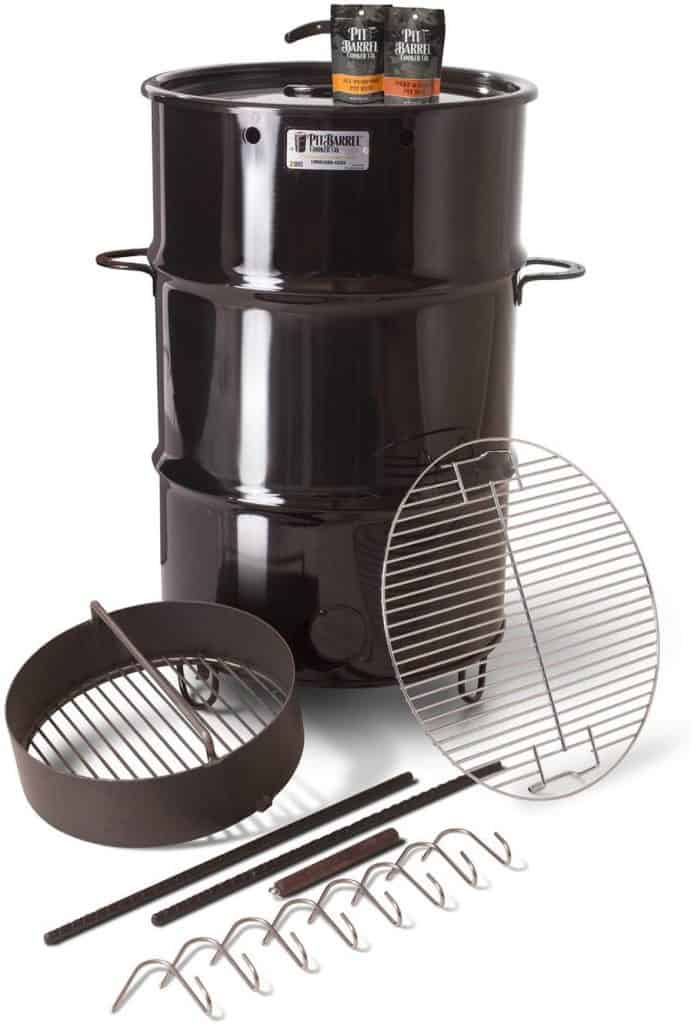 This is the classic under the oil drum barrel smokers and it has been developed and perfected over quite some time.
It is the most complete package which will contain everything you'll need to effectively start smoking your meat. It has 8 hooks to hang your meat on within the barrel and they are actually very very durable and made from quality stainless steel.
And of course, you'll get a grate to put your meat or vegetables on so you can smoke them on the top. It also has a handy coal basket, which is the perfect size to get the right amount of charcoal in the barrel. 
Here's Postal Barbecue with a great review on it:
I always recommend using a charcoal basket, but if you buy a separate one you still don't know how much to put into your particular model oil drum.
It is a perfect and complete package for the smoking enthusiast.
Check prices and availability here
Best budget oil drum smoker: Esschert Medium Barrel
Ok, so I don't recommend getting one of the really cheap ones because you'll end up having to buy a replacement after a year or two, or worse, it might burn through with all of the nasty consequences that come with a thing like that.
But I know not all of you have large budgets to spend on a barrel smoker, so I'll share my best budget tip with you as well. 
The Esschert smoker is not the cheapest model that's available out there by far, but it is a lot cheaper than the previous top choices and still very durable and sturdy. You can haul this baby on the back of your truck for miles, take it off without having to look out that you'll dent it. 
It's a heavy-duty oil drum, that's for sure.
The other nice thing about this smoker is the amount of room you get with two grates on top of each other, plus it has the built-in temperature check with the thermometer.
Are drums smokers any good?
Drum smokers are very popular these days and for good reason! We've written about the benefits of vertical smokers before and 30 gallon oil drums have the perfect shape and size for smoking meat and vegetables. They are easy to take with you on a trailer or in your truck, plus old oil drums are often used for building DIY barrel smokers because they already have the heat resistance built-in.
How do you season your drum smoker?
When you get a brand new drum smoker you need to season it, which is basically burning in some cooking oil. So what I like to do is pull up my oil spray and coat the entire inside of the drum with some cooking spray. 
It's just regular old canola oil. Then fill it up with your favorite brand of charcoal and light it up with your chimney starter or gas burner, you can do it both ways. You can also throw a wax cube in there and light it that way but I really like doing it with my fire starter.

Here's the reason why you want to burn a drum in. It's because it's got the factory oil and just like a cast-iron skillet you have to season it before use.
And it's a really simple process. It's just about getting the metal nice and hot and just like pores on your skin the metal once it heats up it starts to expand and the pores if you
will start opening up allowing the oil to get absorbed or get baked on.
That helps season the drum. Remember to also oil up the bottom side of your lid.
I don't need to leave the vents open because my charcoal is already lit from the firestarter. That way I can go ahead and close this lid so I'm gonna put my grate in there right away and let that burn-in as well.
Don't forget to spray the grate down with oil as well and you can go ahead and shut the intake valves or leave it a quarter of the way open I know that'll usually gets me to about a 300 degrees which is where you want it for seasoning the metal.
How to keep your oil drum smoker clean
There are a couple of products that I think are a must-have. I keep all of my drums nice and shiny. I like to keep the external looking fresh and new and what I use is this McGuire's quick detailer with just a rag and you only need to spray it on and wipe it down. 
If you try to do that after every time you grill you'll keep the paint looking nice and neat.
Preventing grease fire in your vertical drum smoker
One thing I also like to use is a multi-purpose absorbent.
Before grilling I'm going to dump probably a quarter of an inch of that oil absorbent at the bottom and the reason I do that is if you do have some grease that falls on the bottom you don't want a grease fire.
Because obviously that's going to burn your food and you don't want that so I always pick up a big bag of absorbent.
You do have smaller bags but quite honestly you're spending just a couple bucks more and that'll last me a long time. Again, you just need a quarter of an inch or so on the bottom just to absorb any grease and to prevent any grease fires so that's what I use as well.
Now for your first oil drum smoker recipe
Let's get you started smoking your first Beef Jerky recipe.
Ingredients:
2 lbs beef
1 tsp agave syrup
1 tsp onion powder
1/2 tbsp sea salt
1 tsp smoked paprika
1 tbsp course ground pepper
4 garlic cloves
1/3 cup Tamari
1/2 tsp apple cider vinegar
Additional Materials:
Wood for smoking
Charcoal
12 skewers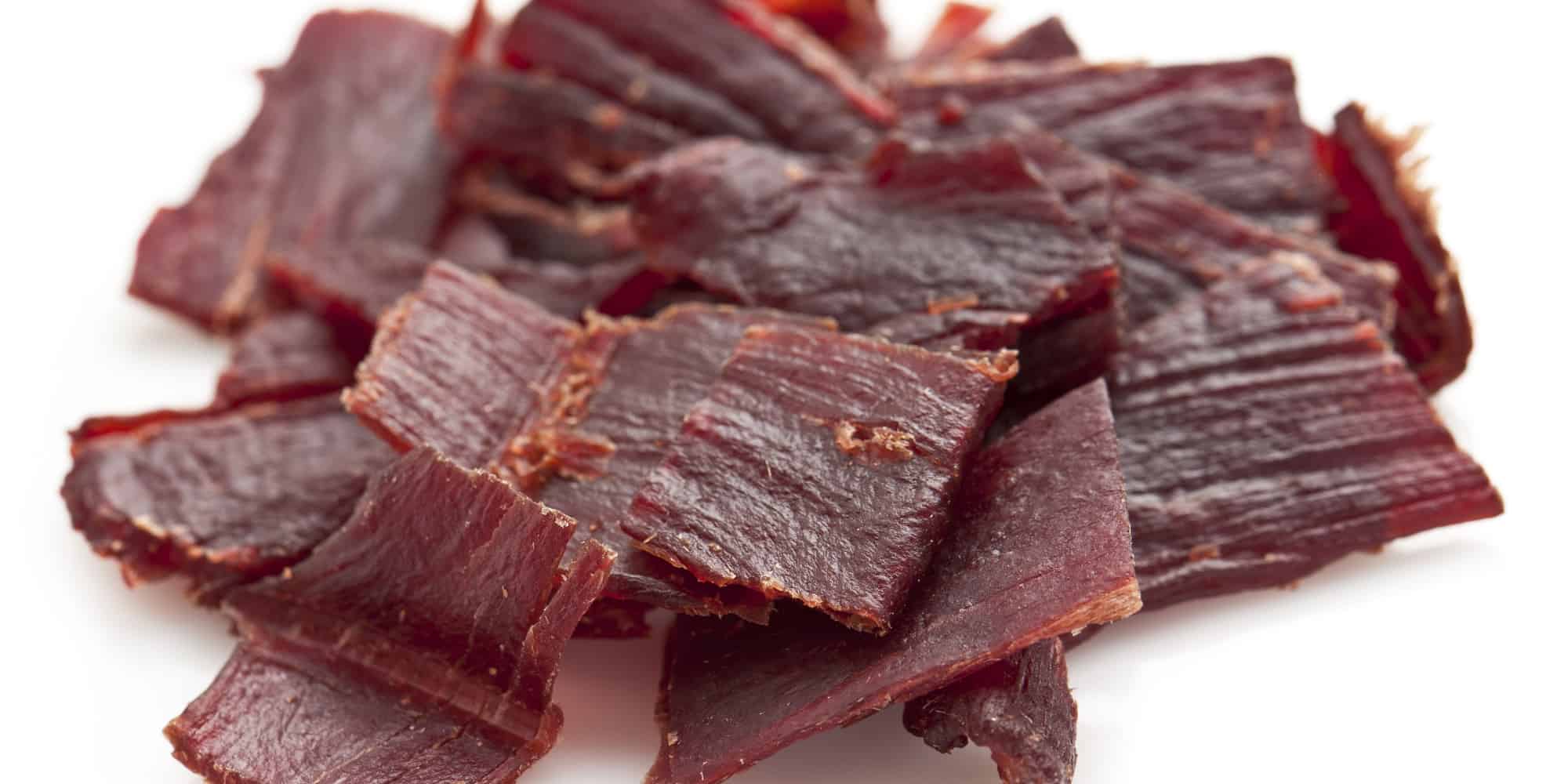 Overview:
You'd need to marinate the meat for at least 8 hours to get the best flavor desired, but just to be sure do it through the whole night.
The meat will be suspended on metal skewers over the oil drum bbq grill so that it will only be smoked by the heat that the fuel chamber creates and not be placed directly on the fire itself.
After an hour and a half, the meat is transferred onto the grates to let the fats and water evaporate completely from them.
Directions:
Chop the fresh garlic and combine it with the ingredients for the marinade and use an immersion blender or a stick blender to mix them thoroughly. Then slice the beef into a quarter of its original length and remove all the fat.
Cut it further into smaller pieces roughly 5 x 4 inches in size, then put the ingredients of the marinade into a large (1-gallon size) zip lock bag and add the slices of meat and leave it in the refrigerator all night.
After removing from the fridge:
Slide the meat into the skewers and secure them tightly as you will be hanging these from the oil drum bbq grill first before you'll place them horizontally on the grates later. Give enough room to separate each meat slice by at least half an inch between them and about 4 inches at the edges of the skewers.
Now for the charcoal fuel on the oil drum bbq smoker don't fill up the fuel chamber, instead only fill charcoal up to ½ or ¾ of the way.
Rake the charcoal to one side of the fuel chamber leaving the other side almost empty and then hang your skewers on the rods suspending your jerky above the unlit/indirect side of the charcoal.
You can add wood chips or pellets to the ember to enhance the fire and smoke.
Also read: these are the best commercial meat smokers reviewed
The best thing about the beef jerky smoked in an oil drum bbq grill is that a few pounds of beef will last for a long time if you keep it refrigerated.
Allow the beef jerky to be smoked for 1 and ½ – 2 hours with the lid closed while you observe it regularly to avoid any mishaps. Rotate the skewers from the grates every 10 minutes so they don't overcook.
Once the flames diminishes roughly 20-30% of their normal size, then add charcoal briquettes to keep the flames burning to the intended amount without letting burn too hot or too big.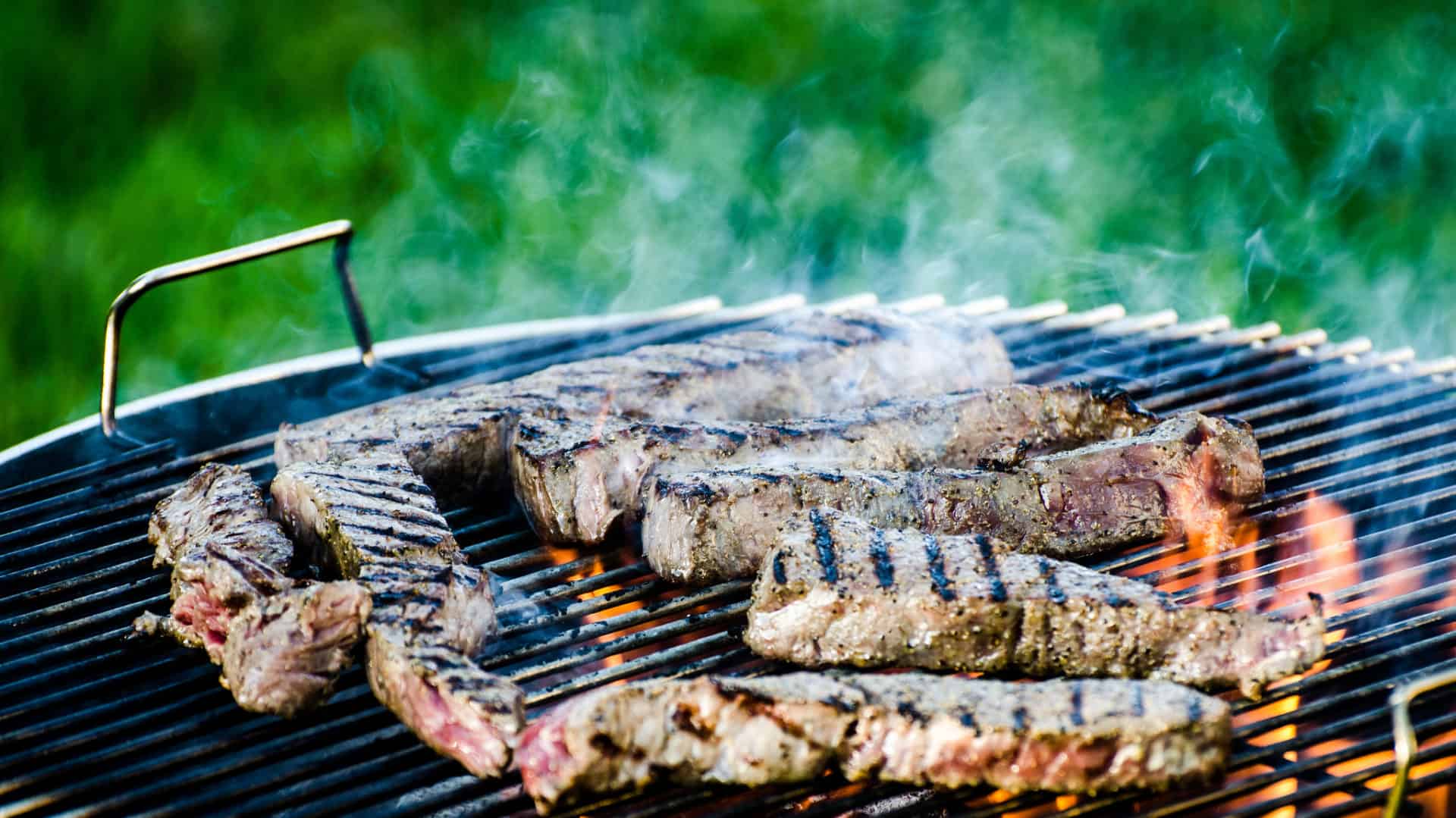 After 2 hours or so, you may notice some jerky have cooked pretty well while others may still have wet spots or have not yet fully dehydrated from the heat. What you'll need to do this time is to remove the meat from the skewers and the rods where they hang from and replace it with the grill grates.
Lay the undehydrated jerky on the grates to smoke it further until it dries up. This should take about 30 minutes and once they're dry and well cooked, then you may serve them.
Store in the refrigerator for maximum freshness- the jerky will last a few weeks. Enjoy!
Want to check out some more bbq smokers? See our complete buying guide with different brands or check out our post on how to build your own barrel smoker