I love creating free content full of tips for my readers, you. I don't accept paid sponsorships, my opinion is my own, but if you find my recommendations helpful and you end up buying something you like through one of my links, I could earn a commission at no extra cost to you.
Learn more
Gas and charcoal both have positives and negatives when it comes to fueling your grill. If you're short on space, and you can't have one of each, then a combo grill is the perfect solution!
Charcoal gives food a great flavor and can be a lot of fun, but sometimes we just need a quick solution. Grilling with gas is faster, and easier, and is a good option for lazy (or really busy) days.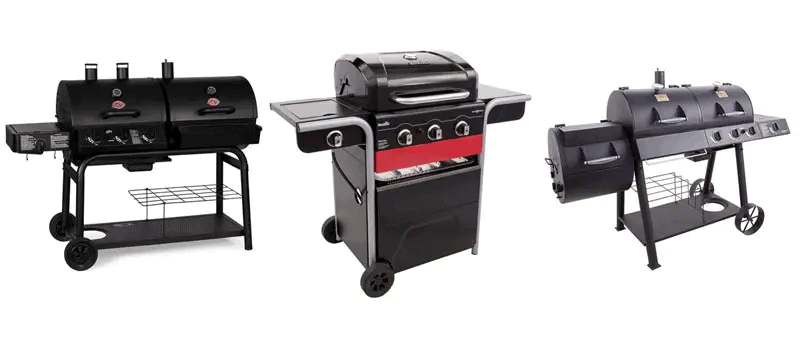 Today I'll highlight my four top gas/charcoal combo grills and explain why they are suitable for different occasions.
Each of these options will also suit a different budget, but be assured – they all have the absolutely essential features needed for grilling on charcoal and gas.
My number one pick for a gas charcoal combo grill is the Char-Griller 5050 Duo as it offers so much for the price. It's a quality grill, has a very manageable size, and is highly affordable for what you get.
Gas and charcoal combination grill buyer's guide
A gas and charcoal combination grill is a pretty unusual type of grill.
So besides the usual things you take into account when choosing a gas/propane grill or selecting a charcoal grill (price, brand, availability), you should also pay attention to three other things that will help you decide which combo grill is best for you and your needs.
Size
Do you have enough space for a large or a small grill? How much are you going to be cooking?
Make sure you have a good idea of the size of the area you have to grill in and try to figure out if you're going to be cooking for large or small gatherings.
This will help you decide whether you need an average-sized grill, or if you need to step it up and get a bigger one.
Accessories & design
Pay attention to the ash removal or grease drainage systems when it comes to cooking on gas. These are the basic design features that every good grill should have.
If you've got the budget to get more than just the basics, then have a good look at the features that each grill offers.
Some offer more useful features than others. Ask yourself whether or not the added features will really enhance the cooking experience and the convenience of grilling for you.
Check out storage areas, hooks, the size of the side shelves, and whether or not you have easy access to the coal.
Two zones
Do you want to cook on charcoal and gas at the same time? In that case, make sure that the grill you're interested in has two separate chambers and allows them to be used at the same time.
Some models only have a single chamber which means you have to choose between charcoal and gas each time you have a cookout.
The 4 best gas and charcoal grills reviewed
Having analyzed pretty much all of the combo models on the market, I believe that there are really only four worthy contenders.
Check out the reviews below, and make your own choice on which of these combo grills would be the best in your situation.
Best gas & charcoal combo grill overall: Char-Griller 5050 Duo
For the price, the Char-Griller 5050 Duo is a fairly large combo grill with some fantastic features.
The gas chamber takes up 438 square inches of the main cooking area, while the charcoal chamber is 580 square inches (totaling 1 018 square inches).
I love the Char-Griller 5050 Duo because it's very versatile, and allows you to cook on gas and coals at the same time.
The charcoal cooking chamber features a double bottom which guarantees better insulation. When cooking, all you have to do to easily refuel is use the grate lift which is included with your purchase.
You can adjust the distance between the charcoal plate and the grates, so you can control the intensity of heat precisely. Just below the charcoal is an ash collection system. Just remove it after grilling for an easy clean-up.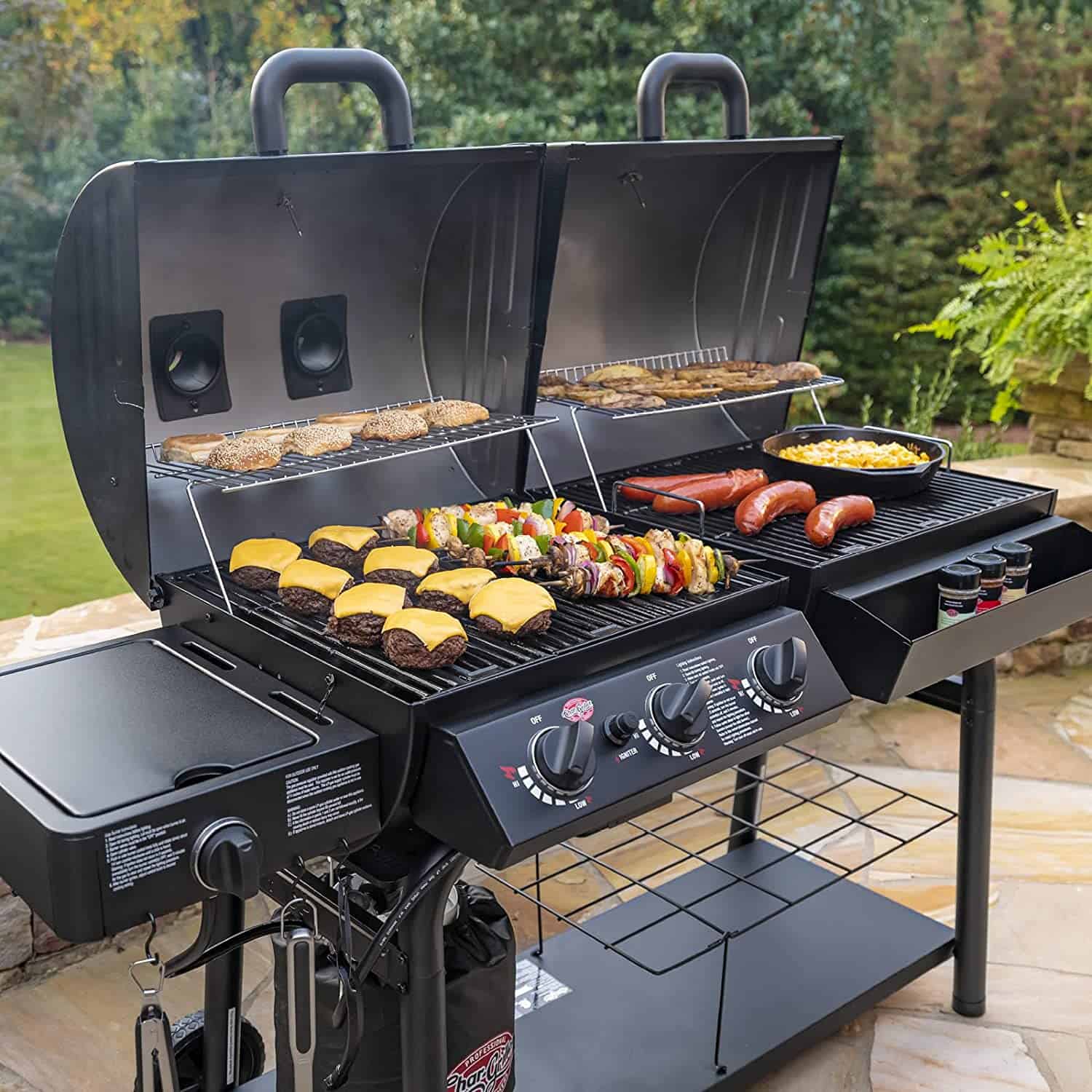 The gas cooking chamber is slightly smaller but features three reasonably powerful burners.
Under the grill, you'll find a grease container to help with quick clean-up. Located next to it is a single side shelf, which can serve as a workspace when cooking.
Hidden under the lid of the shelf is a side burner which comes in handy when heating sauces etc.
The whole thing looks very well constructed. It includes two independent cooking chambers, very large cooking capacity, and a lot of room to store things under the grill.
The one downside is that this grill is not an investment for years to come. Due to the relatively low price for the size of this grill, the manufacturer used materials of slightly poorer quality.
It might result in corrosion appearing early on, especially if you don't take care of the grill. Make sure you get a good grill cover to protect your purchase.
Want to see it in action? Here's how you make the perfect ribs on the Char-Griller 5050:
Features
Size: The gas chamber is 438 square inches, the charcoal chamber is 580 square inches (totaling 1 018 square inches)
Accessories & design: Single side shelf (which doubles as a side burner), lots of storage space under the grill.
Zones: Multi-zoned grill
Best gas & charcoal combo grill for small spaces: Char-Broil Gas2Coal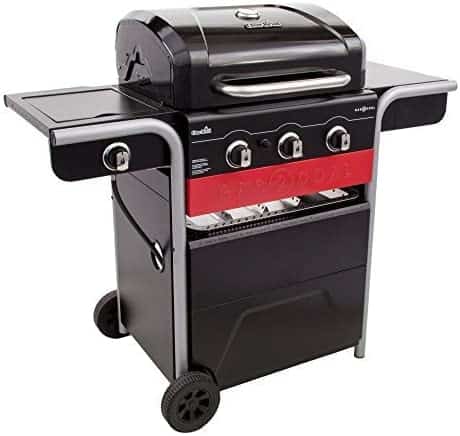 This is the smallest hybrid grill in this list of suggestions. At first glance, it looks like a normal gas grill, but it does have a slightly different design and construction.
It comes with a specially manufactured pan that makes it possible to grill on charcoal.
The Char-Broil Gas2Coal is a great option for people with limited space and those who cook smaller quantities of food.
You can cook on charcoal or gas, but you have to choose one or the other. It is not possible to cook on both at the same time.
That's the main reason why this combo grill is much smaller than other options – it only has one cooking chamber.
I have mentioned that in this category of grills this is a small-sized model but in reality, it has whole 420 square inches of the main cooking area.
Add to that three strong burners, and it turns out to be a very efficient grill for its size and price.
Here's an unboxing video of this model to give you a sense of the size, material, and durability:
If for any reason you want one small-sized grill that makes it possible to cook on charcoal and gas instead of two separate ones, it's a great solution.
It has two side shelves that provide a lot of working space, one of which even has a hidden side burner.
Out of all the grills in this guide, only Char-Broil Gas2Coal stands out with a compact size that doesn't take that much space, plus it comes at an affordable price.
Features
Size: 420 square inches of main cooking area (24.6 x 52.5 x 47.5 inches); 110 Pounds
Accessories & design: The Gas2Coal features a 12,000-BTU side burner with a lid, to help maximize prep space when not in use, plus two compact side shelves
Zones: There's only 1 zone, so you need to choose between gas and grill. You can't do both at once
Find the best lump charcoal reviewed here, don't go for low-grade fuel!
Best gas & charcoal combo for grilling AND smoking: PIT BOSS Memphis Ultimate 4-in-1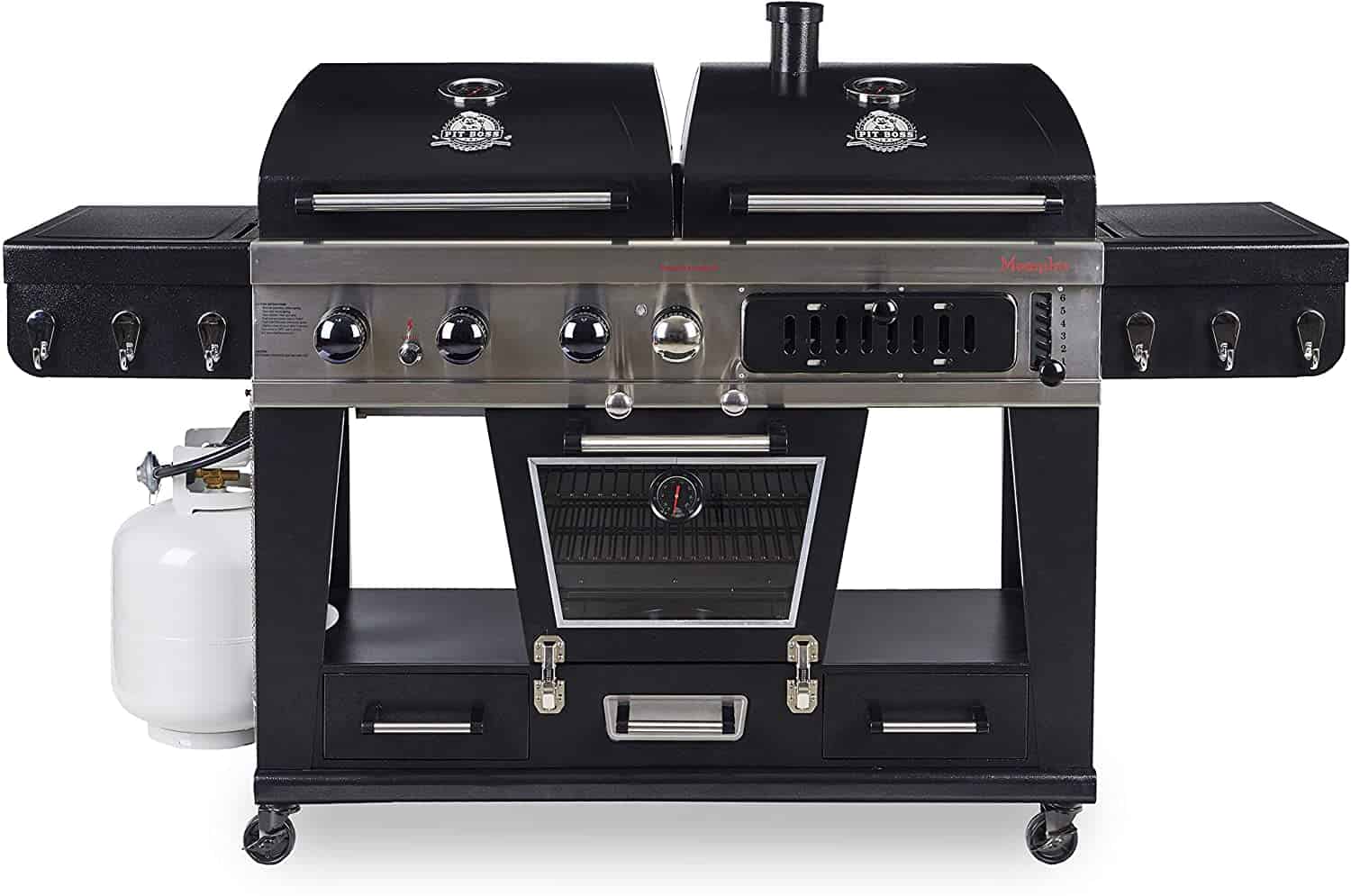 This grill offers more than just cooking on charcoal and gas. The first of its kind, the Memphis Ultimate combines gas, charcoal AND features a glass-doored electric smoker.
If you buy this option, you won't need to invest in any other type of grill (unless you want a small model for camping!). This is for the griller who wants everything in one plus convenience.
Grill your meat (on gas or coal), smoke your cheese and enjoy a delicious meal with friends and family.
Here's a happy griller showing the grill after having used it for 3 months already:
The total cooking area is 2,167 square inches. The grill area totals 1,327 square inches, while the electric smoker is pretty big for an 'added feature' at 840 square inches. Plus you get three stainless steel burners.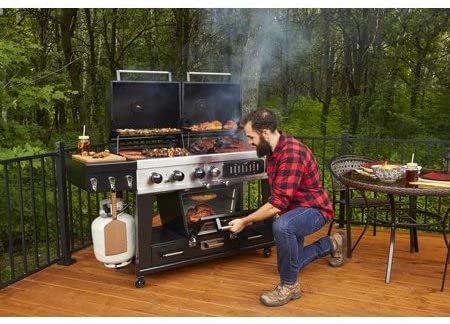 The ingenious engineering of the Memphis Ultimate allows you to offset the smoke from the smoker into either grill side, for a delicious added smoke flavor to anything you cook.
All of these features do, however, come at a pretty hefty price. This is the most expensive combo grill on my list. But in my opinion, if you have the budget, the features are definitely worth the investment.
Features
Size: Total cooking area: 2,167 sq in Grill cooking area: 1,327 sq in Electric smoker: 840 sq in
Accessories & design: Can be used as a liquid gas grill, a charcoal grill, a smoker, or indirect cooking 4-in-1 smoker for the full BBQ experience
Zones: Multi-zoned plus a smoker
Also read: How Does a BBQ Smoker Work, what is a smoker & what does it do?
Best low-budget gas & charcoal combo grill: BLOSSOMZ Dual Fuel Combination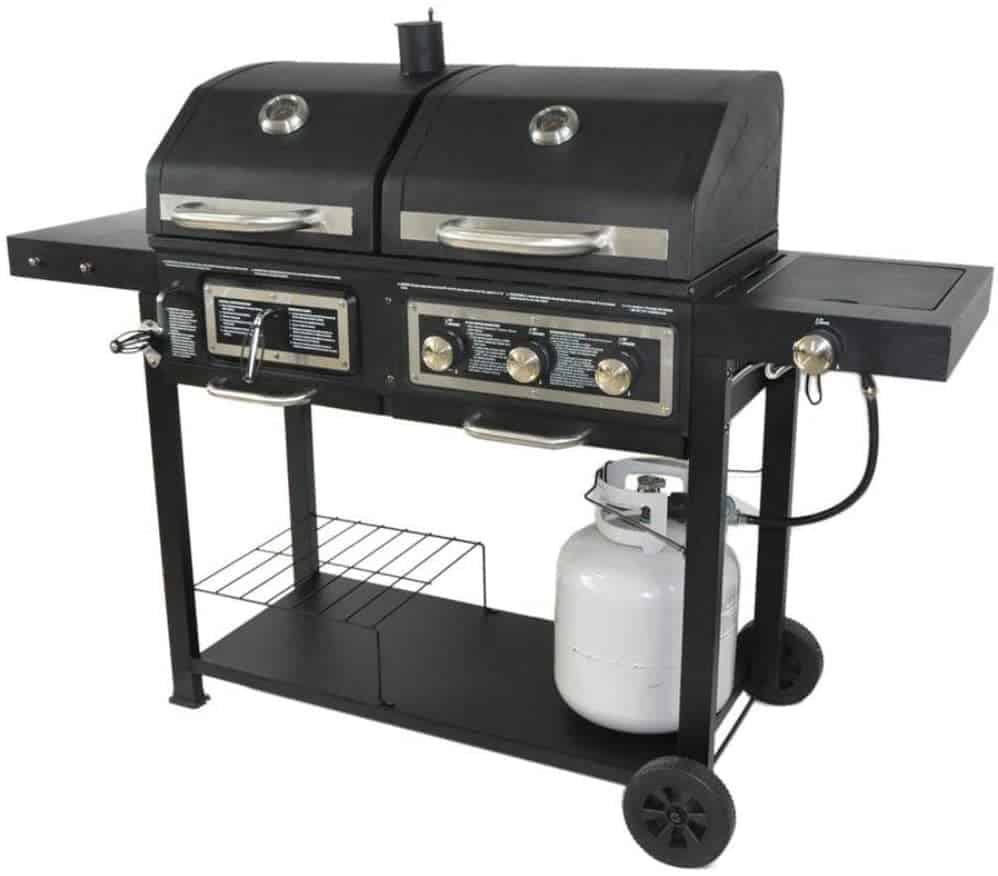 While not a well-known brand in the grilling community, this grill is surprisingly efficient for its price.
The cheapest option on my list by far, the BLOSSOMZ Dual Fuel Combination Charcoal/Gas Grill offers all of the convenience of combo cooking at a discount price.
This does mean that the quality of the build and accessories are not top-notch, but this grill will last you a couple of seasons if you look after it. It's a good option to get if you want to try out the combo grill but don't want to spend a fortune.
It offers just slightly more cooking space than the Char-Broil Gas2Coal, and features two different zones so you can use both gas and coal at the same time.
The grill also includes a gas-powered side burner that can be used to prepare your favorite sauces or a whole host of other dishes. It also includes integrated tool holders and a handy bottle opener.
Features
Size: The grill has a total of 557 square inches of cooking space (262 square inches of charcoal, 295 square inches of gas). Plus an additional 188 square inches of warming space.
Accessories & design: As an added convenience, the grill includes a gas-powered side burner that can be used to prepare delicious sauces or other dishes
Zones: Multi-zoned grill
Also get your hands on a good instant-read thermometer to help you get the temperature 'just right' while grilling
Takeaway: advantages of a combo grill
Instead of two separate grills, you have one solution to cook on gas or charcoal. Most models offer the option of cooking on both at the same time thanks to two separate zones.
A single grill takes up less space and allows for flexibility when deciding what you'd like to cook and how you'd like to cook it.
Charcoal is added great flavor to the food and requires your input throughout the cooking process. It's much more personal, and you can add your own 'flavor' to the final product by selecting your preferred coal and maintaining your preferred temperature.
The downside is the large amount of time you have to spend getting the charcoal burning and monitoring it. Plus the clean-up is a little messier than with propane.
Propane makes a useful alternative to coal as it is fast and convenient. All you have to do is turn the burner knob and after a few minutes, you can start cooking.
Temperature control is much simpler and so is the entire cooking process. You don't have to remove ash, all you have to do is turn off the burner, clean the grill grates and that's it.
These are the main reasons why people decide to buy a hybrid grill. Now that you know about the recommended options available, which one do you think would best suit your needs?
Get your charcoal grilling to a next level with wood pellets. Here's How to Use Wood Pellets on a Charcoal Grill
Joost Nusselder, the founder of Lakeside Smokers is a content marketer, dad and loves trying out new food with BBQ Smoking (& Japanese food!) at the heart of his passion, and together with his team he's been creating in-depth blog articles since 2016 to help loyal readers with recipes and cooking tips.