I love creating free content full of tips for my readers, you. I don't accept paid sponsorships, my opinion is my own, but if you find my recommendations helpful and you end up buying something you like through one of my links, I could earn a commission at no extra cost to you.
Learn more
We all know that you're not going to get a state-of-the-art gas grill for under 200 dollars. In fact, I wouldn't recommend getting anything cheaper as it just won't last.
However, I've done my research, and I've tried out several low-budget grills to find out if there are any good options available in this price range.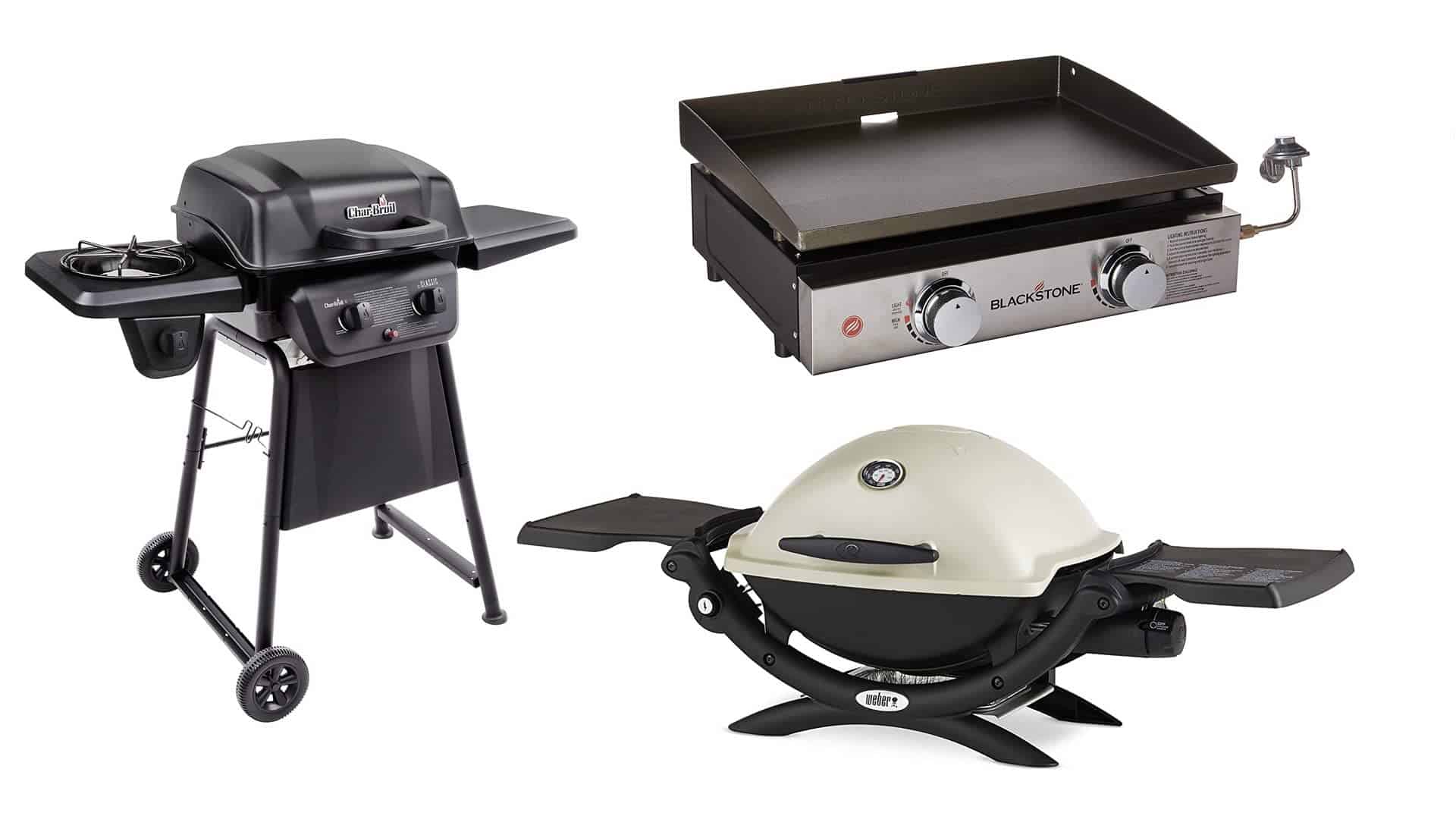 I'm happy to tell you that there are three grills that I would recommend to anyone who really wants a gas grill but just doesn't have the budget to spend more than $200.
Due to the price, you're not going to get a full-sized grill, so I've identified three mobile ones that will work just as well.
If you've read any of my other reviews, you will know that I am an avid fan of Weber and its quality. That's why, when it comes to this list, Weber Q1200 is my top choice. You will not be disappointed with this small but efficient and durable gas grill.
In this post we'll cover:
Tips for buying a new gas grill under $200
This is a short-term investment, as the quality of the grill is limited by the price.
However, there are a few things to take into account to help you identify the higher quality items at this price.
Size
In terms of the cooking area, there isn't much difference between grills at this price.
There's a huge difference, however, in terms of how much space a particular grill takes up – depending on the type of construction.
If you have limited space, then make sure the grill you choose is going to fit!
The number of burners
When it comes to full-sized grills, the minimum you should have is two burners.
However, mobile grills are made to move around and are usually lightweight. They have been specifically designed to function well, even with minimal burners.
For mobile grills (depending on the construction), one quality burner can actually be enough.
Going off the grid? Find the Best Grills for Camping Grills Reviewed here (+ 7 campsite cooking tips)
Durability & warranty
Most stationary grills below 200 dollars are characterized by the relatively poor quality of materials. However, if you're looking at smaller, mobile grills, you will get a grill that's of better quality than a full-sized one at that price.
You probably won't have a long warranty on any grill that costs less than $200, but it's always good to check out the warranty period.
It helps you to see how much the manufacturer stands by their product and gives you an idea of how long it is reasonably expected to last.
Best gas grill under $200: Weber Q1200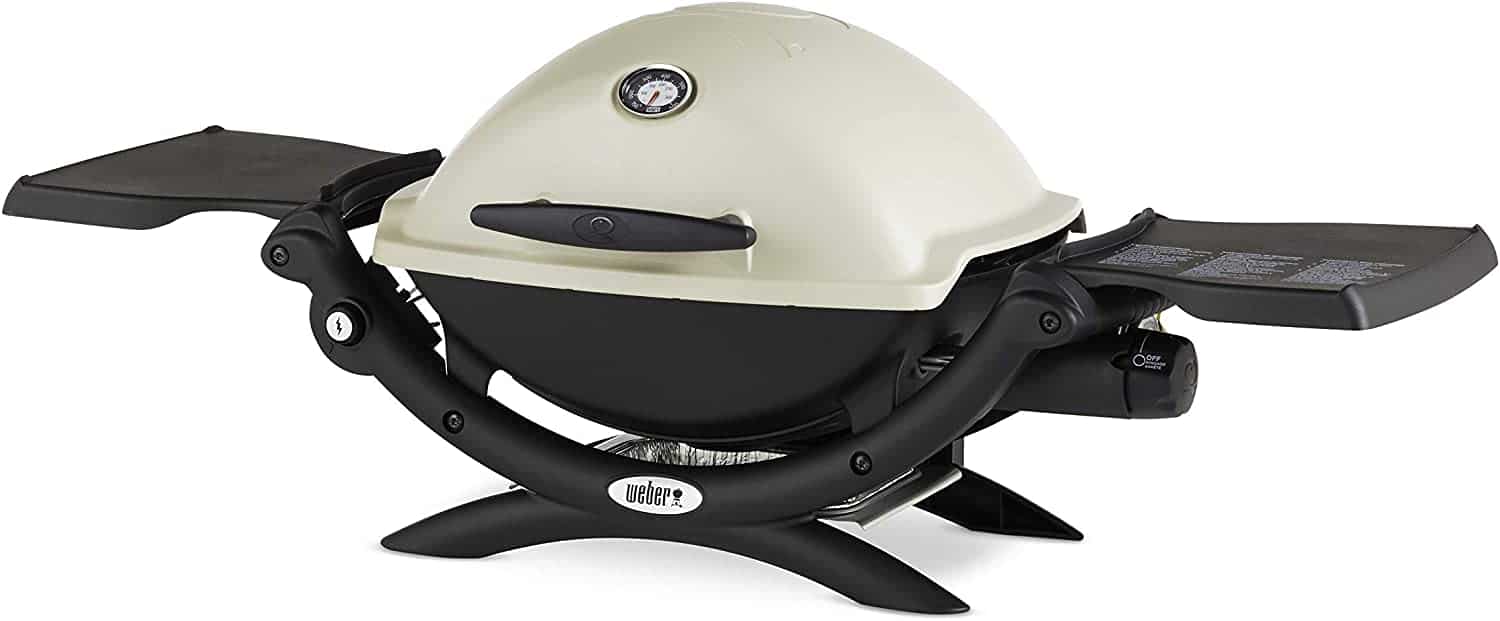 I know that this suggestion slightly exceeds the established budget (by around $20), but it is well worth the extra stretch on your wallet as it is a truly excellent quality product.
When you buy a Weber Q1200, I guarantee you won't be disappointed with what you get.
It's a very mobile grill that is mostly recommended to those who love camping and tailgating.
But that doesn't mean you can't use it at home too. It fits perfectly on small balconies for those who have limited space.
If you've got a little bit of extra cash at some point, invest in a separately sold Q portable cart. This elevates it up to the height of a full-sized stationary grill.
The grill comes with 189 square inches of cooking area on high-quality porcelain-coated cast-iron cooking grates.
It only has one burner, but its construction covers a huge part of the surface which makes it warm up very quickly, and reach high temperatures that are adequate for grilling steaks, for example.
The main body made of cast aluminum makes the whole grill lighter yet also more resistant to rust, and durable. It includes a grease drainage system that can easily be removed and emptied.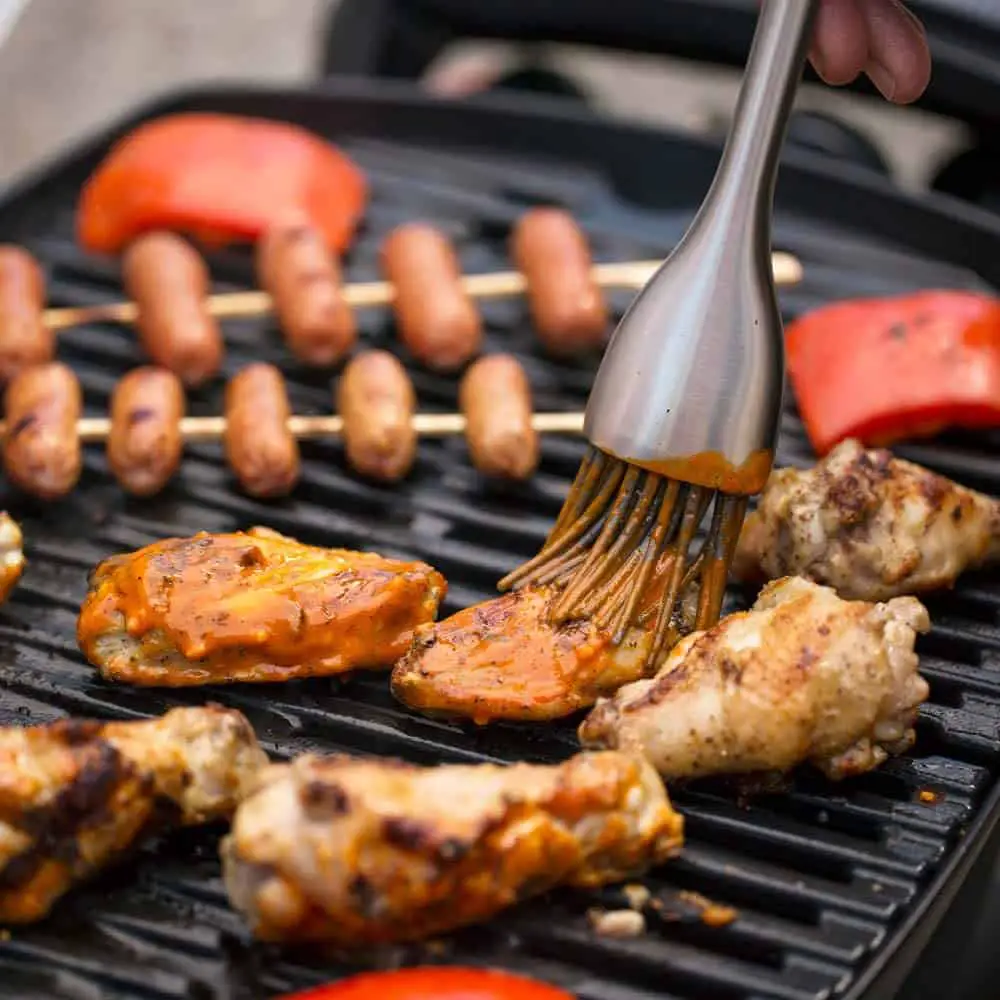 One of the best parts of this little grill is that the manufacturers are a solid, respected brand, and Weber stands by their products.
They offer various warranties on different parts of the grill, but you get an idea that it will last you a few good seasons.
In my opinion, it's always better to buy a smaller, solid, and versatile grill made by a respected brand than get a low-quality full-sized grill.
Features
Size: 189 square inches of cooking area
Burners: 1 burner
Durability & warranty: Different parts are covered for a different number of years – some up to 5 years
Add some flavor to your BBQ! These are the top 8 best BBQ sauces for the perfect finish and flavor
Most durable gas grill: Weber Q2200

This option combines the functionality of a compact grill and the efficiency of a stationary one. I love the result – which is a great little grill that works great in many different situations.
You can add to its functionality by purchasing the additional Q portable cart (sold separately) which turns the table-top grill into a stationary grill.
The Weber Q2200 is a phenomenal grill for anyone who doesn't have a lot of space, or who wants to travel with their grill.
It offers almost as much cooking area as the stationary Char-Broil Performance 300 even though it only comes with one burner.
But thanks to the efficient design and construction of the Weber grill, the burner is extremely effective and heats up very fast. It reaches perfect temperatures for grilling steaks, and you can even get perfect sear marks!
This grill also gets a huge thumbs up from me for the solid Porcelain-enameled, cast-iron cooking grates. The greatest advantage of the Q2200 is versatility.
Today you can cook a small meal on it at home, but tomorrow you can easily go camping with it.
Of course, you don't need to buy the Q Portable Cart, you can use it without a stand like a tabletop grill but due to the convenience and functionality, I really recommend buying it.
The different parts have different levels of warranty, but some are up to 5 years.
Pros
Size & mobility: 280 Square Inches of cooking space, designed for mobility and perfect for camping
Burners: 1 burner
Warranty: The different parts have different levels of warranty, but some are up to 5 years.
Cons
Accessories & gadgets: No additional accessories, but it is a high-quality product for the price.
Takeaway
For passionate grillers who don't have the budget to spend loads on a grill, it is comforting to know that there are some good options out there for $200.
While they are smaller than full-sized grills, they will do a great job of grilling your food, and provide a good few seasons of fun for you and your friends.
From low end to high end: the stainless steel grill. These are the best stainless steel grills, for your viewing pleasure
Joost Nusselder, the founder of Lakeside Smokers is a content marketer, dad and loves trying out new food with BBQ Smoking (& Japanese food!) at the heart of his passion, and together with his team he's been creating in-depth blog articles since 2016 to help loyal readers with recipes and cooking tips.