I love creating free content full of tips for my readers, you. I don't accept paid sponsorships, my opinion is my own, but if you find my recommendations helpful and you end up buying something you like through one of my links, I could earn a commission at no extra cost to you.
Learn more
Who doesn't love an awesome tailgate party? Tailgate gatherings usually take place in parking lots before sports games or music concerts, and they are not complete without a good grill going on.
Plenty of people gather at an open tailgate in order to spend quality time with their friends. The key 'ingredients' for an epic tailgate gathering include grilled food (can you taste those steaks?), drinks, snacks, and good friends.
If you're a fan of tailgating and want to make sure you've got the right gear for the next event, then this is the article for you!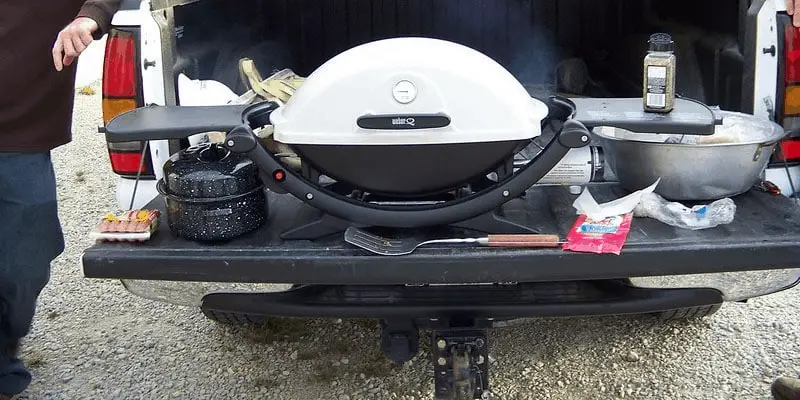 My personal favorite grill for tailgating is the Weber Jumbo Joe. The size, durability, and mobility of this grill make it an absolute winner. Plus, it's charcoal-fuelled which ensures your food always tastes absolutely delicious!
There are more options that might be more suited to your purpose though. I've highlighted some of the best tailgate grills out there and done the research so you don't have to.
Tailgate grill buyer's guide
If you're looking for a grill to use at a tailgate party, then you need to consider a few different factors to conventional grills.
Here are some tips to narrow down the massive range of options, and get you thinking in the right direction.
Budget
Due to the large price range, I suggest starting with a defined budget. This will allow you to only look in the price range you can afford, rather than just browsing aimlessly.
Tip: If you have a very limited budget, then go for a simple portable charcoal grill. If you have more cash and expect functionality and convenience, the perfect option will be a portable gas grill.
Type of fuel
There are many types of tailgate grills, and they all differ in the source of power they use. Among the most popular ones are charcoal and gas, but there are also other options.
You need to learn their pros and cons so that you can decide which type is the best for you. (Check out the details on fuel types at the end of this article).
Size
A truck's tailgate is fairly big and can accommodate a large grill, but you may only need a smaller one depending on the number of people you're cooking for.
By choosing the right size of cooking area you can save money and cleaning time, so this is an important call.
Mobility
Mobility is essential for tailgate grills! Your grill should have useful handles, folding legs, a stand, and side shelves. All of these allow for convenient transport and comfortable cooking on site.
Cleaning
Remember that when you're done cooking you need to clean the grill. No matter what grill you have, you're going to have to take steps to remove things like ash or grease and food remains.
It is obviously best for the grill to have features that make this cleaning as easy as possible.
Accessories
Plenty of brands offer useful accessories, especially for those who cook away from home.
For example, most grills have a separately sold griddle that is great for preparing sides.
And certain tabletop grills offer a separately-sold stand that allows you to achieve the same setup as a stationary grill.
The 4 best tailgate grills reviewed
A good tailgate grill is one that meets all your needs. Here are 4 of my top picks, with each one based on slightly different requirements.
Depending on your budget, type of fuel you prefer, and size, you will certainly find something perfect amongst these options.
Best tailgate grill overall & best charcoal grill: Weber Jumbo Joe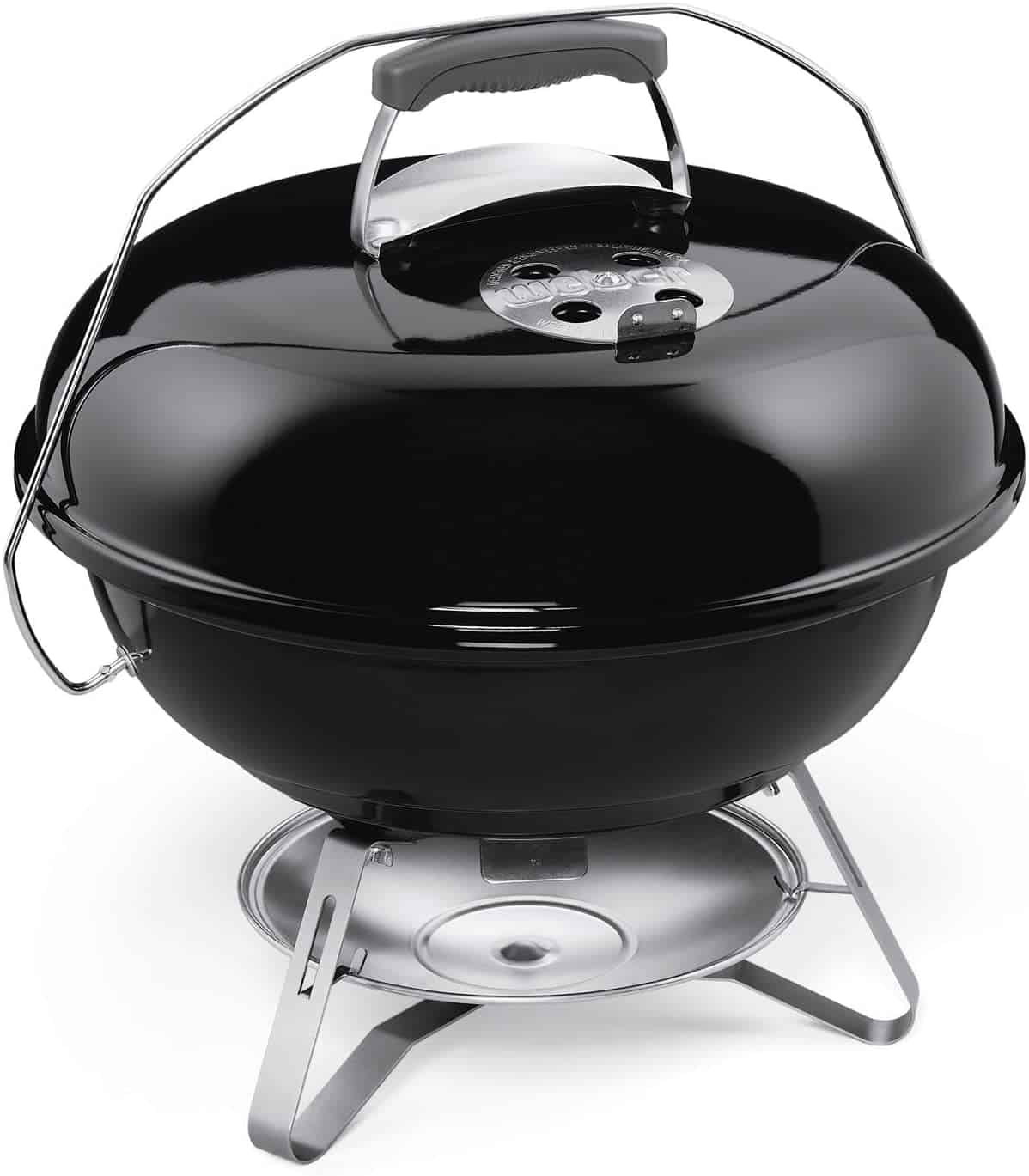 The Weber kettle is one of the most recognizable grills – even among those who have nothing to do with grilling. This one is a minimalistic kettle in the portable version, perfect for tailgating and camping.
The Weber Jumbo Joe is efficient, mobile, and comes at an excellent price. Plus it's of great quality. If you look after it, it can last as long as a full-sized kettle grill.
Of course, it's not among the most lightweight and smallest grills but it's a great combination of mobility and functionality that makes it a winner. It can also be used for smoking (particularly if you include some additional accessories).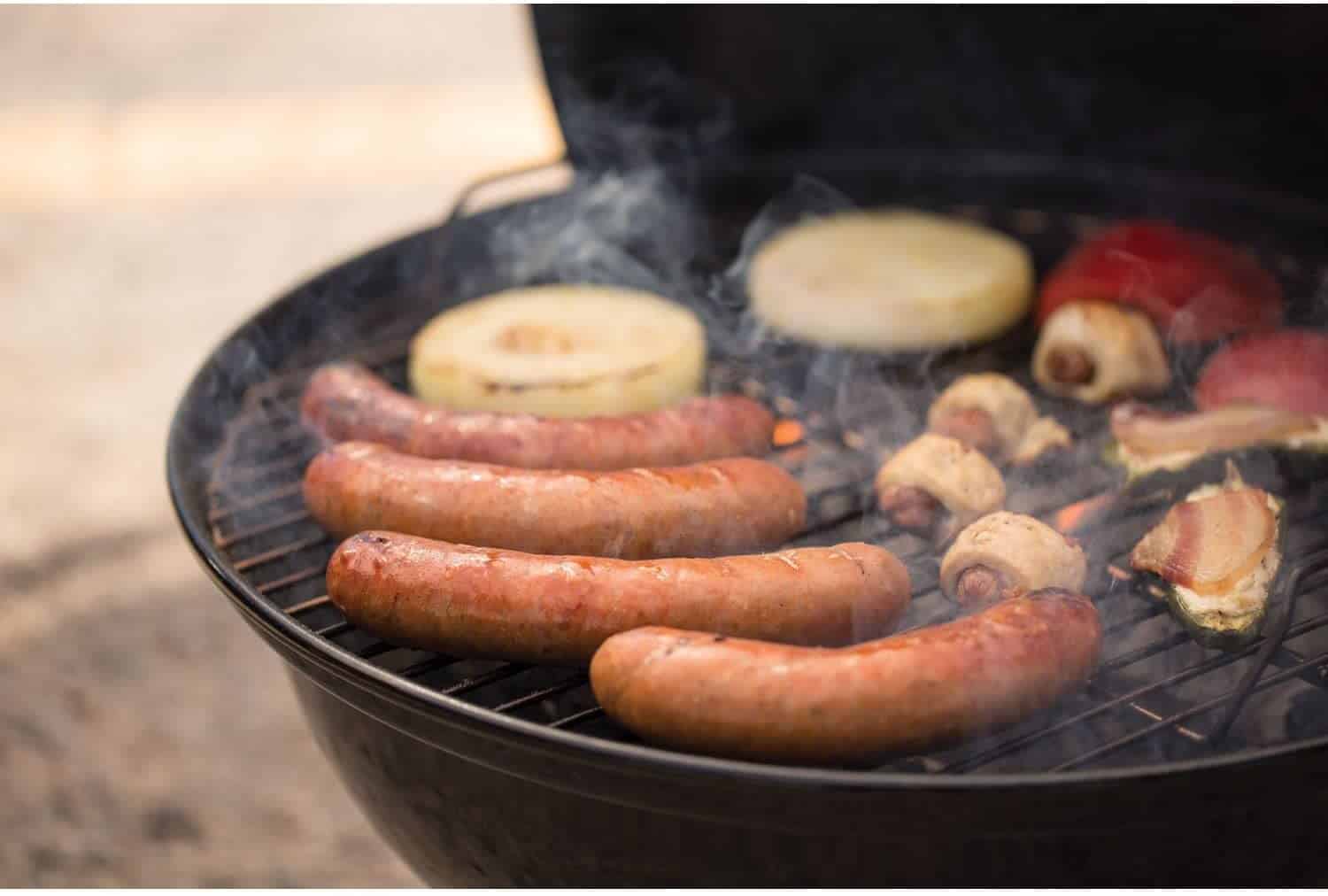 Despite small-sized construction, it has 240 square inches of cooking area. It also has an aluminum ash catcher for easy cleanup.
I personally love the excellent airflow control which allows you to control the heat throughout the cooking period.
Pros
Budget: Very affordable for the size and quality
Fuel: Charcoal
Size: 19.75 x 20.5 x 19.75 inches; 17.65 Pounds
Mobility: The compact size with a larger grilling area and the convenient carry handle is perfect for any weekend getaway or tailgate party
Cleaning: Aluminum ash catcher
Cons
Accessories: It offers all the essentials but doesn't come with any additional accessories
Back home after your cookout? Give your grill some TLC. Here's how to Clean a Weber Grill.
Best propane & lightweight tailgate grill: Weber Q2200

A very big, solidly made, and versatile propane tailgate grill for people who care more about fast and convenient grilling than about taste (although the flavor is only marginally impacted).
A grill this large really comes into its own when you want to quickly and easily prepare a large amount of food for hungry people.
The Weber Q2200 fits in the portable grill category but with 280 square inches of main cooking area, one could think that it's a full-sized grill.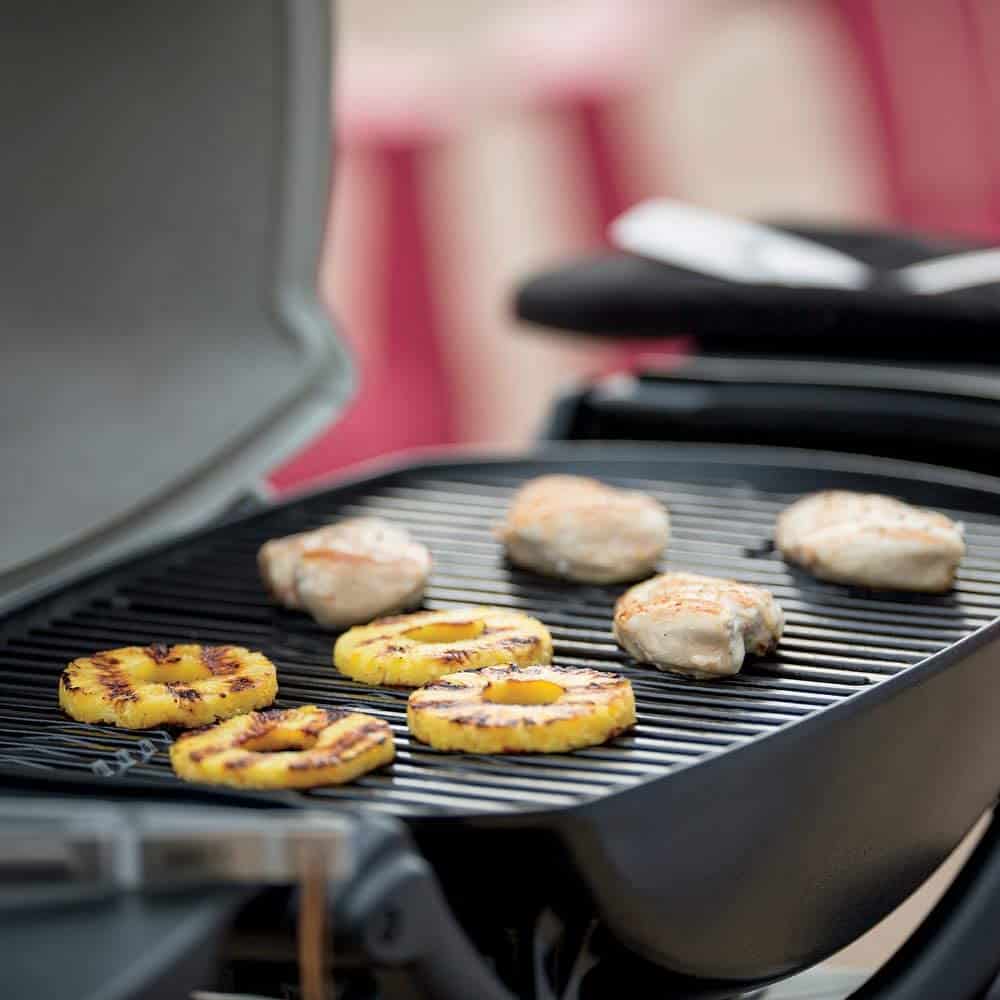 You can buy a separately sold Q Portable Cart in order to get the comfort and convenience that you are looking for. The stand folds, so it doesn't take much space and can be easily brought along on the road.
With this grill, you can conveniently cook on a car's tailgate or next to the vehicle on a stand. It has many other interesting accessories available at stores, like a griddle, too.
Pros
Fuel: Propane
Size: 25.1 x 51.4 x 26 inches; 42.5 Pounds; 280 square inches of cooking space
Mobility: Very mobile, and easy to carry
Cleaning: Removable catch pan allows for easy cleaning
Accessories: Built-in lid thermometer, folding side tables, removable catch pan
Cons
Budget: Quite a lot more expensive than the Weber Kettle grill, but it does have some great accessories and is extremely high quality
Best flat top propane grill for tailgating: Blackstone Table Top Grill 22 inch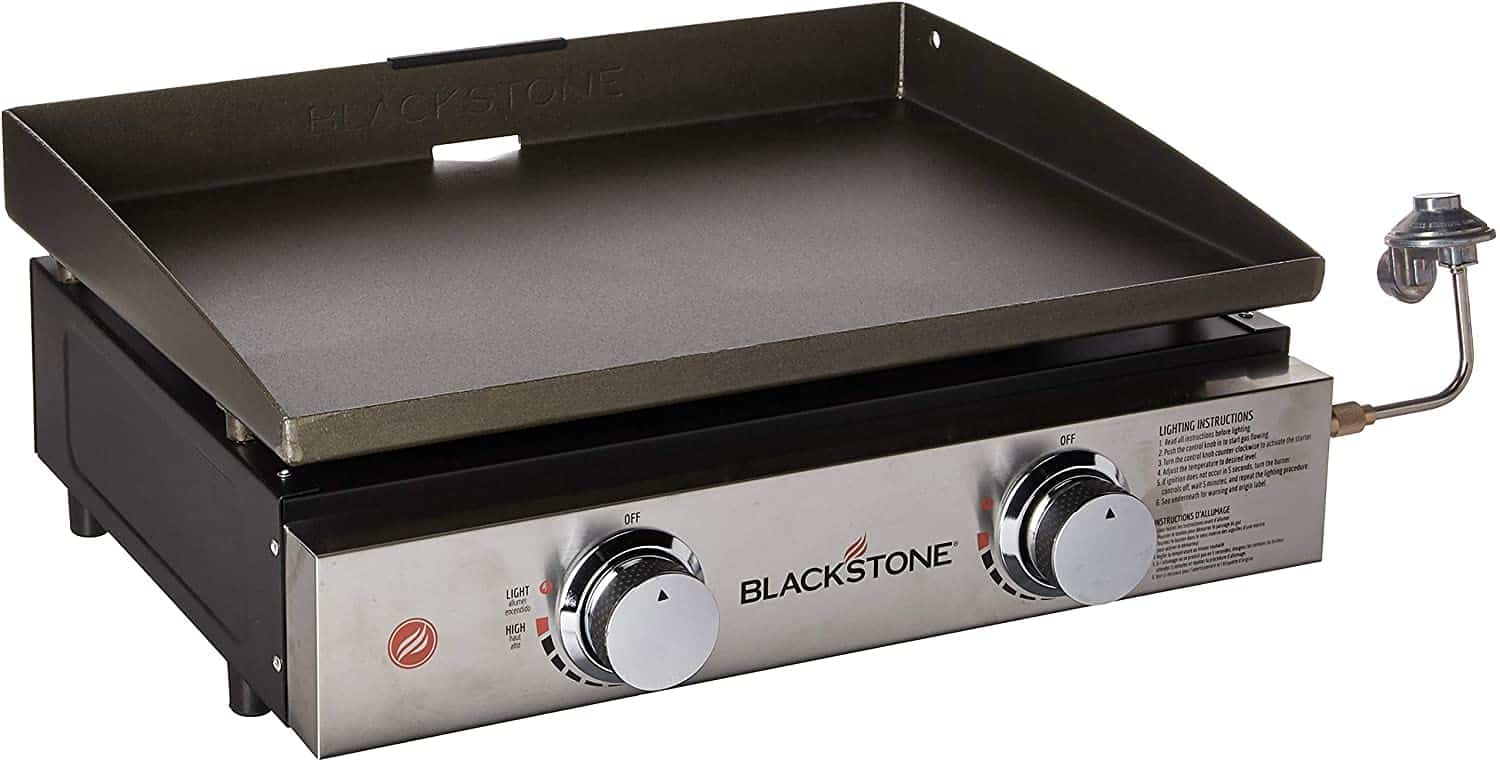 A very interesting alternative to regular grilling at a tailgate party is griddle grilling.
The Blackstone Table Top Grill 22" offers a large cooking area, as well as versatility and mobility. The flat plate makes it possible to cook completely different types of food, rather than just the classic meat from a regular grill.
There are no grill grates here, so you don't have to worry about food falling through. Instead, a flat plate makes it possible to cook small vegetables, pancakes, and eggs.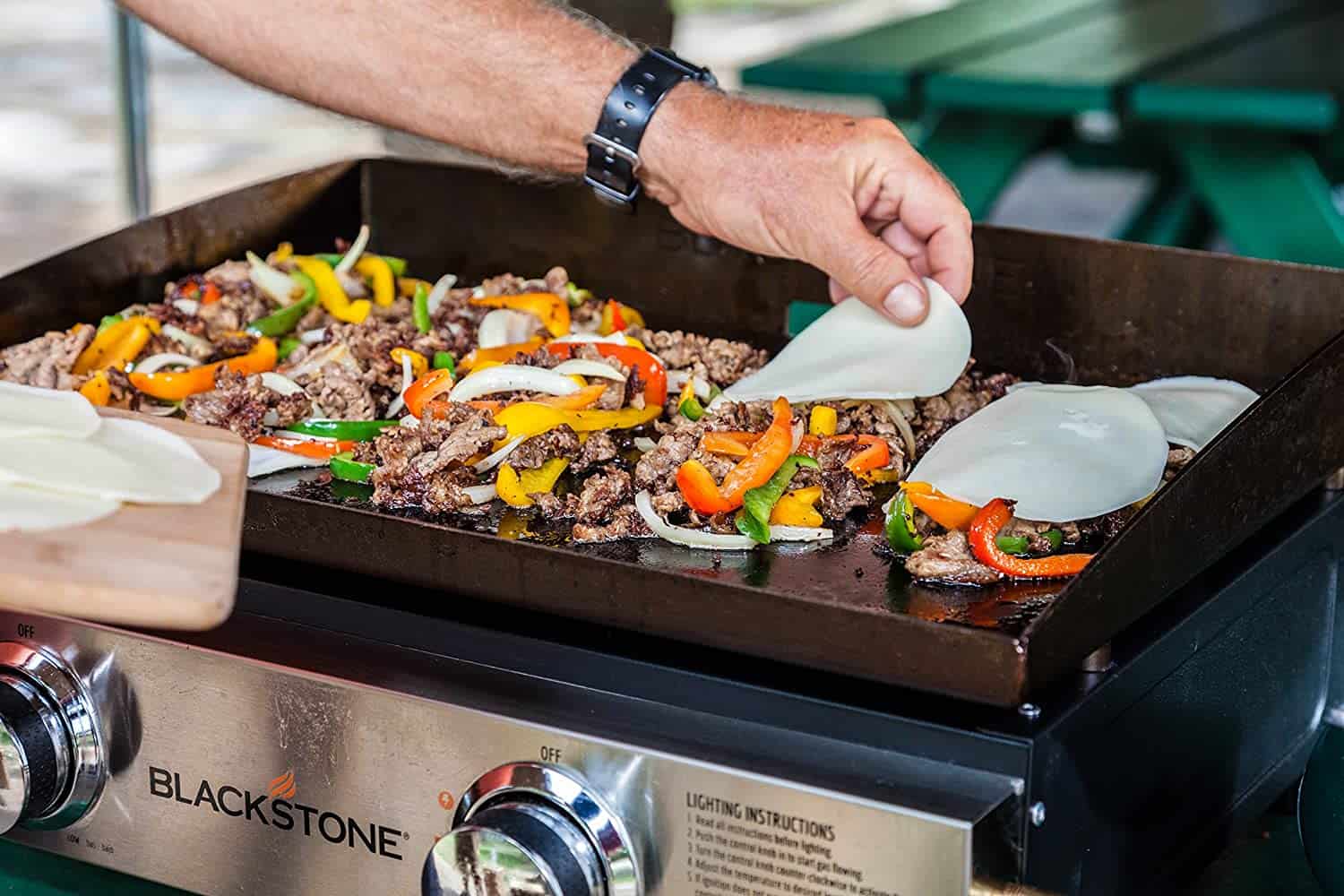 The grill has 330 square inches of cooking area and two independently controlled burners.
Such a combination makes it possible to create two heat zones, which you can use to cook different types of food at the same time.
You can, for example, grill wieners and burgers on one half and veggies and pancakes on the other half.
There is a grease collection system that ensures cleaning is no hassle. This is a solid and durable grill, intended for cooking away from home.
The simple construction is functional and unlikely to malfunction, while also maintaining the key portable features.
Pros
Fuel: Propane
Size: 22.5 x 19 x 9 inches; 32 pounds; 330 square inches of cooking area
Mobility: Very mobile, it was built for tailgating and camping
Cleaning: Easy-to-clean grease drainage system
Cons
Budget: This is in the higher budget range, but it does offer a lot of quality for the price
Accessories: No special accessories
Best 3-burner propane grill for tailgating: Coleman RoadTrip 285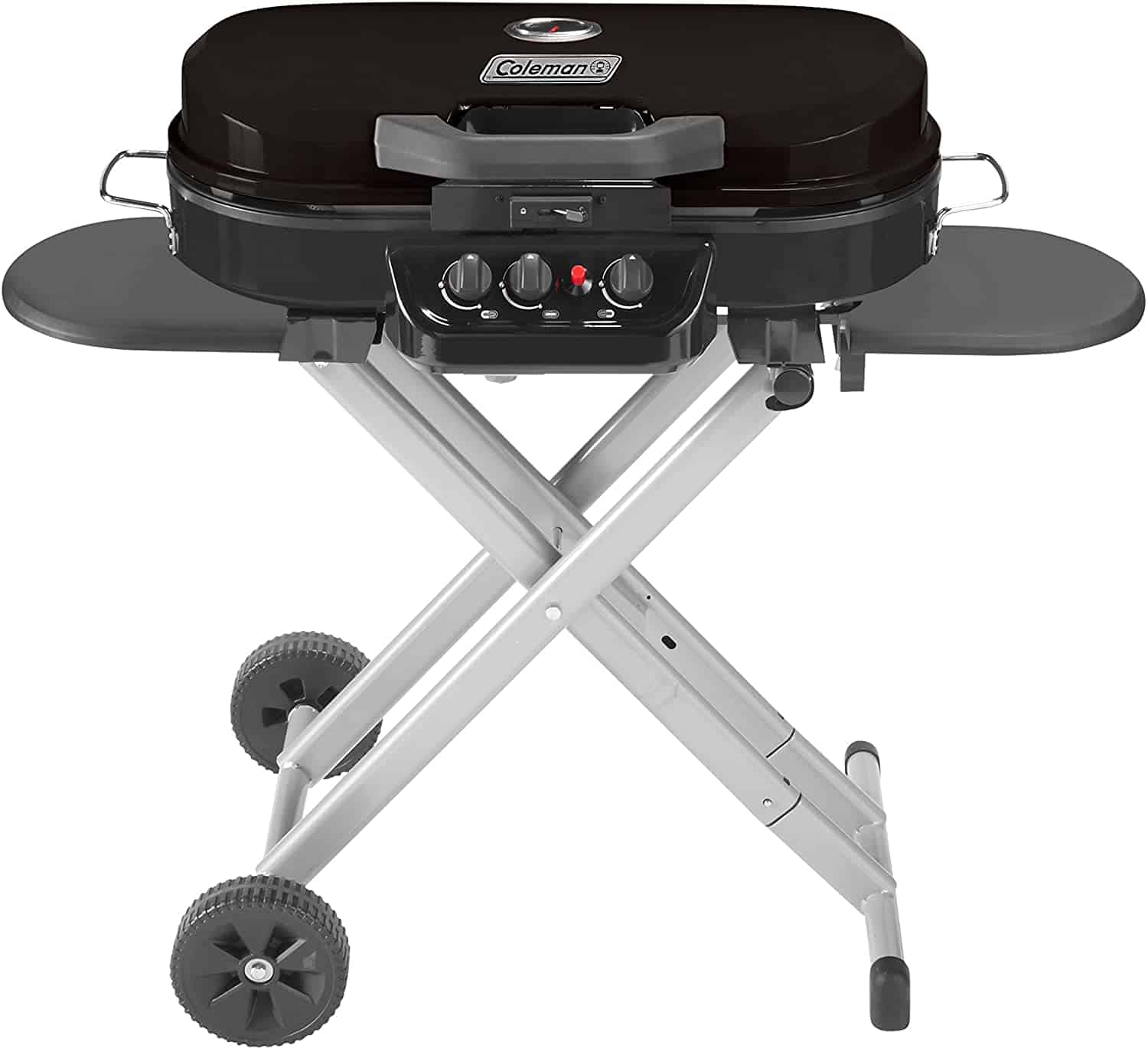 The RoadTrip 285 is a versatile grill that has all the essential portable features that allow for easy and convenient transport. It even comes with a lid lock, making for easier movement.
It has a cooking surface comparable to a small full-sized grill despite being in the portable grill class.
The Coleman RoadTrip 285 comes with folding legs and is a good option to consider at a tailgate party due to the large cooking area, features, stand, and mobility.
The grill comes with 285 square inches of cooking area divided into two separate parts. There is one burner under each part, plus another burner at the center of the grill that helps generate a whole lot of heat in a short time.
If you want to, you can even replace the grill grates with separately sold stove grates or a griddle.
This means you can create different configurations, using one side for grilling and the other for frying small vegetables on the griddle, for example.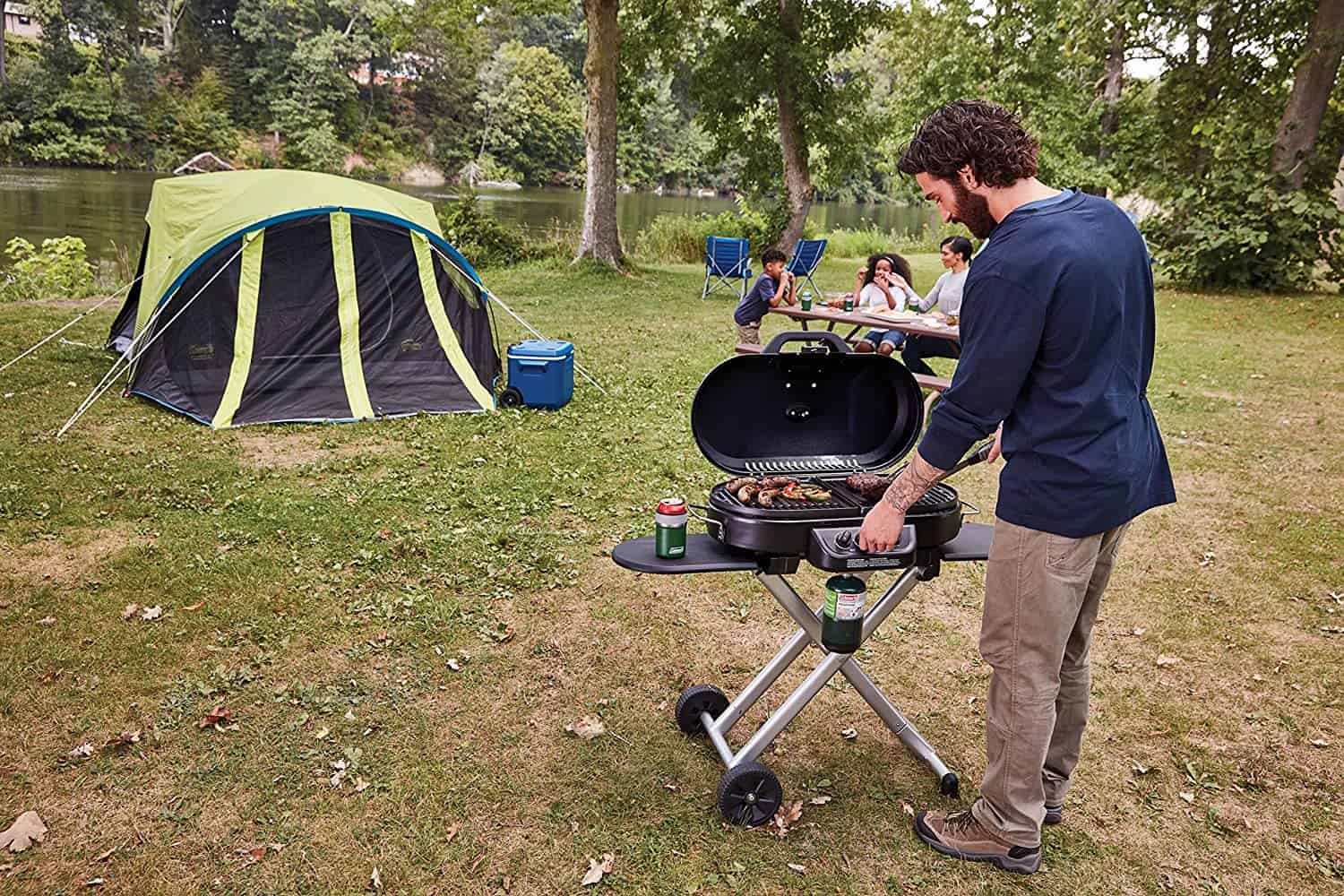 The side shelves offer some work area, whereas the handles on either side make it possible to easily move the grill from one place to another.
I really like this grill due to its versatility, but the quality is not as good as the Weber brand. While it's versatile and offers flexibility, this grill will not last as long as the Weber options above.
Pros
Fuel: Propane
Size: 30.25 x 19.19 x 16.13 inches; 46.67 Pounds; 285 square inches of cooking area
Accessories: Integrated thermometer, 2 side tables, and 3 adjustable burners
Cons
Budget: At the higher end of the budget, but this grill does offer three burners plus loads of space for cooking
Mobility: It is reasonably mobile with folding legs and handles, but it is pretty heavy
Cleaning: While this grill does have a grease collection tray, the reviews mention that it is a little hard to remove, so be careful not to spill when you take it out
Rather looking for a smoker to take on the road with you? I've reviewed the top 4 best portable smokers for camping here
FAQs about tailgate grills
What grill will work for tailgating and home use?
This is a job for the Weber Q2200 or the Blackstone. Both have pros and cons, but they would both be ideal to cook larger quantities of food and are also both highly mobile.
What are the best types of food to grill at a tailgate party?
You can cook anything you want at a tailgate party, depending on your own preferences and tastes. However, some of the most popular foods include ribs, hot dogs, buffalo Chicken wings, and burgers.
Which fuel should you use for a tailgate grill?
The most popular tailgate grills run on propane or charcoal, but there are also options for pellets or electricity.
If you're considering this, here are some things to think of, in order of importance:
Flavor
If food flavor is important to you, then there's nothing better than a charcoal or wood pellet grill.
Also read: Do pellet smokers give good smoke flavor? + 4 best grills
Budget
Charcoal grill options are the cheapest whereas pellet, gas and electric grills are much more expensive.
Time & skill
Do you have the time and experience to monitor and control your grill temperature? Charcoal requires a lot of attention from starting the fire to airflow, temperature control, and ash removal.
If convenience is what you seek, you need to check out gas, electric, and wood pellet grills. These types of grills offer very easy temperature control.
On top of that, you don't have to worry about starting the fire.
Durability
Charcoal grills are usually the least likely to malfunction. The others, like a gas, pellet, or electric grill have a lot of elements they can't function without, and one must consider that sooner or later something will break down.
Takeaway
Once you've chosen what kind of fuel you want to use, what size of grill you need to buy, and what kind of cooking you want to do, plus your budget, you should easily be able to narrow down the choices.
Remember, the grilling is important, but so is the party, so if you're tailgating you do want to enjoy both. Choose well and enjoy your new grill.
Looking for the perfect BBQ sauce to take on the road with you? These are my top 8 favorite BBQ sauces!
Joost Nusselder, the founder of Lakeside Smokers is a content marketer, dad and loves trying out new food with BBQ Smoking (& Japanese food!) at the heart of his passion, and together with his team he's been creating in-depth blog articles since 2016 to help loyal readers with recipes and cooking tips.