I love creating free content full of tips for my readers, you. I don't accept paid sponsorships, my opinion is my own, but if you find my recommendations helpful and you end up buying something you like through one of my links, I could earn a commission at no extra cost to you.
Learn more
Wood pellet grills are a firm favorite among home cooks. That's because they're the perfect combination between a normal grill and a smoker, so they eliminate the need to purchase these 2 separately!
Wood pellet grills usually feature a generous cooking surface that enables you to cook a variety of different meats at the same time. This means you can smoke brisket while grilling sausages and burgers simultaneously!
As such, wood pellet grills are an ideal investment for anyone who likes to entertain from home, as they'll enable you to cater to a large number of people.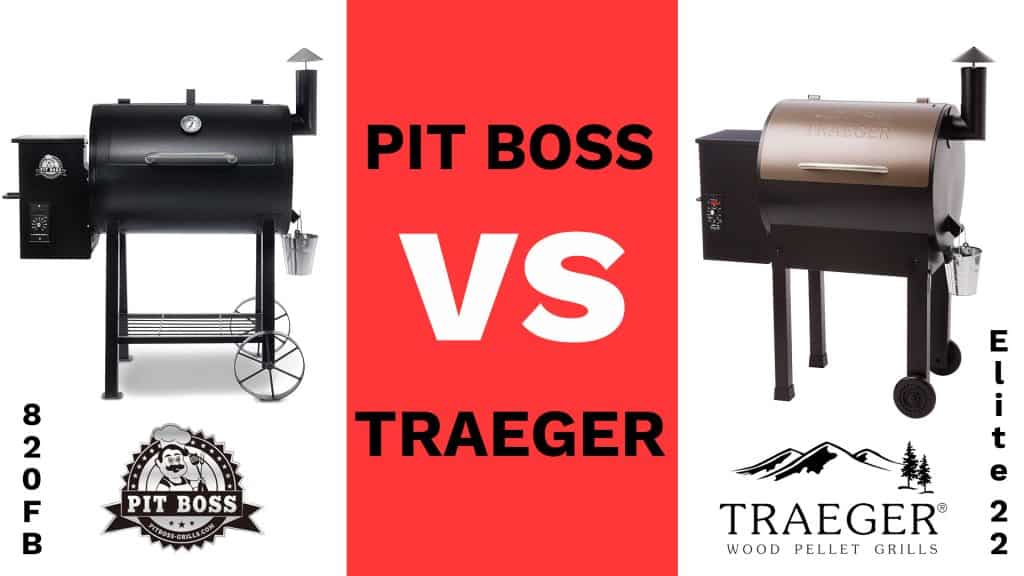 Should you get Pit Boss or Traeger though? When buying a new pellet smoker, this question appears a whole lot of times.
There's no doubt that Traeger and Pit Boss are very popular brands on the market. Sadly, it's hard to find an objective opinion on which one of them is better, which is why I've prepared an article for Pit Boss vs Traeger.
I'll make a general comparison of both brands based on their most popular models in similar sizes and configurations.
In this post we'll cover:
Pit Boss vs Traeger
History: Pit Boss
This is one of the first manufacturers that started selling their own pellet smoker when the Traeger patent expired. Pit Boss was founded in 1999.
Right from the start, the purpose of Pit Boss is to manufacture a smoker at the lowest possible price while maintaining decent quality. In hindsight, you'll see that they did a great job!
Today, Pit Boss offers BBQ smokers of very similar sizes and qualities to Traeger.
Pit Boss wood pellet grills are perfect for beginners because they're easy to use and mostly work with natural wood pellets. Their grills are well-made and feature heavy-duty construction with a large cooking surface. It's one of the best digital grill manufacturers on the market, as it offers guaranteed perfection every time.
However, to get the most out of Pit Boss wood pellet smoker grills, you need to use high-quality wood pellets that complement the food that you're making.
History: Traeger
Traeger is the brand responsible for creating the first pellet grill and promoting it. It was founded in 1985, and one year later, it already patented its product, which gave them a monopoly for selling pellet grills for a whole 20 years.
Throughout that time, Traeger was responsible for promoting the pellet grill, which is why today, whenever someone hears about the pellet grill, they instantly think of the Traeger brand! To this day, it's still the best-selling pellet smoker, even though after the patent expired, there were a lot of new competitive brands.
Even though you'll find many other more interesting manufacturers on the market, none of them has gone down in history as much as Traeger.
Prices: Pit Boss
Pit Boss's prices are definitely lower and more convenient compared to other manufacturers. I can clearly say that most of Pit Boss's offerings are models for everyone's budget.
Pellet smokers are associated with very high prices, whereas Pit Boss proves that you can make a decent pellet grill at a low price.
Pit Boss is the most cost-effective option of the two because their grills are actually available for less than $1,000. In fact, the brand offers some decent models for just $500 to $700, so it's a great option for anyone that's shopping on a budget.
Right from the start, the goal of Pit Boss was the lowest possible price so that sales would be very high. And that plan was accomplished!
Prices: Traeger
From the moment the Treger patent expired, a lot of manufacturers appeared on the market, willing to compete for every client. A lot of much cheaper and better models were made, which resulted in the belief that by buying a Traeger product, you're overpaying for the brand only.
Sadly, I have to partially agree that grills from Traeger usually have a higher price than models from competitive brands with similar quality and sizes.
Some of the popular models cost around $400 to $1,400. If you really want to get the best results, you should be willing to spend at least $400 for your Traeger grill.
While there are models that cost around $200 and less, you cannot really expect a lot from these grills. Plus, they usually aren't that durable, so you might just end up spending more to purchase a new replacement.
Cooking devices and grills should last for at least 5 years. This is also applicable to pots and pans, as well as other kitchen accessories.
The wood pellets for Traeger grills are usually more expensive than charcoal and propane. For these pellets, you can expect to spend around $1 to $3 for every grilling session.
Propane is more costly to use for a grill, and charcoal is somewhere around the mid-range level. You might be tempted to purchase cheap pellets but be careful with these. They might just introduce harmful chemicals to your food.
Potential users: Pit Boss
Compared to Traeger, Pit Boss is more affordable and accessible to the average consumer. However, it delivers similar results as the more lustrous and prestigious brand.
Pit Boss also offers a unique natural smoking ability that you'd be hard-pressed to find in other grills and smokers. That's why they're the preferred choice of anyone that likes to have an authentic smoked flavor in their food.
Thanks to their large cooking surface, Pit Boss grills are perfect for avid entertainers as well as hospitality establishments because they can handle large scale catering.
Potential users: Traeger
Traeger grills are known for their solid construction, for providing great flavor and a sprawling cooking surface. They're ideal for anyone who needs to cater to large crowds and itheyll last you for more than just a few seasons.
Heat management: Pit Boss
Pit Boss solved heat management in a completely different way by giving the customer more options.
First of all, the fire pot is located right in the middle of the smoker and doesn't have a heat deflector. Instead, the furnace was covered with a metal dome with open slots right above the furnace. Such solution makes it possible to cook using direct heat (grilling).
Of course, smoking was also taken into account here. If you're not interested in grilling, then all you have to do is move another metal cover that'll cover the slots, creating perfect conditions for smoking.
Heat management: Traeger
Upon opening the lid and looking deeper into the structure, you can see right away that the fire pot is located on the left side of the smoker. It's also clear that the fire pot is covered by a heavy steel heat deflector, and then located above those elements is a solid metal grease tray.
Flame broiler
This is what I mentioned above (which was the ability to choose between grilling or smoking). Sadly, Traeger doesn't come with such feature, but you'll find it in Pit Boss.
The furnace is covered with a metal plate that has slots that flames go through. You can close the slots by covering them with a second plate, which I think is a great solution!
Top features: Pit Boss
It comes with all the basic features that were also present in the older series from Traeger.
Sadly, with the development of technology, most people these days expect a better digital controller, Wi-Fi, etc. You need to know that a pellet smoker with those features for this kind of money doesn't exist.
Pit Boss does include more advanced versions, although they'll cost more.
Top features: Traeger
As recently as 2018, I'd say that there's no difference when it comes to the basic features and equipment compared to Pit Boss.
It all changed with the introduction of the new refurbished series from Traeger, which includes plenty of useful features that are up-to-date with modern technology (developed digital controller, Wi-Fi, and much more).
Pellet hopper
Pit Boss hoppers usually have a capacity that can hold 10 to 12 pounds of wood pellets.
Meanwhile, Traeger models can take a lot more than that. In fact, some Traeger models have the capacity to hold up to 18 pounds of wood pellets in one go, and they even come with a dedicated and built-in ash cleaner to make maintenance easier for you.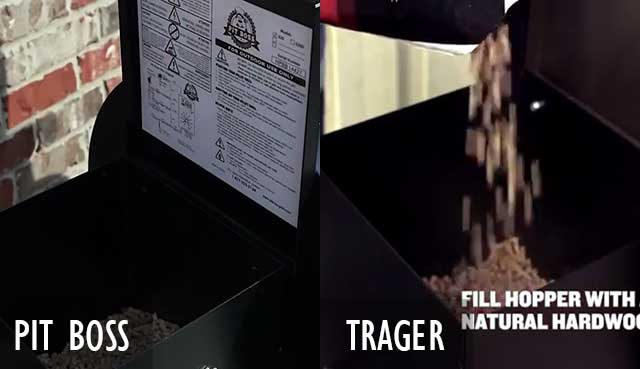 Structure
The pellet smoker structures from both manufacturers are very similar; they only differ in minor details.
Traeger beats them all when it comes to quality grill construction and their wood pallet smokers are the same. Some of the notable heavy-duty materials they use include cast-iron grates that are often coated with a substance that gives them a non-sticky surface. They use the same material to make their Fireboxes.
Unfortunately, Pit Boss grills don't really measure up in this regard, as their grills tend to look flimsy. While you may need to replace some of the components every now and then, Pit Boss grills are still worth considering as a great value-for-money buy.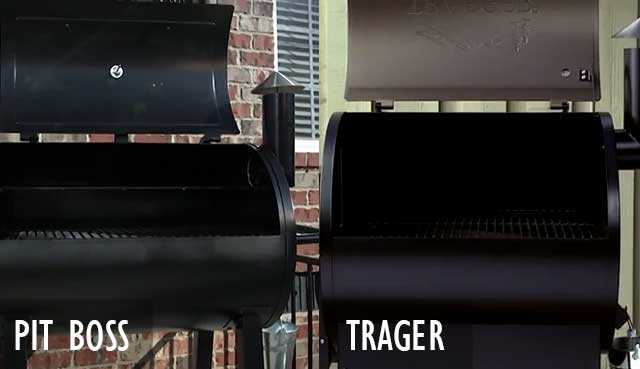 Pit Boss added a shelf under the grill that isn't present in Traeger, which is a pity, as it's a very useful solution!
Cooking Space
When it comes to cooking space, there's no competing with Traeger. If you look at some of its top models you'll find that they all feature a cooking surface that measures 600 square inches on average, and the same goes for the interior space. Traeger's Pro Series 34 Grill Burnz has a huge cooking surface that measures 884 square inches in total, and this is in addition to the impressive firebox.
Pit Boss grills, on the other hand, can only offer you as much as 500 square inches of cooking space at best.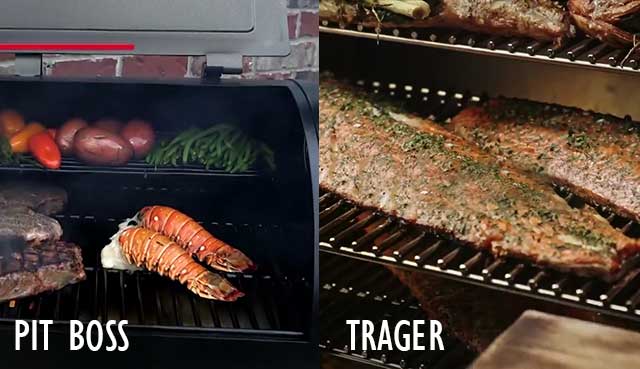 Temperature range
By default, you can expect a temperature range of 0-500 F (or even 550 F). Both manufacturers have very similar parameters when it comes to the maximum temperature.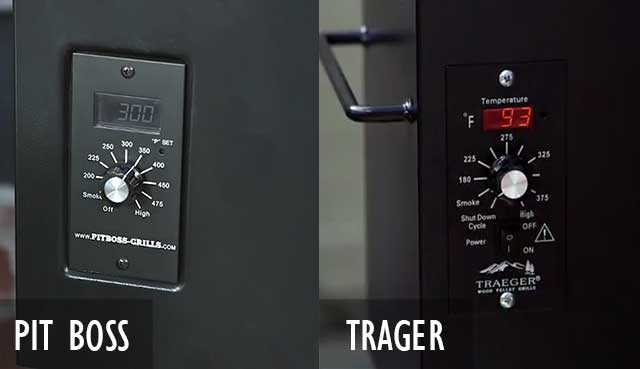 Some models from Pit Boss declare a maximum temperature of around 600 degrees. But in reality, you actually get around 500.
Brand and marketing: Pit Boss
This is a brand that's perfectly known among BBQ enthusiasts, but not quite as much as its competitor.
It mostly comes from the fact that Pit Boss is a much younger brand and its target market are people with a limited budget.
Brand and marketing: Traeger
This is the brand responsible for creating and then promoting this type of smoker.
Traeger did a great job when it comes to marketing. Because of that, to this day, it's a brand that sells the most pellet smokers!
Every person (even those not into BBQ) recognizes this brand. They're a sponsor of many important events and teams, and plenty of important people or celebrities are very happy to talk about them on their social media and more.
Warranty: Pit Boss
Despite its much lower prices, it's Pit Boss that offers a much better warranty.
Most models are covered with whole 5-year warranties, which is rare for this type of smoker.
Warranty: Traeger
Considering its prices, the popularity of the brand, and its whole history, 3 years for even the most expensive models is a pretty disappointing warranty period. You'd expect more from a brand like this, especially considering the pretty high prices for their grills.
Traeger vs Pit Boss: Which one wins?
Who won this clash in my opinion?
I compared both brands objectively as a potential customer, to whom the most important factor is the ratio of price to what they get. In this regard, the winner is definitely Pit Boss, which offers more for less.
What's surprising is how a much cheaper manufacturer can provide a much longer warranty for their product!
Therefore, based on my experience and this article, I'll repeat once again that my choice is Pit Boss.
Of course, it doesn't mean that Traeger is much inferior because in technical terms, they're both on a similar level. However, Traeger is a valued and easily recognizable brand in the world of BBQ, which means the prices are also sadly higher than other competitive manufacturers.
As with any purchase, it's important to consider more than the grill's appearance when shopping around for a new model.
You have to keep in mind other more important aspects, like the quality of construction and its expected lifespan. You'll also want to buy from a respected brand like Pit Boss or Traeger.
Both these brands are well known for producing some of the top-quality wood pellet grills on the market. Below, I'm going to compare the two's best pellet grill models.
Pit Boss 820 vs Traeger Elite 22
Pit Boss grill: PB820FB

A little-known fact about the Pit Boss brand is that it's owned by the same company that owns the famous Louisiana Grills. That means they know what they're doing and they know what's needed in a good quality grill! Ever since its entry into the market, Pit Boss has been giving Traeger a good run for their money.
A good example is the Pit Boss 820 model, which can stand toe-to-toe with almost any of Traeger's premium models. It's constructed from cast iron that's been coated with porcelain for ease of maintenance and added strength. Both the lower shelves and the detachable secondary racks are made from coated steel rods and wires, while the frame is made from 16-gauge powder-coated steel.
It has a generously sized cooking surface that measures 820 square inches with a comparable hopper that features a convenient screen. That's why the hopper works really great when it comes to making sure that pellets don't get flattened out and that no items can get into the auger.
With 40,000 BTUs and a digital control board with an LED display added in for good measure, you know you're getting a good quality product. That's not all, however, as this grill has other features like dial-in thermostat control and a flame broiler for direct-heat cooking that's easy to operate.
Pros
It has a sprawling cooking surface
Portable
Offers even heat and cooking
Gives you the option to cook over an open flame if you like
Automated ignition and cool down
It's super easy to clean and maintain, thanks to the porcelain-coated grids
Cons
For a grill this size, it should offer higher maximum temperatures
The auger takes some time to reflect temperature changes
Best features
Natural wood fuel
This is one of a few grills that offer a natural and authentic smoky flavor; that's because it's fueled by 100% natural hardwood pellets!
It's also considered to be one of the safest and most eco-friendly options available. The natural wood pellets it uses are food-grade and don't contain any harmful substances like additives that could affect the final product.
Natural wood pellets are incredibly efficient, as they produce less than 8,200 BTUs per cooking session. They're also carbon neutral with less ash production when compared to other types of grill fuels.
Thermostat control
The thermostat control feature is great because it allows you to switch the temperature as you like. This particular grill can go from temperatures as low as 180F to 500F maximum. While that's a decent temperature range, it pales in comparison to outdoor grills of the same size which offer higher temperatures.
So where does the thermostat come in? Well, it'll help to ensure that the food is cooked at the preferred temperature at all times without the need for you to stand over it all the time.
Auto start
The auto-start function means that you only press 1 button on this grill and the grill does the rest. No need to manually transfer the pellets to the firepot or even ignite them for that matter!
Even the convection heating process happens on its own and in the right order once you put on the main switch.
Auto cool down
Once your meal is done cooking and is ready to serve, you'll turn on the automatic cool down. From there, the grill will start the shut-off process by burning out excess pellets, leaving you to enjoy your food with your guests.
This feature is also responsible for ensuring the grill is set at the right temperature before complete shutdown so that you don't have to deal with temperature errors or grease fires when you need to use it again.
Porcelain-coated grid
Not only does the porcelain coating on the grid add to its durability, but it makes it remarkably easy to clean as well. Porcelain is non-stick and it repels smear marks, contributing to that smoky flavor you like by ensuring effective heat retention.
Convection cooking
Convection cooking (in conjunction with the dial-in thermostat) is responsible for ensuring even heating so that the food is properly cooked. This eliminates the need to constantly check the meat because you'll find that all sides are cooked through without any interference from you!
Flame broiler
The 71820FB pellet grill gives you the option to cook over direct and indirect heat.
To cook over an open flame, it uses specially designed broilers and plates. All you have to do is bring the longer broiler closer to the heat by hooking it onto a holder that's located next to the hopper.
To cook over indirect heat, you need to slip the smaller broiler above the opening of the larger broiler.
This feature is highly beneficial because it allows for versatility. You can use direct heat cooking to make things like seared steaks and grilled burgers in less than 20 minutes.
Traeger grill: Pro Series 22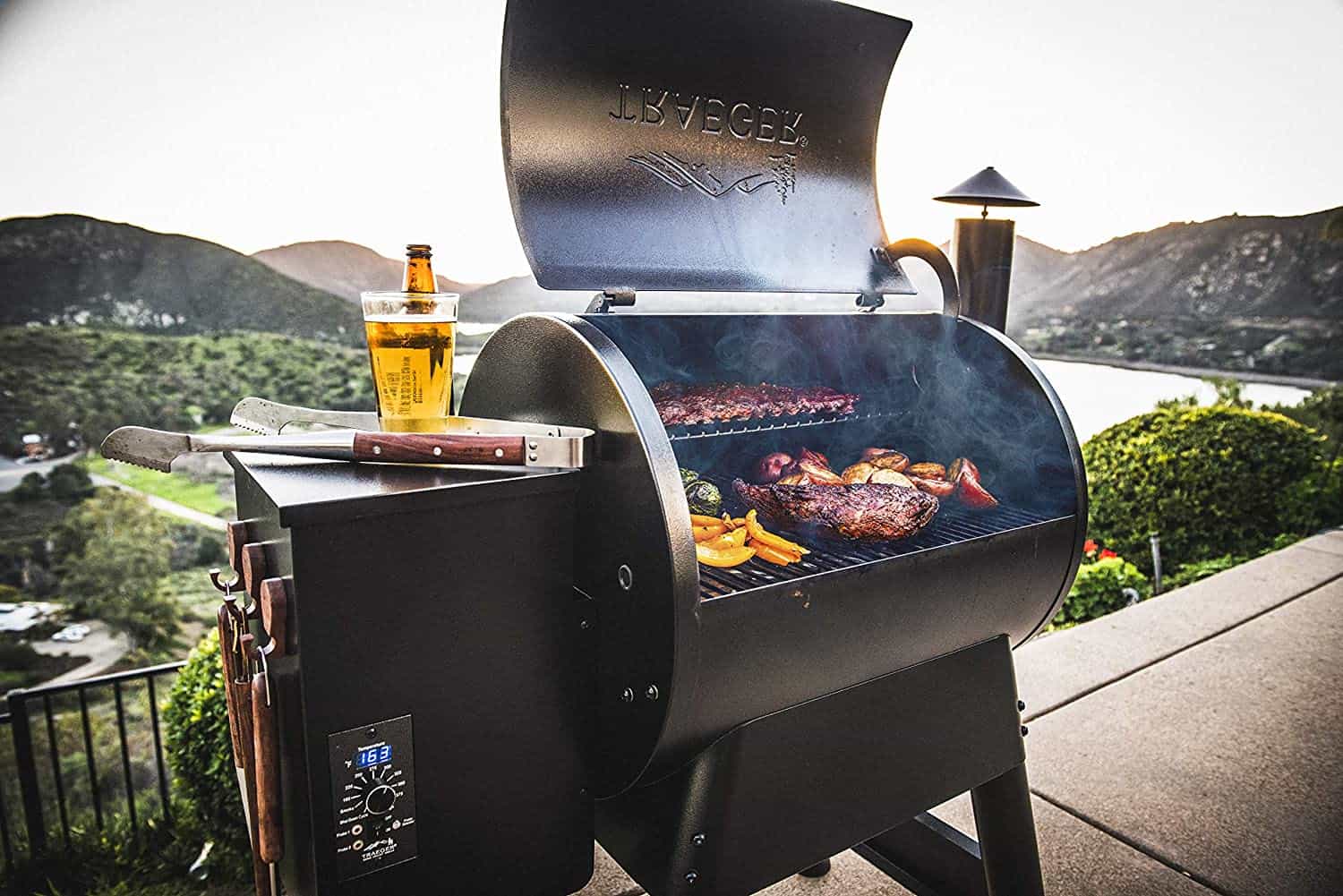 Part of the Elite series from Traeger, the TFB42LZBC model features sturdy construction from powder-coated 20-gauge steel. It has the capacity to withstand many years of frequent use, and it can go through harsh weather conditions and high heat without sustaining damage.
While small in appearance, this grill has a rather generous cooking surface of 418 square inches, which is enough to fit 3 rib packs and 12 burgers at once. This is enough to feed a party!
It's a powerful piece of machinery with 19,500 BTUs and convection cooking for even heat distribution. One thing's for sure: you won't get any surprise rare steaks with this one!
The porcelain-coated grates feature a non-stick and smear-safe surface that's easy to clean.
The great thing about this grill is that it allows for versatile cooking as well, because you can use it for grilling, smoking, roasting, baking, and even braising. It has a temperature range of between 180F to 450F, with a multi-position digital thermostat for maximum control.
Pros
The digital thermostat is a great way to keep track of your meat without opening the lid
Features convection cooking for even heat distribution
The non-stick porcelain grates are easy to clean
Features electric ignition system for effortless operation
Cons
It has a low-temperature capacity for its size
Best features
Wood fire
This grill offers an authentic wood-fired flavor that you simply can't beat. It's not only healthy, but it also has a nostalgic flavor to it. It doesn't come with any harmful chemicals like the other types of fuel do.
Multi-position digital thermostat control
The Elite series features cutting-edge thermostat control features that keep the temperature at the preferred range without much intervention from you. All you need to do is set the temperature before you start to cook and watch the grill do its magic.
The grill's thermostat works through the microprocessor circuitry to activate the auger and adjust it as needed throughout the cooking process to maintain the correct temperature range.
Electric start ignition
The Elite grid has a manual and automatic start option, but most people just go straight for the automatic option.
All you need to do is plug in the grill and turn it on. From there, it'll automatically ignite itself and the auger will transfer wood pellets to the firepot simultaneously.
Within 4 minutes, the grill should be ready for you to start cooking, which is rather impressive!
Auto shut-down cycle
The auto shut-down feature cools down the grill and shuts it off automatically. But it does need some help from you because you need to set the temperature right. That way, the draft induction fan can burn off the leftover pellets before switching off.
Otherwise, the grill doesn't require that you press any other button in order to switch it off. It'll switch off automatically once the fan comes to a stop and it'll be nice and cool, and ready for you to clean afterward.
Non-stick porcelain-coated grates
The non-stick grates are perfect for making sear-marked meat and the porcelain makes for remarkable heat distribution and retention. It also ensures even cooking and heating, while the end product usually offers out-of-this-world flavor.
Convection cooking
The benefit of convection cooking is that it reduces the amount of time spent monitoring your food on the grill. You don't have to worry about constantly lifting the lid to check on the meat's progress, which can significantly increase cooking time through the heat that it lets out.
Instead, your food comes out evenly cooked with no raw spots and with little involvement from you.
Safety alarms
The grill features 2 safety alarm systems.
The first one comes on when the temperature gets below 125F for 10 minutes or longer. You'll notice the change by a LEr sign that'll come up on the LED display that'll stay on until you switch off the main power. Once this happens, the grill automatically disconnects its internal parts from the power source.
The second alarm system only comes on when the grill's internal temperature reads 550F and up. When this happens, the LED screen will show a HEr sign that'll stay on until the main power is switched off. It'll also work to disconnect the internal parts from the power source automatically.
E-Z drain grease system
As the name implies, the grease drain system works to collect all the grease drippings into a dedicated drain pain and later, a grease drain. From the grease drain, the grease travels through a tube to the grease bucket where it's much easier for you to chuck it out and clean the grill.
Pick the right grill for your needs
Now that you know what to look for in a wood pellet grill, you should be in a better position to make the right choice for your needs.
You're armed with a thorough comparison of the industry's top 2 brands. By now you know that these 2 companies have a lot more in common than they have differences, but each has its own strengths and weaknesses, which we explored above.
For all intents and purposes, in this battle of Traeger vs Pit Boss, we've identified the Traeger Pro series 22 as the superior contender in this review because it has a convenient size, easier temperature management, and a generous warranty.
The Pit Boss is cheaper in comparison, but it doesn't offer value for money. So we're going with Traeger on this one!
Joost Nusselder, the founder of Lakeside Smokers is a content marketer, dad and loves trying out new food with BBQ Smoking (& Japanese food!) at the heart of his passion, and together with his team he's been creating in-depth blog articles since 2016 to help loyal readers with recipes and cooking tips.