I love creating free content full of tips for my readers, you. I don't accept paid sponsorships, my opinion is my own, but if you find my recommendations helpful and you end up buying something you like through one of my links, I could earn a commission at no extra cost to you.
Learn more
For grilling experts and enthusiasts, a standard gas grill is their first love. But there's always room for more members in the grilling family!
An outdoor gas griddle is one of the additional grills I always recommend investing in.
It complements the functionality of a conventional grill perfectly, and it's the ideal piece of equipment to have when you're cooking for large gatherings.

If you're reading this, then you're clearly in the market for a great gas griddle – or you're considering it! You've come to the right place.
I've invested in the Blackstone 1984 Original 36 Inch this year, and I'm proud to say this griddle is now part of my grilling 'family'. The construction is solid, and the plate is well designed to ensure all the grease flows into the collection container. The 720 square inches of cooking area and 4 burners ensure that I always have enough grill space, even if I'm cooking for a large crowd.
But which gas griddle suits you and your specific needs?
In the article below, I've outlined four of my go-to options when it comes to gas griddles, and why I believe that these four are the top options on the market right now.
I have also included a griddle that fits on top of conventional grills, so check out number 4 if you've got limited space.
What is a outdoor gas griddle and what can you do with it?
A griddle is a flat plate on which you can cook a wide range of foods that you wouldn't be able to cook on a conventional grate.
For those who love a fry-up, you could cook an entire breakfast on your griddle from the eggs to the tomatoes, and even toast some hash browns!
My personal favorite is cooking dessert pancakes on the griddle after serving up a delicious meal for the family.
For more inspiration, check out these 4 Barbecue Breakfast recipe ideas on the charcoal grill.
Tips for buying a new outdoor griddle
Just like a standard grill, there are some key characteristics that you should look out for when you're considering buying a new gas griddle.
To help you narrow down which griddle would suit you and your needs specifically, I've outlined my top 5 characteristics below.
Budget
The number of gas griddles available is really large, and the price range is very wide. Define your budget right at the start of your buying journey, as it will impact everything.
There's no point wasting time on expensive models if you don't have a huge budget. Limit your search so you don't get confused and frustrated.
Size & mobility
Analyze how much you cook, for how many people, and whether you have enough room in your home or garden for an additional grill.
If you travel a lot, it's a good idea to consider buying a portable gas griddle, which is perfect for 1-2 people or when camping out or for tailgate parties.
Do you care about mobility? If you want to be carrying your griddle around a lot, make sure it is specifically designed for your needs: I'm talking about easy assembly, handles, burners adapted to small bottles of propane, etc.
Number of burners
The bigger the grill, the more burners. This allows you to create different heat zones and cook different things at the same time.
If you cook for large gatherings regularly, it's a good idea to consider buying a bigger griddle with 3-4 burners so you can cook everything at once, and you don't have to do the grilling in relays.
Versatility
Some griddles can be interchanged with conventional grill grates, which allows you to enjoy standard grilling on the same device.
Cleaning
None of us enjoy the clean-up! But there are ways to make it easier and less tedious. The drainage system of a griddle collects the grease and juices that come out of your food.
Make sure it's well designed and constructed to make the clean-up process easier. I always read reviews to find out how other users feel about the product.
For effective cleaning about your grilling session, have a look at my top three grill brushes.
The 4 best outdoor gas griddles reviewed
Choosing the best outdoor griddle for you is a fun experience once you've narrowed down your budget and needs. Here are my top four gas griddles, and why I love them:
Best overall outdoor gas griddle: Blackstone 1984 Original 36 Inch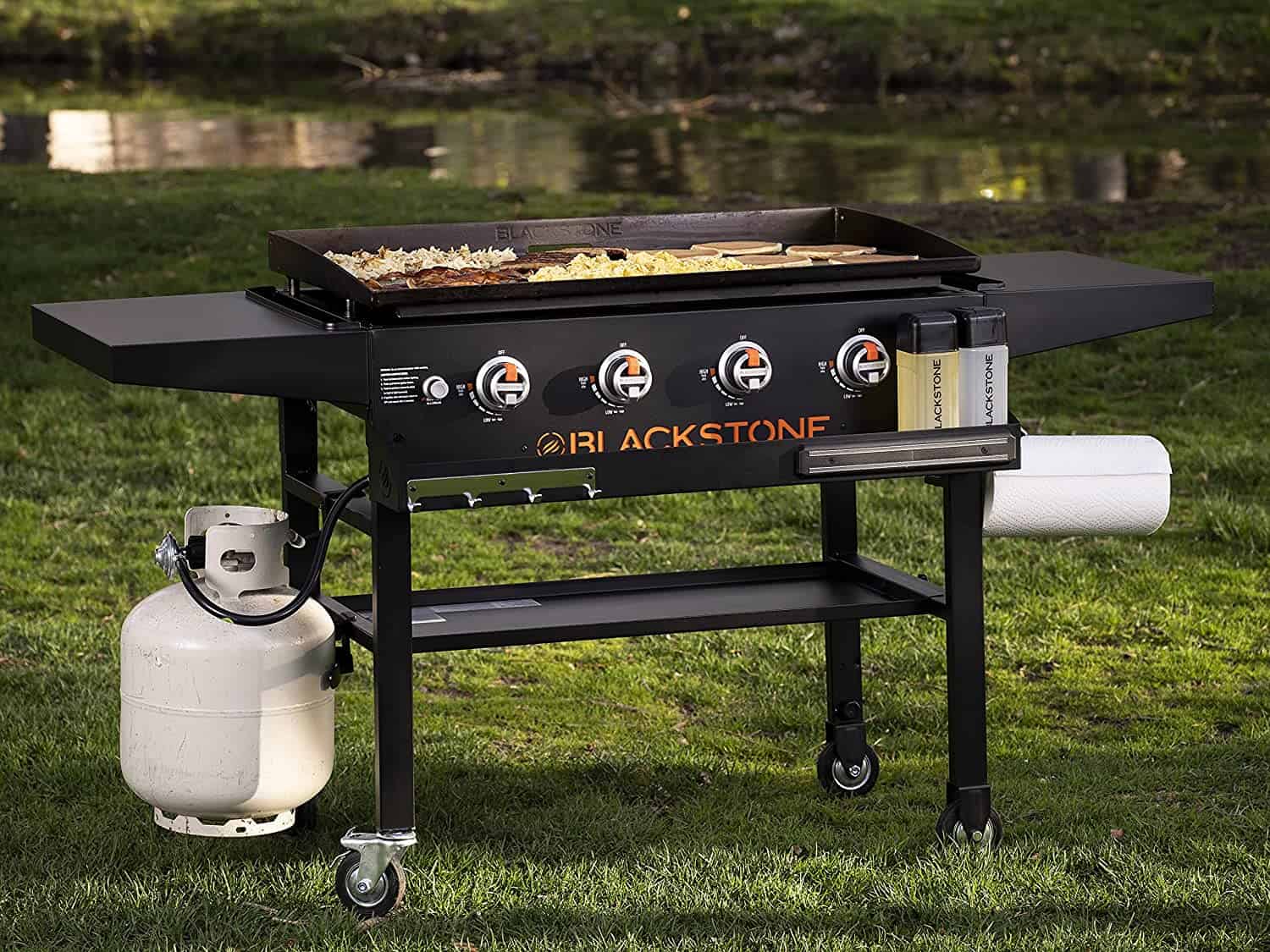 Without a doubt, it is one of the best gas griddles on the market today. The Blackstone 1984 offers a whole lot of cooking area with four fantastic burners.
At first glance, the outdoor griddle is fairly simple, but this is why I love it so much. Extra effort has been put into the solid construction and ensuring the design is highly functional.
The flat plat is perfectly set up to ensure the grease and juices are channeled into the collection container.
This is one of the most important factors when choosing a gas griddle, as in many cases this system is flawed. No one wants a build-up of grease on the plate or poor drainage due to a badly placed duct.
Blackstone is a leading brand among gas griddles with years of experience in manufacturing the best. If you care about quality and brand reliability, then don't hesitate, the slightly higher price is worth it.
The Blackstone 1984 also features over 720 square inches of the cooking area and four burners. I often use these to create different heat zones so I can cook a wide range of foods at the same time.
There's also a lot of working space on either side, AND you can buy an attachable tabletop which will provide you with even more working space (a great solution for bigger parties, etc).
This is my number one outdoor griddle that I recommend for those who cook a lot and value quality and efficiency.
Watch this helpful video on how to season the Blackstone grill for the first time:
Features
Budget: Very fairly priced considering the solid construction and large size
Size & mobility: 62.5 x 22 x 36 inches; 120 Pounds
Number of burners: Four burners
Versatility: This griddle can't be swapped out with a conventional gas grill grate
Cleaning: Very easy cleaning thanks to the Blackstone grease management system
Best outdoor gas griddle & grill combo: Camp Chef Flat Top Grill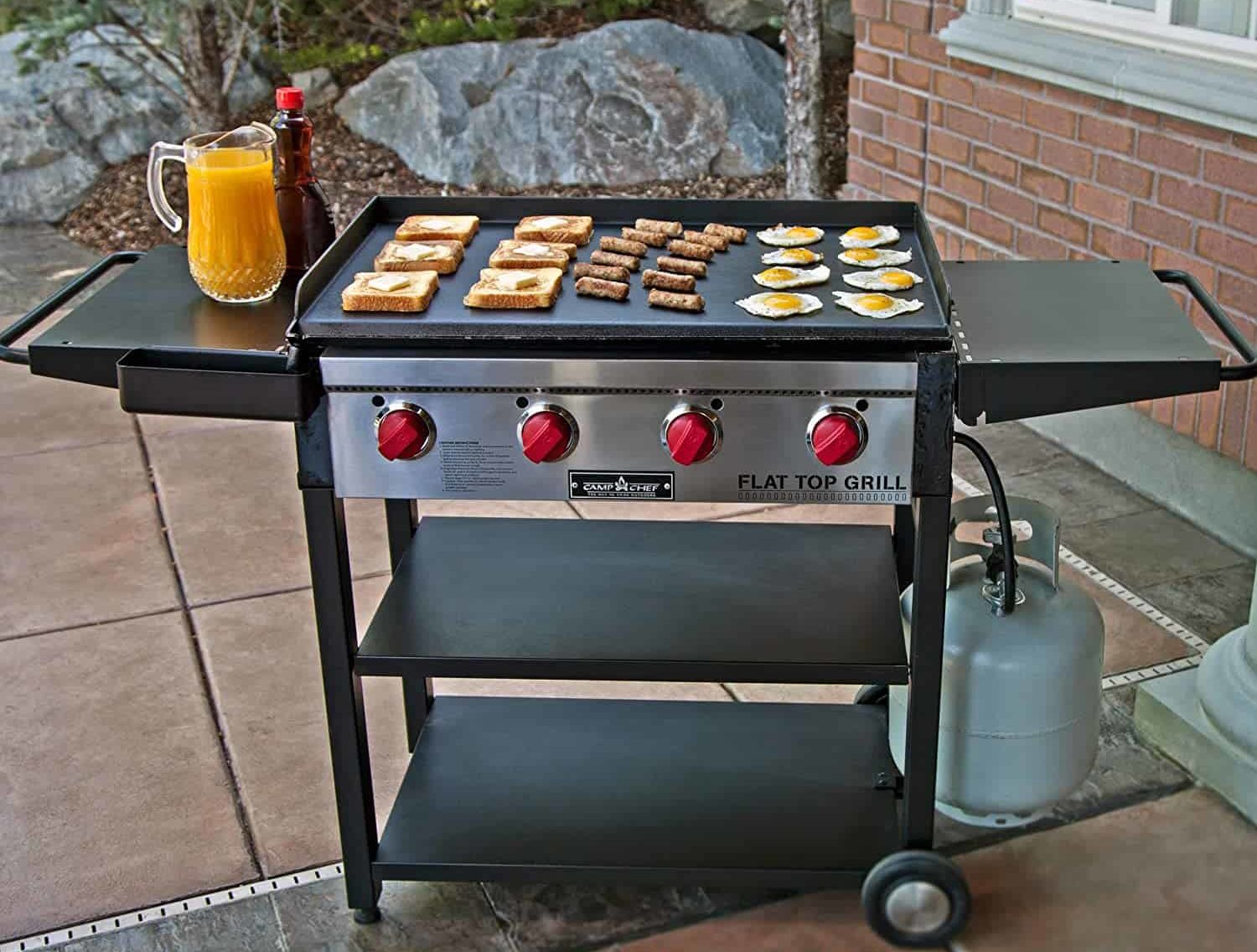 The Camp Chef is a slightly smaller alternative to the Blackstone 36". While it still has four burners, it has slightly less cooking space at 604 square inches.
However, one big advantage is that it comes with a grill grate as well as a high-quality steel griddle tray.
So you can cook breakfast for friends and family on the griddle (pancakes, hash browns, bacon, and eggs), and then fire up the burners again for lunch on the grill (burgers, chicken, kabobs, and more!)
If you don't already have a great gas grill standing around, this could be a perfect option to hit two birds with one stone.
The four burners allow for different heat zones, and the two large foldable shelves on each side offer great working space.
It is a solidly built and durable gas griddle for those who value quality and efficiency.
Camp Chef is also a respected brand and it ranks high on the market when it comes to outdoor griddles.
Not sure if you want to go for the Blackstone or the Camp Chef? Find them compared even more in-depth here:
Features
Budget: While this is almost double the price of the Blackstone, it includes the additional grill grate, and is high quality
Size & mobility: 22 x 62.5 x 37 inches; 139.65 Pounds
Number of burners: Four burners
Versatility: The quality griddle can be swapped out for the durable grill grate
Cleaning: Camp Chef offers a well-designed drainage system so clean-up is no problem
In case you were wondering, here's how a Pellet Grill compares to a Gas Grill
Best portable tabletop gas griddle: Blackstone 1666 22 Inch Tabletop Griddle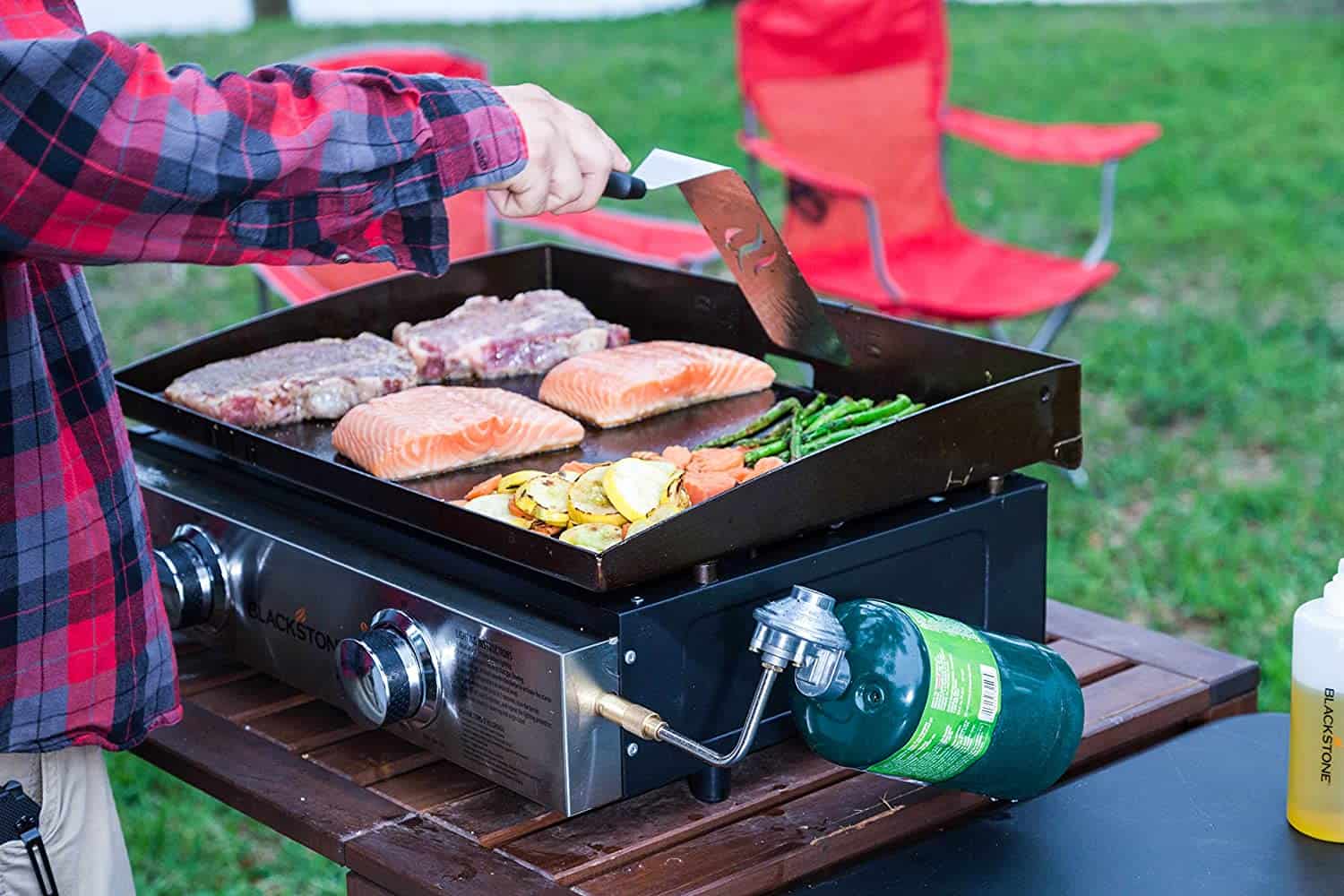 If you travel with your grill, join tailgate parties, or camp a lot, a portable griddle is a 'must have'.
In fact, I'd recommend a portable griddle over a grill for camping as it allows you to cook almost every meal on one product. From eggs for breakfast to burgers for dinner, a portable griddle is invaluable.
The Blackstone 22" offers a lot of space for a portable griddle (339 square inches).
It's simply designed, with a specific focus on transport and convenience. A compact griddle makes it possible to flip the plate over, which makes it even more convenient to take it on the road without worrying about damaging it.
It also runs on small bottles of propane so you won't have to carry loads of heavy fuel with you.
See it in action here, to give you a sense of the dimensions and its usability:
Although small, the designers of this product put effort into ensuring that the clean-up is easy. The plate comes with a hole in it where all the waste flows into a special drawer below. You can remove it any time as it is located on the front.
The only downside of this product is that it only has one burner. It's a very durable and high quality burner, but you aren't able to create different heat zones on the grill.
Features
Budget: Budget-friendly and good quality
Size & mobility: 22.5 x 19 x 9 inches; 32 pounds, portable tabletop model
Number of burners: One burner
Versatility: This cannot be swapped with a conventional grill grate
Cleaning: Fairly easy to clean, and the drip tray is situated at the front of the griddle for easy access
Find more great Grills for Camping Grills Reviewed here + 7 campsite cooking tips
Best adaptable griddle for existing grills: Little Griddle GQ230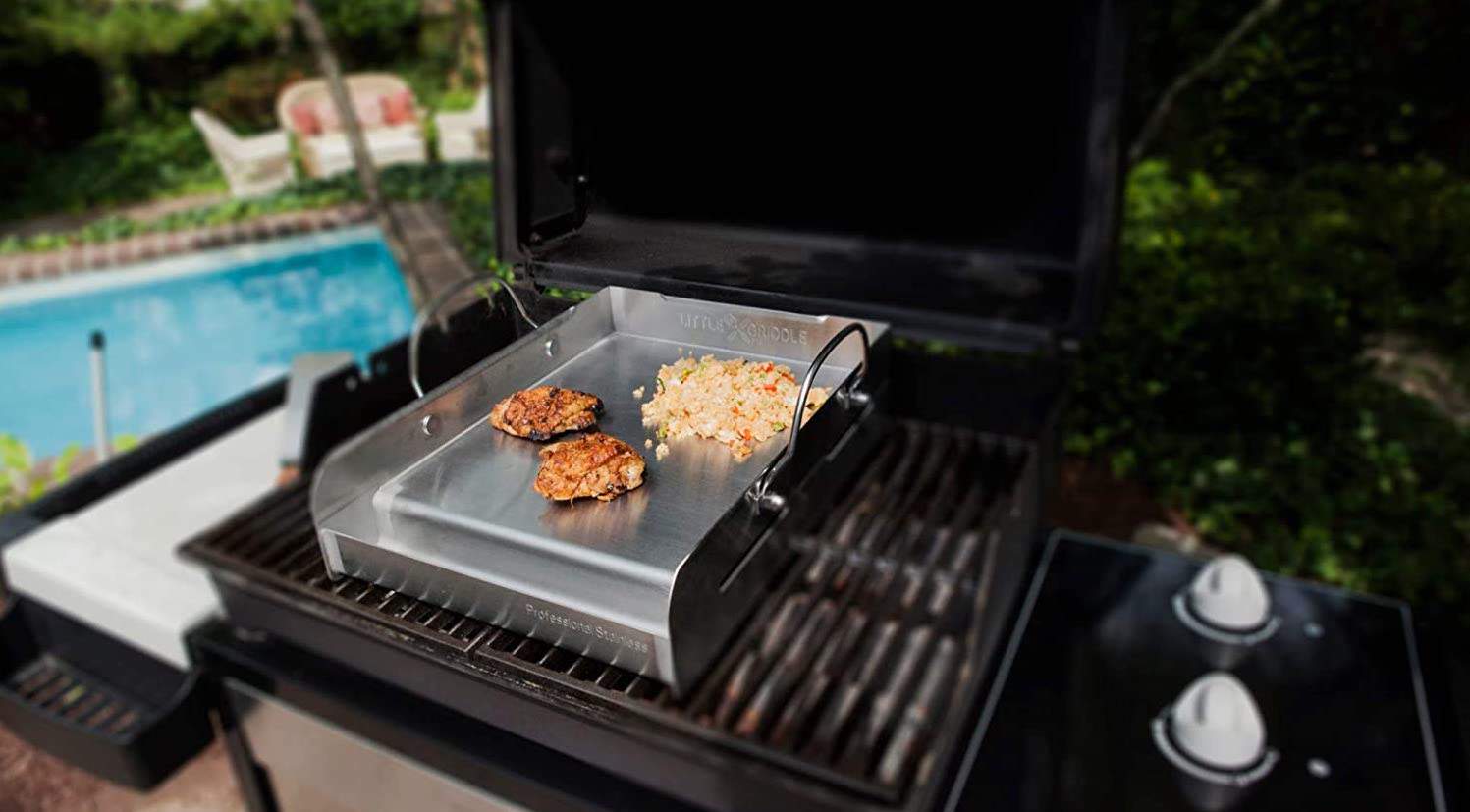 If your budget is limited, or you don't have any space for an additional grill in your yard, I've got great news for you!
It is possible to buy a griddle designed for an existing grill. This means that, if you have a standard gas grill, you can buy just the plate and enjoy the benefits of griddle grilling.
It comes with its upsides and downsides, but above all, you save a whole lot of money and room.
My recommended option is the Little Griddle GQ230. The plate is made of high-quality stainless steel that offers the same properties as a full-sized outdoor griddle.
See how it works, and how you can get the most heat here, tested on a Weber Genesis:
The Little Griddle comes with enough capacity and with two handles on the sides that make it easy to move from one place to another. On the front, there's a pretty deep groove where all the grease and juices from the food are drained.
A huge advantage is durability. The plate is made entirely of stainless steel, which makes it a worthwhile investment for years to come.
Another advantage is cleaning! The compact and handy plate is very easy to clean.
The main downside to me is the time it takes for the plate to warm up, and the size-related limitations.
Buying a Little Griddle GQ230 is a perfect solution when you're thinking of preparing small vegetables, eggs, pancakes etc. as sides to grilled meat.
Features
Budget: Very affordable and high quality
Size & mobility: 16 x 23 x 4 inches; 14.5 Pounds
Number of burners: No burners, as it fits on top of your existing grill
Versatility: This product adds versatility to your existing grill
Cleaning: Well designed, and easy to clean
FAQs about outdoor gas griddles
What's the difference between using a griddle vs a standard grill?
There are a variety of differences between griddles and conventional grills which I've highlighted below:
Type of food – The flat surface of a griddle makes it possible to prepare things that a standard grill can't handle. This includes vegetables, small pieces of meat, pancakes, and all the things that usually fall through the gaps in grill grates.
Speed & capacity of cooking – An outdoor gas griddle allows you took large quantities of food in a short space of time. Think about preparing an entire breakfast for a large gathering on your stove versus using the griddle!
Convenience – Contrary to popular belief, a griddle is very easy to clean and easy to use. When it comes to gas griddles, all you have to do is turn on a burner and after a short time, you can start cooking. Cleaning the plate isn't difficult either as long as you buy one that is well designed.
Should I put oil on the griddle before cooking?
Yes, this will help stop your food from sticking to your griddle. Once the oil is hot, you can place your food on the griddle.
What oil should I use to season my griddle?
You should always look for an oil that has a high smoke point when it comes to seasoning your griddle. These include sunflower oil, avocado oil, canola oil, coconut oil, grapeseed, and peanut oil.
La Tourangelle Organic Canola Oil has a high smoking point and comes in a handy spray.
Takeaway
Now you know all about the benefits and convenience of a griddle, and why it's a 'must have' for any serious griller.
I'm sure you're keen to start cooking up a storm! Are you ready to make your purchase?
Next, read all about the equally, if not even more, versatile Kamado grill and which one is the best
Joost Nusselder, the founder of Lakeside Smokers is a content marketer, dad and loves trying out new food with BBQ Smoking (& Japanese food!) at the heart of his passion, and together with his team he's been creating in-depth blog articles since 2016 to help loyal readers with recipes and cooking tips.