I love creating free content full of tips for my readers, you. I don't accept paid sponsorships, my opinion is my own, but if you find my recommendations helpful and you end up buying something you like through one of my links, I could earn a commission at no extra cost to you.
Learn more
Three-burner gas grills are the best all-rounder grills. They are the perfect size for the average family and can be used for a wide range of occasions from large parties to simple get-togethers.
Because they are some of the most popular grills around, there's a huge range of product options to choose from.
It's tough to decide which one would be best for you and your needs, and which one will offer you the best grilling experience for your money.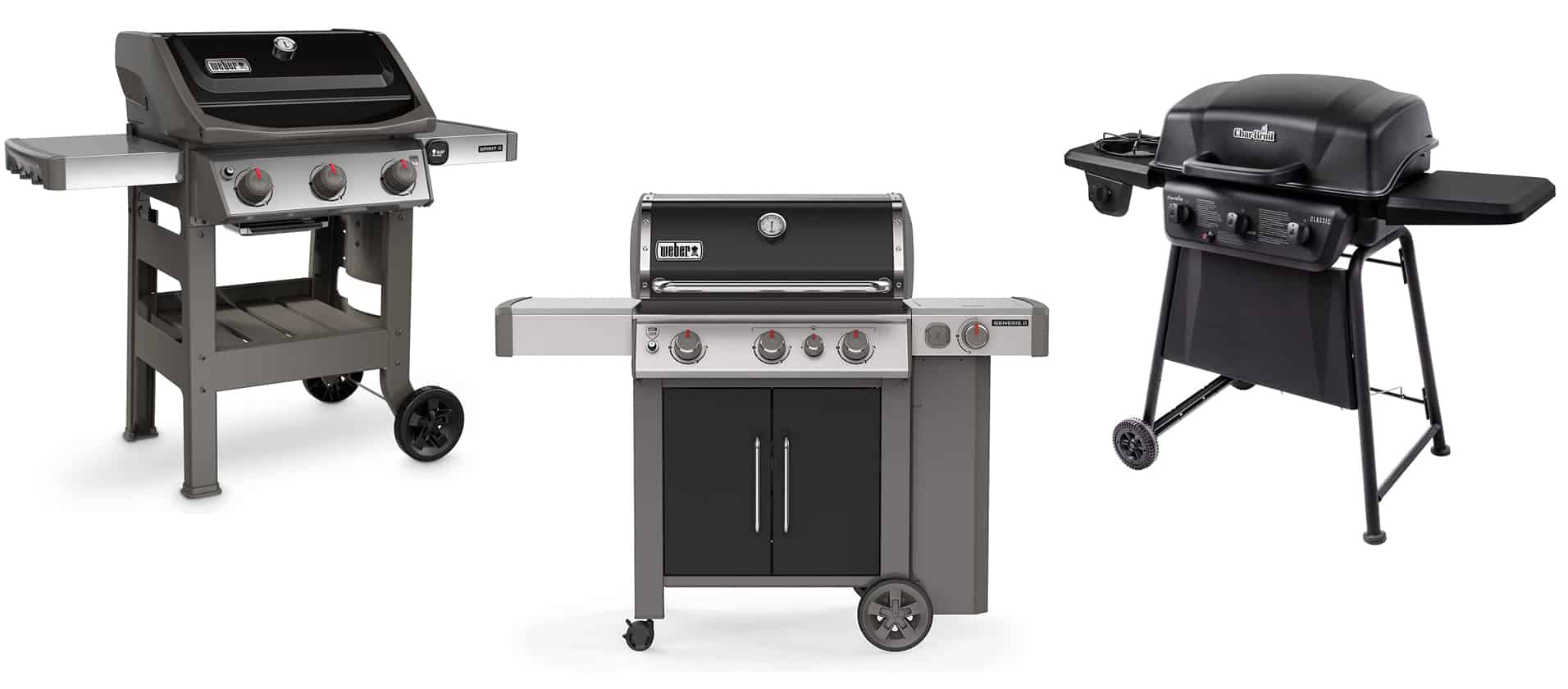 In my opinion, Weber Spirit II E-310 is the top choice. It's simple, yet solid, and comes with a respectable 10-year warranty. If you're looking for a 3-burner grill that won't disappoint you, then this is the one.
I've been in the grilling game for many years. I've tried and tested almost every brand out there, and I've grilled on products of all different shapes, sizes, and qualities.
Over the years, I've figured out exactly what makes a good product, and what's actually worth spending your hard-earned cash on.
In this post we'll cover:
Tips for buying a new 3-burner gas grill
Overall, the rules for choosing a new three-burner grill are pretty much the same as when you're choosing another type of grill. Focus on budget, size, features, mobility, and warranty.
Budget
Never look at products that are out of your budget range. This will just lead to frustration and disappointment.
It's important to set your budget from the very beginning and focus on the options that are available to you. There's always a bargain if you know what you're looking for!
Size
Analyze your needs and the space available in your surroundings. Make sure that the cooking area is a good size. Some 3-burner options only offer a small cooking space, so always check the dimensions before you buy!
Accessories
Do you want gadgets and features that take your grilling experience to the next level? I recommend the sear burner as the best "addition" to have on your grill.
There are also loads of fun gadgets and accessories you can buy separately.
BUT remember that if you want all of the 'extras' to come with your grill, and you still want a high-quality product, it is going to cost you more.
If you've got a limited budget, I always recommend buying the simplest, but best quality grill you can afford in your price range. It will last longer, and you can always buy BBQ accessories separately at a later stage.
Mobility
Do you have loads of room for a grill? Or do you want to take your grill with you when you travel?
Take into account whether the grill you're interested in has mobile features and what size it is.
Warranty
Is this going to be a long-term investment for you? If you've got a higher budget and you're able to invest in a more expensive product, always check the manufacturer's warranty to see if they stand by their product for the price that they are asking!
Some brands offer up to 10 years of warranty whereas others only 2-3 at a similar price – decide for yourself what is safer for you.
The 3 best three-burner gas grills reviewed
Now you know what to look for when narrowing down the wide range of 3-burner grills out there.
I've detailed my top three options below, and why I think they are amongst the best 3-burner grills available in 2021.
Best overall 3-burner gas grill: Weber Spirit II E-310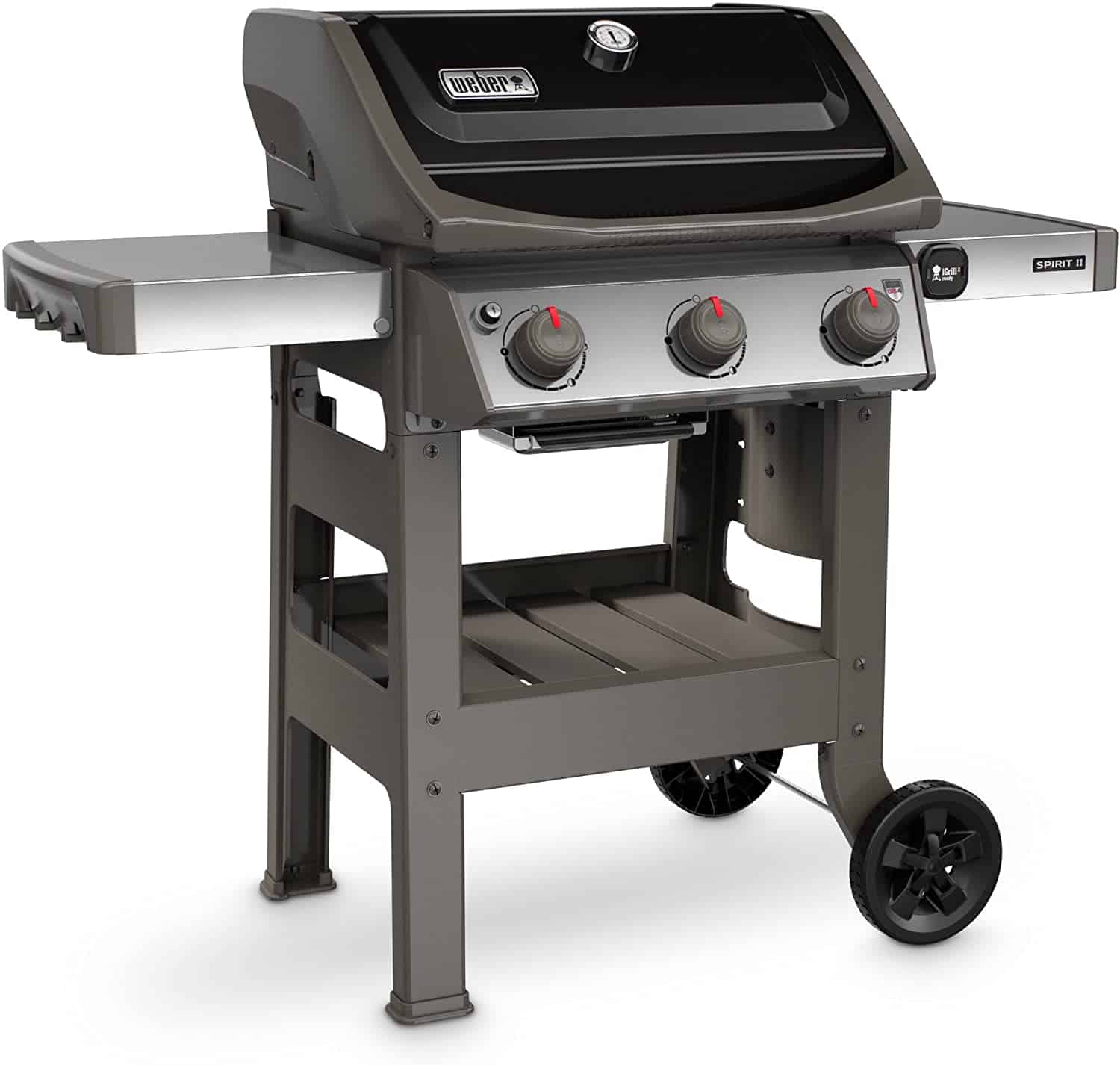 My absolute favorite 3-burner is the Weber Spirit II E-310. Not only does it offer loads of space, and great quality workmanship, the burners are also very strong and efficient.
It's perfect for regular use and large enough to grill food for family get-togethers and parties. While some don't like the open cart design, I enjoy it. Plus there are six handy grilling tool hooks available and two side tables for added workspace.
It comes with all the essential elements and systems to make cooking and cleaning easier.
It has 424 square inches of the main cooking area and a lot of workspace on the side shelves as well as storage space under the grill.
The key aspect of this grill is its quality and durability. For the price, you really can't get better than this. Weber has covered this model with whole 10 years of warranty.
It is also compatible with the wireless thermometer (iGrill), but you have to buy it separately.
It's a pretty simple grill that doesn't come with gadgets, but in my opinion, if you want a long-lasting, quality 3-burner that won't let you down, then this is the one.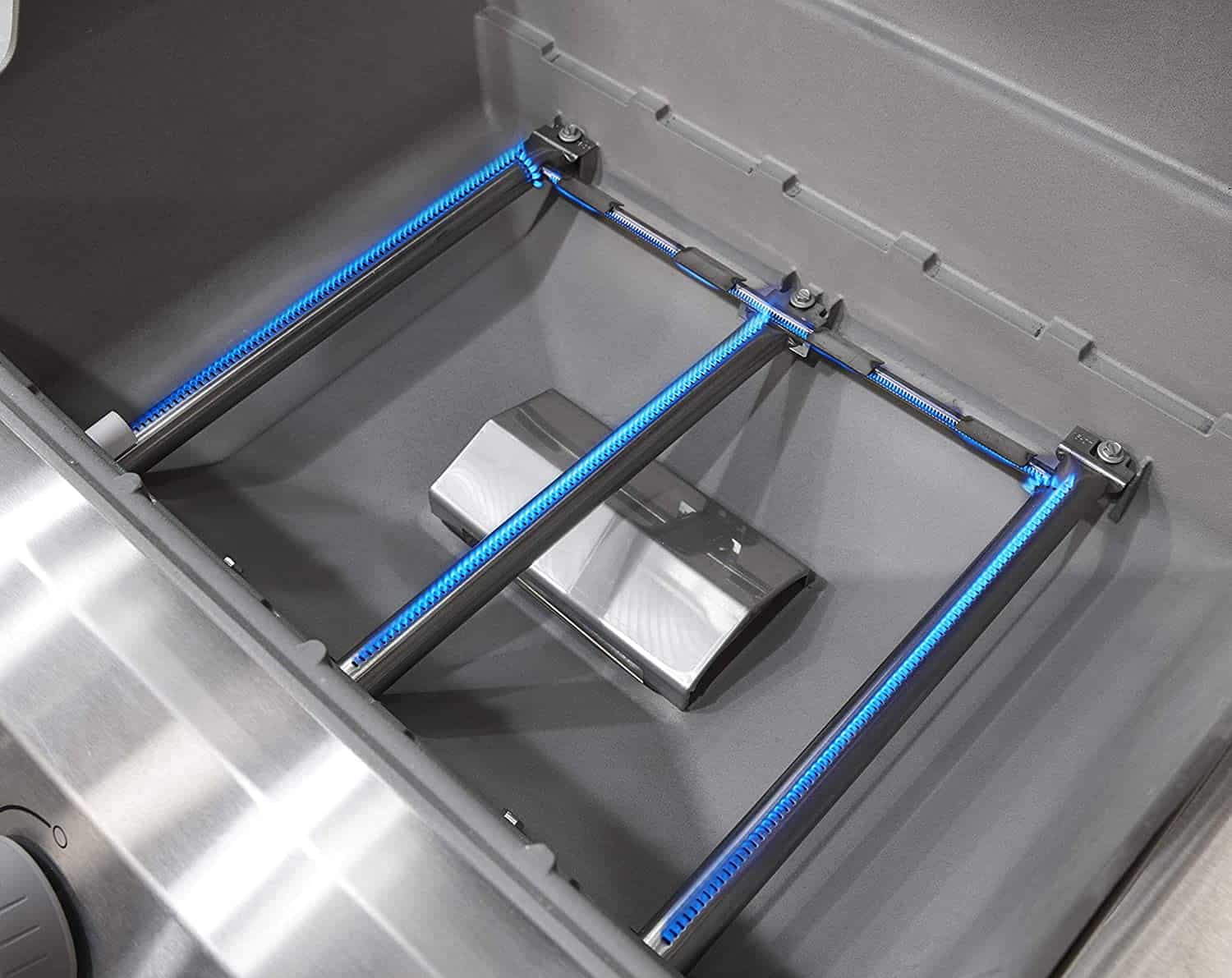 Features
Budget: An average price for an above-average product. Definitely worth the money
Size: 52 x 27 x 44.5 inches
Accessories: No fancy accessories, but it does come with six handy tool hooks and two side flaps
Mobility: At 20 pounds, it's not the heaviest grill, but it wasn't made to be transported on camping trips. It is, however, easy to wheel around your garden thanks to the two large wheels
Warranty: 10-year warranty
Keep your investment in good condition. Here's How to properly Clean a Weber Grill
Best 3-burner gas grill for accessories: Weber Genesis II E-335
If you're looking for something that's a little bit 'extra', then the Weber Genesis II E-335 is a great alternative to the Spirit II series.
While it still has three burners, it has a larger main cooking area (513 square inches!), and includes some fun features.
The burners are also more powerful than the Spirit II so that you will be able to achieve the right heat across the whole grill with no cool spots. My favorite accessories on this grill are the two additional burners (side burner and sear burner).
As a grilling enthusiast, I always pay attention to sear marks on the food surface. With a sear burner, I know that I am always going to get them without any problem.
The side burner comes in handy for warming up sauces.
I also really like the design of this grill. The cabinets are sleek and allow you to store things beneath the grill and the two shelves offer great workspace.
Despite the fairly high price, it is one of my favorite gas grills because you get great quality for your money. This grill also comes with a 10-year warranty!
Features
Budget: Higher-end budget, but you do get extra accessories
Size: 59 x 29 x 47 inches
Accessories: Side burner and sear burner are included
Mobility: This grill is not made for camping or designed for mobility
Warranty: 10-year warranty
Still not sure which one to go for? I've written a more in-depth comparison between the Weber Genesis and the Weber Spirit here
Best low-budget 3-burner gas grill: Char-Broil Classic 360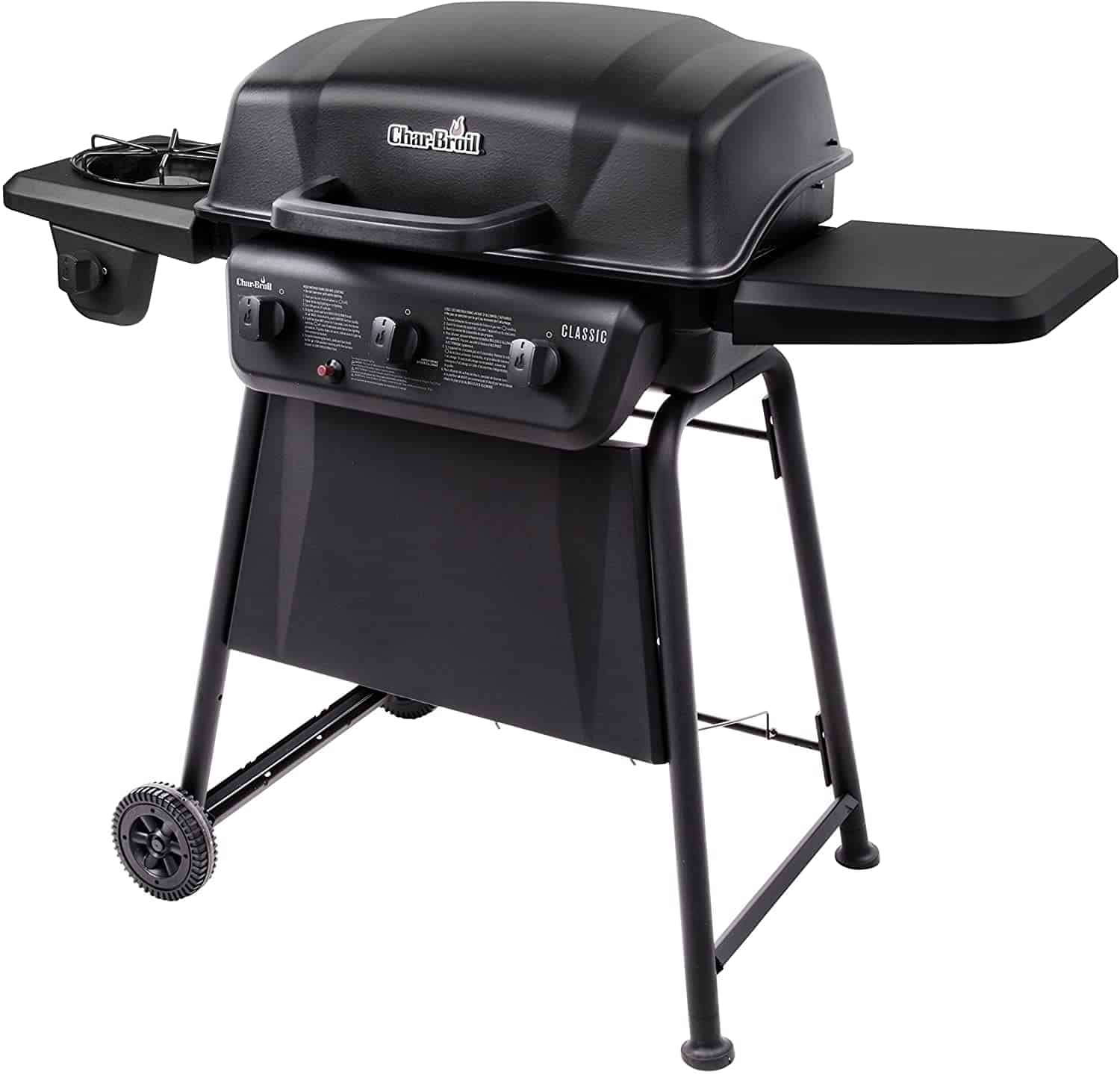 Let me just say right from the beginning that this is a low-budget option. You are definitely not going to get the quality and durability of the Weber models above, but the Char-Broil Classic 360 is still a fairly solid grill for the price.
Grills of this type are a good solution for beginners or those who need a solid grill for a few seasons at the lowest possible price.
It features 360 square inches of main cooking area, plus three independent burners. There are also two side shelves and tool hooks as well as storage under the grill.
Thinner steel is used to make this grill – hence the cheaper price. However, this poses a risk of corrosion appearing much earlier on, so it's important to take care of your grill as much as possible.
I'd suggest purchasing a grill cover – especially if it's going to be exposed to outside elements.
This is a simple, inexpensive, yet efficient grill. It is certainly not an investment for years to come, but in the right hands, it should last a few seasons.
Features
Budget: Very budget friendly
Size: 24.1 x 51.2 x 43.5 inches
Accessories: Two side shelves, hanging space for tools
Mobility: This was not specifically designed for camping or mobility
Warranty: This product comes with a limited warranty from the manufacturer
Takeaway
Three-burner gas grills are popular for a reason. They suit the needs of many BBQ enthusiasts out there.
Now that you know what to look for, and how to identify a quality 3-burner grill, it's time to make your choice. Which one are you going to buy?
Rather have your grill a tat smaller? Here are the Best Two Burner Gas Grills reviewed
Joost Nusselder, the founder of Lakeside Smokers is a content marketer, dad and loves trying out new food with BBQ Smoking (& Japanese food!) at the heart of his passion, and together with his team he's been creating in-depth blog articles since 2016 to help loyal readers with recipes and cooking tips.