I love creating free content full of tips for my readers, you. I don't accept paid sponsorships, my opinion is my own, but if you find my recommendations helpful and you end up buying something you like through one of my links, I could earn a commission at no extra cost to you.
Learn more
A reliable set of grill tongs is essential for any outdoor grill setup. A good pair of tongs will not only make outdoor cooking more enjoyable but will also make it easier.
Grill tongs are a must-have BBQ tool because kitchen tongs can't handle high heat!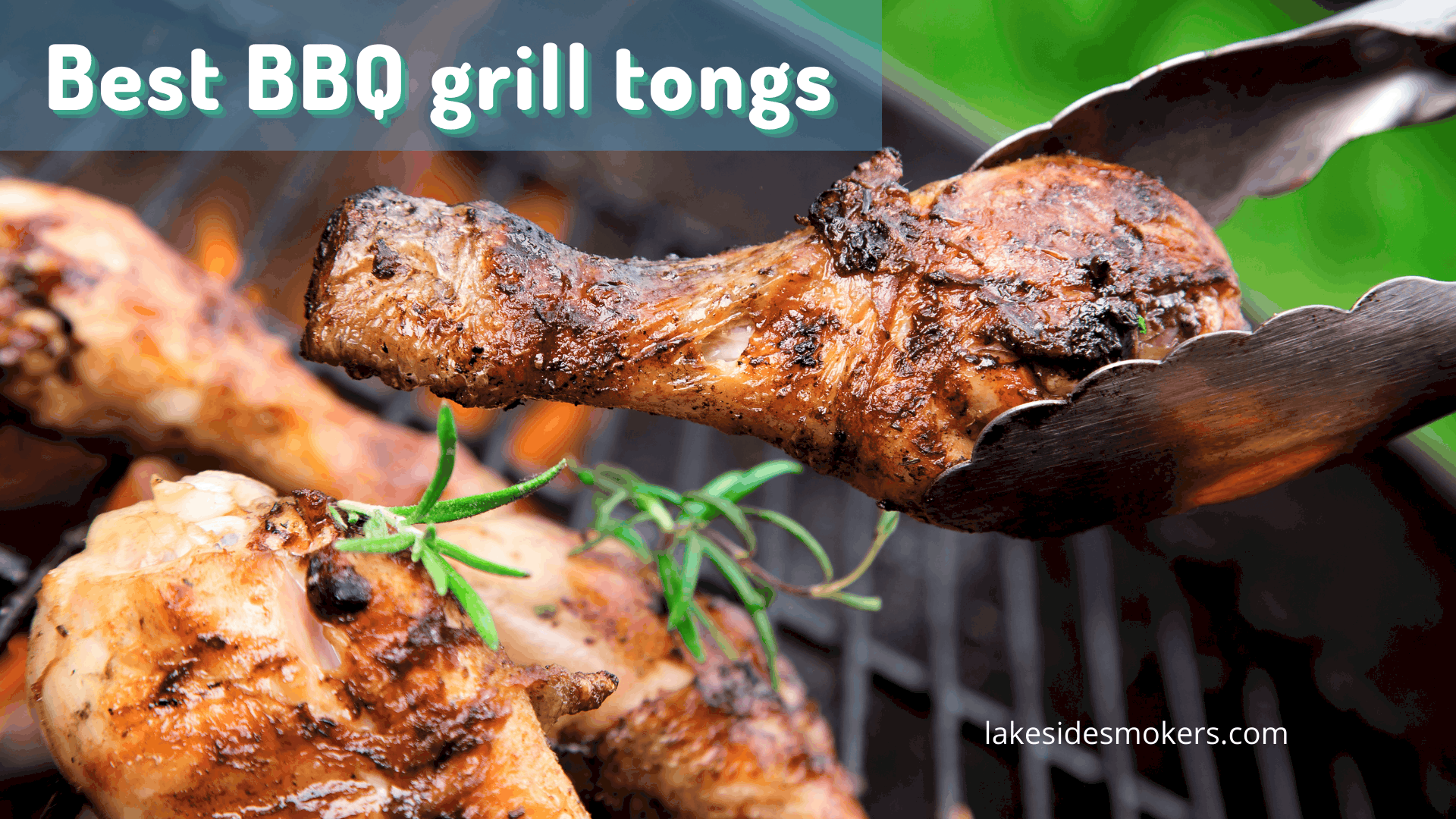 Stainless steel tongs should feel almost like an extension of your arm, whether you are flipping hamburgers or sliding vegetables around.
You should feel secure gripping the grilling tongs, with enough length to prevent your hands from being exposed to heat and allow you to grab food securely without any slippage.
My top pick is the OXO Good Grips 16 inch stainless steel tongs because they are a great value buy with medium-sized scalloped edges that don't damage the food. The non-slip rubber handle ensures you don't drop the food items when you get close to the heat.
If you're ready to buy tongs that don't warp and break after the first few uses, you've come to the right place. I'm going to review the best grilling tongs on the market to help you pick the best option.
Check out this table with all the products then read on for full reviews down below.
BBQ grill tongs buying guide
Before I talk about excellent tongs for the grill, I want to tell you what you need to look for when purchasing.
These products are great for picking up all kinds of food items and many are dishwasher safe too!
Size/length
The ideal or most common tong length is 16 inches. This gives you ample space to move your food around the hot grill while also giving you the leverage that you need to turn it, and it also ensures you don't get too close to the heat.
Thus, 16-inch stainless steel construction tongs are the universal option for most pitmasters. But, specialty grill tongs like the 12 inch or 18 inch ones are better suited for picking up various-sized cuts of meat.
There are many lengths of BBQ tongs. Surely, each comes with some advantages and disadvantages.
A longer pair of tongs is better for large grilling surfaces. This will allow you to use your hands and arms more effectively.
However, these large tongs are and more difficult to use and heavier, so make sure you choose a size that is right for your needs.
It is possible for your hands to affect the size of your tongs. To get a better idea of how they feel, it may be useful to try different sizes.
For more versatility, 12-16 inch tongs are best. But if you have large hands, 18 inches can be a more suitable fit.
Ideally, longer tongs will better protect your hands but if you're comfortable using tongs, the grip handles are more important than the handle length.
Strength
Your tongs should be medium in strength and heavy. Most people want sturdy tongs, like the OXO brand which don't bend when you pick up the barbecue.
If you choose very flimsy and cheap tongs, they won't be strong enough to lift large pieces of meat and turn them.
On the other hand, if they're too strong or heavy, and your hands will tire trying to hold onto your food.
Most tongs have sturdy stainless steel construction. In fact, brushed stainless steel makes them less prone to rusting over time.
Handle material
The handle material directly affects the type of grip you get when holding the tongs.
Therefore, handle grip material is an important factor in the user experience with your tongs.
Silicone grips are comfortable and easy to use, as well as being cool to the touch.
It can be more difficult to hold on to metal handles (especially if your hands are oily) and can also become very hot while cooking.
Wood is strong, durable, cool, and easy to hold on to. However, they can also get very dirty and worn quickly. It's harder to clean wood than metal and plastic.
Type of grip/pincers
Another type of grip to consider is the actual part of the tongs you use to touch, grab, and grip the food. Also called pincers, the grip usually has scalloped edges for a tighter grip on the food.
Make sure that your grill tongs are able to grip a variety of foods.
They should be delicate enough to handle thin or fragile items like asparagus while being strong enough to grasp large pieces of meat and whole vegetables.
If they have a shallow scalloped curve, it makes it easier for you to pick up things.
Some tongs have fork-shaped grips, and some people prefer those, but for grilling, the classic shape is more popular and easy to use.
Tip/pincer material
This is another thing to think about. A bad tip or pincer can warp after the first use!
Metal is more efficient at high temperatures and can be used with greater precision. Metal is stronger, but metal tips can puncture or tear food if they latch on.
Stainless steel is very common because it's a great heat-resistant material.
Keep in mind that silicone tips are not safe for grill use! It melts when exposed to high heat, but it's also far less durable overall.
When using the tongs for food prep or after it's cooked, silicone is better than enameled or nonstick cast iron, which might be susceptible to scratching. Silicone is easier on food but can slip from the slick grip.
Locking mechanism
Having a functional and easy-to-use locking mechanism will make it much more fun to use your BBQ tongs.
It will allow you to unclog them easily while they cook and also makes it easier to store them if they close well.
After all, easy storage is important especially if you tend to misplace this kind of grill tool.
Another factor to consider is the resistance of the tongs. Do you feel like you have to exert a lot of effort to clamp them, or are they just enough to allow for easy control? You don't want the locking mechanism to come undone easily.
You experience less resistance when you use a locking mechanism with more springs.
Tongs that aren't locked can be more difficult to grasp and can cause a problem with your grip. They are also bulky and annoying to store.
Extra features
Modern tongs have added features like digital temperature control or built-in LED lights.
If you're serious about BBQing, you might consider the bonus features essential.
Tags have a few subtle features that make them easier to use.
You can lock and release one-handed tongs even if your second hand is holding a tray of food or a drink.
Most tongs have store holes or rings, so you can hang your tongs on a hook or on the grill.
The pincers of the forks have sloping edges that can be used to provide additional precision in grabbing and transferring small food items.
Then there are the scallop pincers and spatial combination tools which are better at picking up and flipping foods like burgers.
Many customers are looking for tongs that are easy to clean and want to wash them in the dishwasher. A tong with wooden handles is usually hand wash only, so keep that in mind.
The good news is there are so many options. Some cooks prefer to use one tong for vegetables and one for meats.
A set of tongs is more affordable than one single tong and can be an excellent addition to any kitchen. You will find other useful tools on the deck, such as brushes or spatulas, in sets.
The bottom line is this: good grips, easy-lock mechanism, and heat resistance are the most important features to look out for in these types of tools.
Best grill tongs for the BBQ reviewed
Let's look at the following grill tools and see why each pair of tongs might fit different needs and how to differentiate them.
Best overall BBQ grill tongs: OXO Good Grips 16-Inch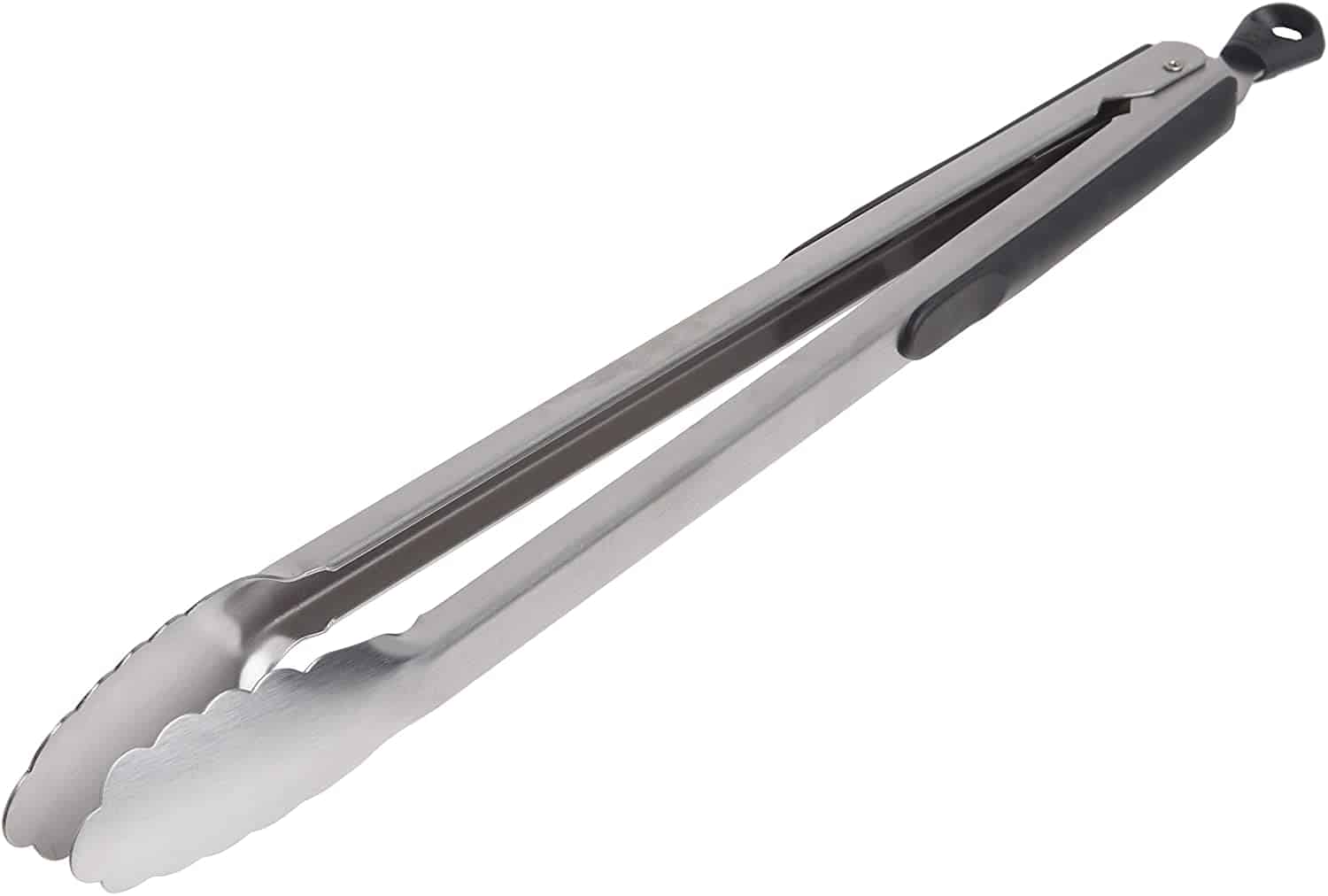 length: 16-inches
material: stainless steel
handle: rubber
pincers: scalloped
If you're looking for the perfect pair of tongs that are sturdy, ergonomic, and well-priced, then OXO is the brand that keeps getting the 4 and 5-star reviews.
These tongs are made from thick-gauge stainless steel and will not bend when you pick up larger, more bulky cuts like steak.
You will have greater control over your tongs with the non-slip flexible handles. The thumb rest makes it easy to use your tongs for all-day grilling.
These grilling tongs are known for their incredible springiness. You won't need to strain to hold your food securely because the tension has been set precisely.
However, they can be prone to sticking shut the first time you use them. It may take some time for them to relax.
Some people remark that the tongs feel quite rigid when first using them but you should just know that this is normal and they loosen up.
The locking mechanism can be used to store your tongs or hang up while you take a break. It's a pretty heavy-duty locking mechanism.
They measure 16 inches long and will protect you from heat. The spring mechanism makes flipping and turning as easy as turning your wrist.
Since they're the ideal length, these 16-inch stainless steel tongs can be used to safely remove hot meat and vegetables from the grill grates without burning your hands.
The pincers have a scalloped edge that allows you to reach for small objects with greater precision.
Even with wet or oily hands, the soft grip rubber on the handles is easy to grasp and feels cooler than the metal. It is easy to open the locking mechanism with one hand or push it down on the counter.
Clean-up is easy because you can also wash them in the dishwasher after you're done. These tongs are durable and high-quality, with all the necessary features for safe, easy grilling.
They are durable and easy to use, according to many reviews.
Best budget tongs: Smart Cook 16-Inch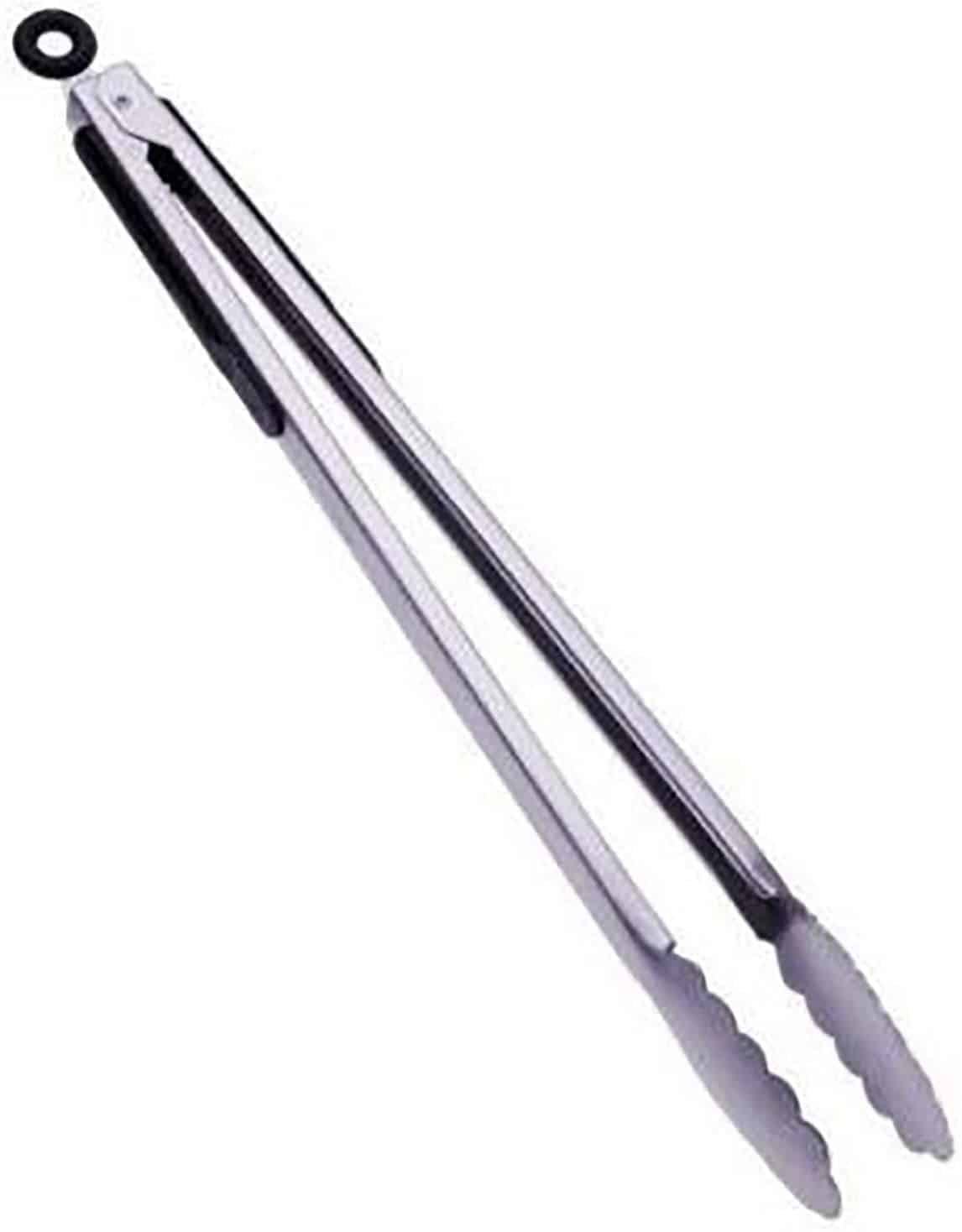 length: 16-inches
material: stainless steel
handle: rubber
pincers: scalloped
There are plenty of budget grill tongs on the market but it's important to choose a pair with a heat-resistant handle that is also sturdy.
The Smart Cook 16-inch long tongs are made of a durable stainless steel material that doesn't feel flimsy to the touch.
I like the fact that the handle is made of a plastic rubber material and has a grooved thumb rest for comfort. Also, the rubberized grip doesn't overheat, so it stays cool and you don't need to worry about burns.
Like the more expensive OXO or Weber tongs, this pair has similar scallop-edged pincers which help offer better grip and precision.
So, when you try to pick up heavier beef cuts or unevenly shaped foods like chicken drumsticks and small chicken wings the foods don't fall out of the tongs.
One of the advantages of these tongs is the locking mechanism. It's quite a simple press and lock mechanism but there's just the right amount of springiness. As soon as you press down, the tongs click into position and the system doesn't get damaged easily.
The hanging loop is perfect for storing the tongs on your grill hooks or in the storage area.
The main disadvantage is that you can tell this pair of tongs isn't quite as heavy-duty or strong as more expensive products. However, one pair can still last you a couple of years and for a 9 dollar pair of tongs, that's not bad.
Overall, I recommend getting these tongs if you're a beginner with grilling or if you're looking for something simple but functional that can do the job well for cheap.
OXO vs Smart Cook
At first glance, these two pairs of tongs look very similar, except the Smart cook tool is half the retail price. It's not because it's not good, but OXO offers a better and more secure grip as well as a better lock mechanism.
Smart Cook's spring mechanism is less durable and seems a bit flimsy in comparison to the OXO which is firm.
The Smart Cook is a nice affordable pair of tongs and it's also very heat resistant. It's great for the occasional barbecue, but if you want a sturdy and long-lasting pair of tongs for everyday use, OXO is the superior choice.
Both tongs have a good thumb rest and a comfy rubber grip handle. The OXO outperforms the Smart Cook because it's easy to clean in the dishwasher whereas the other one is not and tends to rust if you don't hand wash it immediately.
The bottom line is that you can use them both when making barbecue and for all the basic flipping, turning and gripping actions, a cheaper tong like the Smart Cook is a suitable option too.
Most heavy-duty tongs: Weber 6610 Original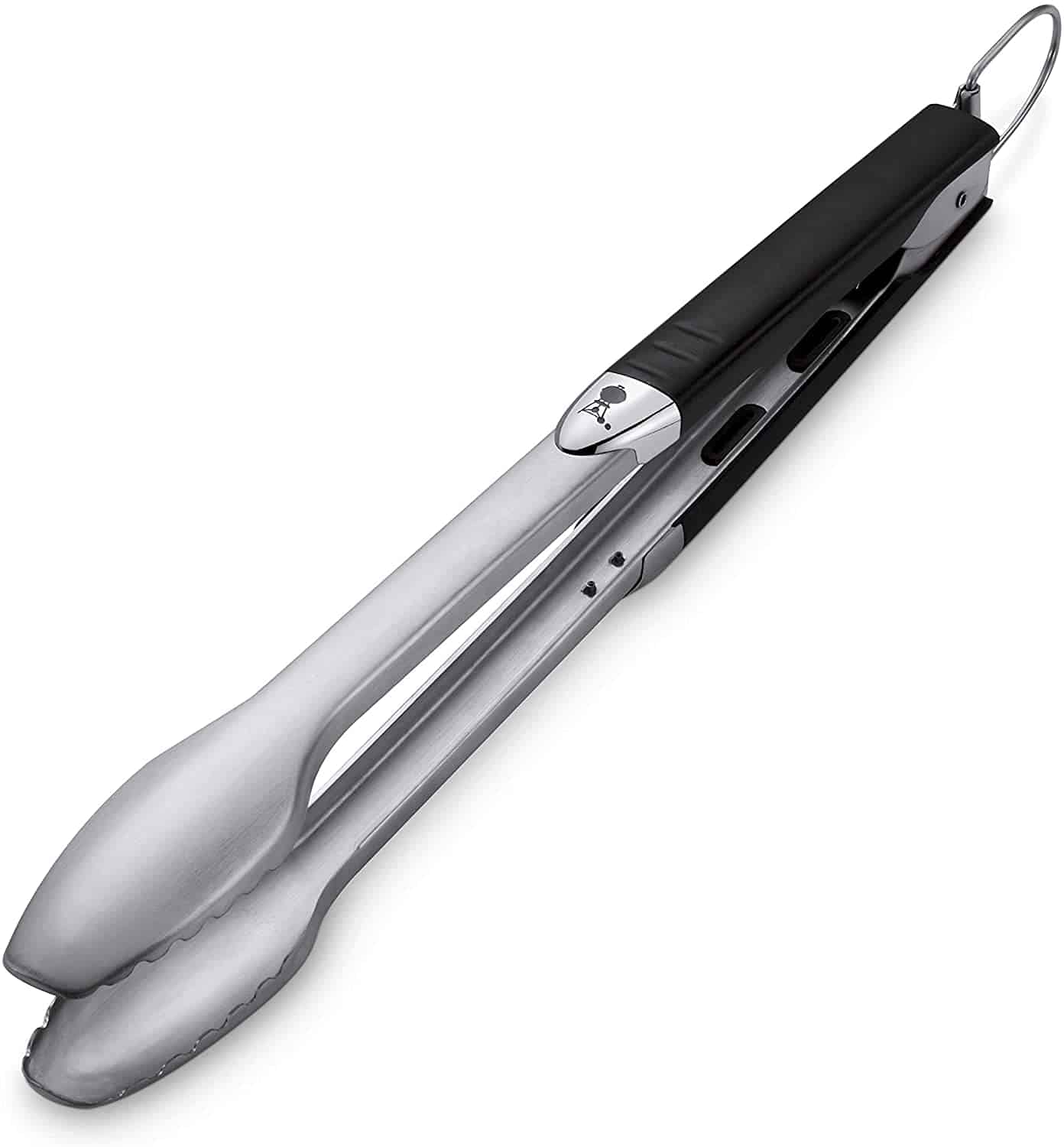 length: 17-inches
material: stainless steel
handle: rubber
pincers: small scallops
I'm sure you're familiar with Weber grills – maybe you own one. There's no doubt this brand is one of the most popular when it comes to all things BBQ.
The 6610 Original Stainless Steel model is one of the most popular tongs on Amazon and for good reason. It has the unique ability to hold food firmly.
These 17-inch tongs can hold large ribs and are long enough to arrange your charcoal without having to touch the flame.
That's what sets them apart from the slightly smaller tongs. This extra inch keeps your fingers even farther away from extreme heat while cooking.
Also, the beautiful design will make you want to use the tongs in your kitchen too, not just on the grill or smoker.
It's almost impossible to use tongs if they are difficult to hold or fit in your hands awkwardly. The tongs are made of a dishwasher-safe stainless steel core and have a longer rubberized grip section.
This rubber material is non-slip and non-stick so even if your hands are wet, the tongs don't slip out.
The soft-touch handles are cool to touch when you place them over the fire, so they can be held securely with your bare hands although I recommend always using good grill gloves.
Another benefit is that the tongs can also be unlocked easily so storage doesn't get too complicated.
This unit pincher will ensure that your barbeque or hamburger is held securely without losing its grip.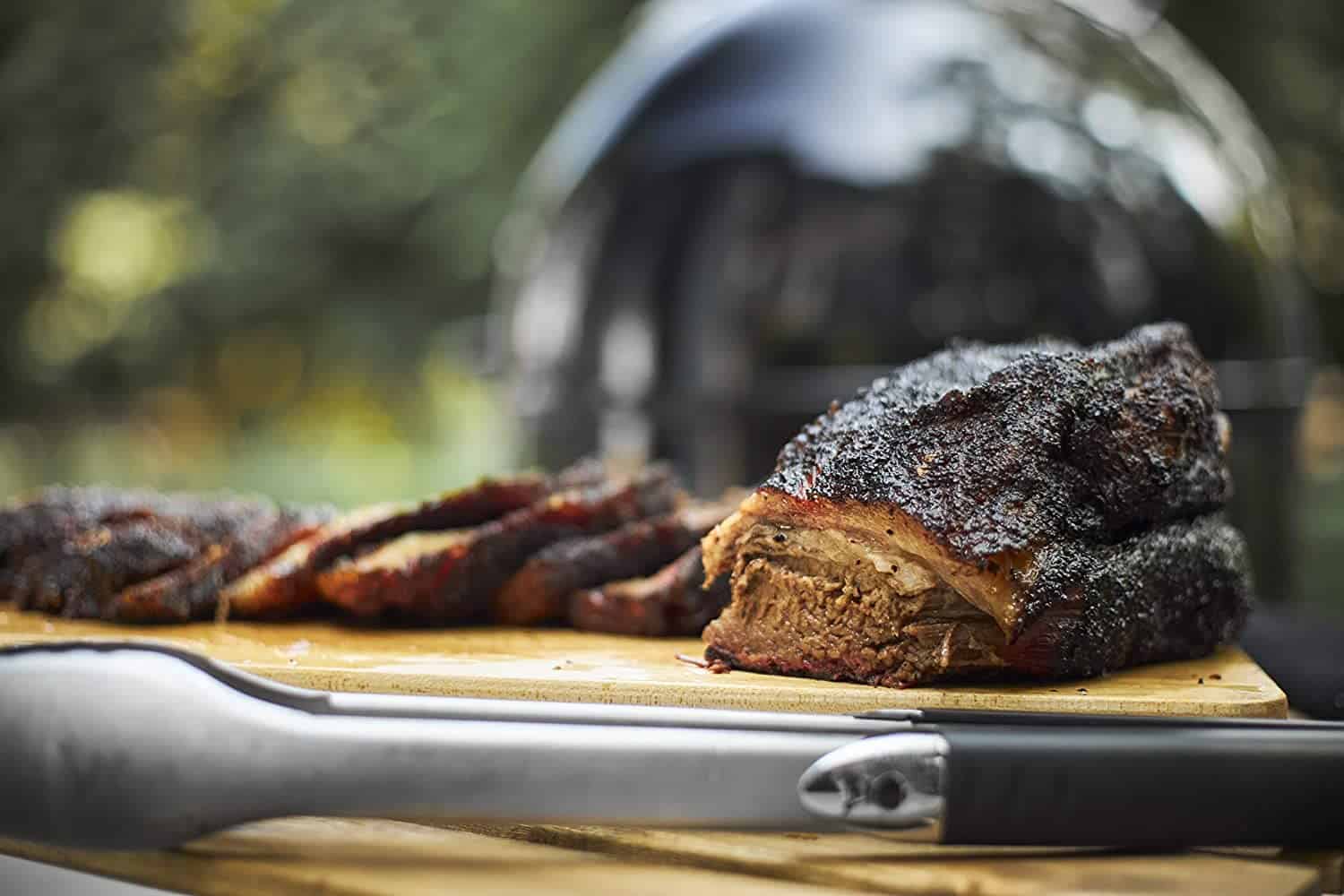 The scallop pincers are smaller and closer together offering a more secure grip and improved accuracy. If you struggle to pick up small vegetables or small meats, you'll enjoy the added accuracy with this pair.
However, some people say that the pincers actually pinch the food too hard and leave dent marks. I guess it depends on how accustomed you are to using tongs.
As a pitmaster or seasoned BBQ enthusiast, you'll have no issues with the Weber tongs.
Best grill tongs set & best tong and spatula in one: Joinkitch 16-inch & 12-Inch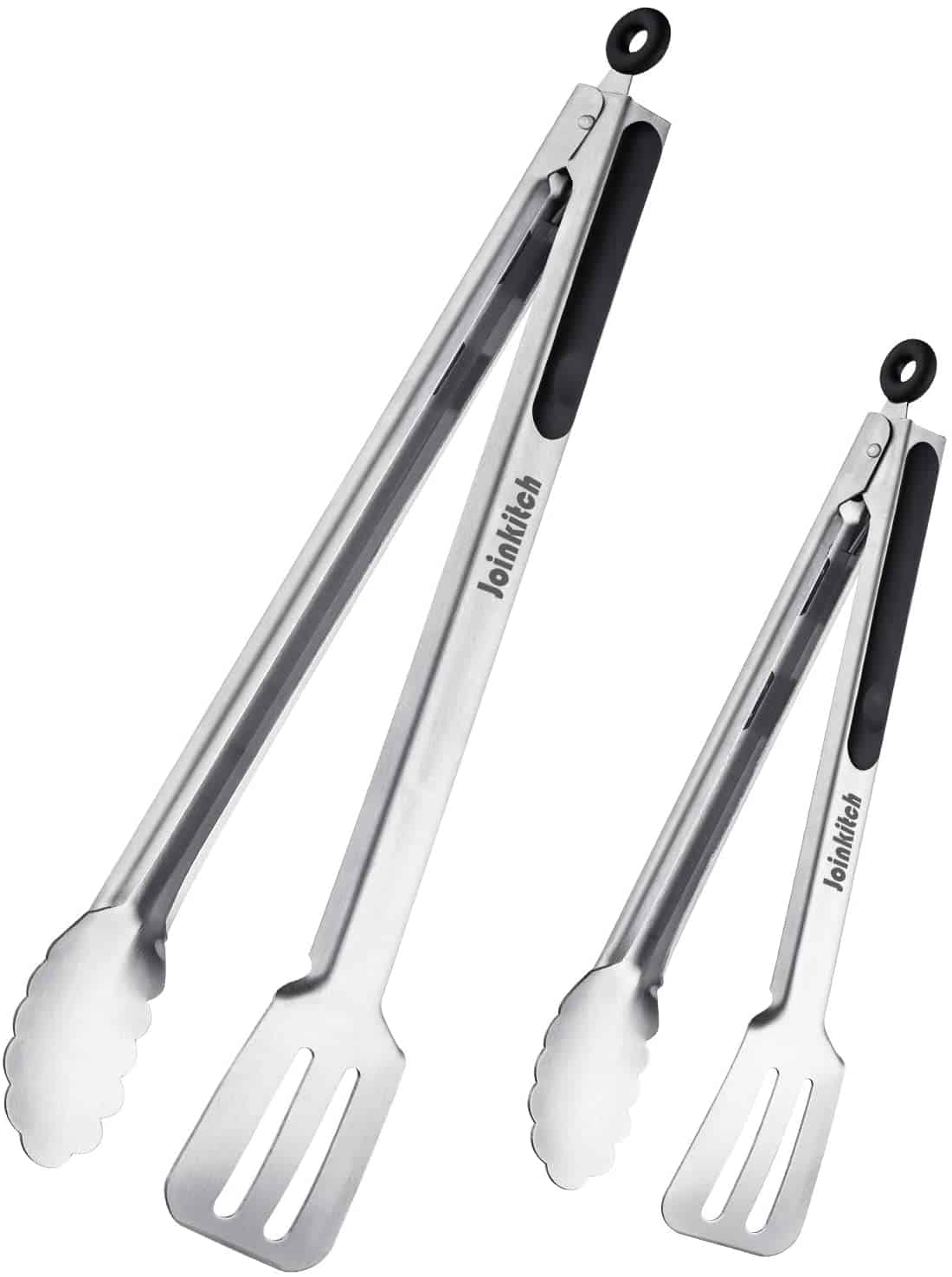 length: 12 & 16-inches
material: stainless steel
handle: rubber
pincers: one scalloped clip and one spatula clip
Pro grill masters need more than one size of BBQ tongs. If you want to buy a BBQ gift set for someone or want to add some tongs to your collection, the Joinkitch is an affordable stainless steel option.
The tongs are advertised as heavy-duty, with a minimalist yet functional design and this is certainly true.
One of the arms is a scalloped clip used for gripping the food while the other arm has a flat spatula design. This side helps you flip and lift the food from the grill.
Many people are realizing that having a pair of combo clip tongs makes life much easier and is easier to use, especially if you cook lots of flat foods like burgers.
These can be hard to grab with scalloped edges only because the edges destroy the meat patty's shape.
One of the tongs is smaller – 12-inches so it's great for handling food with precision. The second is larger 16-inches and that's the best all-purpose size. If you're serious about BBQ, you need both in your collection.
The main body of the tongs is made of semi-thick stainless steel so they're not the most durable but still quite sturdy and warp-proof. They can withstand very hot temperatures safely.
The handles are TPR (rubber) so they are pretty comfy to hold and offer great grip. One thing I don't like is that they skimped on the rubberized part and you still touch a lot of metal which can get hot, so always use gloves when using these tongs.
Like the other tongs I review, this pair is dishwasher-safe and easy to clean. So, if you want combo clip tongs that can grip any type of food hassle-free, give the Joinkitch a try.
Weber vs Joinkitch
Serious BBQ enthusiasts know that you can always count on Weber grill tools. These are made of premium materials and designed with practicality and longevity in mind.
Both the Joinkitch and Weber tong models I'm comparing are more suitable for seasoned pitmasters. The Weber is the most heavy-duty pair of tongs on this list.
The Joinkitch, on the other hand, is a scallop edge and spatula combination at a great price.
Most first-time grillers don't really need the combo tongs but if you're all about cooking up a variety of foods, the spatula side is going to help you pick up small pieces like offal or gooey foods like cheese.
If you regularly cook heavy meats like pork shoulder and pork butt, the Weber is the tool you need because it doesn't bend or break when you lift heavy food. Also, the tongs are 1 inch longer so they're great for large a barbecue.
The bottom line is that if you are after very sturdy stainless steel products Weber is a safe bet whereas if you want a multi-tasking tool, the Joinkitch tongs set is a cheap but reliable choice.
Best extra long grill tongs & best for ribs: Outset QB22 Locking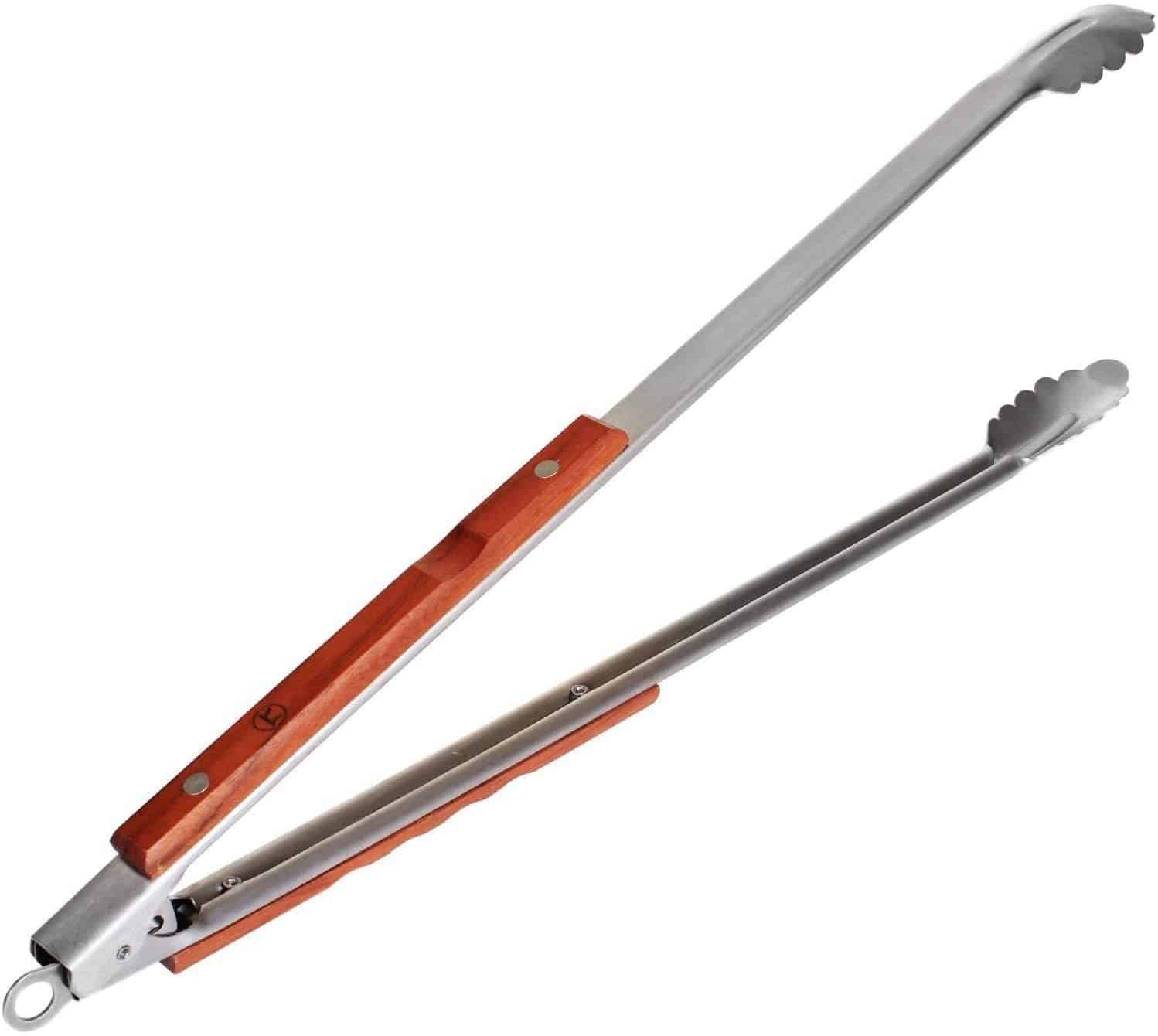 length: 22 inches
material: stainless steel
handle: wood
pincers: scalloped
Do you cook large foods or do you want the added safety of an extra-long handle? Then, you can pick the 22-inch Outset tongs which are the ideal length.
If you regularly cook or smoke large rib racks, you need longer tongs. If the handle is too short, you'll end up only grabbing a quarter or half of the ribs and then get your hands dirty.
But also, you'll get way too close to the hot grill surface which is dangerous.
The Outset Jackson Redwood 22″ tongs are made from stainless steel and have stylish rosewood handles. No doubt the wooden handles add a nice touch and make these tongs look premium even though they're quite affordable.
Rosewood handles also allow heat to escape faster, reducing the risk of getting burnt. It really comes down to personal preference whether you like the feel of wood or rubber/plastic more.
The ergonomically designed handles provide comfort. There's a simple locking mechanism that prevents tongs from being opened when not in use, which saves space.
Even the clips have a classic scallop shape which offers a pretty good grip but it's nothing amazing.
The tongs are a bit heavy (15.2 oz) but that's because of the wooden part. Also, some people say the material it's made of isn't as good as Weber or OXO, for example, because the handle can detach from the clip part in rare cases.
Overall though, they're still comfy to use and if you need a long pair of tongs in your grill kit, these will do the job.
Best grill tongs with wooden handle: GRILLHOGS 12-Inch 2 Pack
length: 12 inches
material: stainless steel
handle: wood
pincers: scalloped
A seasoned griller knows the value of oakwood handles because these are extremely damage-resistant.
The Grillhogs 12-inch tongs are sold as a set and they are some of America's favorite wood-handle cooking tongs for many reasons.
First, oak looks very nice, modern, and stylish and elevates the overall appearance of tongs. But that's not as important as the fact that oakwood stays cool when exposed to high heat.
So, even if the tongs are shorter like these, you can comfortably get close to the grill and grab the meat without feeling the burn. The hands will stay cool to the touch.
The wooden handle is a pro favorite because they say that the grip is better than rubber because it's more precise.
Next, it is easy to attach the lock and hook features for safe and efficient storage. There's a small loop for hanging the tongs and it's firmly attached so it doesn't fall over time like some other brands.
Finally, you can have complete control over smaller foods with scallop pincers. You get a really strong grip as these tongs are not flimsy at all. These are ideal tongs for flipping the meat because they don't dent and destroy it.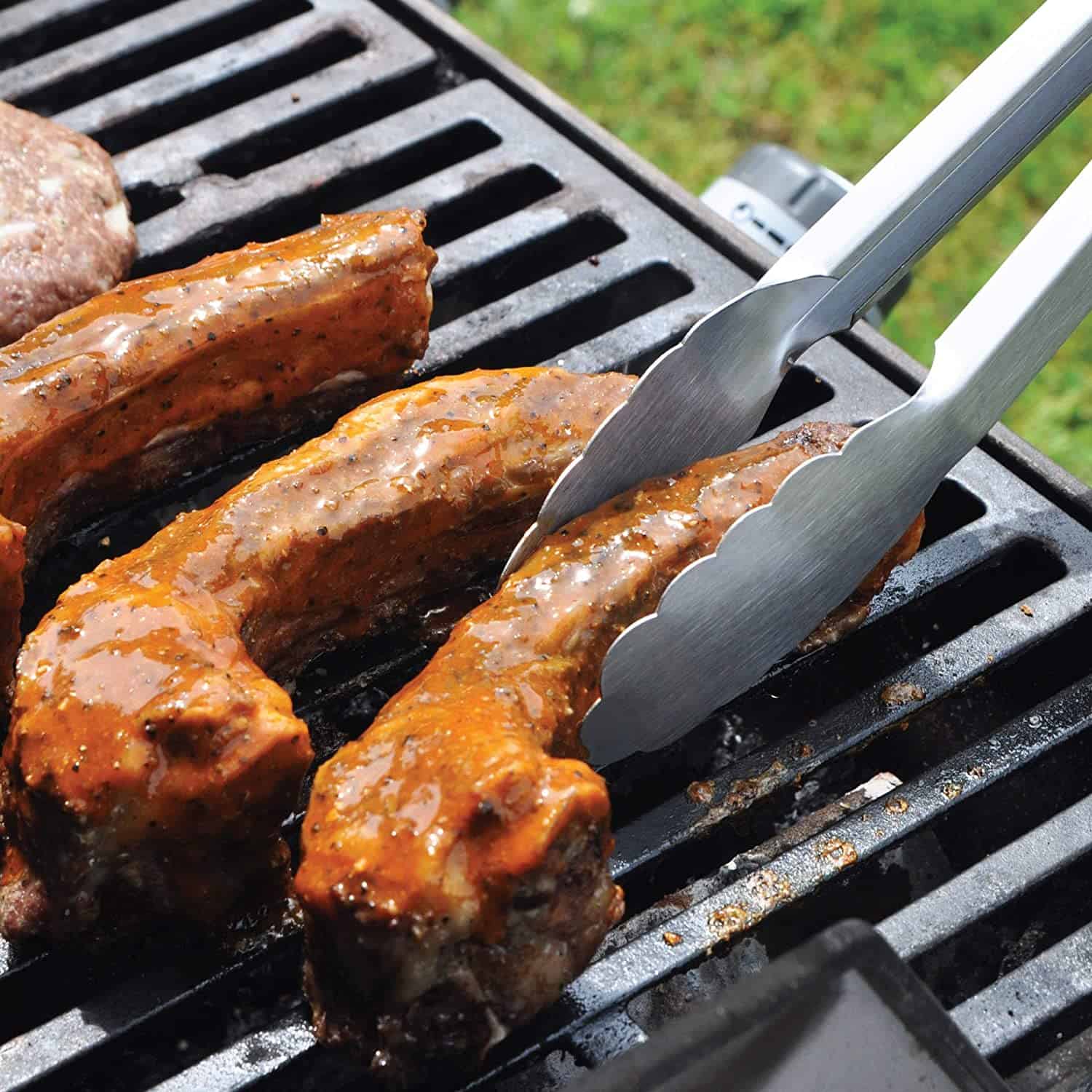 The disadvantage with this pair of tongs is that it's not dishwasher-safe. These should be kept out of the dishwasher as they can cause damage to the oak handle.
I know many younger grillers really look for this feature. But, if you can look past it and wash it by hand, this pair of tongs will last you for many years to come.
Outset vs Grillhogs
These two tongs have wooden handles, which is something that old-school grill masters will appreciate. They both offer good grips but there's a significant difference between these two products.
The Outset is an extra-long pair of tongs (22 inches) which means it's best for large grills and heavy foods like rib racks. It keeps your hands far away from high heat.
The Grillhogs is a tong set with shorter handles. These are designed to help you handle smaller, more delicate food items.
With both set of tongs, you have a similar wood design that looks elegant and is very long-lasting compared to plastic or rubber handles. The downside though is that these tongs are not dishwasher safe.
If you feel more comfortable having a long handle that keeps your fingers farther away from the grill surface, the Outset is a better choice.
But, if you need precision, the Grillhogs allow you to get close to the food and work gently.
Best grill tongs with LED light: ChefGiant with LED Flashlight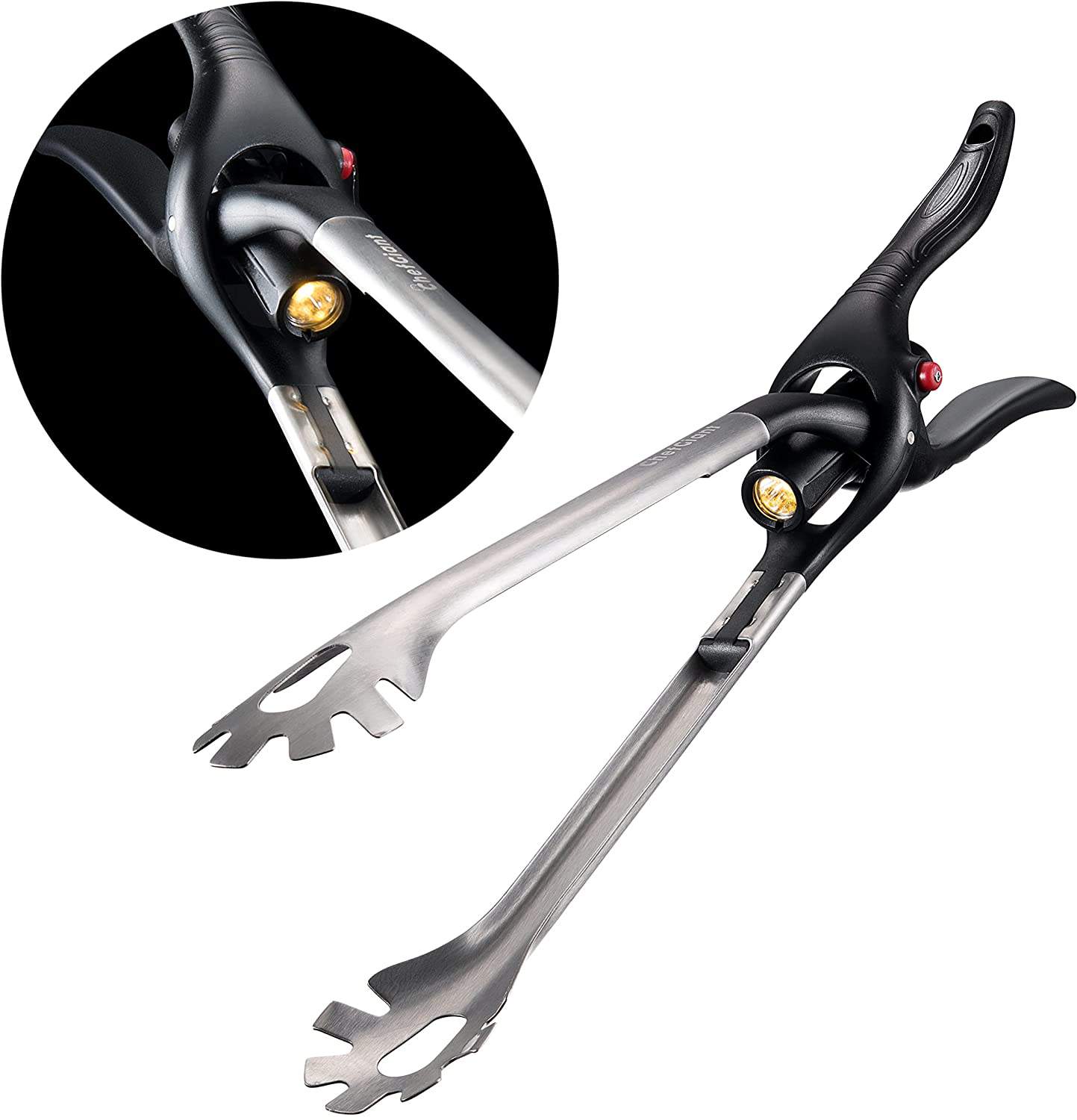 length: 19 inches
material: stainless steel
handle: fiber reinforced nylon
pincers: scalloped
Grilling on those late evenings when the sun goes down and visibility is reduced can be challenging and you can end up damaging the food due to poor visibility.
The solution is a pair of tongs with LED lights that doubles up as a mini flashlight and illuminates the grill surface so you can see exactly what you're handling. This allows for more precision and an easier grilling experience.
Think of this ChefGiant tool as upgraded tongs. If you're grilling outdoors in bright sunshine, you don't need to use the flashlight function and the good news is that it's completely removable, which reduces the weight.
This pair of tongs is longer than the usual (19-inch) which makes it a better option because you don't get too close to the heat.
In terms of build, this tool is made of premium grade 430 stainless steel. Thus, it's a very heavy-duty accessory that you can use to lift even heavy meat cuts. Lifting and flipping large rib racks will be an effortless task.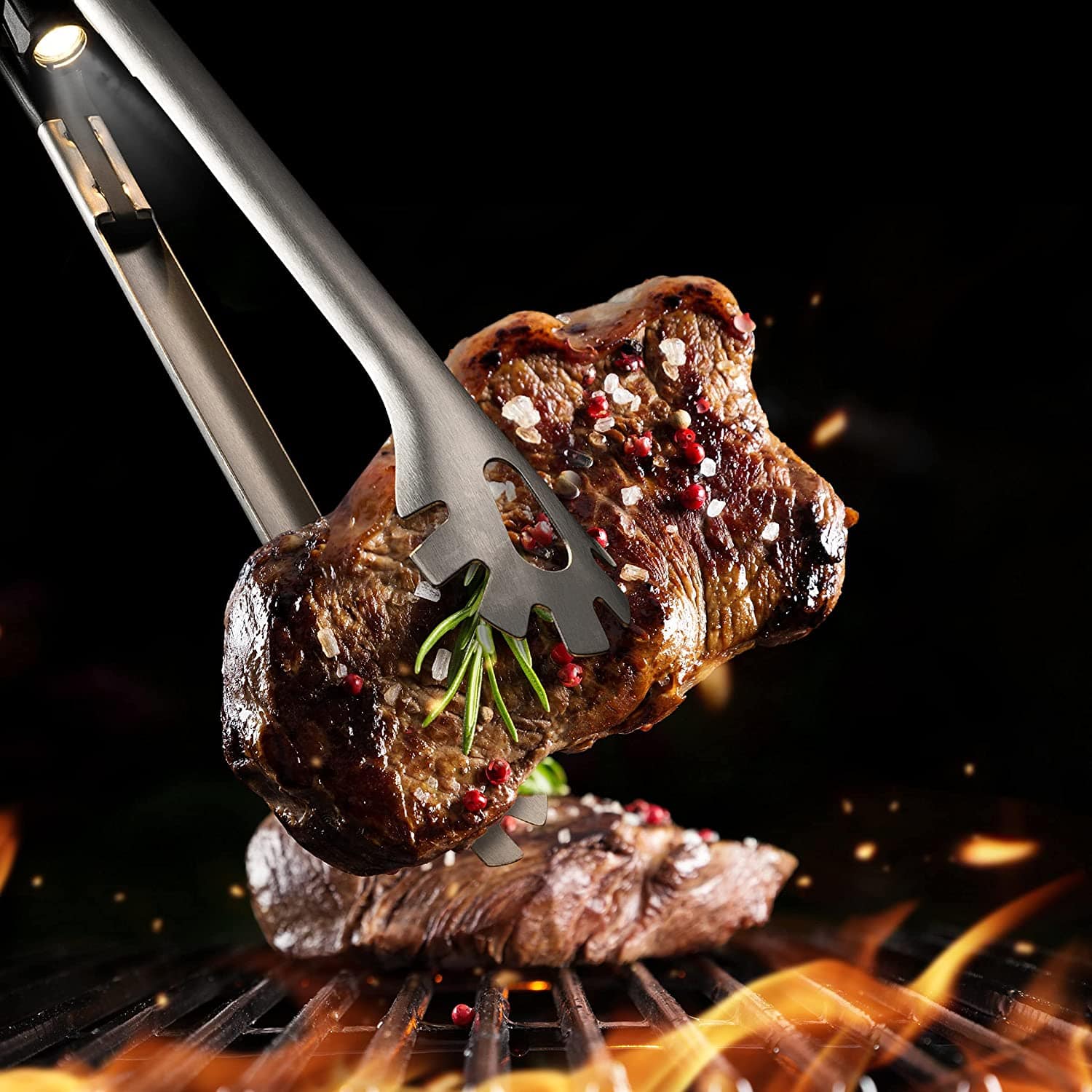 Some people are worried about the longevity of the nylon handle but it's quite heat-resistant up to 475 degrees F. It's reinforced with a special fiber to make it durable too and the grips are textured which makes them slip-proof.
If you look at the handle shape, it's like a clamp but it's super easy to use and more secure.
The good news is that you can wash the tongs in the dishwasher as long as you remove the LED light first.
Best digital grill tongs: Instant Read Food Thermometer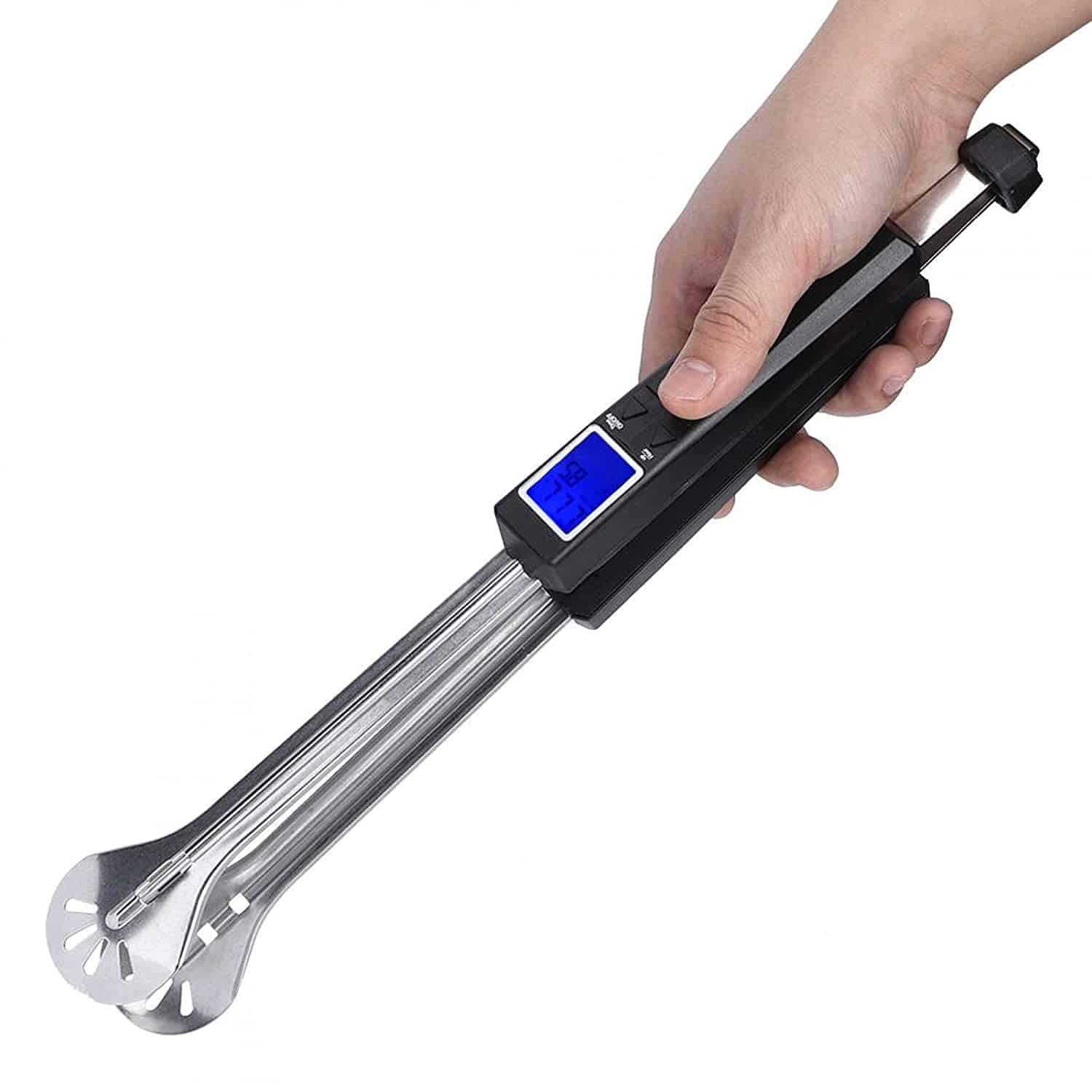 length: 19 inches
material: stainless steel
handle: plastic
pincers: scalloped
You're probably wondering why you would need digital grill tongs? Well, if you want to know the meat temperature when you handle it, then a pair of digital tongs with a built-in thermometer is very handy.
This type of tongs is fairly new and not nearly as popular as it should be considering it combines two essential BBQ tools: a meat thermometer and tongs.
The product comes with a removable LCD display so you can clean it without damaging the electronic components. All you need to run these tongs is a pair of AA batteries which last a long time.
At first glance, the tongs are similar to regular ones with a stainless steel body and plastic handle. The pincers resemble round spatulas instead of the classic scalloped edge design.
This means the tongs offer less grip than the common ones, but the likelihood of damaging the food also drops significantly.
The top handle part is less heat resistant because it's full of small electronic components so you want to keep it far away from an open fire.
It's not the ideal pair of tongs for intense grilling, but rather an addition to your heavy-duty tongs.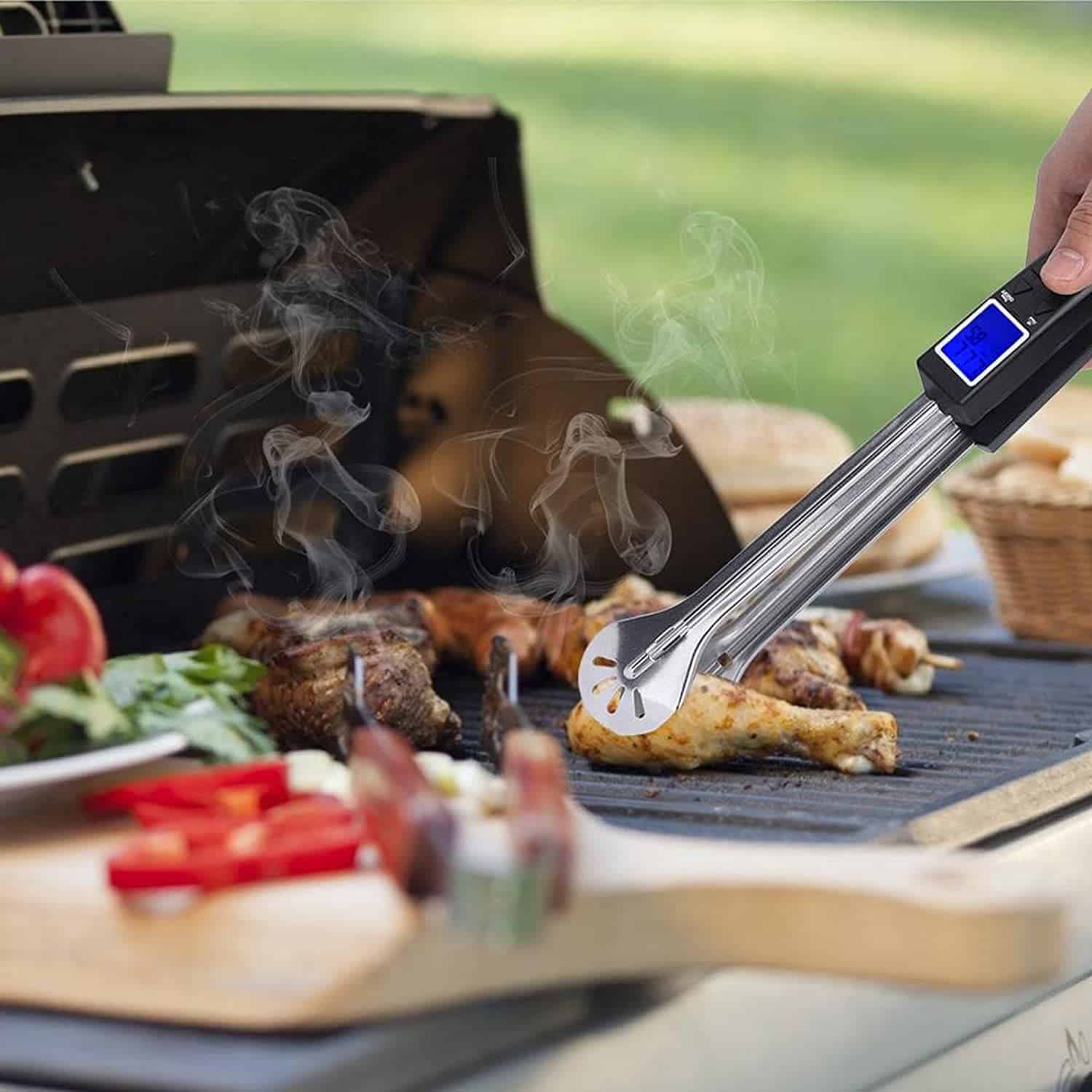 But, this type of tongs works well when you need to check if the meat and other food are properly cooked through.
Check the temperature of vegetables is a bit of a hit or miss with these tongs as the readings aren't quite accurate, especially for small veggies like mushrooms or small pepper strips.
If you want to find the best pair of digital tongs, you should know that it should have an alarm mode that alerts you when the preferred temperature is exceeded.
This affordable model has this mode and it's also quite sturdy so it's a great option for those looking for functionality and innovative features.
Rather have a separate instant-read thermometer? I've looked at the best options here
Chef Giant vs Instant Thermometer
As barbecue tools evolve, we are seeing more and more high-tech tongs. Two of the top options are the Chef Giant LED tongs and the Instant Thermometer tongs with a built-in food temperature detector.
It depends on what you need. If you're more of an evening or nighttime BBQ person, you need the Chef Giant with a removable flashlight because it illuminates the food as well as the surrounding area.
This ensures you can maneuver the tongs safely without burning yourself.
The Instant Thermometer has a pretty accurate built-in thermometer and it also offers a comfortable grip as well as non-slip handles.
With this tool, you can see if the grill is too hot, in which case the alert alarm goes off. This way you never burn and overcook tasty meat again!
This Chef Giant tong handle is made of special fiber nylon and has a clamp shape that offers a more comfortable grip than the Instant Thermometer which has a classic design.
It comes down to personal needs. If you want a more illuminated cooking surface you need the LED light feature but if you're concerned about cooking temperatures, the thermometer is more essential.
Best for Japanese BBQ: Todai 9.4-inch Yakiniku BBQ Tongs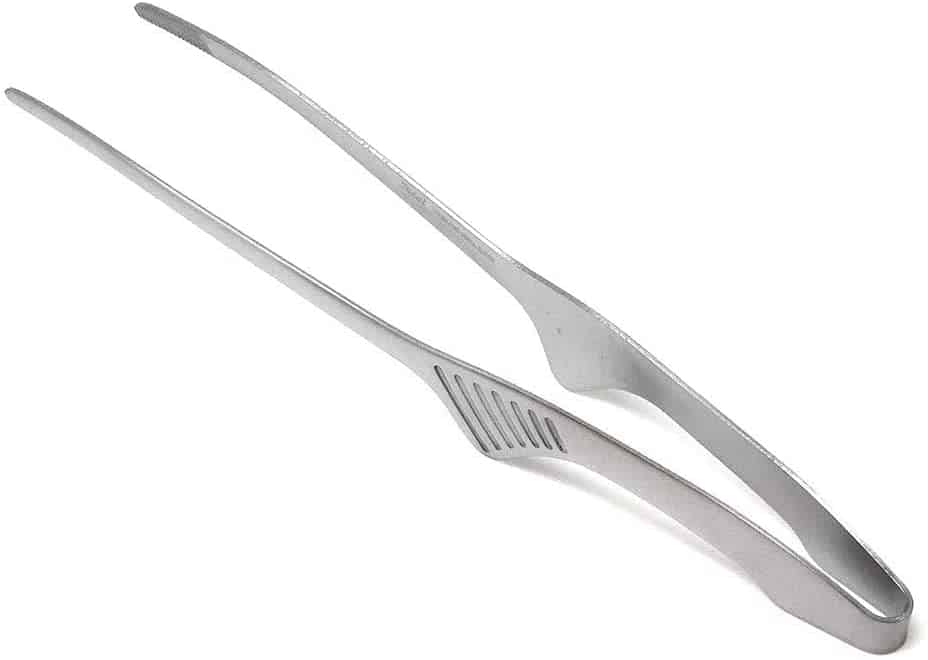 length: 9.4 inches
material: stainless steel
handle: stainless steel
pincers: small & long tweezer shape
Do you like using your hibachi or konro grill?
If you're a big fan of Yakiniku (Japanese barbecue), you know that food is sliced and diced into much smaller pieces. Thus, you need tongs that are smaller, narrower, and offer a very precise grip.
The Todai tongs are designed differently than your traditional American tongs.
These look like a large pair of tweezers. What's interesting is that Japanese tongs are made of stainless steel entirely and they don't have a rubber handle.
Even though they're made of stainless steel, these are still non-slip handles because they have a few lined ridges to offer support for your fingers.
The advantage is more precision when handling the food on the barbecue.
This pair of tongs is better than a 16 or 12-inch tong because you can get very close to the cooking surface.
Don't worry, most Japanese grills get hot but everything is smaller so you don't feel like you're getting burned when handling the food.
So, even with a pair of tongs that is only 9 inches long, you can still reach the meat and veggies and flip them over.
This kind of small narrow pincer design is also useful when you want to turn yakitori skewers because you grip the meat precisely.
One disadvantage is that if you want to use these tongs on a regular large-size grill, you'll be dropping food since it's very narrow and slim.
Also, there is no locking mechanism, you simply place the tongs on the table.
If you're after great Japanese quality and innovative design made for Yakiniku, then these are tongs to add to your collection.
Best scissor tongs: HINMAY Stainless Steel 10-inch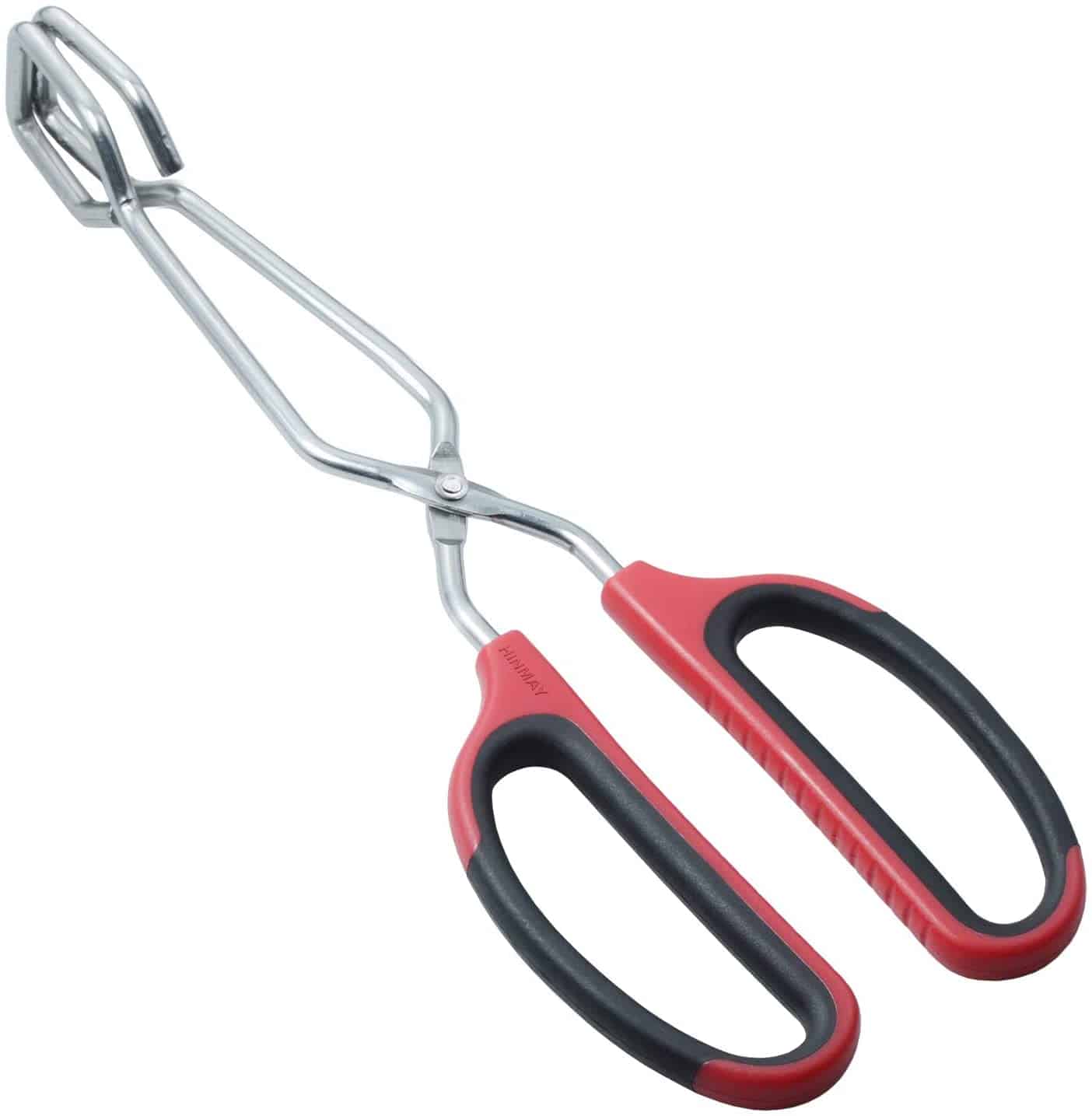 length: 12 inches
material: stainless steel
handle: silicone
pincers: square
Some of us really don't like holding traditional tongs. Are you more comfortable holding scissor handle tongs? These offer an added sense of security, especially if you're afraid of dropping the food.
The Hinmay stainless steel scissor tongs are ergonomically designed for easy maneuverability and comfort. Thus, it's a great starter pair of tongs for grilling newbies.
I like the versatility this pair of tongs offers. It's not designed just for turning meat, but it's also suitable for grilling fish, flipping and grabbing crabs, or handling larger chicken and turkey cuts.
Additionally, you can flip hamburgers, hotdogs, corn, and toss vegetables.
Then, after you're done with the barbeque, you can toss the salad with these tongs or hold the chicken while cutting. If you want versatility from your BBQ accessories, Hinmay offers this.
All of the stainless steel parts are made of top-quality austenitic steel- this means it's rust and corrosion-proof. But it's also non-toxic and safe for use because there's no lead and cadmium in the composition.
The tongs are very heat resistant to temperatures up to 1112 F or 600 C. But, this doesn't refer to the silicone handle part.
The silicone is non-slip and makes holding the tongs for a longer time pretty comfortable.
You can also wash these tongs in the dishwasher.
Some women with smaller hands don't like the fact that the handle loops are too big and the fingers slip through so it's not too comfy to hold.
But, if you have average or large hands, you should find these tongs very comfortable to hold.
Have a look at my complete list of the top 10 best grilling accessories & take your cookout to the next level
Todai vs Hinmay
You can use both of these tongs with smaller grills and cookers like the konro, for example. Compared to all the other tongs on the list, these have a very unique design.
The Todai is a slim pair of tweezer-like tongs for Yakiniku whereas the Hinmay is scissor-type tongs.
If you struggle to hold and maneuver the food with classic tongs, the scissor loop handle shape is very helpful and offers more security. Basically, if you can hold scissors, you can use these tongs easily.
But if you have to work with small pieces, the precision of Japanese tongs is unbeatable.
The Todai tongs are very easy to use too as they're designed for all types of restaurant diners. Since they're made of really strong steel material, they maintain their shape over time.
With the silicone handle scissor tongs, you need to be more careful because they are just not as sturdy. Always store them away from the grill to avoid warping.
BBQ grill tong FAQs
How long should grill tongs be?
There are plenty of tong sizes on the market; however, most pitmasters prefer one size: 16 inches.
A 16-inch grill tong is an ideal length because it keeps your hands at a safe distance from the high heat of the grill. But, it also offers a balanced grip, so you get good leverage and control while maneuvering it.
While cooking, you don't have to use too much arm tension to hold this length of tongs, so your hands don't feel tired and strained after a long BBQ.
The 12-inch tongs are best for precision grilling or when you are cooking very small pieces of food, like offal for Japanese barbecue.
The largest 18-22 inch tongs are perfect for very large grilling surfaces and newbies who are afraid of getting too close to the heat.
What are grill tongs used for?
Grill tongs are used to maneuver food while cooking on a hot grill or smoker. With grill tongs, you grab the food, lift it, flip it, turn it, and then add or remove it from the cooking surface.
But the reason why tongs are better than grill forks when handling the food is that these are gentle with the food, especially meat. Therefore, your meats don't lose their shape or tasty juices.
The role of the tongs is to help you manipulate and handle food without burning your hands, so they are important as they keep your hands far from the hottest grill surface.
So, if you want to maintain the food's shape and juiciness, you'll use high-quality bbq tongs.
Can you use rubber tongs on a grill?
For safety and practical reasons, no, you can't use rubber tongs on a grill.
There are some silicone tongs that handle high heat pretty well, but even those should never be used anywhere near an open flame. Avoid them on all types of grills though, to avoid problems.
Rubber tongs can catch fire or melt, and this makes them a fire hazard.
The bottom line is that you should not use rubber tongs when grilling, charring, and flambéing foods on charcoal, flat top griddles, electric griddles, propane or gas grills, and pellet grills.
Can you use silicone tongs on the barbecue?
Here's the thing, silicone is a great material but if it's a poorly made product it can melt all over your barbecue and ruin the food.
But, some brands, like the Kona Grill Tongs Set have special silicone tipped tongs that can withstand high heat up to 480 degrees F.
But even though they're grill mat-safe, I still have doubts about using these for a long time on the hot grill.
What is the best brand of BBQ tongs?
There are many brands to choose from but some of the most popular among the BBQ specialists include OXO, Traeger, and Weber.
What's the difference between grill tongs and kitchen tongs?
The kitchen tongs aren't designed to be heatproof and fire-resistant. Therefore, they are usually made of rubber or silicone.
Grill tongs, on the other hand, are made of stainless steel because they have to withstand the high temperatures on the bbq grill.
Also, the grill tong offers good grips that really dig into the meat (but don't damage it) whereas kitchen tongs are designed to be more delicate and gentle with food items.
Usually, most kitchen tongs are dishwasher safe and non-slip too.
How can I make my own wooden grill tongs?
While certainly not as heavy-duty as the stainless steel grill tongs we have discussed, it might be a fun DIY project to make your own wooden grill tongs.
You don't need many tools or material for the project, this video explains how to do it:
Takeaway
Durable tongs make grilling barbecue easy. Proper utensils are just as important for outdoor grilling or indoor grilling. It is important that your chicken does not fall apart before you flip it.
Tongs are more than just for flipping. They can also be used to arrange charcoal and transfer the barbecue after you have finished cooking.
Good stainless steel tongs are the top ones to look for so you don't have any problems.
Once you find the best pair of tongs, you'll realize that cooking is much easier and more comfortable.
Joost Nusselder, the founder of Lakeside Smokers is a content marketer, dad and loves trying out new food with BBQ Smoking (& Japanese food!) at the heart of his passion, and together with his team he's been creating in-depth blog articles since 2016 to help loyal readers with recipes and cooking tips.