I love creating free content full of tips for my readers, you. I don't accept paid sponsorships, my opinion is my own, but if you find my recommendations helpful and you end up buying something you like through one of my links, I could earn a commission at no extra cost to you.
Learn more
So you're in the market for a new pellet smoker, but you're unsure about whether to stick with a tried and trusted brand like Traeger, or try out one of the 'new kids on the block', like Green Mountain Grills.
Both brands make quality smokers and have loyal followings.
In the article below, I've compared both of these respected brands and highlighted one of my favorite pellet grills from each. These grills are similar in size and style, but come in at very different prices.
Of course, I will share my choice with you, but I encourage you to familiarize yourself with the article so that you can come to your own conclusions as well.
Take a look at the comparison below and decide for yourself which one would suit your needs best.
For more on pellet grills, check out my complete Pellet Smoker Grill review (including buying guide)
In this post we'll cover:
Comparing Green Mountain with Traeger
Traeger invented and patented the pellet smoker over 35 years ago. The company established a powerful brand amongst grillers, and it is only recently that new products have hit the market.
Green Mountain Grills was one of the first manufacturers to launch in 2008 after the Traeger patent expired.
At a glance
In the table below, I've briefly identified some of the key characteristics of pellet grills, and how each of the brands matches up:
| | | |
| --- | --- | --- |
| Key characteristic | Green Mountain Davy Crockett | Traeger Grills Pro Series 575 |
| History | 13 Years of manufacturing | 36 Years of manufacturing |
| Size | 29.92 x 14.96 x 21.65 inches; 68 Pounds | 27 x 41 x 53 inches, 124 pounds |
| Warranty & durability | 3-Year warranty, good quality workmanship for the price | 3-Year warranty, but personally, I would expect a longer warranty for the price |
| Mobility | Branded as "the ultimate tailgating grill" | Small and compact but nearly twice as heavy |
| Features | Features digital WiFi controller, Sense-Mate (thermal sensor), meat probe, peaked lid for rib racks, convenience tray | WiFIRE technology, 6-in-1 versatility to grill, smoke, bake, roast, braise, and BBQ all on the same grill |
| Price | Very affordable for all of its features and the quality of the product | Only the higher-end products come with great features. They are expensive compared to the newer brands on the market |
| Pellet hopper  | A fair-sized hopper | A fair-sized hopper |
| Branding & customer service | GMG have worked hard to establish their brand in 13 years, with a focus on smokers. Their customer service is rated highly | Well-established brand built over 35 years. Mixed reactions to customer service, but it is the best-selling brand on the market |
History
Green Mountain Grills – This brand was one of the first to start making pellet smokers soon after the Traeger patent expired. The GMG brand was founded in 2008, and focused on developing a high quality, durable, range of products that are affordable for almost every user.
Traeger – No other manufacturer has such a rich history as Traeger. The nostalgia and loyalty associated with this brand are unmatched. They pioneered the idea of the pellet smoker, and built their brand over 35 years, developing a wide range of products within each series.
Sizes
Green Mountain Grills – While the number of products they offer is far less than the Traeger brand, GMG has focused on producing a good selection of quality pellet smokers in the most popular sizes, at a range of prices. You will definitely find something that suits your needs and your budget.
Traeger – There are several different series, and each one has a range of sizes. Almost every series is available in a different configuration so that you can match your smoker size to your needs, and add the features that are affordable within your budget.
Warranty
Green Mountain Grills and Traeger both offer 3-year warranty periods which is the most common period for pellet smokers. In my opinion, this is a fair warranty period for smaller models, especially from GMG which is a more affordable brand. However, I would expect a longer warranty period from Traeger for their larger pellet smokers – especially considering their price.
The durability of your pellet smoker depends on how well you take care of it. Be sure to have a good grill cover lying around and don't forget to season your smoker grill before you use it the first time!
Mobility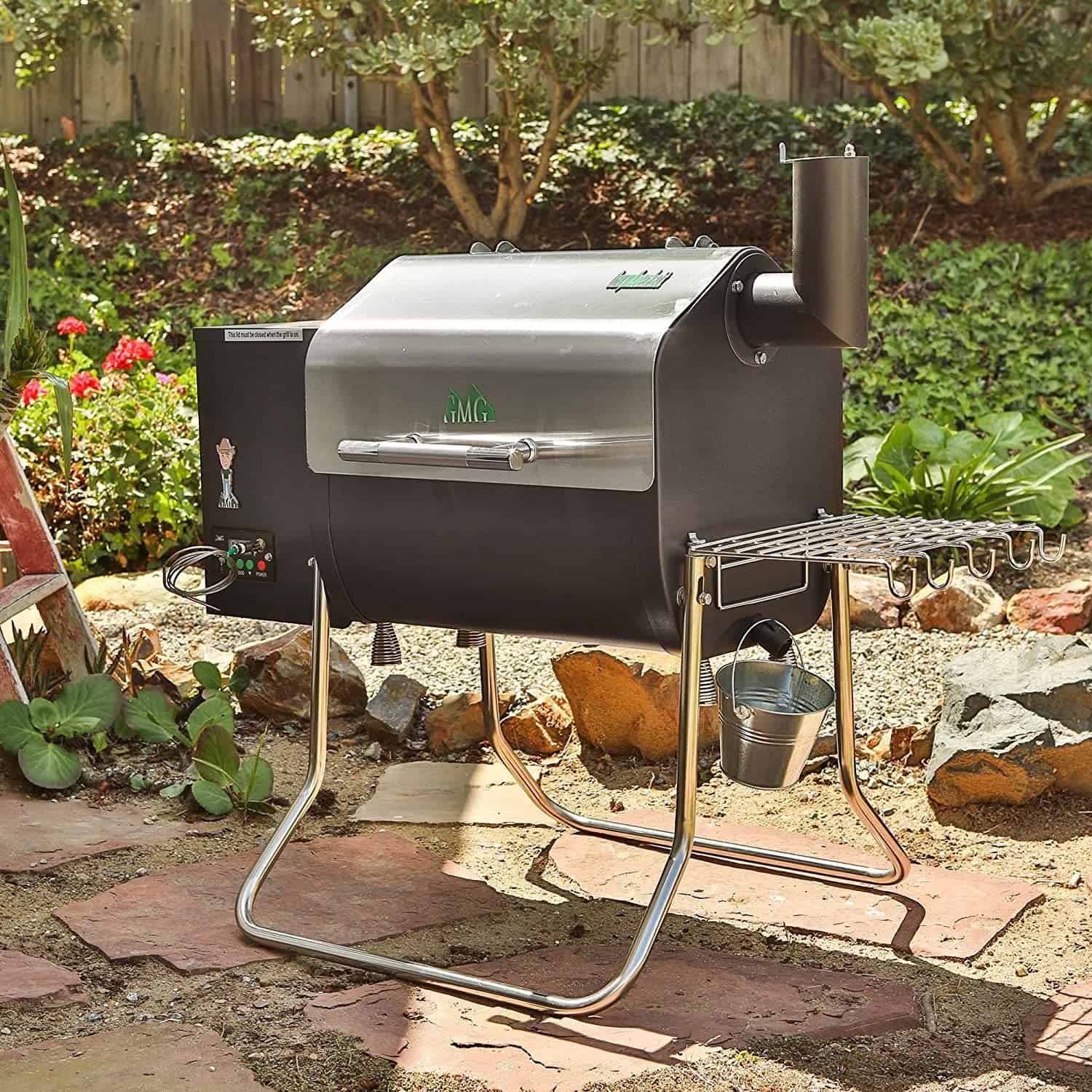 Green Mountain Grills – The GMG Davy Crockett is one of my absolute favorite mobile pellet grills. Marketed as the "ultimate tailgating grill" it lives up to its name. Compact but with a generous cooking area, this little smoker fits into almost every trunk, and is specifically designed for camping and tailgating.
Traeger – Traeger also has a very attractive compact pellet smoker. The Traeger Pro 575 is small and made for mobility, but in my opinion, the extra weight makes it less ideal for camping than the Davy Crockett pellet grill. It's also far more expensive than the GMG option.
Top features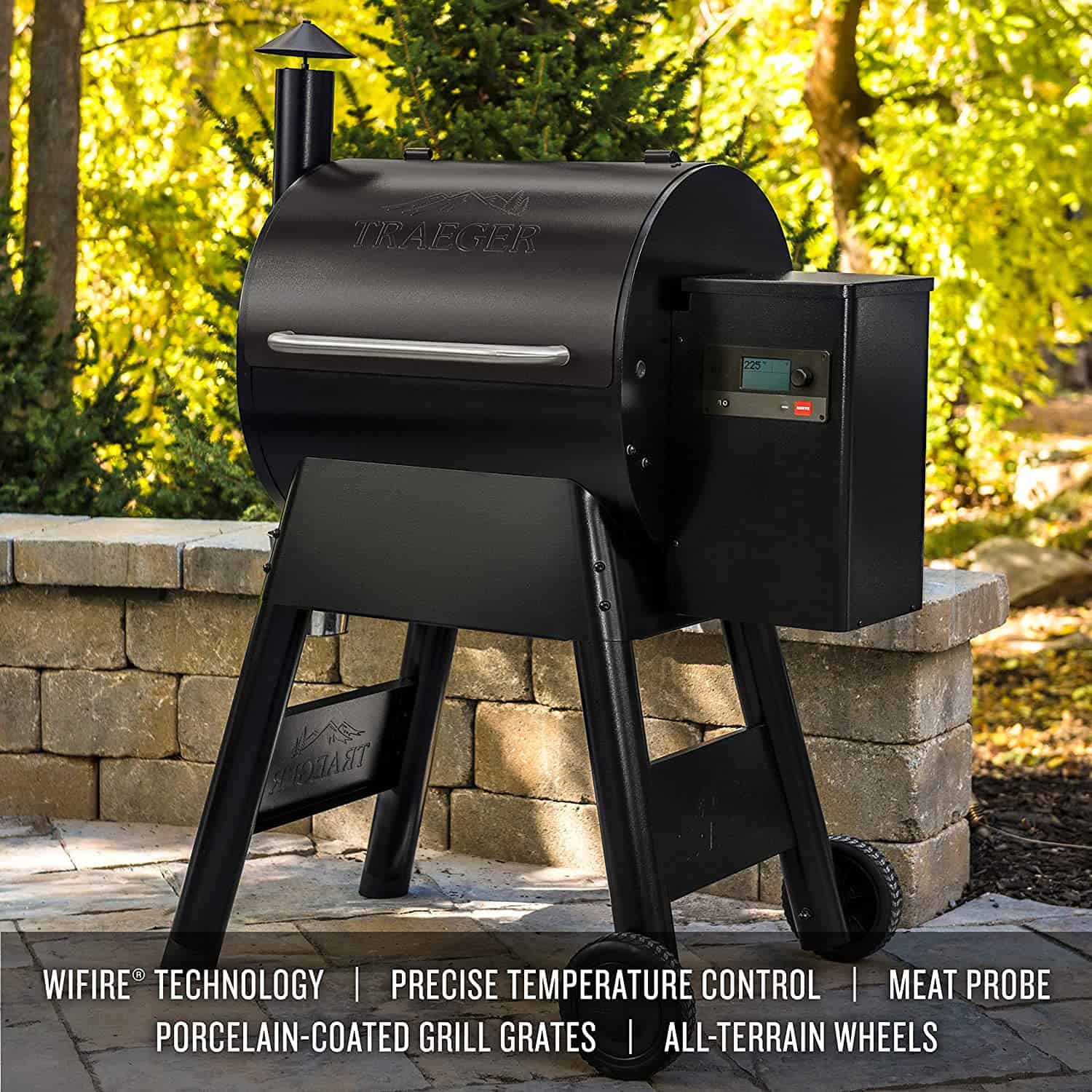 Green Mountain Grills – For many years, GMG was one of the only brands that offered built-in Wi-Fi at an affordable price. Even some of their cheapest smokers come with features such as an ash-removal system and a high-quality digital controller. You really do get a lot of bang for your buck with this brand.
Traeger – Every series features something special. One will stand out with its simplicity and price while other series focus on interesting features. Traeger has a product to suit every need, but they do come at a cost! The brand's cheaper options don't always include Wi-Fi, and in my opinion, the controller and cleaning system in the low-end products are very basic.
Price
Green Mountain Grills – There are several different models to choose from, each with its own features. This brand has a good range of products from very affordable to the more premium pellet grills, but all of them are well designed and are of great quality for the price. My favorite, as I've mentioned, is the Davy Crockett model. You really can't go wrong with this pellet smoker. It has all of the features you need for a very affordable price.
Traeger – Even the smallest pellet smoker from Traeger costs much more than any other manufacturer. Their small, cheaper products also don't come with interesting features – just the bare minimum. Yes, there are many options to choose from in each Traeger series (check out the Traeger Renegade Elite for example), but the more features, the higher the price!
Pellet hopper
Green Mountain Grills and Traeger both have fair-sized pellet hoppers to suit each of their grills. You can be sure that a full tank is enough for many hours of smoking without having to refuel.
Quality of workmanship
Green Mountain Grills – The GMG brand is cheaper than Traeger, so while it is of great quality for the price, the Traeger brand is more likely to outlast its warranty.
Traeger – The quality of these pellet smokers has gone up and down over the years. As far as I can tell, the new refurbished series which was released in 2019 has the seal of approval from loyal fans, who are happy to see the increase in quality.
Brand & marketing
Green Mountain Grills – The brand is solely focused on pellet smokers and related accessories. Over the years they've built their expertise and popularity, and have started gathering a large following of loyal fans. Many are impressed by the quality of the smaller products, as well as the added features and the affordable price ranges. The Davy Crockett model is taking over as one of the most popular mobile pellet smokers on the market. They are ideal for camping and tailgate parties.
Traeger – If you ask anyone in the USA about Traeger, chances are they will have many happy memories associated with the brand. They've been a powerful force on the market for over 35 years, and have invested back into communities. Traeger is a sponsor of many events and is one of the brands chosen by many professional grillers and smokers. Traeger is unmatched in terms of recognizability and trust, which they back up with statistics by selling the biggest number of this type of smoker in the industry.
In case you were wondering if pellet smokers give good smoke flavor?
Green Mountain vs Traeger – Conclusion
Some models from Traeger are absolutely fantastic. They offer great features, high-quality workmanship, and can be customized to suit your needs. BUT: be prepared to pay a premium price.
Green Mountain Grills on the other hand has one of the best budget pellet smokers in the market – the GMG Davy Crockett – is unmatched in the world of mobile pellet smokers.
So which brand is the winner in my view?
My choice is definitely Green Mountain Grills.
I am blown away by what their smallest model can offer for this kind of money. The entire structure was brilliantly designed in terms of mobility, and the added Wi-Fi technology makes GMG the hands-down winner in my books.
Also curious how Traeger compares to Pitt Boss? Read on!
Joost Nusselder, the founder of Lakeside Smokers is a content marketer, dad and loves trying out new food with BBQ Smoking (& Japanese food!) at the heart of his passion, and together with his team he's been creating in-depth blog articles since 2016 to help loyal readers with recipes and cooking tips.