I love creating free content full of tips for my readers, you. I don't accept paid sponsorships, my opinion is my own, but if you find my recommendations helpful and you end up buying something you like through one of my links, I could earn a commission at no extra cost to you.
Learn more
There are thousands of gas grills on the market, available at a wide range of prices. You can get grills from $200 to $15 000! So what can you get for $1000 or less?
A budget of up to $1000 actually gives you plenty of options. You can buy a very good, solidly built multi-purpose gas grill for this kind of money.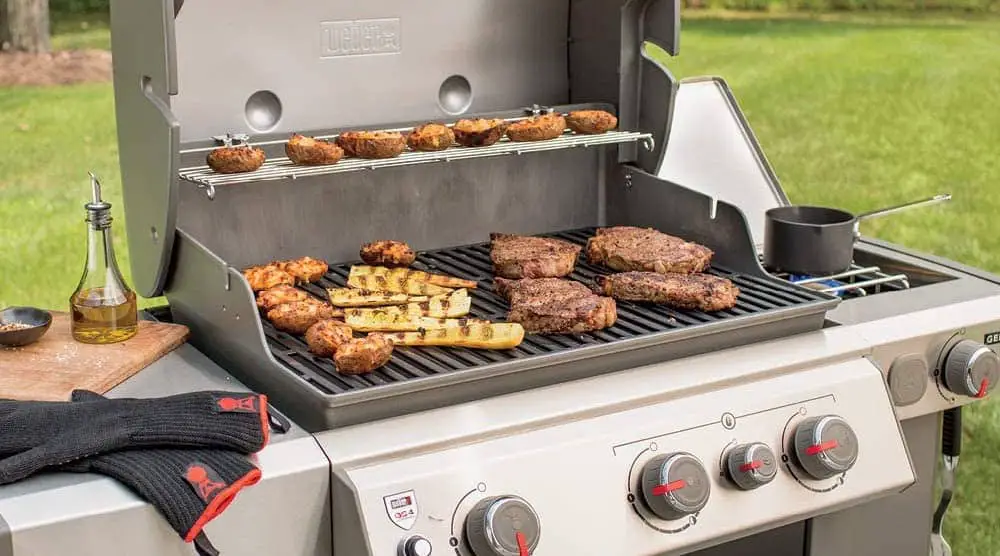 As with all grills, the more features you want, the more money you will need, but you can get a fair amount for $1000.
My top pick is the Weber Genesis II E-335 because you get the excellent quality of the Weber brand, three quality burners, plus two additional burners (a sear burner and a side burner) for less than $1000. You get so much for your money, plus a 10-year warranty. You will NOT be disappointed with this product.
But I'll show you some other options as well. In the article below, I've described four of my top-recommended gas grills under $1000 to help you decide what you need.
Tips for buying a gas grill under $1000
These are five universal tips to keep in mind when you're choosing any gas grill on the market.
If you follow these guidelines, you will be well on your way to finding the perfect option for you and your needs.
Budget and type of grill
The first thing to do is define your budget and the type of grill you're interested in. Do you want to spend $1000, or would you prefer to spend less?
Do you want to use propane or natural gas?
Size & number of burners
Do you usually cook for large or small groups? Do you have a large yard with loads of space for a grill, or do you have a limited area for cooking?
Consider these questions and make sure you choose a grill that fits your needs.
In terms of burners, I personally prefer three as a minimum. This allows me to create different heat zones, and cook different types of food at the same time.
Accessories and gadgets
In this price range, you can get some great accessories and gadgets. Personally, I really like the sear burner and the side burner.
There are also many options for separately-sold grilling accessories including digital thermometers, an additional griddle, a smoker box, and more…
Mobility
Do you like to go camping, or tail-gating? Or do you mostly grill in one spot?
Decide whether or not it's important to have a mobile grill or a regular stationary one.
Warranty
When you're spending a lot of money on a grill, you want to be sure that the manufacturer stands by their product. Always check the warranty period before buying to avoid a nasty surprise.
Not sure yet if you want to go for a gas grill or a pellet grill? I've compared them here
The 4 best gas grills under $1000 reviewed
I've put together a review of my four top gas grills for under $1000. From the larger, versatile grills to the smaller, more mobile ones.
Best overall gas grill under $1000: Weber Genesis II E-335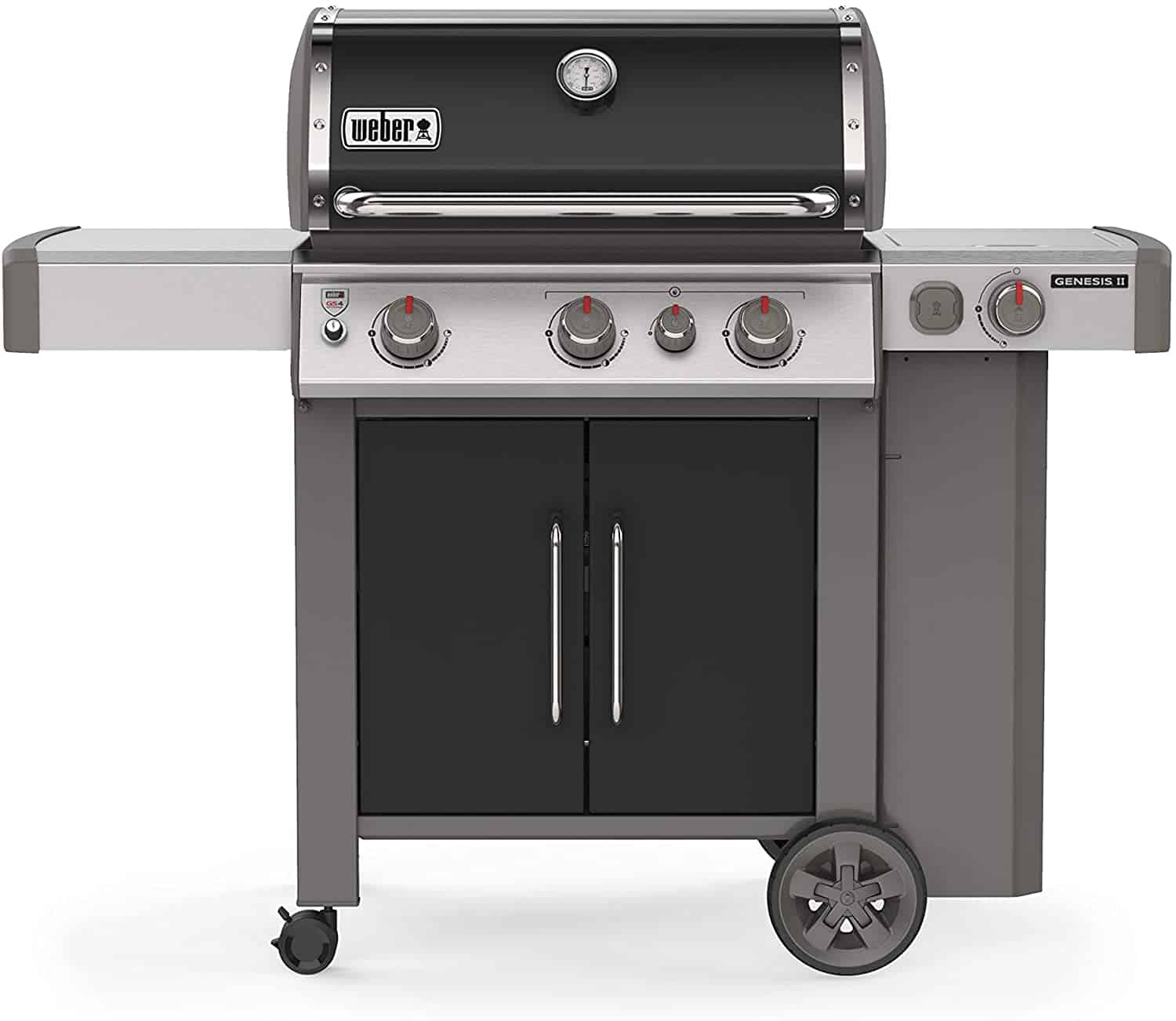 The Weber Genesis II E-335 combines great quality with fantastic features. At almost $1000 this grill is worth every cent and is backed up by a 10-year warranty.
It's my number one for good reason – read on to find out why.
It has three main burners and whole 513 square inches of the main cooking area. The cabinet-type construction offers a lot of workspace on the two side shelves, and there's even more space to store things under the grill.
It has a great grease drainage system that collects all the run-off on a tray under the grill. You can easily access it by opening the front door.
I love that you get two extra burners for this price: a sear burner and a side burner. My favorite is the sear burner, which makes it possible to achieve really great sear marks without much effort.
The Genesis II series is characterized by the great quality of workmanship, which can be seen in the attention to minor details. It's a very solid and durable grill covered with whole 10 years of warranty.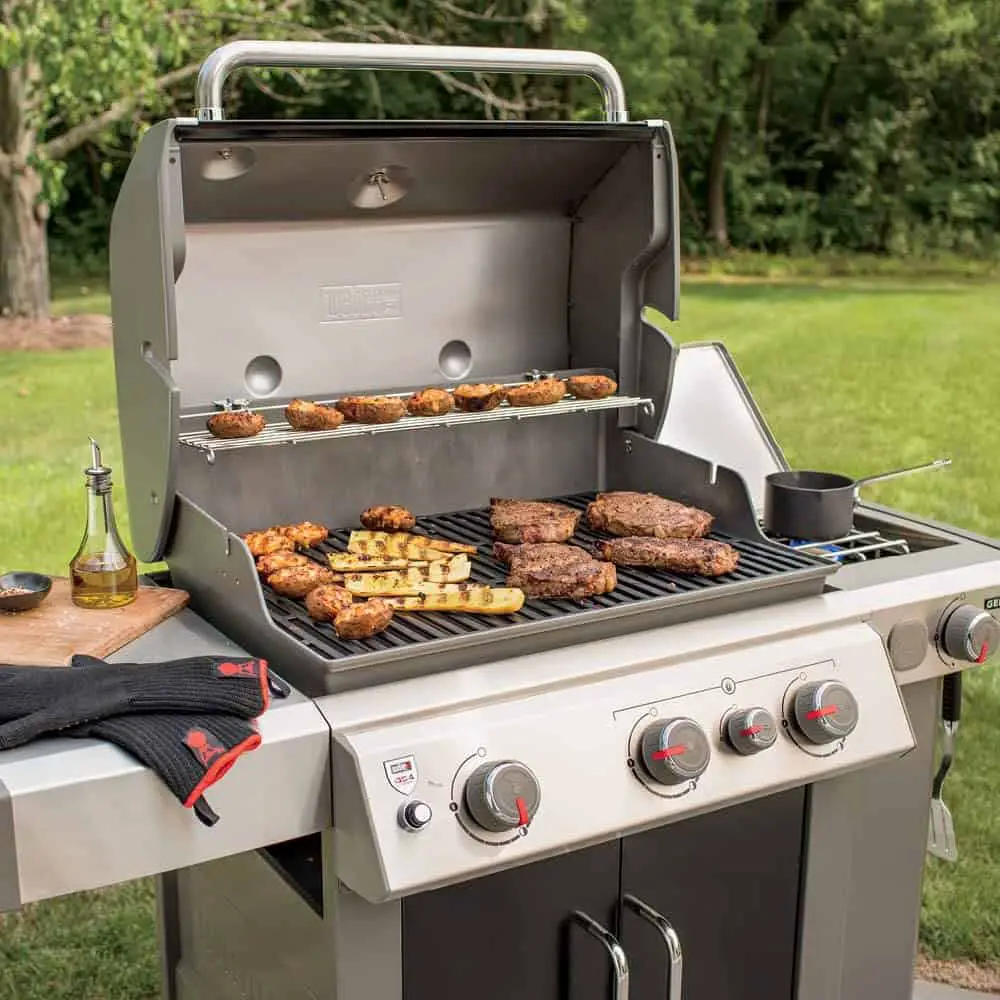 Weber offers a lot of separately sold accessories for this model, including the innovative iGrill 3 thermometer.
For below 1000 dollars, it is, without doubt, the best option you can buy.
It's also available in two versions: propane or natural gas.
Pros
Budget & type: Higher end of the budget, but the features are worth every cent. Propane and natural gas options
Size & burners: 59 x 29 x 47 inches; 153 pounds; 3 burners
Features: Side burner & sear station
Warranty: 10 years
Cons
Mobility: Not specifically made for mobility
Keep your Weber clean and tidy. Here's How to Clean a Weber Grill properly
Best entry-level gas grill under $500: Weber Spirit II E-310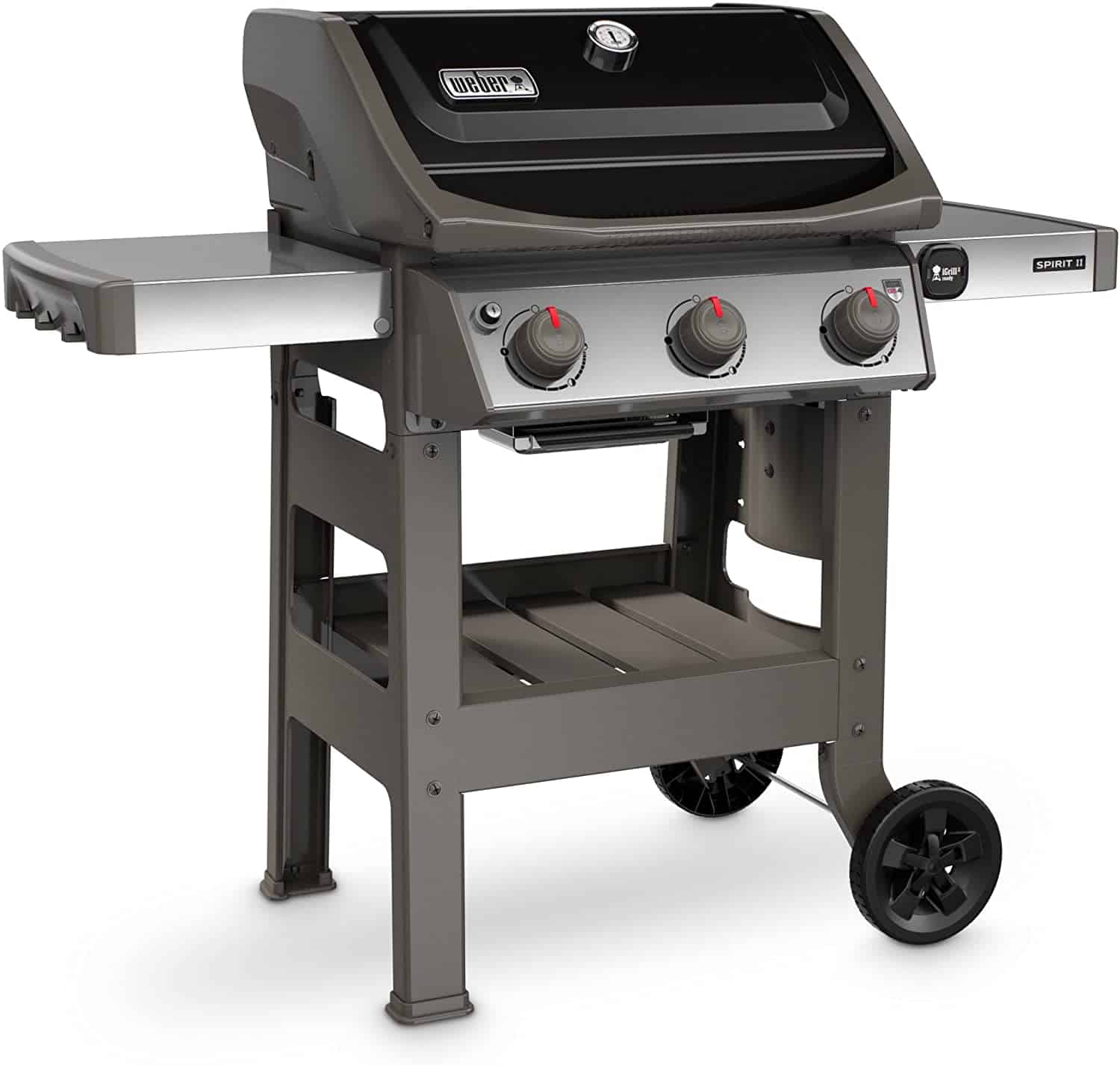 Weber is a quality brand with years of manufacturing experience. If you're wanting a top-notch, entry-level product, then the Weber Spirit II E-310 is the option for you.
It doesn't come with loads of additional gadgets like other more expensive options, but it maintains the high quality of workmanship that Weber is famous for.
Weber Spirit II E-310 is a stationary three-burner grill that features a fair amount of workspace and a large cooking area. Three burners make it possible to create different heat zones, on the 424 square inch main cooking area.
It has a very effective grease drainage system that accumulates the run-off on an aluminum tray. Additional cabinets would have increased the cost of this product, so it has an open-style design.
This grill is a great option for those who don't need to cook for large gatherings. It's a fantastic starter-grill for someone who wants the best quality product for a fairly low budget.
If you want to increase your grill's versatility, you can always buy additional gadgets from the extensive Weber offering.
Pros
Budget & type: Very affordable, available in propane and natural gas options
Size & burners: 52 x 27 x 44.5 inches; 20 pounds; 3 burners
Mobility: Not specifically made for mobility
Warranty: 10 years
Cons
Features: No additional features
Best low-budget gas grill: Char-Broil Performance 300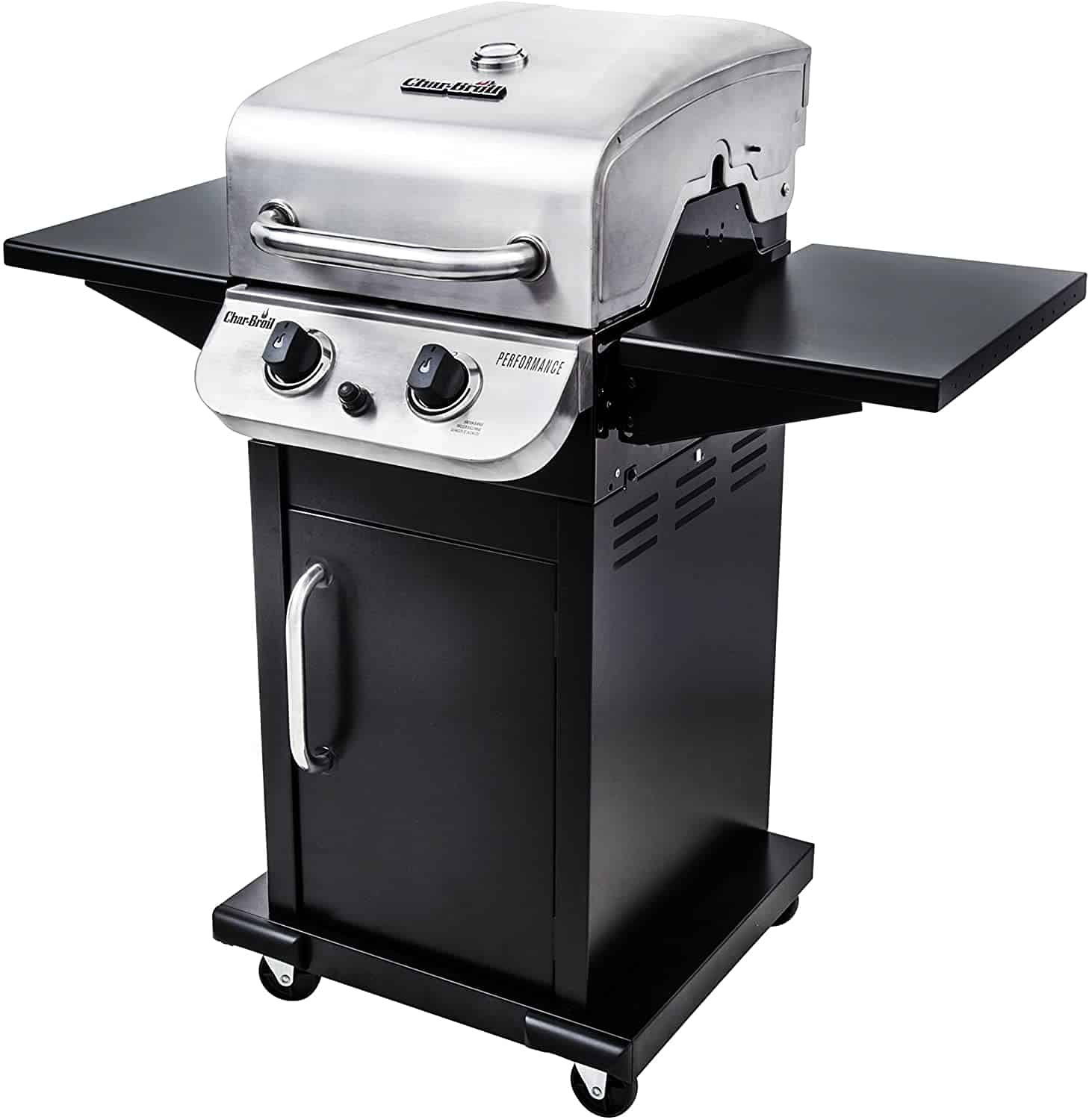 In my opinion, this is one of only a handful of gas grills that are worth looking at under $250. While it's extremely affordable, it's also surprisingly good quality considering the price.
It doesn't come with any frills or additional features, but it is efficient, and durable, and has a contemporary design thanks to its stainless steel lid and cabinet.
With two burners, this grill has 300 square inches of main cooking area, plus a good amount of workspace.
The spacious side shelves ensure convenience when cooking, and the space behind the door provides a lot of room to store various tools.
If you have a very limited budget, but still dream of owning a solid grill, then this is the one for you!
Pros
Budget & type: Very affordable; available in propane option only
Size & burners: 24.5 x 42.9 x 44 inches; 82.5 pounds; 2 burners
Mobility: Not specifically made for mobility
Warranty: 5-Year warranty on the burners, 2-year warranty on the firebox, and 1-year warranty on all other parts
Cons
Features: No additional features
Best portable gas grill: Weber Q2200
(view more images)
A great option for those who travel a lot, don't have space for a full-sized grill, or simply need a versatile compact grill.
The Weber Q2200 is without a doubt one of the best portable gas grills.
Take it camping, on road trips, or tail-gating, then simply pack it away neatly when not in use. This nifty little grill has 280 square inches of cooking area, which is a whole lot for a portable grill.
It comes with solid porcelain-coated cast-iron grill grates, but it is possible to replace them with a separately sold griddle.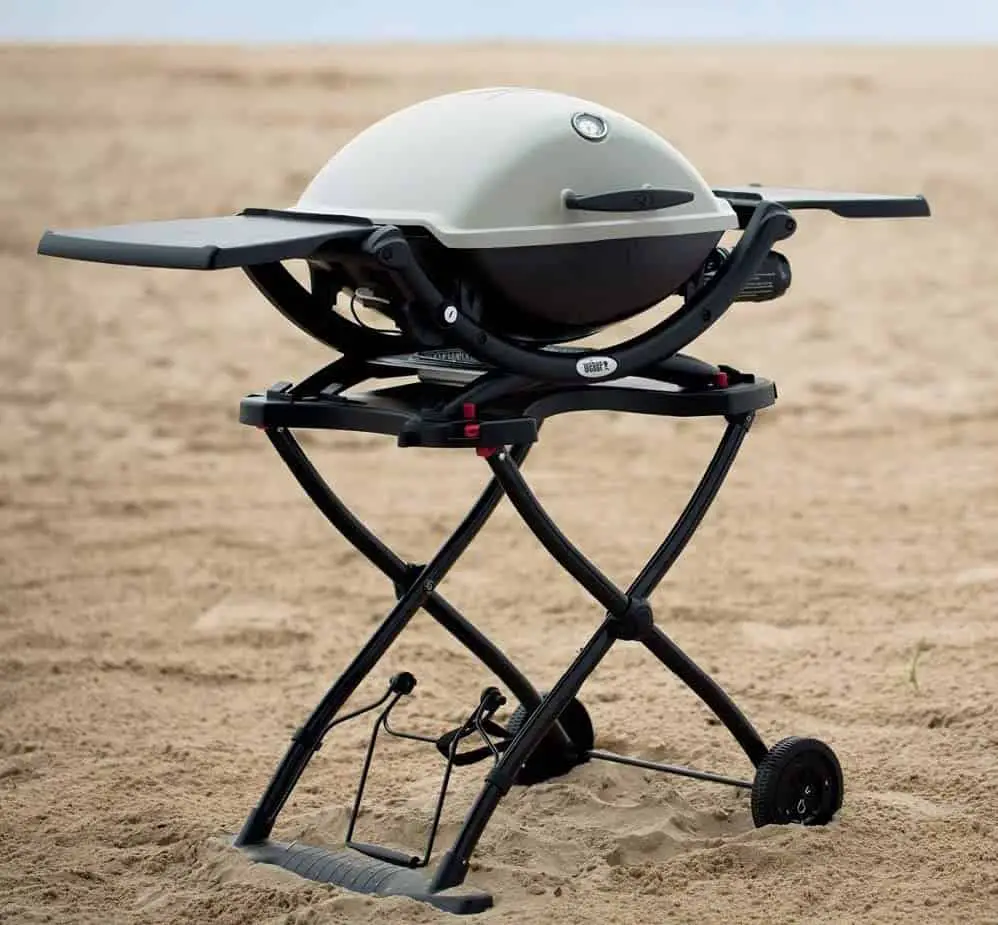 When combined with the Q Portable Cart, it can actually be used as a stationary grill. This is a separately-sold folding stand that you can take on the road, or store away. It ensures cooking comfort and mobility at the same time.
This is the reason I also recommend this grill to those with very limited space.
Considering the price, I'd say it's a fantastic little grill that is 100% worth its money. Weber stands by this product with a 5-year warranty.
Pros
Budget & type: Very affordable; propane option only
Size & burners: 25.1 x 51.4 x 26 inches; 42.5 pounds;
Mobility: This was designed to be very portable and versatile
Warranty: 5 years
Cons
Features: No additional features
Rather go for a portable charcoal grill? Find the best charcoal grills for on the road reviewed here
FAQs about gas grills
Should you go for propane or natural gas?
There are pros and cons of each option. Weigh them up and decide on what type you need before you buy.
Remember, you can't alternate on the same grill. It is possible to convert, but this requires professional installation and added expense. You may also lose your warranty.
What are the differences between propane and natural gas?
| | |
| --- | --- |
| Propane | Natural gas |
| Propane means mobility. You can use your grill wherever you have a tank. You may run out in the middle of cooking, so always keep a spare tank on hand | You need to be connected to your gas outlet, but you won't ever run out |
| This is a good option for those who don't cook on gas very often and don't cook for large gatherings | This is the perfect option if you have a very big grill and you cook for many people at once. You always have gas available, and there's no need to 'refill' in the middle of cooking |
| There are fewer limitations on where you can use a propane grill | Some locations prevent you from installing a natural gas line. If you don't already have one, the installation itself may be expensive |
Are there any dangers associated with gas grills?
Gas grills are actually very safe as long as you use them according to the specifications of the manufacturers. Some key things to remember about propane grills in particular:
Store your cylinders outdoors or in a shed or well-ventilated space
Don't smoke while working with your cylinder
Never check for potential leaks using a lighter or matches
Don't store your tanks in your garage
What are the chances of gas grills exploding?
Propane tanks are extremely safe if used properly. However, there is potential for explosion if the gas valve is left on, and is near to a flame.
Tanks should also never be exposed to very high or very low temperatures. Most manufacturers warn against temperatures above 120°F and below -40°F.
Can I leave my propane tank attached to my grill when not in use?
As long as your burners are all off, and there aren't any leaks, then there is no risk of leaving your propane tank attached to your grill.
Takeaway
Now you have a good idea of the best gas grills on the market under $1000. I'm sure you're excited about the fact that you can actually get a lot for that budget.
All you have to do now is decide whether or not you need a gas grill or a propane one, and what size would suit your needs best.
Rather go lower with your budget? These are the Best Gas Grills Under 500
Joost Nusselder, the founder of Lakeside Smokers is a content marketer, dad and loves trying out new food with BBQ Smoking (& Japanese food!) at the heart of his passion, and together with his team he's been creating in-depth blog articles since 2016 to help loyal readers with recipes and cooking tips.